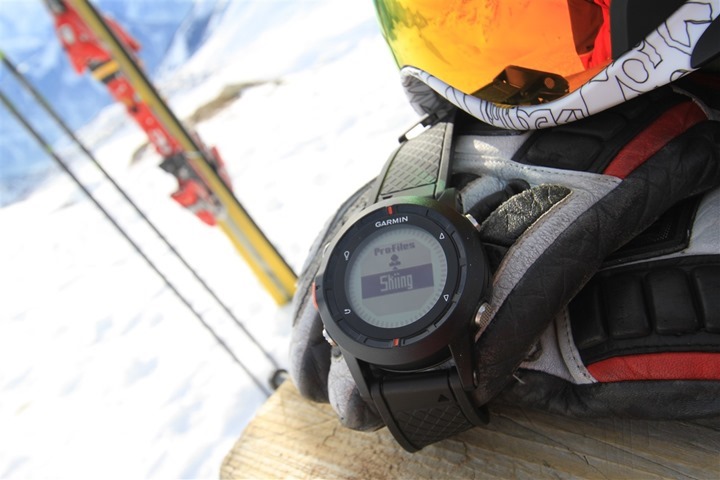 Following in the footsteps of continuing to add features to the Fenix watch (and likewise, what Suunto has done with the Ambit), Garmin quietly posted to their forums a beta version of the Fenix firmware which adds skiing to the Fenix functionality.
I had a chance to test out the firmware last week during my ski trip with my brother.  So I'll give you a quick whirl through the core new pieces.  Keep in mind, it's beta.  And in fact – best I can remember, the first time Garmin has ever publically posted a beta firmware version for a fitness device.  They're done some beta software drops for desktop software, but I don't have any recollection of doing it for actual device firmware.  Hopefully, this trend will continue.
First up is the addition of the Skiing Profile.  Now technically, you always could have made your own skiing profile (just like you can make a Cowtipping profile), but then it wouldn't be the Skiing profile.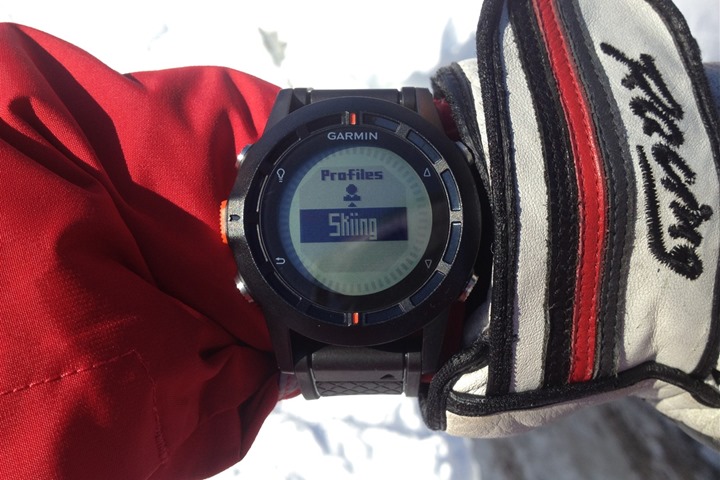 This Skiing profile is unique in that it's controlling a few additional settings in new ways.  Specifically, and most importantly is the Auto Pause setting.  You can now specify Auto Pause with a configuration of 'Ski Mode', which will automatically pause your unit's recording while you go up a chairlift (ascend), or when you stop skiing.  In my not-so-scientific testing, this seemed to work fairly well.
In addition to the Auto Pause mode being set to Skiing, you also can configure the Auto Lap mode to the same.  By doing this, it will automatically pause not only while on the chairlift, but will also create a new lap for each new run.    It never triggered on any gentle climbs while skiing for me, and also didn't trigger incorrectly even during stops on the hill – of which, my brother and I made many while scouting out cliffs to jump.
In this scenario – a lap effectively becomes a 'Run'.  Which means that as you complete runs, it'll first, total your runs (laps):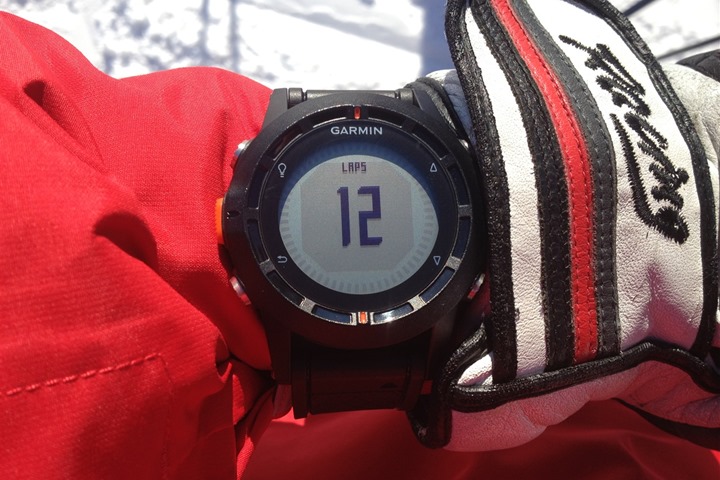 And then, for each lap, you'll get your total lap distance and lap descent: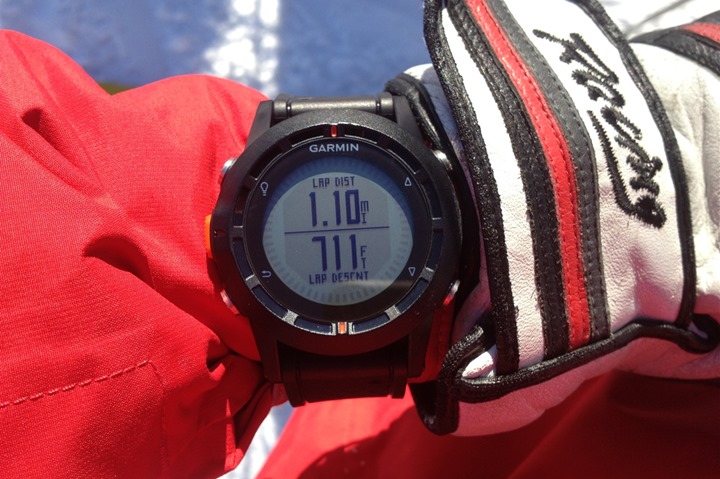 And because the Fenix is now counting laps, that means that traditional lap fields such as Lap Averages around speed or other fitness metrics work just fine on a 'per run' basis.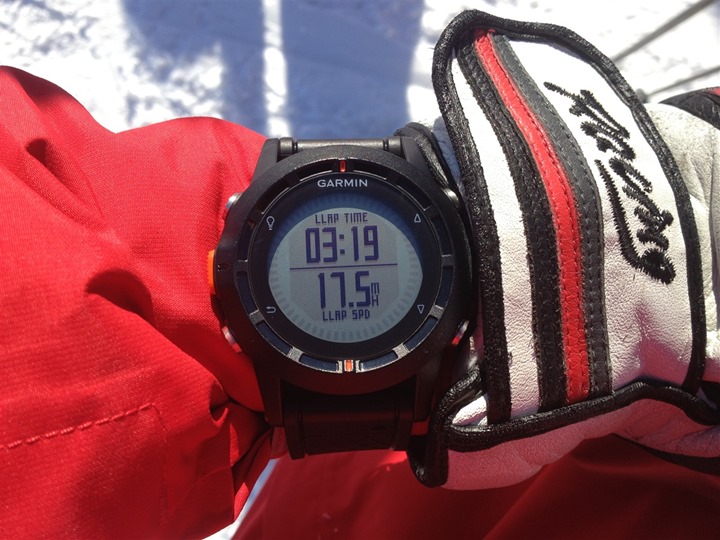 This worked especially well even on really long runs that I did: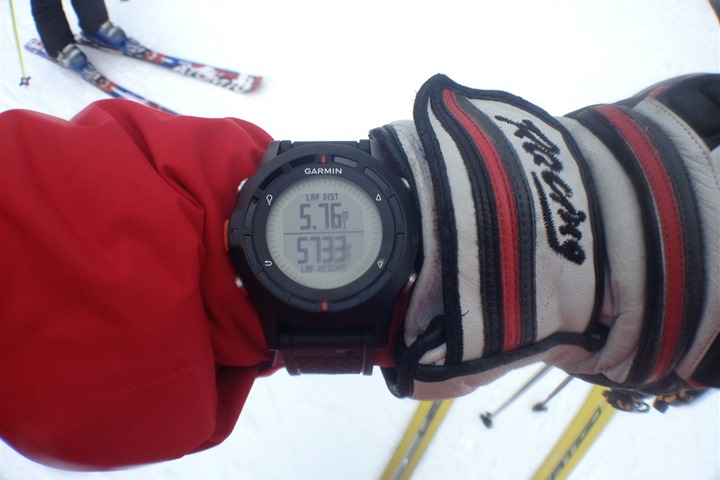 What's cool here is that I was able to track actual skiing distance, versus chairlift difference.  This is because I was wearing the Recon Instruments Heads Up Display, and that was tracking total distance (chairlift + skiing), versus the Fenix in Skiing mode was tracking just skied distance: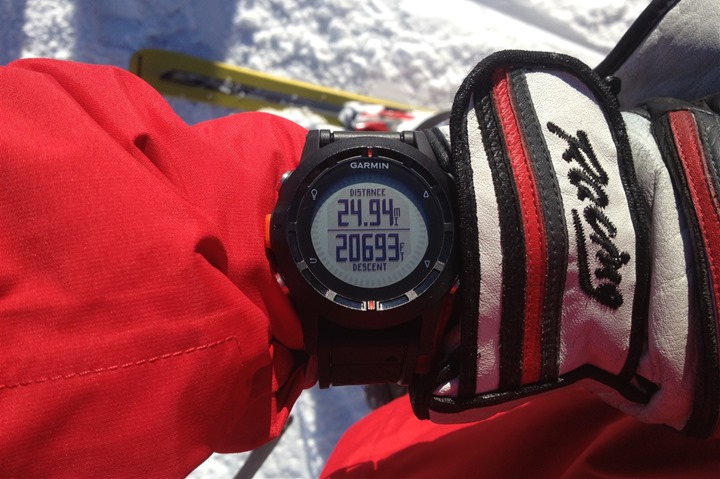 With the runs being tracked, these then show up in Garmin Connect as laps, but you can now easily pick out the different runs in the laps/splits view: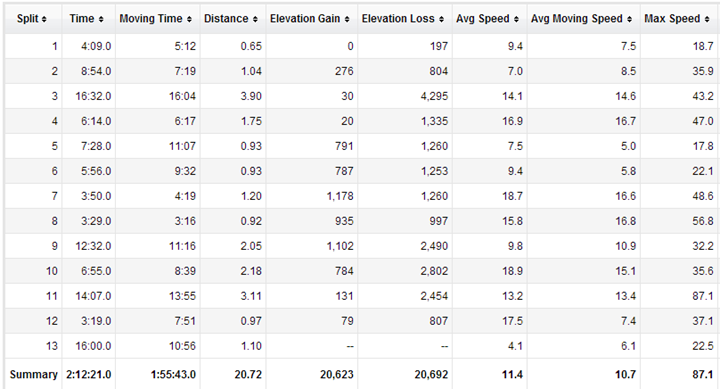 And, you can easily see the different laps listed as runs: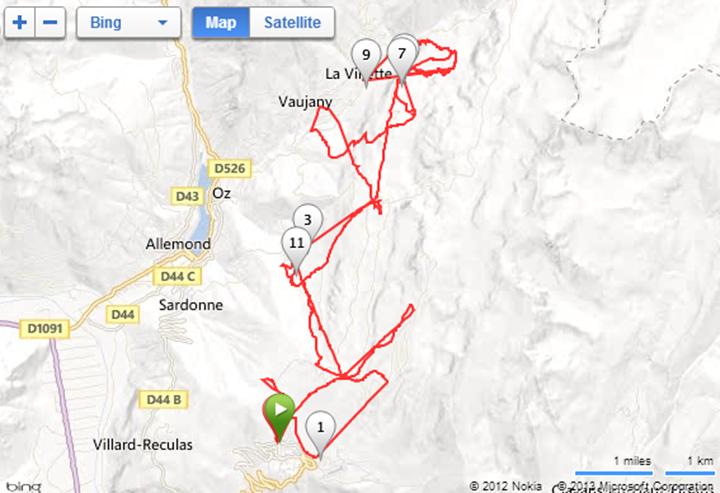 Finally, they've added 3D Speed.  Traditionally GPS speed simply assumes that you're on flat ground.  It's looking at speed from the perspective of a satellite – where (for the purposes of over simplification), the world is flat.  So this takes into account the speed required to not only go horizontally across a given distance, but also the vertical component.  Remember back
Let's use the below photo from last week as a simple example.  I've taken completely random guesses on the actual distance descended, and the actual distance skied forward.  But, it works for our purposes to explain how 3D speed is determined using a simple triangle.
Now, in my example below – I'm not showing the actual 3D speed, but rather, just showing that the distance is longer for that segment than the traditional GPS distance.  Thus, the speed will have to be slightly higher to account for the additional distance covered in the same timespan as before with traditional GPS.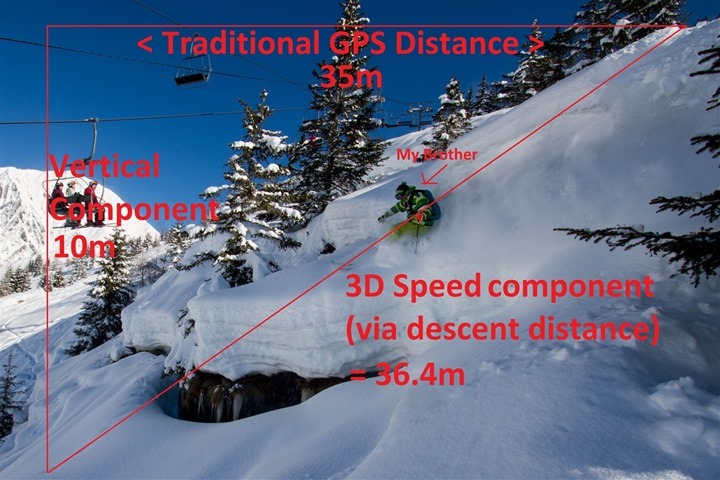 Of course, at the end of the day, it's a relatively small difference in the number – and realistically most skiers wouldn't know any different.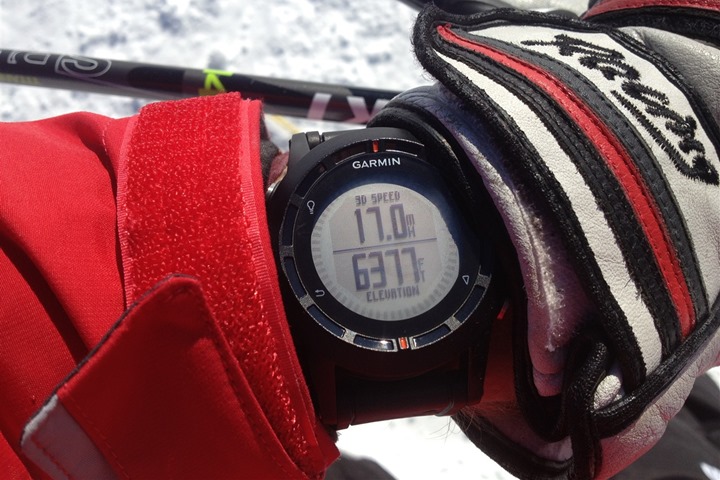 Again, this is all beta, and thus things will probably change.  For example, I suggested that it'd be great if the skiing nomenclature of 'runs' was carried through to some of the user interface screens.  Thus, replacing the word 'lap' with 'run'.  But of course, that a bigger lift than it sounds, since it means changing data fields across tons of different data page types used by many different components.
On the download link you can also find more information about the update and the files, as well as where to send feedback (though, I suspect they'll certainly read it here too).
I think this is a cool step forward on the Fenix.  We've seen a bit of a quiet spell with Fenix updates since the fall, likely as the team shifted over to work on the Quatix watch (Fenix hardware, but sailing focused firmware).  That's the watch that will control your sailboat autopilot to pick you back up if you fall overboard (actually, I think it'll just run you back over again since I don't think it controls throttle).  Oh, at any rate.  Cool stuff.
Thanks for reading!