This past week my brother and I have been down in Alpe d'Huez enjoying the fresh powder.  Of course, most folks reading this will recognize Alpe d'Huez as the famous mountain stage in the Tour de France.  That cultural history is embedded in much of the town, from the signposts along each of the 21 switchbacks on the pain inducing road 14KM up to the resort, to the finish line markers in the village.  My time in the sprawling sports complex also was met with more reminders from past Tour de France riders who hailed from the town.
But, we weren't here to cycle.  Thankfully, as doing so this time of year with snowpack on the roads would have made for an even more difficult climb.
We were here to ski.  And ski we did!
We arrived Monday night and were staying in a small hotel that's literally ski in/ski out.  All of about $75 a night…including breakfast. 🙂  Our arrival to the mountain was a bit messy due to the nonstop snow.  But, we didn't mind.  The view from our window.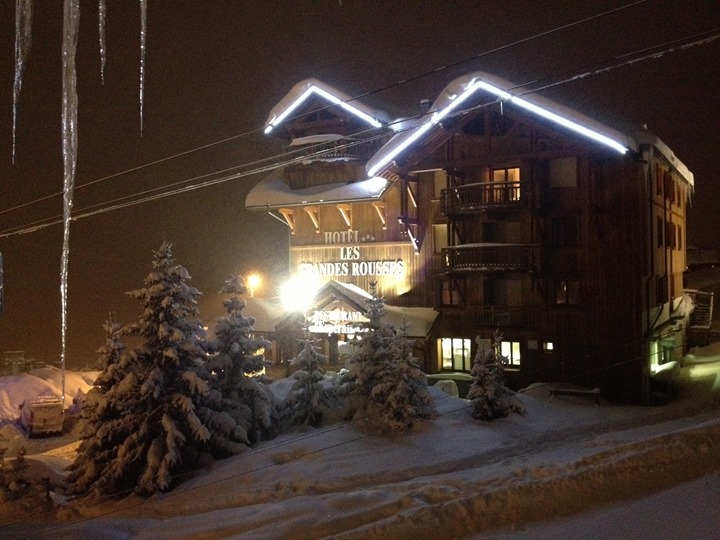 And, here's us, skiing right in: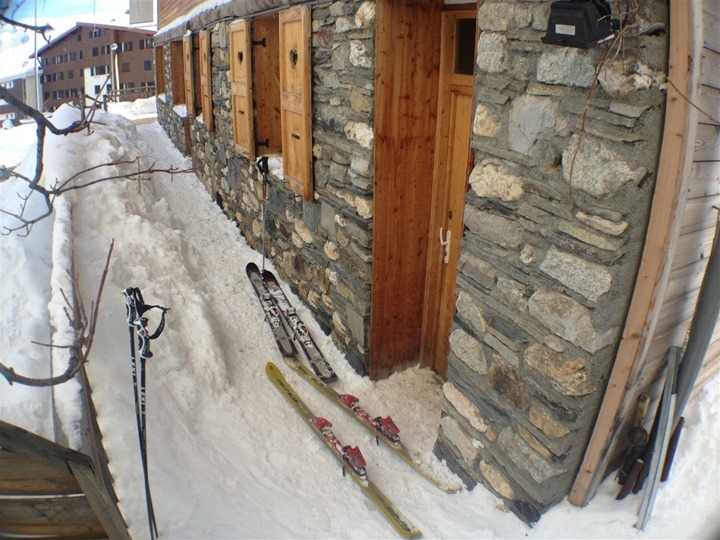 Tuesday was a mostly overcast day.  It was still snowing in the morning, but tapering off.  At this point it had dropped between 1-2 feet (yes, feet) of new snow in the proceeding days.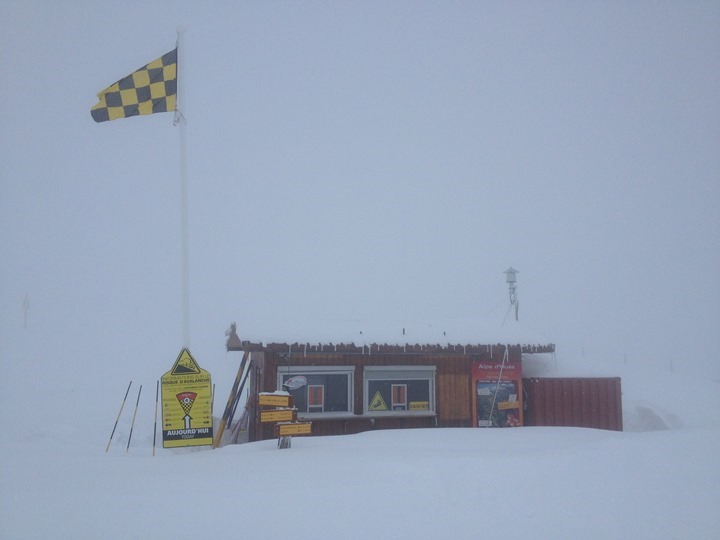 With the conditions dry and cold, it was perfect powder.  So while we couldn't see, and the upper portions of the mountain(s) were closed, we were able to hang down below the cloud layer and just enjoy skiing never ending powder fields: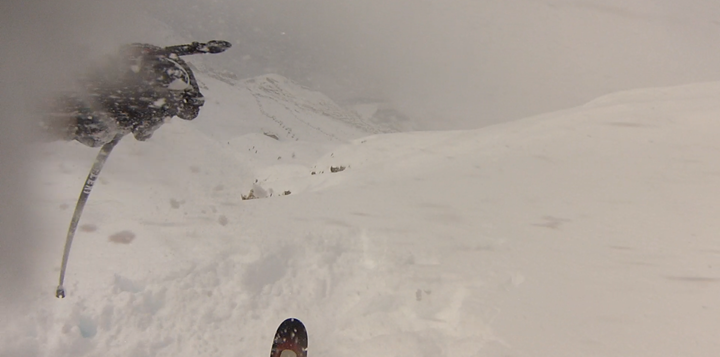 Here's my brother, enjoying the soft landings: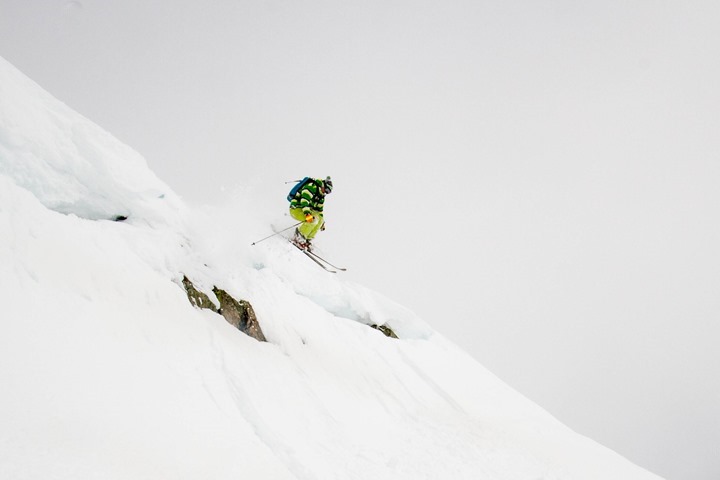 And me, pulled from his GoPro video file: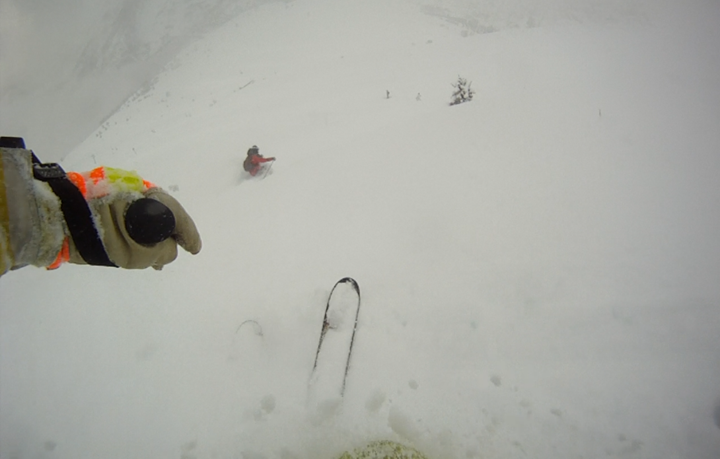 Every once in a while we'd get a few minutes of blue sky – just enough to remind us what would be coming the next day: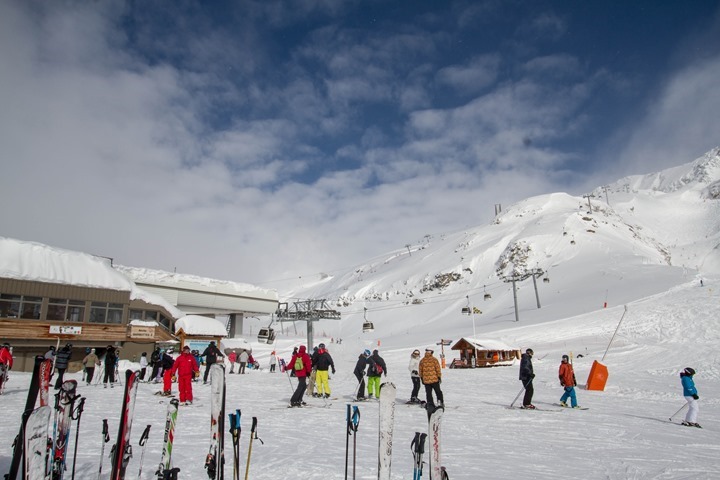 By the end of the first day, we had racked up over 38 miles of skiing (and lifts) and 23,714ft of descending.  A pretty solid day given the limited visibility.  With the deep powder, speeds were dramatically reduced – we only hit a max of about 39MPH that day.
Of course, we still found time to fit in a Nutella-Banana Crepe at the end of the day: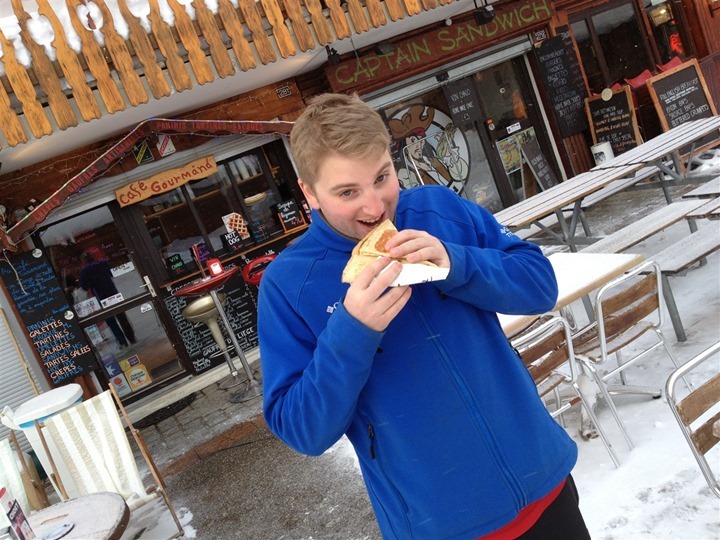 Upon waking up the next morning, it was like a whole new mountain: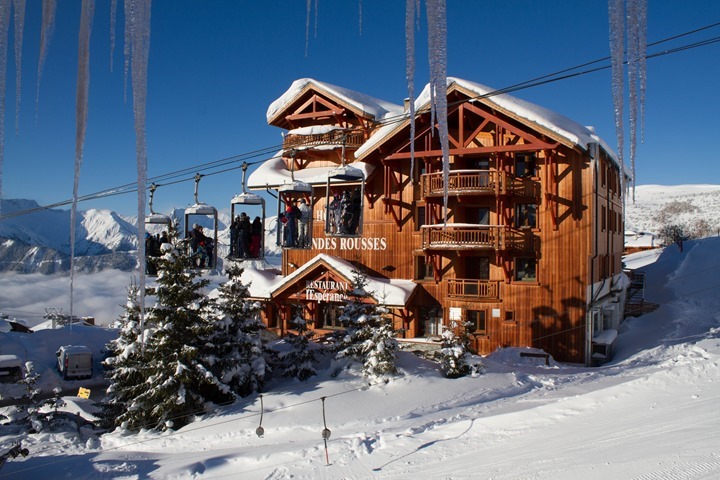 In case your curious why people are hanging in little baskets – it's a form of a people mover.  Each basket holds 3-5 people and their skis.  In this case it took folks from a parking lot/village area down below, up to the main base area.  The only challenge is that it's not detachable.  Which means for each set of baskets (separated about 100 yards apart), it will stop to load and unload.  Given the length of the lift was probably 1/3rd to 1/2 a mile, this meant a lot of stopping.  We found we could have just walked to the base…and back…ten times, before we got up there in our dangling basket.  Still, it was fun to watch.  The next day they opened the little Poma lift you see at the bottom of the frame, which took all of 90 seconds and we were done.
With our tickets picked up, we went and found our playground: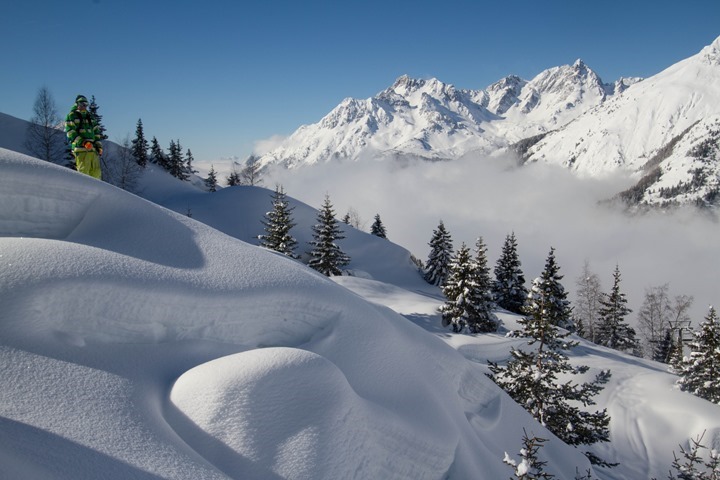 Perhaps the best part about skiing in France is that the French really prefer to ski on groomed runs.  So despite having what most skiers would refer to as the best day all season to go and ski the massive snowfall in bluebird conditions, most skiers here will stay to wherever the groomers were.  Even powder fields just 50-100 yards off the main run would literally remain untouched all day long except our tracks.  It was crazy-awesome!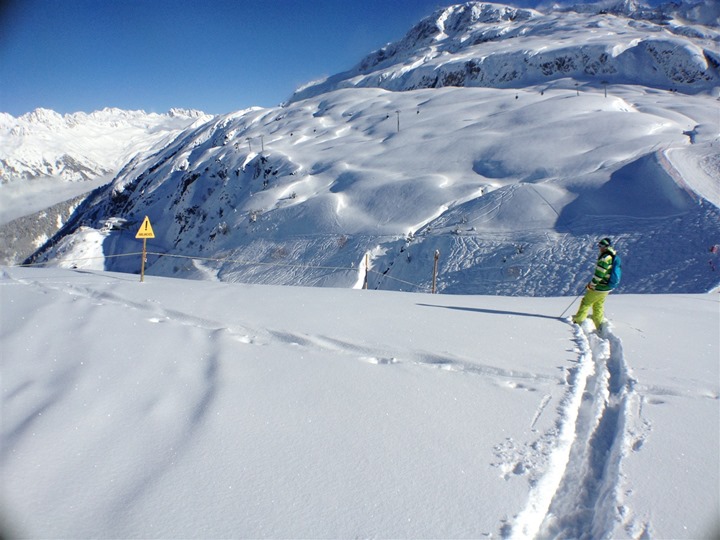 We just kept on skiing through an area that cut next to main runs, but was like being a world away: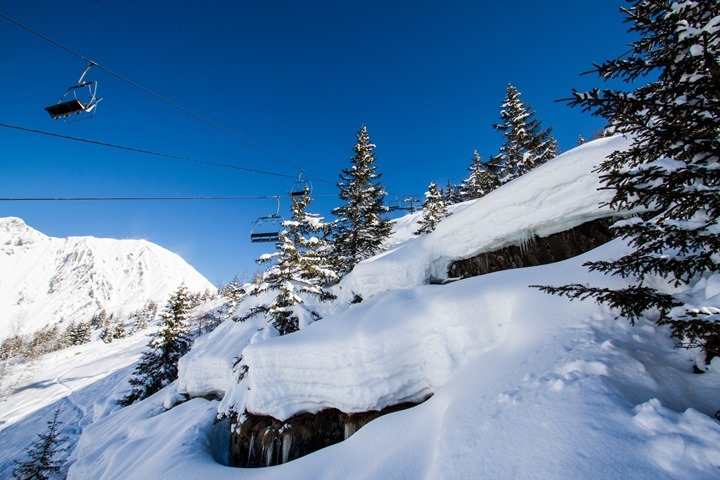 Each run would drop a few thousand feet in vertical, and then we'd zip up and do it again.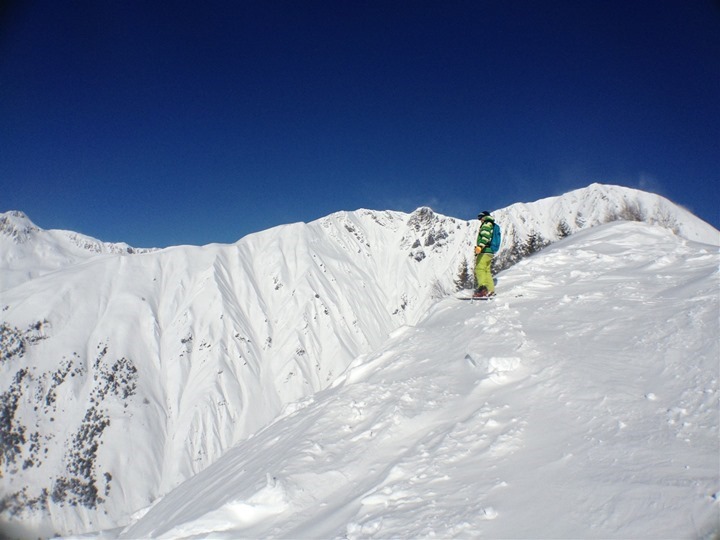 And again: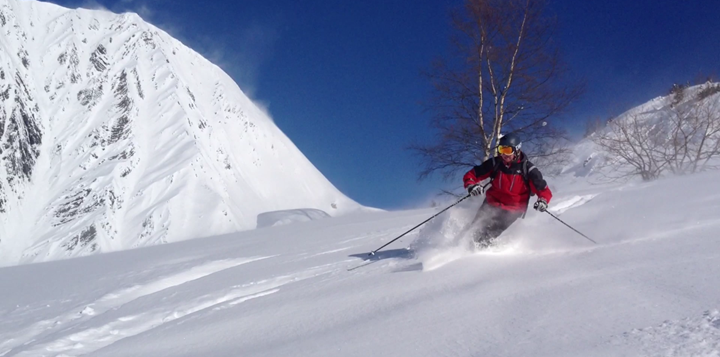 As many of you know, both my brother and I grew up ski racing (in Seattle).  Interestingly, we do have different quirks when it comes to skiing.  For example, he loves jumps/cliffs/drops: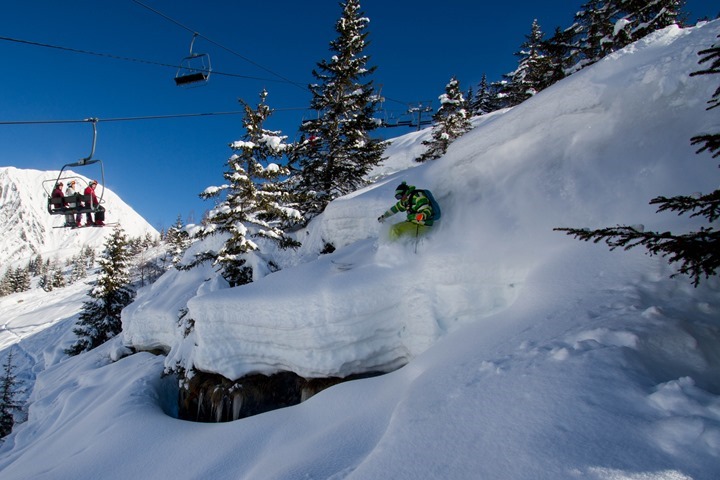 And I prefer outright speed: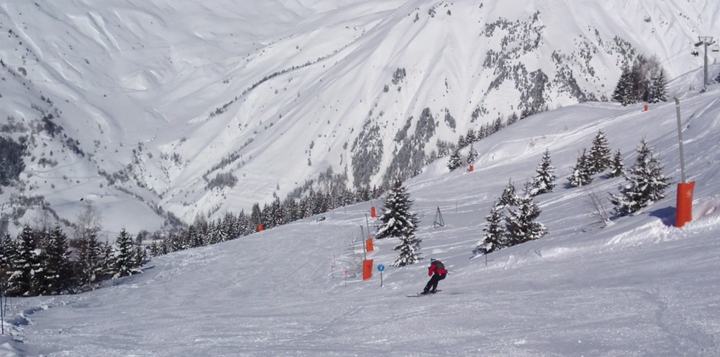 63MPH, on my one and only pseudo-high speed pass while there.  He meanwhile, has no desire to go anywhere near highway speeds.  Just like I have little desire to free-fall through the air on two little wooden sticks.
But, we both make it work in the trees.  We worked our way through these runs over and over, finding new lines and new drops.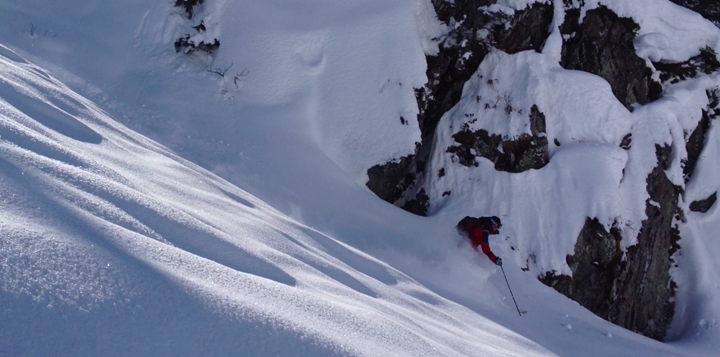 While the French don't appear to enjoy the powder as much as we did, they do totally rock anything and everything to do with the lodges.  All the food we had was awesome, plus, can't beat sitting outside:
Unfortunately, the high winds eventually closed down the lift we were skiing on.  You can see them ripping across the mountain top above us here.  The winds were shifting the snow, which in turn was creating new avalanche dangers for a different portion of the run.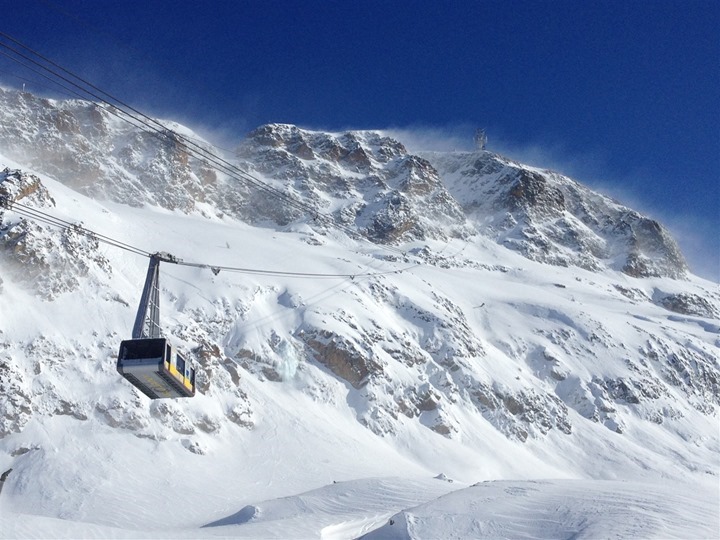 So, we busted out our paper map and eventually worked our way home.  With nearly a hundred lifts (yes, lifts), and a couple hundred kilometers of trails/runs it was easy to get lost.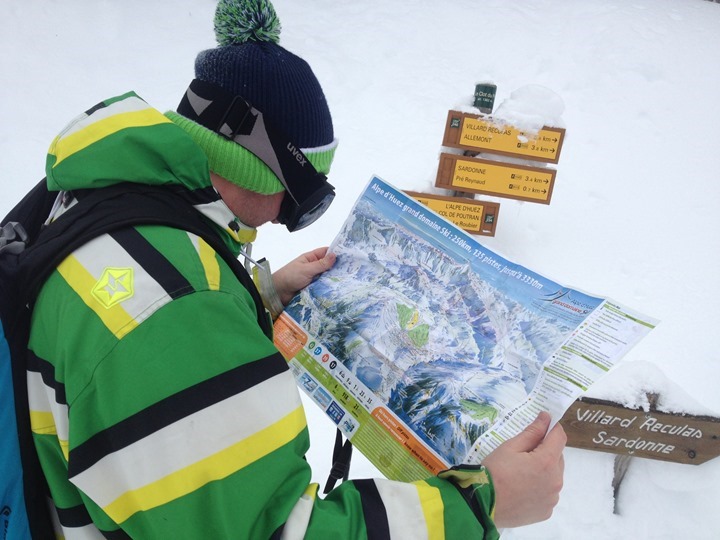 Later that night as I was getting ready to head to the gym to spend some quality treadmill time we heard a bunch of shouting.  All of the ski instructors were skiing by with torches.  We're talking hundreds of them in a never ending stream of fire and ice.  Really cool.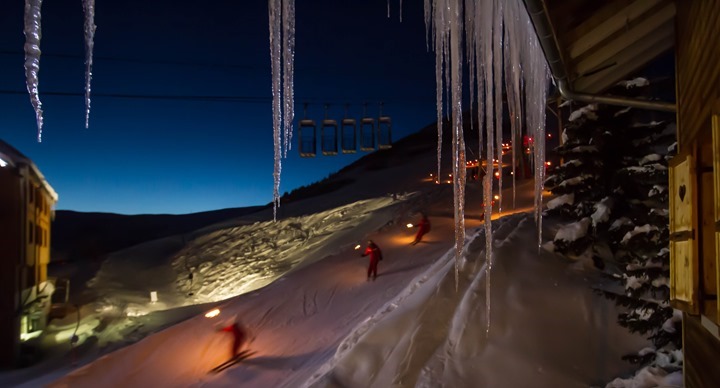 And people were lined up cheering like at a running race: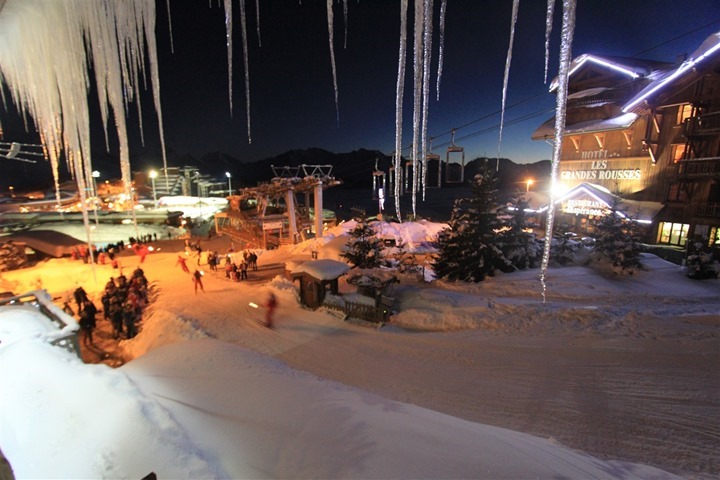 On Thursday, things were largely overcast, so the camera stayed mostly in the backpack.  We did however go ski the worlds longest in-bounds ski run – which is advertised as being 16KM (and also listed as being 'the worlds longest').  This requires taking this tram up to 11,000 feet (well, 10,925 feet).
Then, skiing off the side of it: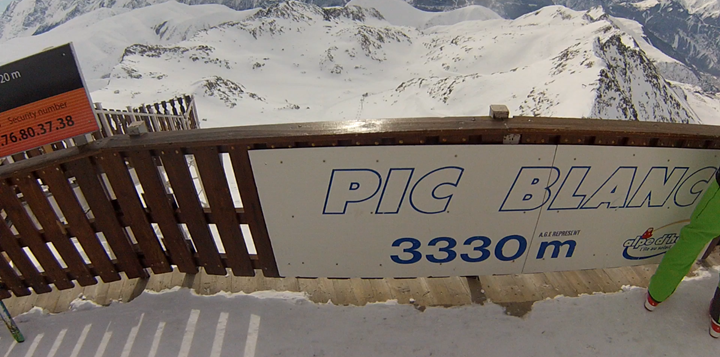 Now I had GoPro'd it, but it turns out my GoPro (on my helmet) was pointed slightly further down than ideal, so while there are some cool shots, it's just not worth it in whole. I had wanted to speed up the entire 16KM run with it.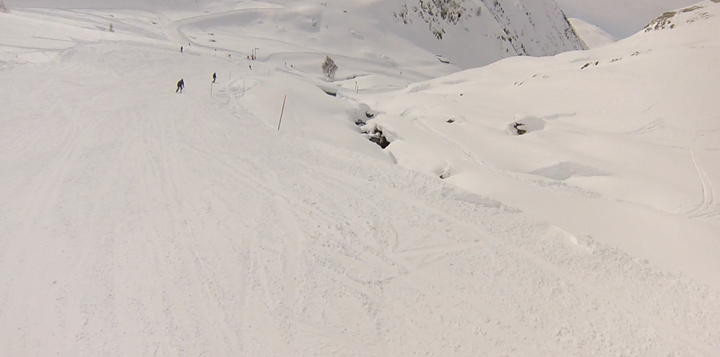 Speaking of which…about that 16 kilometers.
I'd love to understand how exactly that was measured.  With two different GPS units, I put it at closer to 5.76 miles (down to the lodge, then another ~1K after that, so about 6.5 miles – 10.5K).  So we're still talking at least 5K kilometers short.  Perhaps they do the opposite of measuring race courses, and measure the longest possible line instead of shortest.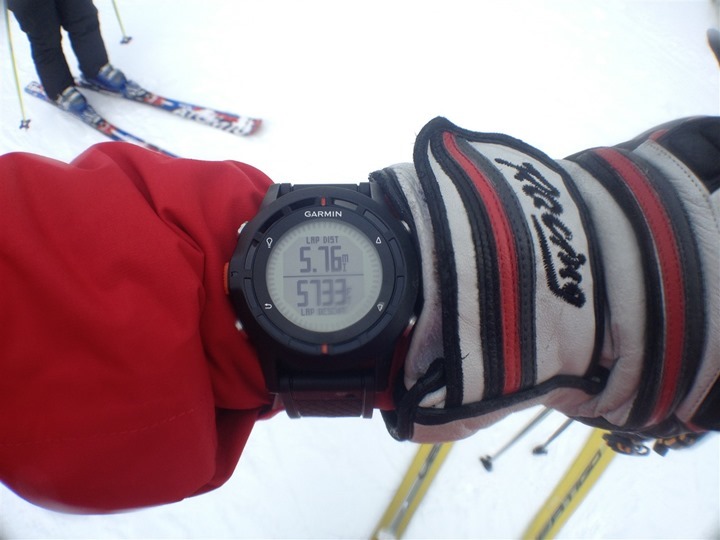 Either way, we still had a blast – and it's a great run (and a great way to drop 6,000 feet).
Here's a video my brother put together of the first two days of our trip.  Everything in this video was shot and edited on his iPhone (4s), pretty cool.  Plus, all of the drops/cliffs you see above are included…with the actual video of the drop.  Enjoy!
Speaking of that GoPro earlier, here's a look at all the technology I was using.
First, I had the GoPro HD Hero 3.  I wore it both helmet and chest-strap mounted.  For the powder day, chest strap worked better.  But for the other times, helmet worked better.  It was interesting to note just how many folks had the Hero 3, versus the older units.  I say this because the Hero 3 only came out this past fall, and I'd say about 80% of the GoPro's I saw were the Hero 3.  Having used GoPro units for years there are a number of little touches that I like about the Hero 3 – namely the cleaner menu system and built-in WiFi.  Though, it does now use a MicroSD card instead of a standard SD card.  And while the card prices are negligible ($11-13 for 16GB), I have to remember to not lose the SD Card adapter so I can load it onto my computer.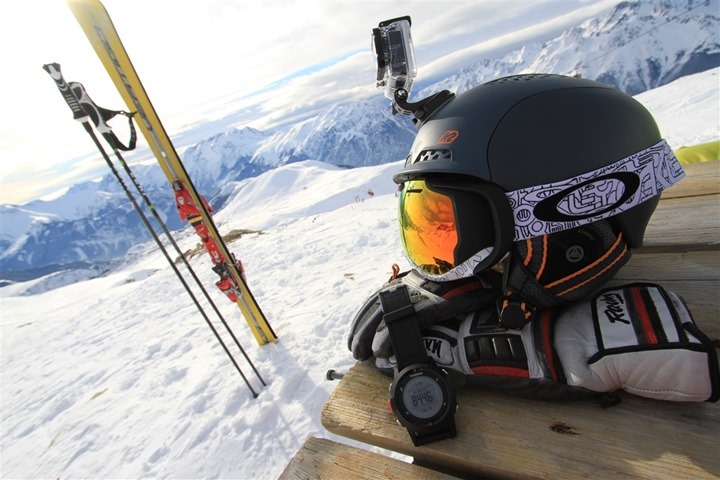 You see the Fenix there.  I was just using that to track speed and distance so I could look it up later and create fun maps.  I was generally impressed with the altitude tracking
Next up is the Recon Instruments Heads Up Display (HUD).  Both my brother and I were wearing one, they sent them out for me to try and review. I was wearing the Oakley Airwave edition, and he was wearing a Recon HUD adapted to Uvex goggles.
I've tested out their units last year (though no review then), but these were on updated software (cleaner), along with their new site (a bit more limited than the desktop software).  Also was using their app.
We both loved seeing how much we were descending and skiing (distance), as well as the altitude.  We don't find the jump times terribly useful, but we're not really the terrain park type either.  The arm band you see below goes on your arm (duh), and allows you to control the unit.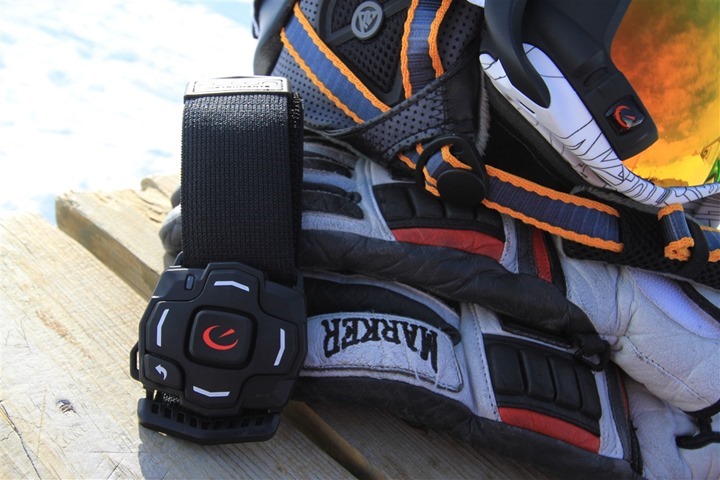 Next is a bit of an unlikely item in my inventory.  It's the waterproof (like snorkeling waterproof) and mostly drop-proof iPhone case.
I say unlikely because I'm not really much of an iPhone case person.  And this things is beastly.  But you know what I realized?  For skiing, it actually works out better to be beastly.  I never worried about dropping the camera, and I didn't have to worry when it was snowing.  Plus, it has a wide-angle lens on it.  Though, the lens has a tiny little bit of vignette at the edges, which you can see in the corners of a couple of photos in this post.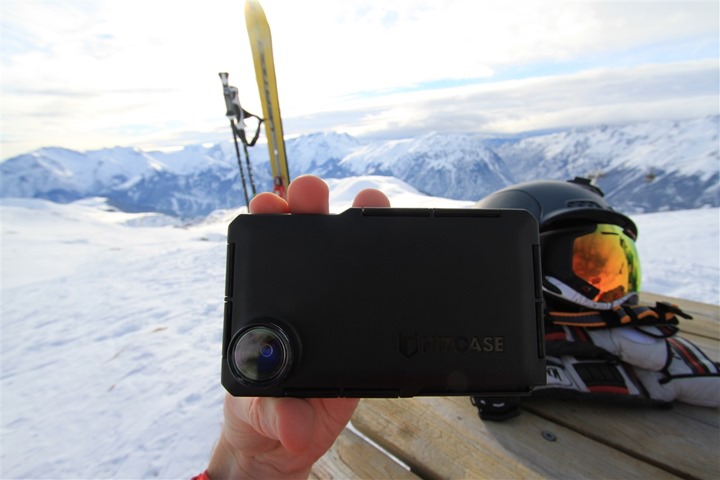 Still, it worked well.  It also came with mounts for all the normal locations that you'd expect for a GoPro (like bike/helmet/etc…).  And even though I'd never use this case in a day to day fashion, I would use it for skiing, and will try it out swimming in the ocean in a few weeks while on some upcoming trips.  It's also function for a jersey pocket while cycling, though, I think it's a bit big there.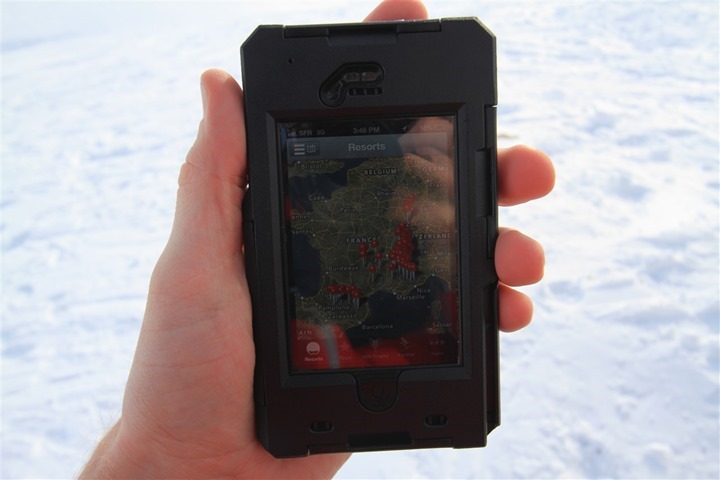 And just because…one last skiing photo.  Remember, them cat tracks are difficult: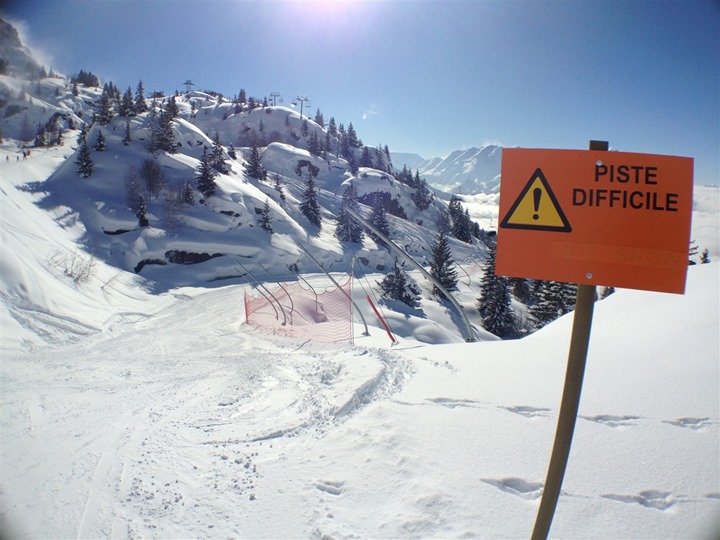 With that, we're back on the train to Paris, ready for a couple days here before my brother heads back home.  Of course, we're already plotting which resorts to go to next time….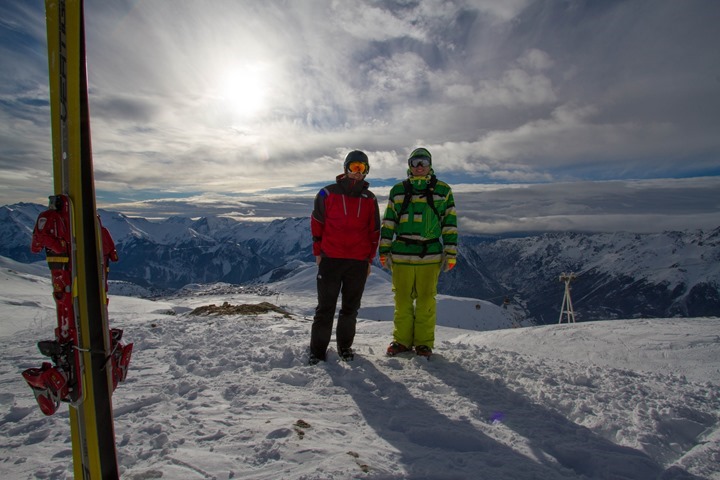 Thanks for reading!