We had long ago planned an extended weekend with Friends down in the French alps, and finally the time was here.  We'd be heading to Val Thorens, which is part of the Three Valley's area (that includes other resorts I've skied at in the past such as Courchevel and Meribel).
Unlike most times when I've gone with my brother or The Girl and stayed in hotels, this time the group of us rented a huge ski chalet right on the slopes.  Pure awesome and to make the best of it, it was cheaper than a hotel!  Although this entire structure wasn't our palace, we did occupy about half of it, and  the second apartment wasn't rented so we were free to come and go as late and early as we wanted without having to consider others outside of our group. which may or may not have led to some late night dance parties 😉
Getting down to the area required about 4.5 hours between two trains, and then a 40 minute taxi up the winding roads to the ski village.  But it was so worth it.
Lots of skiing:
We did so…much…skiing.  We lucked out in that the weather was great there for us, more or less sunny the entire time.
Val Thorens is part of the Les 3 Vallées (The 3 Valleys), which is the largest ski area in the world with some 180+ lifts.  It's basically a series of smaller ski areas (such as Val Thorens), of course, small is all relative here since Val Thorens has 29 lifts just by itself, and tops out at 10,564ft (3,220m).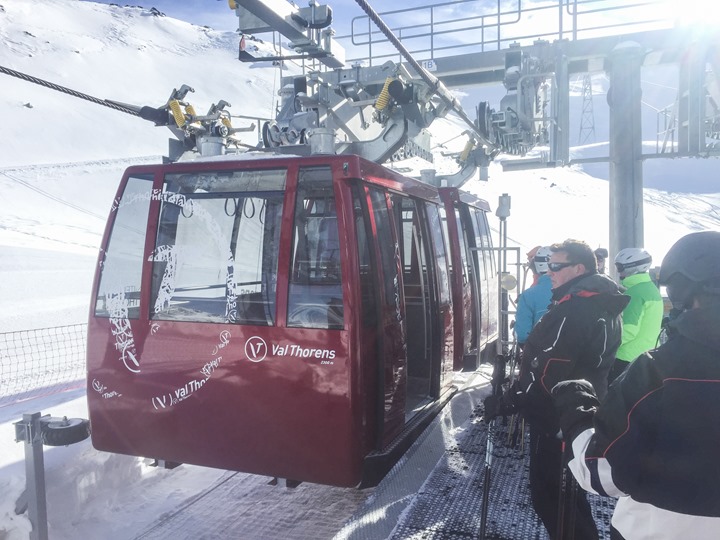 Most of the lifts you'll take are gondolas or cable cars.  Though there are certainly chairlifts, often in less busy locales or places where they want to rate-limit the number of people a bit (such as some of the more difficult peaks).  For example, we took a small chairlift up to the top of one peak to ski down the face through the rocks (that's the wind screaming over the rocks to the left there, causing the snow plumes):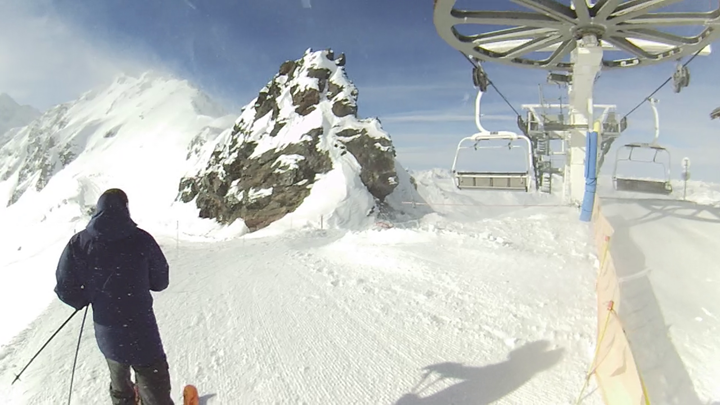 Here's a video I took from the Zeal HD2 goggles of that little bit of fun we did:
(For the record, it's not out of bounds, the little sign you see is simply telling you to get out of the chairlift unloading zone, with the fences keeping you from going off the backside.)
Of course, the views from up top of any lifts are really just amazing.  Sometimes they even have little maps telling you where all the peaks are.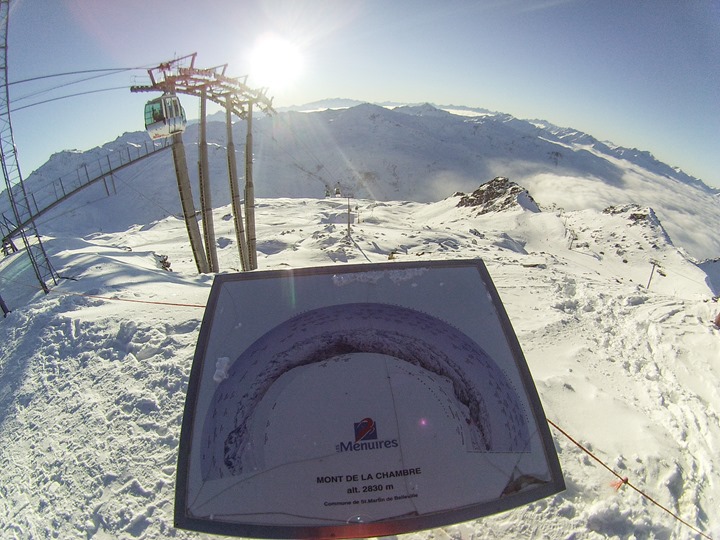 Or just signs to figure out which resort you're headed to: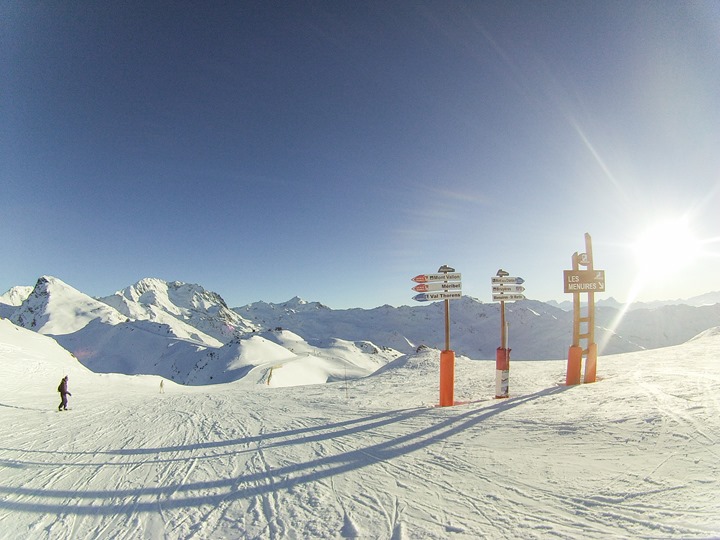 There were even circular rainbows.  No lens tricks or magic here, it actually looked like this with your own eyes: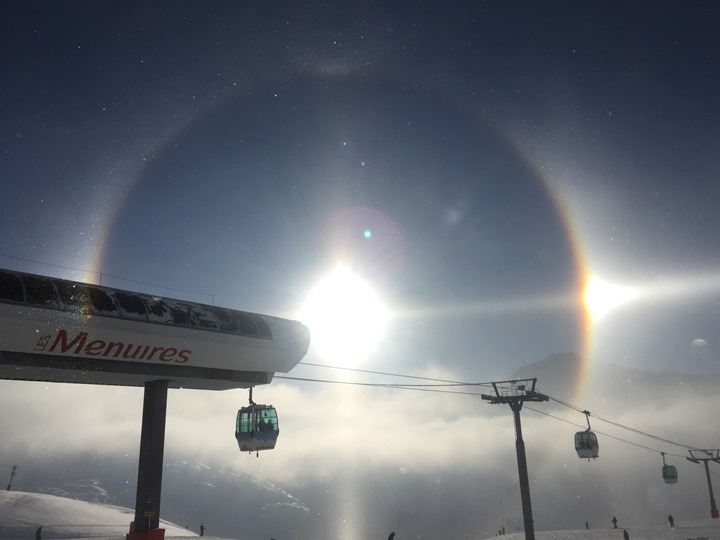 The best day was probably Saturday, which in most European resorts is considered changeover day.  Unlike in the US where many would just go skiing for a weekend or extended weekend, many in Europe would go for a full week to a resort.  Thus many apartments/hotels/etc are only bookable in week-long segments.  And, those segments near universally start and end on Saturday, therefore earning the name changeover day.
On that day however, the slopes are nearly empty.  And we'd get a lot of empty chairlifts and gondolas:
Speaking of lifts, they have magic carpet tunnels.  Which are hilariously awesome and perfect for getting around the village: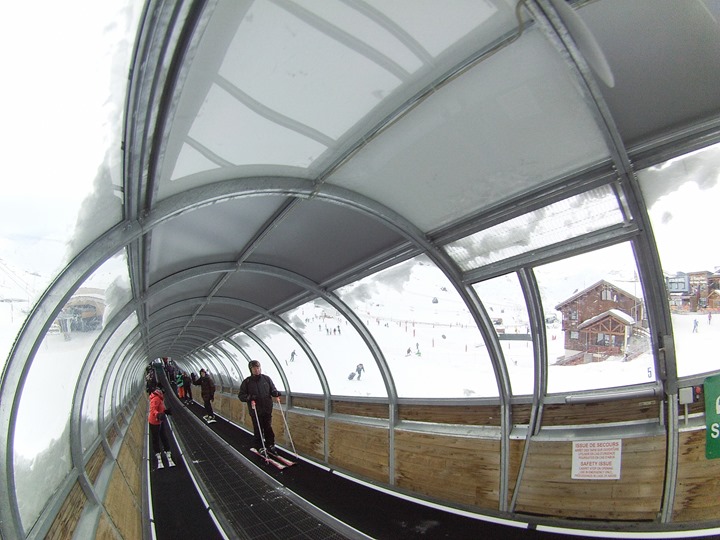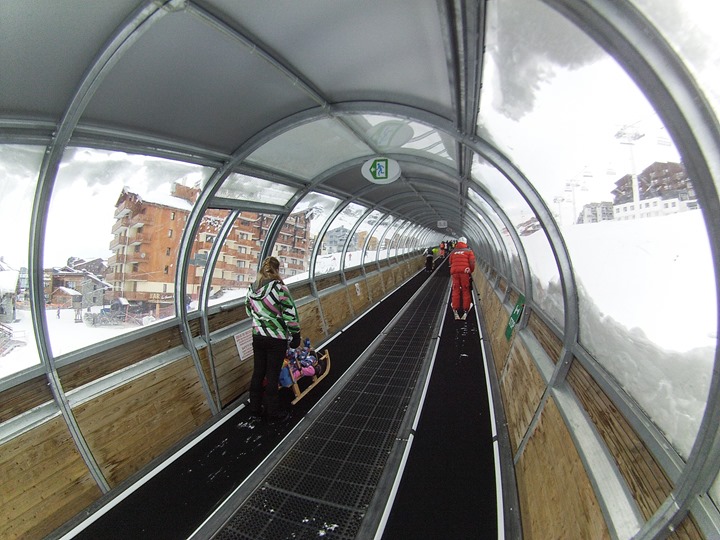 But perhaps the best part about skiing in France is the food on the hills itself, there are seemingly endless quant little lodges like this hillside: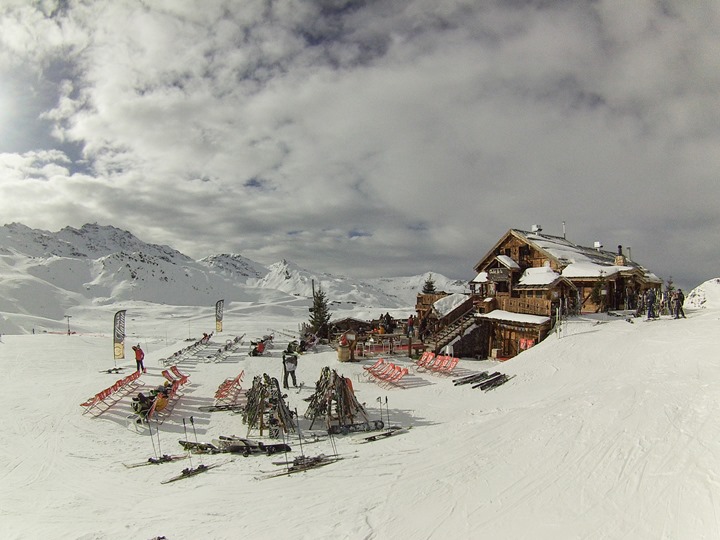 Where you can sit outside and eat a feast: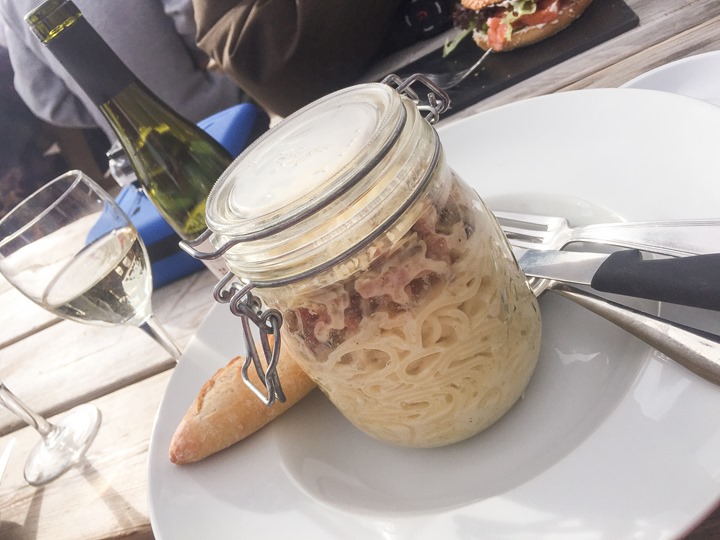 Or, just enjoy sitting in the sun and have drinks brought right to you: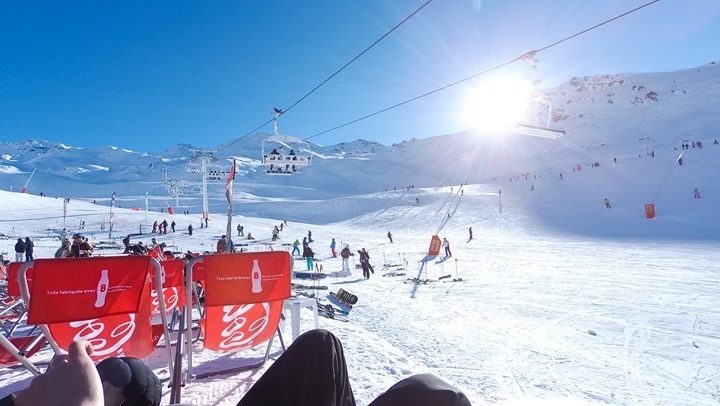 And there's even a massive bar with DJ up on the hillside too.  Epic big: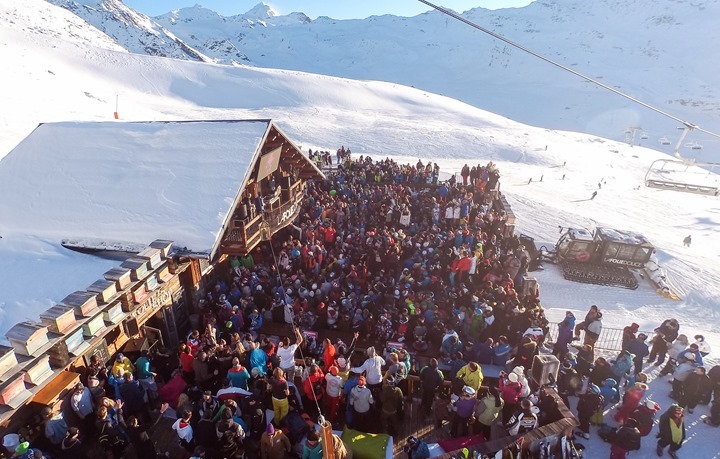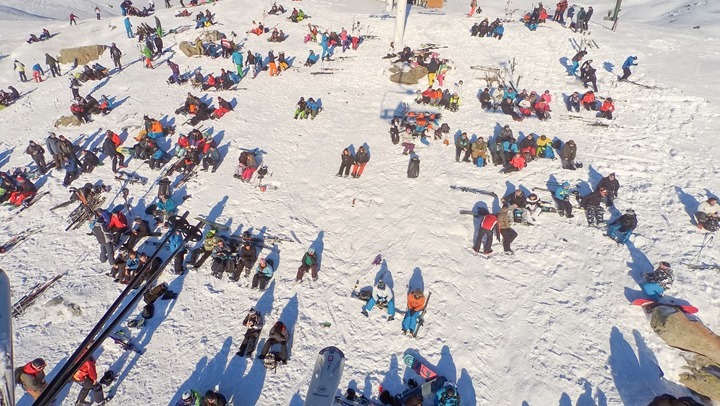 Of course, we could cook up just as much food as we wanted to inside our ski chalet too, which, astoundingly even included a Raclette machine.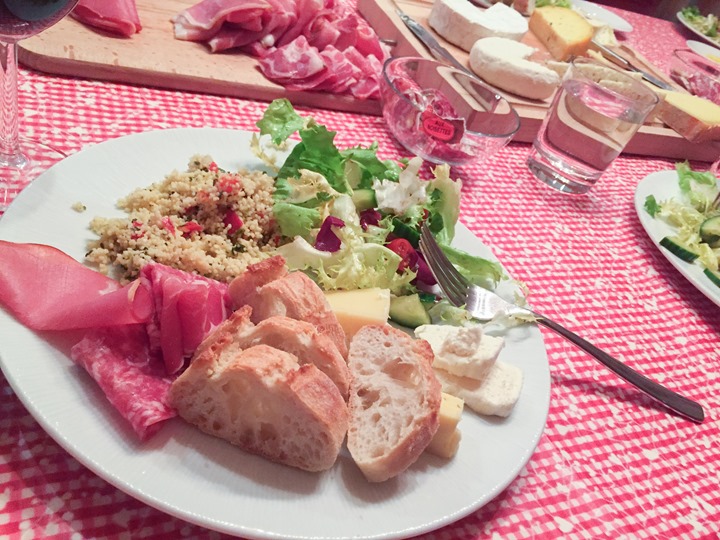 Perhaps after the meat and cheese festivus we put together it was good that we skied a lot.
A bit of ziplining:
While stumbling through the website for Val Thorens we noticed they had some crazy zipline listed.  One that was only accessible to those skiing/snowboarding.  It said it reached speeds of 110kph over nearly a mile, while being about 750ft above the ground (that's the height of the Space Needle in Seattle).  Sign us up!

Turns out, the 'sign us up' part takes a bit of time.  In our case, we spent 2 hours in the line standing there at the top of a mountain at 10,000ft.  At the completion of that 2 hours, we signed our life away and got all harnessed up: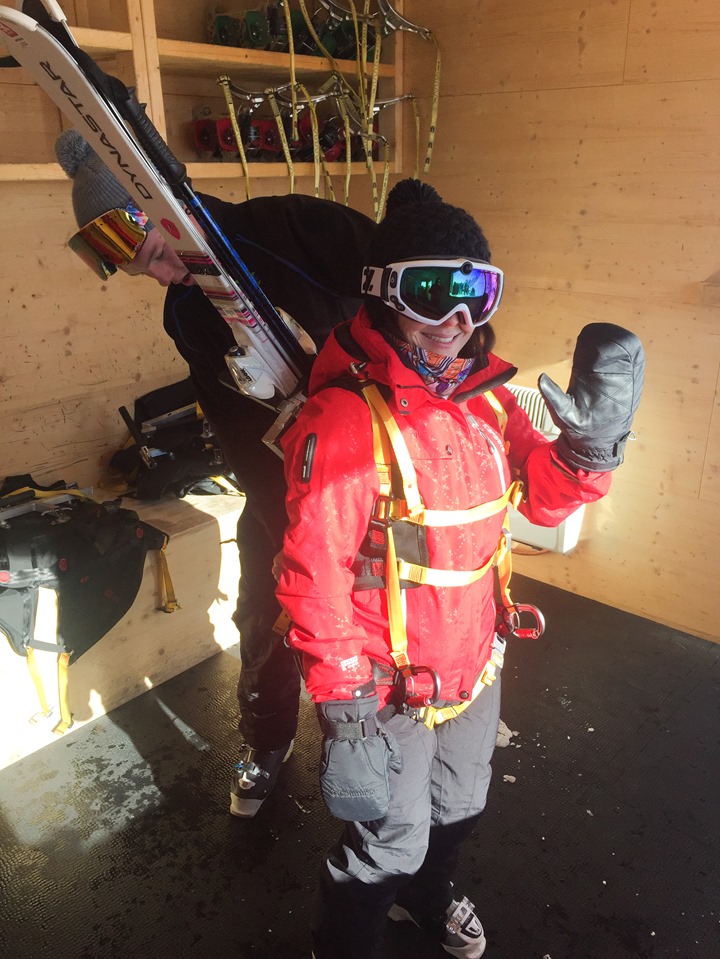 Then we headed up the platform for a moment of silence to reflect upon the mistake of signing up for such craziness.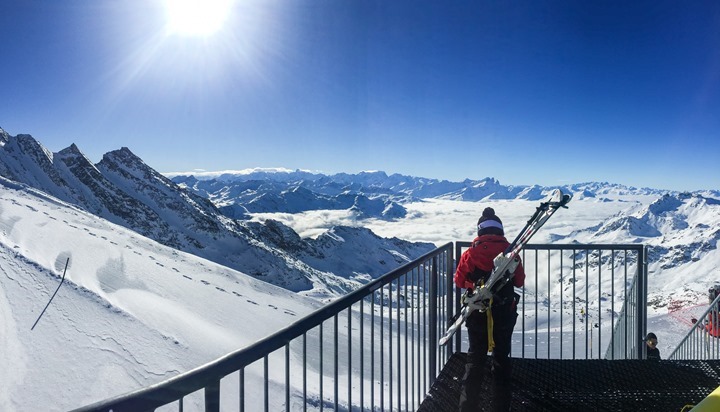 Five of us in the group made such a mistake.  The others were smarter.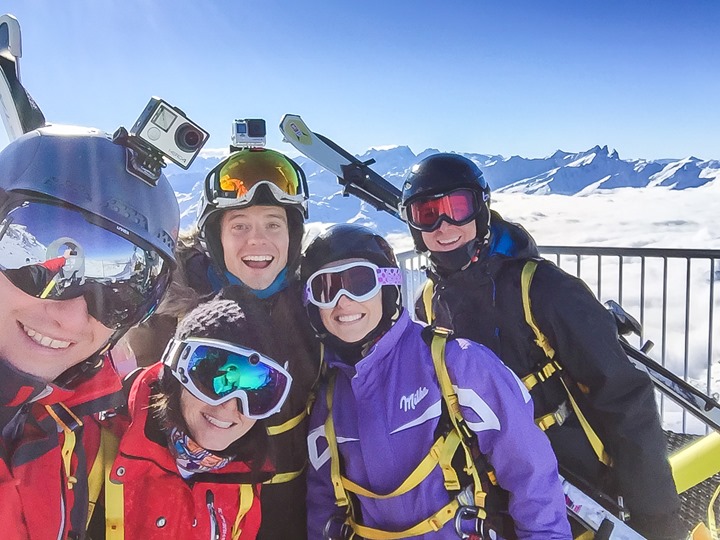 We'd watch each of them going off, one by one. Soon it was The Girl's time to go (I was last, after her). She had put on the Zeal HD2 camera goggles to record the journey (I had a GoPro on).  The way it works is that after getting all connected to the zipline attachment, you wait for the green light above you.  This waiting period takes a few minutes of just dangling there, hanging off the line.  Here's her run as filmed from the goggles:
Yes…she got stuck at the end.  She wasn't heavy enough to make it and had to jump a bit to get close enough.  Here's a much better (read: hilariously funny) view recorded by our friend David:
After she was all set, it was my turn to go.  I had the Hero4 Black attached to my helmet.  Here's another view of what it looks like, this time from my run on it.  If nothing else, notice the quality difference between the 720p video from the HD2 from goggles, vs the 4K video from the GoPro.
All in all, pretty awesome – oh, and only €50.  Very reasonable in my mind.  In case you're wondering, your skis were attached to your back.  So you just kept on skiing from there.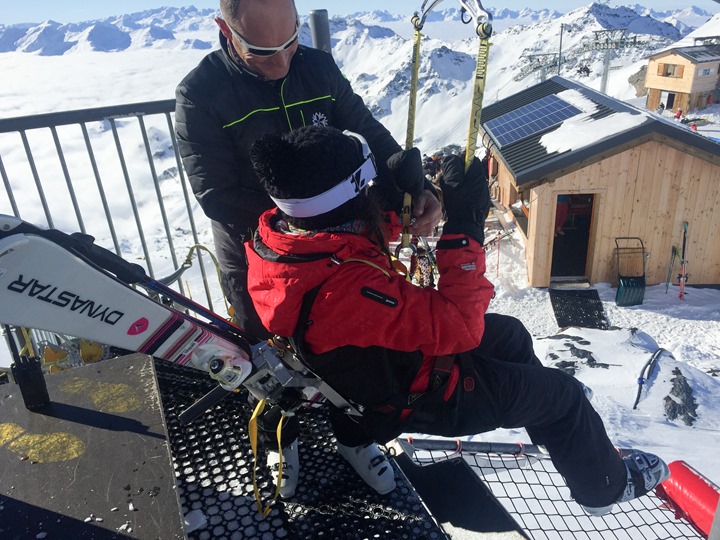 Additionally, they have a secondary line that you see in the video to the right with the red balls on it.  That's how they get all the extra metal zip things and harnesses back to the top via a little robotic cage carrier: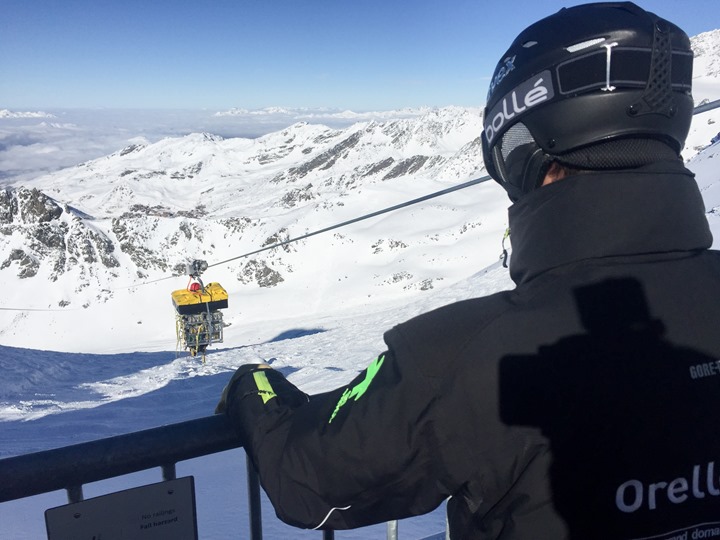 They also had this totally awesome scale you stepped on prior to going on the line. Although I'd question now their calibration skills after several re-run videos of The Girls "did I make it", zip line fail!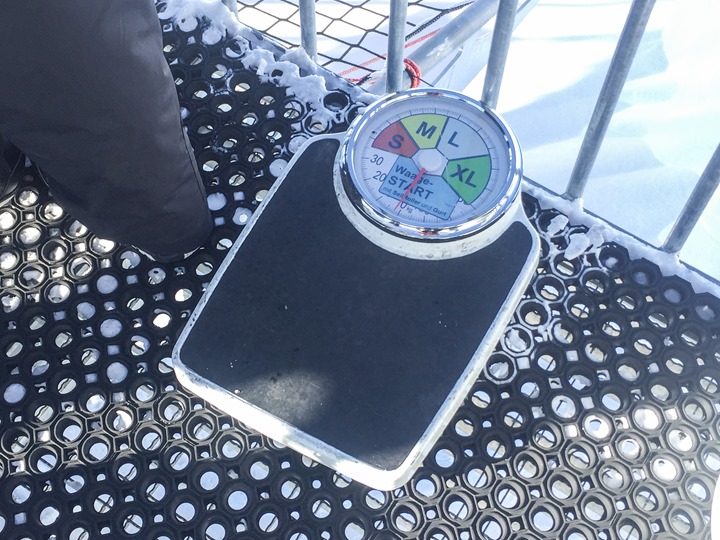 We did get lucky though, as the next day the winds were too high to operate – so it's definitely a bit limited on the weather front.  Also, across all the devices that we wore, as a group we topped out in speed at about 50-55MPH.
And the gadgets!
Speaking of those gadgets, I brought a small pile of them.  I was really only truly testing a few of them.  But others were along for the ride, or being used for other upcoming posts.
So in the bag was… Some Garmin watches, mostly focusing on the ski/snowboard mode so I can show how it works in both upcoming and past reviews, such as the FR920XT review: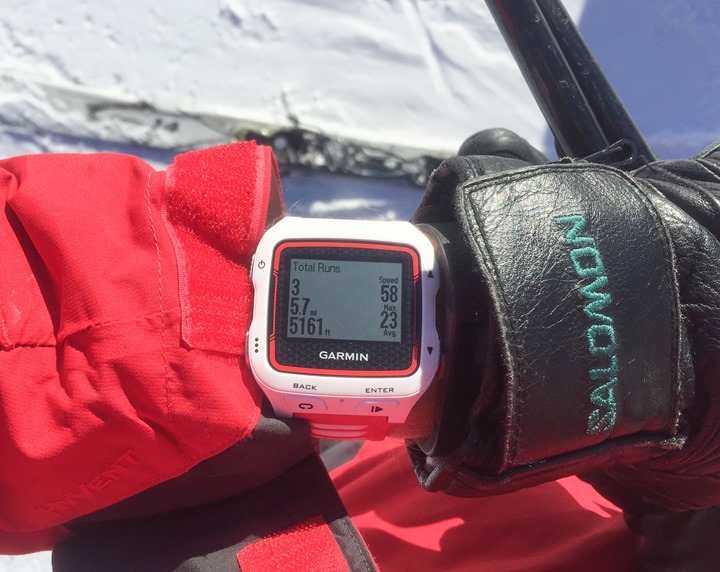 It really is impressive how well it works – quite cool.  It automatically keeps track of my runs and I don't have to touch it at all after starting it at the beginning of the day.
Next was the Zeal HD2 goggles that have a built-in 1080p camera in the front of them for both videos and photos: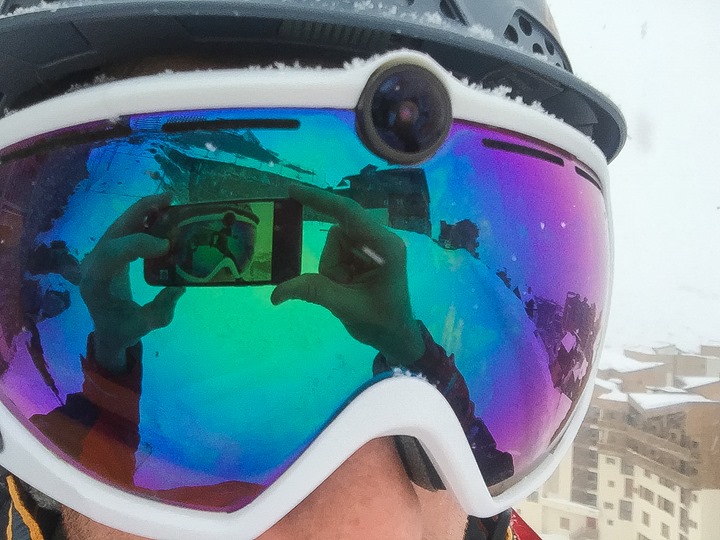 Then I loaned another pair of goggles to one of my friends to capture data for the Recon heads up display system (seen left below).  This was valuable in that it's their new software platform just released last week that shares the codebase with the upcoming Recon Jet system.  Lots of little tidbits in there where you could see integration points for cycling and running.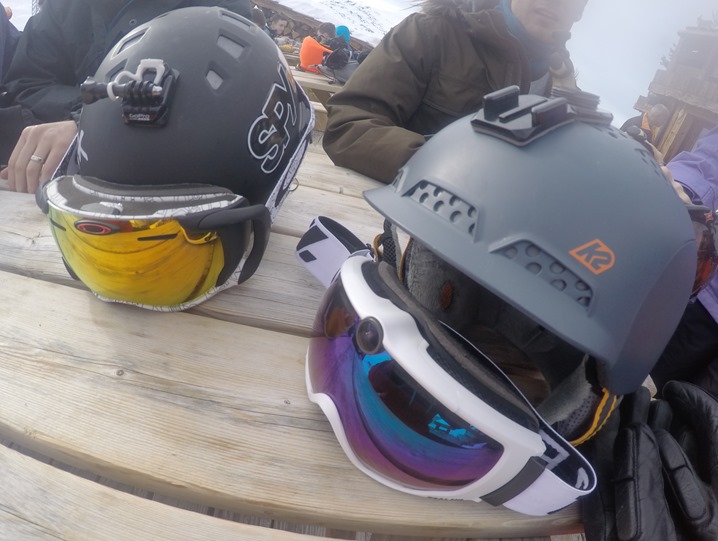 And afterwards, it produces pretty sweet overviews of where you went and run stats (until it runs out of battery anyway):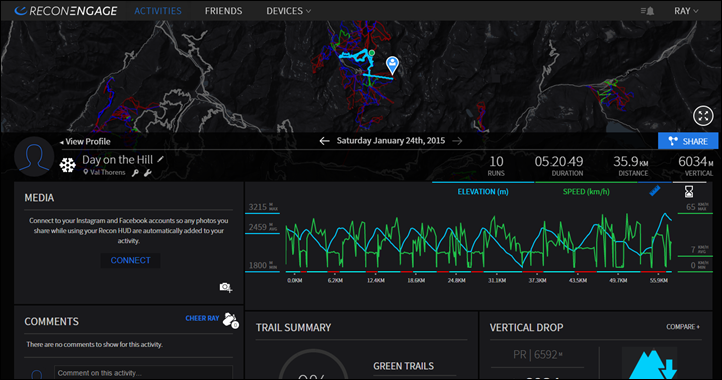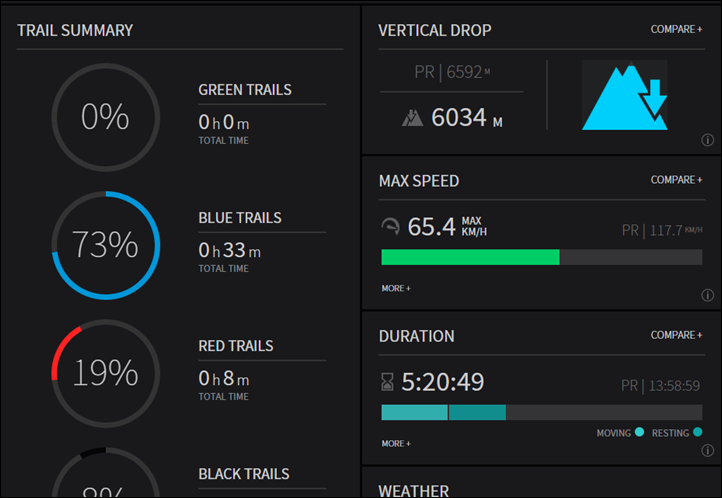 This is one area that I wish the Garmin watches did a better job on in the post-skiing analytics department, and could really learn from Recon.  The Garmin views are no different than the views for going for a run.  Whereas to have the Recon dashboard break-down that was skiing specific is much more appealing.
Next, I had a small gaggle of action cams that I was doing live streaming to the internet with.  Some of you even tuned in for a few ski runs.  Post on that tomorrow or Wednesday.  The cams were the HTC RE, the Sony AS-100V and the GoPro Hero4 Black.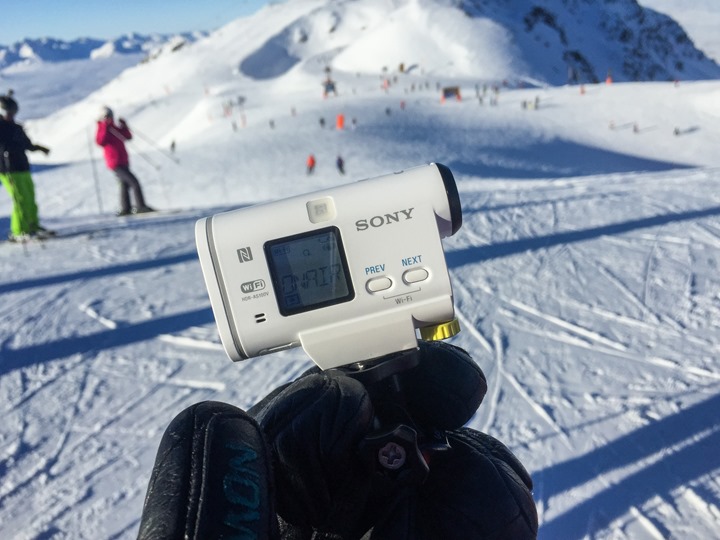 Finally, I was doing some long battery tests with the Fitbit Surge during the day, trying to see how long a GPS activity I could create.  I was actually quite impressed here – it exceeded their 5-hour estimates by going some 7hr 45min+ before it died.  Full details here.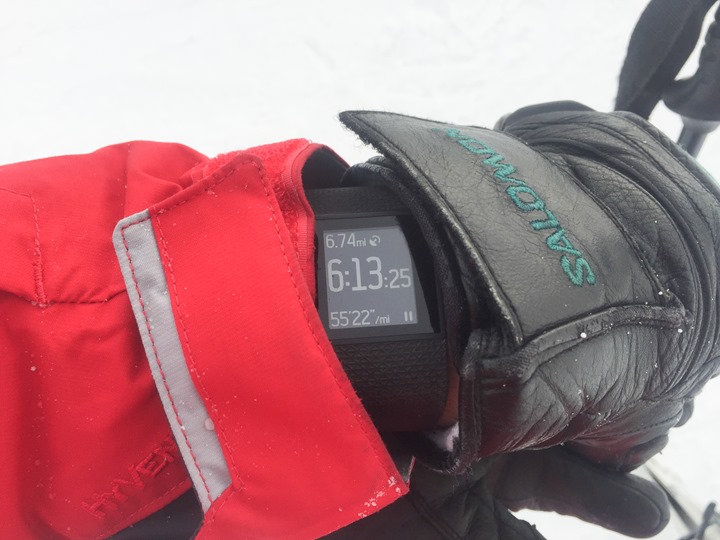 Of course, I probably had a few other things in my bag, but we'll just keep it at that for now.
I'll be back in the cold tomorrow though, headed up to Sweden for work for about 24 hours.  Gothenburg, here I come!  (Don't worry, I'd never heard of the town before last week, either).
Thanks for reading!