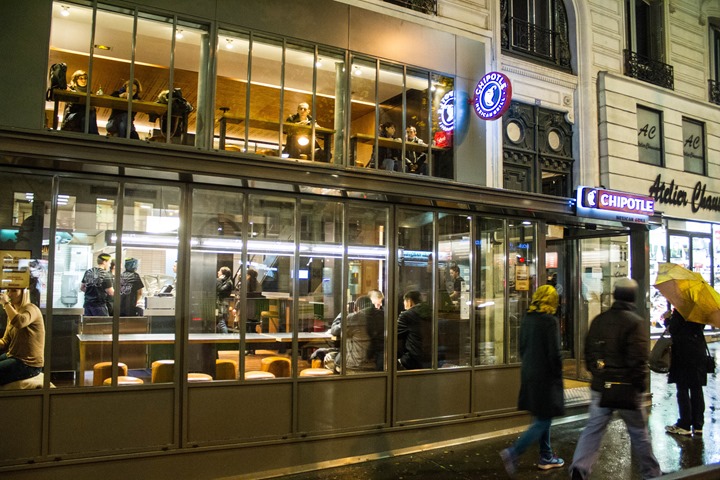 When we were living in the US, we didn't eat at fast food places too frequently.  And when we did, it generally trended more towards 'healthier' fast food variants (i.e. Subway, Quiznos, etc…).  And then there was Chipotle.  Chipotle was our go-to after long 20 mile runs or 80-100 mile rides when we wanted to do nothing else other than get instant fullness via a massive burrito that was relatively healthy (in moderation).
Last spring when we were picking out houses, we had heard there was a Chipotle in Paris, but never paid it a visit during our house-hunting.  In fact, never even looked it up on a map.  Probably a good thing in retrospect, as otherwise we might would have just lived across the street from it.  There's only one Chipotle in France, and it's here in Paris.  There are also a handful of Chipotle's in London – but that's it for spots outside the US.
But since moving here last summer, we have wandered up there about 2-3 times now.  The reason for the lack of visits to it is simply that it's a bit of a haul to get to.  Here's a quick map of Paris, showing where it is, and where we are: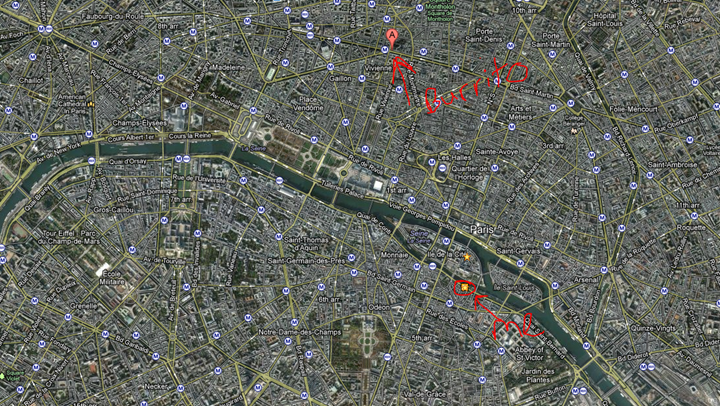 The few times we've gone, it's been via Metro (subway).  And due to the way the lines are, there's a handful of train switches.  Not terribly efficient.  Getting there on bike isn't too bad however.
At any rate, once you arrive, here's what you're looking at: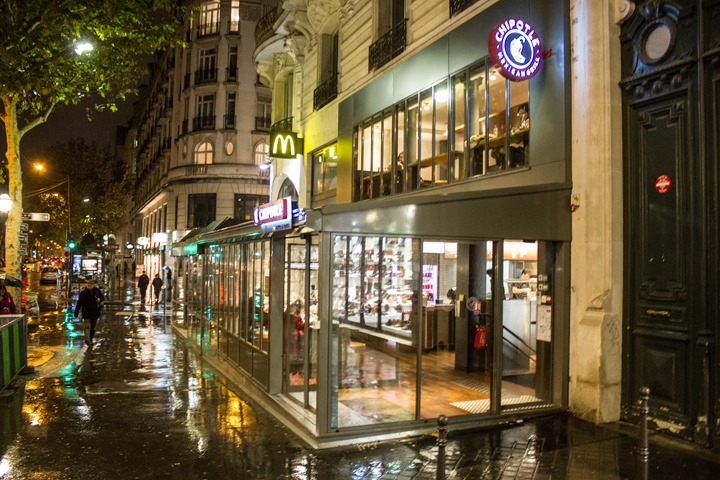 Once inside, you'll have the counter just ahead of you to the left.  You'll want to pick-up a menu along the way (obviously, completely unnecessary for me).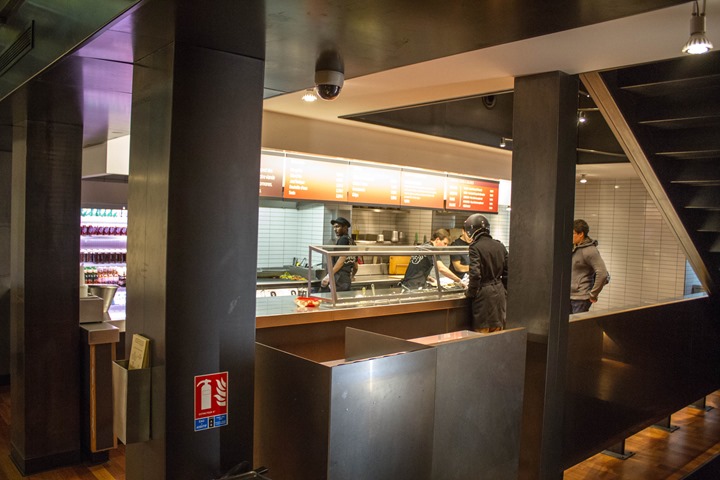 We've lucked out in that out of the 2-3 times we've been there, it's only been busy once.  Likely because we have only gone on ugly rainy and cold nights – pretty late too.  I hear that during the day at lunch the line is out the door crazy.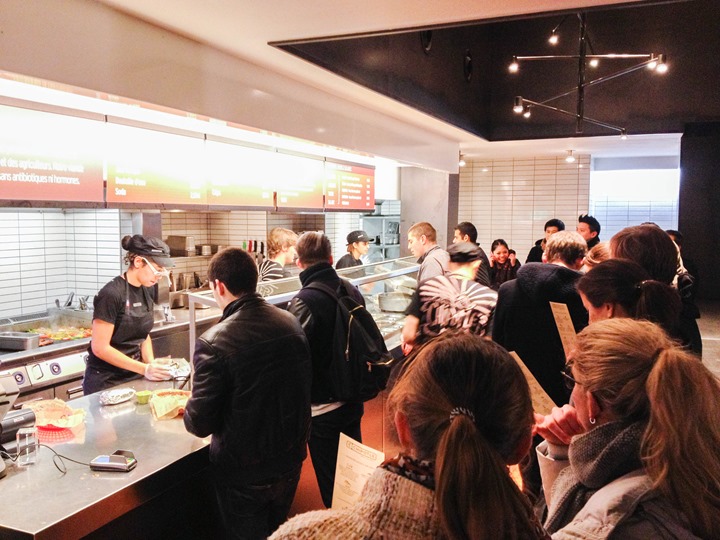 Menu-wise, it's virtually identical to the US Chipotles.  You can go with Burrito, Tacos, Burrito Bowl, or a Salad.  It's not clear to me if you can also get some of the off-menu items like Quesadilla like you can in the US.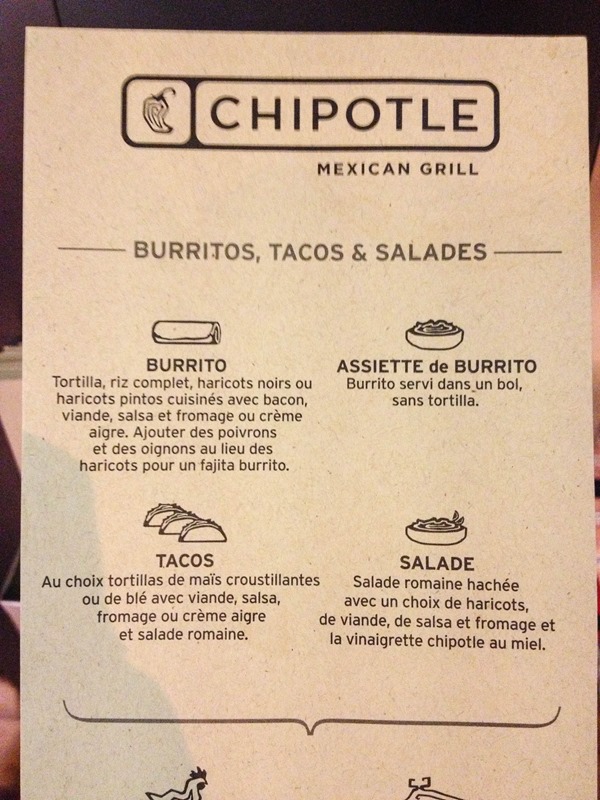 And the meat selection is the same here.  No horsemeat option or snails here.  Just Beef, Chicken, Pork, and Veggie.  Unlike the US however, all fillings are the same price.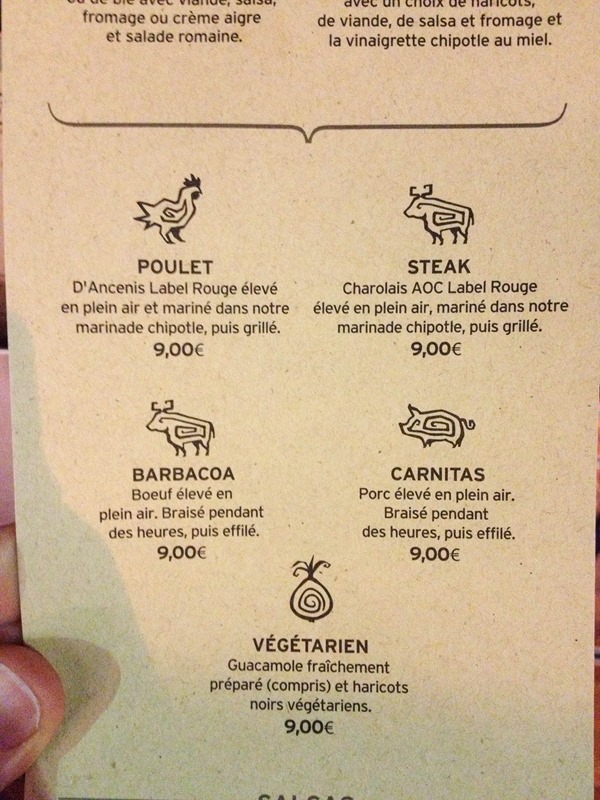 And then finally, pretty much the usual toppings.  And of course, there's wine on the menu here (as well as beer).  Though, that's in the US too.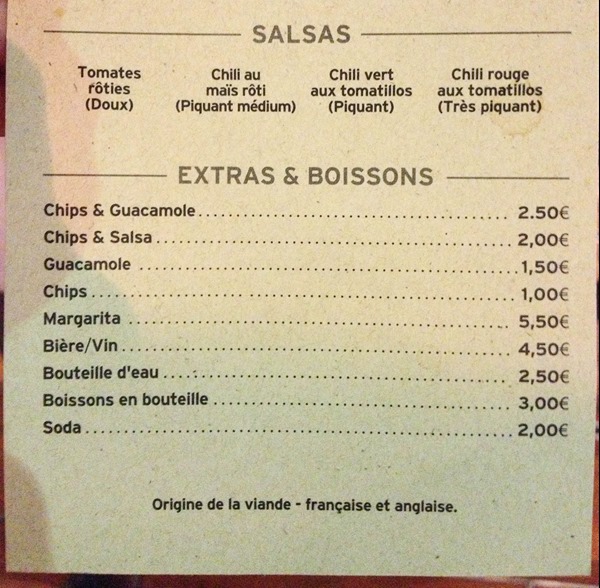 For those doing the math at home, 9€ is just under $12US.  A pricey burrito!  Though, just about everything is more expensive in Paris (except Baguettes).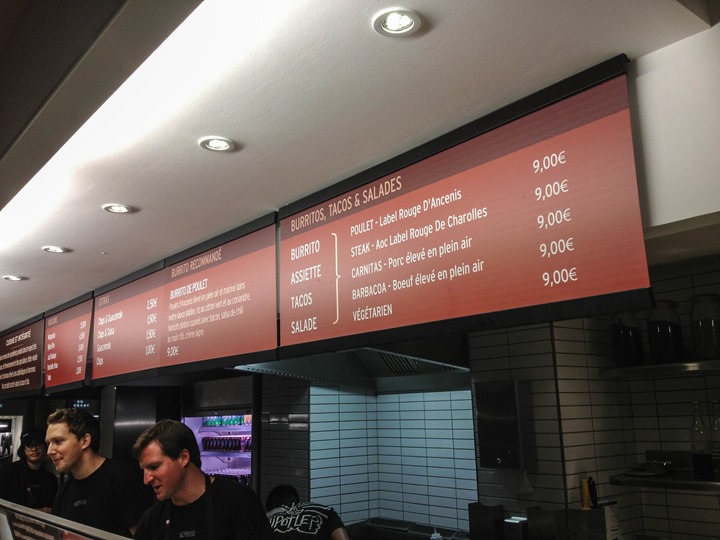 Ordering is essentially the same as the US.  You first get your burrito wrap warmed up, and then choose the type of beans before moving onto meat: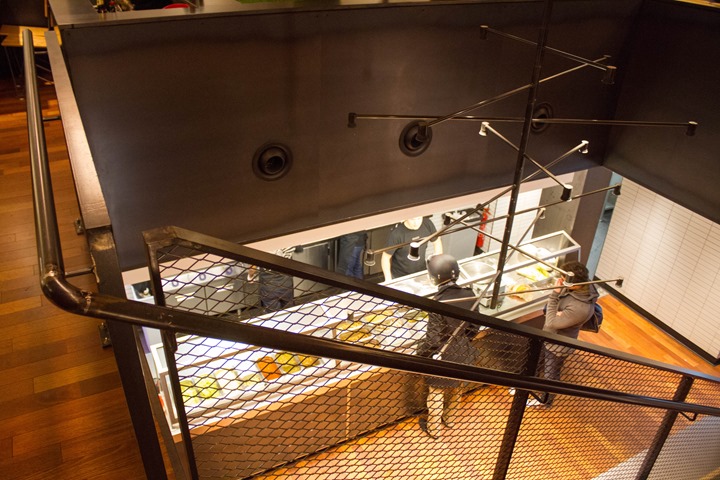 It's notable just be how much smaller the kitchen space is compared to most American Chipotles.  The area behind these guys to the left where the knives are hanging are the only cooking surfaces.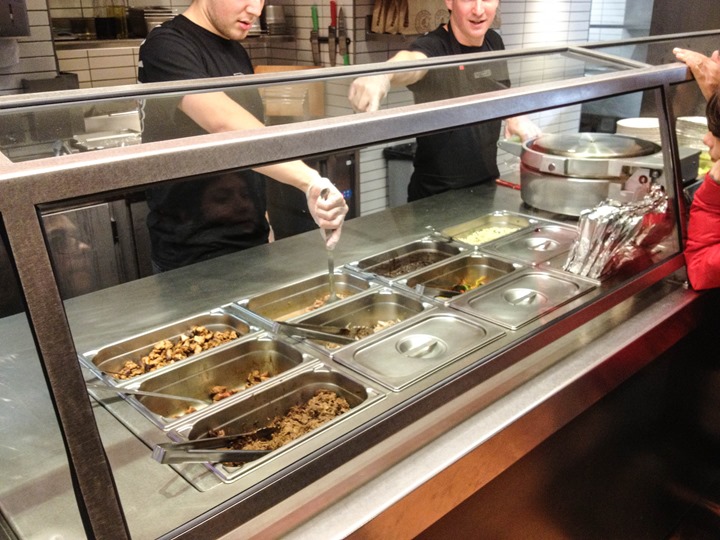 There are two items which are different.  First is the rice.  They have a brown-rice variant, and no white rice: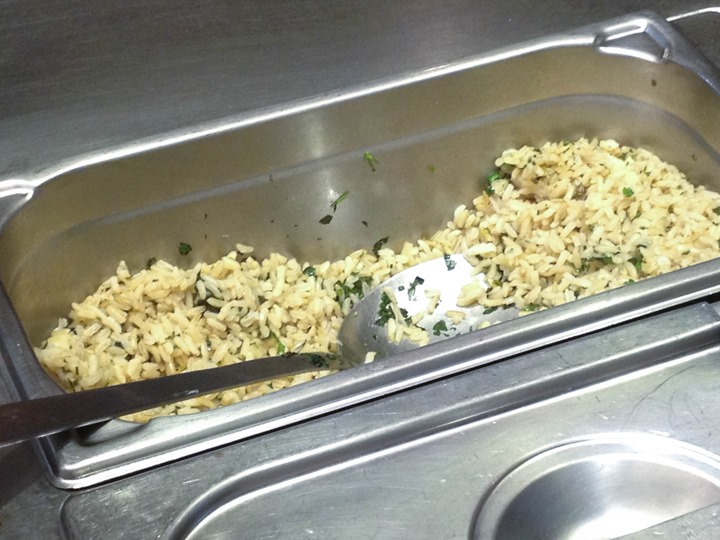 And on salsas they taste similar, but not exactly the same.  Still good stuff.  I would note that when we were up in London for the Olympics, we had Chipotle there and didn't find the taste as similar to the US Chipotle.  A bit more variation across the board than we would have liked.  Not sure if that was a one-off day or not.
So we were a bit hesitant coming here it would be significantly different, and were happy it wasn't.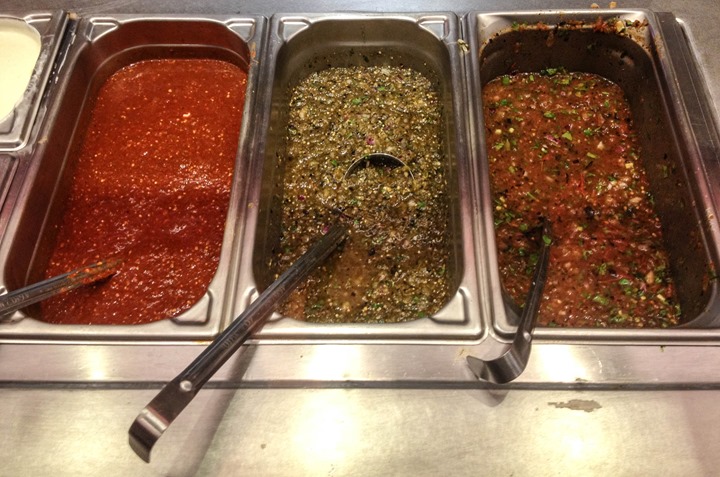 Way back in November we actually ran into the owner of Chipotle France at a community event.  Ironically, he's a pretty avid triathlete, cyclist and runner.  Especially cycling though – way into cycling.  He gave us two cards for free burritos (regrettably not for life, just two burritos).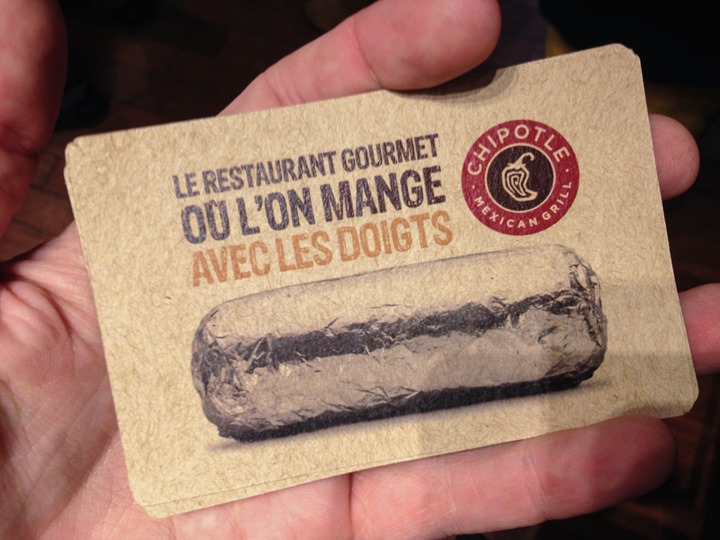 (Translated: The gourmet restaurant where where you eat with your fingers)
Once you've paid out, the rest of the restaurant space itself is actually a bit bigger than most US Chipotle's I've been to, at least as far as seating goes.  You've got seating on the main level facing out onto the streets (as seen in the glassed in picture up top).  And then if you head upstairs you have an entire level of seating that wraps around the staircase.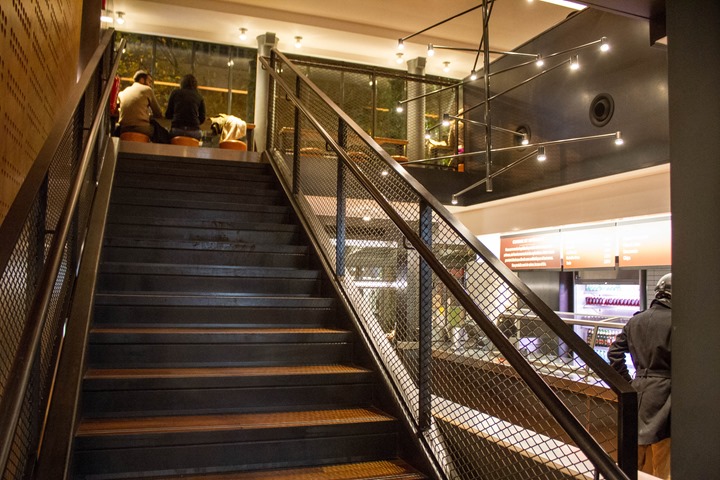 And then, it's time to enjoy the burrito:
Regrettably, it doesn't take long: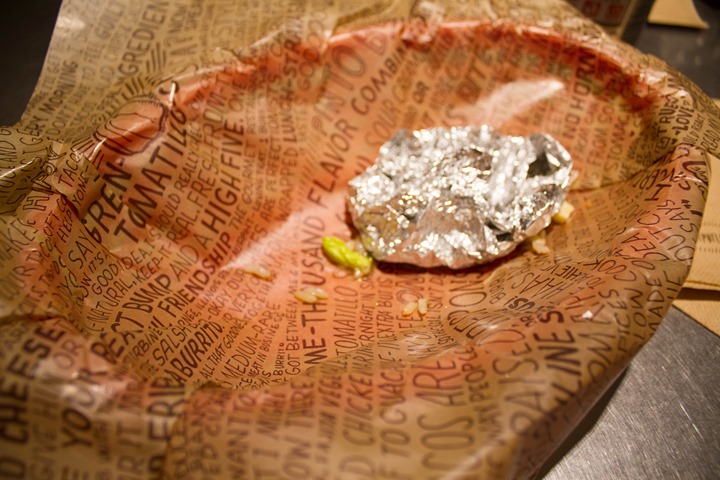 And yes, the Napkins are almost the same too…with the added France website bit.
And you thought this post made you hungry?  Just imagine me, I've been sitting here editing photos and text for the last 75 minutes.
Thanks for reading!