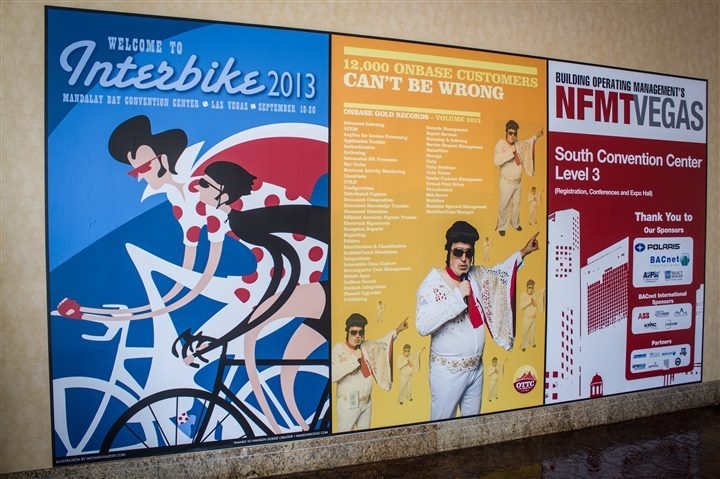 As I wander around the show floor there's plenty of little things that don't fit and/or really have enough content to create a full post from.  Usually little snippets of information I found interesting, and/or you requested more information about.
So here ya go, the pot-pie of Interbike news, covering all sorts of different areas:
Tacx iPad Update: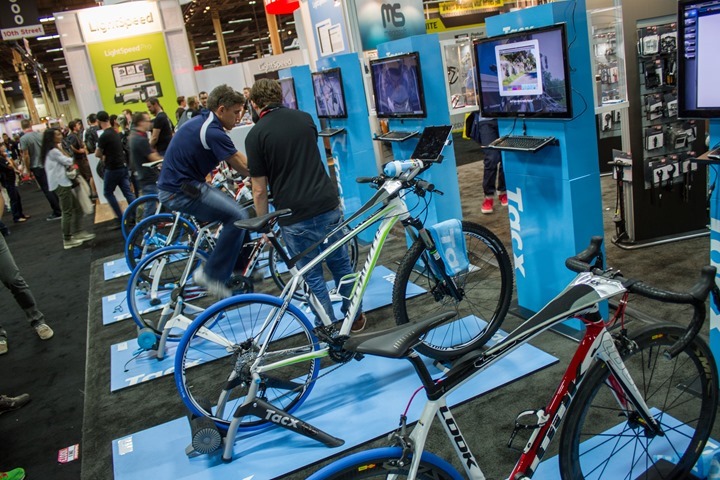 I swung by the Tacx booth to get a quick update on where the Tacx iPad app stands from a release standpoint.  You'll remember I got a full walk-through of the app at Eurobike a few weeks ago.
As it stands now they're aiming to submit it to the Apple App store within the next 10 days (by October 1st), at which point it'll be in Apple's hands for the typical approval process (could be a few days, or as long as a few weeks).
BikeSpike:
Last spring on Kickstarter the BikeSpike product/project was launched and funded.  The aim of the product was to add a GPS tracker to your bike that affixed into the holes on your water bottle cage using non-common screws, and then provided real-time location and alerting of your bike.
While at Interbike this week they had units on hand and were performing some demos, so I swung by and got the low-down.  First up is the physical unit itself: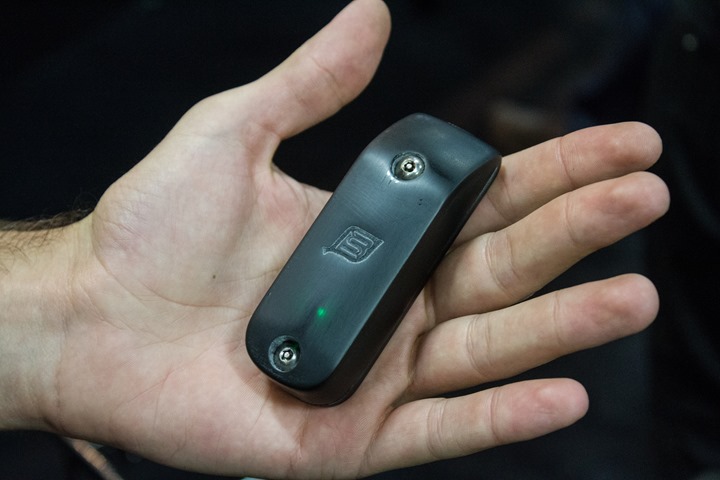 You can see below how it attaches into the custom-made bike waterbottle cage.  The water bottle cage is still fully functional here, as it's simply pushed up a bit.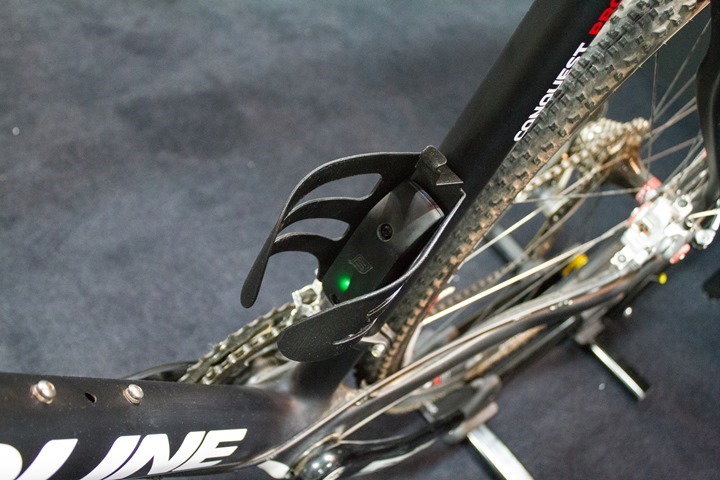 The unit's battery lasts between 3-4 weeks and power a built in cellular connection with carriers both inside and outside the US.
The first feature they demo'd was the 3-axis accelerometer that allows the unit to track and respond to changes in orientation (i.e. someone messing with your bike).  If you look at the below photo you can see that the angle of the BikeSpike is wirelessly being represented on the TV screen behind it.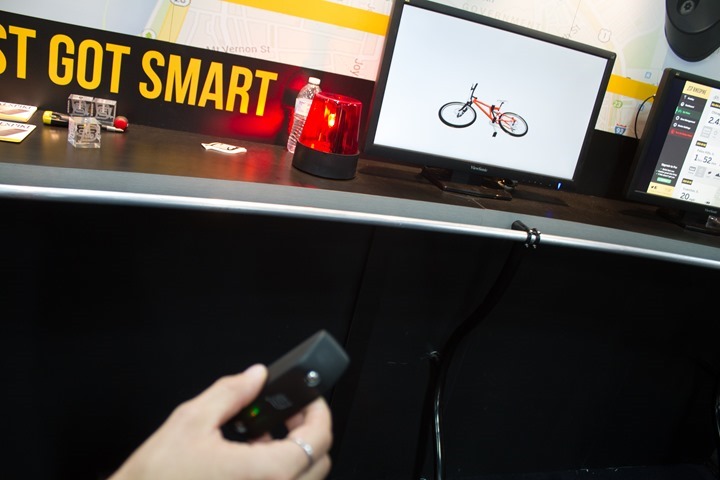 As part of that, the system could immediately trigger a notification/alert to your cell phone.  Either because the bike was touched, or because the bike is on the move (the unit includes GPS in it).
Next you've got location tracking and monitoring.  Below you can see the webpage (beta) showing the bike's current location as well as information about the battery state.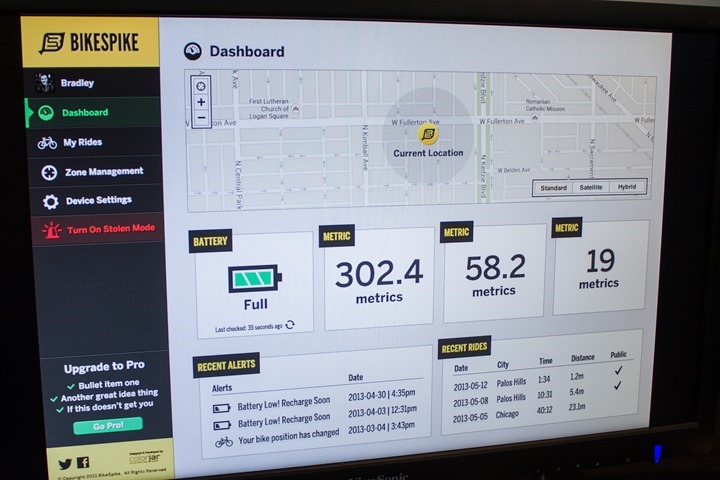 In addition to the theft monitoring aspects, you can also track rides on it, as seen below.  In this case it's looking to just track a given ride and plot the distance along with some basic elevation and speed information on the graph below.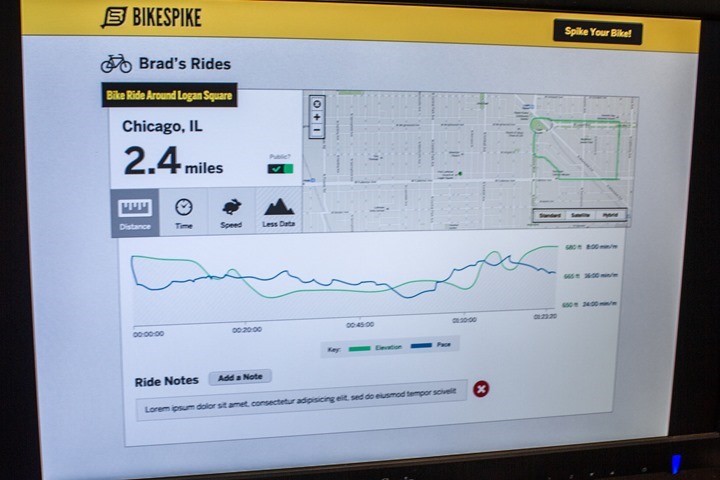 Over time these would likely represent your daily commutes around the city – ultimately making a pretty neat historical record of your commutes.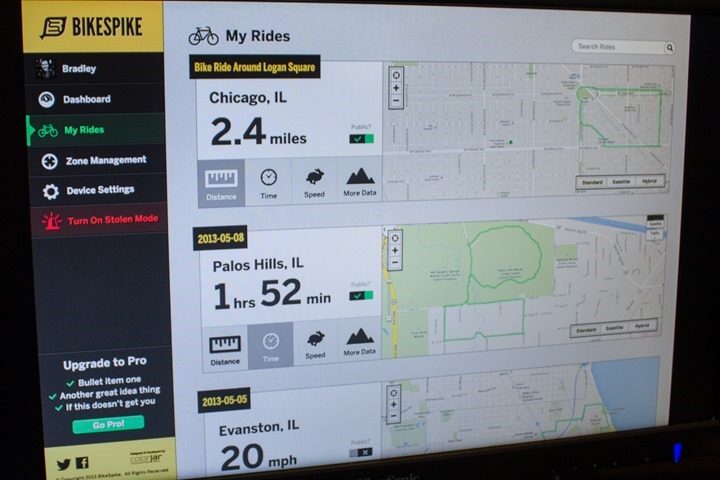 The $129US BikeSpike is currently planned for November delivery, and while at Interbike they were working to sign-up retailers/distributors to carry it once they clear out Kickstarter orders (like mine).
Garmin FR620 and the "black band":
Out of the 400+ comments on the Garmin FR220/FR620 announcement post earlier this week, there was one curious frequent comment about many asking for a black band instead of a blue band, specifically on the FR620.
This caught me off guard a bit, since there actually isn't a blue band – instead, it's really black band with a blue interior.  The interior being the part that's against your wrist and otherwise unseen.  I think many folks saw the interior of the band in various size comparison shots and assumed there was more blue than there really is.
So I grabbed a unit and took some pictures showing that it's really rather black, with just a tiny blue accent on the front of the frame, and then the barely visible interior blue portion.
Thus, picture time: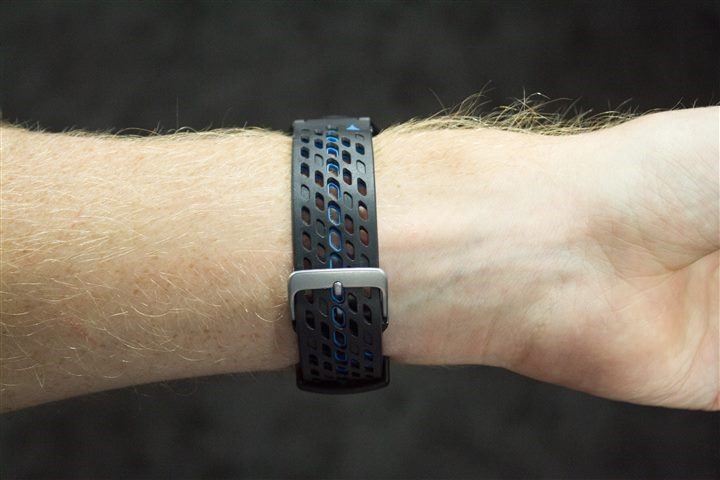 And more pictures: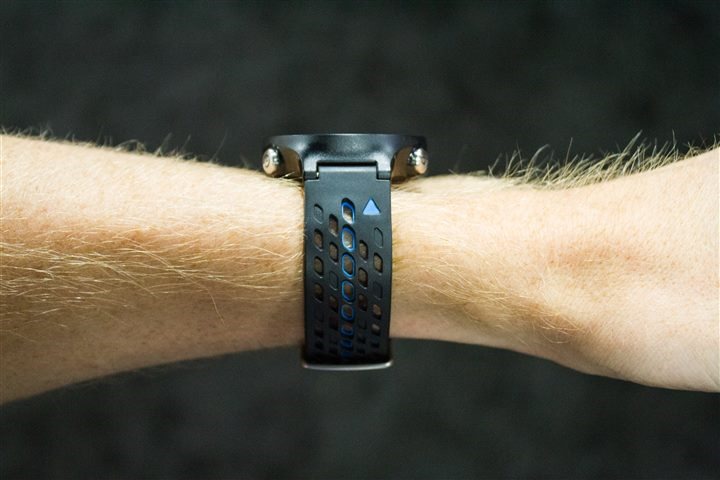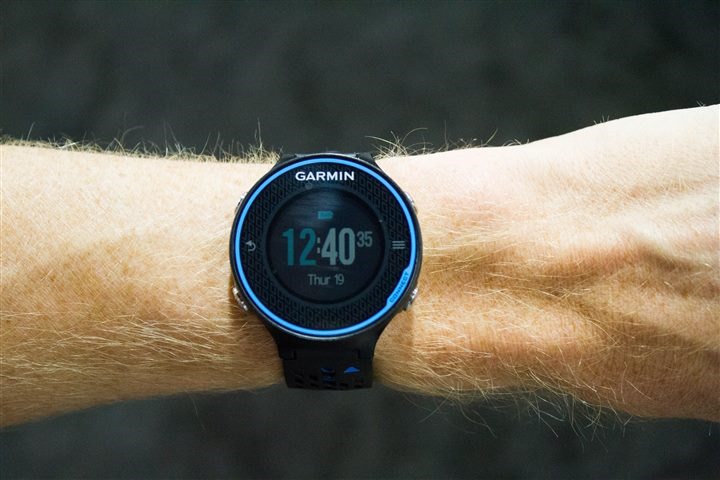 Make sense?  Good.
Aside from that, there were about a dozen outstanding questions folks had that required me going back to the Garmin team on to get clarification on, and/or validation on.  You'll see these all added into the end of the comments section sometime Sunday.  Additionally, I'll be adding in the requested FR10 + FR210 photos as well.  Enjoy!
Tour de France Branded Rollers: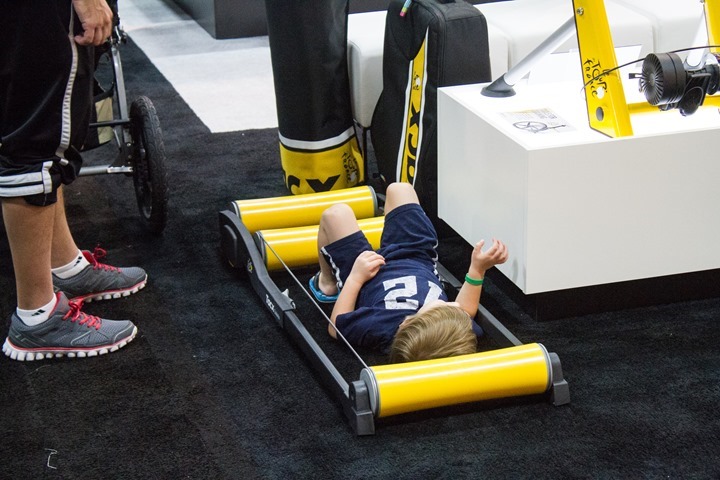 Ok, I don't have anything to say here, other than I just wanted an opportunity to use the above photo I took because it was pretty awesome. I'd point out that the child's potential for failure is far less than when I'm on my bike using them.  Obviously, he's already laying on the ground staring at the sky.  Whereas I first depart the bike/rollers at a higher elevation, and then ultimately fall into a similar position.
Pioneer Power Meter US Distribution Update: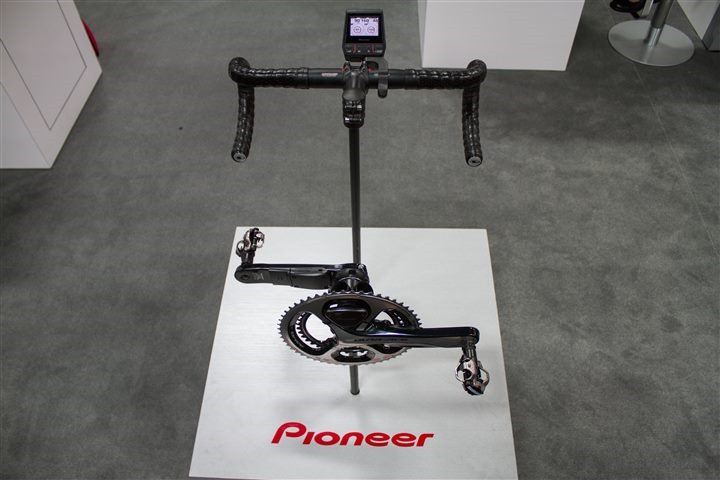 This week at Interbike Pioneer announced their US distribution plans and official US pricing of their left/right capable power meter.
The unit is available immediately (actually, they started shipping production units in the last week or so), and the pricing is $1,600US for the power meter (excluding cranks), and $900US for the head unit.
While the head unit is optional, without it you'll just get the more basic ANT+ data and won't get the additional high-speed data that the Pioneer head unit can handle.  Nor will you get some of the additional metrics around balance and efficiency that are above and beyond what ANT+ is currently providing through standard device profiles.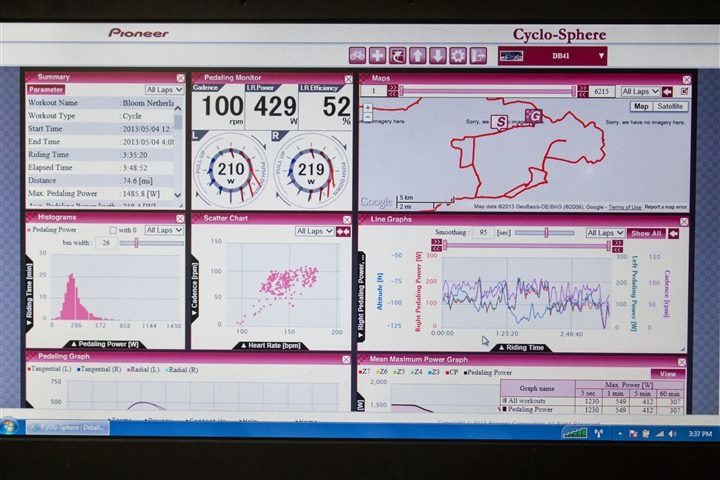 Distribution will occur to retailers initially through two distributors – QBP and KHS.  Both of those will in turn offer two methods for retailers (and thus consumers) to purchase the unit.  Also, in Canada the distributor is Podium Imports, and they're already working with their first few retailers.
The first method is where QBP/KHS will offer a fully installed solution on one of the compatible cranksets.  This will of course increase the price over the base power meter since it needs to include cranks (pricing wasn't available yet on what/how QBP/KHS will offer).  If done this way the unit will arrive to a retailer fully ready to mount on a bicycle, pretty similar to a traditional power meter with just some final installation steps.  As noted a few weeks ago, this is essentially how it works for the whole of Japan – everything is centralized.
The second option involves the dealer (retail location) having their mechanics go through a half-day course to understand the installation process and become certified installers.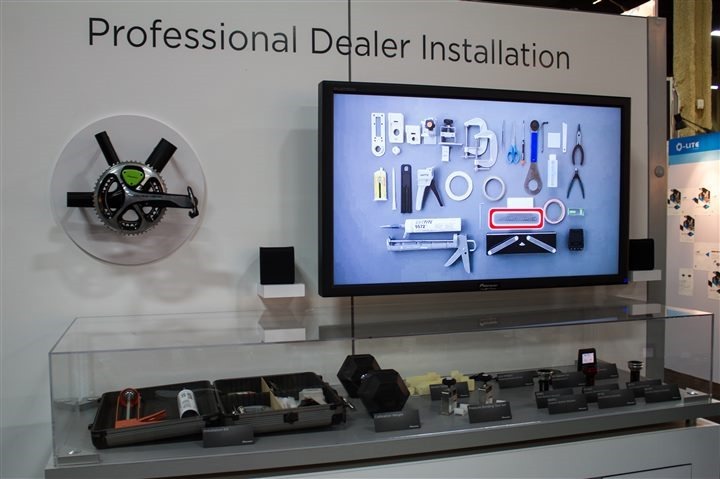 In this case, the retailer would receive all the power meter parks along with the installation kit (seen above/below) to complete the installation onsite for the customer at their retail location.
I want to point out that the display seen above/below is probably one of the more impressive meticulously put together displays of tools I've ever seen at Interbike.  My photos don't really do it justice.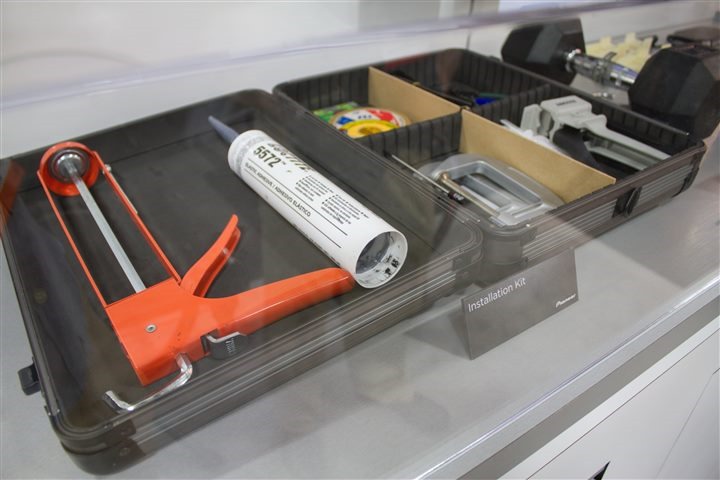 As present there are five bike shops already performing installs within the US (I briefly talked to one dealer from California).  Pioneer noted a goal targeting the vast majority of the Top 50-100 bike shops (of course, as well as any bike shop interested in becoming a retailer).
On a related note, I'm being setup with a unit to start testing on Thursday (September 26th).  As with most power meters, you're looking at about 30-60+ days before a review – again highly dependent on my travel schedule and amount of time spent on the bike.
Additionally, because I'm sorta curious how complex the installation is in real life, I'm working with them to sit-in on an installation/certification class local to me for mechanics of a retailer.  The goal there being to have a bit better understanding of the unit and how it works behind the scenes – given the more 'involved' nature of installation.  I know from hearing from many of you, that's an area that most are looking for more transparency on (since typically proper installation of power meters directly impacts accuracy of power meters).
iBike Newton with PowerStroke Software: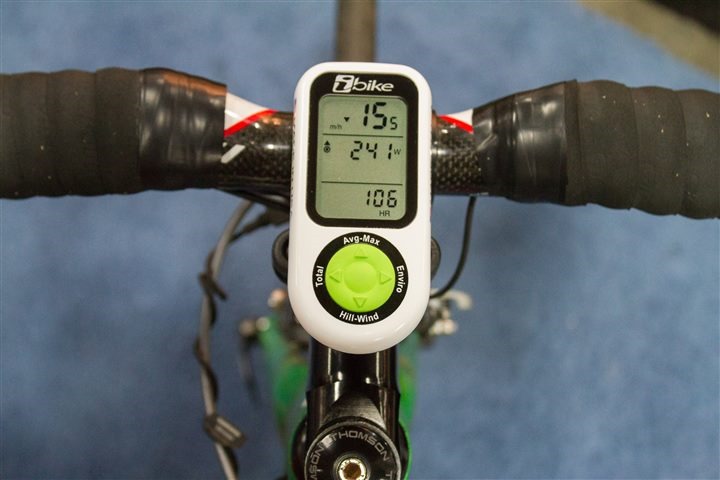 About two weeks ago I decided to order the most recent iBike product, the iBike Newton Plus.  My thinking was that at some point over the winter I'll check it out and see what's changed in the last few years since I'd played with it last.
There's been some changes since then, many aimed at alleviating some of my concerns with the earlier generation units.  From redesigns of the front wind sensor to a simplified calibration process, getting rid of things such as leveling the bike and roll downs.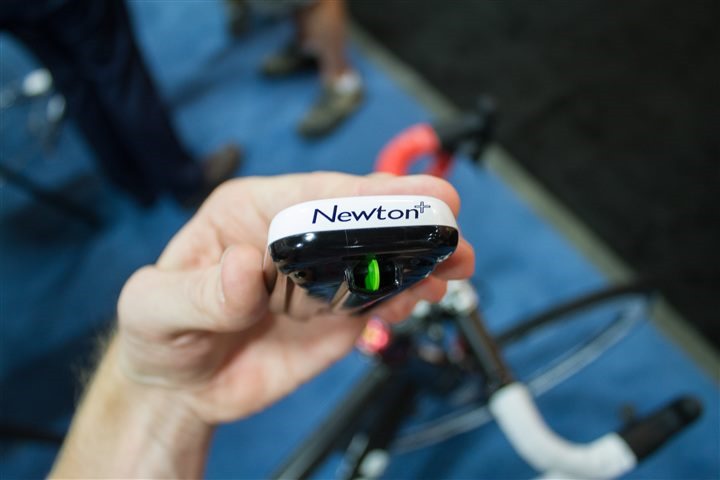 Additionally, they've recently introduced their new PowerStroke software, which analyzes not only the pedal strokes 'smoothness', but also the amount of side to side motion that the bike makes while riding.  From this the software calculates "wasted watts" spent moving the bike side to side.
Comparing the next two screen shots, one shows a rider with a more clean stroke, versus the second image shows a rider what the software calculated as less round.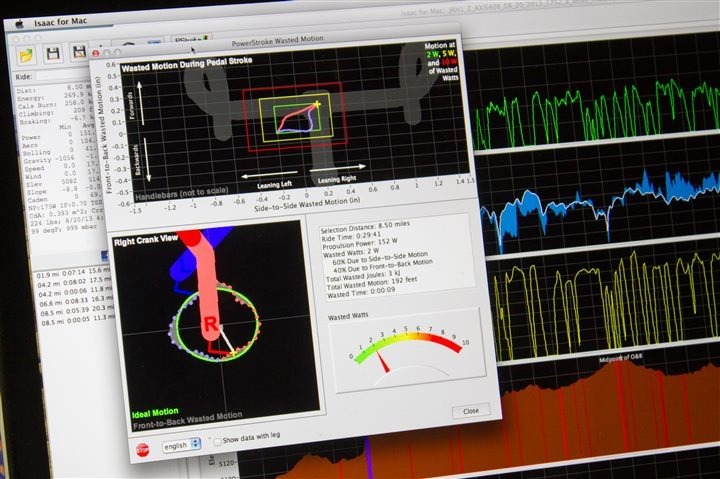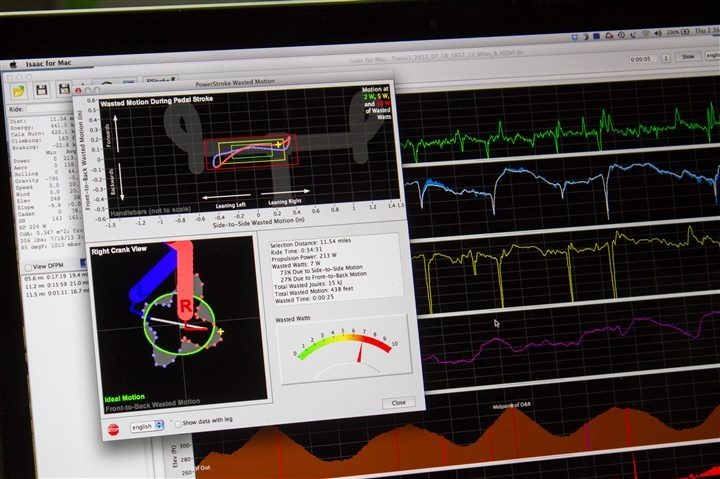 The first image shows a more experienced ride, while the second screenshot shows that of a less experienced rider.
I don't have a timeframe for the review, and as I noted above I bought the unit to toy with on my own terms over the winter.  Right now there's a lot of other power meter related products I'm backed up on (Quarq Elsa, Pioneer PM, Rotor PM, etc…) that I need to tackle first.  However, as I clear off units/PM's on my bike and make more room on my handlebars, I'll be looking into how this compares with traditional power meters, and what some of these metrics mean in real life day to day riding.  Obviously, I'm very keen to see what has changed in the past few years, and having four additional power meters (direct force) on my bike beyond the iBike should make for interesting comparisons.
—
With that, I've got one last (slightly more entertaining) Interbike post left after this, but in the meantime, thanks for reading!
– –
Welcome to Interbike week! This week during Interbike 2013 I'll be tweeting from the exhibition show floor quite a bit, as well as posting frequently. Here's a quick and handy link to all Interbike-related posts.