With all of my 2013 Interbike product-related posts now completed, I figured it'd be fun to briefly look at some of the booth competitions that were found on the show floor as I wandered around.
Of course, this is really only a small slice of the larger pie, but it does give you some flavor.
First up is Polar's pump it up competition. Why start with theirs?  Because it was the loudest.  By far.  Why the loudest though? Well, let me explain.
People were paired up and generally competed head to head in a competition to change a flat tire.  The rules dictated that the wheel started on the bike with a minimal amount of air pressure in it (10 pumps worth) and the quick-release locked.  Then the person had to remove the tube, swap it out, and re-pump it up 10 pumps worth.  Finally, the wheel had to end up back on the bike with the quick release locked.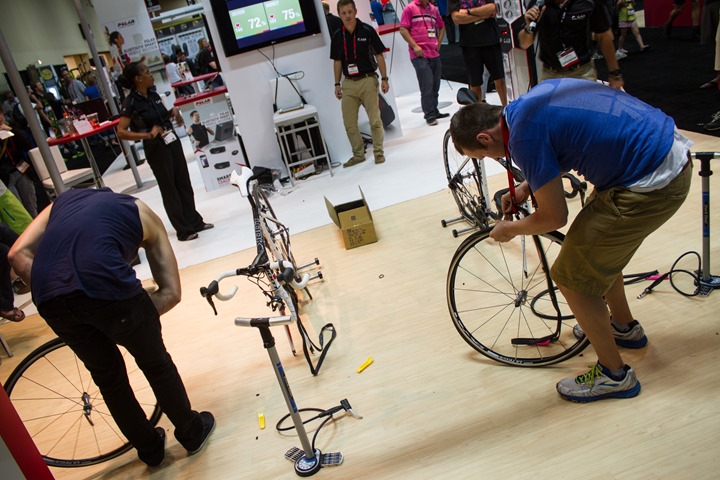 So why only 10 pumps worth?  Well, I suspect it might have something to do with the loud explosions occurring every few minutes for half the first day or so.  That's because competitors would pump it up fully, and in the excitement go a bit over. Boom.  As I alluded to on Twitter, the media room/booth was directly next to Polar's booth, and you'd just be getting into the flow of things before the rattling explosion of an over-inflated tire would reverberate against the Plexiglas walls 10 feet away.
They had a pretty cool iPad app I wasn't aware of though mirrored up onto the big screen.  It connected to Bluetooth Smart heart rate straps, and displayed the metrics for all to see.  Each competitor wore the heart rate strap during the competition.  The app is more commonly used in team coaching scenarios (such as indoors in a spin class).  See, even I learn something watching sports!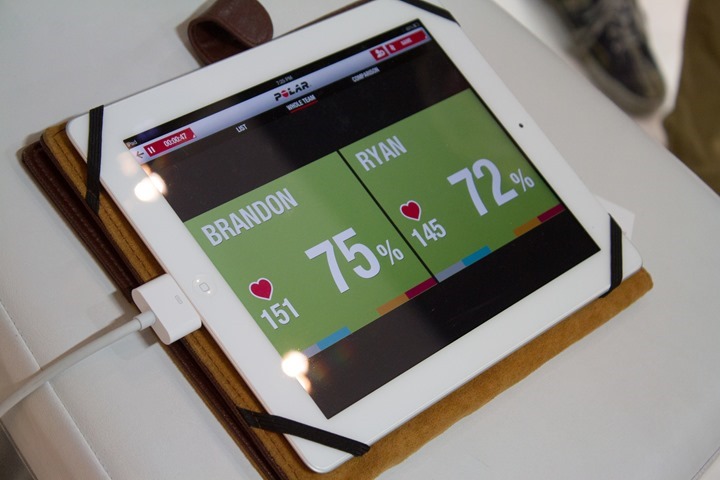 For those that are curious, the fastest time during Interbike was a mind-boggling 54 seconds.  Here's a video that Polar posted of it:
Moving onto more pumping exercises, Topeak had one that was far less explosive.  They built a little chamber with a ball in it, and you had to pump it up such that the ball would eventually float to up above the black line on the tube: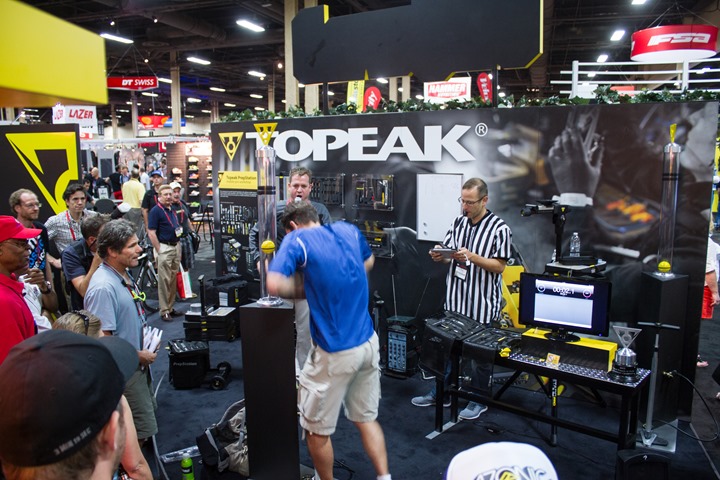 Next we've got Garmin and their 'Vector Challenge'.  In this game the rider had a 10-second sprint with the goal to not only have the highest wattage, but also have the most equal balance.  Those two items were mathematically combined together to get you points towards a top score.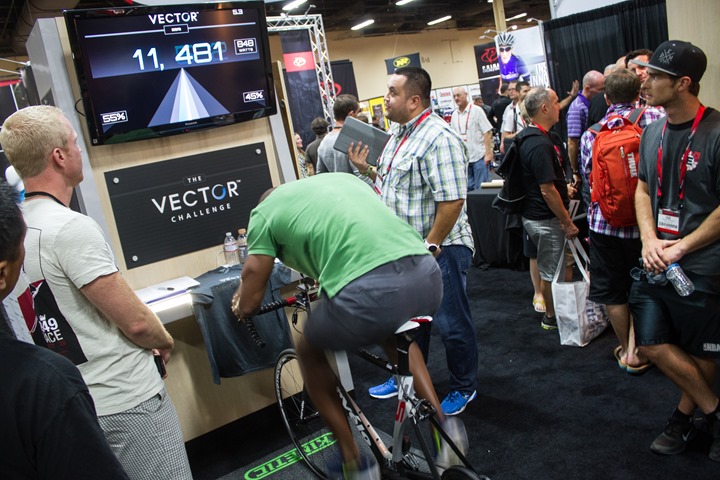 Garmin had two of their Team Garmin pro team riders compete at one point, but I didn't catch their scores – or if they were the top ones for the day.
SRM had a similar setup, with a focus on lap times over a specified distance.
Shifting focus entirely, I found this off in one of the Asian pavilions. This game required you navigate the water bottles on that little wheel-board.  Astoundingly, this guy actually made it through.  This particular game appeared to have the most potential for bodily harm fail.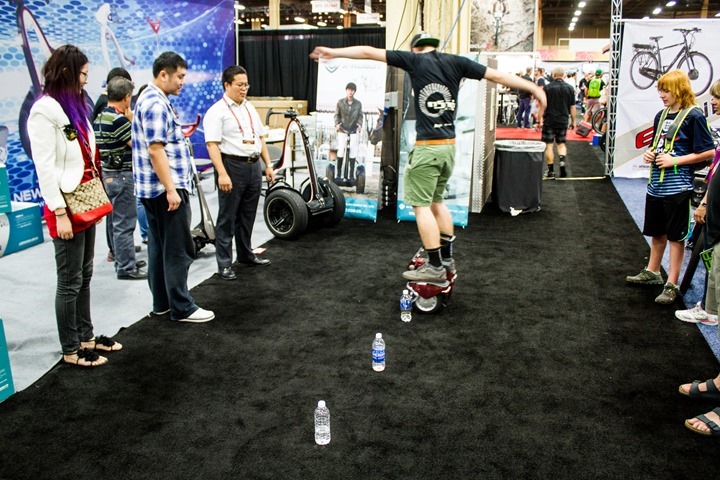 With Clif Bar, they decided to part with the traditional 'use of ones own product' approach, and just go with a Foosball.  It clearly worked, the place was a packed house.  Even more so when you attract Team Garmin riders into the mix and have them face off.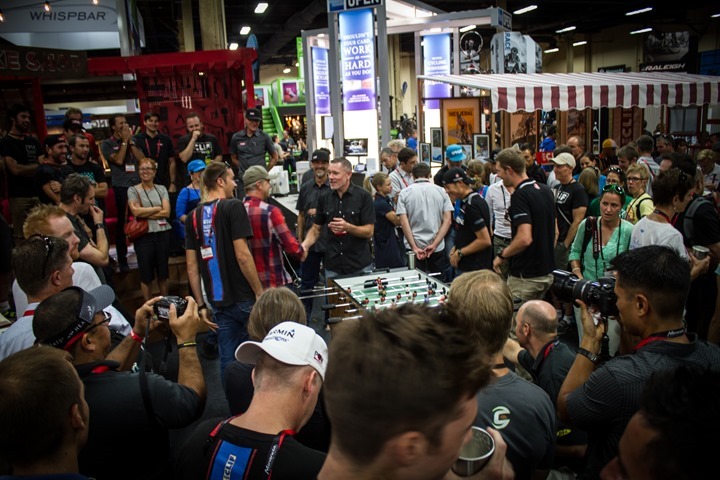 Of course, games weren't the only way to get attention at your booth.  Perhaps next year I'll do a post with "A look at the beer offerings of Interbike booths" instead.  Once 4-5PM comes along, it's a free for all for free beer: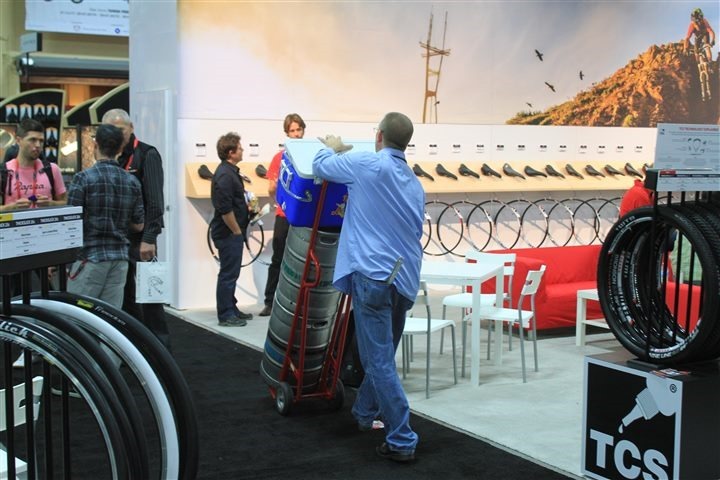 Another common sight – bands: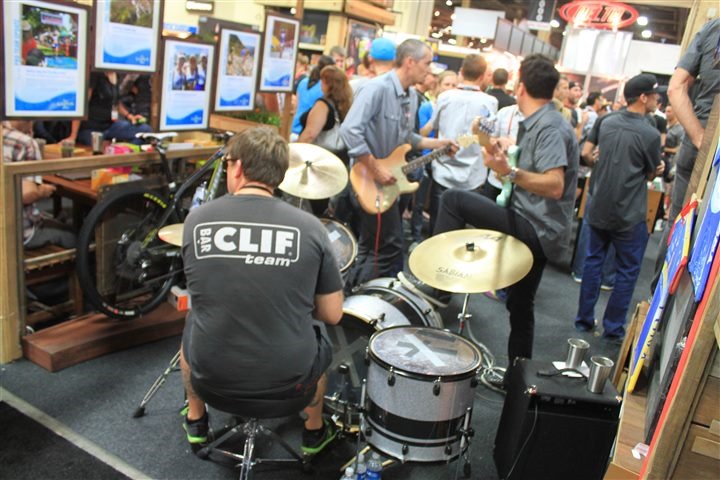 And finally, booth babes.  Personally, I was more drawn to the free Haagen Daz ice cream bars than Olympic Triathlete Simon Whitfield.  But I suppose to each their own.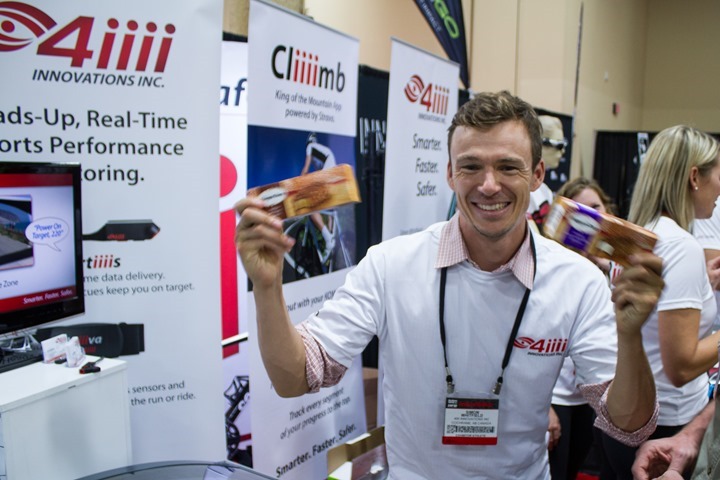 So with that – I'm calling Interbike 2013 complete!  See ya next year Interbike!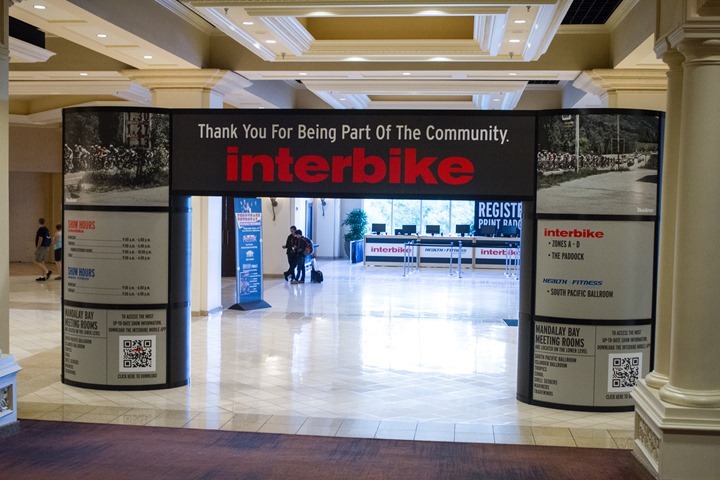 Thanks for reading!
–
Welcome to Interbike week! This week during Interbike 2013 I'll be posting frequently. Here's a quick and handy link to all Interbike-related posts.