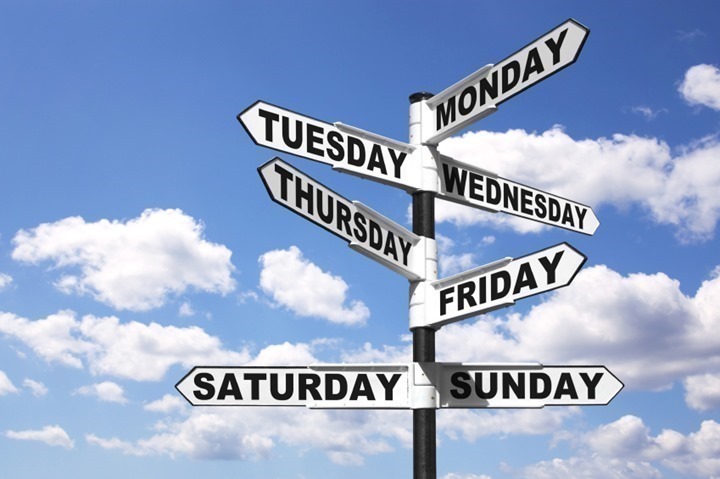 The Week in Review is a collection of both all the goodness I've written during the past week around the internet, as well as a small pile of links I found interesting – generally endurance sports related. I've often wondered what to do with all of the coolness that people write, and while I share a lot of it on Twitter, Facebook, and Google Plus, this is a better forum for sending it on to y'all. Most times these different streams don't overlap, so be on the lookout at all these places for good stuff!
So with that, let's get into the action!
DCRainmaker.com posts this past week:
Here's all the goodness that ended up on the main page of DCRainmaker.com this past week.
Monday: First look at Garmin's new FR620 & FR220 GPS running watches
Tuesday: Week in Review–September 17th, 2013
Tuesday: Initial hands-on with Polar Loop activity tracker
Wednesday:

Running hill repeats with the Velib bike share

Now kicking off Interbike 2013!

Power2Max drops power meter prices nearly 20%, adds Praxis Works for chain rings

Thursday:

Friday:

Saturday:

Sunday:
Phew, done!
Stuff that I found interesting around the interwebs:
Here's a not-so-small smattering of all the random things that I stumbled on while doing my civic duty to find the end of the Internet:
1) Mike Bowen, Army Veteran Runs 58,282 Miles: One mile for every American who didn't return from the Vietnam War.
2) The Slowest Generation –  Younger Athletes are Racing with Less Concern About Time: Or, somehow, it was overlooked that the number of people now running in these events has exploded – thus times will naturally get slower with a more diverse group of people.
3) A look at what's involved in organizing a bike race: I always love to see more of the behind the scenes on races from race directors, as I think a lot of athletes overlook just how complex putting on a race is.
4) Teenage track star runs at 12MPH on treadmill, aces test: A fun little video from a recent show that hosted her. (via Wahoo Fitness Twitter)
5) GarminSync.com now CopyMySports.com: I've gotta believe there was some legal tangle here. GarminSync.com stopped being able to copy Garmin Connect activities last week, and then magically it's now renaming itself to CopyMySports.com.
6) Thoughts on USAT and upcoming board elections: An interesting read, and one I definitely don't agree with.  Ultimately our national bodies need to balance both Age Grouper and Elite needs.  I want to see Elites end up on the Olympic podium just as much as supporting AG-specific activities and races, it doesn't need to be either/or.  As pointed out in the comments, the total spending on elites per year is relatively small considering how travel-heavy the sport is for ITU elites (one weekend you could be in South Korea, the next Central America).
7) Strava adds bulk activity export: This happened a few weeks ago, but a reader just pointed it out.  I had railed on the removal of this functionality from their API a bit during my July Strava post, so it's good to see it added back in.
8) Making a trainer ANT+ speed to power sensor: This is what the Kinetic inRide should have been.  In short, many trainers have predictable power curves, which means that at X speed, the power will be Y.  By simply measuring the wheel speed you can easily convert that to a known power value.  This is effectively how TrainerRoad works.  I love this idea (link above), especially if it can be made and sold cheaply, and updated wirelessly as new trainer power curves appear.
9) Thanks for the mention!  I was included in the WTOP (radio station) Running Gear recommendations list. Woot!
10) Citi Bike BMX: Outside of the occasional wrong-way-street riding, a pretty fun look at taking the CitiBike to a whole new level. (via WashCycle)
Crowd Funded Projects of Athletic Note:
This is a bit of a new section. Most of this content used to be found within the main section, but I figured I'd just call it out up here and make it easy to find. I regularly sift through Kickstarter and Indiegogo (plus a few others on occasion) looking for sports projects. Note that as always with crowd funded projects, assume the project will be late and will under-deliver on features. Thus far, on the numerous products I've helped 'fund' (except a leather bike handle), that's been the case.
I didn't really see anything this week that I thought fit the bill for inclusion here.  Perhaps next week!
Sports Technology Software/Firmware Updates This Week:
Each week I quickly highlight some of the new firmware, app, software and website service updates that I see go out. If you're a sports technology company and release an update – shoot me a quick note (just one liners is perfect, or Tweet it at me is even better) and I'll make mention of it here. If I don't know about it, I won't be able to post about it. Sound good?
Site/Firmware Updates:
Quarq iOS App: Call this the 'do not update' notification. Quarq notes that iOS7 currently doesn't work with their Qalvin app. Hopefully they'll sort it out faster than they've done for their Android app.

Training Peaks looking for Android beta testers: The title pretty much says it all.  Well, actually, on second thought, sneak peek here.
iPhone App updates this week: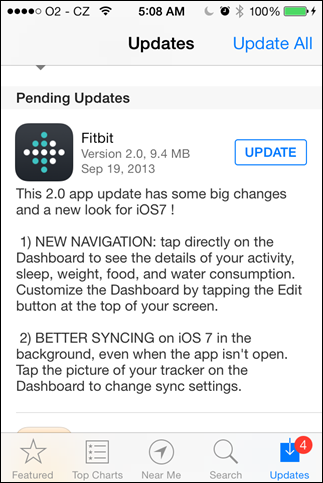 iPad App updates this week: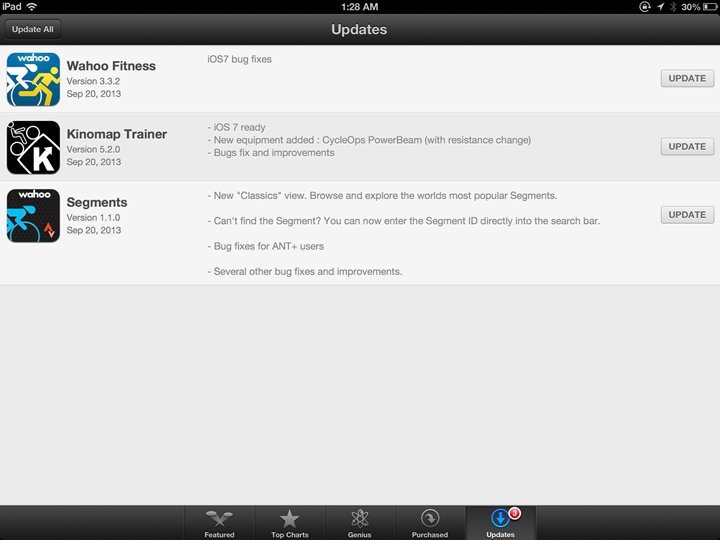 Additionally, I've been told that the iPad app Altifondo has also been updated – but I'm not seeing it on my iPad yet.
Android App updates this week:
Windows Phone App updates this week: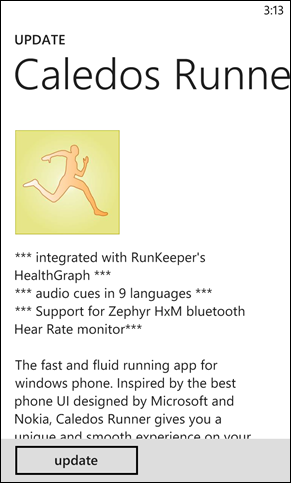 —
Thanks for reading!