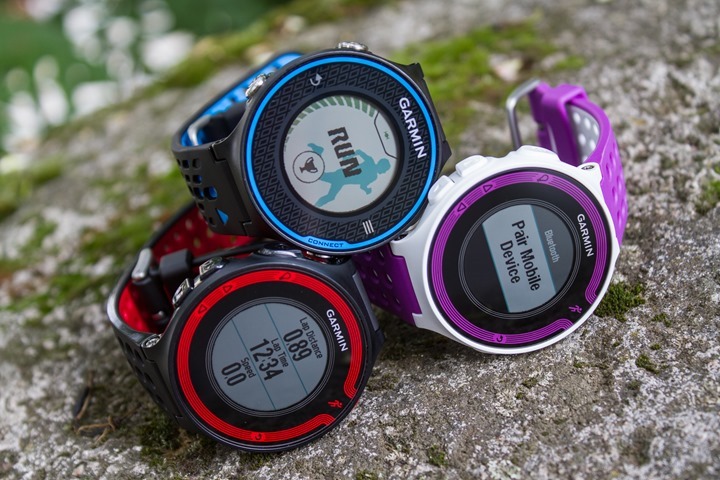 Please note the final in-depth reviews are now out, and you'll want to look at those reviews rather than this post (which was written at time of announcement on beta hardware/software).
The final Garmin FR620 In-Depth Review is now available here.  
The final Garmin FR220 In-Depth Review is now available here.
—
Today Garmin has announced the newest additions to their running GPS watches, the Garmin FR220 and FR620.  These watches are considered the next generation watches following the FR210 and FR610 units.  The FR620 will replace the FR610 as Garmin's top running-specific watch.  Meanwhile, the FR220 will replace the FR210 as Garmin's mid-range running watch.  At the budget end, they've got the FR10 which came out last year.  All of these units of course have GPS.
I've had the chance to toy with the units over the past day, enough to get some initial hands-on time – but certainly not enough to qualify this as any sort of review.  Think of it more as a look at all the new features.  The watch won't be shipping for a bit of time (release date is officially "Fall 2013"), so obviously it's not done yet and therefore I'm only able to talk to the beta-features as they exist today.  Once the units have final firmware I'll look to put out a full in-depth review.  OK?  Good.
The Goods: New Features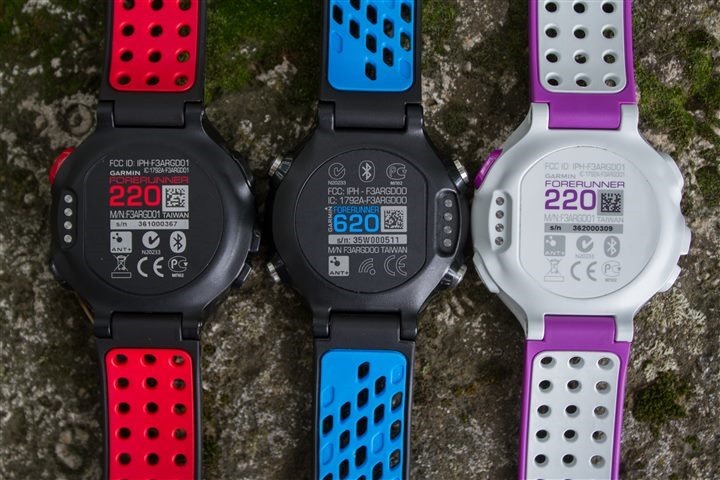 I'll say it upfront: I'm impressed.  I had a general idea of what major new features these units would be adding, but they ended up adding a lot of tiny little features that longtime Garmin users have been asking for.  You'll see what I mean in a minute.  In the meantime, let me go ahead and outline the new features I found most notable:
Garmin Forerunner 620:
– Now proper 50-meter deep waterproofing
– Bluetooth Smart uploads via your phone
– Internet Livetracking during activities via your phone
– WiFi added for activity uploading and firmware updates
– USB activity downloads added
– Can configure the lap banner that displays upon new lap
– Pre-loading of satellite locations via WiFi, and USB (7 days worth)
– Includes internal accelerometer for treadmill speed/distance tracking
– Added Training Calendar support functionality
– Supports new HRM-Run HR strap for Running Dynamics
– The HRM-Run strap adds tracking of Vertical Oscillation, Ground Contact Time, Cadence  (+ usual HR)
– Addition of VO2Max calculator, Recovery Advisor, and Race Predictor
Garmin Forerunner 220:
– Now proper 50-meter deep waterproofing
– Bluetooth Smart uploads via your phone
– Internet Livetracking during activities via your phone
– Can configure the lap banner that displays upon new lap
– Pre-loading of satellite locations via USB (7 days worth)
– Includes internal accelerometer for treadmill speed/distance tracking
– Added vibrate notifications
– Ability to now separately change Distance/Elevation/Pace/Weight in any metric you want (Metric or Statute)
– Added ability to download workouts from computer to watch (used to be high-end units only)
– Added Training Calendar support functionality
– Added Run/Walk Functionality
– Added Pace Alerts (High/Low alerts)
– Complete customization of the FR220 data fields (previous was barely customizable)
Phew, ok.  Those are the major and/or most interesting ones.  There's a ton more tiny little adds beyond that, especially in the settings area.  Far more customization – primarily on the FR220.
A look at the units: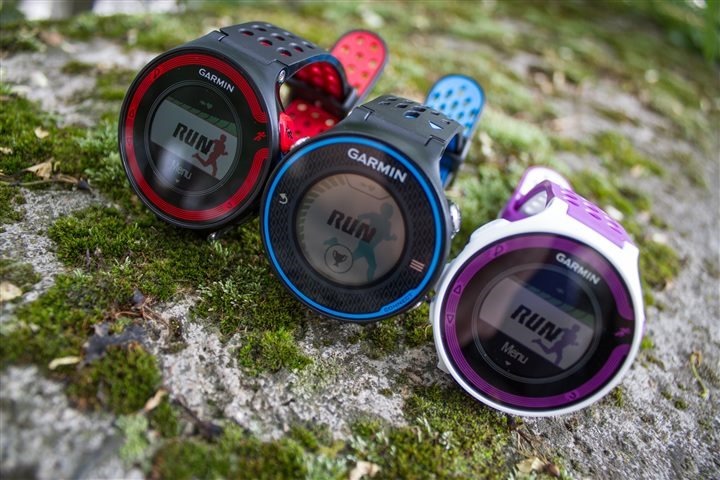 Before I dive too far into features, let's backup and just quickly cover the physical units themselves.  First off, each model comes in two color schemes:
FR220: Black/Red & White/Purple (both seen here)
FR620: Black/Blue & White/Orange (Black & Blue seen here)
Size-wise, the FR220 and FR620 screens are identical.  No difference.  Here they are stacked on top of each other, trying to mate: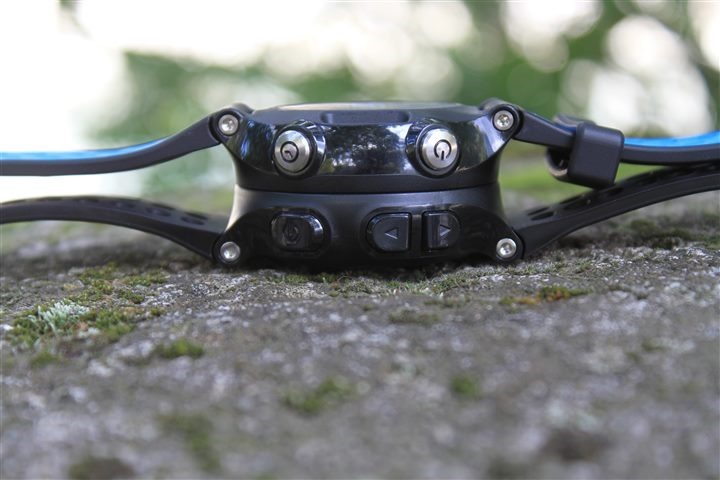 Depth-wise, again, no difference.  The blue FR620 looks slightly thinner merely because my wrist bone is pushing the right-side up, and causing the left side to go down.  I promise, they're the same.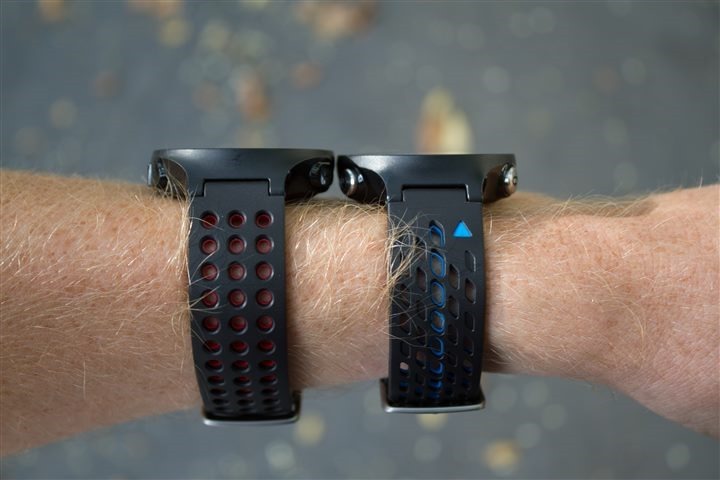 How do they stack up to their older siblings – the FR610 and FR210?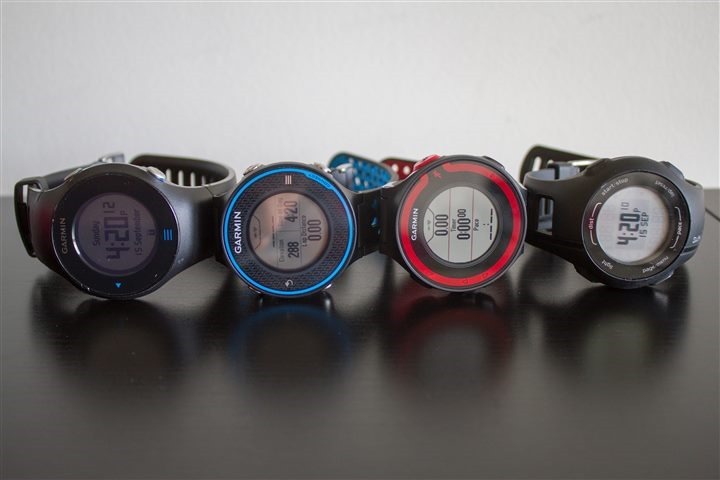 Fairly similar screen sizes (display portion), and fairly similar watch face widths.  It's the depths that you see the most difference.
As a quick update, I've seen a lot of questions on the color of the band, with folks believing that the bright blue/red/etc is the outside color of the band.  The outside is black, the inside is the alternate color – that's the piece up against your skin that nobody sees. Here's another shot showing the outside. The only bit of color anyone sees is the edging on the display of the unit.
Next, we look at all the running-specific GPS watches on the market today that compete in this range: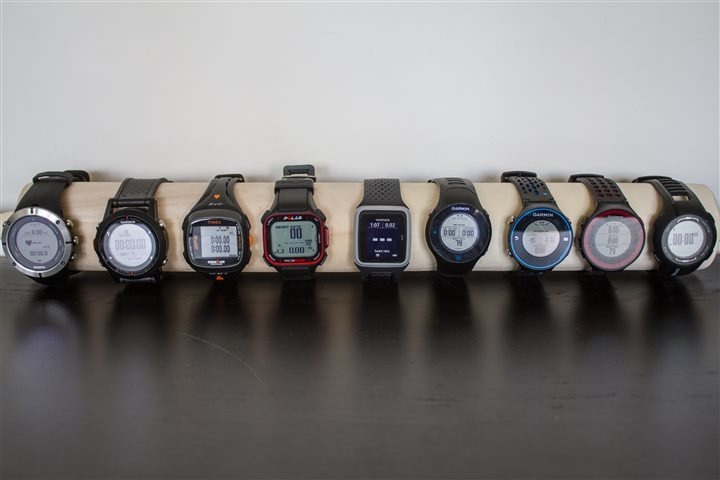 (Left to right: Suunto Ambit2, Garmin Fenix, Timex Run Trainer 2.0, Polar RC3 GPS, TomTom Runner, Garmin FR610, Garmin FR620, Garmin FR220, Garmin FR210)
Here's an additional set of photos comparing the Garmin FR10 to the FR220 that I shot during Interbike.  As you can see, the FR10 is smaller from a watch-face standpoint, but a bit thicker in the back.
But what's probably the single biggest difference is simply the weight of the units.  If you've ever picked up the Garmin Swim watch and felt how light it is, this is in the same ballpark.  Here's the FR620, followed by the older FR610: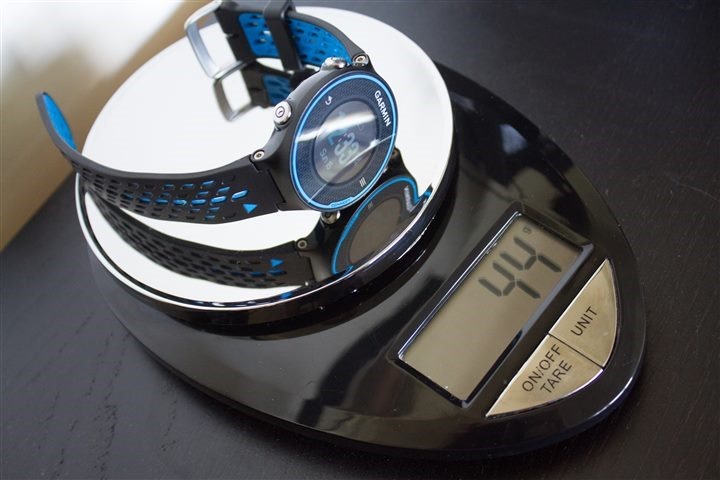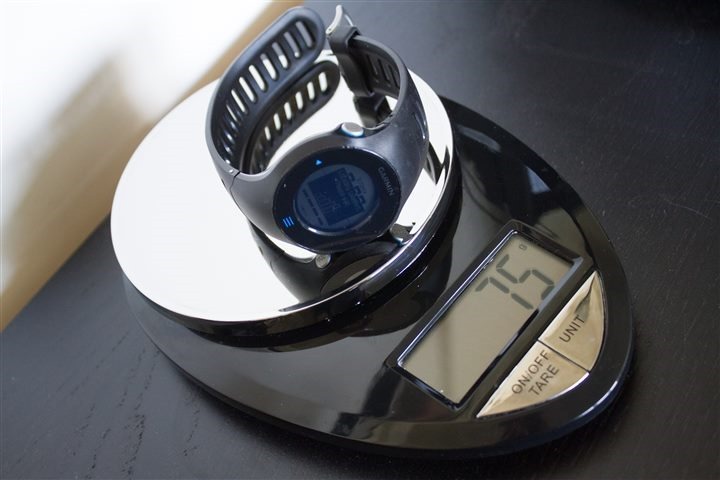 Yup, that's 44g instead of 75g.  Pretty massive difference.
Next, the FR220 followed by the older FR210: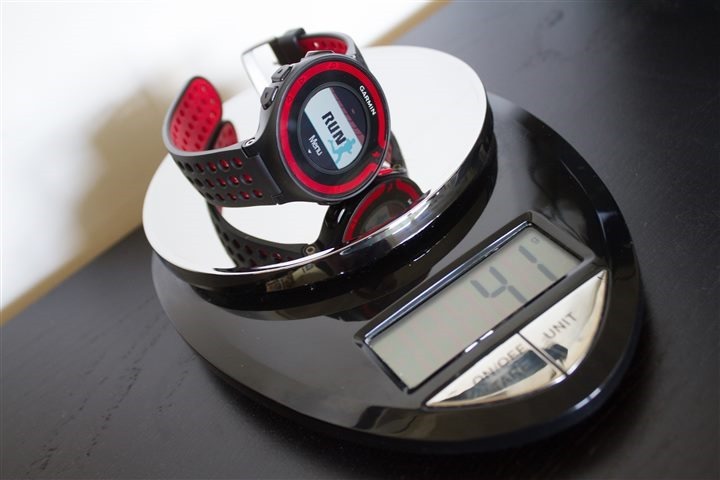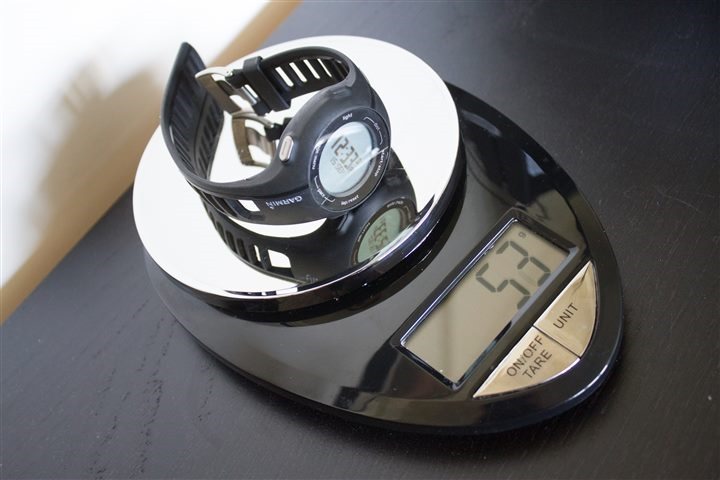 In this case, 41g to 53g.  Not as drastic a change, but still noticeable.  Also note how much thicker the edge is on the FR210 (second watch) comparatively.
You can see this easiest looking at the two watches to the far right (FR210 is furthest right, the FR220 is second to right).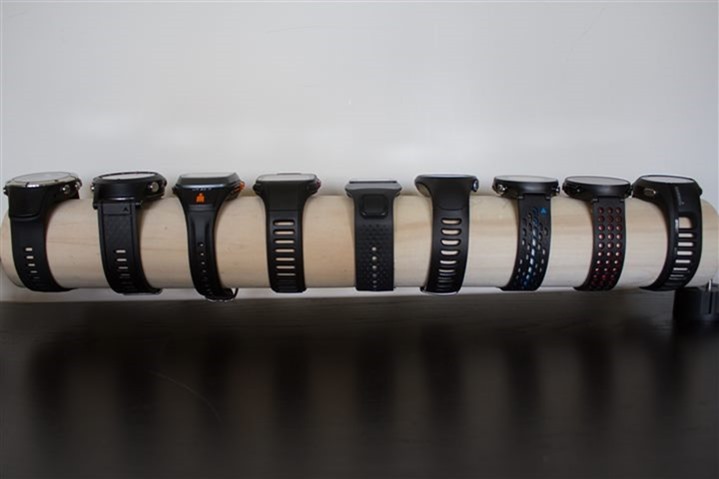 Now, these units did both receive new connectors unfortunately.  Because apparently the world needed another connector type: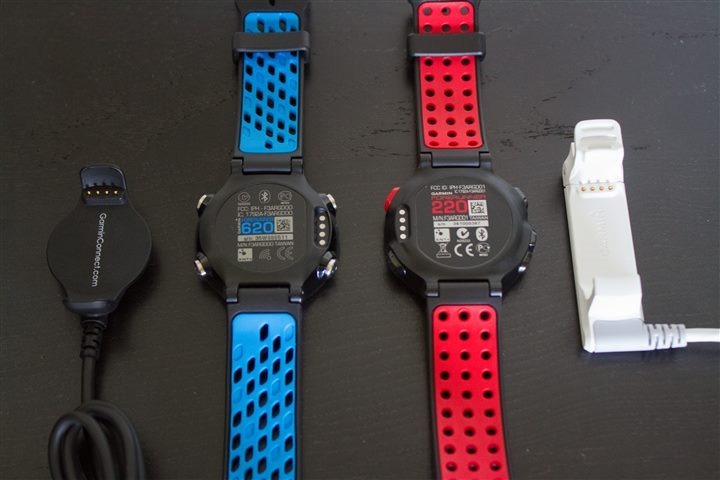 Above: The FR620 is shown at left, and the FR220 shown at right.  The FR220 connector sorta looks like the Garmin Fenix connector.  But upon closer inspection you'll see it's slightly different (below).  The black one is the Garmin Fenix, whereas the white one is the FR220.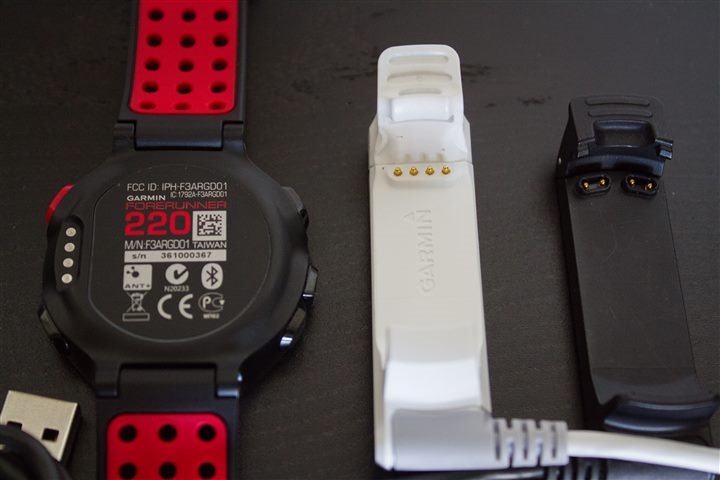 This makes the FR220 clip-on and lock in place.  Whereas the FR620 has a magnetic backing internal to it that locks the connector in place.  I did determine accidentally that you can actually make the FR220 adapter charge and download the FR620 unit in a pinch (look, it was still early in the morning…).  It's not pretty, but it does work.
Lastly, as noted earlier on, the units are waterproofed to 50-meters.  This was perhaps my biggest pet peeve about older Garmin running watches, they were barely waterproofed to be shower-friendly and certainly not suitable for swimming.  Garmin has confirmed that you're more than welcome to swim all day long with these watches.  They won't track strokes or distance in the water, but they will come out alive and well.  And in case you're curious – I do plan to test this piece specifically as part of my in-depth review.
Connectivity Changes: Bluetooth Smart, WiFi and USB differences
Bluetooth Smart: FR220 & FR620
First out of the gate we've got the addition of Bluetooth Smart to both the FR620 and the FR220.  This enables you to pair it with your phone and transfer planned workouts, completed activities, as well as provide live tracking of your run to your clan of friendly internet stalkers (via Facebook/Twitter/E-Mail/etc…).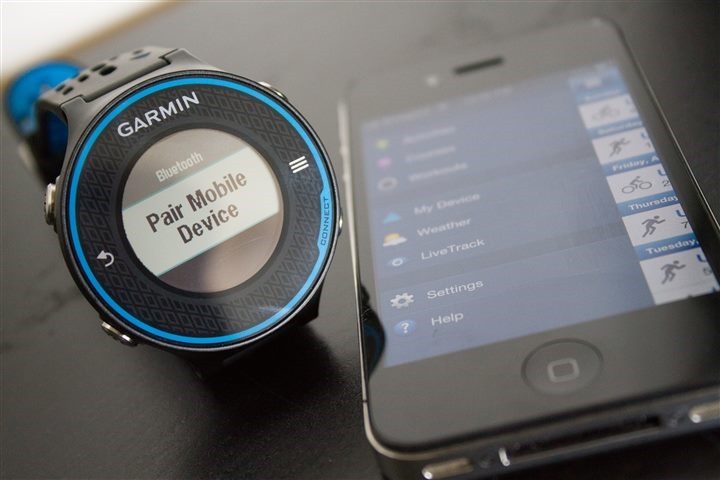 Currently the feature is only on iOS devices starting with the iPhone 4s and above.  Though, I suppose you could pair it to the iPad and run with that too.
They do plan to bring it to Android, but the current Bluetooth Smart state on Android is a complete mess.  While many devices physically have Bluetooth 4.0 chipsets, only two devices have adopted the standards specification that was reached back this summer.  Garmin is looking for a bit more widespread adoption there before they re-focus on the Android app side.  Though they emphasized quite a bit that it pains them to not be there yet due to the hardware situation (a pain I hear from multiple companies in the market).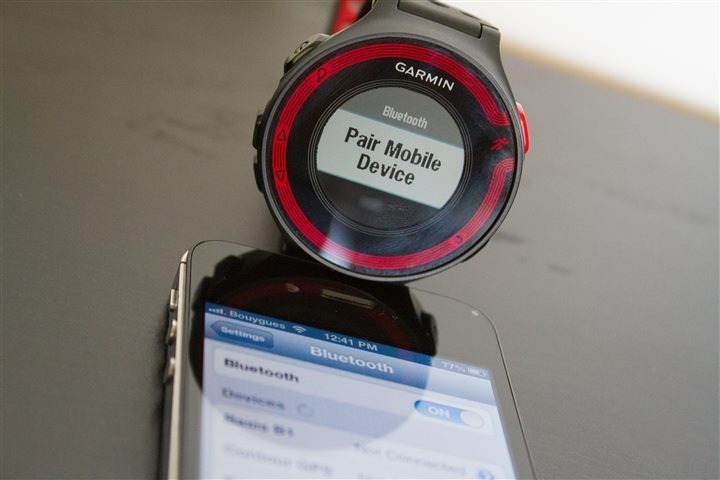 Note that while it does have a Bluetooth Smart chip in there, it's not configured as a master to pair to Bluetooth Smart sensors such as Bluetooth Smart Speed/Cadence sensors or Bluetooth Smart heart rate straps.  That's not in this deck of cards.  ANT+ is the direction for that.
WiFi: FR620 only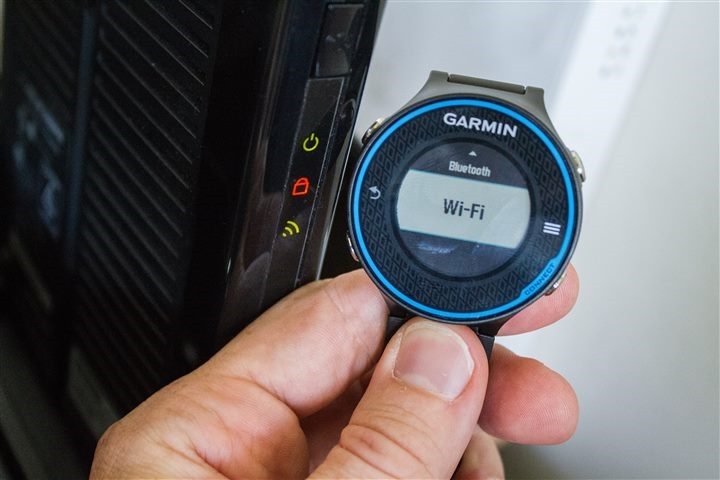 Next we've got the addition of WiFi to the FR620.  The WiFi connection is initially setup via a new application called "Garmin Express Fit", which you install on your Mac/PC to setup your WiFi networks.  This software is really more of a one-time thing than an ongoing software that you'll use.  You can pair to more than one wireless network – allowing you to (for example), add your home and work WiFi networks.
After configuring your WiFi network the FR620 will utilize that for not only publishing completed activities to Garmin Connect, but also grabbing new firmware updates.
In the case of firmware updates the user will be prompted if they want to accept the firmware update.
Satellite Pre-loading: FR220 & FR620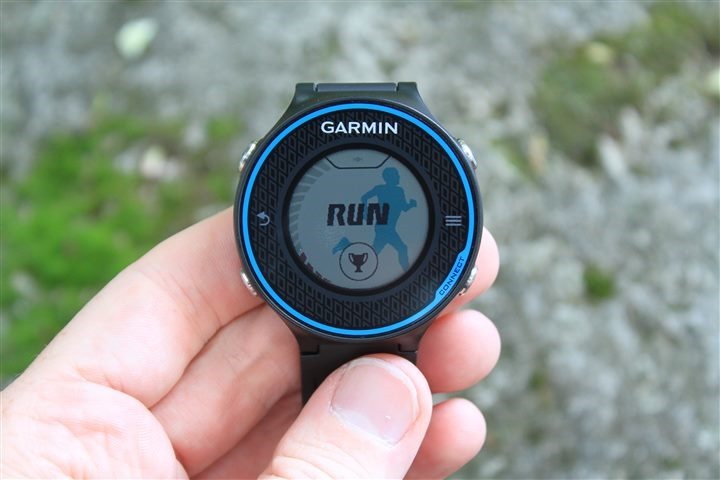 The FR220 and FR620 are the first Garmin fitness units to support satellite pre-population.  This means that satellite coverage maps are pre-populated for the next 7 days, allowing your unit to quickly find its friend in the sky.  You saw the power of this recently with the TomTom units, and how quickly it got satellite even after I flew 5,000 miles away to the middle of China and powered it up in that location for the first time.  Mere seconds.
The FR620 will download this information via WiFi or USB anytime you upload a completed workout.  Meanwhile, the FR220 will do the same via USB upon uploading a new workout.  The cache is good globally (not specific to your hometown), and has 7 days worth of data in it.  Every time you synchronize the watch it extends that date.
If implemented like the TomTom unit, this will greatly minimizing standing outside waiting for signal.
USB Changes: FR620 changes to be like FR220
Last but not least we have a subtle but important change for the FR620: It's no longer using ANT+ to transfer your data to your computer.  Now, it simply uses USB instead (in the event you couldn't use WiFi or Bluetooth Smart to upload activities).
In talking with Garmin about this, they said noted that they'd much prefer to use ANT+ for what it's best for (small packets of sensor data), rather than trying to force larger and larger file transfers via it (not as ideal).
I agree with this.  The single biggest complaint I hear from readers on the devices that use the ANT Agent software is stuck workouts.  This simply eliminates that issue and makes it like the FR10/FR110/FR210 and all the Garmin Edge devices.  Looks just like a USB mass storage device and can be plugged into about any computer on the planet.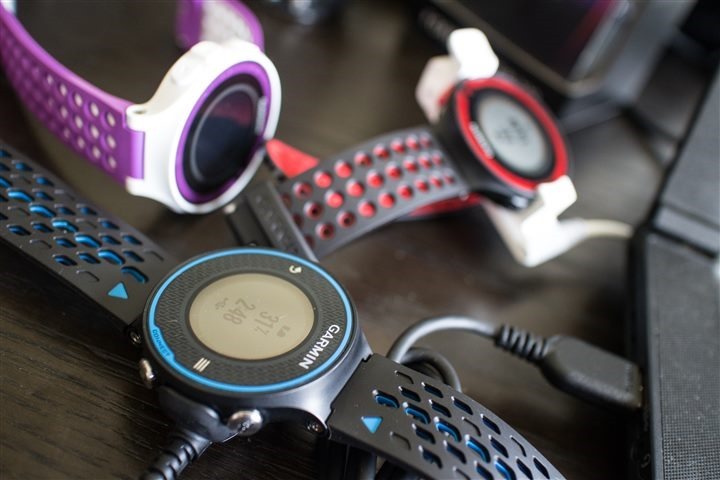 With that, let's talk about features.
The new stuff: Running Dynamics Metrics, VO2Max, Recovery Advisor & Race Estimator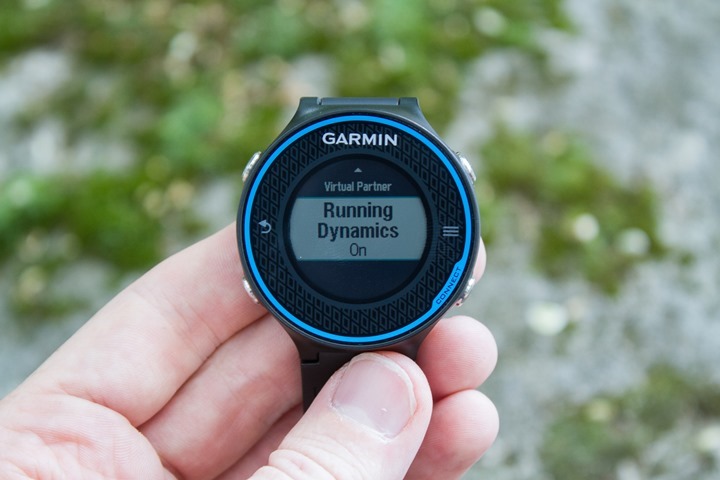 Full Section Applicable to FR620 only
The FR620 is compatible with a new heart rate strap that's also being introduced at the same time – the HRM-Run.  The HRM-Run looks identical to the existing HRM3 heart rate (HR) strap that came out this past spring.  The only difference being that it contains a 3D accelerometer inside of it (and, they've stuck a little running-man icon on the outside of it).
With the accelerometer they're now tracking three new metrics in conjunction with the FR620, they are:
Cadence: Total steps per minute – this has previously been available on the footpod, but this brings it internal to the HR strap
Vertical Oscillation: This is measuring the 'bounce' in a runners torso within each step. This is vertical motion, measured in centimeters.
Ground Contact Time: How much time your foot spends touching the ground, measured in milliseconds
These data fields are available to be added to the Garmin FR620 pages, but, they also can be added as an entirely new separate data page as well – complete with color graphs like a dashboard: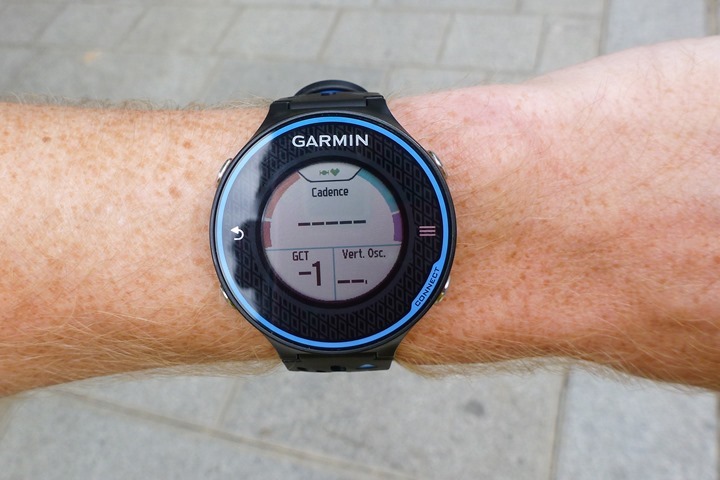 Because I didn't have the HRM-Run yet, I wasn't able to test out this functionality in action.  Instead however I got them to send me two Garmin Connect screenshots showing the data from one of the team members' recent runs.
The first run shows an interval workout on a track.  He did 2x(10x200m).  You can see the 10x200m, then a recovery, then the second set.  The cadence numbers aren't terribly different from what you've seen previously with a footpod (though now expressed as total footsteps rather than just half that value with left/right-only).  In this case however it's measured via chest strap.  The Vertical Oscillation and Ground Contact numbers are totally new here though.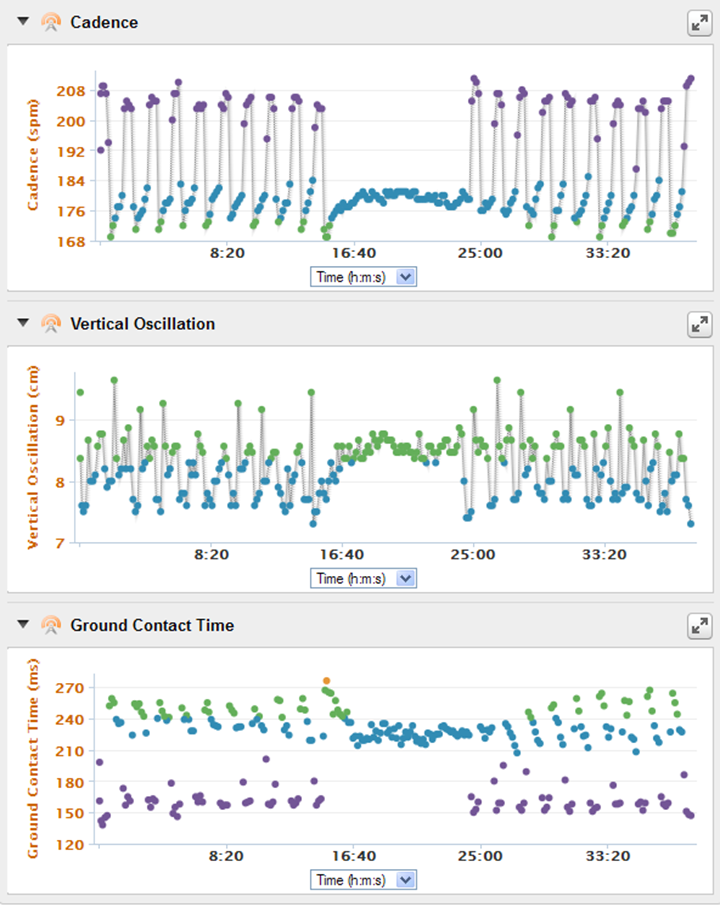 The next file sent shows a relatively steady-state run.  He noted that he's seen that while running with this that his numbers 'improve' over the course of the run after about a 25 minute warm-up (cadence & ground contact time specifically).  You can see this below where things take a bit of time to stabilize.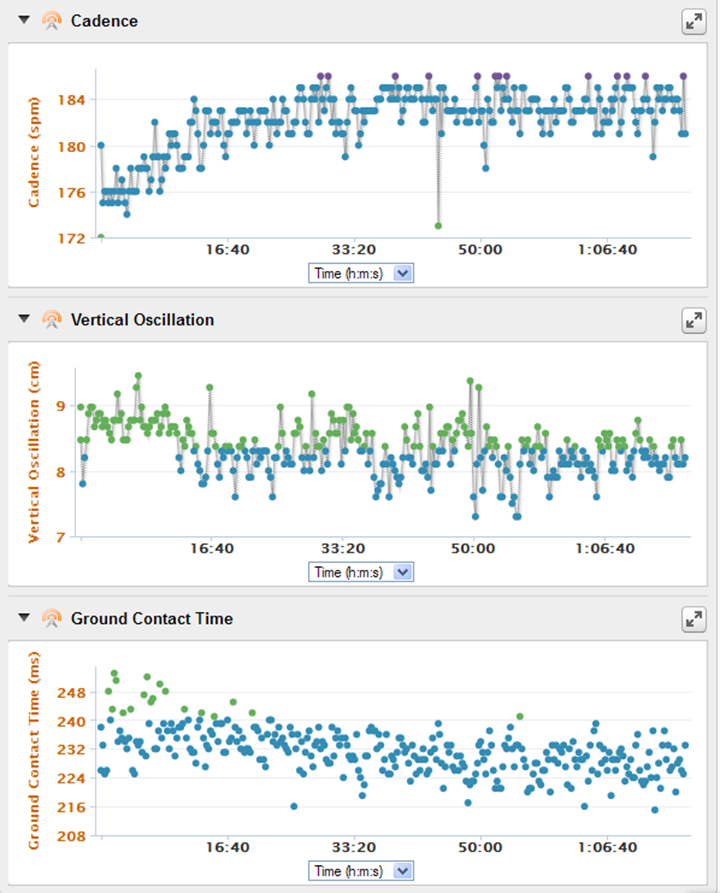 Of course the bigger question is how to use this information and how to train by it.  No doubt there are plenty of drills that can drive habits in some of these areas, but it may take a while before definitive statements can be made across the board on how best to capitalize on these metrics.  Again, this is similar to left/right balance in cycling not being the black and white issue that some folks believe it to be.
VO2Max Estimator: FR620 Only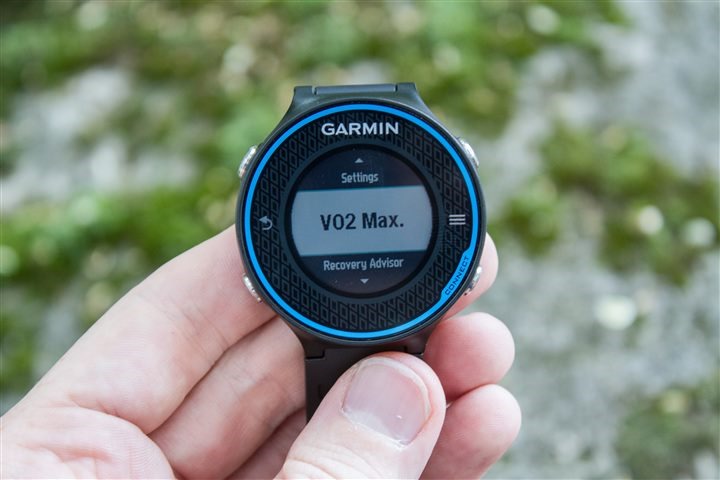 The FR620 adds the ability to determine your VO2Max based on your heart rate during activity.  The unit needs 10 minutes of running to determine your Vo2Max.
Garmin is leveraging FirstBeat's algorithms here for much of this and the next section.  Garmin has previously utilized Firstbeats algorithms in virtually all products made in the last few years to generate calorie metrics.  In this case of the VO2Max estimator, the FR620 is using Heart Rate Variability + Heart Rate + Speed + Distance, all combined together into an algorithm to determine your VO2Max.
What's interesting here is that Garmin has actually been doing much of this below the hood in most of the watches for some time now, it was just never exposed to the end user.  Now, this number is being exposed to the end user, and will also transfer to Garmin Connect as well.
This doesn't require the HR-Run HR strap, just any ANT+ HR strap that supports the recording of the heart beat interbeats (what happens between the HR beats, called the RR or HR variability) within it.  Note that all current Garmin straps do.
Note: The HRM-Run strap will be the included in the 'bundled' FR620 version, which is $50 more than the non-HR strap version (so $449 instead of $399). If you buy it later it's $89US.
Race Predictor: FR620 Only
The FR620 Race Predictor is relatively straightforward.  In this case it's simply taking the VO2Max max number and in turn dumping that into estimation tables for given standard running distances (i.e. 10KM/Marathon/etc…).  They're using publicly sourced tables to map VO2Max to a theoretical best race you could run.
In other words, this is really more of a 'best case scenario' than an actual performance estimate based on your recent runs.  Meaning that if I've only been running 10-miles at a 8:00/mile pace, no matter what my VO2Max says, it's not going to get me to a 6:35/mile pace for a marathon at 26.2 miles.
Recovery Advisor: FR620 Only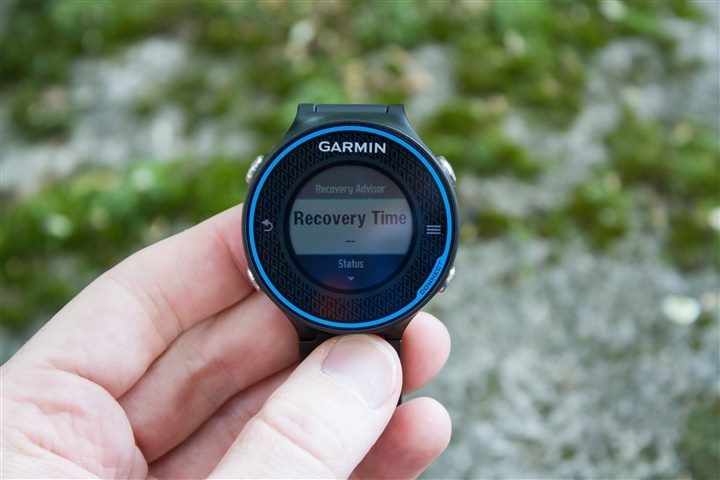 Lastly we've got recovery advisor.  This is again looking at some of the Firstbeat work done above in concert with things like Training Effect to help provide an estimate for how long it will take to recover from your last workout, until your next workout.  And of course, this too requires a HR strap (though again, not the HRM-Run).
I'll have more details on this as I near closer to the in-depth review.
The new stuff: Training Plans, Workouts, PR's & Customizations:
Training Plans & Calendar: FR620 & FR220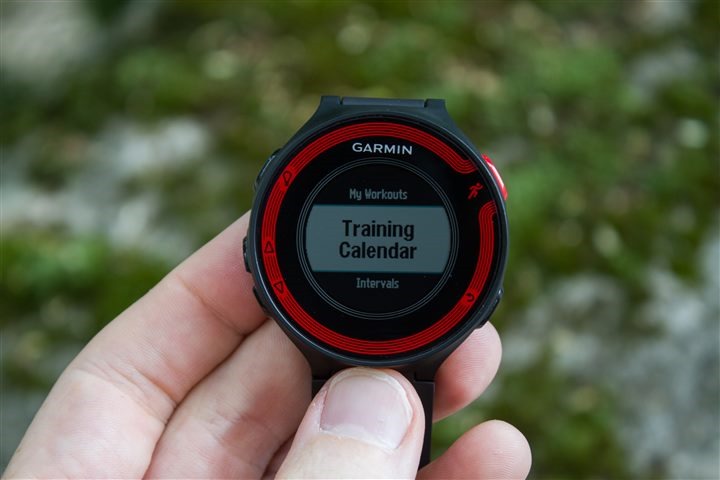 Both units now support the training calendar/plan concept.  On Garmin Connect you can grab free pre-built plans for a variety of race distances (running up to a marathon, triathlon up to Olympic, and cycling up to century) and abilities: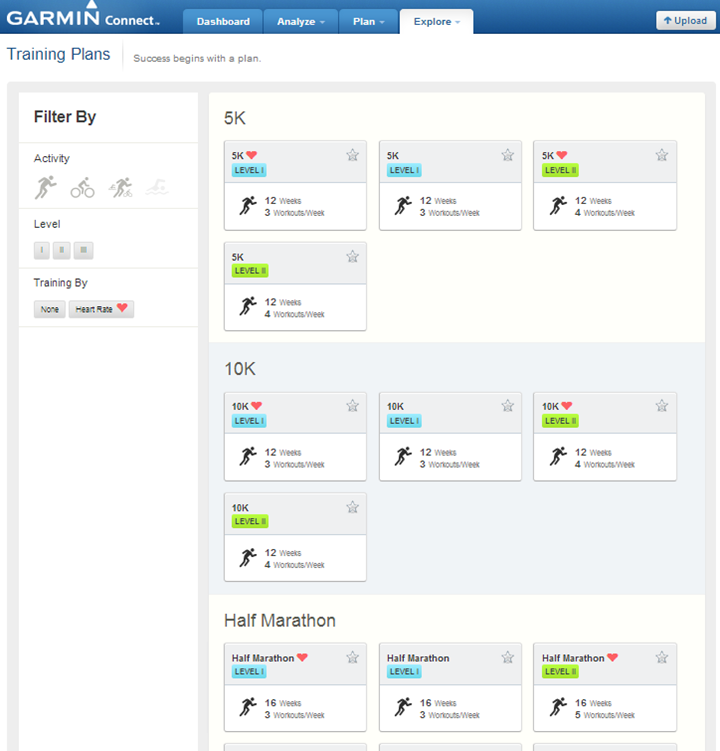 Then, these are added to your Garmin Connect calendar: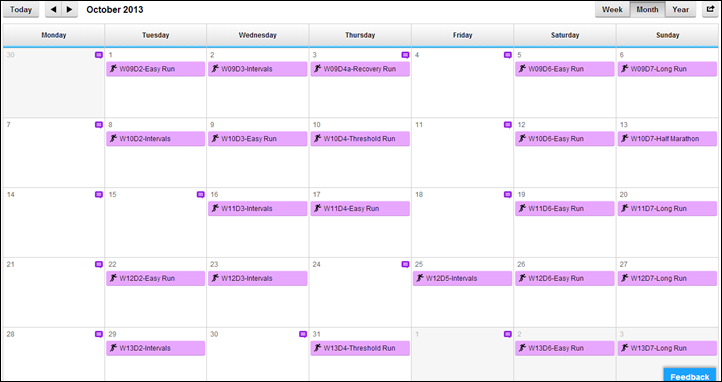 From there, these can be synchronized to either of the units and the workouts will automatically appear on the correct day.  Thus, if you had a long run scheduled for Monday, when Monday came around, it'd show that workout being on your unit.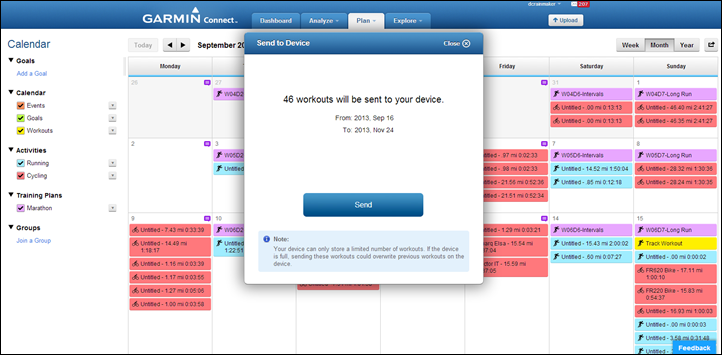 You don't have to use the pre-canned training calendar, as in fact any structured workout that's on your upcoming calendar is synchronized to the units.  Speaking of "workouts", let's move into the next section.
Workouts: FR620 & FR220
A workout is any structured workout.  For example, here's my Monday night hill repeat workout that I've created using the workout creator on Garmin Connect: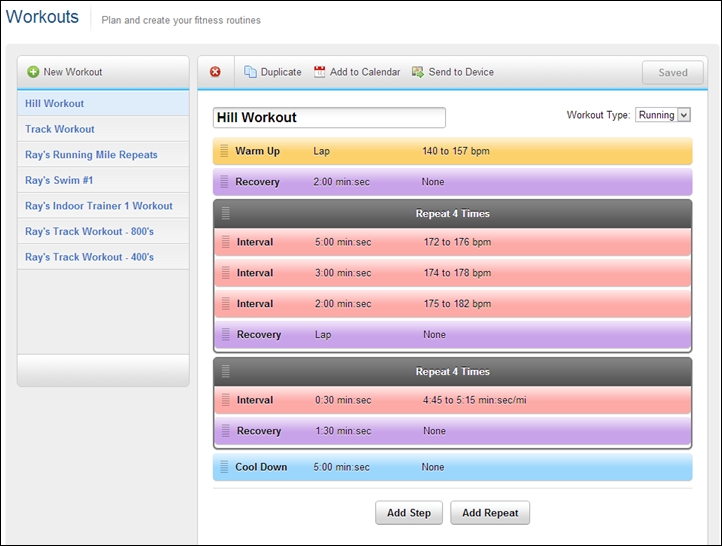 I can then transfer these workouts to both the FR620 and FR220.  The new piece here is the FR220 accepting the workout.  Previously only the higher end watches did that.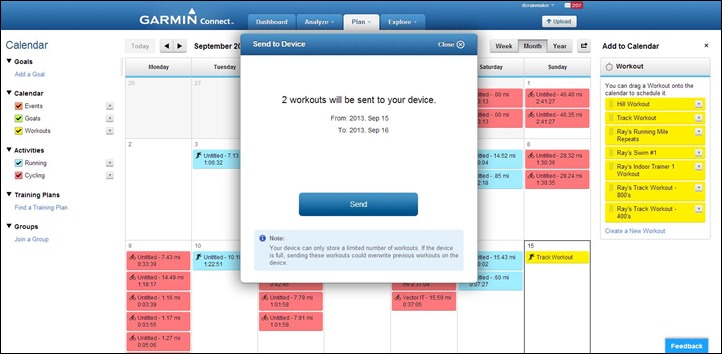 Workouts then appear within the workout section on the watches: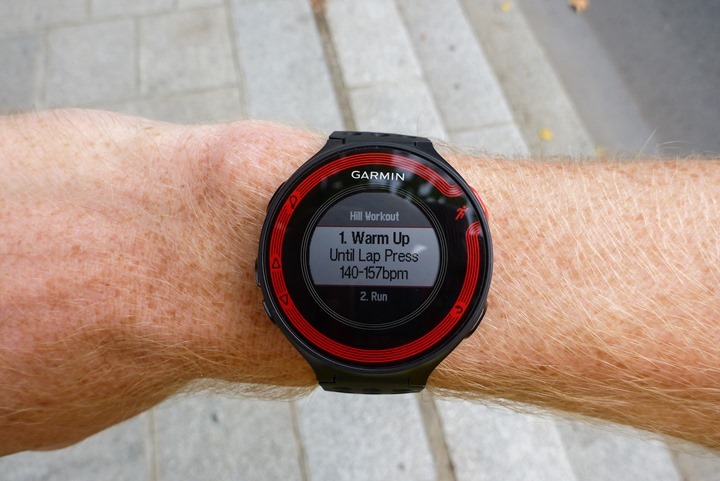 From there you can view the workout steps, or have it guide you through the workouts.
The same concept works for intervals – on both the FR220 and FR620.  Both watches have an on-unit interval creator that allows you to quickly spit out an interval workout.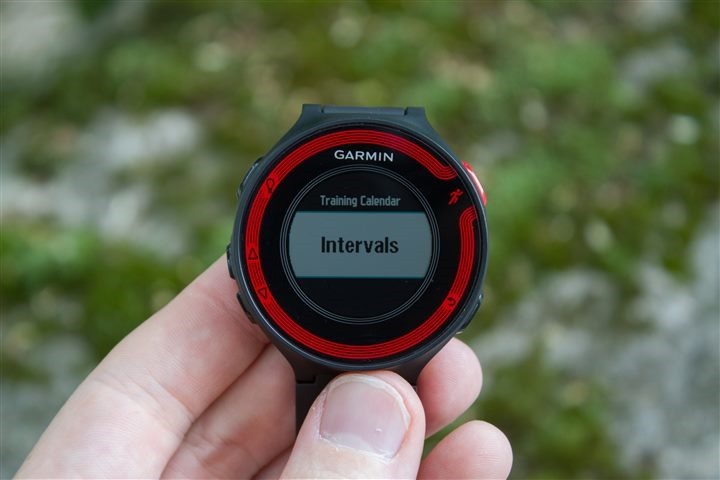 PR's: FR620 & FR220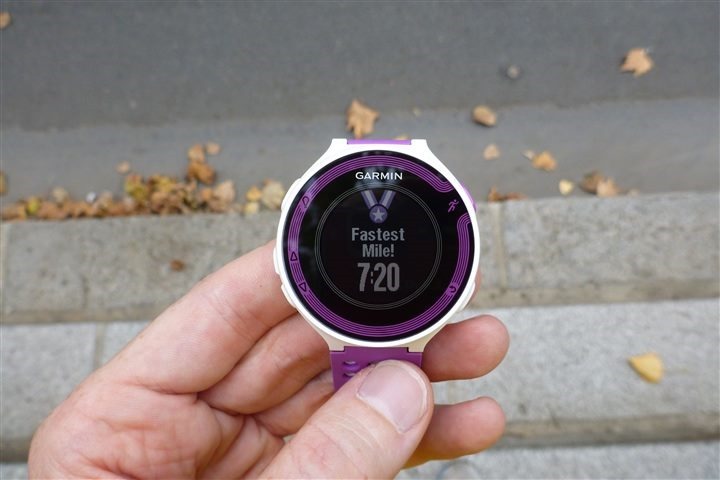 Next is the addition of PR's.  These are little notifications that you've hit a goal or a new personal record (like a personal best).  These are synchronized to Garmin Connect and the data from your online account will automatically be populated into the watch.  PR's are both pace based as well as distance based.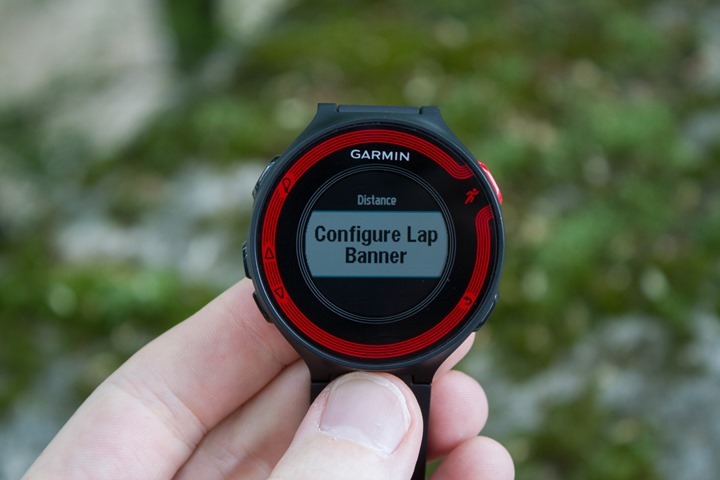 Both units get the ability to customize the display screen when you press the lap button (or auto lap is triggered).  The idea here being that if you want to show different summary metrics for that lap, you can change what's displayed.  This has been a request I've heard a number of times from many people.
This function wasn't yet implemented in the units I had, so I don't have too much more detail here.
More customization for the FR220:
The FR610 (as well as the FR620) has always had plenty of customization of data fields, but the FR210 previously was a bit restricted in what you could display and how you could display it.  With the FR220 though it's more or less a free for all.  This may sound minor, but it's actually kinda a big deal.
The FR220 has two data pages (screens), each allowing up to three data fields to be displayed on them: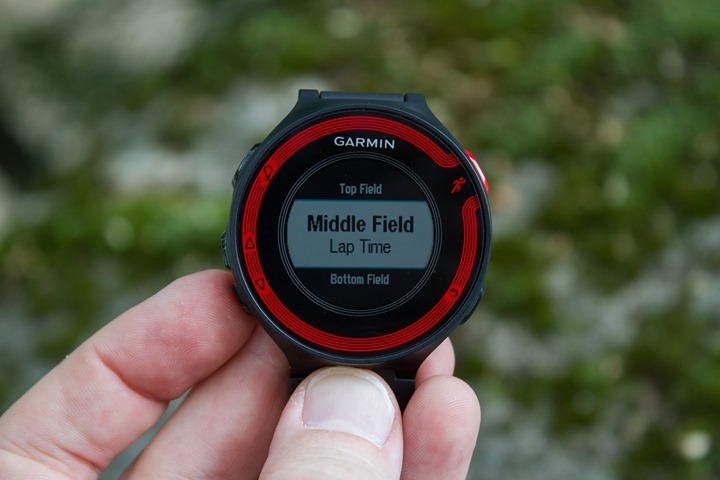 In addition, you get a 3rd optional page that's just HR-specific, including your current HR and your HR Zone: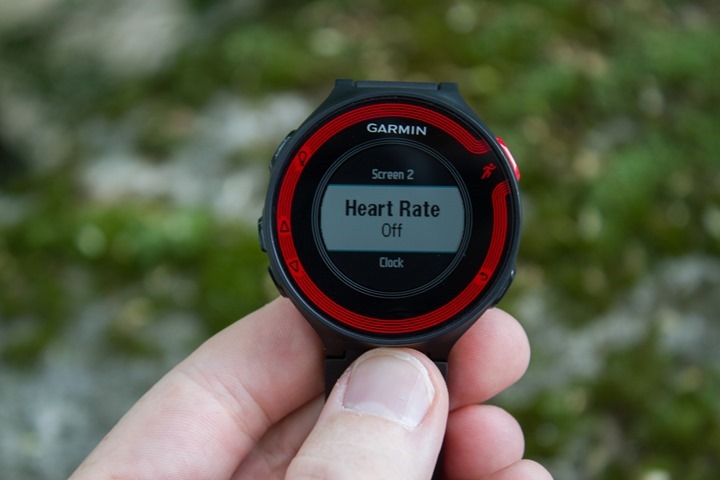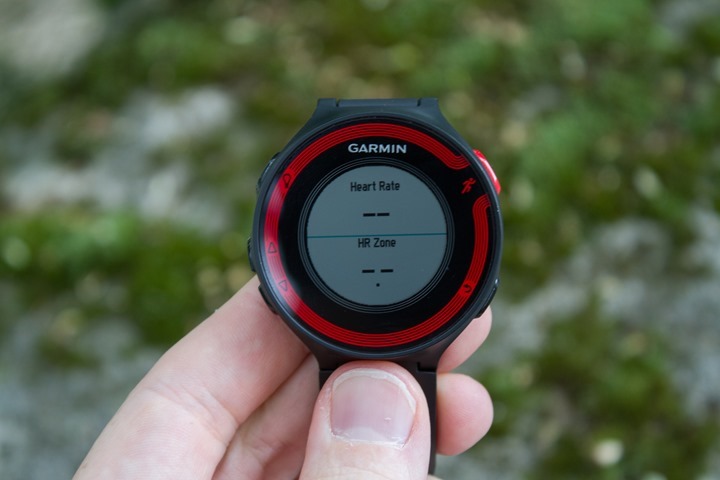 Finally, you get a 4th optional page with the clock that you can turn on or off.
Here's all the FR220 data fields.  You can mix and match these however you'd like:

And, for clarity, here's all the current FR620 data fields: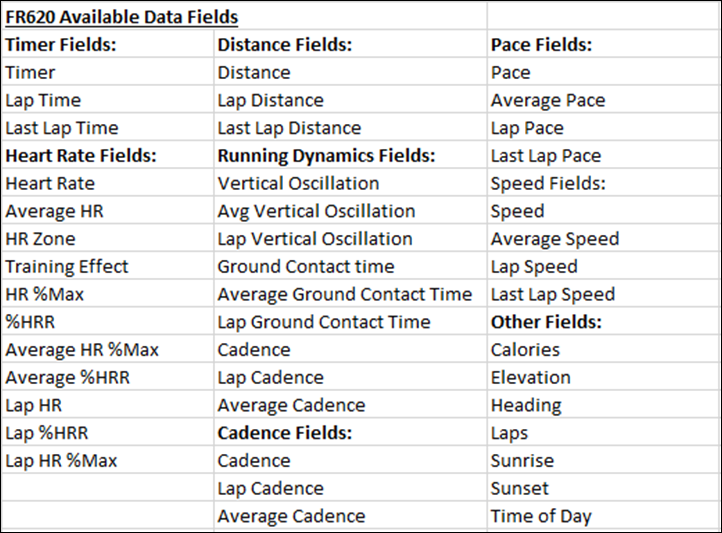 With the FR620 you get four data pages, each with up to four data fields per page.  You also get the Virtual Partner page, as well as the Running Dynamics page (both optional).  The time (date/day/etc…) can be accessed at any time by simply pressing the bottom left button, and then press it again to get rid of it.  It otherwise doesn't show up in your normal rotation.
Note: It's also possible that given these fields are beta, things my shake out a bit there.
Finally, lacking anywhere else to note this, you can change the theme color for both the FR620 and FR220.  There's a bunch of colors available: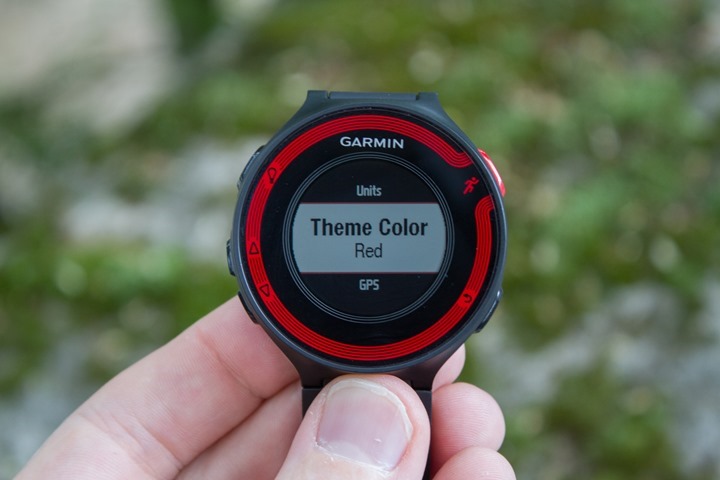 The old stuff: Running with it:
I realize that I'm mostly focusing on all the 'new things', assuming to some degree that you know how the basics of a GPS watch works.  So in this brief section I'll explain a few things that new readers may find useful.  Folks who've been around the block a few times (aka stood outside waving their arms in the air for satellite coverage) can likely skip this section.
To start the run you'll simply tap the upper right runner man icon.  You tap it once to wakeup the watch, and then again to imply that it wasn't just an accidental thing.  This applies to both the FR620 and FR220, and should cut down on accidental swipe unlocks.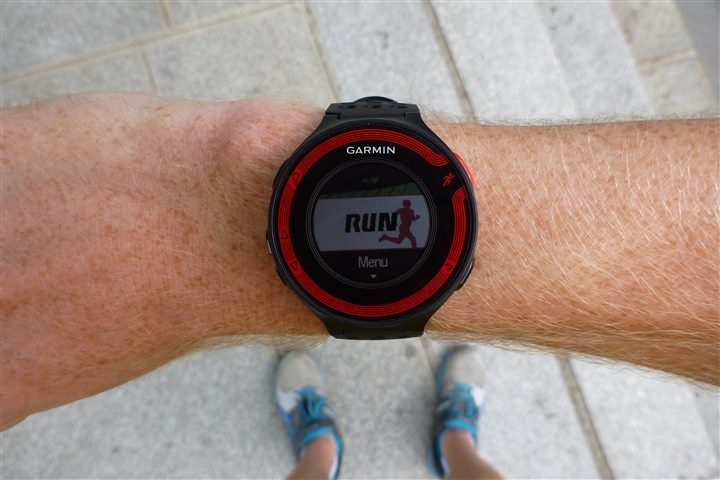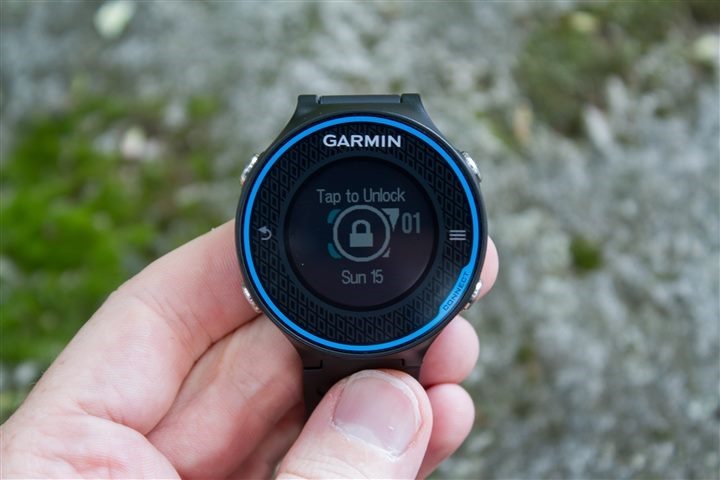 Once that's done, the unit will find satellite coverage.  In my case that literally only took a couple of seconds at most.  Though, the units had been turned on in the area previously – so I didn't really get a chance to see how the satellite pre-population worked.  Satellite coverage is displayed along the left of the unit – those bars leading to the top: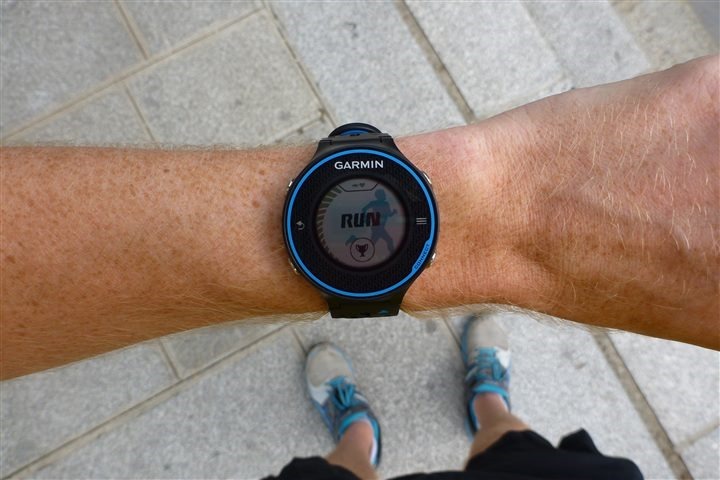 I'll simply tap the upper right button to start things and get on running.
As I run, my pace/distance and other metrics are displayed on the unit.  In the case below, I've added four data fields to the data page: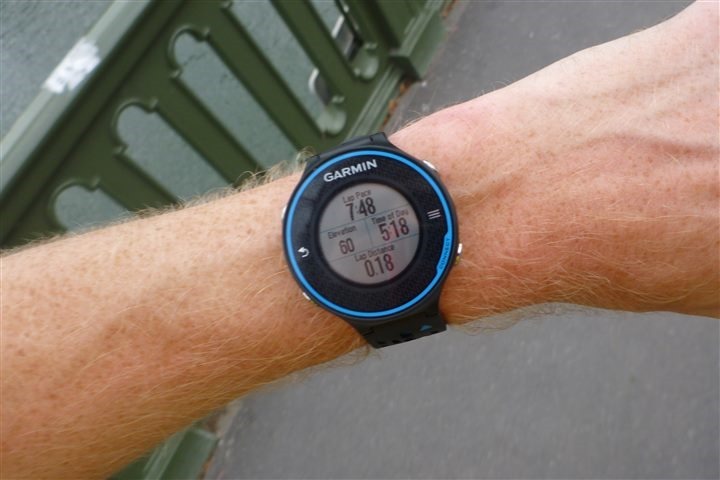 But I could have just as easily had one or two data fields per page.  And the fields displayed are totally customizable.  To change displays on the FR620 you'll just tap the touch screen.  The touch screen will automatically iterate to the next page (you can also setup auto scroll on both units).  In fact, that's a good point in general that I probably haven't covered yet.  The FR620 has a touch screen like the FR610, whereas the FR220 uses buttons like the FR210.  The FR620 also has buttons for common operations like start/stop, clock access, uploading, and the light.  You can also enable a touch screen lock too.  Like the FR620, the touch screen works just fine with gloves/sweat/rain/etc…
On the FR220 you'll press the up/down buttons on the unit to change screens: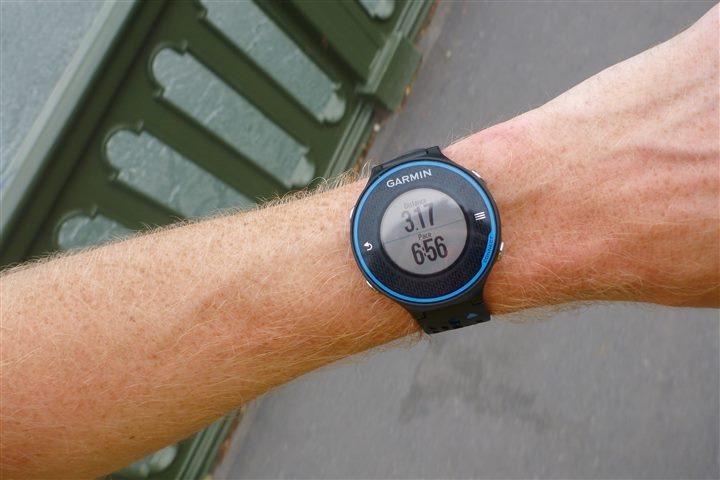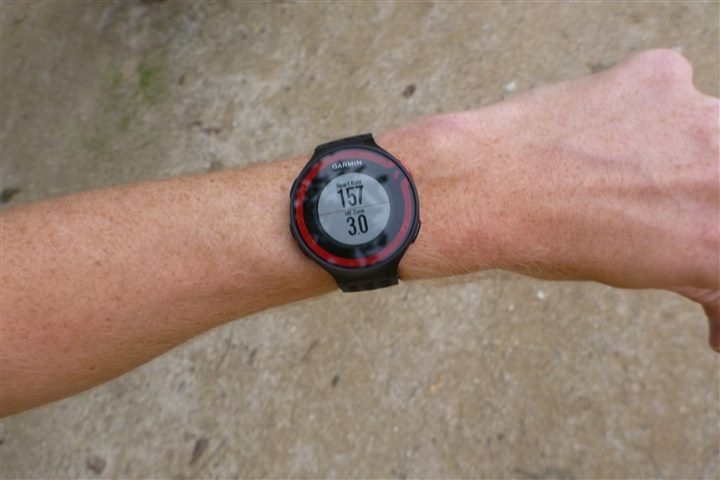 You can see above the optional heart-rate page displayed on the FR220.
You can manually trigger a lap by pressing the bottom right button on either watch.  Alternatively, you can utilize auto lap as well to preset laps at prescribed distances (i.e. every mile or every kilometer).
Within the run/walk mode (new to the FR220), you'll get a notification that it's now time to start the walking segment (or running, if applicable).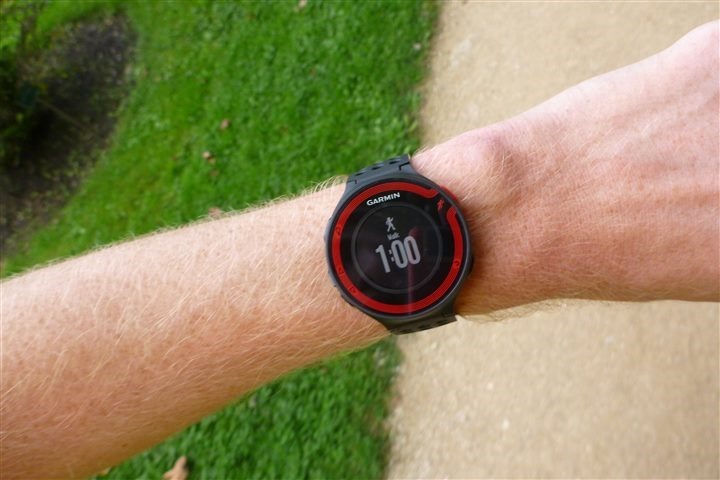 Meanwhile, it'll then also display a count-down of how much time is left in that segment (2m 8s below until I walk again).  This is considered an additional data page: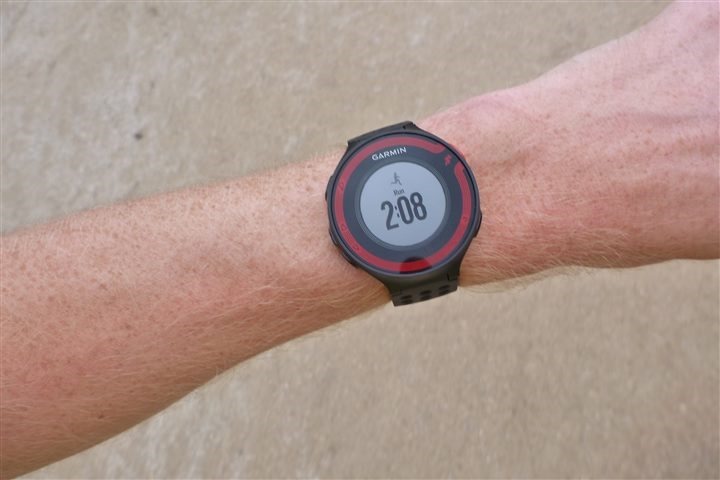 Upon completion of your run, it'll give you an overview of the activity.  If you had a phone paired to it, or were within WiFi range, it would automatically upload to Garmin Connect.  If neither of those are true, then you can plug it in via USB and upload that way.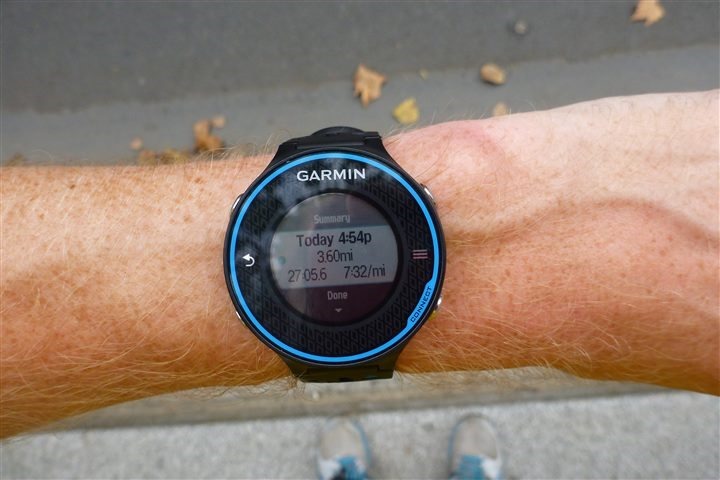 Once online, you'll get the usual Garmin Connect page of your activity: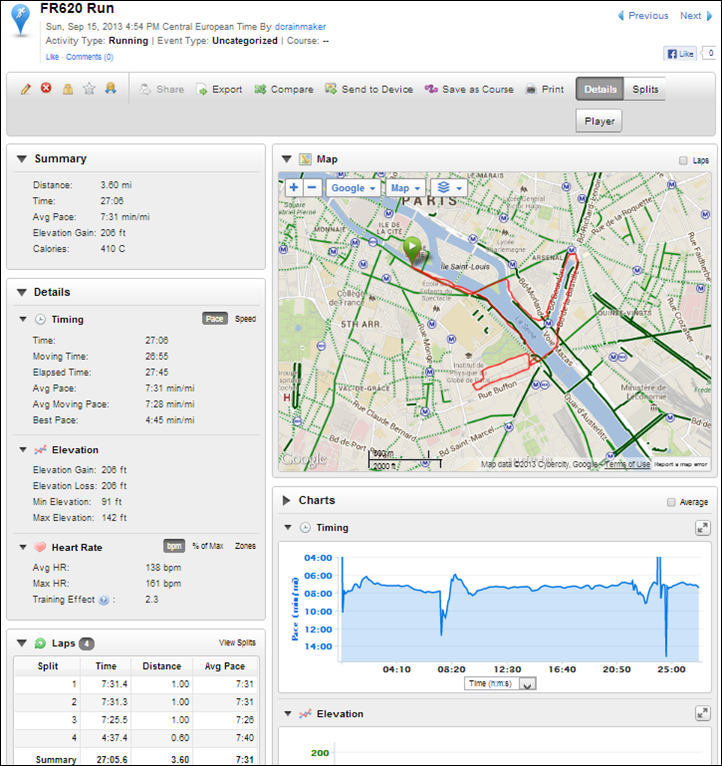 This includes things like heart rate data and paces: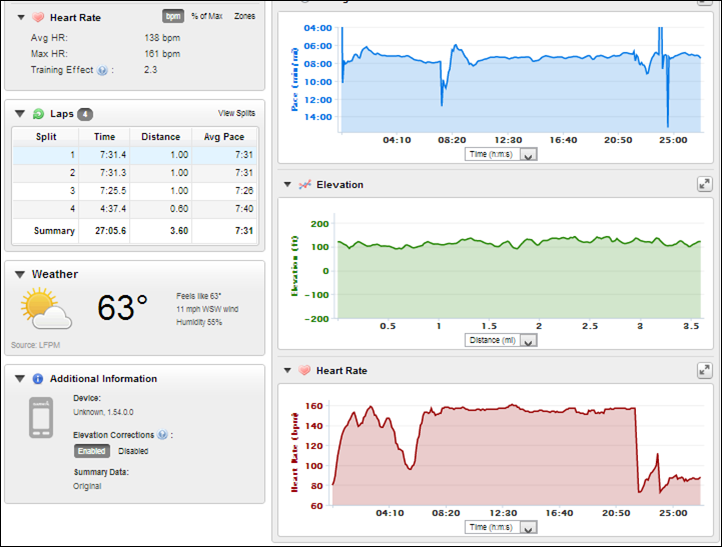 Like all Garmin devices these days, the data is stored in a .FIT file, which is compatible with virtually all training log sites out there.  For example, I had no problems uploading the file to Strava.
Finally, of note is that both units have the same identical backlight – so if you're running at night you can easily see the screens.  The backlight can be configured to stay on for a short period of time, or just stay on permanently.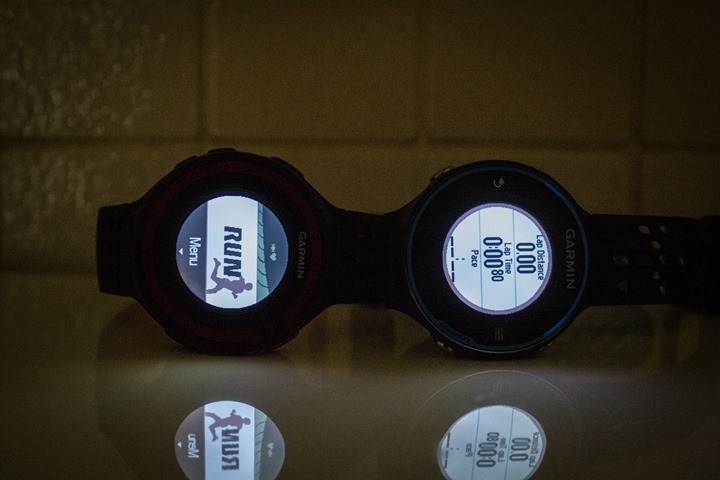 What didn't make the cut, or got pushed: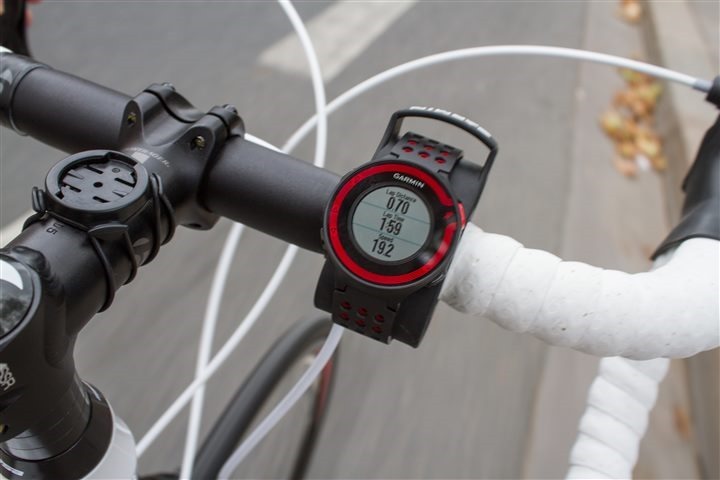 Now, that's not to say that everything that was in the previous FR610 made it into the FR620.  There were some things that aren't there going forward.  I'll point out that I don't believe there's anything not in the FR220 that was in the FR210.
The following didn't make the grade:
– ANT+ weight scale support
– ANT+ fitness equipment support (gyms primarily)
– Support for New Leaf VO2Max calorie burn Profiles (the company went out of business, sold to Lifetime Fitness)
As much as it pains me to see those cut (primarily the scale feature) – I'm also realistic.  There's just not that many users out there of those features.  The ANT+ scales haven't kept up with the WiFi scales from a features standpoint (I wouldn't recommend buying an ANT+ scale over a WiFi scale these days).  And the ANT+ fitness equipment while in some of the Lifetime Fitness gym's, simply isn't widespread.
Lastly in the 'got cut' section we've got the New Leaf Profiles (here's how that worked).  Given that company went under then a portion of the assets was subsequently sold to Lifetime Fitness, I can see why Garmin made this choice.  Even in it's heyday, the service was so rarely used that almost nobody knew about.  The final nail in the coffin is really the addition of the VO2Max piece into the unit itself, done by Firstbeat somewhat replaces that (I say somewhat, though obviously not fully).
Next we've got features that haven't made the cut for the first firmware release, but are tentatively planned down the road (tentatively in that it could change).
– Addition back of FR620 cycling-specific mode
– Supporting the ANT+ Speed/Cadence sensor
– Virtual Racer functionality
These won't be there out of the gate, but the plan is to get them added.  I see this as a 'must have' – simply because while you can change the display metric from pace to speed (i.e. 20MPH), it doesn't mark it as a 'bike ride' – rather keeping it instead as a run.  This in turn means that any bike rides you take will trigger your PR's/Records to all be really fast runs.
The Virtual Racer piece allowed you to race against past efforts.  Garmin explained that they're re-thinking how that's executed and plan to re-add it in a later firmware update (though no timelines specified).
Next, we look at navigation.  A lot of folks have asked for navigation type features in the previous FR610 – stuff such as following a course (routing), or point to point waypoints.  None of those are on the docket for the FR620.  There is the potential for some work around the compass – but that's still being looked at.  There is not a magnetic compass inside, though there is a 3D accelerometer. Neither is there a barometric altimeter.  Really, for navigation the Fenix is the better bet here.
Overall here you see a lot of fluidity in the state of things, especially for the FR620.  The simple reality here is that the unit is still very much in beta, and thus like any beta product there's a lot of work still to be done prior to final release.  Further, some of the features that might have made the cut had this been a post-holiday release didn't make it in an effort to get it out prior to the holidays.  Though, technically "fall" ends on December 21st this year.
Comparison Tables:
Before we wrap things up I've put together the comparison charts of all the features of the FR620 and FR220, compared to the older FR210 and FR610.  You can of course create your own comparison tables using this link with any of the products I've previously reviewed.
Function/Feature

Garmin Forerunner 210
Garmin Forerunner 220
Garmin Forerunner 610
Garmin Forerunner 620
Copyright DC Rainmaker - Updated October 21st, 2015 @ 1:43 am New Window
Price
$179.00
$249
$349.00
$399
Product Announcement Date
OCT 4, 2010
SEPT 16, 2013
APR 12, 2011
SEPT 16, 2013
Actual Availability/Shipping Date
OCT 2010
OCT 31, 2013
APR 15, 2011
OCT 31, 2013
GPS Recording Functionality
Yes
Yes
Yes
Yes
Data Transfer
USB
USB, Bluetooth Smart
ANT+ Wireless
USB, WiFi, Bluetooth Smart
Waterproofing
IPX7
50 Meters
IPX7
50 meters
Battery Life (GPS)
10 hours
10 hours
8 Hours
10 hours
Recording Interval
Smart
SMART RECORDING (VARIABLE)
1-second & smart
1-second & Smart
Quick Satellite Reception
Great
Great
Great
Great
Alerts
Audio/Visual
VIBRATE/SOUND/VISUAL
AUDIO/VISUAL/VIBRATE
Audio/Visual/Vibrate
Backlight Greatness
Good
Great
Great
Great
Ability to download custom apps to unit/device
No
No
No
No
Acts as daily activity monitor (steps, etc...)
No
No
No
No

Connectivity

Garmin Forerunner 210
Garmin Forerunner 220
Garmin Forerunner 610
Garmin Forerunner 620
Bluetooth Smart to Phone Uploading
No
Yes
Via Wahoo Fitness Adapter
Yes
Phone Notifications to unit (i.e. texts/calls/etc...)
No
No
No
No
Live Tracking (streaming location to website)
No
Yes
No
Yes
Emergency/SOS Message Notification (from watch to contacts)
No
No
No
No
Built-in cellular chip (no phone required)
No
No
No
No

Cycling

Garmin Forerunner 210
Garmin Forerunner 220
Garmin Forerunner 610
Garmin Forerunner 620
Designed for cycling
Barely (Speed mode only)
Barely (Speed mode only)
Yes
Barely (Speed mode only)
Power Meter Capable
No
No
No
No
Speed/Cadence Sensor Capable
No
No
Yes
Yes
Strava segments live on device
No

Running

Garmin Forerunner 210
Garmin Forerunner 220
Garmin Forerunner 610
Garmin Forerunner 620
Designed for running
Yes
Yes
Yes
Yes
Footpod Capable (For treadmills)
Yes
Yes (also has internal accelerometer)
Yes
Yes (internal accelerometer)
Running Dynamics (vertical oscillation, ground contact time, etc...)
No
No
No
Yes
VO2Max Estimation
No
No
No
Yes
Race Predictor
No
No
No
Yes
Recovery Advisor
No
No
No
Yes
Run/Walk Mode
No
Yes
Yes
Yes

Swimming

Garmin Forerunner 210
Garmin Forerunner 220
Garmin Forerunner 610
Garmin Forerunner 620
Designed for swimming
No
No (protected though just fine)
No
No (protected though just fine)
Record HR underwater
No
No
No
No

Triathlon

Garmin Forerunner 210
Garmin Forerunner 220
Garmin Forerunner 610
Garmin Forerunner 620
Designed for triathlon
No
No
No
No
Multisport mode
No
No
No
No

Workouts

Garmin Forerunner 210
Garmin Forerunner 220
Garmin Forerunner 610
Garmin Forerunner 620
Create/Follow custom workouts
No
Yes
Yes
Yes
On-unit interval Feature
Yes
Yes
Yes
Yes
Training Calendar Functionality
No
Yes
No
Yes

Functions

Garmin Forerunner 210
Garmin Forerunner 220
Garmin Forerunner 610
Garmin Forerunner 620
Auto Start/Stop
No
Yes
Yes
Yes
Virtual Partner Feature
No
No
Yes
Yes
Virtual Racer Feature
No
No
Yes
No
Records PR's - Personal Records (diff than history)
No
Yes
No
Yes
Day to day watch ability
Yes
Yes
Yes
Yes
Hunting/Fishing/Ocean Data
No
No
No
No
Tidal Tables (Tide Information)
No
No
No
No
Jumpmaster mode (Parachuting)
No
No
No
No
Geocaching
No
No
No
No
Weather Display (live data)
No
No
No
No

Navigate

Garmin Forerunner 210
Garmin Forerunner 220
Garmin Forerunner 610
Garmin Forerunner 620
Follow GPS Track (Courses/Waypoints)
No
No
No
No
Markers/Waypoint Direction
No
No
No
No
Routable/Visual Maps (like car GPS)
No
No
No
No
Back to start
No
No
Yes
No
Impromptu Round Trip Route Creation
No
No
No
No
Download courses/routes from phone to unit
No
No
No
No

Sensors

Garmin Forerunner 210
Garmin Forerunner 220
Garmin Forerunner 610
Garmin Forerunner 620
Altimeter Type
GPS
GPS
GPS
GPS
Optical Heart Rate Sensor internally
No
No
Heart Rate Strap Compatible
Yes
Yes
Yes
Yes
ANT+ Heart Rate Strap Capable
Yes
Yes
Yes
Yes
ANT+ Speed/Cadence Capable
No
No
Yes
Yes
ANT+ Footpod Capable
Yes
Yes
Yes
Yes
ANT+ Power Meter Capable
No
No
No
No
ANT+ Weight Scale Capable
Yes
No
Yes
No
ANT+ Fitness Equipment (Gym)
No
No
Yes
No
ANT+ Lighting Control
No
ANT+ Bike Radar Integration
No
ANT+ Trainer Control (FE-C)
No
ANT+ Remote Control
No
No
No
No
ANT+ eBike Compatibility
No
No
No
No
Shimano Di2 Shifting
No
No
Bluetooth Smart HR Strap Capable
No
No
No
No
Bluetooth Smart Speed/Cadence Capable
No
No
No
No
Bluetooth Smart Footpod Capable
No
No
No
No
Bluetooth Smart Power Meter Capable
No
No
No
No
Temp Recording (internal sensor)
No
No
No
No
Temp Recording (external sensor)
No
No
No
No

Software

Garmin Forerunner 210
Garmin Forerunner 220
Garmin Forerunner 610
Garmin Forerunner 620
PC Application
GTC
Garmin Express
GTC/ANT Agent
Garmin Express
Web Application
Garmin Connect
Garmin Connect
Garmin Connect
Garmin Connect
Phone App
Garmin Fit
iOS/Android
Garmin Fit
iOS/Android
Ability to Export Settings
No
No
No
Yes

Purchase

Garmin Forerunner 210
Garmin Forerunner 220
Garmin Forerunner 610
Garmin Forerunner 620
Amazon
Link
Link
Link
Link
Clever Training - Save with the VIP program
Link
Link
Link
Link

DCRainmaker

Garmin Forerunner 210
Garmin Forerunner 220
Garmin Forerunner 610
Garmin Forerunner 620
Review Link
Link
Link
Link
Link
The tables are updated dynamically and thus if/when things change that's represented automatically in this section.
Summary:
Now, again, I want to point out this isn't a review of either watch.  It's a first look at a unit that was very-much beta.  It wasn't perfect, like every other beta device I test from every other company on the planet there were beta-bugs present, and there were new and old features that simply weren't yet implemented in the watch software I was using.  The FR220 is much further along than the FR620.  Beyond that, I'll evaluate both units upon final (or near-final) firmware once that happens, as part of a full and usual in-depth review.
With that said – I'm pretty excited about both watches, yet for slightly different reasons.
On the FR620, I LOVE the WiFi addition, and the fact that 'stuff just happens' when it comes to uploads and firmware updates.  Same goes for the automatic satellite location downloads and caching for 7 days – all via WiFi.  Also on the FR620, I'm interested to see how the Running Dynamics shakes out with the HRM-RUN.  Like left/right balance for power meters, I think there's a lot we think we know, but far more we don't actually know.  So I'm interested in seeing what researches and the like get out of that.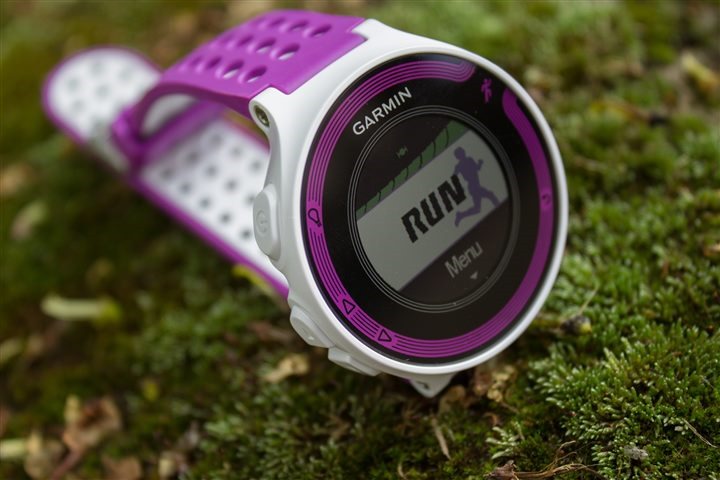 On the FR220 side, I'm excited about the fact that a crapton of features got moved from higher-end watches to this watch at half the price of higher end watches.  Specifically downloading complex workouts and training plan support, complete customization of the data fields, and a lot more customization of the watch on the whole.
And looking at both units, the addition of Bluetooth Smart pairing to your phone is solid for Livetracking.  No, it's not cellular 3G in the units – you do have to carry along your cell somehow.  I was pretty hard on Garmin for not including that in the new Edge 510/810 last year (and I'm still not happy about that).  But, in this case I think they find a good balance of weight and additional chipsets.
As we look to future products, I'm really hoping they steer that way (3G) though.  Note that don't expect a FR910XT replacement in the immediate future however.  We'd be talking a 'next spring at best' announcement type scenario (meaning, it may not happen at all next season).  Given the competitive market today, there's actually little reason for Garmin to rush out there in that arena with a new unit.  Further, the FR910xt is really only about 18 or so months old.  While it was announced in Oct 2011, it wasn't actually available until the Jan-Apr 2012 timeframes.  Garmin typically does a minimum 2-year release cycle.  Just wanted to briefly cover that since lots of folks are asking.
With that, as always if you've got any questions feel free to drop them below in the comments and I'll attempt to get the answers.
Thanks for reading!
Update: Ordering information
Just as a heads up, you can now order the FR620 and FR220 via Clever Training – which in turn helps support the site. As most of you know, I've partnered with Clever Training to provide DCR Readers with an exclusive 10% off coupon (DCR10BTF), good for anything you put in your cart. Plus free US shipping over $75.  The relevant links are:
Garmin FR220 (All Packages/Colors)
Garmin FR620 (All Packages/Colors)
Garmin HRM-Run HR Strap (requires FR620 to take full advantage of)
Thanks for the support!
Frequently Asked Questions (FAQ's):
After 746 comments I've decided it's probably time for an FAQ, so here's a first cut at it.
Q: When will you be releasing your in-depth review?
A: Once Garmin notifies me that the firmware is final, and delivers that firmware to me.  Then there's a short period where I'll retest everything to validate things haven't broken/changed.
Updated: The FR620 review will be published on Monday, November 4th.  The FR220 review will be published on either Tuesday (Nov 5th) or Weds (Nov 6th).  Thanks!
Q: When will the Garmin FR220/FR620 be released?
A: Garmin has stated "Fall of 2013", which officially ends on December 21st, 2013.  They have not provided guidance beyond that.
[Updated]: As of Oct 31st, Garmin has made a small number of units available for purchase at the NYC Marathon.  Retailers will start shipping out units on Monday, November 4th, in small batches (very small batches).  The unit is heavily back-ordered – more so than any other Garmin product in history.
Q: It's X date and why hasn't the FR220/FR620 shipped from my the retailer I ordered it from yet?
A: Is it after December 21st?  If not, then it's not yet delayed.  Retailers put in estimated dates provided to them by their distributors (because if they don't, then consumers get upset).  Those distributors get those dates from companies, in this case, Garmin.  Specifically, they get them from the distributor/retailers sales rep.  The answers that you'll get will vary depending on how confident that person is, and that's the date they give to the retailer, who in turn adds a bit of padding and gives it to you.
Q: When will Garmin add bike mode support to the FR620?
A: If and when they decide to do it (they haven't committed to that), it would be after initial release.  That could be a week later, January, or April…or never.  Further, that doesn't mean they're going to add ANT+ Speed/Cadence sensor support (like the FR610 had).
Q: Has Garmin decided to release an all black/gray version yet?
A: No, they haven't.
Q: What do you recommend, the FR210 or the FR220?  Do you recommend waiting?
A: Yes, I do recommend waiting at this point.  The jump between the two devices from a interface and functionality standpoint is significant.  Obviously, there's a cost jump too – so you'll need to balance that against the features in the comparison table above.
Q: Does the FR220/FR620 need a footpod for indoor/treadmill use?
A: No, it has a built-in accelerometer which automatically tracks pace/distance/cadence – and displays/records all those values.
Q: But how accurate is that method?
A: Other units have done this successfully (Bryton Cardio 60, TomTom Runner/Multisport, etc…), but it'll be part of my full in-depth review to show comparisons with traditional sensor data on the same run.
Q: Will the HRM-Run work with other Garmin devices, will they update the Garmin FR910XT?
A: At present, it only works with the FR620.  (All other units will just see it as a regular Ant+ HR strap without any of the new features)  I suspect over time we'll see that expand to both other products as well as other uses.
Q: Does the FR220 have a Virtual Partner?
A: No, it has Pace Alerts – which is similar to what the FR10 has.  Pace Alerts on the FR220 are configured so that you set a high value (i.e. 7:30/mile), and then a low value (i.e. 7:00/mile).  It beeps at you if you go outside that threshold.  Note that you can set either the high or low thresholds – or both (to bracket in your pace).  This is different from Virtual Partner in that Virtual Partner you specify a goal pace – and then it alerts you when your overall pace against that virtual partner has fallen ahead/behind, showing you time and distance ahead/behind.  The FR220 simply tells you that you're off (current) pace.
Q: Are the manuals available for download?
A: Yes!  Here's the two links: Garmin FR620 manual. Garmin FR220 manual.
(FAQ's updated as of November 1st, 2013 at 4PM Eastern)