It's Shark Week time for those of us watching Discovery Channel.  Unfortunately for me, my hotel room doesn't have the Discovery Channel (and I haven't been in it much anyway) – but once I return home you can bet the first order of business will be getting in my Shark Week content.  Yes, some of it's fairly sensationalist, and some just a bit skewed from reality – but that doesn't mean we don't all enjoy watching it.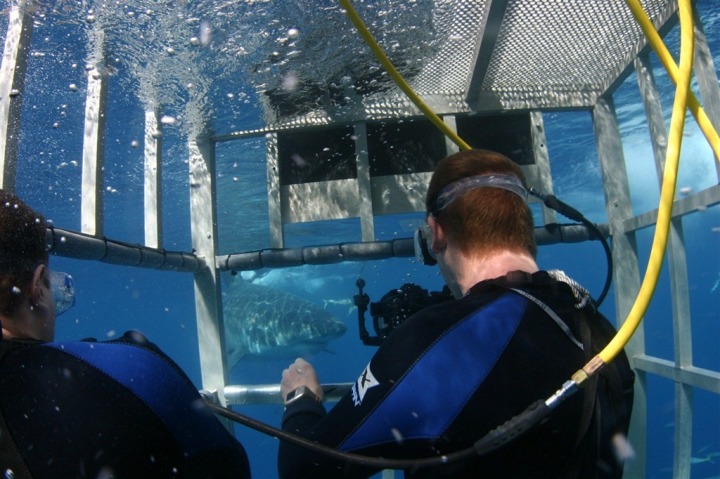 (Yes, that's me…and yes, I'm wearing a FR310XT. The short story is that I had killed my cheap Target watch the day prior in the cage, and needed a way to know how long for rotations, it worked well. Rest of the story down below in the Great White trip.)
For those that have followed for a while you know I love sharks, and there's no better time to display that love than this week.  It's like setting off fireworks leading up to the 4th of July. Oddly enough, now to think about it, both fireworks and sharks could result in loss of limb or life if handled improperly.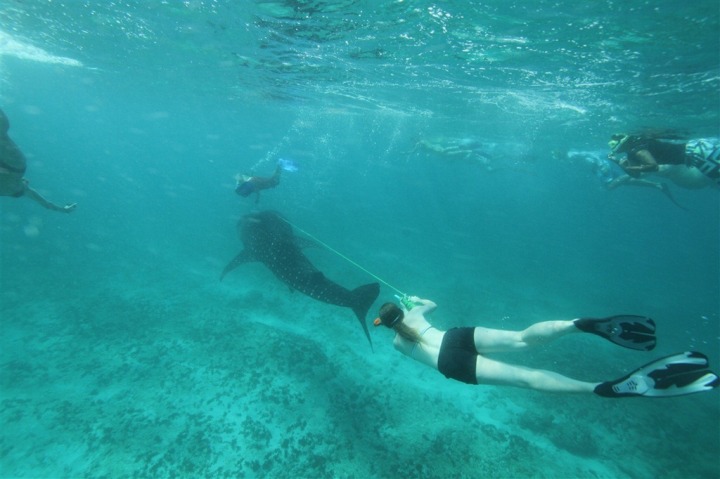 (Whale Sharks in the Maldives with a Whale Shark Research Team, details below)
Back in December I had a fun post featuring some work that Olympic Swimmer Amanda Beard did around shark conservation.  It's always good to see athletes getting involved in conservation efforts, and especially nice to see one so close to our sport do so.
So here's a collection of my best shark related adventures for you to relive (or to burn away any productivity you may have had this Thursday morning at work):
Great White Shark Diving:
This was a big trip my brother and I did out on a live aboard with a bunch of film producers working on a documentary.  We spent a week onboard hundreds of miles off the shore of Mexico – took us about 30 hours nonstop to get there. Very very cool. Would love to do it again some day. Start from the beginning and enjoy the trip.
Pre-trip: Getting all ready and packed
Day 1: The journey to the island
Day 2: Arrival at the island and the first day in the water
Day 3: Great White Sharks – woot!
Day 4: Sea Lions and Great White Sharks – double woot!
Day 5: The journey back to land and the trip home
Hanging out in the Maldives with Whale Sharks:
A day with the Maldives Whale Shark Research Programme (Probably one of my all time favorite posts I've written).
Other Good Shark Posts:
Nation's Tri Athletes – Just ignore the 8' Bull Sharks… (Don't read if you are afraid of sharks while swimming in freshwater as a triathlete)
Shark Week Time (Starring me?!?!) (You can actually go and download the production on iTunes!)
Shark Week – A history of my shark dives (includes South Africa and Tahiti shark dive mentions)
I've got a few other shark related places I'd love to go visit. For example, the Galapagos Islands, off the coast of Kenya with more Whale Sharks, the great migration off the coast of South Africa (see this incredacrazy video):
Sardine Run Craziness
…and maybe even some Tigers in the Caribbean some day.
In the meantime…back to watching Shark Week.  Enjoy!