Given how many fitness related devices I have floating around the house, one would think there would pretty much never be any issue when it came to sharing toys in the sandbox.  After all, I have enough of the different products that there's always a spare sitting around.  However, with both The Girl and I using various Garmin products on a day to day basis for our training efforts, we find there are two tiny little pieces of technology that somehow become the centerpiece of 'What did you do with _____?".  No matter where one is in the house, these two little pieces are never where you want them to be.
And logically – the only reason why they aren't there is because the other person (aka: The Girl) has put them somewhere else after using them.  She of course steadfastly states that not only did I put them somewhere else, but that I actually took 'hers' no less.
I will point out that there is no way she could ever know if it was hers or mine, given they both look and act identical.  Sorta like identical twins…except, we have tons of them – so more like that 'Kate Plus Eight' show.
What parts am I talking about?  Well… the ANT+ USB stick for synchronizing the FR310/FR60's (and a few others) and the little USB cable for the Garmin Edge 500/705/800.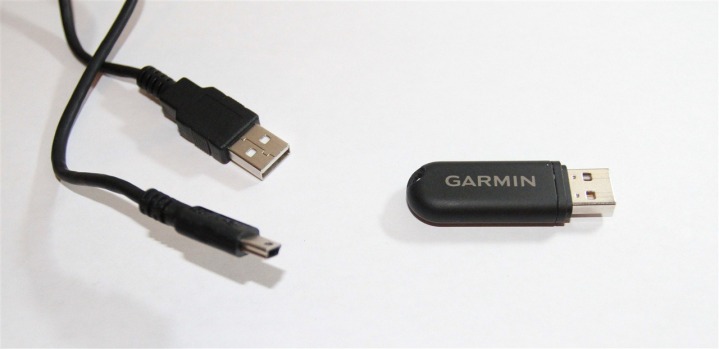 Now, you have to understand that there are probably 40-50 of these USB cables floating around the house.  Every device ever made in the past decade has come with this standard USB cable.  I think at times I had them stationed around the house like feed zones.  Yet somehow…they were never there.  I'm fairly convinced she's actually collecting them like a squirrel collects nuts – taking them to her secret lair (for women, that's called The Bathroom).
On the ANT+ USB stick side…again, there's probably at least 8-10 of these in the house at any one point in time.  I have enough of these small bullet shaped objects that if push came to shove I could probably mount a small takeover effort with a pile of these and a slingshot.
After all – have you seen my box of Garmin parts?  Yes – a giant Rubbermaid container dedicated almost entirely to various Garmin products that I've bought up over the years, mostly for review: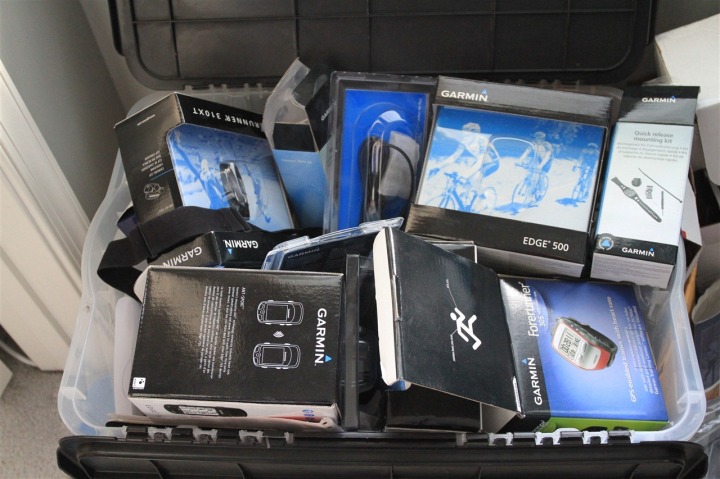 Regular readers of either my blog or The Girl's will know that anytime I go travel for business, I come back to new and unique surprises.  Many of these are welcomed, and usually rather creative efforts on behalf of my incredibly creative fiancée.
So it probably should have come as no surprise that when I walked into the bathroom last week after arriving home from my weeks worth of flights that I would find strange things in the bathroom (Aka: Her Lair).  In particular, I found a Garmin ANT+ stick and a Garmin USB cable (specifically, she choose a Garmin one…albeit there is no difference between that and any generic one besides a logo).
Finding them in the bathroom was strange enough – as there was no real logical reason for them to be there.  But if I've learned anything with females and products in the bathroom – logic never really enters into the equation in that room.
However…it wasn't their mere presence in the bathroom that was of note…but rather their newfound paint jobs.
Yes…that's right. Paint jobs.
The Girl had ever-so-carefully utilized nail polish to etch distinct face paintings onto the pieces.
In pink.
Bright. Semi-Sparkly. Pink.
Here, for proof:
She has thus declared these 'hers' and I am never to use them.  Like a sacred cow (the USB stick, not her…just to be clear).
This in theory means that I can't be blamed if they are missing (which is good).  Though…in reality, I find it simply means that I then have to find and then hand over one of the remaining 40+ cables every time she can't find 'Pink'.
Have a great weekend all!