(Side note: Some really cool and interesting comments and ideas were posted yesterday onto the Boston Marathon analysis post that I put together – definitely a lot of great discussion about whether or not to solve the problem, and tons of new ideas on how to solve it…I encourage others to jump in…don't worry – commenters don't bite around these parts!)
Less you think that between all the post about chirping and Boston that I'm not still pushing forward on training…because don't worry, I'm still running!  Well…and cycling…and swimming.  Actually, that swimming part is highly debatable at this juncture.  We'll call it floundering.
So, just a quick look into Tuesday night's run.
Because The Girl had classes until well after 9PM, I opted to run with her – as opposed to having her run alone in the dark.
Luckily for both of us however running in the dark only means doing so for a brief unlit trail portion period before we break out into a well lit park area.  It's actually pretty nice for a semi-random local town park attached to a huge townhouse community.  Though for those interested in history – it used to be a military base not too long ago before it was BRAC'd and became townhouses and the land handed off to the National Parks before eventually being re-granted back to the city.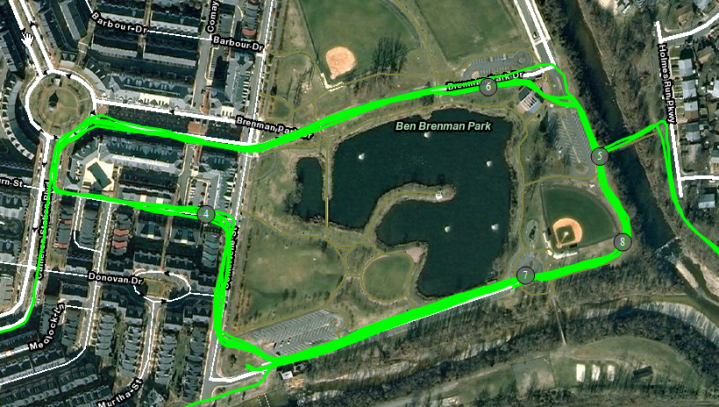 We use this park area for the majority of our interval based runs because it allows to make big repeatable roughly 1-mile loops that we can then create reproducible results on week after week and set after set.  No stoplights, no wildly changing terrain causing each set to look different, and no cars trying to run you over.
However, the most important feature is the bathrooms…which are thus available to you every mile.  Of course, in dire emergencies you can cut across the loop (sorta I guess, the pond is kinda in the way) and be there super-quick.
…at any rate…
Tuesday night's run was essentially three main portions:
1) A 10 minute warm-up
2) A 10 minute build to hard effort
3) 4 x (5 minutes very hard + a non-rest lesser intensity but still running period in between)
Plus some extra shorter interval stuff at the end, and then a cool down.
But what was the best part?  The cool weather.  Fall is easily my favorite time of year – you can still wear shirts and t-shirts, but you're not dying from the heat.  On top of that – as each week goes by and the temperatures cool you get faster and faster with less effort.  How could it get any better?
Actually, speaking of which – that reminds me.  A reader sent me in an interesting post he wrote talking about just enjoying training for training (and things like a crisp fall run), and not worrying about analyzing the data.  This run would have been the perfect poster child for that sort of run.  Plus – to allude to his title about 'Romance'…well, I was out with my girl – how could it get any more romantic? 🙂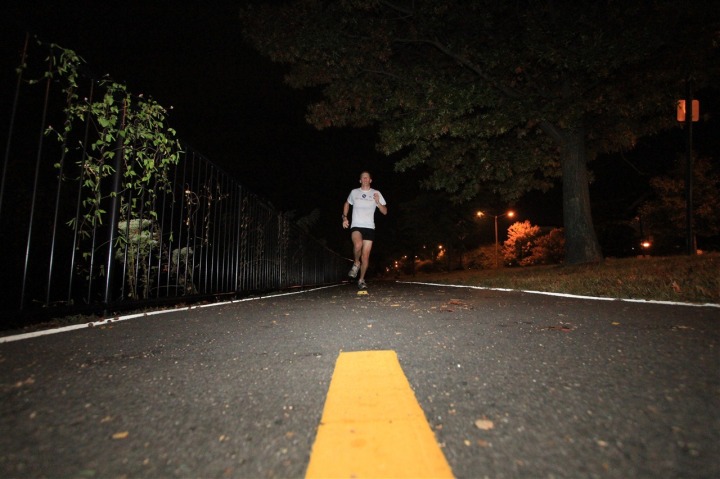 As for the workout – because of the cooler temps it went quite well.  I averaged each set about identical +/- 1 second, for each of the 4 reps, while staying mostly in zone.  There were considerable portions faster than the average pace, though the HR zones kept me from going all-out.  No worries though – it's great to get out and enjoy running in the night.  Looking forward to my next night run 
Which…well…will be tomorrow.