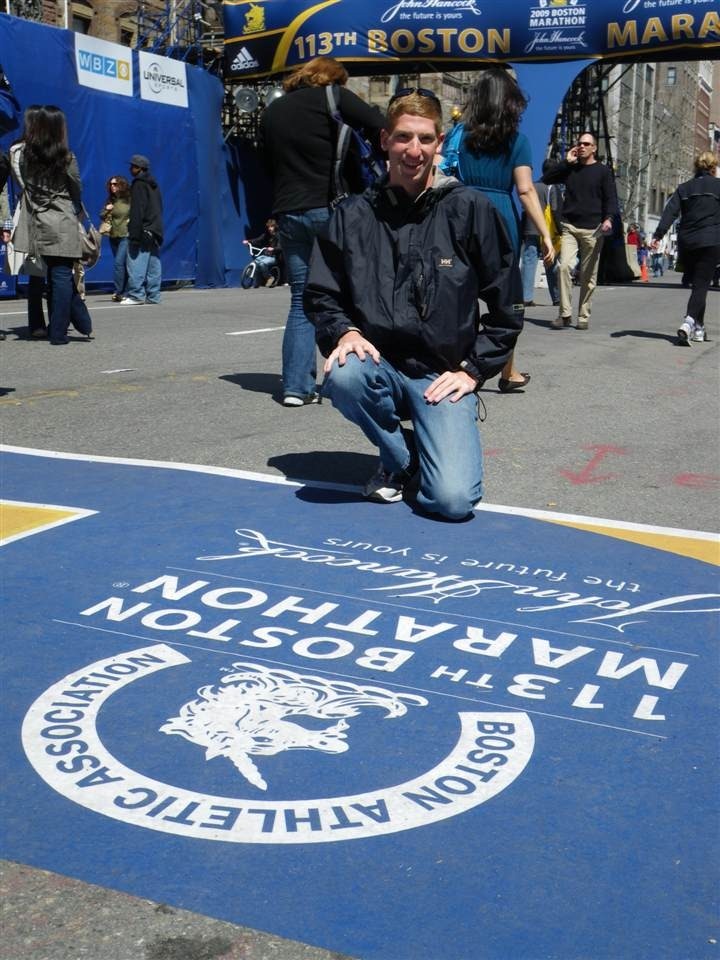 In the running world, there is no more legendary road race than the Boston Marathon.  But, as anyone who has raced Boston will tell you – it's not about just the race itself, but rather about the process to get there.  It's about years of hard work to try and qualify against a specific and exacting time goal.
Without a doubt, for me – both qualifying for and then running Boston are probably my two most memorable sports achievements – even above finishing my first Ironman.  It wasn't just the fact that I was going to THE Boston Marathon, but rather – the community spirit around the race.  Running through 26.2 miles of never ending crowds is amazing…let alone those last few hundred yards down the stretch to the finish line.
But, a fair number of folks were caught off guard on Monday when entry into next year's Boston Marathon sold out in a mere 8 hours.  A process that used to drag on for months – often almost right up until the race itself, lasted less than a normal work day.  So, why did it happen?
Sellout hype breeds sellouts
Last year (2009) saw the first time that everyone was surprised by when Boston registration closed in the fall – months prior to when it typically closes.  The prior year it had closed in the February timeframe – that's just a few months before the race itself in April.  Thus, the jump of some four months from February to November put everyone on immediate notice that things would be different in 2010 for Boston 2011.
However, this only served to hasten the registration sellout time.  First, you now had a segment of the population that missed their opportunity to sign-up for Boston, some of these folks would still have valid BQ times for the following year.  Second, once word spread of last year's closeout, the buzz started to generate around how fast Boston would sell out in the upcoming year.  Some predicted a few weeks, some days, and some thought it would sell out in minutes.  All of this rumor reverberated through the Boston bound running community – increasing nerves and ensuring folks were lined up to click 'Register', just like those seeking a exclusive concert tickets.
See, the hype itself was likely the primary driver.  Via channels like Twitter, Facebook, Blogs and the traditional media – people were being warned that it would be different this year.  So instead of taking a 'I'll register when I get around to it' attitude, everyone was ready at 9AM when it opened.  And thus a mere 8 hours later…it closed.
The 'I'll register because it's not that expensive' effect
Adding to the hype is the economics of Boston.  From a pricing standpoint – the $130 – is relatively cheap in comparison to the total cost of the trip for someone planning on going to Boston.  Further, it's also priced such individuals unsure if they really want to train through the winter will still pay the $130 and decide later.  This in turns contributes to the aforementioned sellout effect.  Basically…people going ahead and signing up – unsure if they'll even run the race.
So while from a running race fee standpoint $130 is a bit high, it's not quite high enough that folks are afraid of losing the money if they don't run next spring.  This is especially true of veteran Boston runners who may be on the fence regarding whether or not they'll actually run in the race next year.  For first timers, there is typically very little doubt.
I'm not advocating changing the price, but rather simply pointing out the reality of the price as it stands today.
There's simply more people running marathons
However, merely looking at the unquantifiable hype doesn't tell the whole picture.  Numbers do a much better job.  So the first number you have to start with is just how many people are running and finishing marathons.
In order to make this a bit more stark – I'm going to compare a 'normal' Boston registration year (2007), with 2009 data.  2009 data is where the bulk of the runners this year are probably coming from (Fall 2009 running season).  There are certainly marathons in 2010 that folks use to qualify, but the number is much smaller than the large US fall running season.
If we look at the numbers provided by MarathonGuide.com (which is awesome for this stuff) – you'll see that there's a significant jump in finishers from 2007 to 2009 – let alone looking at the huge increase over the past 9 years.  The base numbers are from them, but I added quite a bit of analysis in the later tables.

So, in two years we've had a 13% jump in marathon finishers.  Now, that of course doesn't mean that everyone in that group is Boston bound – but that still means an additional 61,000 US finishers are out there.  Remember – this doesn't include all of the other marathons run around the world, including some international events that are far larger than any US marathon out there.
One also cannot discount the impact of celebrity runners in the statistics above.  It's well known the impact that Oprah had on the marathon ranks.  That in turn breeds both first time runners, but eventually faster runners.  That transition may take a few years – but during that timeframe, they continue to run and thus increase the total participation levels.
And thus, here's the really important item to keep in mind when looking at the above numbers over the past 10 years: A portion of those first time finishers eventually turn into Boston Qualifiers.  So as the number of finishers increases, a certain percentage of those that finished their first marathon earlier (such 2007) have been working for a few years to finally land that Boston Qualifying time – thus the effect of their presence begins to grow the longer they're in the sport.
People are running marathons faster…a lot faster
As these new runners stay longer in the sport, they run faster.  And no statistic is more clear than the ones below.  Once you start comparing year over year data you see that marathon runners are simply getting faster…a lot faster.
Correction: A heck of a lot faster (I'd use other words, but we'll keep this family friendly)
Normally, you'd expect to see the swelling of ranks causing the overall times to slow down – but in reality, you're seeing them increase.
If we compare that same two year span from 2007 to 2009, we see on average the different age/gender groups increasing by about 7 minutes, with some even going significantly more than that.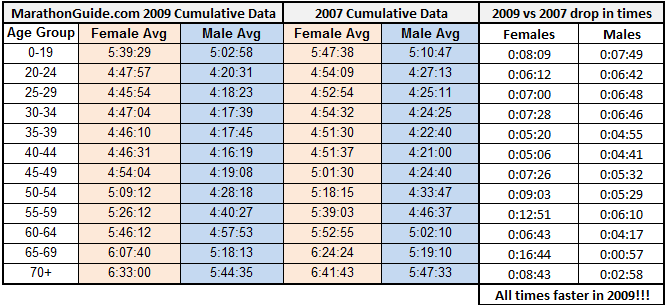 And it didn't seam to matter which gender we were talking about – nor which age group.  It was remarkably consistent.  And in every single age group and gender, folks ran faster – there were no exceptions.
If you're not a big marathon runner – you may not think 7 minutes is a big deal.  But…it's huge.  Folks will typically see big time gains in the first few marathons run, but eventually that rate of change decreases.  Most veteran runners would be thrilled to get a 7 minute marathon PR over the course of a two year period.
Qualification times aren't keeping up with paces
Thus, the faster times runners are throwing down means that in effect, the qualification bar to Boston is getting easier – at least statistically speaking.  And that goes for both men and women.
Let's look at the 2009 data for a bit of an understanding why.
Now, you're gonna have to hold on here to understand the chart below, there's a lot of information there!
On the left side is the US average times for male and females, separated by age groups.  Then moving right into that first green column is the time differential between males and females for each age group (in percentage).  You'll note is remarkably similar across all age groups.
Next, you move into the middle column – where I have divided up the age groups into the official Boston Qualifying Categories (i.e. M18-34) and given the average times against the BQ cutoff times.  I removed the statistical outlier of folks in the 0-19 AG, because those times are so far off the rocker that they inaccurately show how things would look, especially since you have to be 18 to register for Boston.
Finally, in the far right third, I've taken the differential from the standard based on the average US finishers time vs the Boston times.

Below is the 2007 data – note specifically the two far right pink/blue columns and the change in how close people are getting to the Boston Qualifier (BQ) time.

But as anyone reading the above charts knows…the real elephant in the room is the far right column – which represents the gender time gap between the finishers times and the BQ times.
What we see is that from ages 18-45, the men have to overall run faster gender-wise than women against the US average in order to qualify.  However, the unexpected twist is that once you're over age 45, the women actually have to run faster against the average than the men do.
So that brings us to the big question everyone's asking: Are the women's qualification times too easy?
Well, in order to answer that – it might be relevant to understand where they came from.  And the answer to that might surprise you: It was pretty much made up out of the blue.  See, back in 1977 when the qualification times were originally put together, they established a simple rule of '30-minutes slower than the men's times'.  And they stuck with it.  Thus the time differences we have today.
Looking at the average female times though there's also the hidden bit of reality not immediately visible, but which was best captured in a Wall Street Journal article on Tuesday:
"Running USA, a research center based in Colorado, has collected raw data from nearly 500 marathons across the country that show a median gender difference of about 28 minutes in finishing times. But similar data also show that while men tend to finish in a long line from fastest to slowest, women divide into two distinct groups—one that's fast and another that's considerably slower.

Running experts say the second grouping, which tends to move as a pack, drags down the median finishing times for all women. "Women are social and tend to tackle new goals with a close friend or group of girlfriends more often than men," says a report on the Running USA website."
So if you take that 6% green gender gap above, how much is that in real terms?  In other words, using all of the math above to determine differentials of pace based on the already established men's qualifying times (given that's how the women's qualifying times are in effect baselined off of) – what should they look like?  Well, ask and you shall receive (in purple):

Now, to me – that doesn't quite talk to the other end, which is how to adjust the men's times.  In order to save you even more graphs, math and charts, I'm going to make it simple: About 6 minutes.
Changing the men's time to about 3:05 for the M18-34 range would likely have the desired effect of making it more difficult, without making in unachievable.  But one shouldn't look at just the M18-34, but also the ratio's in between each of the age groups above.  Observant readers will note that in the 30-44 range (chart above), the actual finishers times vary by almost nothing – yet each 5-year increment is allotted an extra 5-minutes for which to qualify.
Options for 2013
Which finally brings me around to looking forward.  See, for Boston 2012 – there's nothing you can actually do about.  At this point, the qualifications times for that race are already in effect, and you certainly can't change them after folks have already trained and qualified (or plan to qualify in the coming weeks).  So the real opportunity is 2013.  That's realistically the first time you can look to change qualifying times.
I also don't think a NYC-marathon style lottery system really is valid in this scenario.  The challenge with Boston is the qualification time.  Unless you extend the validity period of the qualification time, then a lottery is simply unfair to those who raced in that time period and qualified…but didn't get to run Boston.  And extending the qualification period only serves to potentially put more people in the pool for signing up.
Expanding the race isn't an option, as clearly noted by the race director.  The town of Hopkinton simply won't accept a field any larger – and there are already race waves of nearly an hour today.  And by the same token, reducing the size of the charity and sponsor slots while technically an option, won't really buy many more BQ-slots as it represents only about 6,000 total entries.  I suspect that adding 6,000 slots would have only served to delay the inevitable a few hours.
Going to an Ironman style on-site registration – while interesting, just isn't as feasible for a race that large compared to an Ironman of a few thousand folks.  It's also quite different in that in the case of the Ironman race you register, then train for a year until the race. But in the case of Boston – you train for years to get a qualifying time, then register for Boston.
So – with that all said – how would you change things for the future?  Would you simply let folks battle it out in a few minute long online entry sprint – or is raising the entry bar the way to go?
[Note: Raw data provided via MarathonGuide.com]