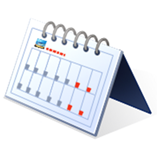 I've long since wondered what to do with all the random tidbits of things I collect each week – or the little thoughts that don't quite make for a full post.  But I finally came up with a solution: The Week in Review Post.  This takes the place of my Weekly Mailbag – which is now over on Slowtwich.  These are just quick snippets of things that I've found interesting.  Nice and easy Saturday reading.  Plus, a recap of my Weekly Mailbag post a well.
So with that, let's get into the action!
Weekly Mailbag Over at Slowtwitch.com:
If you're looking for your usual Saturday fix of the Weekly Mailbag, it's chillin' over at Slowtwitch.  You can read it here.  And here's the topics I covered this week are:
1) CompuTrainer and Tires
2) ANT+ Gym Equipment
3) 'Main 1 & 2' Data Pages on Garmin units

You can read all my past weekly mailbags at Slowtwitch here.  Or the pre-Slowtwitch days here.
Posts this past week:
In case you missed anything from the past 7 days, here ya have it.  Lots of good stuff this past week (well, I think it's good anyway…), including the highly commented on Boston Marathon post, a whole pile of good ideas being tossed around in the comments section there:
Saturday:  Week in Review – October 16th, 2010
Monday: Finally…a weekend at home: Pumpkins and Training
Tuesday: A look at Garmin's new Chirp and potential use in sports
Wednesday: 5 Reasons why the Boston Marathon sold out in 8 hours
Thursday: Running in the night
Friday: Turf Wars
Stuff that I found interesting around the interwebs:
I browse tons, and I mean TONS of stuff each week.  But I found the following stories, discussions or links particularly interesting – or exceedingly good at burning lots of time.  Enjoy!
1) Digifit ANT+ iPhone Dongle for $15: I saw this recently but originally the way it was worded made me think I had to spend $70.  Turns out, it's just $15!  For that price you get the ANT+ dongle that allows you to use Digifit with ANT+ accessories (similar to the Wahoo iPhone Dongle).  Note that it's only good with the Digifit software however.  I ordered one and will let ya know how it works out, but for $15…you can't really go wrong.
2) Beware of wearing 'Skimpy clothing' when working out in DC: This funny story from a local news blog around here talks about how some folks are upset because occasionally women leave a local gym and go running outside (GASP!) with normal running attire.  And they complain that they can see people working out inside the gym…from outside.  Oh the horror!  But…the PDF with the actual complaints takes it to a whole new level of entertaining.  P.S. – Don't forget to read the comments in that original post/story.
3) Starbucks now spotlighting Training Peaks Routes: You probably saw the announcements earlier this week from Starbucks about their new content network in their stores.  Interestingly, the community routes section actually features Training Peaks routes.  Kinda neat to see an endurance-sports focused company making it into the mainstream a bit.
4) Africa Bike Relief Program by Jordan Rapp (Rappstar): For the second year now, Pro Triathlete Jordan Rapp is running a program that hopes to raise $25,000 for bikes in Africa.  If you've read some of my past posts from my various Africa trips, you'll note how important bikes are in rural areas. So this is a great opportunity to help out a good cause.  Jordan is also donating 10% of his winnings of the upcoming Ironman Arizona to the cause as well.  Further adding to the pot is a prize-loaded giveaways for folks who donate in multiples of $134 (cost of the bike) – crazy amazing prizes too, full Zipp wheel sets, Quarq Cinqo's and tons of other awesome stuff.  Head on over and help out a good cause.
Random Item: Army 10 Miler on Sunday
For those of you in the Army 10-miler on Sunday – good luck!  You may remember my post last year, which in particular included my first attempt at time-lapse photography, creating the below video showing from start to finish the Army 10 Miler runners going by (YouTube alternate here).
2009 Army 10 Miler Timelapse from Ray Maker on Vimeo.
Enjoy your weekend and thanks for reading!