It's finally the end of the week, and I've got a bunch of little tidbits from races schedule updates to technology stuff to toss out into the wind, so without too much more babbling, let's get on with it.
Schedules:
As you may have remembered from way back in January (can you believe it's April already?!?), I still had some TBD races with respect to the spring.  Well, over the past few weeks I've carved in stone some my schedule through at least the summer:
May – I hadn't quite decided what race to do in May, but I decided to do the Rev3 Olympic Distance Triathlon down in Knoxville, TN.  Should be a good time, as the race series is looking like it's going to be a great alternative to the WTC/NAS races out there.  Very much looking forward to it!

June – In mid-June I'll be taking on a slightly modified Olympic distance race down in the Virginia Beach area (about 3 hours south of DC) – the Old Point Tidewater Triathlon.  Should be a nice course that's a lot of fun!
Technology:
A whole bunch of endurance sports related sites completed updates over the past week or so – most probably trying to hit the magical Q1 cutoff for CY2010.  So, let's get into a quick site by site overview:
Training Peaks:
The folks from TP added a slew of little additions, primarily focused on making your day to day log entry easier.  As someone who uses Training Peaks multiple times a day to track all my workouts, many of these tidbits are much appreciated – especially the ability to quickly change workout type, I tend to enter the wrong time quite a bit and the old system had some under the cover repercussions for doing that.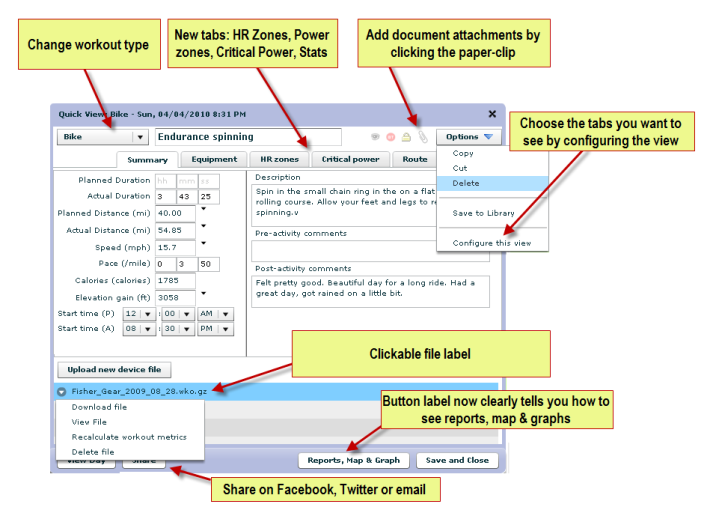 You can get their huge list of details write-up here.
Also, Training Peaks released the latest device agent software yesterday as well – adding legacy products to the newer device agent (it didn't previously support things like the Forerunner 305).  Grab that here.
Garmin Connect:
The folks from Garmin pushed out a previously scheduled update to Garmin Connect on Wednesday, introducing a bunch of features that focus primarily on allowing you to better analyze your data.  This is pretty much the last significant update your going to see for a while.  But, they packed a ton of nice features in here. They include:
– Elevation Correction (uses known elevation points)
– Fixed Tanita Weight Manual Override issues
– Re-did dashboard – looks 1000% better
– A crapton of other the changes (see below, note that 'crapton' is a technical term)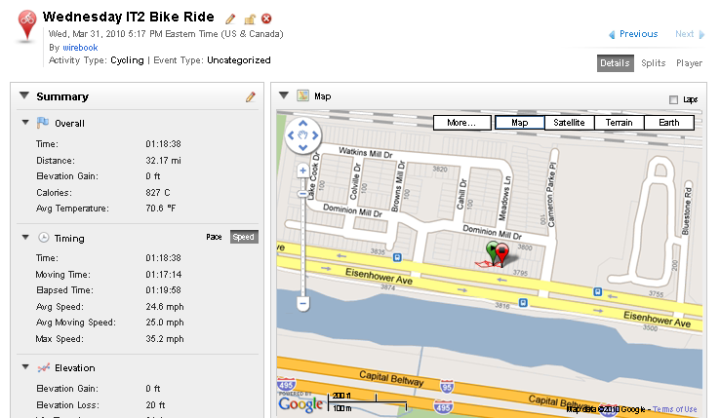 One neat little item they added was widget code to be able to do stuff like the below embedded interactive chart (you'll probably have to click to my main page to view):
You can get their full feature update list here.
Speaking of Garmin, if you have an Edge 500 – they released a new firmware update on Wednesday (2.30), which fixes a few things and does some restructuring of the memory space – hopefully in an attempt to alleviate some of the freezing issues folks (including me) have been seeing recently.  So far for me, it's working quite well for me.  You can grab that update here.
RunKeeper:
I haven't talked much about RunKeeper to date, but they have a pretty product cool product for iPhone folks.  I wanted to specifically mention one new feature they added, which is completely kick-ass – Live Route Watching.  Basically, the ability to broadcast your workout, in real time – with real time location tracking on  map.  Just watch their nifty video, below:
RunKeeper Live Route Tracking