As I mentioned on Sunday, I had a small collection of boxes arrive last week while I was out.  I generally buy everything online, so me and the FedEx man and the UPS women have a special relationship.  Though, from their point of view, it's kind of a raw deal – they give me presents almost every day, I and give them nothing.  Perhaps I'll get them a card at some point.  Hmmm…
At any rate, one of the boxes that game was a rather odd FedEx box that arrived from an unknown address.  Despite living in the DC area where everything getting shipped seems to go through 18 layers of specialized Anthrax screening using the latest in sniffing technology, I used a more simplistic method: Have the Girl open it up.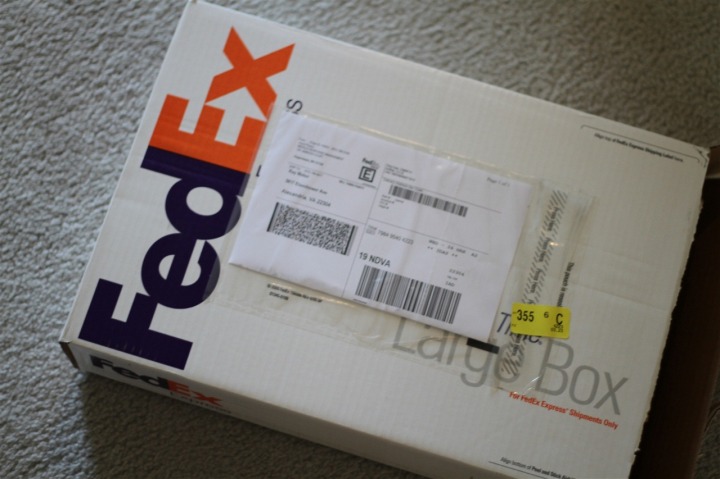 Though, that resulted in one little problem.  She was now in effect pre-screening my packages.  And in this particular case, she was not only pre-screening my packages but more importantly – reviewing my clothing.  And every guy out there knows that females reviewing clothing can only lead to trouble, especially when she finds something like this inside: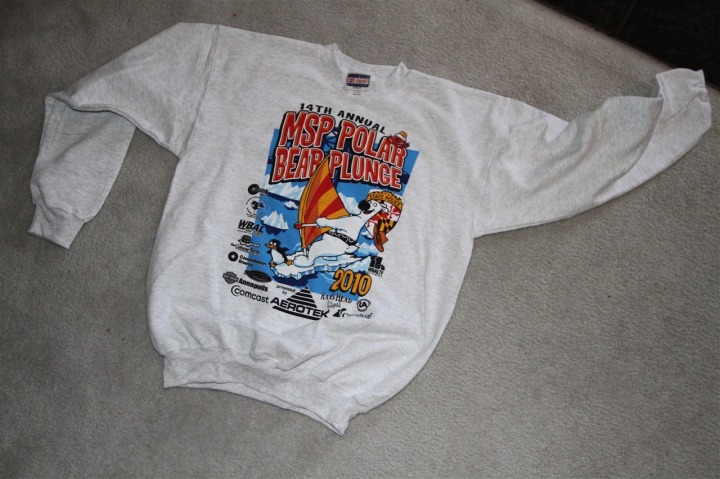 Before I even got the chance to see it with my own eyes it was already on the 'banned' list.  That would be the list of clothing articles that I'm not allowed to wear out in public, at least with her nearby.  Though, I'm pretty sure that list covers items anytime I leave the house – mostly for fear that a photo could be taken of me with that article of clothing, and thus potentially traced back to her.
The good news here is that while I appreciate the free sweatshirt, the style doesn't exactly scream 'me'.  It screams a lot of other things, just not me.  Instead, it'll likely get turned into a patch on the giant quilt she makes out of tons of leftover running/race shirts.  She made one last year too, pretty cool.
As for where this shirt originated from, it's actually the Polar Plunge I did back in February.  They ran out of shirts onsite, so I went ahead and filled out the little card to get it sent to me.  Rob also just received his as well – perhaps we can organize a secret shirt-wearing society.  Just like fight club, only less cool.  Just as a brief reminder, here's the video from that foray:
Speaking of other things I wouldn't/couldn't wear.  On Saturday when I was going to track how blogger Rachael was doing in Ironman California 70.3 (she PR'd big time), I noticed this at the top of the Ironman.com tracking page:

I'm specifically talking about the part of the image with the ad for the Ironman branded "Eau de Toilette Spray".
First off – I'm pretty sure they've got the wrong target audience here.  We're talking about a group of people that as a whole – generally smell like crap for up to 17 hours.  Even worse, while smelling like crap – we generally don't even notice it.  In fact, all scientific evidence seems to indicate that we actually enjoy making the situation as bad as possible.
Second – I'm not exactly up on fancy perfumes and what not.  I'm kinda a simple guy when it comes to things like cologne.  But all I can read in this ad is the word Toilet.  So naturally, I'm looking at the situation as if it's something you put in your bathroom.  You know – you go in, make the situation bad, and this little thing makes it happy.
However, a quick check of Wikipedia seems to indicate that Eau de Toilette is actually just a category of perfumes.  In fact, there's even a fragrance color wheel you can click on – which actually has the different 'tones' that the ad above describes.  I realized while looking at this chart that you really go through several phases of the smell-wheel while in a triathlon as well.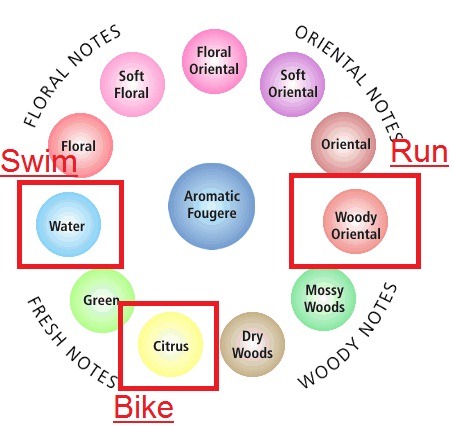 Swim: First you start off with the water fragrance.  Depending on the triathlon, that may include more fragrant Potomac scents, or focus on a saltier option. 
Bike: From there you transition to the citrus smell, mostly due to the absurd amount of Orange Gatorade that somehow ends up everywhere.  Yes, even the back of your helmet.  No, I don't know how.  It's just there.  Accept it and move on.
Run: At this point you're reaching the pinnacle of aromatic fougere (yes, you'll have to look that up, because no – I can't really explain it either).   Why did I choose Woody Oriental in that chart at the right?  Well, simple – because it's much funnier sounding than choosing Mossy Oriental.
Of course, the base of the issue is really that at the end of the day, we're just talking about toilet water – or at least so says Webster…

…and I'm pretty darn sure that I don't need an expensive bottle of Ironman branded toilet water.  Especially if they leverage those porta potties at the beginning of the race as the well to 'harvest from'.  Because such a substance would likely also be on The Girl's banned list, if not at least WADA's.
Hope you're enjoying your week!