You may have noticed earlier today that Garmin announced via press release their latest GPS watch – the Forerunner 110.  Given I get a lot of questions about their new watches when they come out, I figured I'd get ahead of the curve a bit here.  As I mentioned back in January, I expected to see a new watch in their running lineup – and this mostly fits that mold.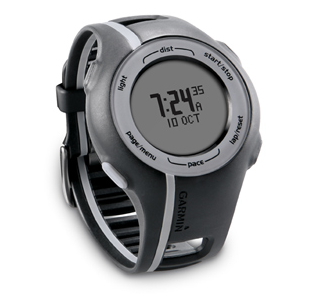 The watch is focused on the mainstream runner – which means it's target audience isn't really someone like me, set into hardcore training day in and day out.  Its feature set focuses on things the more casual runner would want: Plenty of storage so you don't have to worry about uploading data, easy to use interface (no touch bezel), and simple GPS route tracking – uploading to the web based Garmin Connect.  From the new spring chicken runners standpoint, this pretty much looks like an ideal place to get into the GPS watch game.
But, once you get beyond the flashy site with pretty pictures and embedded video of athletic models – what do you actually have?
Well, let' s break it all down.  I should have one of these in my paws here very shortly for some hands on action, but in the meantime, here's a teardown of the specs:
A runner's watch:
This watch is clearly a runners watch.  It's not a triathletes watch, or a running watch that also wants to be a cycling watch.  Nor is it a beginners watch that wants to be everything but can't afford to be anything.  It does the run, and run only. You notice this due to the lack of cycling support in the compatibilities table:

One other area you probably caught on the table above is the lack of Foot Pod, which means no indoor treadmill running, nor any cadence on the run.  Cadence on the run isn't really a big issue for the target audience of this device – the 'mainstream runner' – but the lack of foot pod enablement on a treadmill is in my opinion a gap for folks once winter shows back up again.

That little middle icon above (red one) is also interesting, as they note in the specs that is it indeed using heart rate based algorithms to determine calorie use – something that was introduced last year to some of the other watches.  This is good, as it helps to make the calorie calculations more accurate – something key to the 'fit in that bikini/speedo' crowd (and me, let's be honest, I just want to eat cupcakes all day).
Though, one strange twist is it doesn't at this time appear to support the Tanita BC-1000 ANT+ Scale.  Given the target audience is folks looking to get healthy, allowing a pairing between these two devices would make a lot of sense.
Basic GPS support:
The key goal of this watch is to offer a baseline product that does GPS.  As such, it fulfills that requirement.  It records your route track and associated HR (along with pace, etc…), and then uploads them to Garmin Connect.  Garmin Connect is compatible with this new watch, based on previous development efforts.  It's also compatible with Garmin Training Center, which means is good news for 3rd party developers since it means it likely uses the rather standard .FIT file format, which means other software developers can pull device data without having to recode their apps.
The device will hold 200 hours of activities before you must sync with your computer (or delete data), so clearly they're aiming towards a group that probably doesn't rush home and sync it with their computer 18 seconds after entering their homes door.
Back to basics design:
One of the first things I actually noticed is the lack of touch bezel (like the 405).  It appears Garmin is moving away from that with this watch – going for the most simplistic design possible.  The touch bezel was pretty much a love it or hate it type feature.  I personally was not on the love it side of life with it, mostly due to usability.  So I'm happy to see they've kept with the KISS design.
From a charging perspective, they are continuing moving forward with the standard contact-charging system used on the Garmin 310XT and 405 watches, which is nice.  They've also increased battery life over the Forerunner 405 – up to 3 weeks from 2 weeks.


Form and function:
The biggest complaint most people have about the Forerunner 305 and 310XT's is their size.  People want a watch that doesn't look like hamster tied to their wrists.  And while most folks get used to the size after about 2 minutes of running, it's still a barrier to entry.
The Forerunner 110 takes the same form factor as the FR60 watch (which I love), and simply adds GPS (though removes some additional features).  For people sitting around a running/shoe store looking into the glass case of toys at the counter, having a watch that looks appealing is key.
Price:
One tricky area is always pricing.  Price a watch too high and you won't get the market pull through you want, and price it too low and you leave something on the table.  The challenge with the pricing on this watch is where it sits above the older-school Forerunner 305.  At $250 for the Forerunner 110 with the HR strap, its comparatively a bit on the expensive side given the reduced feature set.  It's almost $100 more than the Forerunner 305 is these days, and about $100-$150 more than the non-GPS enabled FR60.  The $200 reduced cost version of the Forerunner 110 is certainly an option though to reduce the costs a bit.

There's a saying in the software industry that's often true elsewhere in consumer electronics: Your biggest competitor is your own (older) products.  And that's certainly true here in many ways.  But when you look at the larger non-Garmin market for GPS running watches, the pricing is pretty competitive with other products out there – especially given the overall competitive landscape for GPS watches is pretty small.
Hope this helps those folks pondering the options, I'll update this post and post a full review of the watch once I have it in my hands.  I'm looking forward to giving it a run for it's money…no pun intended.  Thanks for reading!
Update on 4/25/2010: It looks like at least the women's version is now available for order on Amazon (to the left).  The men's version still appears to be widely unavailable.  There were some of both available at the Boston Marathon this past year (a week ago Monday), but that and the Chicago Garmin store are pretty much the only places to find them currently.  That situation will likely improve soon as more retailers get the watches into the channel.
Also note that the version currently being offered includes the bundled package as opposed to just the watch itself.
Thanks for dropping by!