Some things in life are more difficult in the snow.  Activities such as building a house, sunbathing and gardening come to mind.  Some activities are easier in the snow; such as skiing, snowshoeing and snowmobiling.
And then there is riding a road bike (with aerobars) in the snow.  That would fall into the category of 'less than ideal'.  I figured that with temperatures in the mid/upper 30's, and with 2-3 days since the last snow – that the WO&D trail would be generally clear.  After all, the majority of it is in the sun and while most of the ground still has traces of snow – the roads/sidewalks and trails have since cleared.
Except that apparently didn't apply about a mile from where I started out on a 2 hour road ride this afternoon.  Less than 60 seconds into the ride as I started up a hill there was snow on the trail.  No biggie I figured, I can get through this.  It cleared a few dozen yards later and I was off and cooking again.  Then half a mile later crossing a bridge – more snow.  Now we're not talking deep powder, we're talking wet mushy yet crunchy snow.  You know – the last stage before the snow fully disappears into just a puddle of water.  Like a big slushie.
And then a third of a mile later – I ran into this vast expanse of white stuff: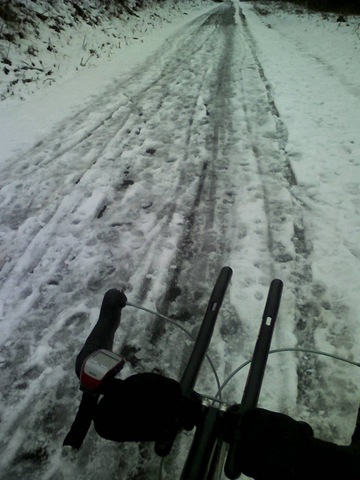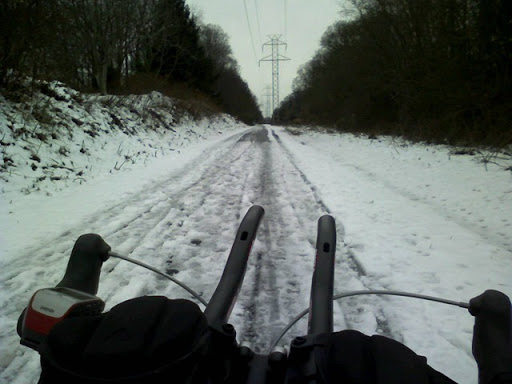 Ummm…crap.  I could see further down the trail, and it was only going to get worse.  Quite crossable in a mountain bike, but I was sliding all over the place in my road bike.  So I turned around, and headed back towards downtown DC (on my bike).  The trail got better the closer to DC I got, but I was taking a huge hit on my average speed.  Primarily because I kept running into 25 or so yard patches of snow, which I would have to carefully navigate and then get back up to speed.   The first hour – I averaged only 15mph.  That's 5-6 mph below my average for this section of trail.  Ouch.
I ended up wandering down to the Potomac via some rather weird routing occasionally onto local roads and parts of Four Mile Run.  From there I hit up the Mt. Vernon trail and connected to Curtis trail, and then back to the fun on the W&OD trail to get to my car.  A wee bit circular, and 10-15 miles shorter than what I had set out to accomplish.  I'll toss in a hard trainer workout tomorrow in an effort to make up for it.  I did get some nice good 20mph+ sections though along the Potomac, as that was both dry and empty.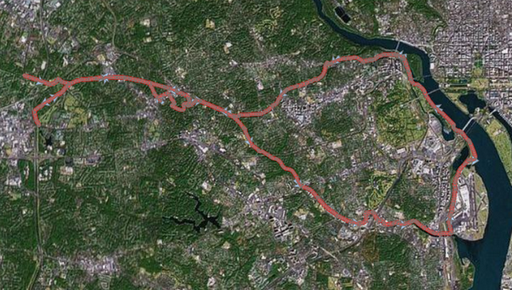 As an side – I got my first run in yesterday since getting Runner's Knee.  It's soooo nice to get out and run.  Had no problems whatsoever, and kept a nice casual 7:50/mile pace for a 5K loop around a nearby lake and then along the river I live on.  My shins are a touch bit sore – but that's somewhat expected due to lack of running for two months.  Obviously I'll have to be careful with that one and focus on running initially softer surfaces to avoid Shin Splints.  But all in all – good start to the weekend!