Where I work, there are a number of sayings that originate based on phrases from the NATO phonetic alphabet. This phonetic alphabet is used by organizations worldwide to aide making it clear which alphabet letter is being said, particularly over telephone/radio communications – or situations requiring absolute certainty over the exact letter being transmitted.
We often string together phonetic acronyms that act as inside jokes – ways to describe a given person/thing without the ultimate meaning being clear. Some of these are of course not so private and well known – such as Whisky Tango Foxtrot (standing for W.T.F.). But many are just quick ways to refer to inside jokes. Which brings me (in a rather roundabout way) – to one particular acronym and it's relation to triathlon training.
Whisky Foxtrot. In our little circle, this stands for "Weird F*ck". It was originally assigned to someone who worked at the location and was a nut case. He actually sent a postcard from ground zero at Hiroshima back to some of the team (while on vacation) that said "Looks like they had a bad day". Serious nut-job. Whisky Foxtrot inside and out. He sat on a pillow at work. A lime-green pillow.
But I have since christened someone new to get this particular term. Someone that I see about once a week at the local Rec Center…in the locker room.
I've never actually seen him anywhere working out – I think he just wanders around keeping himself amused in the locker room. Sometimes I'll start a swim set – take a quick mid-set bio break (30 mins later), and then finish off the set at the end of the hour. And he'll be there all three times milling about.
But here's the kicker – he's never clothed. He just rambles around the locker room up and down letting all his little bits hang loose.
He kinda looks like Mr. Bean, except about 20 years older with a short gray beard on him and a pot-belly stomach.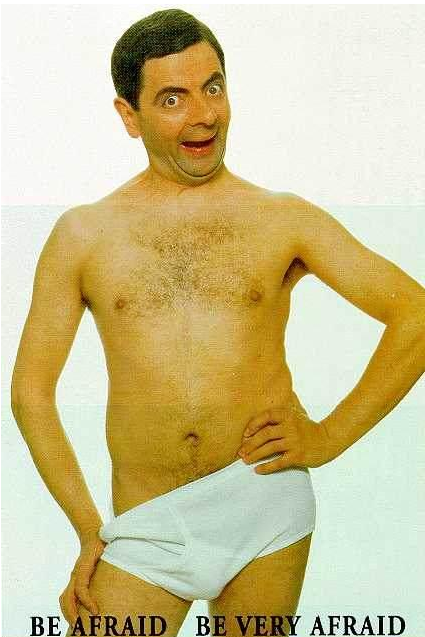 He'll take a 15-20 minute shower. And then with his hands on his hips and stomach pushed out he'll do a slow waltz down the locker room past the rows and rows of lockers (sans towel) to the sink – as if he's deep in thought pondering world hunger. He'll then hang out at the sink and splash water on himself (he just came from the shower). After he's done with that, he'll walk up and down length of the locker room a few more times (maybe 10 locker rows long).
Eventually he might settle down in front of his 'locker' to change. But wait – he never brings a towel. Nope. He uses a ga-fricken-zillion paper towels. But not to use on himself.  No, he has to dry off his 'space' first.
So the ground in front of the locker gets covered first, like a paper towel tiled floor. He then steps onto said 'tile floor' and starts to dry himself off with enough paper towels to replant Yosemite National Park. And once he's done he leaves them all in a huge pile that resembles a small campfire.
After he's dry, he repeats the same up and down prancing of the aisle (still without clothing) – back to the sink where he combs his hair (mind you – mast still hanging out and all).
Eventually he heads back to his 'paper pad' to rearrange the lair.
I've never actually seen him complete the operation and leave the locker room clothed. I'm assuming he must at some point. Note that this whole above re-creation is my piecing together months of watching this dudes antics.
So with that… I officially deem him the honorary title of:
Whisky Foxtrot