The entire race can basically be summed up in the following: "Holy CRAP did I just bike that fast?".
But, since I'm not summing it up in just one short phrase – you get the full race report.
Logistics:
The Providence Ironman 70.3 race this year is a new one in the series.  Logistically it's a bit more challenging than most.  You start at the ocean on the beach, and then you bike your way 56 miles to downtown Providence.  Once you're there, you've got two run laps to do.  This is challenging because you have two transitions areas, all your gear for both has to be checked in the night before, and both of them are considered 'clean'.
"Clean" means that in T1 the only thing allowed to touch the ground is your wheel, and a black bag they give you.  In T2 it means just a small run bag they give you.  NOTHING else is allowed to touch the ground.  So it requires serious planning and ensuring you have everything out of your usual transition bag (which for me has 12 pairs of everything). Which then are distributed in little plastic bags spread all across the state.  In the end, it worked out just fine – it's just a  bit nerve racking hoping you have everything (despite three different check-lists I use).
Everything is checked in the day before, so when you arrive Sunday morning for the race, it's just putting the finishing touches on the bike area (pumping up tires, etc..).  After that, off to the swim.
Here's the transition area the morning off.  Also note my 'clean' transition area.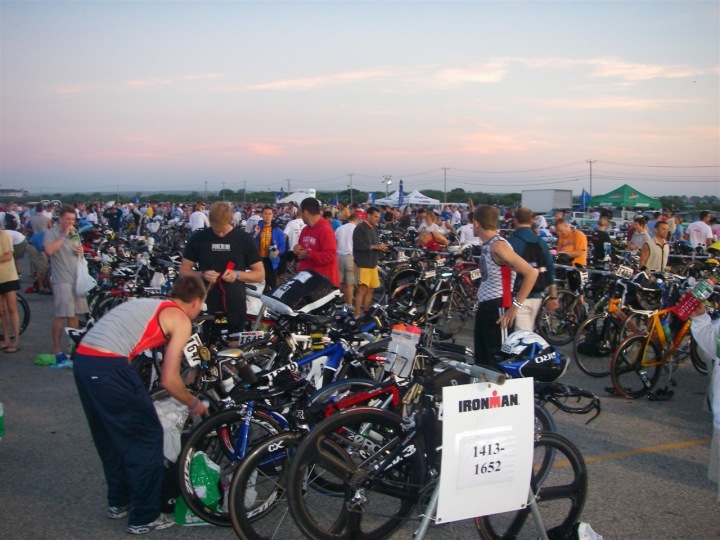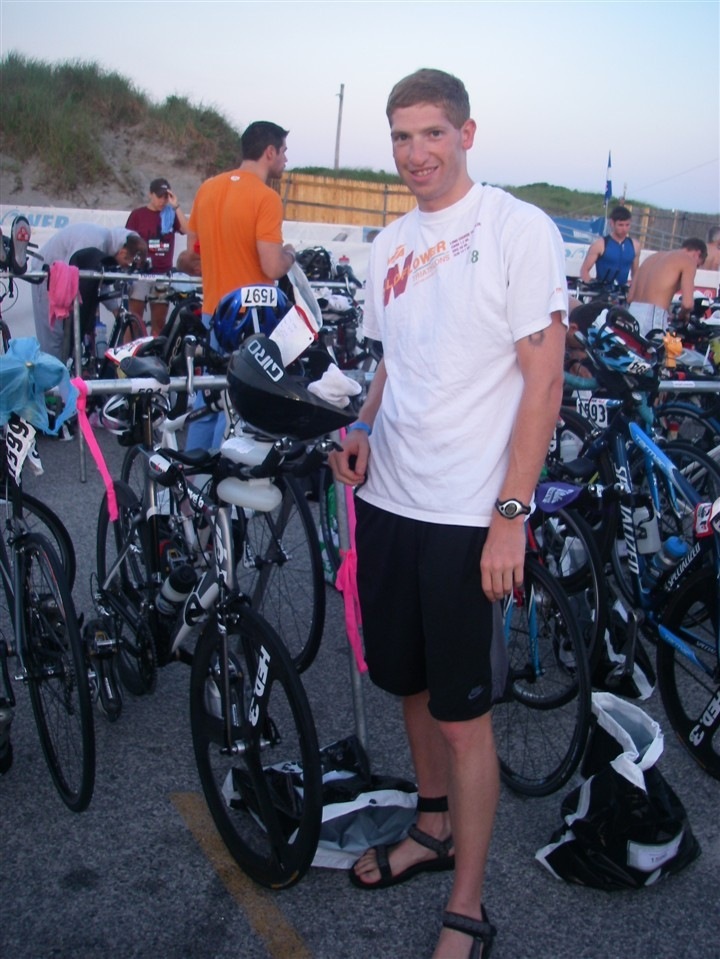 Swim:
Before the swim I went to do a short swim in the ocean.  At the end of which I decided to practice riding in the waves, to ensure I had that figured out.  That was officially a bad move.  On my first wave I lost my goggles – just 15 minutes before my swim wave.  Luckily I actually did toss a spare set of goggles into my bike bag and was able to convince a volunteer to go grab it out of the then secured and active transition area.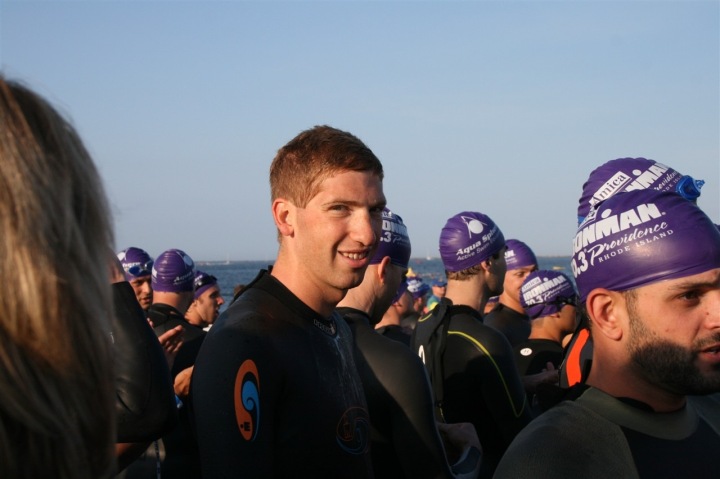 A short bit later – the canon went of and into the water we ran.  I was on the leading right edge going into the water and ran as fast as I could to get ahead of the 177 people in my swim wave.  Aside from some initial faster swimmers swimming over the top of me – it worked pretty well.  We also got lucky in that no incoming waves crashed onto us.  I saw one wave that just got obliterated by an incoming wave.  Instant field separation.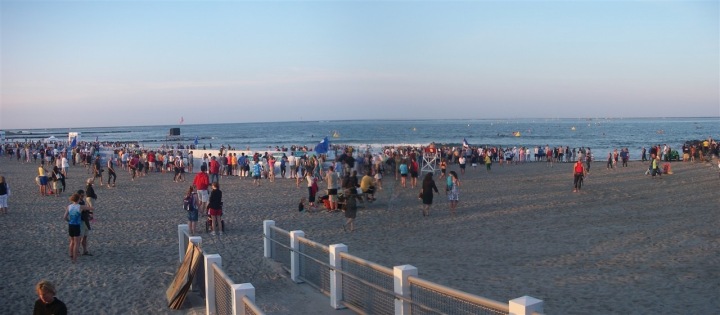 (You can see the out and back yellow and orange buoys for the course)
I got into a steady rhythm and just ticked my way around the course counting off buoys.  One change I made from previous openwater swims is breathing every stroke (on my right side generally).  After working with my coach he pointed out that I could either breath bilaterally and get 30% of the possible air, or breath single-sided and get 50%.  That seemed to help a bit.  It didn't affect my ability to swim a straight line either, but kept me more in control from a workout standpoint.
Some 31 minutes later I caught a small wave in and landed on the beach.  From there I ran at least a football field or more across sand up to T1.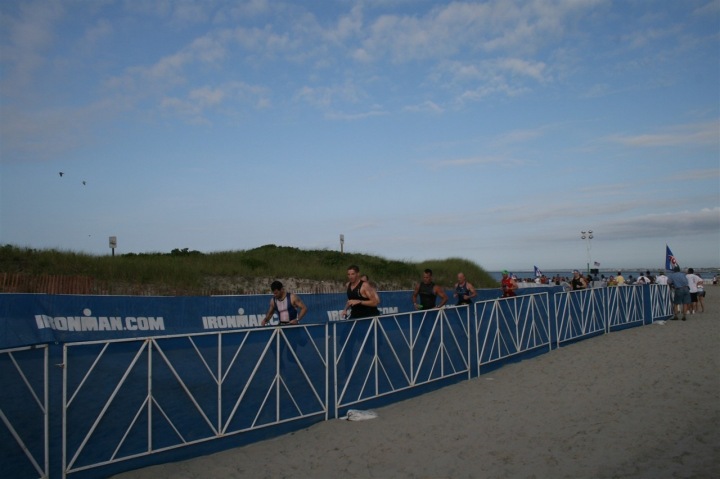 (Running up T1, this is at the end of the T1 run, the beginning is way down there by the ocean)
They had wetsuit strippers available – and I choose the biggest burliest looking Marine Corps guy I could find.  And in about 1.5 seconds my wetsuit was off.  Totally awesome!  From there I ran through three sets of kiddie pools to get the water off my feet.
After that I put my wetsuit into the back bag (remember, clean transition – nothing touching the ground), grabbed my bike gear and headed out.  The rows were spaced too closely and I nearly took out two bikers backing up that weren't paying attention.  But a quick yelp and crisis was averted.
At the mount line I did the shoeless flying mount again with success, and I was off.
The bike:
My coach had a plan.  I wrote out the plan.  I taped the plan to my bike.  And I followed the plan.
The plan called for holding a Z4A heart rate for the first 20 miles, then going to Z4B for the next 8 miles of slight climbing, then going back to Z4A till mile 40.  And then finally Z4B for a few miles before finishing hard back in Z4A.
I was somewhat concerned if I'd be able to actually maintain that – but I just simply followed it one mile at a time.
About a mile into the bike course I finally got around to putting on my shoes.  I wasn't in a pressing hurry and there were a few initial turns I wanted to get out of the way before dealing with the logistics of shoe completion.
After that, the course rolled along the beach roads for probably a dozen miles before heading island.  Very cool course.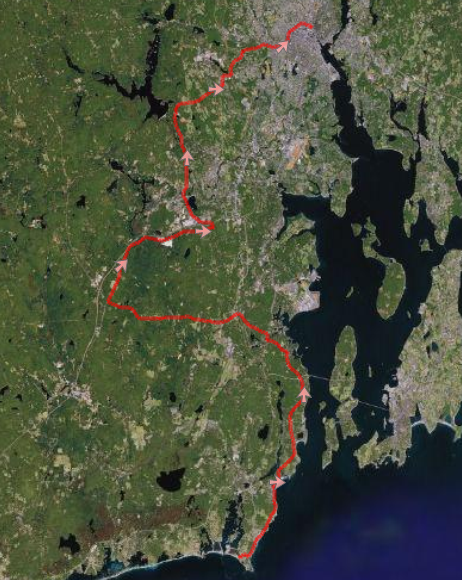 My secondary strategy was to attack every single hill that I could see the top of.  Which was basically all of them.   The one advantage to doing my long rides every weekend at the mountains, is that a 56 mile rolling course was like a cakewalk.
I was able to maintain aero position for all of it – something I've never been able to do before.  I also took in quite a bit of fluid – a bit more than usual, which may have come to bite me later on.  But it kept me on the bike very fresh.
I knew at mile 28 when I looked at my rough split and saw 1hr 15 minutes that I was having an amazing bike.  At that point I made it a goal to try and hit T2 by the 3hr mark.  That would give me something to keep on pushing for, and put me in awesome position going into the run.
As we worked our way into downtown Providence and the final four miles the roads got fairly rough and twisty, so speeds dropped a bit.  But I made it into T2 at 3:01:01 – which is close enough for me.  Somewhere along those last four miles I hit a monster bump, which is where I think I somehow broke one of my rear bottle brackets (and lost the associated bottle). 🙁
I completely botched getting my shoes off in time for a flying dismount.  It stopped on a downhill grade a few feet to the left of the photo below and I was simply moving too fast to do it all in the last 75 feet.  No worries, it only cost me a few seconds.
Overall, me and the top 7 folks in my AG all came within 3 minutes of each other on the bike.  I couldn't have ever dreamed of doing that well on the bike.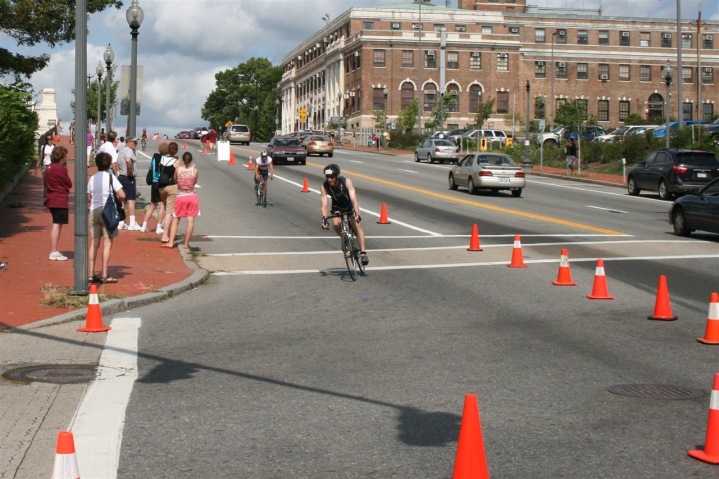 The run
I was very happy to be in such good standing after the bike.  I knew this was give me a bit of a cushion in case anything happened on the run.
I started off quite strong and feeling mostly good.  A little less than a mile into the run there was a monster hill.  It had been used by the ESPN X-Games as a street luge course back a number of years ago.  Today it was being used to torture us.  It went up sharply, and then turned right a few feet and then went up sharply again.  It was about a 150-200ft hill, in the space of about 1/10th of a mile.  Here's the three pieces from a photo I took afterwards.
Pieces 1: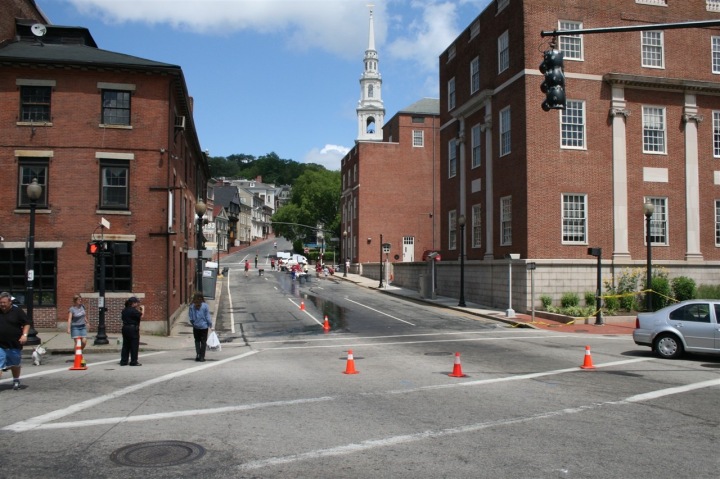 Piece 2: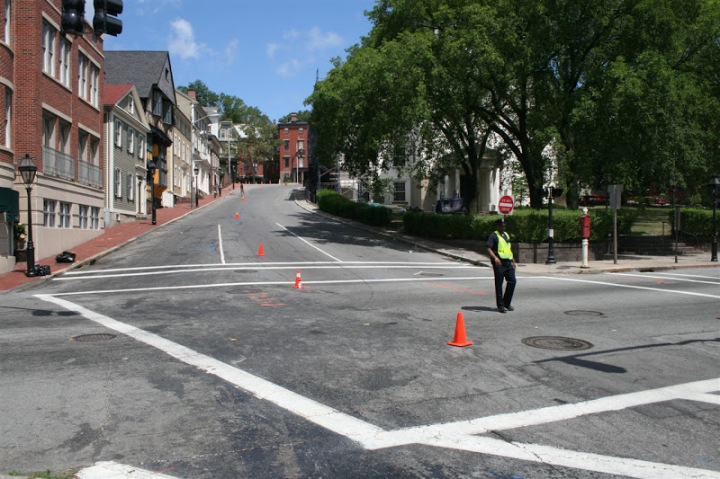 Piece 3: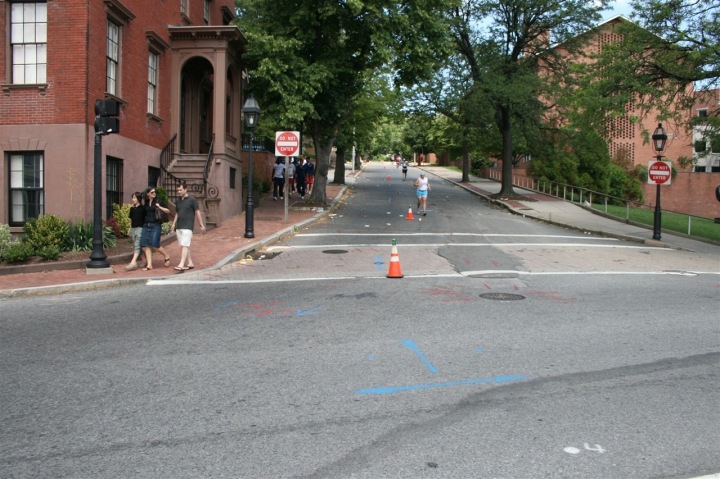 After that, I chugged along till the mile 3ish aide station.  It was my first scheduled gel consumption for the run.  I got out my little squirt bottle, took a swig of gel and then BAM!  Within 2-3 seconds I was puking my guts out on the side of the road.  Instant stomach clearing.  Over the course of the next 4 minutes and 20 seconds I threw up about a liters worth of stuff.
Oh – and the best part?  I threw up on a little sign that had my name on it – "Go Ray!!!".  I didn't even notice it until the second or third round of cookies tossing.  It wasn't actually the sign my family made – that was around the corner.
After losing my breakfast and lunch, it was time to continue.  As always, once you throw-up and get everything out – you feel great.  So on I went.  This time, no more gel.  I finished up the first lap, not too fast – but functional.  I hadn't lost any ground in my AG yet as I was carefully keeping track of marked legs while cookie tossing.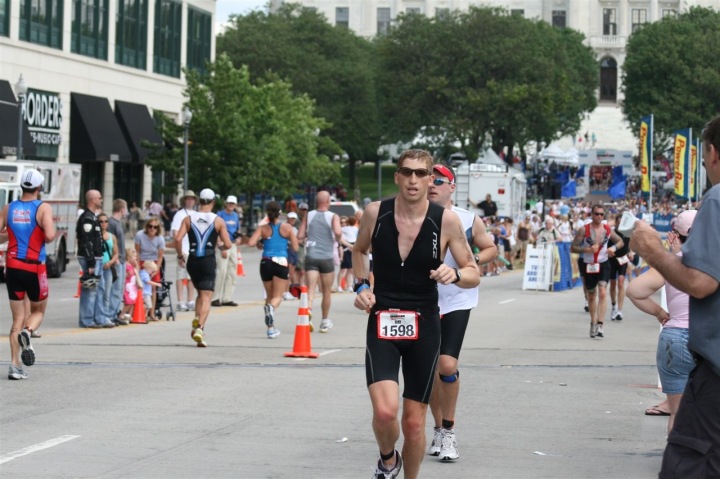 (Starting the second loop after the turnaround)
The good news is my family and relatives were at the turnaround point and provided some good motivation to keep on chugging.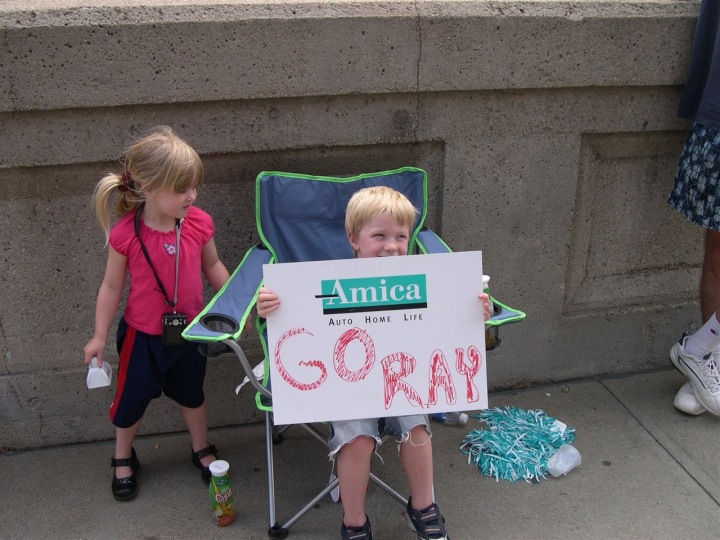 The second loop simply brought the second instance of that god-forsaken hill again.  Up it I went…again.
At some point right after the hill a dude from my AG passed me.  He was looking really strong.  So I made it a goal to follow him.  I trailed him for about 4-5 miles – just about 10 feet back.  We'd catch up at the aid stations, but mostly he was just looking strong – he was barely consuming anything or any water on the head.  Somewhere along the way though – I just couldn't hold him any longer.  So I let him go and just concentrated on ensuring nobody else passed me.
I was exhausted at this point – mostly just overheating actually.  I was doing 2-3 glasses of water over my head by now and a multitude of sponges.  Which were helping quite a bit.  From there it was a run down the hill and back up the hill at the State House finish area.  I was seriously hurting by this point.  I wanted nothing more than to collapse into the grass.  THAT's what kept me going for the last 6 or so miles.  The simple thought of grass under a tree.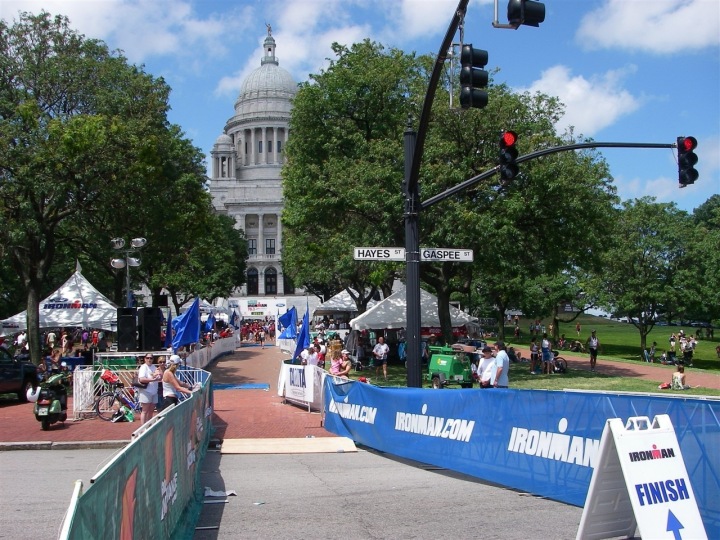 The finish line was right at the State House – pretty cool finish, kinda like Ironman Wisconsin.  Below is me in the finish chute –  the final push.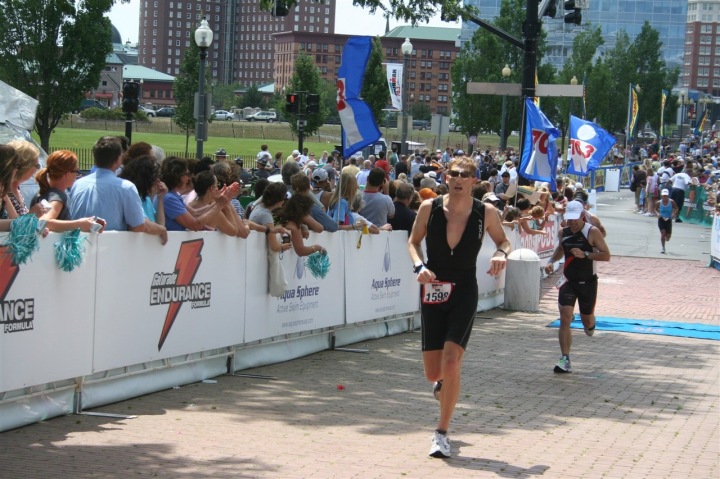 Afterwards, the volunteers were fairly concerned I was going to collapse on them.  But nope, I just wanted to sit.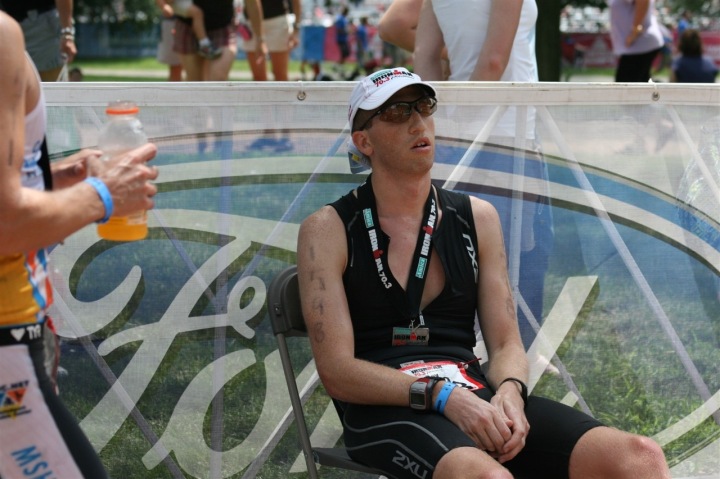 I stood for the obligatory photo.  Luckily my family was right behind the photographer and was able to snap off a few photos.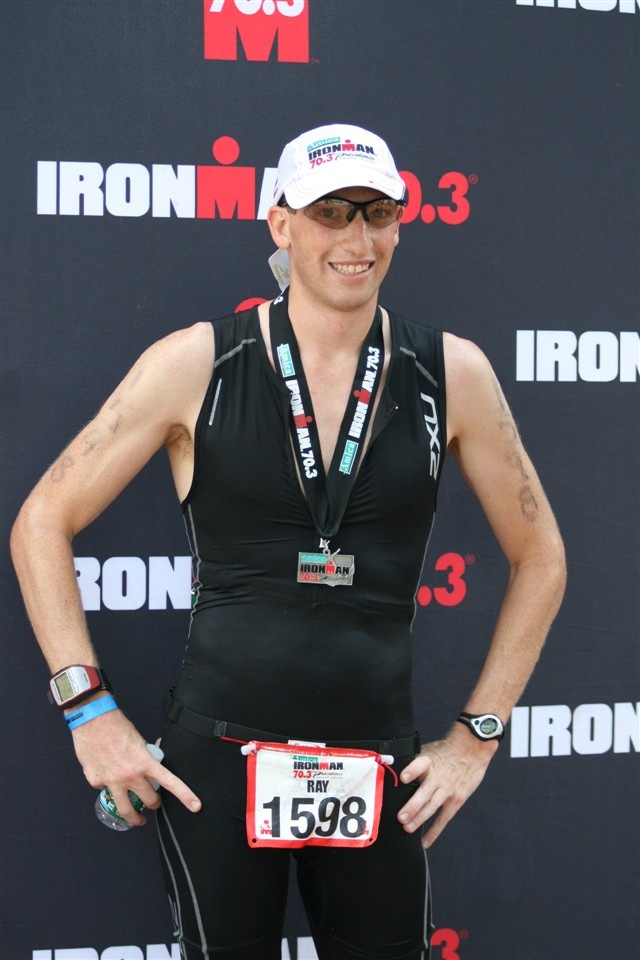 After that – I finally got my wish – to collapse in the grass.  Although Julia was a bit concerned.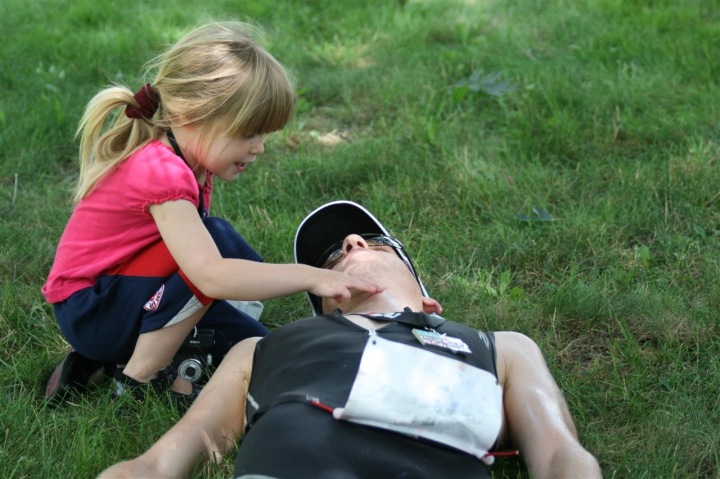 Post-Race
After checking the results, I found I as in 8th place.  Which was well within roll down territory for Clearwater World Championship slots.  So after mad scramble for both cash and ID (which I didn't have), we were ready to go for the roll down.  Unfortunately, my AG only rolled down to 4th place.  While the M30-35 amazingly rolled down to 23rd place!!!
Oh well, I wasn't expecting it – so it still was a great day.  I could play the 'what if' game all day long.  Like 'what if I ran the run I expected, I would have gotten 2nd or 3rd', but – in the end I know I had nothing left at the end of the course.  I was struggling the last few hundred meters to finish.  So I'm thrilled with how things turned out!
Overall:
Total Time: 4:46:01
Swim: 31:06 – (22 in AG)
Bike: 2:27:22 (22.8MPH) – (7 in AG)
Run: 1:43:40 (7:54/mile) – (8 in AG)

T1: 2:33
T2: 1:20

AG: 8/100
In total, it's a 27 minute PR on the Half-Iron distance and I checked off one of my goals for this year with a sub-4:50 finish. I now know what it takes – and if I can get my run-game together, I can actually be a contender for the podium on future 70.3 races.
I also now have confidence in my bike, so it's time to fine tune run nutrition (again) and get everything locked for the final 5 week push to Ironman Canada.  Oh – and thanks to all the friends to text messaged me and e-mailed me before and after the race, I appreciate it!  You're awesome!