I started off and really enjoyed the Tour de France for the first few days.  They had it rebroadcast from 8:30PM to 11:30PM – so at a time I could actually watch it.  But I got pretty busy the last few days, so I wasn't following much until I read an article this morning about one of the riders (Beltran) testing positive for EPO.  So in other words, he's a druggie.
I just don't get it.  Why is this so hard?  I don't get why these athletes do drugs.  It's really beyond my comprehension.  Sure I understand WHY they think they need to do it (the money), but I don't understand how they can justify it to themselves (or their team, family and fans when they get caught).
And at this point and in this age – you're gonna get caught.  It may not be today, it may not be tomorrow – but eventually you'll get caught.  And when you do – EVERYTHING you had and worked for – even if you worked for it under legit circumstances – is GONE.  Worthless and gone.  You're forever labeled a druggie – and rightly so.
The only good news is that at least Garmin-Chipotle's riders haven't tested positive for anything (yet).  I'm kinda rooting for them as I like both companies and both organizations are embracing it as well (as a PR op of course).  But really – anything with a big-ass burrito I'm down for.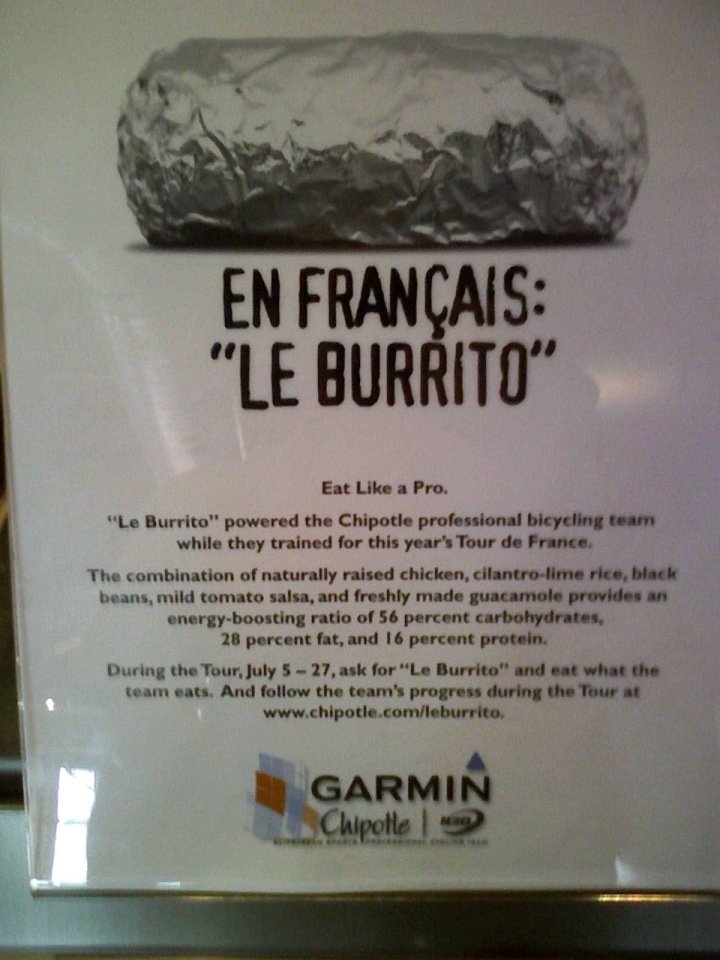 So while I might watch a bit more here and there – it sucks to once again know that the tour can't simply keep it clean.