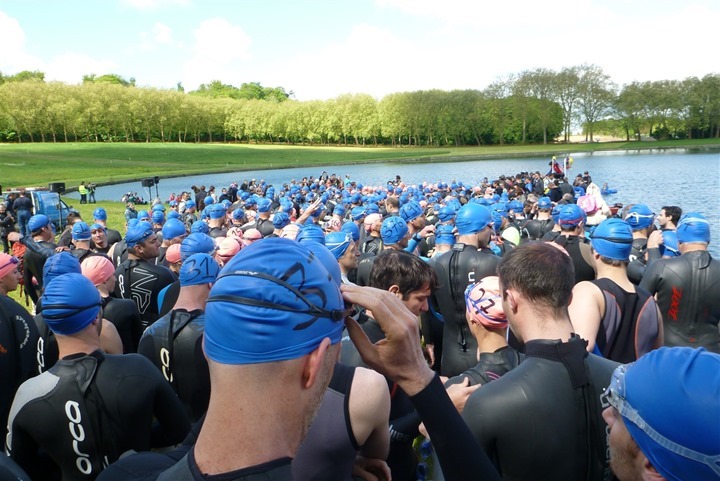 Here's my first race report from racing a triathlon in France – the Versailles Triathlon.  While this isn't my first sporting event here (that would be the half and full Paris Marathons), it is in fact my first multisport event.
I only signed up about 10 days before the race – all for a price of 31€.  I hadn't heard about the event until then, and figured a sprint nearby would be perfect.  As I noted in a post last week, I had to find a road bike for the bike leg, because my triathlon bike wasn't permitted (more on that in the bike section).  Luckily I found an awesome rental shop here in Paris run by an American -he hooked me up.
Through the grapevine I've come to know one of the local English-speaking triathlon clubs here in Paris – ExpaTRIés Triathlon Club – and took them up on their offer to meet the at the train station pretty much next to our place in the morning pre-race.  That would help minimize any potential hose-ups on my part in getting to the race.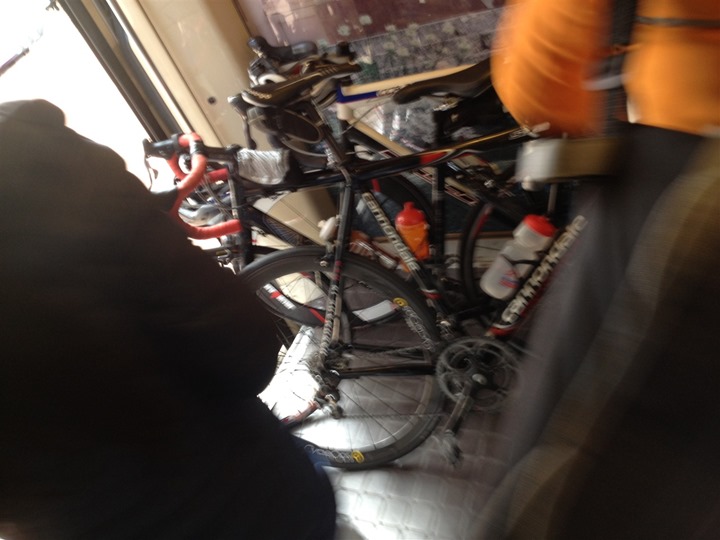 The Versailles triathlon is held in Versailles, which is about 10 miles (~15K) from Paris.  In fact, there's actually a huge running race between the two locations in the fall.  This is the same Versailles I visited last summer, so check out that post for all the details on the historic landmark.
After unloading from the train we made the short jaunt over to the start area.  It was a rather pretty little pond right next to the main grounds of the Chateau.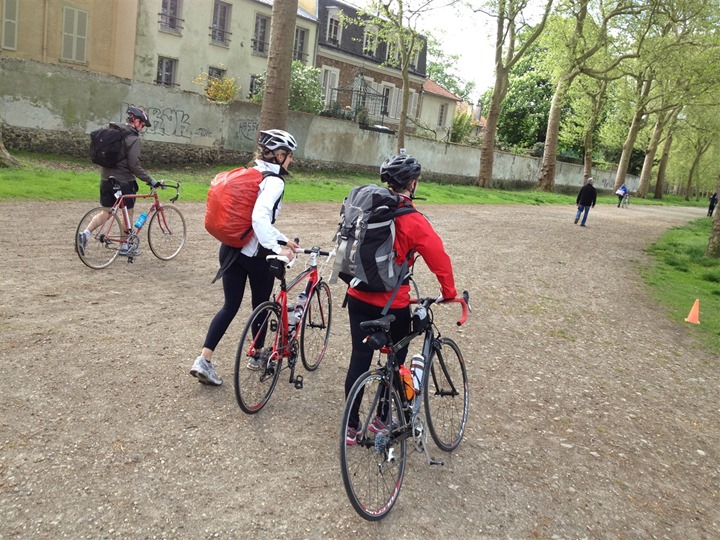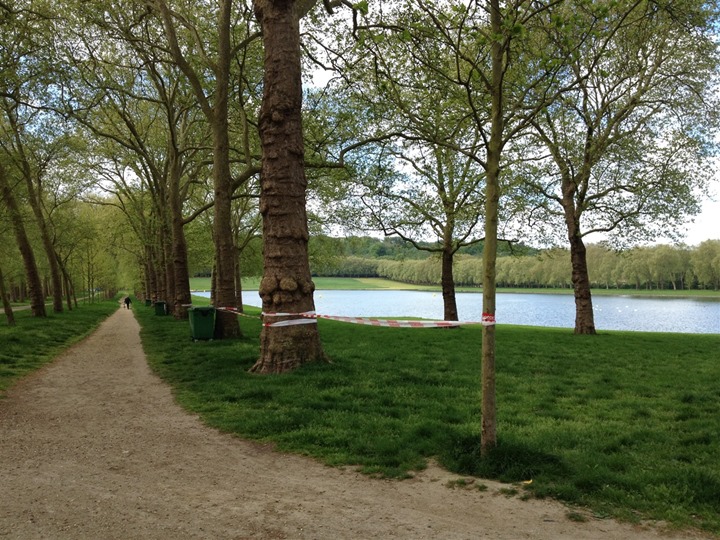 From there I went ahead and checked in.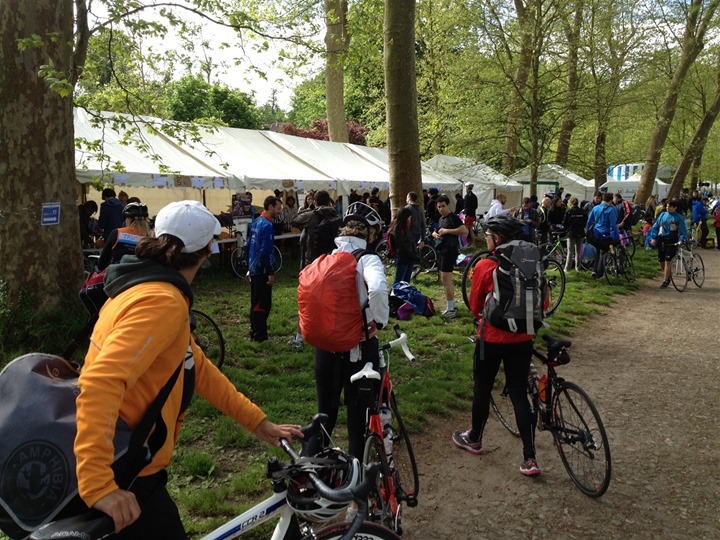 First up was finding your race number on the bulletin boards: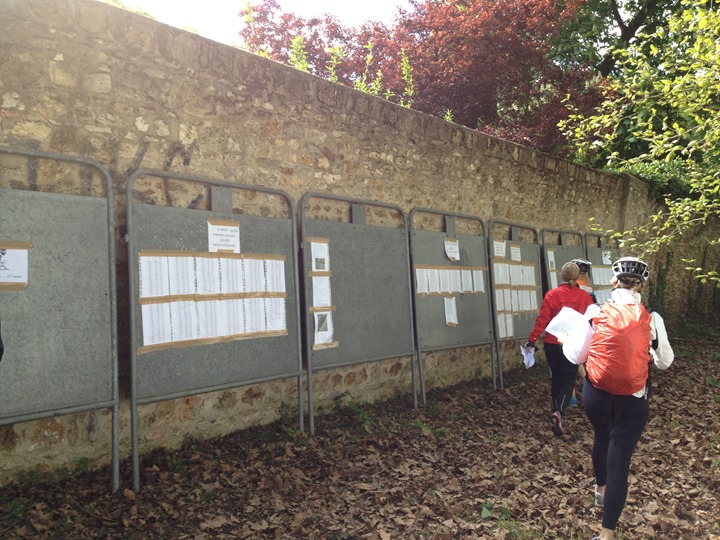 I was racing in the noon race, which was all licensed and unlicensed women, along with unlicensed men.  About 600 people in total, split roughly evenly men/women.  A later race at 4PM was the licensed men.  In my case, I currently lack a French triathlon license, so I just went unlicensed.
Then you simply give your medical certificate and ID over to get your packet.  My packet contained my race number, bike/helmet stickers, and some goodies.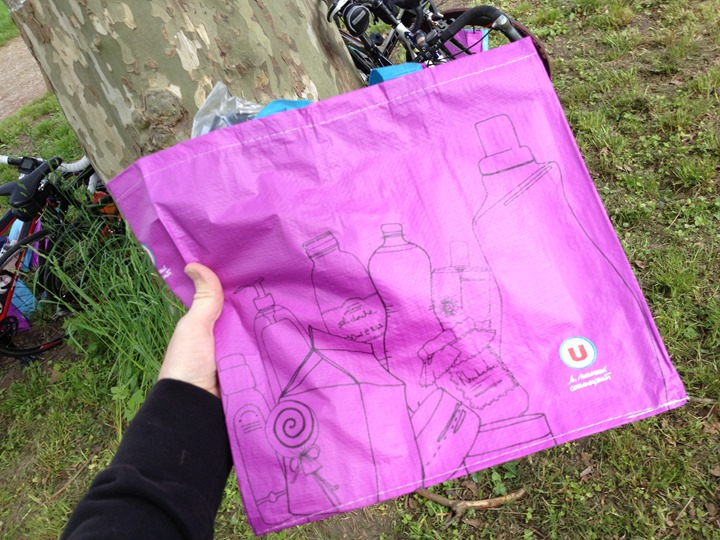 Included in the goodies was a bag for cycling/running shoes.  Actually fairly practical if you ask me.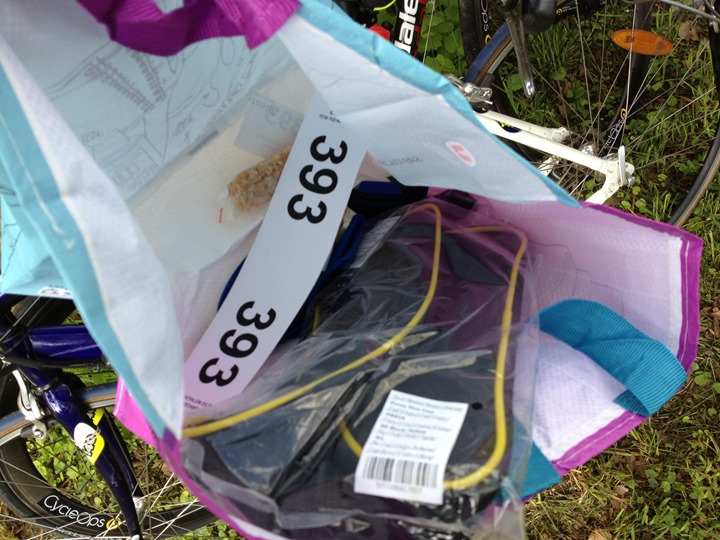 After that, I headed over to transition to rack my bike.  Just like in the US, an official first checks over your bike before entering: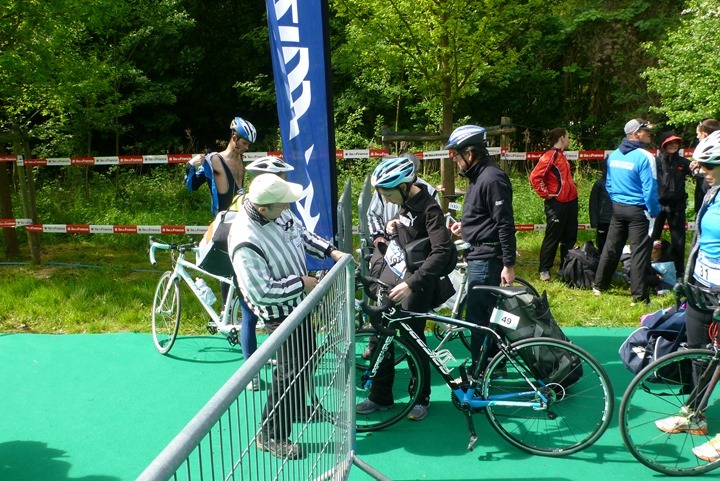 Then I was free to wander up the long hill and find my spot.  I think this is the first transition area I've been in that was actually on a hill.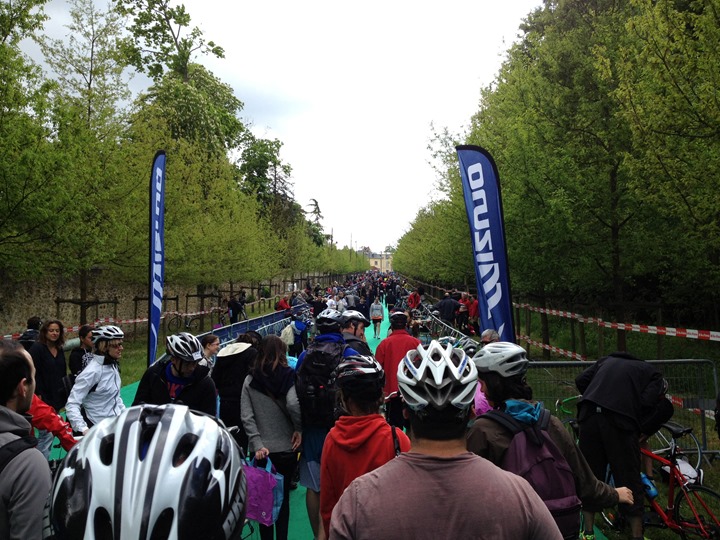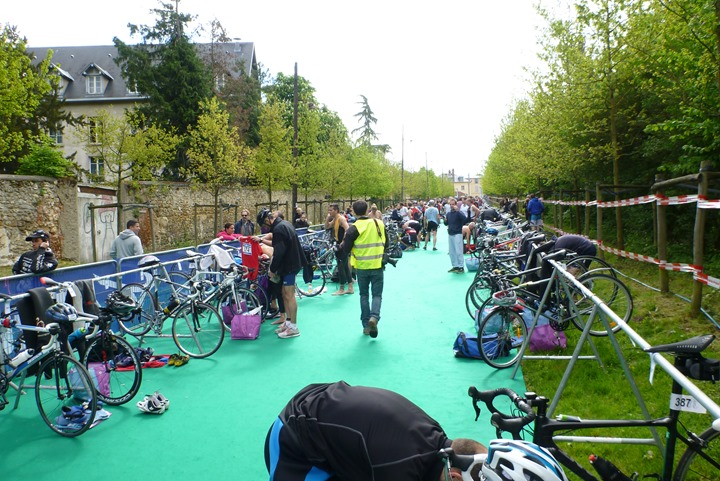 Given I arrived via train, my transition area was fairly minimal.  Just my bike, my cycling shoes on my bike, and my running shoes/socks on the ground.  Also, I put my bib on my bike and my helmet on my bike.  Beyond that, not much else to have.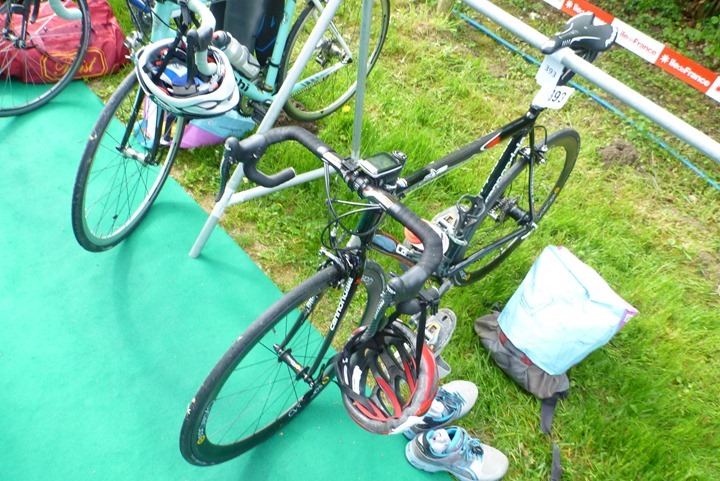 From there I headed back down towards the water to check things out.  Along the way I connected with the porta-potties.  It was beautiful that there was no line (the woman is just watching the bikes):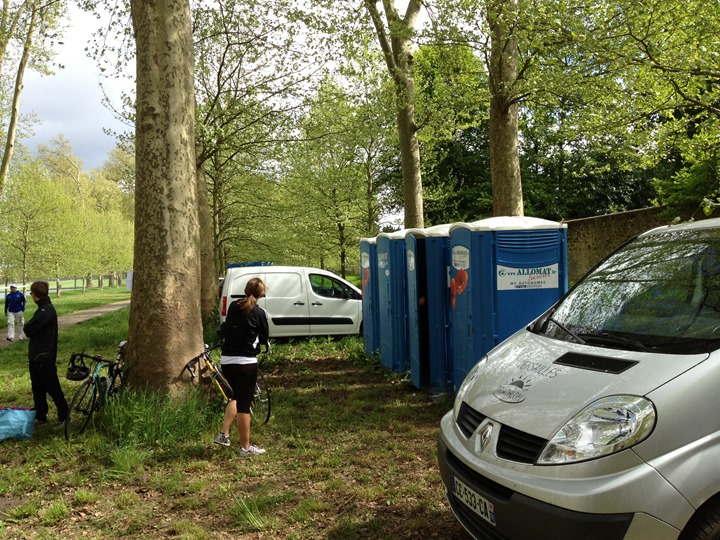 The Swim – 750m:
With the pre-race portions taken care of, it was time to get onto the swim.  The swim was held in a pond next to Versailles, with the Chateau looking out over it (you can see the white concrete patios in the satellite image below, along the with the gardens).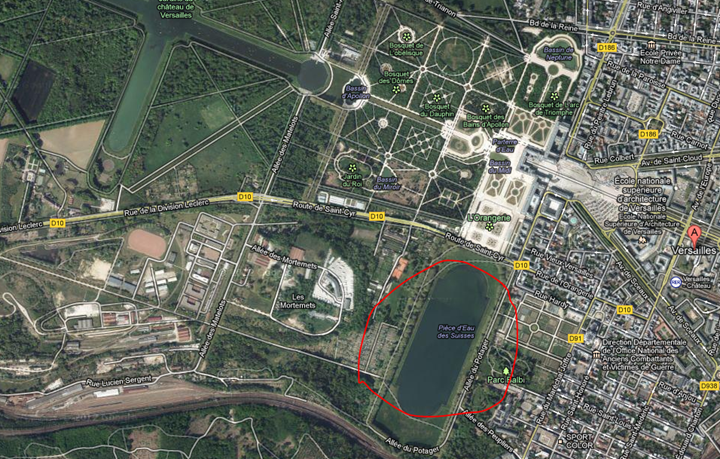 Here's the course: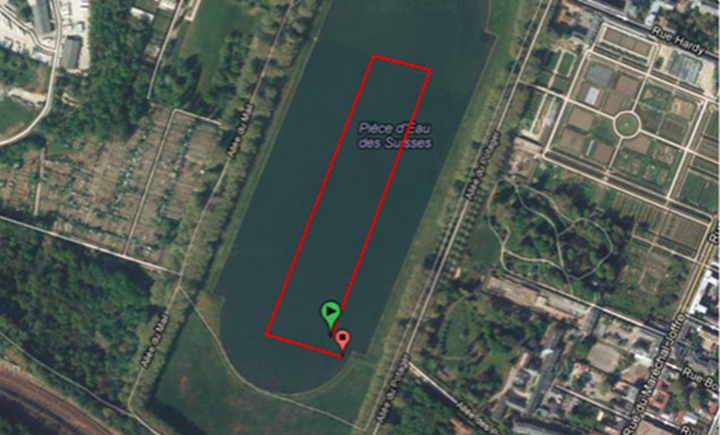 And here's what it looks like on race morning from the starting area: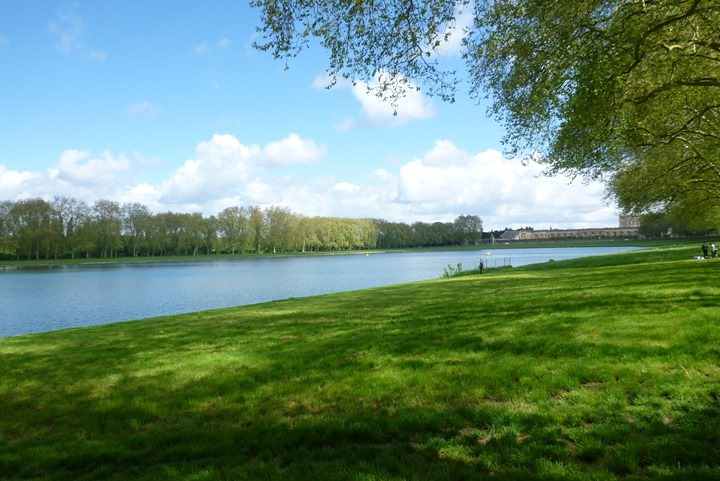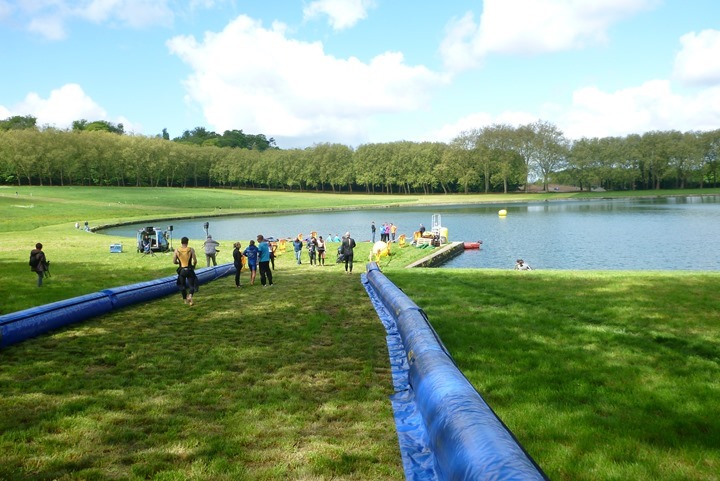 After everyone lined up, the women headed on out: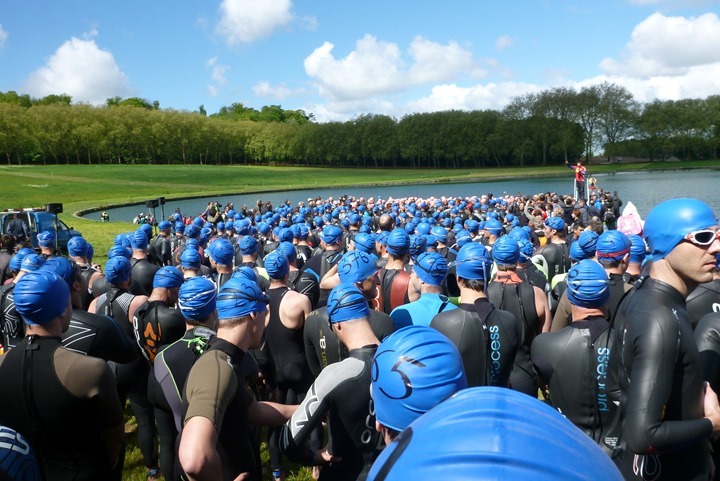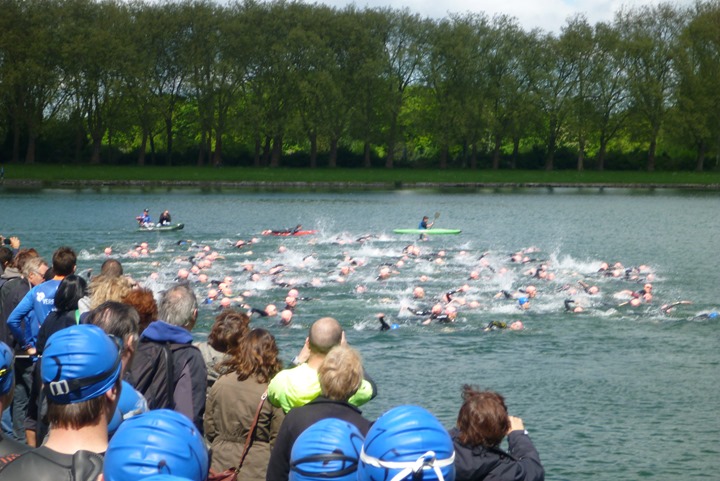 And then it was our time to get into the water: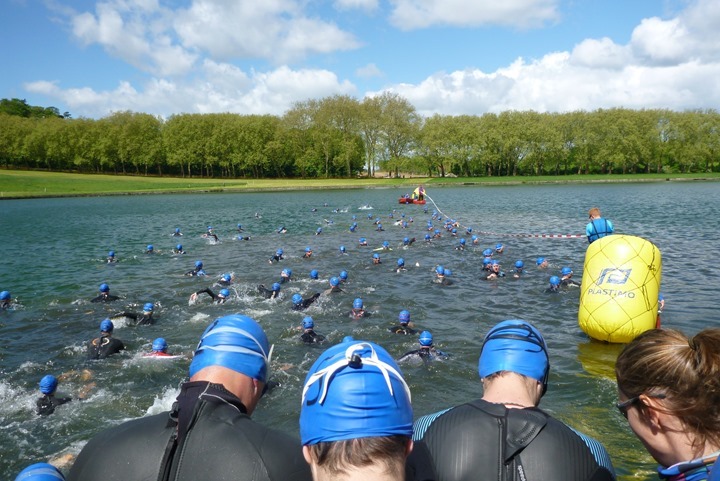 They had a man in a boat holding onto the tape, and then the other side another man on a dock held onto the other end.  Endless amounts of yelling and paddle waving were occurring in a futile attempt to keep people back.  One man in a row-boat is no match for 300 men in swimcaps.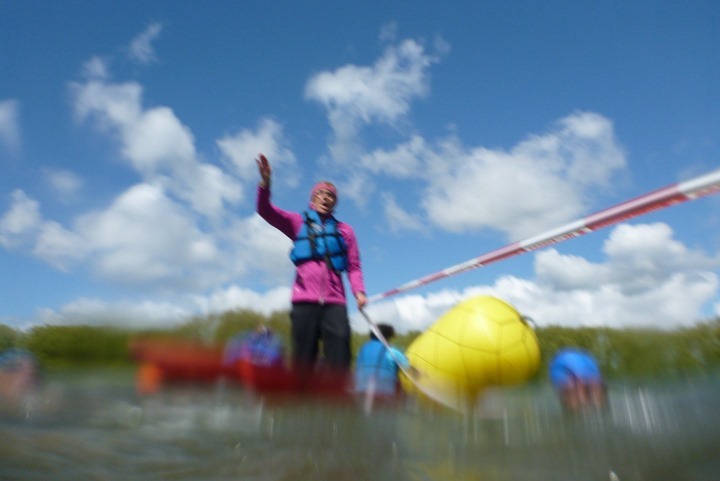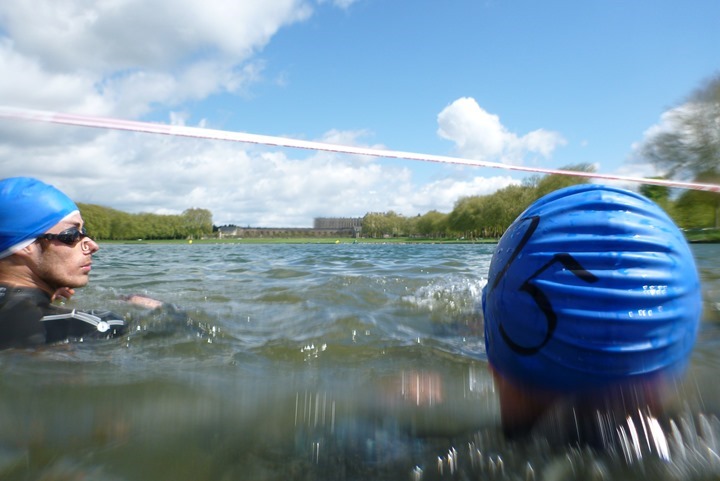 Lucky for him, the gun went off and out we went!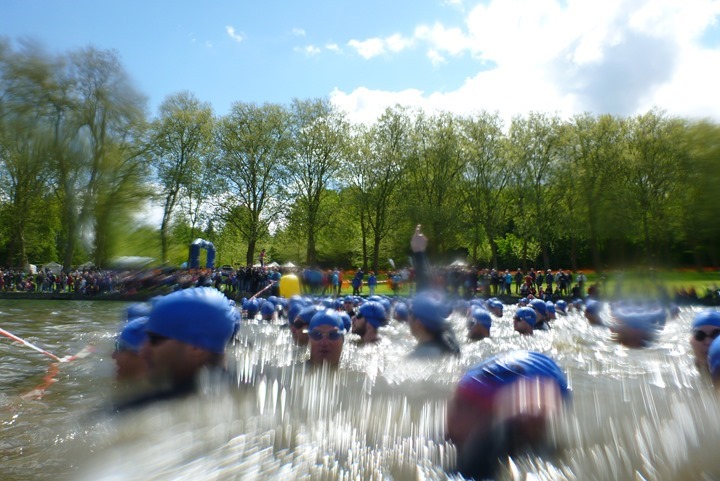 From this point, my little waterproof camera went back in my wetsuit (pre-question answer, here's the camera).  Though, in retrospect, I probably should have taken it out – simply because it would have been fun to document what happened shortly thereafter.
I was along the left side, which was the shortest point to the first turn buoy – and got off to a good start. Quickly ahead of the vast majority of the field.  This typically isn't the case for me and swimming.  But, I took what I could get.
I noticed that the field though was slowly moving left, more left than they should have been.  And in fact, everyone was sighting towards the #2 turn buoy.  This seemed odd to me, but then I looked up and couldn't find the #1 buoy, so I figured that perhaps I was imagining things, and went off with everyone else.
Then I caught sight of the #1 buoy again, but it seemed like it was somehow further away than before.  Normally when this occurs within a race, I simply blame myself.  After all, that's usually the case.
Actually, wait a second, it's not only further away down the pond, but it's somehow further to the right.  How on earth did I get so far off course?  Hmm…ok, onwards I swim.
And I kept swimming.  Until I found a few kayaks semi-frantically trying to get people to turn.  Which made no sense since the buoy was a good 100m away still.  Then I took a second to pop out of the water and take stock of the situation: The buoy was now up against the shoreline, the wind carrying it further and further away.
Well crap.
So, I recovered back onto whatever course was left and got cooking, trying to make up time.  The positive side is the other 300+ men behind me all did more or less the same thing.  So it wasn't too much of a mess to swim through.
By time I exited the water, there were no blue men's caps that I could see in the water ahead of me.  So I figured that was a good sign (or, I suppose, a really bad sign).  Here's my map from the FR910XT:

Obviously, the track is smoothed (it was on my wrist in openwater swim mode).  But you can get the general gist of things going awry.  For what was a 750m course, it said I swam 901m.  It's not clear how it counts backtracking.
The Bike – ~22K/~14mi:
On my way to my bike, I snapped this photo.  I had a ways to run, and not much else to do, so yeah, photo: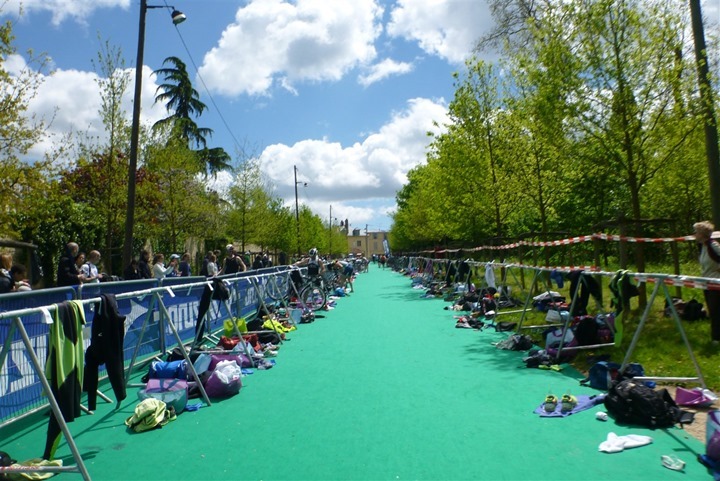 My transition wasn't the fastest, but when you're running up a 100m long hill with your bike, nothing is fast.
Out of transition I went.  Once that was complete, I non-gracefully mounted the bike and continued up the hill.  In fact, the first mile of the ride was all climbing.  It wasn't until about the 1.25-1.5 mile marker (about 2K) that I had a good spot with clean pavement to get into my cycling shoes.
The bike course climbs away from the pond and up towards a car racing track, where it wanders there for two loops of the course before coming back to transition.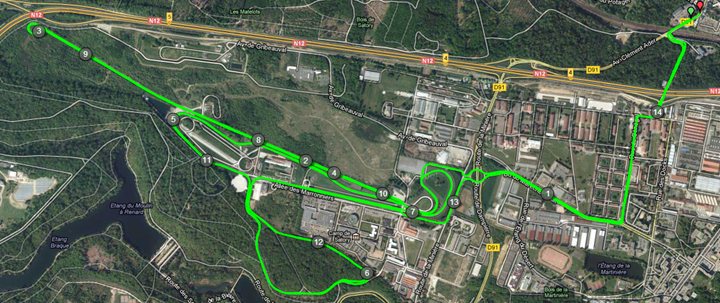 I should point out about now that this section lacks any photos.  Mostly because while I was going to put a GoPro on the bike, Mr. GoPro decided against turning on in the morning when I went to grab him.  He's been a bit of a POS lately.  Not happy with the latest one as of late.
At any rate, after climbing the hill I found myself mostly in a mix of women cyclists.  With the shoes now on properly I was ready to get into the right zone and get cooking, solo style apparently.
But then a male cyclist made a slow pass on me.  Not fast, but enough to know that we could probably pace line it a bit.  He may have been behind me for a while, drafting.  So I jumped on his wheel for about 40-60s, and then overtook him.  I figured if he stuck on, then we'd make a go at it.
Sure enough, he stuck, and it worked.
(Important side note: This race was draft-legal, which means that unlike almost every other non-pro triathlon in the universe, you could indeed legally draft behind others.  Or work as teams.  Whatever you want.  The only limitation is that no bicycles with aerobars extending further than your brakes were permitted – hence why I was on a rented road bike).
I was careful to watch the speeds in between each time we traded off.  Mostly because I wanted to validate that our averages were basically the same – and indeed they were consistent.
The reason I was using speed over power is that when I would go into the draft zone my power would drop by upwards of a 1/3rd or more.  Meaning that while on the front I was doing about 300-330w, but once he pulled ahead, I'd be down to about 200-230w, making it feel 'too easy'.
By using speed, I could validate that even though I was doing 30% less work, I was maintaining the pace.  If you look at my power graphs, you can see this drop in power:

In fact, you can see quite easily the pattern over and over again throughout the bike leg.  You'll notice a sharp spike (me overtaking), and then it evens out, and then finally as he overtakes me drop-down in power.  Here's just a six-minute segment showing the pattern:

This worked quite well, and as a team of two, nobody passed us, and we passed endless numbers of people.
Make no mistake – this dramatically changes both the sport, as well as the results.  You see this in fact in the women's results.  See, the licensed women were mixed in with the unlicensed men.  Which meant that they typically had more experience in triathlon.  And that showed.  I could see them as we twisted around the race track at various points, in large groups of 7-10 women working together quite well.  Ultimately a major component in why you see top women beat the men in the 12PM race (yet still have slower run and swim legs).  If you fast forward to the licensed men's race later on, you'll notice that the top swim and run legs actually aren't much faster than mine (especially ignoring the misdirected buoy), but what was significantly faster were the bike times – likely due to much larger group tactics (and recovery) that simply can't be done with two people.  I see this out doing loops at Longchamp – where a larger group of 5-10 guys can easily average 25MPH without much difficulty.
So while it changes it – I also found it a lot of fun.  A heck of a lot of fun.  It does make things slightly more uncomfortable in the sense of depending on someone else so close to you not messing up, but also because within our team of two, we were both supporting each other.  Neither of us could likely have held 330w for the entire bike leg and still run well (as a reminder to my cyclist friends, you do have to save something for that last leg).  So, you end up depending on one another.
Overall my power averaged 277w, but my normalized power was 300w.  The biggest differences that you'd see though compared to a normal triathlon where stability is more important, is that here you see larger numbers for the mean/max power for 60-seconds and shorter time periods: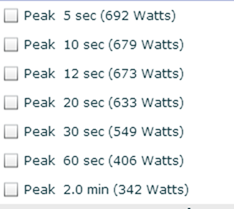 The only bummer with respect to data is that the swim apparently killed the Bryton heart rate strap I was wearing (which is sad, because otherwise it's been really good).  So no HR on either bike or run.  For those curious, I was wearing both the Bryton Cardio 60 and the Garmin FR910XT on all three legs (on wrist).  Both ended up pretty similar to each other.
With that, we cruised back down into town and into transition a short bit later, ready to begin the run leg.
The Run – 5K:
With the 'team' aspect of the event complete, it was time to get down to business.  The run is almost always my strongest leg, and I was optimistic I'd be able to track down a few folks here (as well as leave behind my cycling friend).
After exiting transition, the run immediately (as in, 1 meter later) goes into the woods.  I didn't entirely expect this, but that's OK.  It wandered in there a couple minutes, with the trail making many switchbacks and ups and downs.  Definitely trail running territory.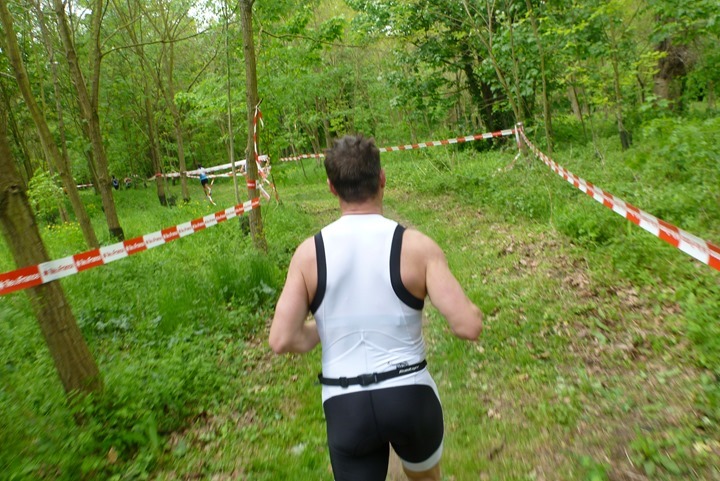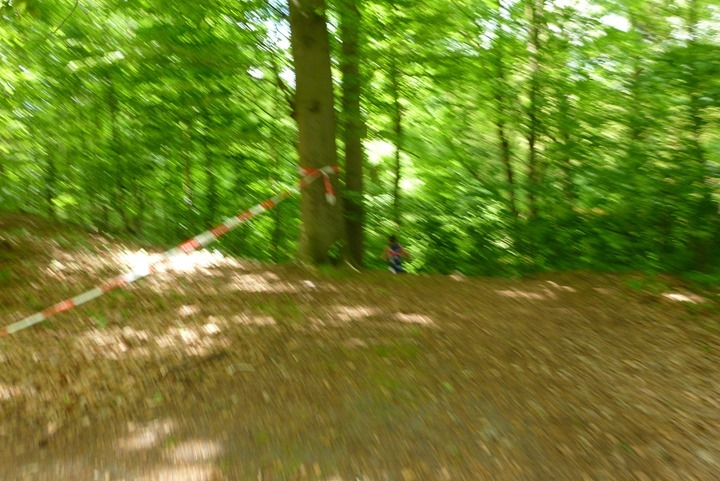 However, it soon emptied out into the pond and surrounding tree area.  I'd run down past the finish line before starting my first loop: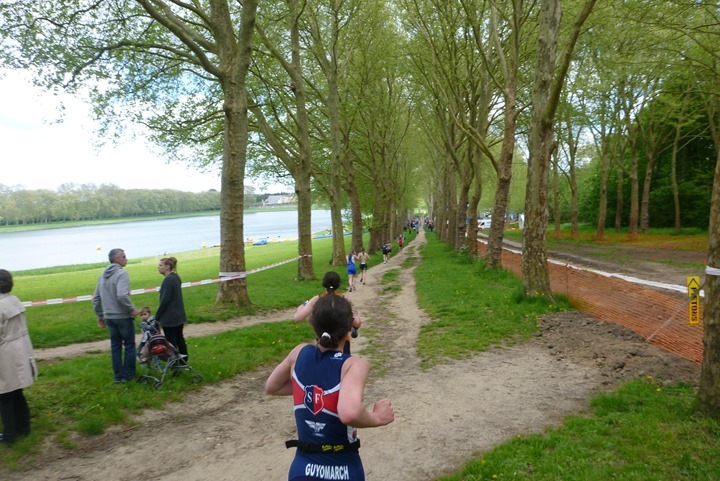 The route was quite simple from here: Two loops around the pond.  Though, not right along the pond, rather on the outer perimeter of the park.
Given the men started about 5-7 minutes behind the ladies, it meant that for the most part I had caught up to the majority of women in the field.  Those that were ahead of me were among the faster ones, and the even fewer males that were ahead of me were amongst the really fast ones.
As a result, it was kinda lonely on the first loop.  There was only a single guy ahead of me about 50-75ft or so.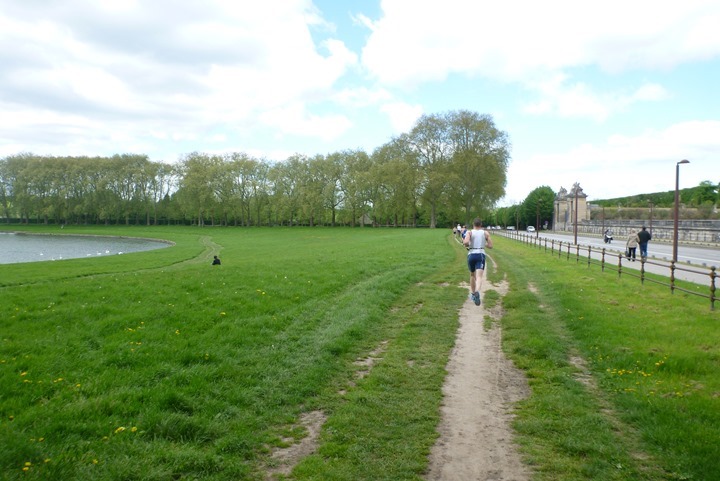 I'd slowly chip away at him over the first lap, catching him a bit just after the start of the second lap.  In the meantime, I simply enjoyed the loop.  Off to my right was Versailles, and you could see the throngs of tourists up in the gardens looking out over the race: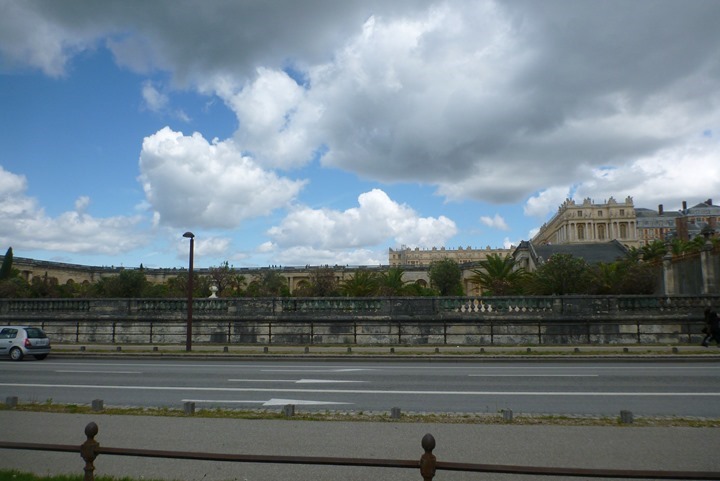 Towards the end of each loop you got the pleasure of going up a rather large hill up ahead.  It may not look large, but it sorta was.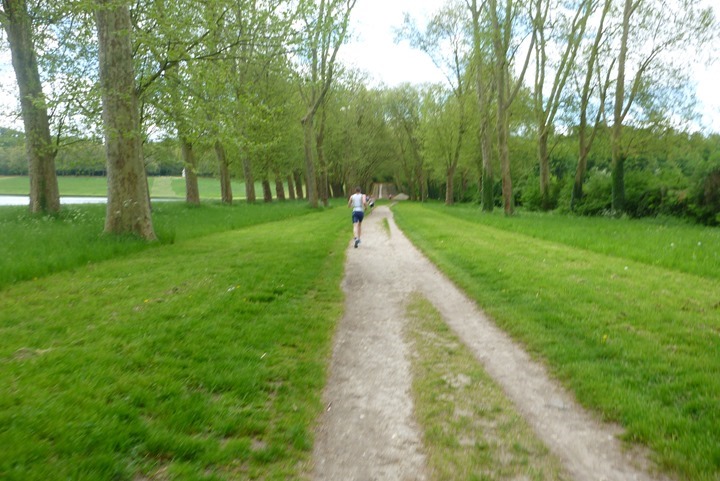 At the top of the hill was the Mardi Gras station.  Well, that's not really what they called it – but that's sorta what it was.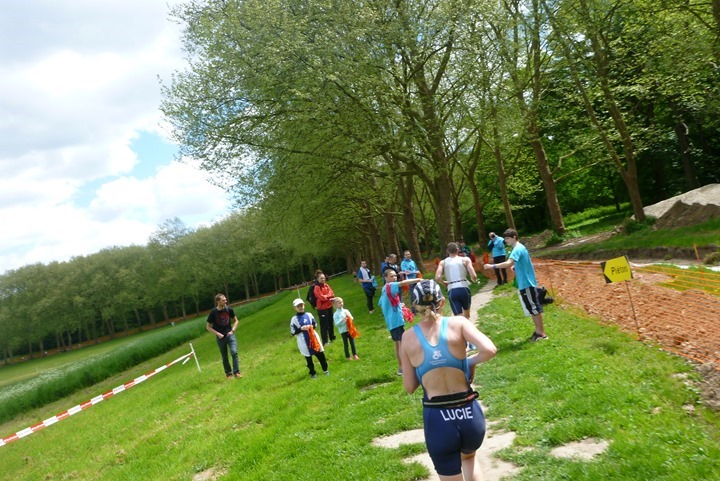 Each time you passed by they'd give you a necklace (no beads though) indicating you passed.  Once you had two necklaces you'd be able to go into the finish line.  On this loop I just picked up my first necklace.  And no, flashing my top was not required (actually, French triathlon rules dictate men are not allowed to show any chest hair).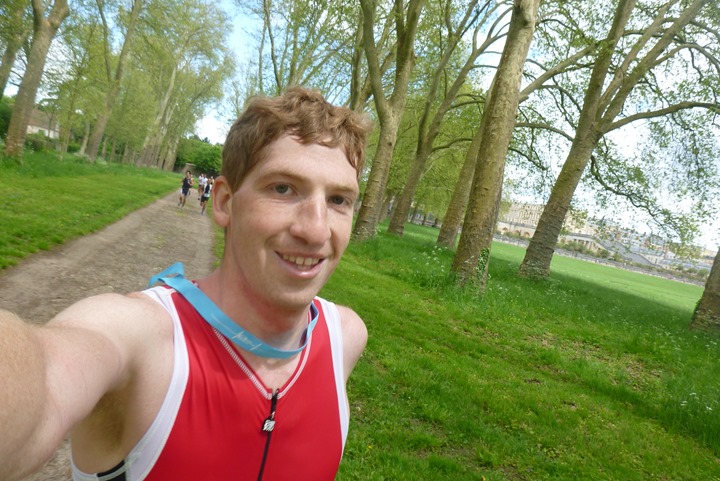 Once I passed the Mardi Gras station, it was back down the hill into the finish area to start my second loop.  As expected, this is where things got busy.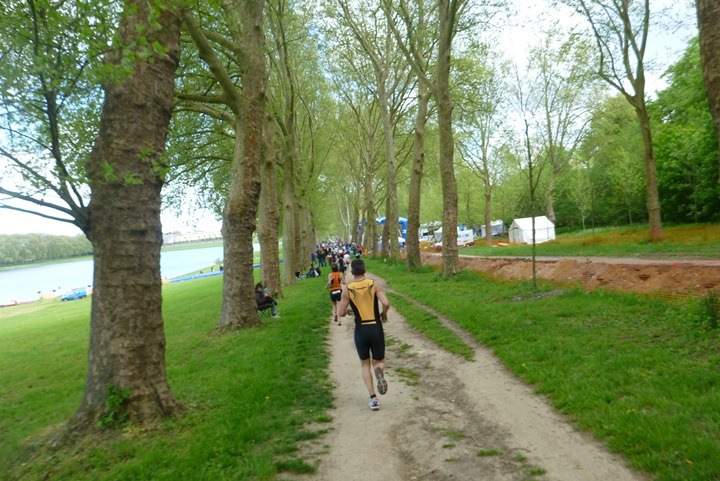 With all the folks behind me now joining in the fray, there was plenty of dodge and weave.  But honestly, I enjoy this – as it makes the run go by faster.
Before I knew it, another loop was almost complete.
Once again, back up the hill towards the Mardi Gras station I went.  This time to get the all important second necklace.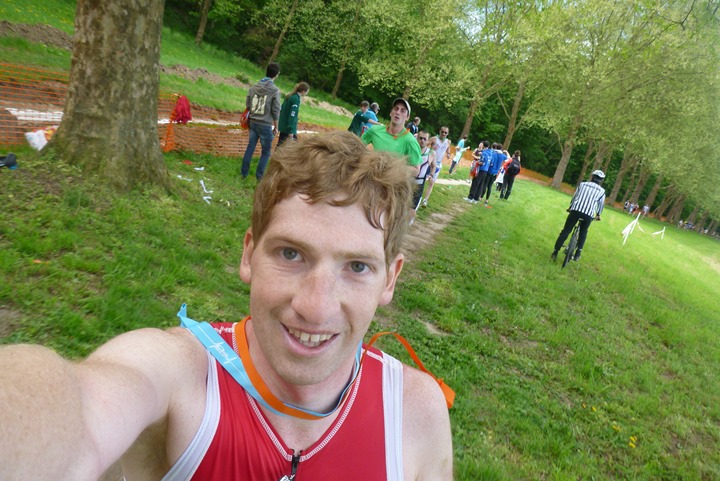 Woot, necklace unlocked!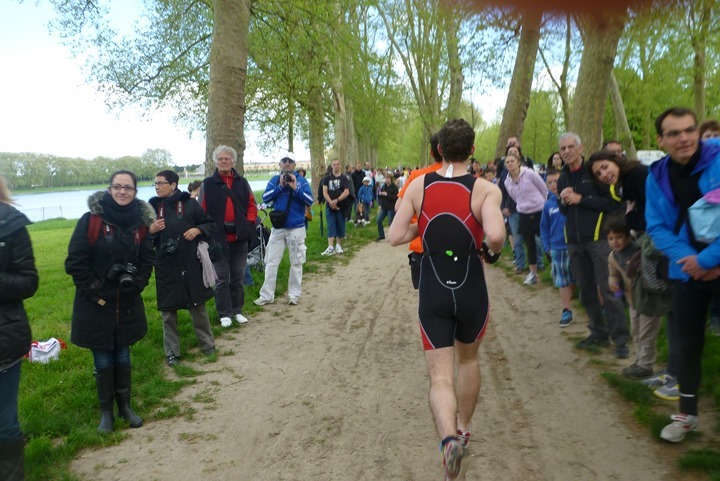 With that, a quick jaunt down (and past) the busy finish area before doing a 180 and running back to the finish.  This particular setup actually works fairly well in that it gives spectators two opportunities to see runners in the final finishing sprint.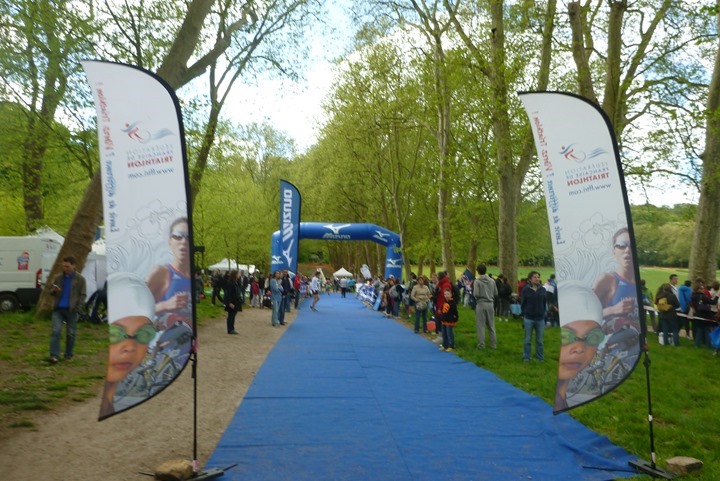 With that – race complete!  My total run time for what I had on two watches at 3.3 miles (5.3KM) was 21:04, or a 6:23/mile pace (3:57/km).
After handing in my chip, I got a water bottle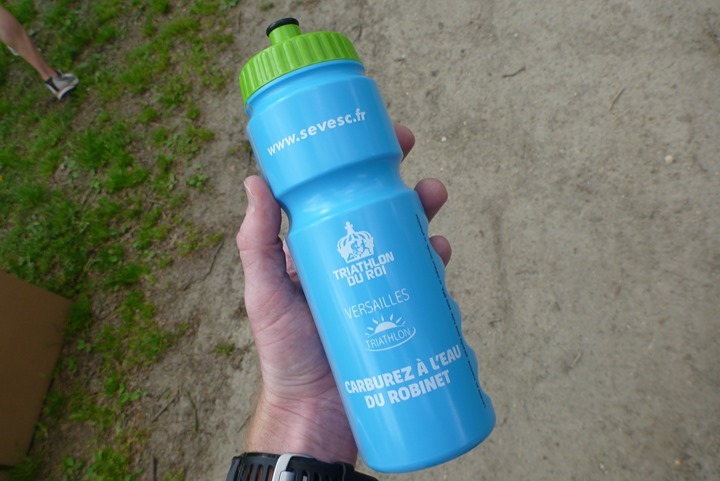 They had a big spread of food available in the finishers chute: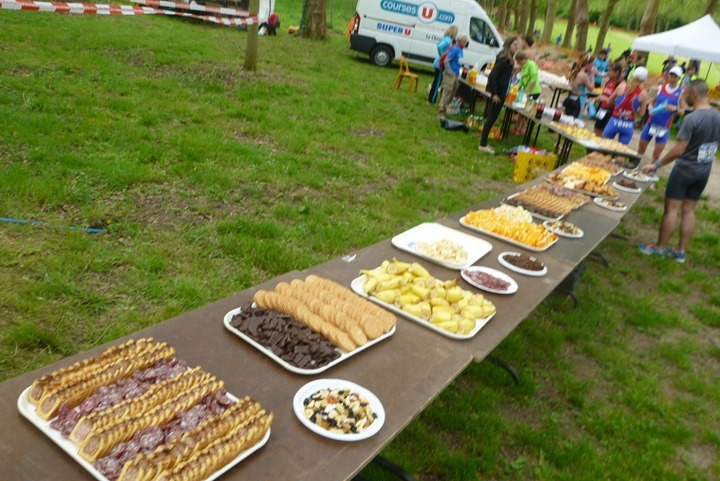 The only thing was, I had completely forgot to look at the finishers board upon finishing, which actually tells you your position.  Eek!
Post-Race:
While I figured I had done fairly well, I didn't think I was podium quality.  I'd guessed within the Top 10, but then a guy a few minutes after me said he was #30 (according to the digital board upon finishing), so I didn't seek out the results to heavily.
Instead, I just went over to check out the ceremony: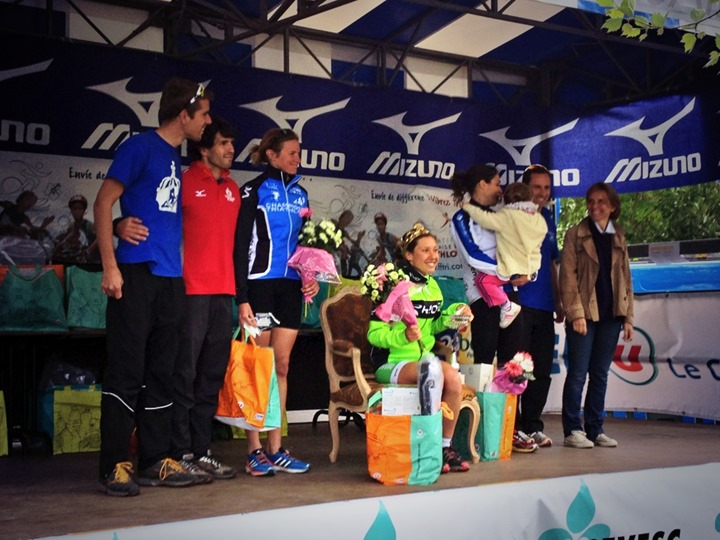 I then saw Sebrom (actually, he saw me), and he was scheduled to race later on in the day in the licensed category.  We ended up talking and walking over to where the race numbers were posted, and at the same time I ended up finding the results there too: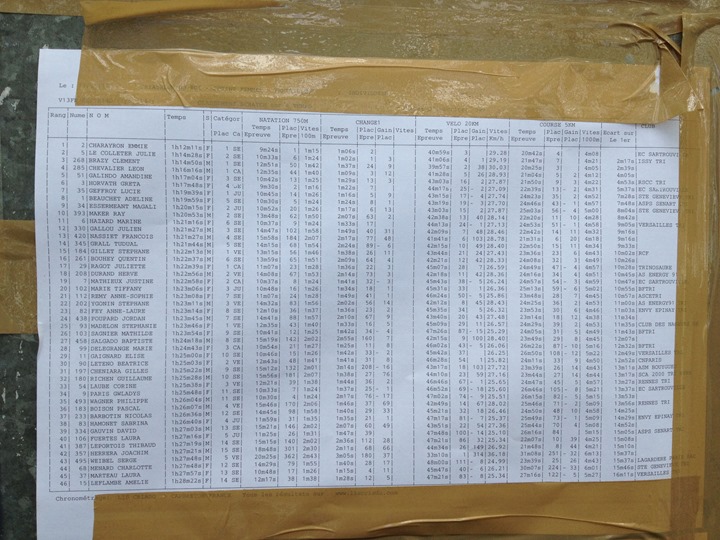 A quick check of the results revealed I actually did better than I thought.  Turns out – 3rd overall male, and 2nd within my 'category' (it's strange here, categories are vast chunks of people – mine being 18-40yo).
By time I sorted this out and conferred with the English triathlon team guys, we rushed over to awards.  Literally about 12 seconds after arriving they announced my name.  Holy cow!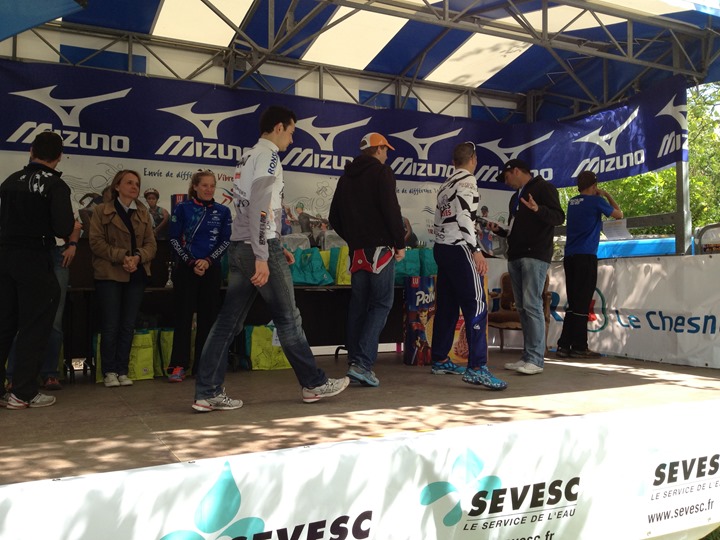 They bring up all three folks at once, and then each one steps forward (3rd place first, and then 2nd, and then 1st).  In this case, they were giving awards for category winners instead of overall winners.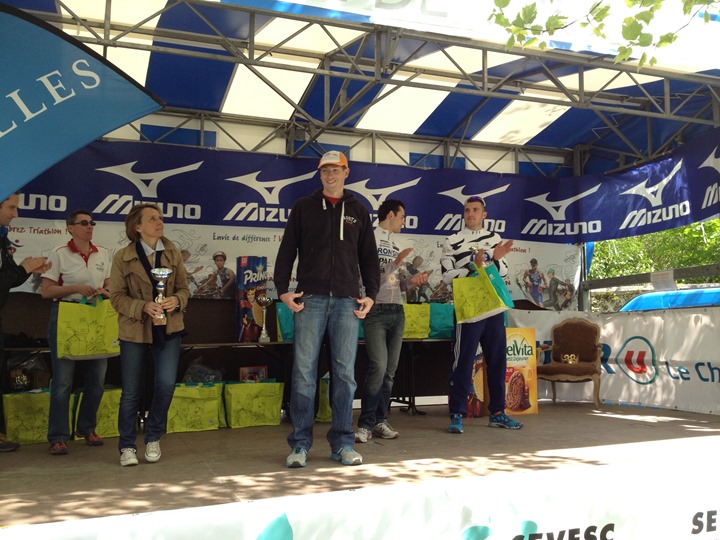 And, as is customary here, each podium finisher got kisses on the cheek.  The women podium finishers got kisses from men, and we in turn kisses from the ladies.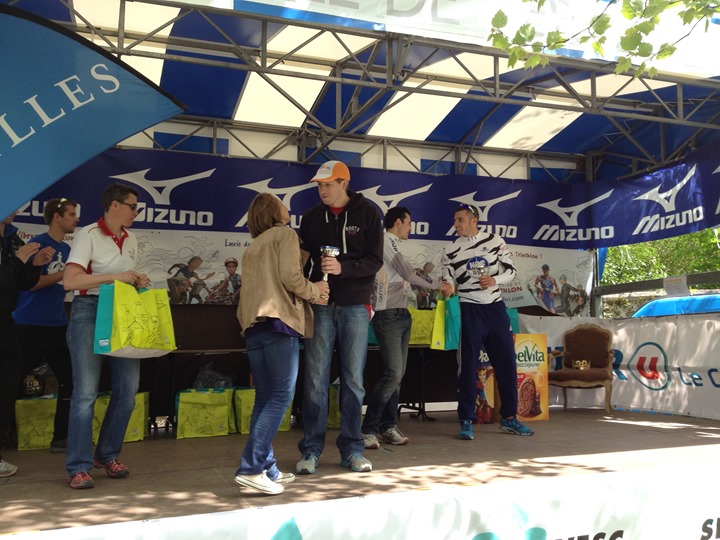 Oh, and I got a giant goblet trophy.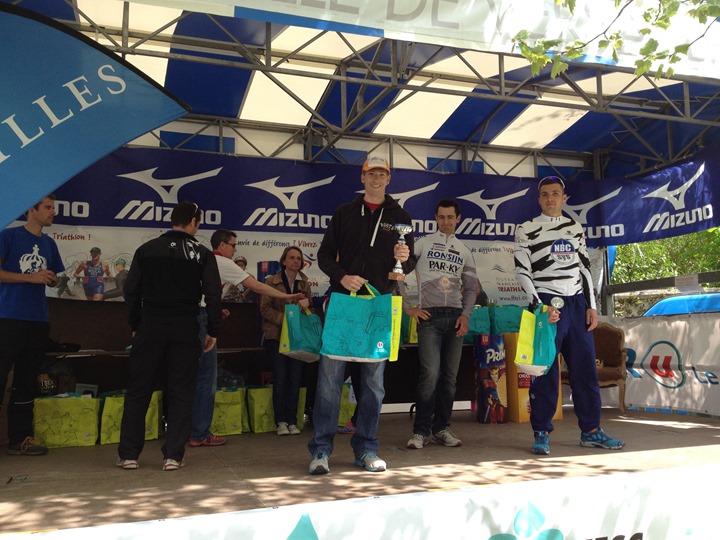 Additionally, in my winners bag I got a pair of Mizuno running shorts and a tubular.  Plus, an assortment of very vibrant pens: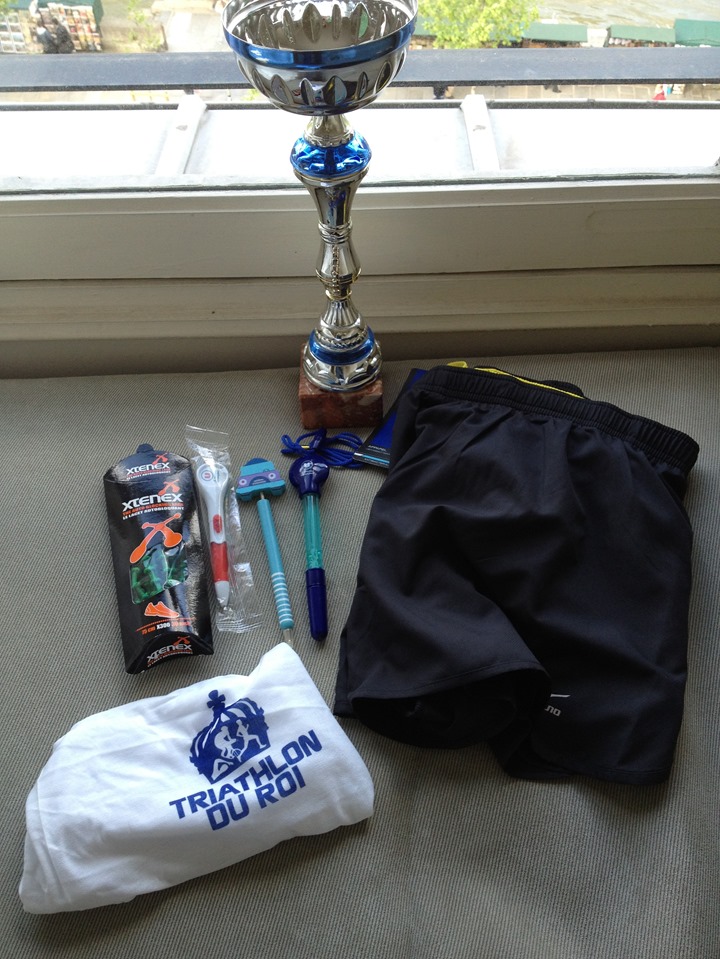 Here's the whole podium.  Obviously, I need to get myself a fancy podium kit: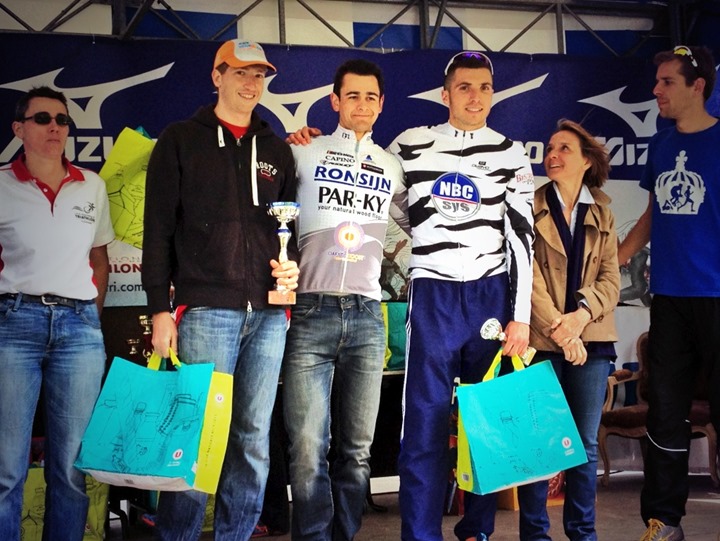 Post-podium the triathlon team had the champagne out: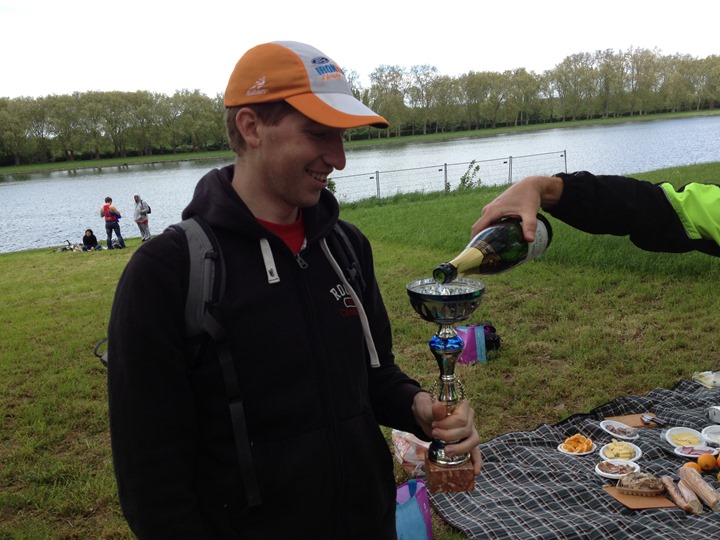 Obviously, this was going to happen: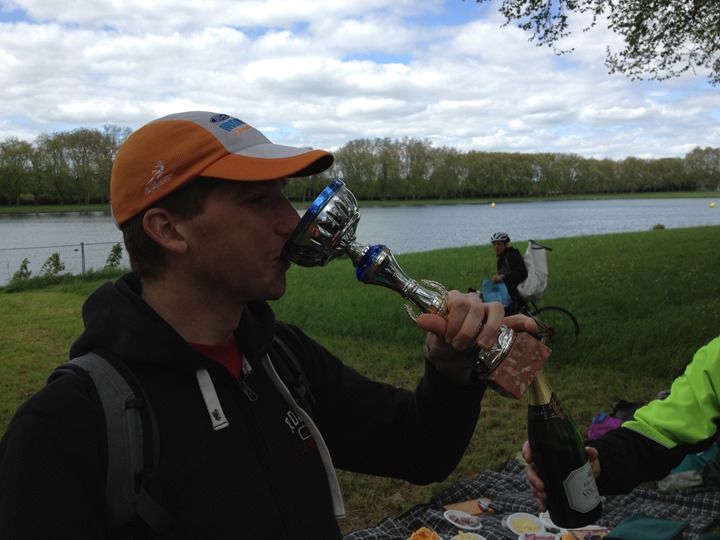 And like in the US, there's always some food around.  Not a BBQ with hot dogs, but still an impressive spread (three chickens!):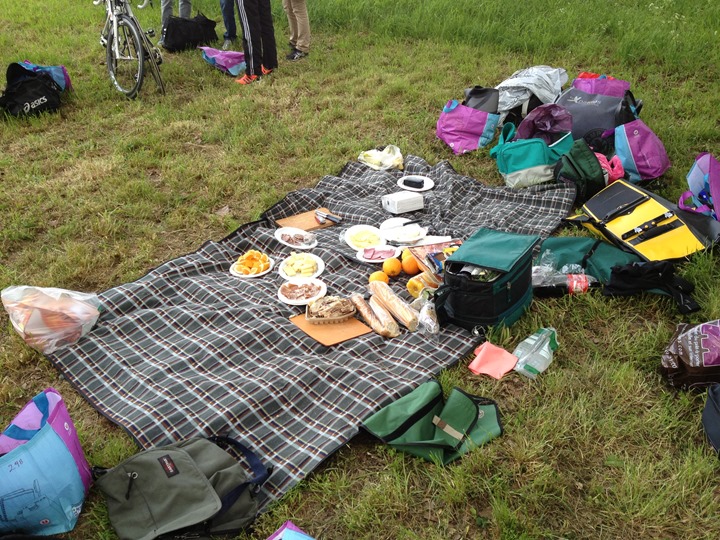 With that, I packed things up and headed back towards the train: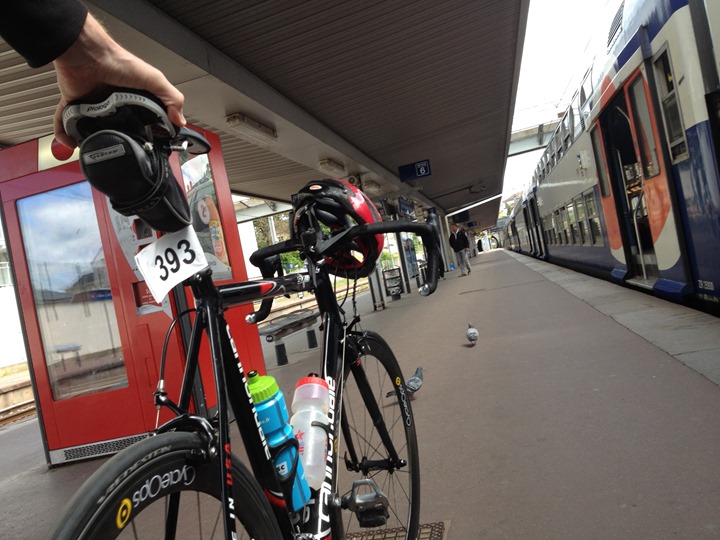 It would take about 45 minutes to get home, but not too bad: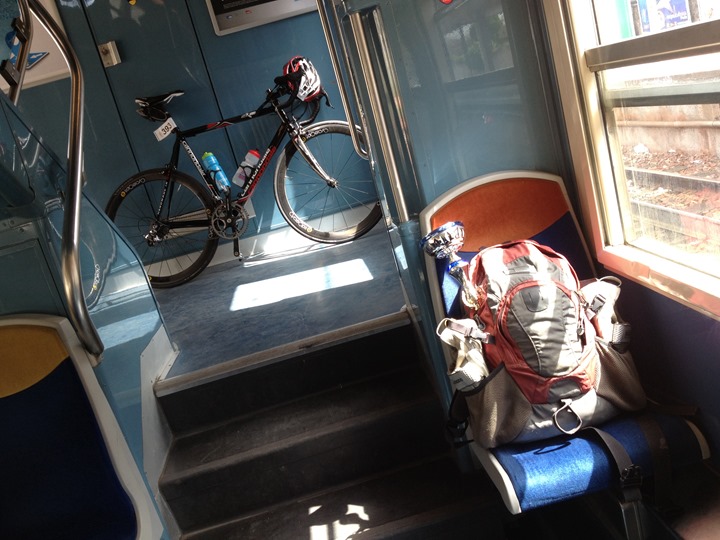 So there ya have it – my first triathlon in France.  Now I've just gotta get all registered for the license and get the next race all finalized on the schedule.  Thanks for reading!
–
(Unrelated gadget deal side note of the week: As many of you noticed, REI will be starting a short sale on Friday on the FR910XT ($340 with the HR Strap, $300 without), and the original Ambit also cheaper.  For those waiting on that – just hang tight.  Given you've gotta hang tight anyway, then I'll have something of note at 12:01AM Eastern on Friday.  Oh, and no, this doesn't mean there's a new FR910XT coming out.)