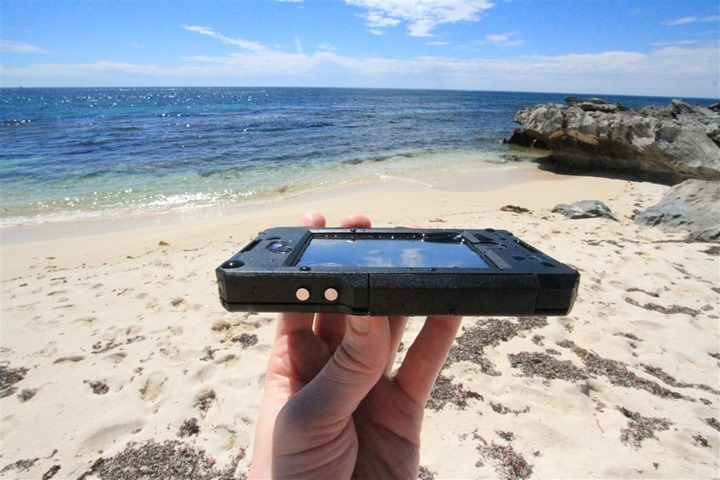 I'm often asked about sports camera reviews.  In many ways I think that there's already a ton of reviews out there of the various popular sports action cams like the GoPro or Contour.  And I'm not sure I really have much to say that isn't well covered there (GoPro or Contour).  But, just like how this blog started – if something pops up on my radar that interests me and isn't already covered 48 times over, then I'm up for giving my thoughts on it.
Which, is a roundabout way of introducing how I got into this review.  I had picked up the Hitcase iPhone waterproof case way back at CES in January, and decided to give it a whirl.  While there are many waterproof cases on the market, there are few that are actually designed for sports, and designed to attach to various mount systems.  So, it seemed like an interesting match.
Of course, that 'whirl' took about 5 months of toying with it.  Hence why you see a rather 'diverse' set of photos in this review.  All sorts of trips came together to summarize my thoughts.
This won't really be as long as a full in-depth gadget review, primarily because there's just less things in a case to talk about.  After all, at the end of a day it's just a case with no electrical components, thus less functionality.  Still, I'll cover everything I can think of that's applicable.
Unboxing:
First up, let's get this oversized case out of its…uhhh…protective case.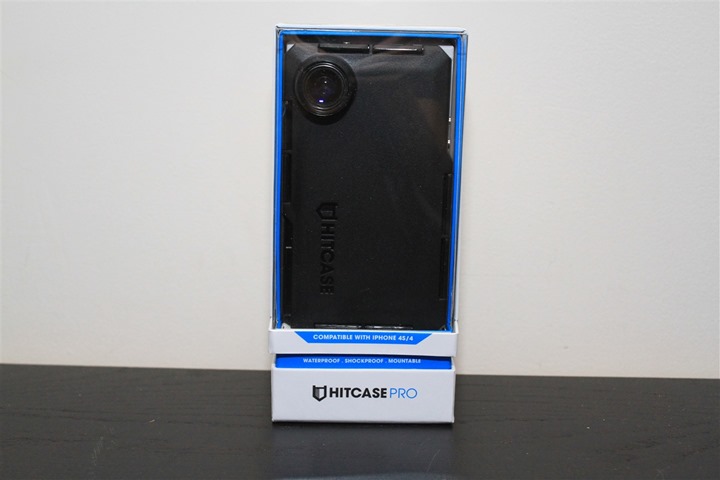 The lid lifts up like a kid's lunchbox, revealing the thing looking back at you.  Regrettably, Jell-O Pudding is not included.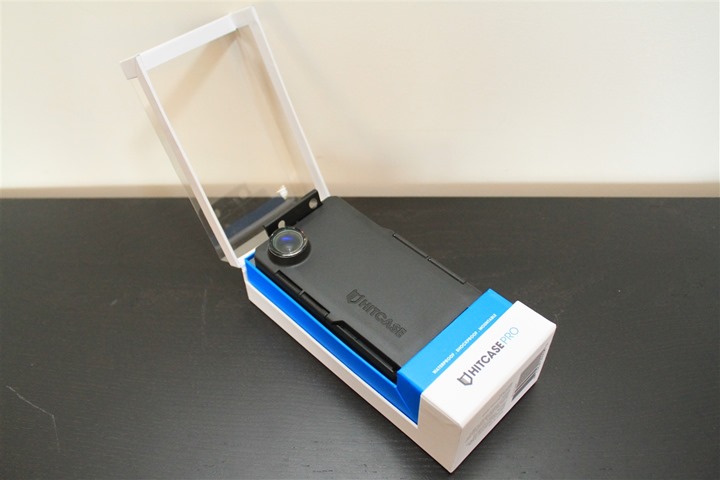 As you take it out you'll find a bright orange label on it.  This is somewhat akin to those labels on your bike that you ignore.  In the case of the bike, it tells you that if you ride your bike into a tree while flying off a cliff listening to Britney Spears, it's not the bike's fault.  In the case of this case, it tells you that if you do something less than stellar with the case (like simply listening to Britney Spears), then it's equally not the case's fault if it gets damaged.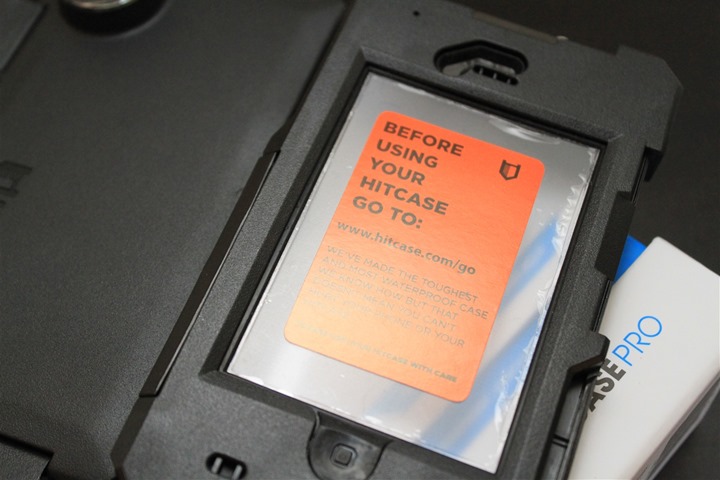 Inside the box you'll find a small army of plastic parts.  Don't lose the parts yet.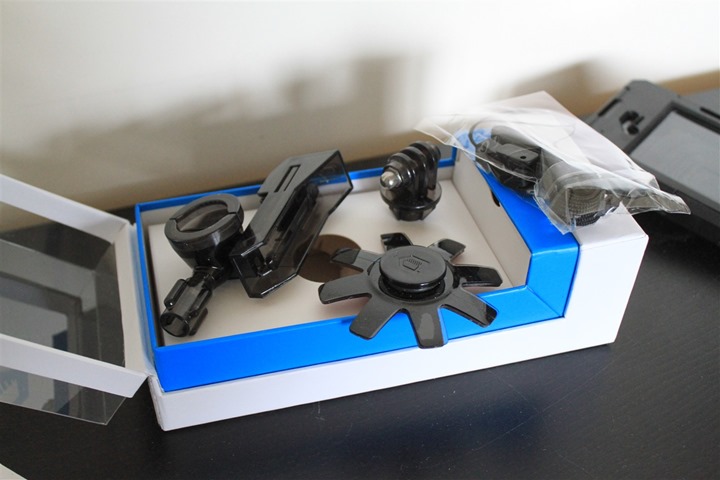 First is the helmet attachment.  This attaches the camera case to your head.  Or rather, the helmet attached to your head.  And this attaches to your helmet.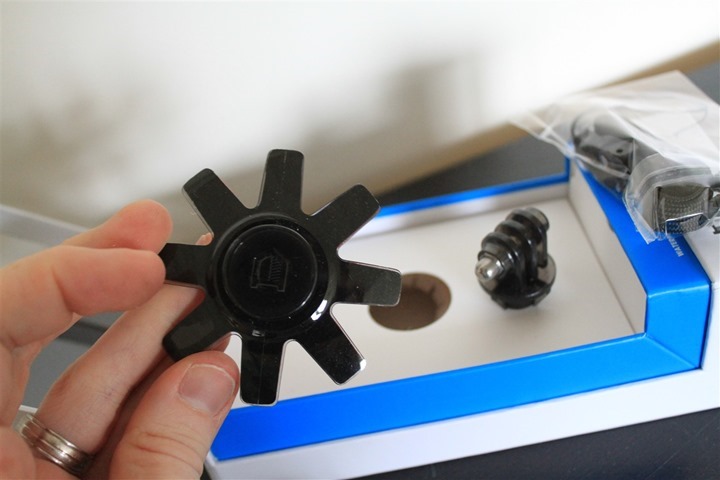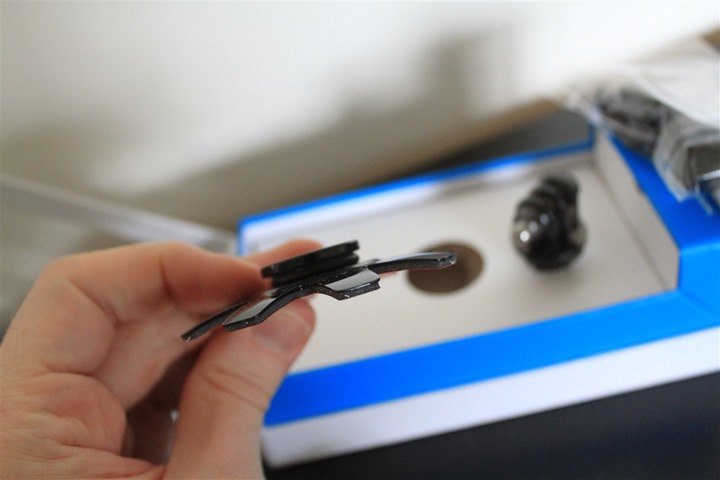 Then we've got the tripod mount.  You can attach the phone case via this doohickey to any tripod on earth.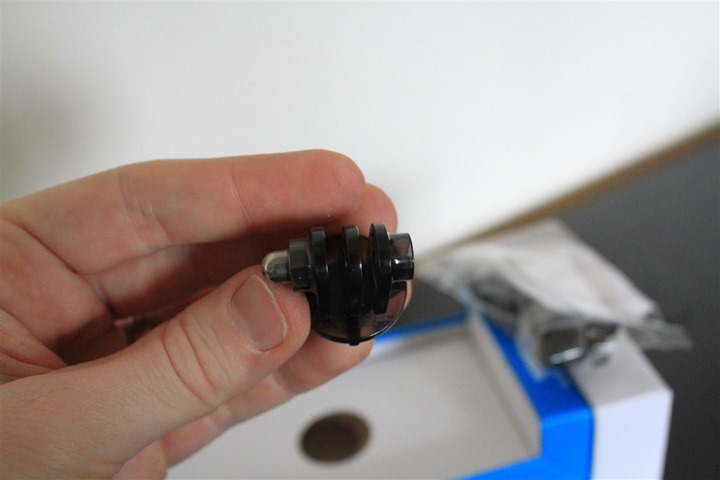 Next we have the most important piece in the whole kit.  Well, except the case itself.  This piece attaches the case to the mount collection.  Without this, you're hosed.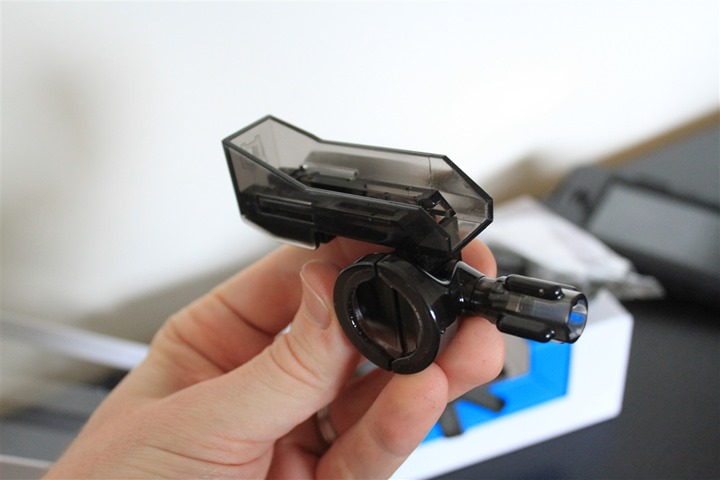 Here, I've attached said mission critical part to the case. It locks in place.  Trust me, it doesn't come out easily. For better or worse.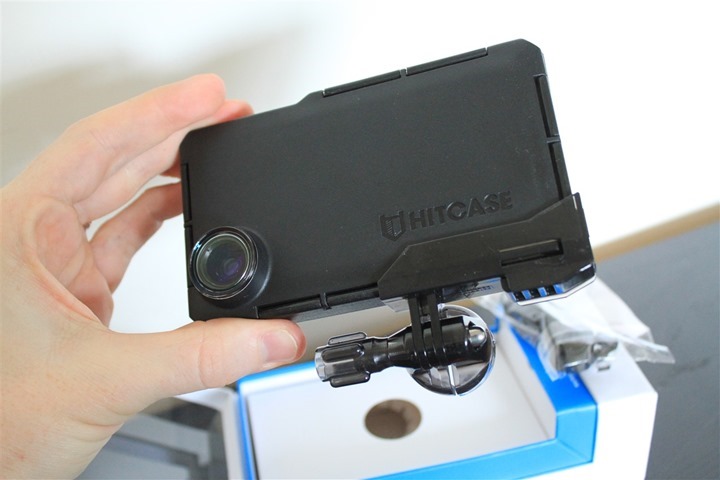 See that round bit down there at the bottom?  That's actually just along for the ride.  It's needed for the helmet mount, but none of the other mounts.  In reality, it's two little pieces of plastic that form a small circle around the base of the mount.  Don't worry, you'll lose one of the two.  Thus, you won't be able to use the helmet mount.  Fear not though – it's for the best.  It saves you the humiliation of having a phone strapped to your head.  Google Glass this is not.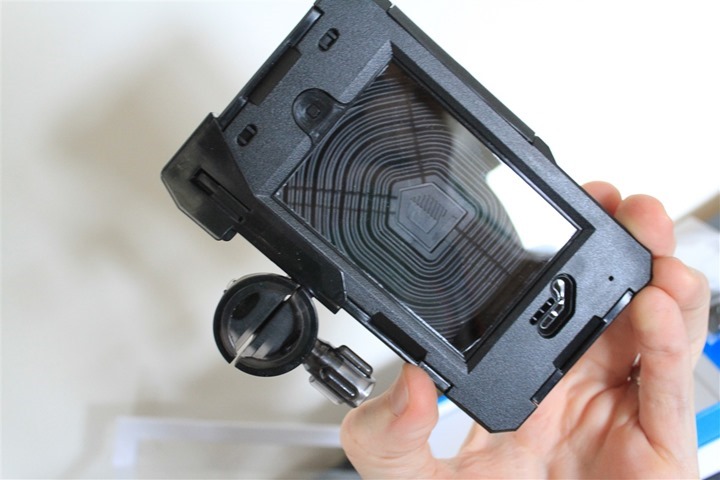 Ok, last up – let's crack open the case.  It's got three little wings on it.  Each snaps open and shut with the same force as a giant steel mouse trap.  Small children's limbs could get trapped shut in these (another potential use I suppose).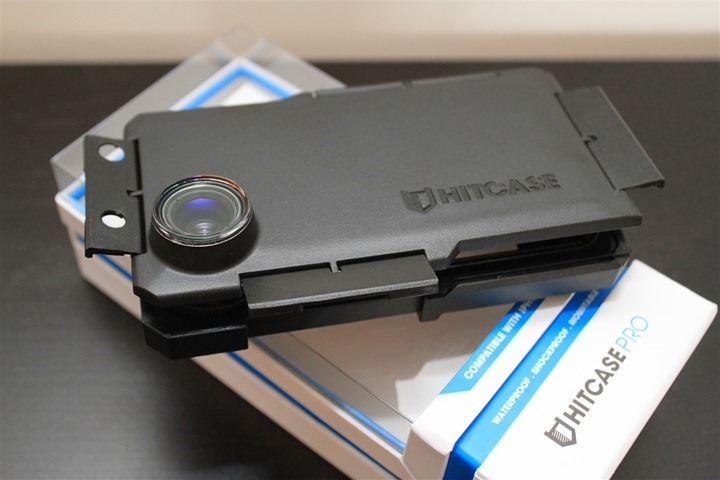 Here's the phone inside the case. This case was for the iPhone 4s, with the rubber insert being for that phone.
And here's the whole thing zipped up tight and ready to go swim with the fishes.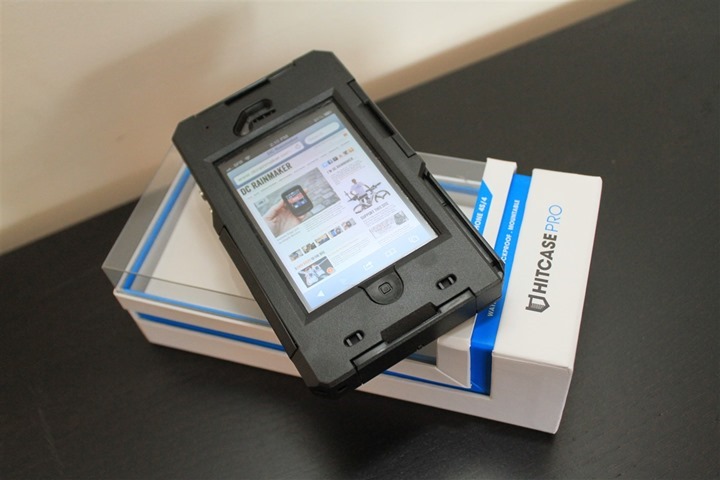 Swimming (pool):
It's actually the pool, when I first got the case, that I thought would be the most interesting scenario.  Mostly for swimmers/triathletes that wanted to check out their swimming form.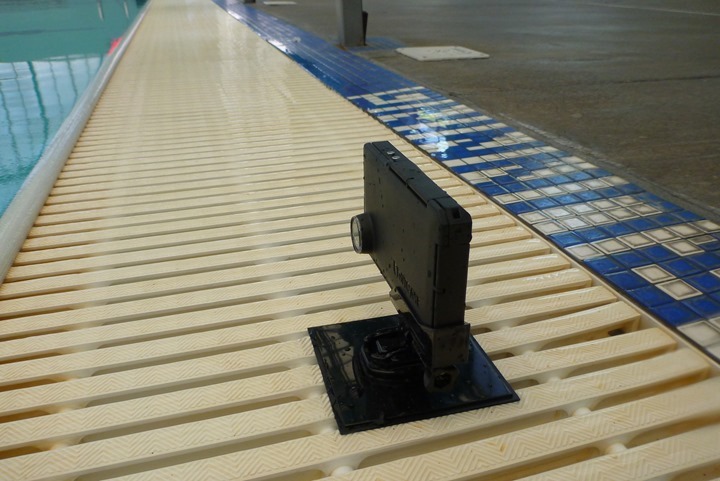 Using it in the pool was really no different than any other scenario.  The first step is ensuring everything is closed up tight.  That includes three locks and the headphone jack.  Each lock snaps super-tight with a loud click.  So there's no mistaking that it's closed.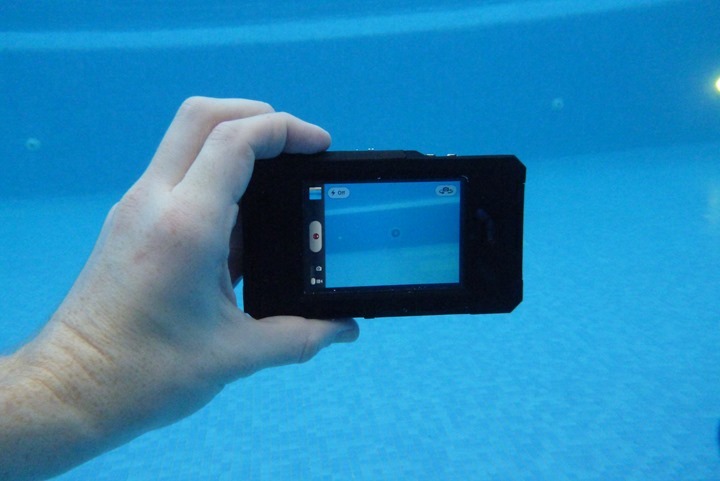 The only real catch is that darn little headphone jack plug and making sure that's flush and in place.  It's an easy thing to forget if you're in a rush to get in the pool.
Once you're in, you'll need either a friend to tape you holding the unit, or you'll need a stand.  In my case, I lacked a friend.  So, I went with a stand.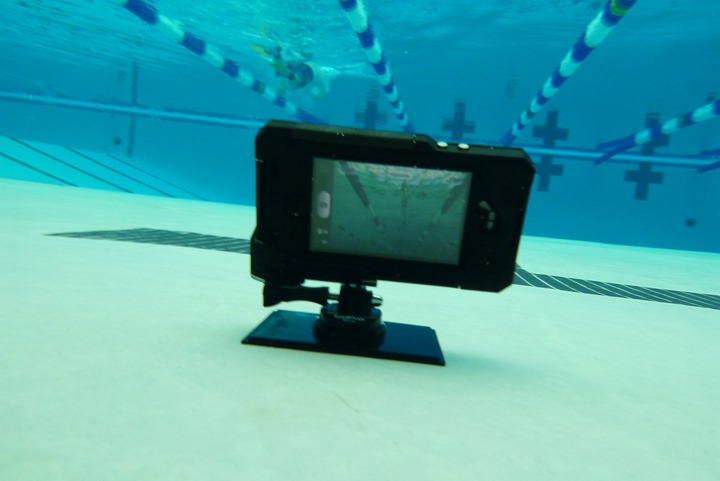 What you see above is actually the bottom of the GoPro box.  Which I recognize is somewhat mixing and matching products.  But that's fine.  The Hitcase unit didn't really come with anything like it.  Though, you could easily build one yourself with a small square piece of metal from a hardware store and then just hot glue-gun on any of the typical mounts.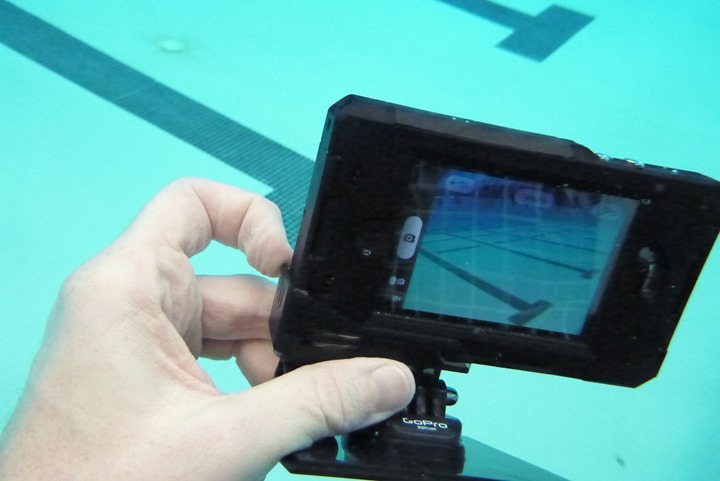 With this setup, I was able to easily just plop it on the bottom of the pool floor and go to town.
One item to note though is that once the phone is submerged in water (even just an inch or two), the touch screen doesn't really work anymore.  So you'll need to start the video recording above water.  I found that while I could use the buttons, the additional water pressure on the buttons would sometimes cause them to stick if pressed on the bottom of the pool (not an issue at the surface).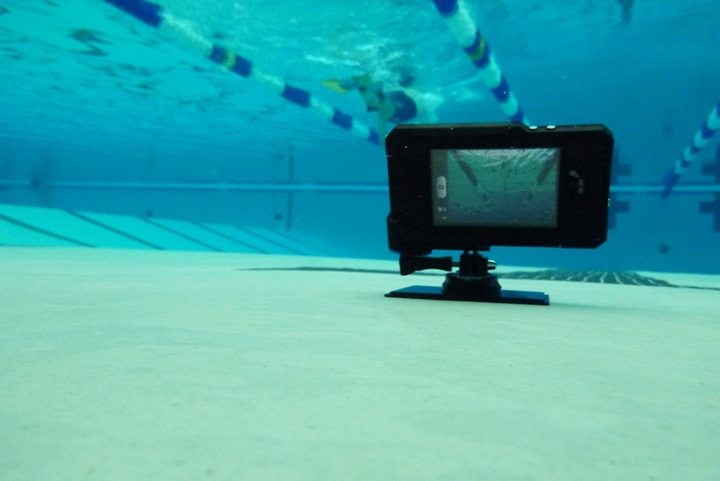 The resultant being relatively decent shots (or videos…or shots from videos, as below):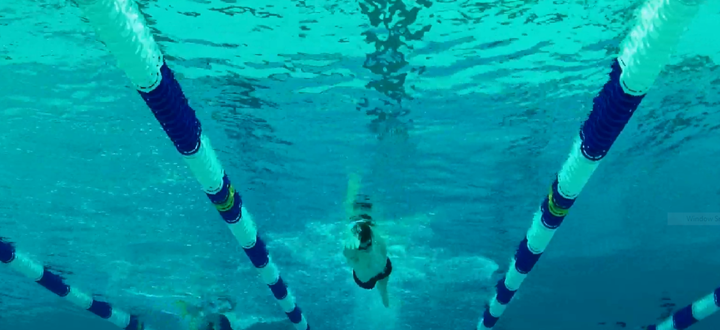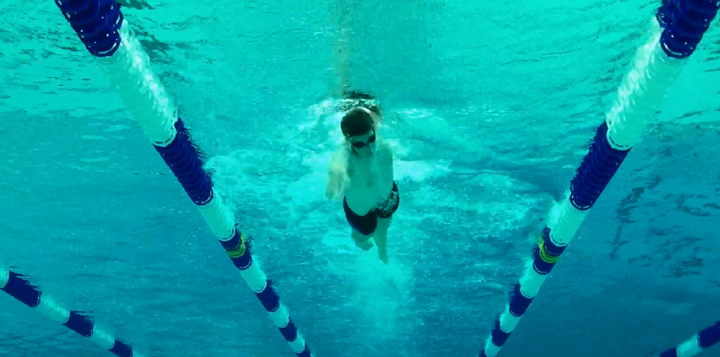 You can also do side shots if you place it across the pool (a different pool, below):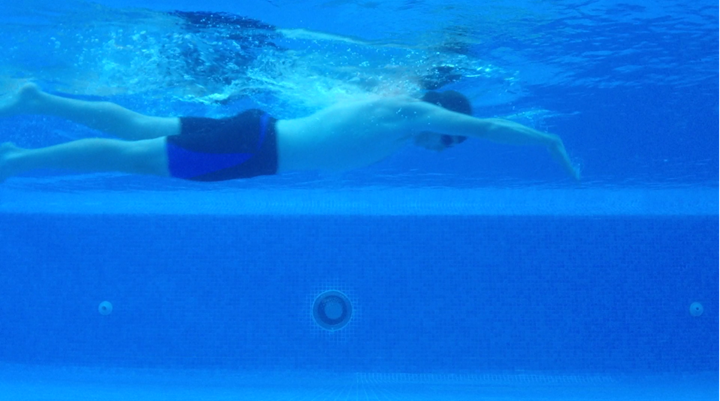 Here's a side by side comparison with the GoPro Hero 3 next to the Hitcase.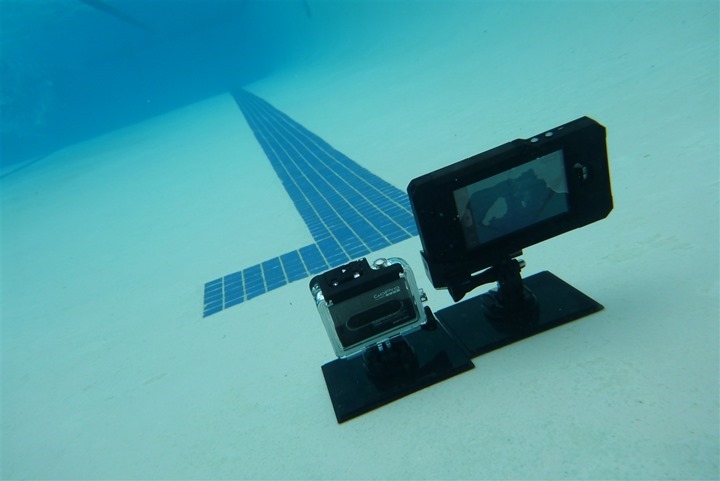 And here's the images shot from that at the same time: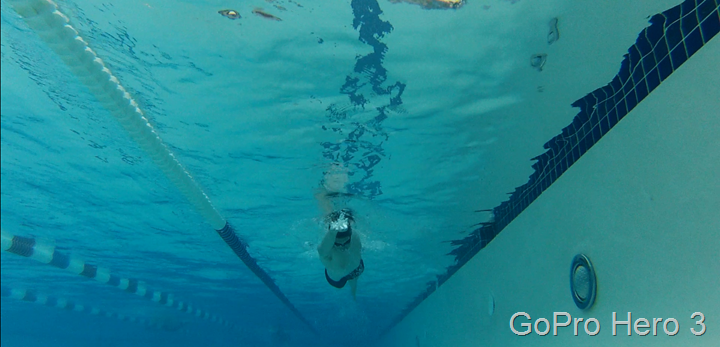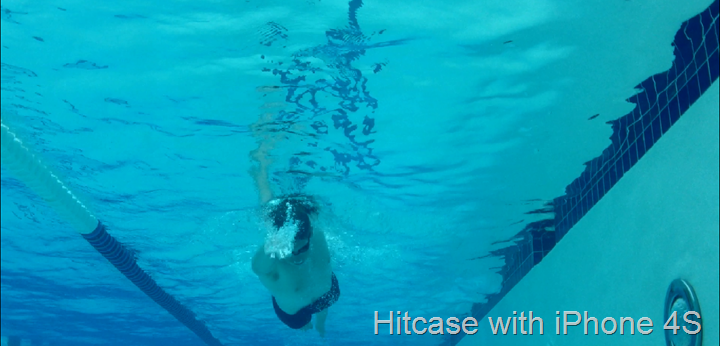 Now, what you notice is that the GoPro has a much wider field of view than the Hitcase does.  In the case of the GoPro, I look like I'm quite far away.  Whereas with the Hitcase, I look much closer to the camera.  Again, these were placed at the exact same spot/angle.
Ignoring the field of view (which can be rectified as you saw above with different angles), from a pool standpoint I don't have any complaints.  I let it sit down there for 30+ minutes once during a swim without any issues.  And I used the case on multiple swims.  In most cases though, your iPhone's storage space will be the primary limiter, as you're likely to tear through space with filming HD quality sets at 500m a shot.
I did once get two drops of water in there – I suspect because of the headphone jack not getting perfectly aligned (before I realized importance of perfect alignment).  The thing is, two drops of water pressed up against the glass looks way scarier than it really is, because the water pressure pushes it out flat along the glass.
Swimming (openwater):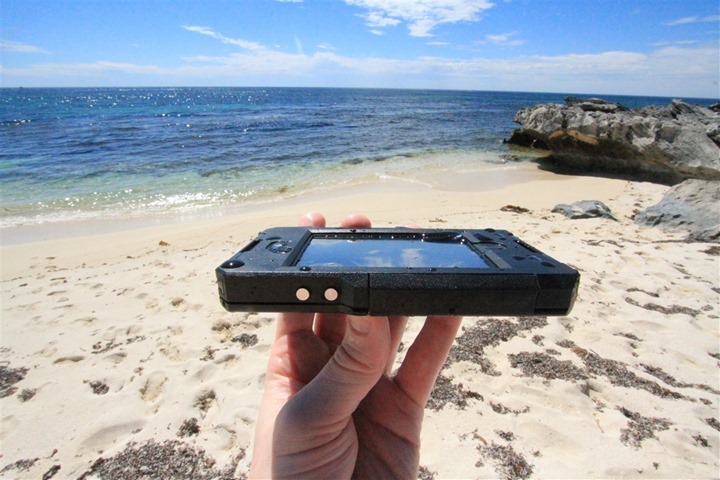 Next up was taking it into openwater.  For most people this would likely be snorkeling.  Or the odd underwater triathlon shot.  Or one of those cool mountain biker crossing the stream shots.  In my case it was mostly just to poke around in the ocean.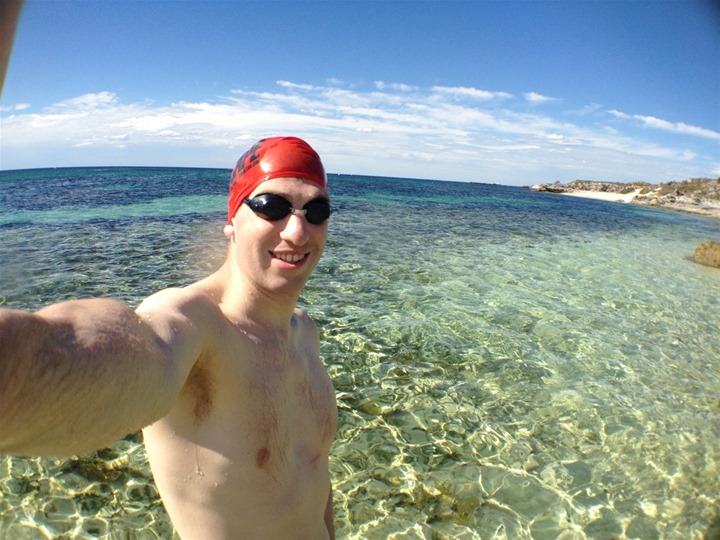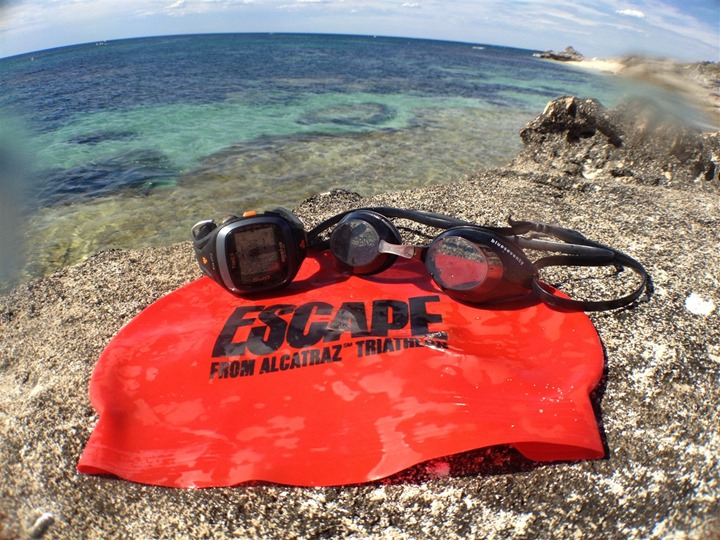 I placed it on the bottom and shot upwards towards me.  Definitely not as dramatic as a Kona swim start underwater photo.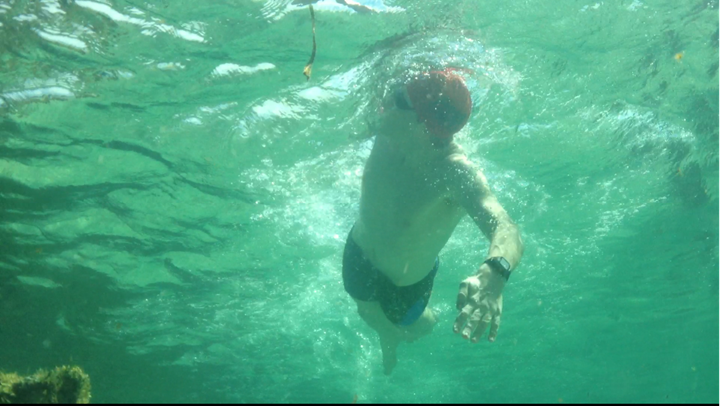 I also took some shots of the surrounding area.  The water wasn't too clear here, so the shots didn't turn out very good – though not the fault of the case.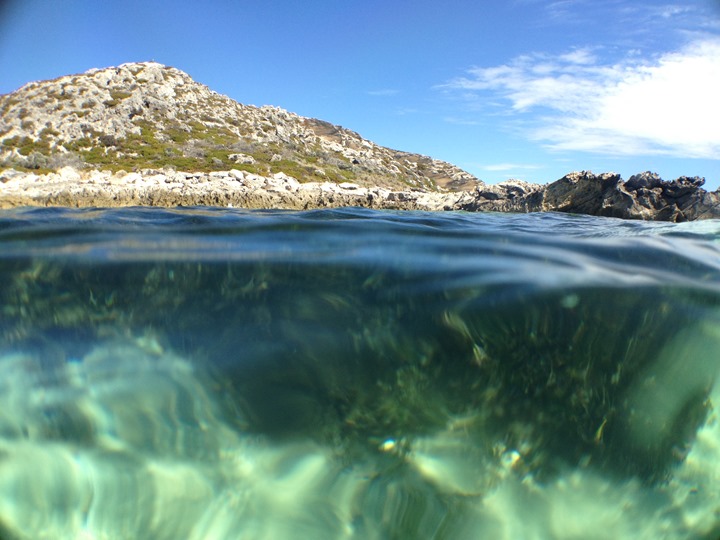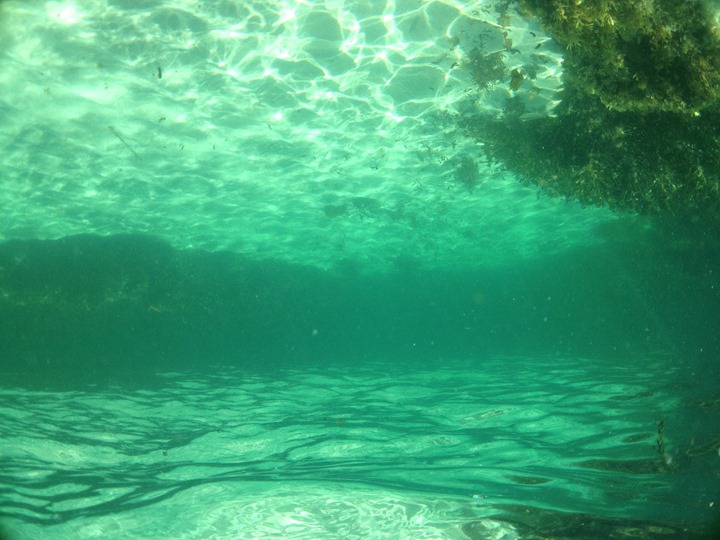 Here's a bit of a video clip as well, showing the video quality both above and below water:
I didn't have any water leakage issues during my time in the ocean, where the unit stayed with me the entire time submerged almost all of it.
Cycling:
I took this unit on more trips than I really intended on.  Mostly because it just kinda kept on working out well for me.  First up was taking it down to Australia with me.  We took it with us while riding around the island.  This is in part because it makes the perfect beach case – no worries about sand.
And the other part because I was able to attach it to the bicycle.  To do this I used the tripod attachment, and I used this handy dandy bicycle handlebar tripod mount.  Again, because the Hitcase doesn't have an exact attachment within the box, I improvised.  I could have just used the GoPro bike kit here, but for some reason I had the below tripod mount with me.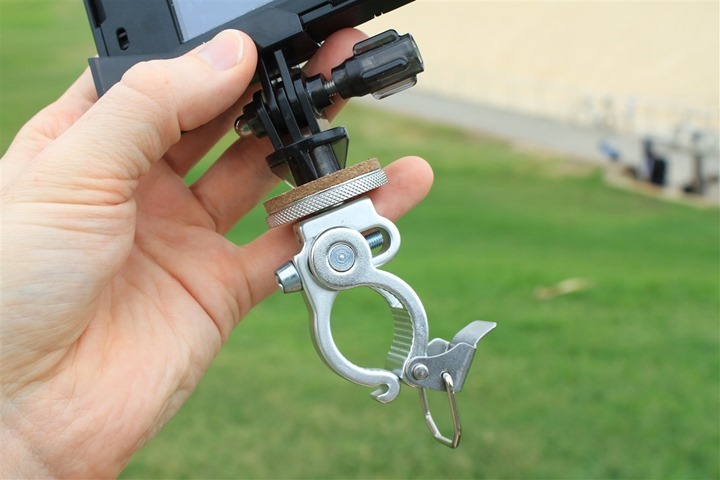 Interestingly, it worked fairly well for quick shots along the ride: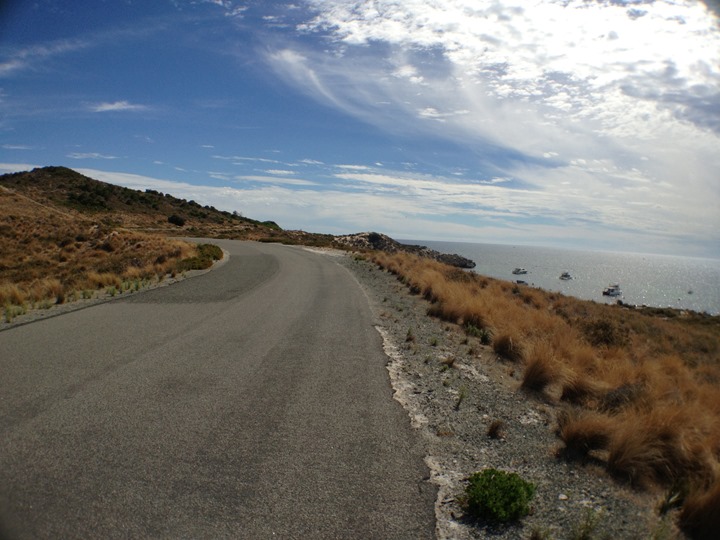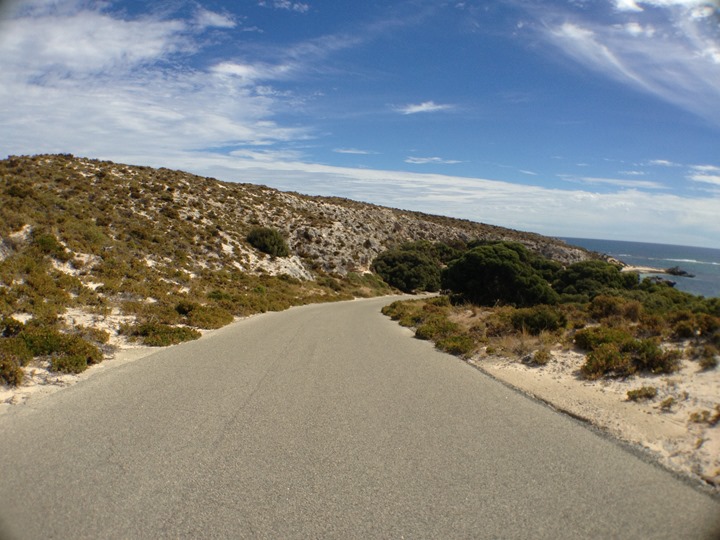 It worked fairly well in this scenario, where the speeds were low (beach cruiser) and the tires much fatter and able to take the bumps a bit better:
I then plunked it on my triathlon bike.  In this case, the only viable spot to mount was below the aerobars.  I used the standard GoPro mount kit there since it's lightweight and tried and true for that spot.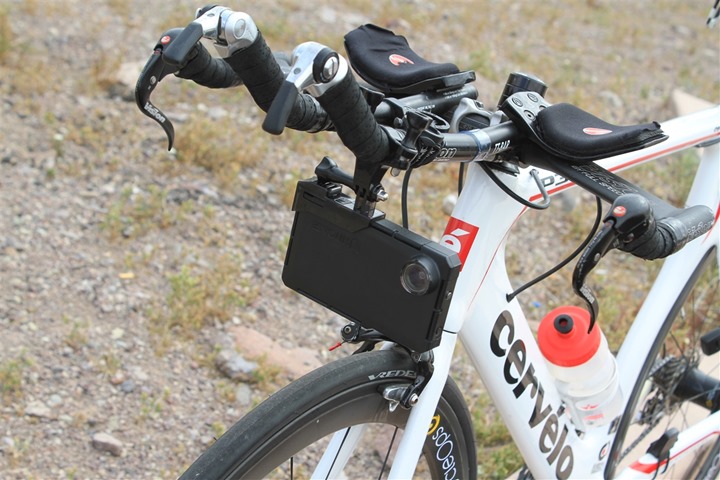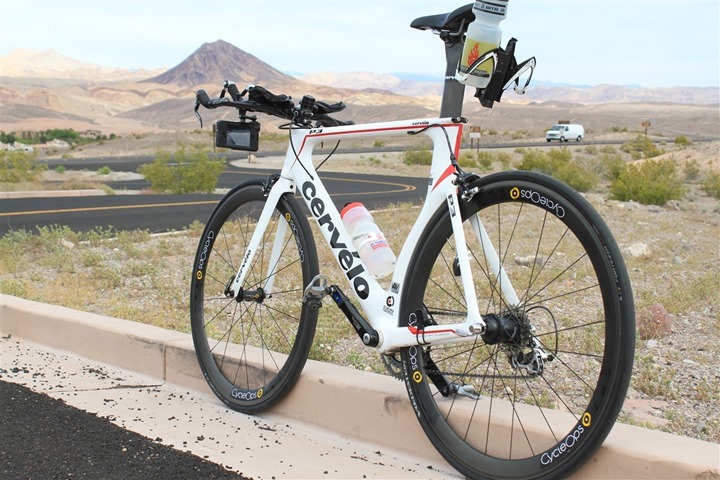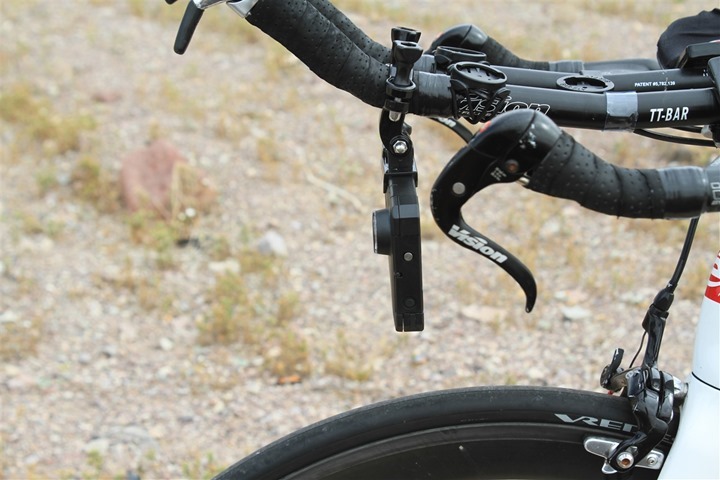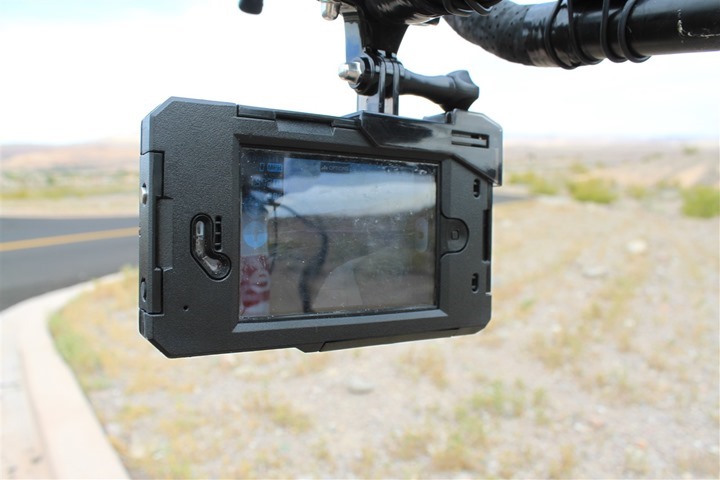 The challenge here was that while it produced fine photos, for video, it just didn't work out.  The vibrations of the road combined with the heaviness of the case meant that it wasn't stabilized, and thus looked pretty rough.  Here's a short clip:
And, this chunk of pavement was all things considered fairly stable – yet, the footage is totally unusable.
Ultimately, for cycling, I just can't see this working out due to the vibrations.  In looking at the unit, it's not hard to see why.  For example, compare it to the GoPro: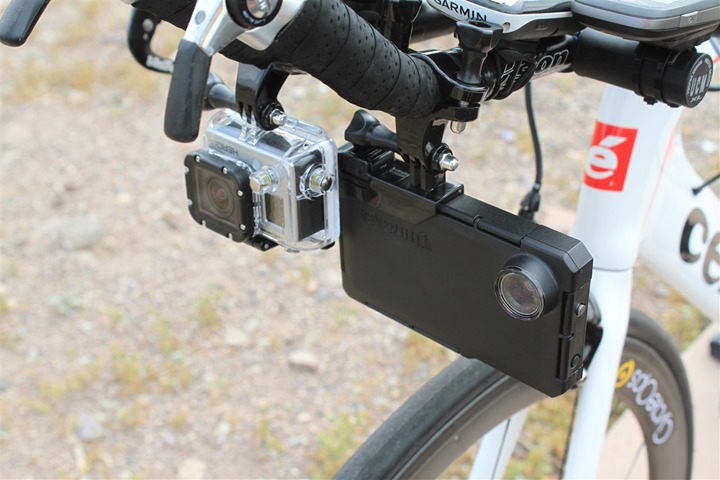 The mount system is fairly small in comparison to the wide berth of the phone and surrounding case.  It acts as a bit of a pendulum given its size.
Skiing: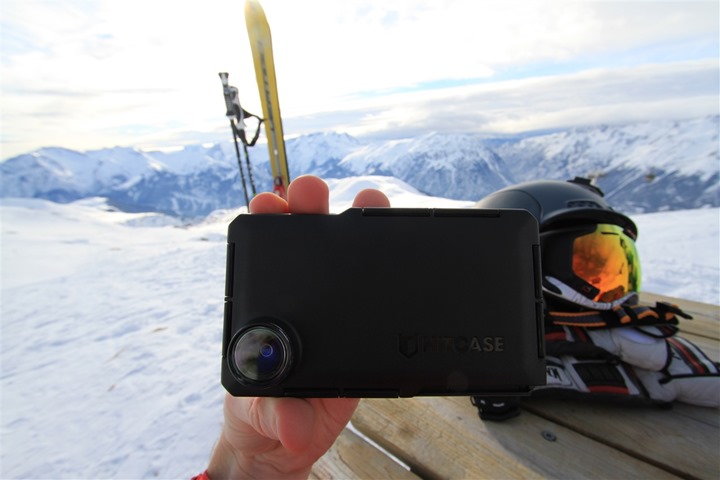 It's funny, I had taken the case skiing with me – sorta on a whim.  I didn't really have a test plan, but rather, just threw it into my bag at the last second.  Oddly enough, out of all the activities I've used it for, I actually liked skiing the best.  The reason being is that while skiing it's way easier to drop your phone because you're dealing with bulky gloves.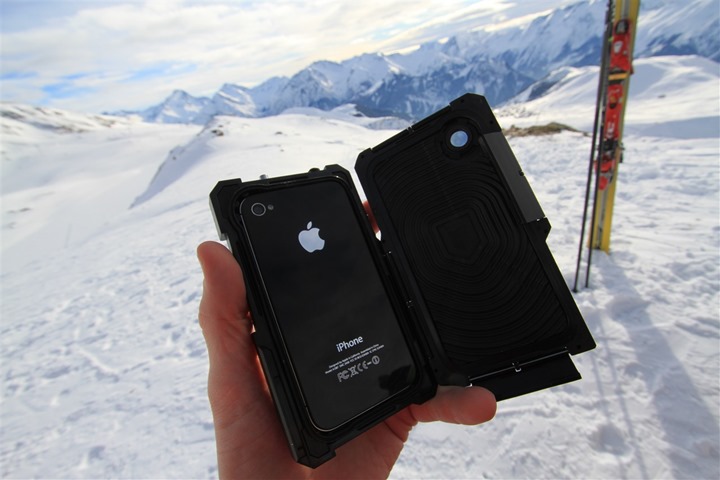 So the case provides two benefits: First is that it makes it easier to handle. And second being that if I did drop it, it's a heck of a lot easier to find the larger bulky black case than a sleek and slim iPhone.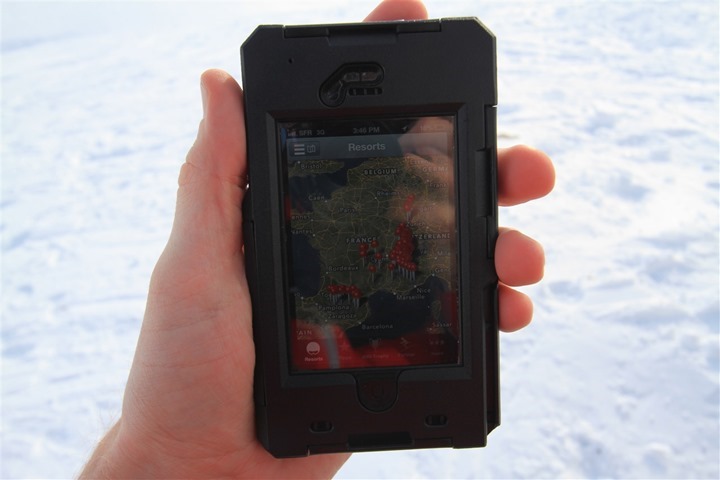 As I noted way at the beginning, you can connect the unit to your helmet using the provided helmet mount.  In my case, I lost said mount attachment points because they are about the size of a penny and easily disappear in travel bags.  Especially since you need two of them (I still have one though).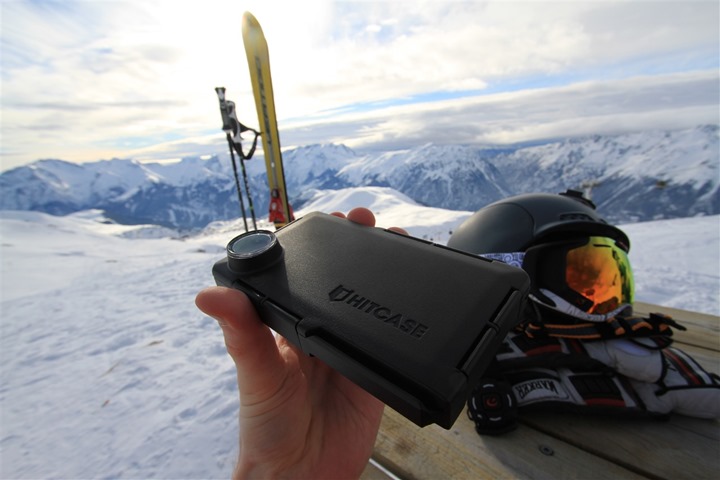 However, more important than that is that the case as I noted above makes for a great skiing case for your phone.  We used it nonstop taking short videos – which ultimately culminated in the below video:
A fair chunk of the video is shot within this case (and everything else still with the phone).  Pretty cool.  My brother edited it together, and just used the standard iMovie app on the phone to do so.  We found that with gloves and all, it worked well for pressing the big recording buttons up top. So I could get everything set ahead of time, have a stable platform for holding onto an otherwise slick phone, and then just hand-hold it in the ready state until I pressed one of the volume buttons to record.
The shots do come out well, however you will notice some slight vignetting around the edges: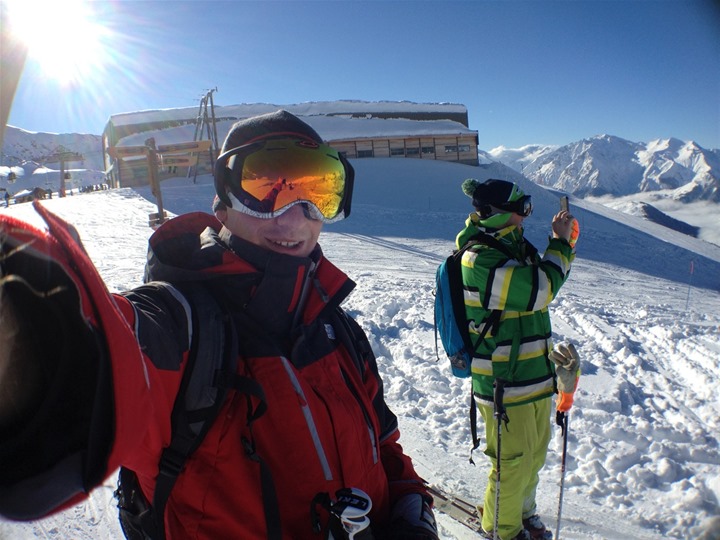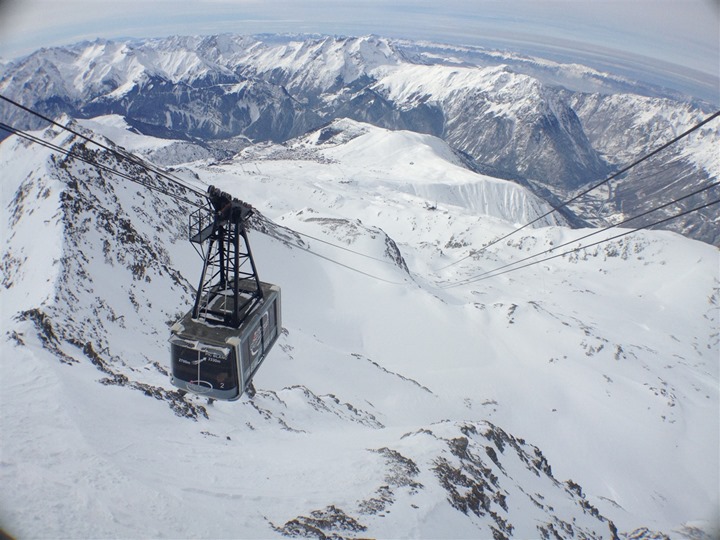 Software App – Vidometer:
The company behind the Hitcase actually has an app in the Appstore that helps you record video and provide a bit of an overlay onto a given video.  When I first downloaded it, I wasn't expecting much.  But, I was actually surprised – especially for a free app (read: one you can download even if you don't buy the case).
The app doesn't have many options, but what it does do is an overlay with your current speed/g-force/location stats: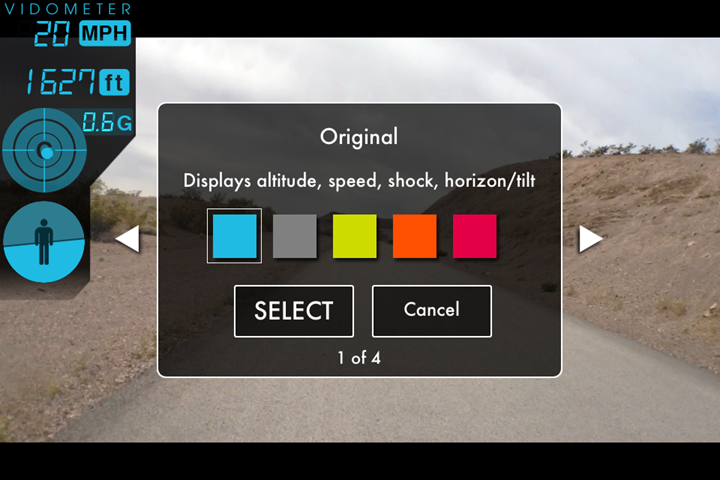 There's a small smattering of different styles you can choose: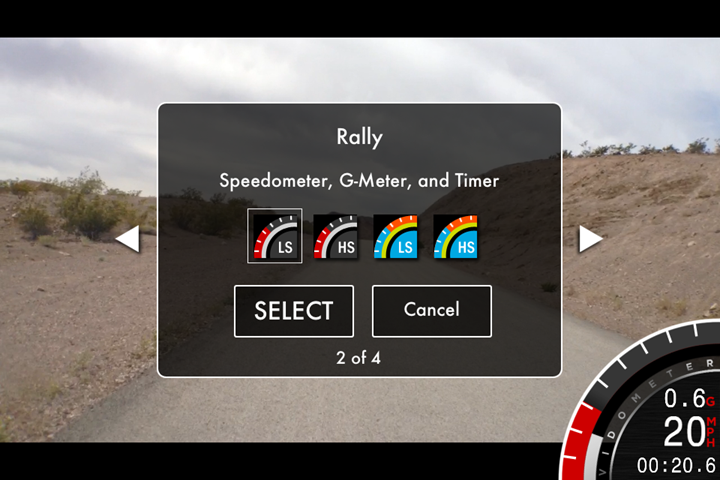 What's somewhat interesting here is that if you record the video using the app, you can decide post-ride which style you'd like, and even export out the video with different styles.  I didn't realize this until much later, but it's actually a pretty handy function.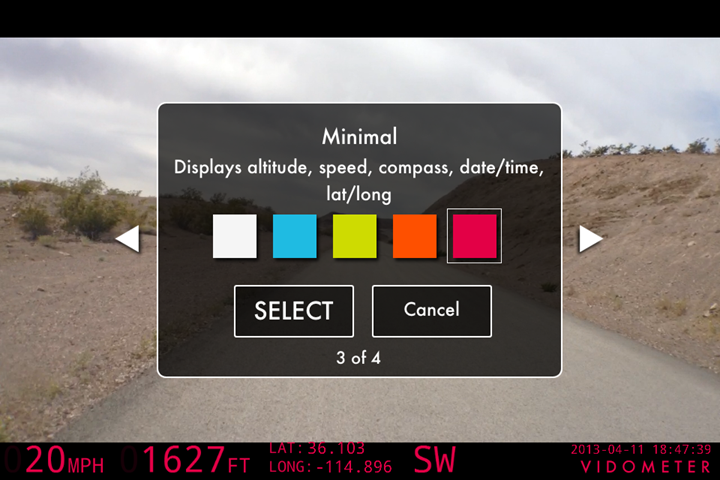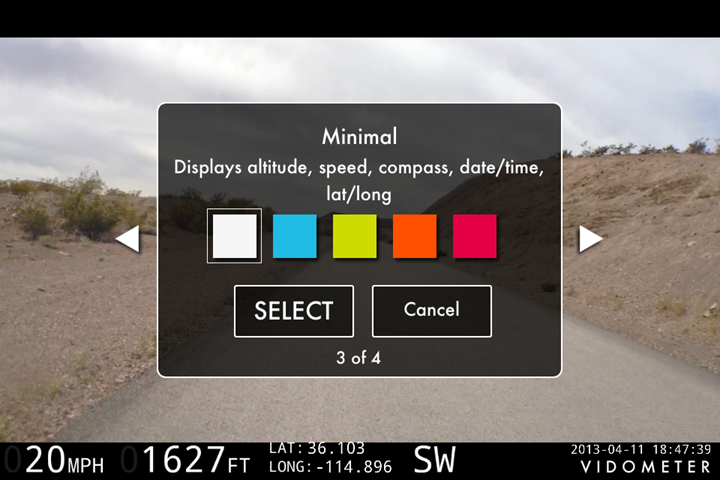 Or, you can choose no overlay.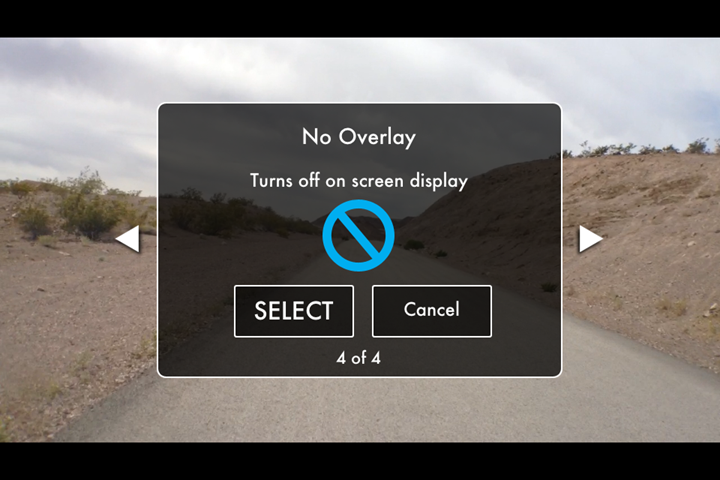 Here's that same clip as above, again showing the styling on it:
Now what would be cool would be connectivity to Bluetooth Smart enabled accessories like a heart rate strap, power meter, or speed cadence sensor.  Leveraging the Wahoo Fitness API for Bluetooth Smart fitness devices, they could probably add this with just a tiny amount of development time – and it would really open up the app to athletes (and thus the case as well).  As the other video overlay options today on the market are either clunky, expensive, or sucky.
Accessory items of note:
This is where things get a bit messy.  The accessories included within the box are 'alright'.  They sorta work, but in order to really make use of the system in a way that doesn't require you to hold the case, you'll need to buy some other accessories.
The good news here is that the whole system is 100% GoPro compatible.  Which means that any of the mount systems for the GoPro platform work with this flawlessly.   Which is how I ended up using it a fair number of times.
In some ways you may wonder if you have to buy all these GoPro accessories why not just by a GoPro?  Well, a few thoughts.  First is that even with a GoPro (being $100-$200 more) you're still buying extra GoPro accessories.  So that's likely a wash.  And second is that it gets the video straight onto the phone.
That of course is both a pro and a con.  In some cases it was great having the video quickly accessible on my phone so I could edit or take screenshots from it.  But in others it was a bit of a pain to dig out my iPhone cable and transfer it across.  Compared with an SD or MicroSD card that I could stick straight in my laptop.  Also, the phone (at least mine) is far more limited on space than a $12-$20 MicroSD card that holds 16-32GB of space.
Summary: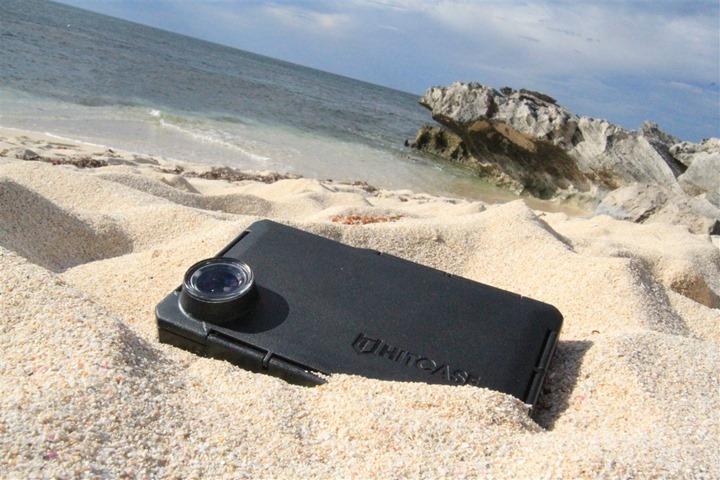 There are no doubt other sports-focused iPhone cases on the market.  I just happened to start here.  So my experience only relates to this, and how it compares to sports action cams like the GoPro and Contour (both of which I own).  Over time I may expand into covering other cases.  With that said, I'm actually fairly impressed with the case.
For specific scenarios, the case works really well.  In some ways, I think the case works better in a 'freestyle' type scenario, rather than tied onto a bike mount.  Meaning – out while skiing, capturing video while swimming, or just simply protecting your phone in any other random sports scenario that would otherwise be considered phone-sketchy (like a Muddy Buddy).
From a functional standpoint I generally had no issues with the case.  The hinges snap loudly into place, so I knew it was clearly locked in.  And above water the touch screen works just fine (even if slightly wet).  I dropped it a few times on hard wood/tile surfaces, and let it hang out for a day in the sand at the beach – all with no issues.
There are some areas that I had minor trouble with.  The volume buttons would occasionally stick in the down position.  Depending on the circumstances this would either result in a ton of pictures being taken (since the volume button acts as a camera shutter button), or just result in the volume level display being constantly displayed.  I found that as long as I checked the volume button after closing up the case, I was generally good to go.  The other item is that the screen touch won't work once you dip it below the water, due to the water pressure.  Back above the water there's no problem, even with drops still on the screen.
For the price, I'd have no problems recommending it – especially for the pool and gloved sports scenario.  It makes recording and pool-side playback way easier than a GoPro because of the larger screen for playback (and touch-control of location within a video).  And you can do it pool side way easier than a GoPro.  For cycling, it's 'alright', but not great when attached to the bike.  I got a lot of bumpiness, likely due to the small attachment point for a large case, magnifying the impact of vibrations.  Hand-holding is fine however (and then protects the phone if/when you drop it).  Phew, I think I covered it all.
Found this review useful? Here's the super easy no-pain way you can help support future reviews! Read on…
Hopefully you found this review useful. At the end of the day, I'm an athlete just like you looking for the most detail possible on a new purchase – so my review is written from the standpoint of how I used the device. The reviews generally take a lot of hours to put together, so it's a fair bit of work (and labor of love).
– Hitcase Pro for iPhone 4/4S ($129)
– Hitcase Pro for iPhone 5 ($129)
– Hitcase (non-Pro) for iPhon4 4 ($89) – Just not the wider lens
As you probably noticed by looking below, I also take time to answer all the questions posted in the comments – and there's quite a bit of detail in there as well. Thus, if you use Clever Training (at left) to pickup the device, you'll save 10% on your entire order, and get free shipping for US folks.  Oh – and you'll really help support the site!  Just add coupon code DCR10BTF to the checkout page. Thanks for reading!
And as always, feel free to post comments or questions in the comments section below, I'll be happy to try and answer them as quickly as possible. Further, you can always e-mail me at the address on the sidebar. And lastly, if you felt this review was useful – I always appreciate feedback in the comments below. Thanks! Finally, I've written up a ton of helpful guides around using most of the major fitness devices, which you may find useful. These guides are all listed on this page here.