I've been testing the Nike+ Fuel lately, and by the amount of walking I'm doing – there's been no better time to do so than the present!  For example, Saturday ended up with more than 27,000 steps! Below, here, towards the end of the day.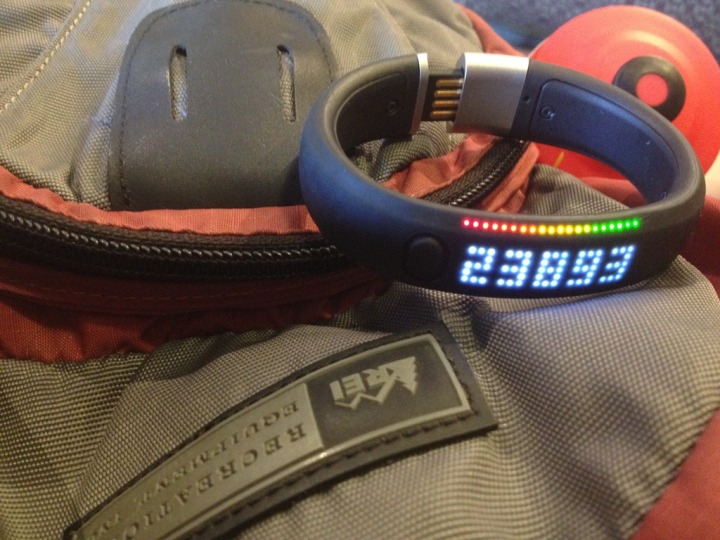 With my parents in town, we've been getting a bit more of the sights in during the evenings – but with the weekend upon us we took Saturday to go out and check out Versailles.  Though, before our adventure in the heat – The Girl and I went out for a nice 8-mile run.  We keep trying to find new routes and ways to explore the city while running, and this time were happy to find a nice park (The Garden of Plants) less than a mile from us.  This garden butts up against the zoo – so you get to see some of the animals while running. A twofer of sorts!
For example, the 'petite pandas'.
However, I forgot my camera on my run – so no panda for you.
Next time.  Trust me, you'll probably eventually get sick of my mini-panda pics. At which point I'll start posting photos of the ostriches.  Nobody ever gets sick of those.
After our run we pretty much turned right back around and headed the door for the 30ish minute train ride to Versailles.  Versailles is a gigantic estate (It'd probably given Rhode Island a run for its money, sorta) and is subdivided up into a bunch of smaller areas that each reflect the various kings or queens that lived in them.  In short, its huge garden meets parkland meets big fancy palaces.  Oh, and it's expensive –costing 27 Euros a person (basically a touch over $30US) to get in and see it all!
But, it's pretty!
We thought it was interesting that the fountains are ONLY turned on for two chunks of time (about 90-minutes each) on Saturday.  It's unclear what the reason for this is, as I'd have to believe that the tens of thousands of visitors paying $30US+ each day would likely cover the fountain electrical bill for years, each day alone.  It looks much prettier when the fountains are running.
With the heat at 100*F, everyone was doing everything possible to stay cool.  For example, The Girl found refuge under a tiny spec of shade against the cool marble: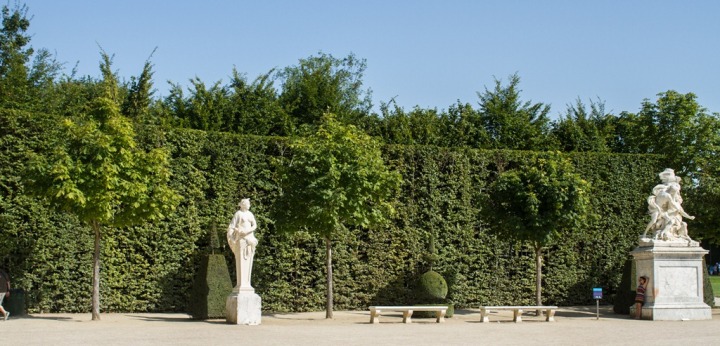 And this man made a hat out of the map that you got with your tickets: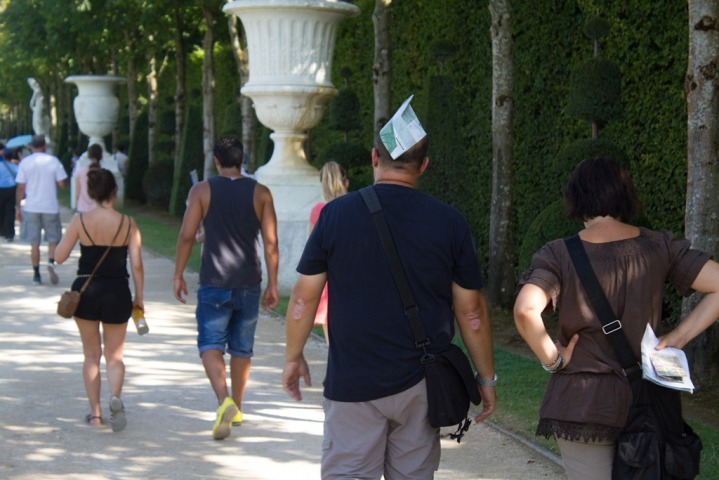 At one point while I was taking a break in the shade on the bench, I looked down to see the Polar RC3 literally telling me to keep moving.  Let me tell you – that watch almost went to spend the rest of the day with the fishes.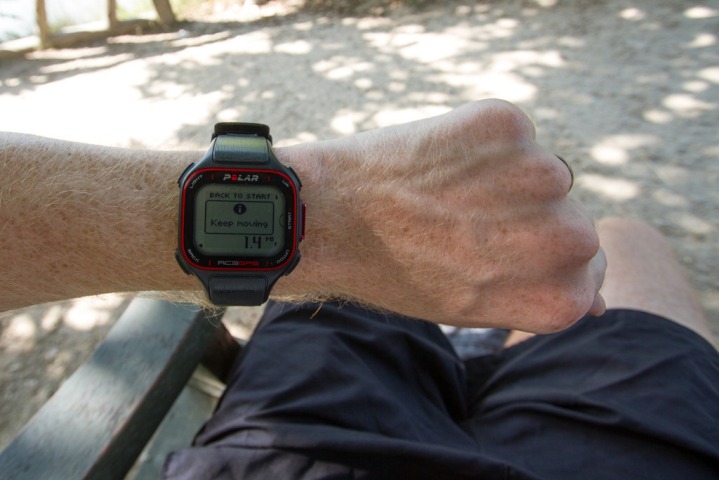 I understand there to be a 10-Mile running race that goes from Versailles back to the city later in September.  Though, in my opinion, the lake below would also make for a great swim venue, with the bike in the surrounding areas, and the run around the property itself.  See, I should be a triathlon race director. Plenty of nice shaded areas on the run.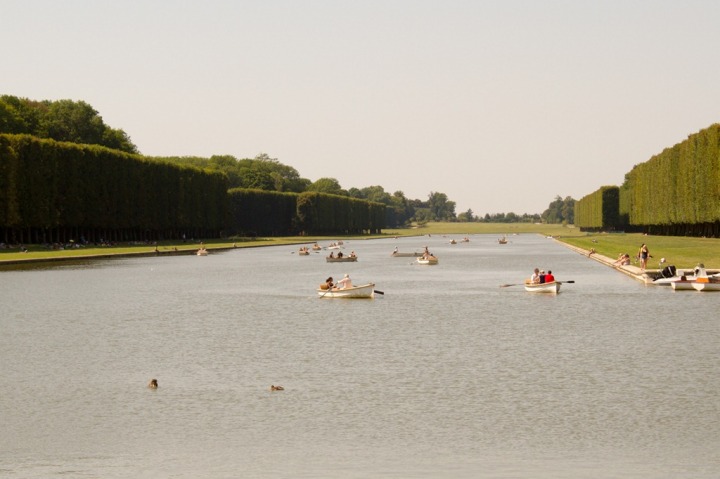 And while we found Versailles impressive with respect to size – I do feel like some of the larger public gardens in the heart of Paris (such as the Luxembourg Gardens) are more detailed and immaculate when it comes to the flowers, water features and shrubs.  But that's just my two cents.  I'm looking forward to seeing Versailles later in the fall though once the leaves start to turn.
For fun while at Versailles I decided to start the Polar RC3 GPS when we entered, and just let it run as we wandered around the estate.  By time we finished up a number of hours later – we had walked over 10K!  I commented in Instagram that I was trying to find the finish line and the folks with the medals. None were to be found.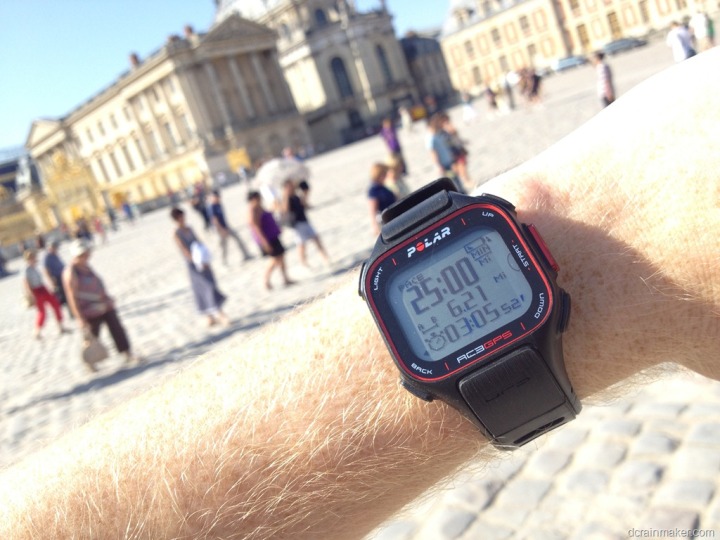 Once you add in that 8-mile run, the 100*F temperatures (yup, we did all that walking for hours in the sun), and all the other walking to/from/up/down/around trains – we were beat.  There was very little else that occurred Saturday night, except watching more of Shark Week.
Moving forward to Sunday, I decided to work out the day of walking/running with a relatively easy indoor trainer ride.  After fixing the crank issue (the one that lead to the crank-arm falling off on a ride a few weeks ago), I've still been a bit hesitant of it.  So most of my rides have been indoors as a result until I'm 100% confident it's actually going to stay attached to the bike: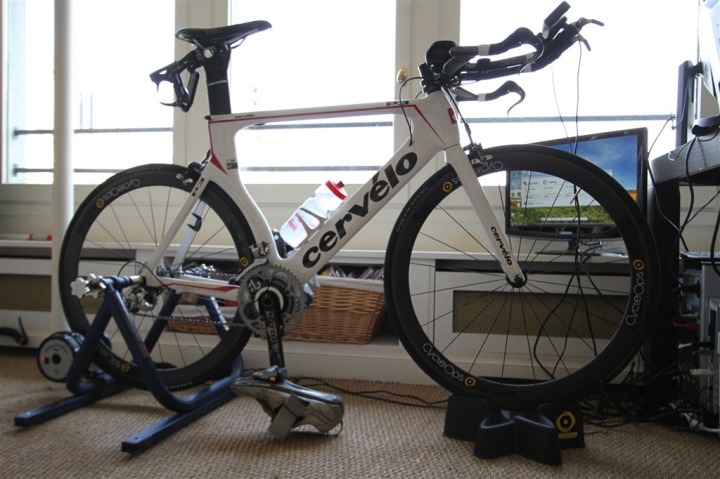 I've been using the CompuTrainer* lately because with some 3rd party software (ctANT+) it contains the ability to transmit in real-time the CompuTrainer power meter reading.  I wanted this because I'm doing power meter tests comparing the Power2Max power meter, the PowerCal heart rate/power meter strap, and a G3 PowerTap.  Add in the CompuTrainer and I've got four sources of power data.  Crazy!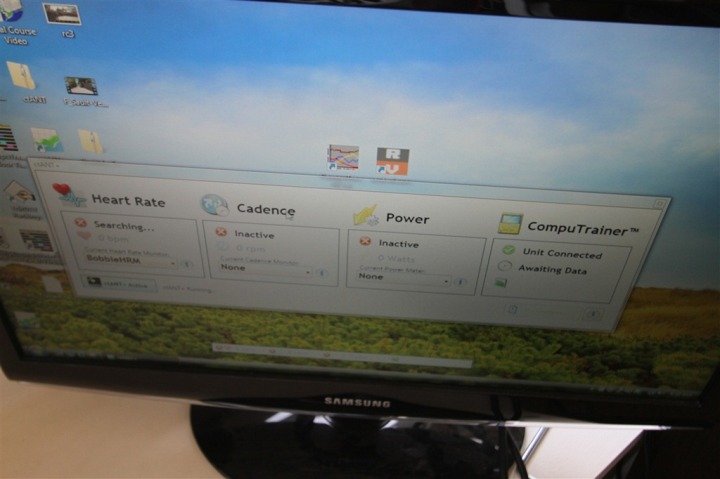 I consolidate this all using an app (IpWatts that an Android developer wrote for me (but is available for you to now download for free as well), that consolidates all of the power meter readings – plus any other ANT+ data I want to gather, and sends it to a standard CSV file (Excel readable).  The beauty of this is that once the pedal-based power meters start coming online (i.e. Garmin Vector, Brim Brothers, etc…) – I can easily add them into the mix.  I couldn't add the Polar pedals, since they run on W.I.N.D.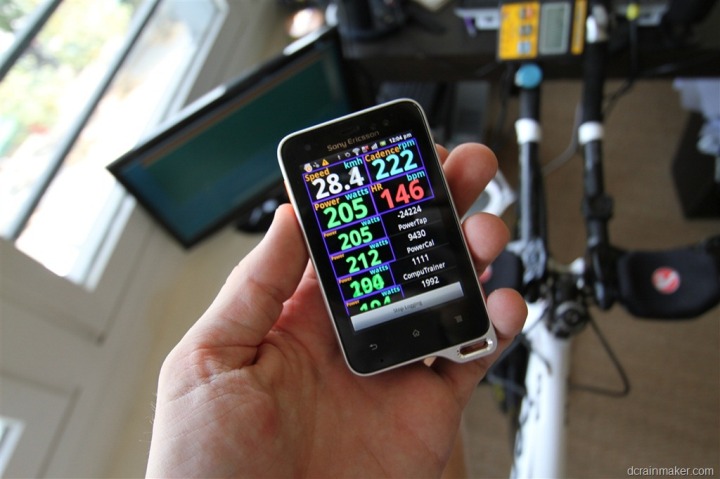 With the data I can in turn make interesting graphs like this: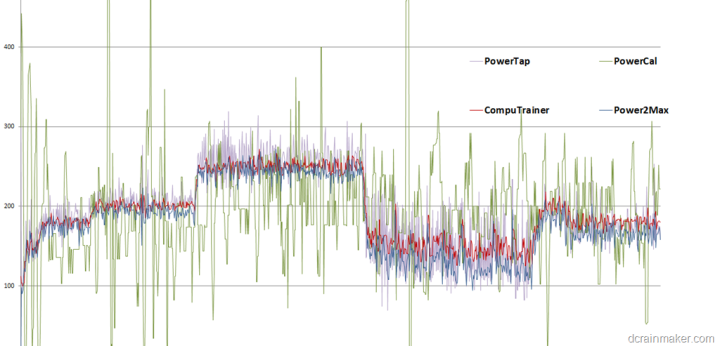 This makes it increda-easy for me to do power meter tests now, especially since it won't interfere with my workout.  I just turn it on, set it, and forget about it.
(Note: The workout was structured, hence why there's 'blocks' of different wattages.  Some where high-cadence drills, and others low-cadence drills)
When looking at the data you can see that the PowerCal fluctuates a LOT compared to the other power meters.  The 'noise' you see for each power meter is fairly normal – as it's being recorded and displayed above in 1-second increments.  If you smooth it out to 5-seconds, it looks more like this: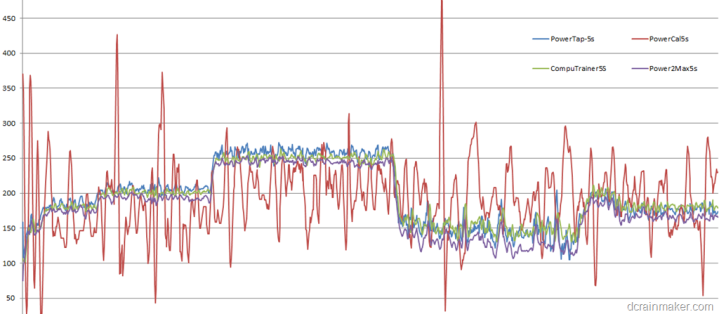 Taking that a few steps forward – let's smooth it out at 20s (a rolling average of 20 seconds worth of datapoints):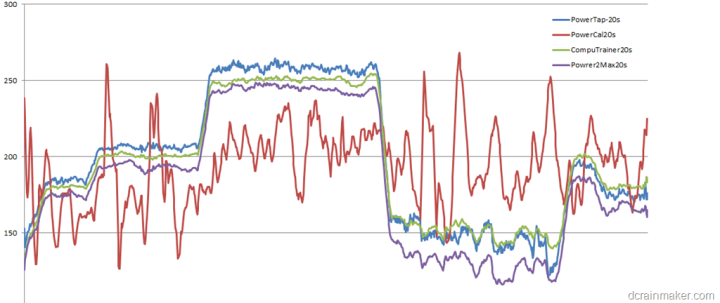 Here's what the min/max/avg wattages look like for each unit:

Funny huh? Despite all the wonkyness – the PowerCal is within 1-watt of the CompuTrainer when it comes to averages.  The Power2Max does show a bit lower.  It'll be interesting to see if that trend continues.  Of course, averages aren't useful for pacing exercises, nor for much on-bike actionable decisions.  I'll dive more into how it can be used later down the road.
For those that are curious – I did a 10 minute warm-up, then did a zero-offset on the PowerTap and Power2Max.  And at that point I also stopped and calibrated the CompuTrainer using the standard rolldown technique.  No calibration option was/is available on the PowerCal.  The warm-up was NOT included in the above charts or any averages (wasn't even recorded). This was indoors on a trainer, and the temperature inside was probably 85*F and slowly rising (no A/C).  I'll publish more of the data next time in raw CSV format for you guys to download and poke at.
Anyways, plenty more where that's from in the coming weeks.
With my parents heading down to Nice (the beaches) Sunday morning, we decided to duplicate them as best as possible – so we did the same.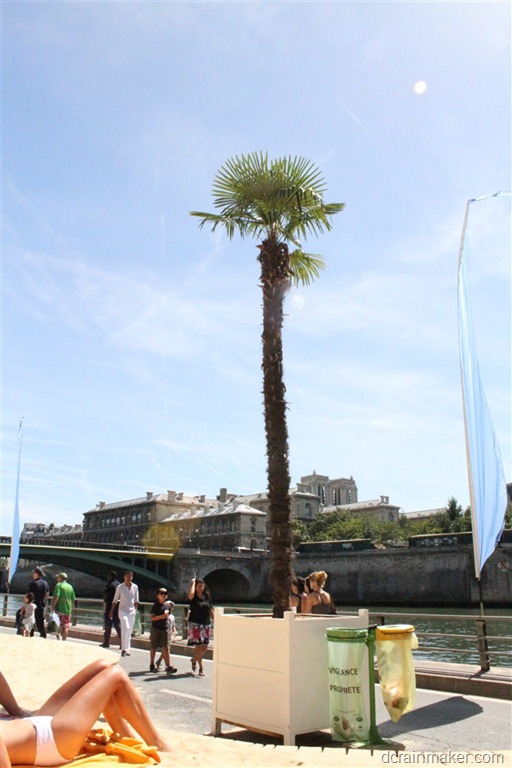 Yup, the beaches – in Paris – maybe a quarter of a mile from our place.  But more on that later in the day in a separate post.  Beaches always deserve a separate post. 🙂
In the meantime, I'm sitting here cruising across the countryside on the train at ~180MPH, headed up to London for two days of meetings: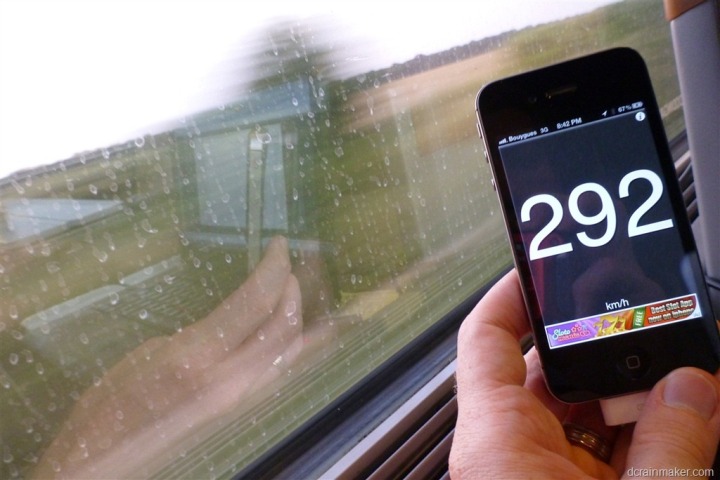 Have a great week ahead everyone!  And thanks for reading!