I have impeccable timing. I choose to get one of the new CompuTrainer Interactive Real Course Video's during one of the last weeks that I'll regularly use my trainer this year. With the weather today hitting 70*, and with daylight savings coming this weekend, I'll gain the valuable extra hour I need to be able to do my bike workouts in the evening after work while it's still light out.
Over the weekend one of the new IRCV's (cause really, spelling it all out is too long) arrived, and I gave it it's first run through yesterday morning. For those not familiar, the CompuTrainer connects to a computer and allows you to record all sorts of interesting data points, it's also a great training tool for both coaches and athletes. Finally, it allows you 'ride' real courses pulled in from GPS data and adjusts the resistance on the trainer so it really feels like you're going up or down a hill – matched with computer generated scenery. At some point I'll get around to writing up a review of the CompuTrainer itself.
The IRCV's have been long awaited, announced sometime last year and after repeated delays were finally made available about a month ago. I picked up both the Ironman Coeur d'Alene and Ironman Kona ones due to the special package pricing. (Video clips of CDA and Kona). They have dozens of other major races lined up over the coming months.
The IRCV's differ from a typical Computrainer course in that instead of being a computer generated simulation of your ride, they are actual video from the real race day (in this case, last June). They are filmed just ahead of the lead group, so you get all of the peoples (spectators and racers) out on the course and it gives more of a realistic sensation of the course that a computer generated one.
Installation was fairly straight forward. It installs an application to do the playback/integration, and then as part of the core portion of the product it copies over a 4GB video file to your hard drive. This is what the software plays back depending on your speed.
Getting the system up and working is fairly straight forward. It pretty much just worked for me. However, a lot of screen real estate is lost due to 'empty space'. There are some tweaks discussed in both the manual and on their forums, but they are highly dependent on your screen resolution. In my case with a wide screen I could never quite get it the way I wanted. Still need to tweak a bit more with that – but it's not use friendly.
Below is a screen shot of what you see. I took this shot in the middle of nowhere, so it's not too exciting scenery wise – but when you're close to town it's pretty cool with all the buzzing Ironman activity. There is also the usual data information displayed along the bottom (speed, watts, distance, RPM, HR, etc…). You can see in the below screen shot I was too lazy to connect my HRM.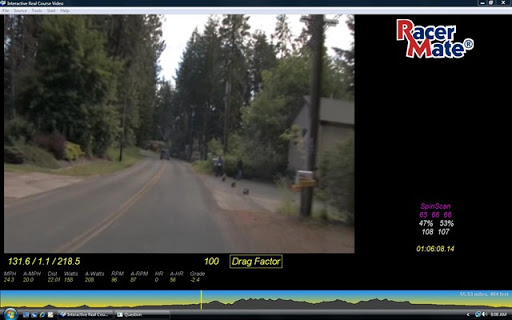 Basically the way it works is that when you pedal, the video moves. If you stop pedaling and the bike stops – the video stops. The video is timed so it matches your speed. It's a pretty cool concept and it works fairly well. At the same time the video is also sync'd to the course topology – just like the rest of the CompuTrainer applications – so when you go up a hill it gets harder, and down a hill easier. It appears the video is shot around the low 20's (MPH), but it's hard to tell. It seems to vary from place to place, going uphill a little slower – going downhill a little faster (to match rider speeds). It all works though at various speeds and feels smooth in most cases.
Here are my pro's and con's list:
Pro's:
Keeps you interested – like watching a movie, and the time really flies by.

You can see the slight bumps/hills in the road more clearly than a normal computer generated hill in CompuTrainer 3D – and thus you mentally prepare for them differently than in the 3D application

The video quality is quite high, and the camera smoothness is perfect

It's something fun and different
Con's:
The options configuration page is lacking considerably. It should include all of the screen configuration changes – you shouldn't have to edit an .ini file to make it happen.

There is a ton of wasted space along the sides that even if you tweak it better than I have, there is still much wasted space. It would be useful if you could put the current stats along the right bar instead of the bottom.

It's expensive. At $100 each (or $80 with bundling discount) it's simply too expensive to get a good collection of them. To me a more reasonable price would be in the $60 range. Given the

Erg Video's

(similar product, though without certain components of the IRCV's) are in the $50 range, a price half of the IRCV's.
All in all, it's a cool concept that I'll be happy to use more over the coming months and in particular next winter. For now though, I'm excited to get back out onto the roadways for my weekday rides. As always, if you have any questions – feel free to post them or ping me via e-mail.
[Update/Clarity]: I just wanted to clarify that you need to have a CompuTrainer or access to one in order to use the IRCV's. Meaning, they won't work with your standard trainer. Sorry, just wanted to make sure no one accidentally purchased them and then were bummed out when the screen never moved past the starting line.