Wahoo has non-announced a new product over the past few days. Part roller, part Either way, whatever it is, Wahoo decided that secretive spy-shots of a product quietly being tested by a low-level pro rider in a small European village would not be acceptable.
Thus, instead of actually launching a product, Wahoo simply put half a dozen of them or so in the official UCI World's Time Trial warm-up area, in front of broadcast TV cameras beaming to a hundred countries. Then a few hundred riders over the course of 3+ days warmed up on them. All without any actual announcement from Wahoo. The equivalent of a mic-drop, without actually picking up the mic first prior to dropping it.
On paper, the only seemingly official thing is the name on the side: Wahoo ROLLR. Given it lacks the proper quantity of vowels, I'd have to assume it's a correct and proper Wahoo name. Certainly they wouldn't waste that on a codename for a product. And in 2021, nobody is gonna be wasting any manufacturing or shipping capacity on fake-products.
Now I reached out to Wahoo to see if they'd provide any sort of on-record answer to what we've seen. And indeed, Wahoo's European head of Marketing, Louis Quinton, says "The Wahoo KICKR ROLLR is a new product we are developing and testing with the help of the UCI and the athletes participating in the Road World Championships this year in Flanders. We don't currently have a set release date for the final product but expect it to be in the later part of 2022".
Thus while that confirms its existence and naming, it doesn't cover really any other details. So instead we'll play a fun game of "What dis?'. For that, I'm using a combination of many hours of watching UCI coverage. Along with all the photos in this post taken by Léon van Bon, used with permission.
Let's break it down: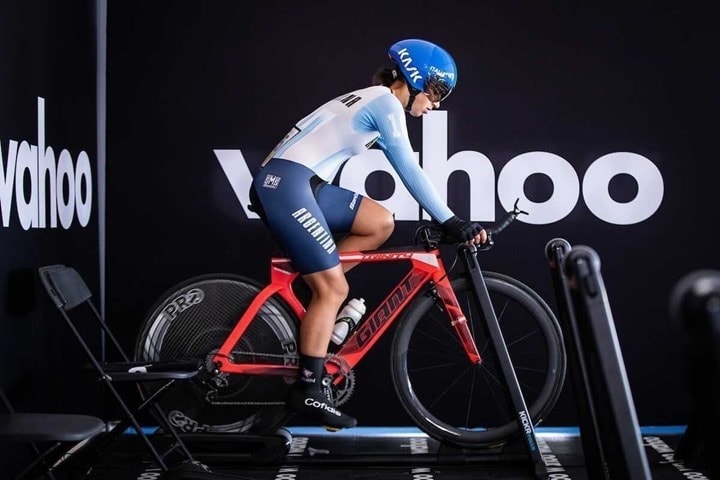 To begin, this clearly doesn't appear to be a normal trainer. It's part front wheel stand, part roller looking trainer, with the riders all using their existing bikes/frames. Thus akin to rollers, compatibility isn't limited like a typical rear-trainer frame. Thus unlike a wheel-on trainer or a direct-drive trainer, this one doesn't appear to have the rear wheel locked to the trainer thingamajig (a proper technical term). It seems to be free-floating.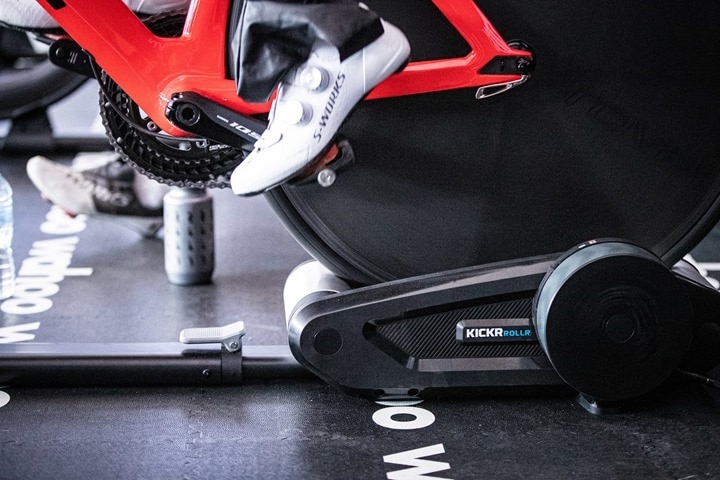 Yet, unlike traditional rollers, this appears to have a flywheel. Typically speaking, rollers don't have a flywheel hanging off the side, though instead often have it effectively built-in to the inertia of the roller itself. However, with a smaller roller like this (in terms of width), that's more challenging. Still, we've seen other companies pull it off. One only need to look at the Feedback Sports Omnium roller system, which has a roughly similar product profile (in terms of a static front-end):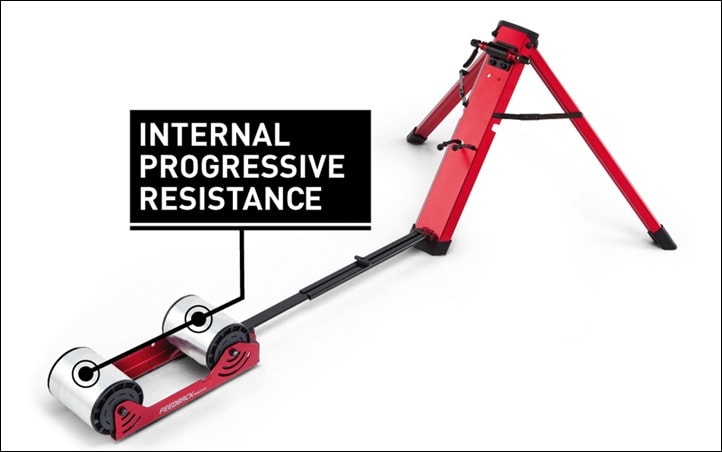 Next, the rear roller situation is a two roller drum 'system'. The rear wheel nestles into the middle of those two rollers, which you can more clearly see when I zoom in a crapton to one of the images: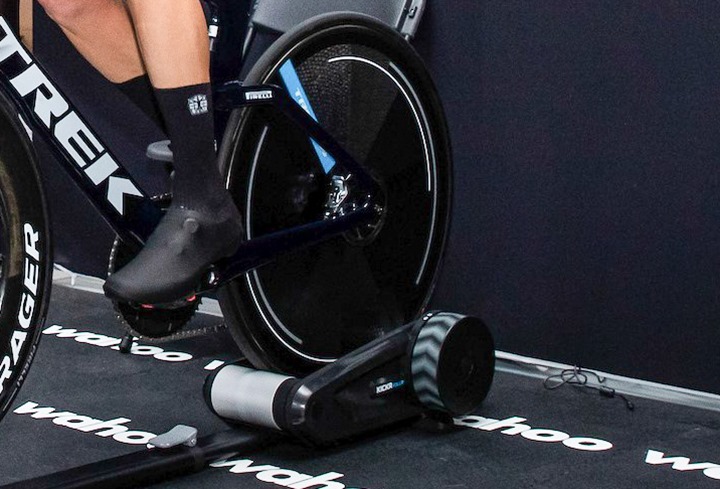 You can also see the connecting beam towards the front has a clamp that I presume allows for lateral adjustability. Further, in Belgium, a beer can is apparently considered proper nutrition before a world championship. Obviously, I approve.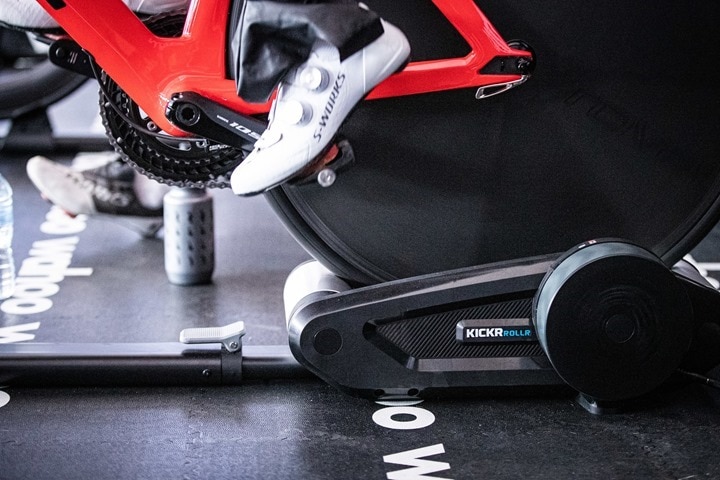 Back on the rear of the unit, there does appear to be power travelling to it. You can see the longer electrical cable that comes out from under the back wall, but that actually goes past the trainer to the Wahoo Headwind fans. In the below image with the orange-jersey rider you can see a power cable unplugged from this unit (yet obviously, they are still riding it).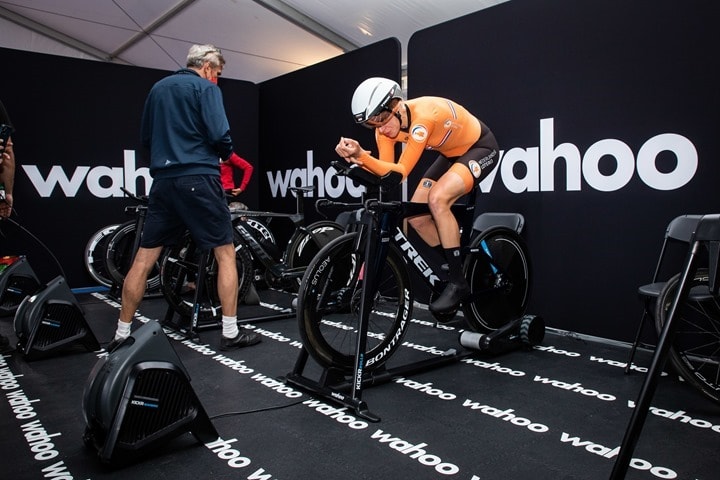 However, if you look at one of the other images with a plugged in unit, you can see the power cable runs to the trainer itself (once again zooming well into this image). It's at the far right edge, and is Wahoo's typical quick-release/trip-friendly cord.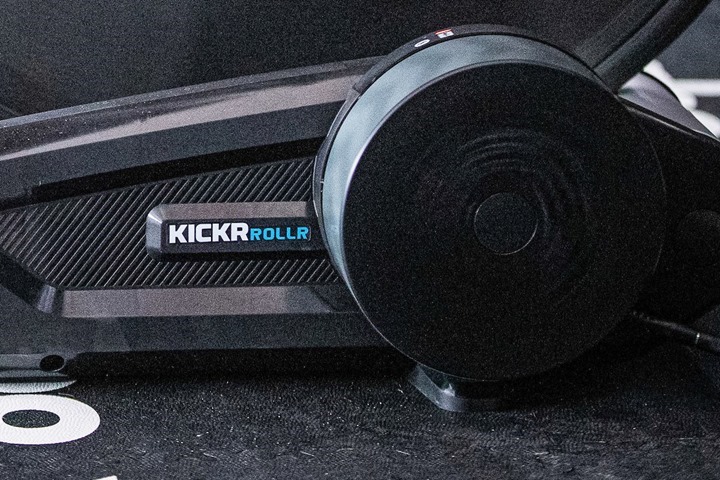 And in fact, on the flywheel side, you can relatively clearly see both a Bluetooth and ANT+ logo above in Wahoo's typical configuration, with the red LED status light too.
Whether or not that's full smart control, full broadcasting of power…or just some partial data set remains to be seen. Same goes for what occurs when unplugged. Obviously, the rider above is using it unplugged, but what does that mean for functionality? For example, the Tacx NEO can operate under its own power once pedaling, but does use the power cable for certain operations when connected.
Sliding towards the front, we've got the front wheel block piece that holds the two front wheel supports. It's hard to tell whether or not this is horizontally adjustable, though I'm not sure it'd matter too much. The other question would be whether or not it's big enough to handle a mountain bike tire.
From there you've got two poles that jut upwards, and appear to clamp around the upper portion of the wheel. This seems purely to be a stability frame, rather than anything technical. There also appears to be some sort of rolling mechanism at the top of the frame, which perhaps tightens the clamp around the front wheel. Or maybe it's just an aesthetic thing.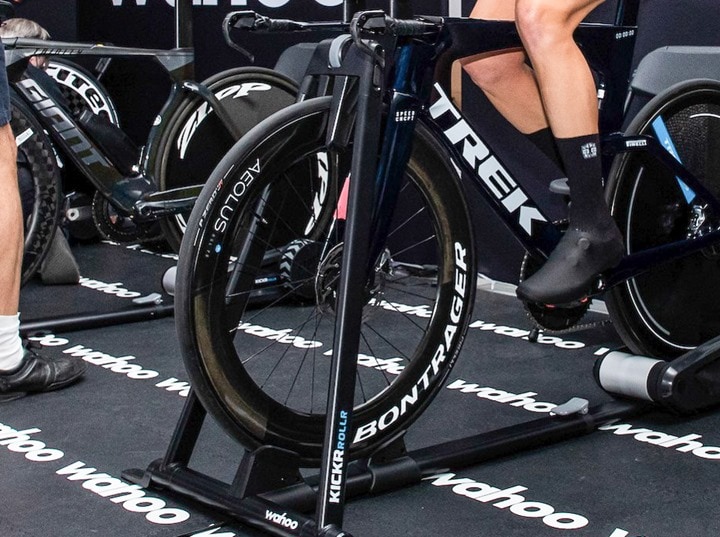 The one question things brings up is if the front is height-adjustable. For example, some of the bikes with certain style time-trial bars come awfully close to clipping the top frame. Whether a smaller rider on perhaps 650cc wheels would fit or not seems questionable (unless the front is height adjustable). In this photo here, you can see the aerobars seem to just *barely* clear the top of the system.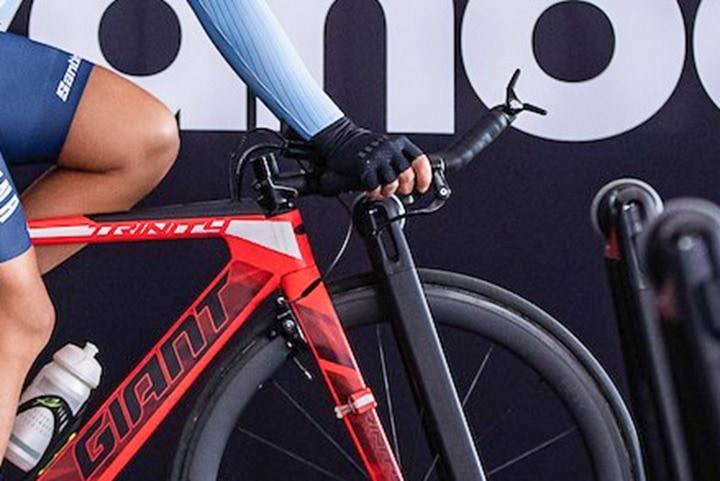 This then begs the question of whether or not a KICKR CLIMB could replace the front end somehow? And if so, is the 'break point' at the mid-point of that beam, or later on.  Either way, from a stability standpoint, things seem pretty darn stable. In this short video posted by the UCI, there doesn't appear to be any major wobbles. Of course, she's not doing anything crazy either, but still – looks stable enough.
The Olympics Champion has arrived in the @wahoofitness Warm-up Zone

Can @AnnaKiesenhofer do the incredible once more? #Flanders2021 pic.twitter.com/pRuqrub00k

— UCI (@UCI_cycling) September 20, 2021
However, in that video you can clearly (re-confirm) that the rear wheel is not locked in. It just floats on the roller (because of course it floats, there's no wheel connector seen in the earlier pictures). Anyway, the reason that matters is that from an accuracy standpoint, it's nearly impossible to get even half-accurate power data from such a system. Unlike a wheel-on trainer where you have a press-on force, with this scenario, you lack that known rolling resistance force. As a result, your power measurement estimates are…umm…typically finger in the wind.
I've demonstrated this on numerous trainers and rollers over the years, and nobody has found any method around that. Perhaps Wahoo has, we'll have to see.  And thus with that, I think we've covered everything there is to cover based on these photos.
All the Questions:
Of course, there are many questions to be had here. The below is just a random starting point of some of the questions one might have based on what we've seen to date:
1) When will it be properly announced?
2) What will it cost?
3) Will it be compatible with the Wahoo KICKR CLIMB?
4) Is there any adjustability of the front wheel portion (for smaller bikes)?
5) Does it require power? If so, does it have an alternative battery option?
6) Is it resistant controllable? Or purely a basic roller?
7) Does it transmit power? Some like the Feedback Sports unit don't or aren't smart.
8) If it does do power, is it accurate? I've yet to see an accurate roller-based power 'meter'.
9) Will the chevron stickers stay on the flywheel for harder sprints?
10) Does this mean we aren't getting a 'full' KICKR 2021 this year?
11) Will it work with a mountain bike?
12) What's the inertia feel-like?
I'm sure many of you will have more questions below. After all, that's why the comments section exists.
Wrap-Up: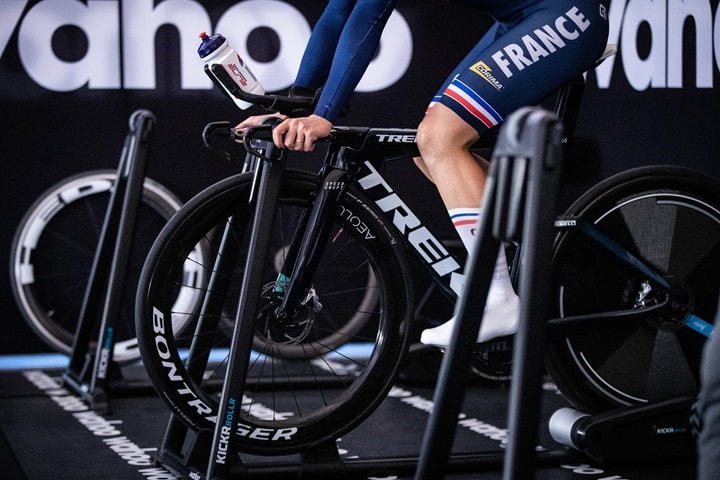 So, remember back 10 months ago when the UCI and Wahoo announced that Wahoo was their new 'UCI Road's Sponsor'? No? It's alright, nobody else noticed either. Actually, to be fair, I did. I asked a boatload of questions at the time, had some long chats with the UCI about it, and then somehow 10 months later happened and I never posted about it. I was curious more about exactly how a trainer company was going to be the official supplier of trainers for all participants (as was worded). While I got clarification on many things, I never got clarification on that point.
10 months later, I finally get my answer: They'd do so by owning the World's TT warm-up zone.
It's a clever move, and one that has gathered a slew of attention across social media, albeit even if there's no immediate place for that attention to manifest itself into sales of products. Undoubtedly though, even with social media's notoriously short attention span, I'm sure once Wahoo does announce it, folks will come poking about again to see whether it's worth picking up. And at that time, I'll probably have a full in-depth review ready to roll.
With that – thanks for reading!