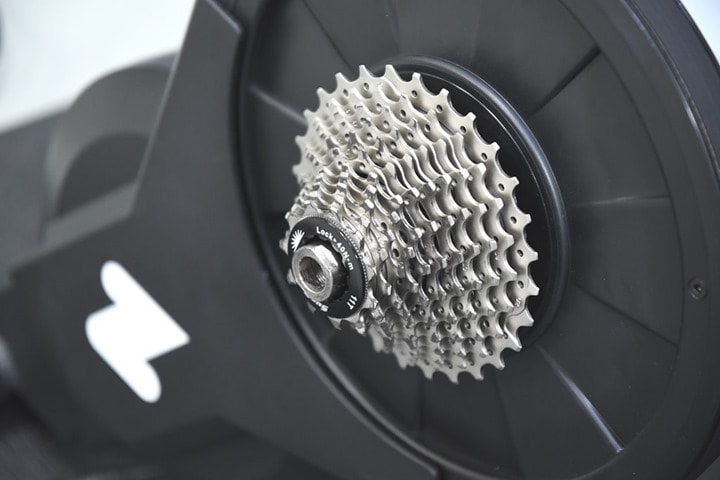 A judge has denied Wahoo's request to prevent Zwift from continuing to sell the Zwift Hub smart trainer. That smart trainer is the center of a legal dispute between the two companies, which Wahoo says infringes on their existing patents, the basis of the Wahoo KICKR trainer. Zwift obviously disagrees with that assertation. The two companies have been fighting it out in court since Wahoo filed the case last October (the same day Zwift officially started selling the Zwift Hub smart trainer). Wahoo had previously settled with the manufacturer of the Zwift Hub trainer, JetBlack, back in December. But the Zwift/Wahoo case continues on.
Wahoo had asked the judge back on November 16th, 2022 for a preliminary injunction, aimed at preventing Zwift from selling the trainer (within the judge's federal court jurisdiction – the United States). The judge did not immediately rule upon that request, and instead both sides continued to provide testimony from a variety of individuals as to why the judge should or should not place a sales injunction against Zwift.
Wahoo says in their most recent amended injunction request last week:
"Zwift's infringement of the '290 Patent has caused, and will continue to cause, Wahoo to suffer substantial and irreparable harm, entitling Wahoo to a preliminary injunction and a permanent injunction in accordance with 35 U.S.C. § 283. In addition, Wahoo has suffered and continues to suffer damage from Zwift's infringement of the '290 Patent. As such, Wahoo is entitled to  compensation and other monetary
relief to the extent allowed by law, pursuant to 35 U.S.C. § 284, including for enhanced (treble) damages based on Zwift's willful infringement."
The reference to the 290/294 numbers are basically the shorthand version of the various patents that Wahoo says Zwift is infringing upon. I'll save you literally hundreds of pages of back and forth on this. Most of it comes down to incredibly technical design elements of the trainer, and whether or not those designs were obvious/existing.
Some 97 document sets have been filed with the court system to date, with many of those documents containing dozens if if not sometimes hundreds of pages of detailed testimony. Sadly, after my initial December coverage of the case, the lawyers began redacting much of the documentation. At first it was mostly technical, but these days it's almost everything in the entire document. Literally, the two most recent filing just list every page as 'Redacted' in the center of the page like how a toddler writes their name across the entire thing. Though, the hearing filings ahead of last week's hearing were mostly left open, as they were mostly rehashes of existing documents.
During this process, the CEO's or founders of both companies, Eric Min of Zwift, and Chip Hawkins of Wahoo Fitness, had depositions taken where they ostensibly answered a slew of questions. Sadly, those didn't make it to the filings either.
Mixed in with all of this is that a week prior to this April 11th hearing, Wahoo tried to amend their complaint to drop one patent infringement and substitute another. Zwift's legal response was part confusion and part annoyance. Basically Zwift said that the new patent was even more narrow than the previous one.
"Second, while Zwift disagrees with Wahoo's representation of the facts, Zwift does not oppose the addition a willful infringement claim, nor does Zwift oppose Wahoo's dropping of U.S. Patent No. 10,046,222 ("the '222 Patent"). However, Zwift does oppose the addition of U.S. Patent No. 11,559,732 ("the '732 Patent") because the addition of the '732 Patent would be futile because it amounts to the substitution one facially invalid patent for another."
It's unclear how the judge ruled on this matter, as either that wasn't filed or hasn't been filed, or was redacted entirely.
In any case, all of this came to a head a bit over a week ago on April 11th, 2023 at 9:30AM in Courtroom 6A of the J. Caleb Boggs Federal Building and Courthouse, when the two sides had a hearing scheduled in front of the judge to decide on the injunction request. This hearing had been scheduled all the way back on December 1st, 2022 – even down to the exact time and courtroom. Again, virtually all of the meaningfully interesting documents from this hearing, including the minutes, have been redacted from public view. The hearing included both CEO's or founders being listed as present or live in the courtroom, and had the following schedule: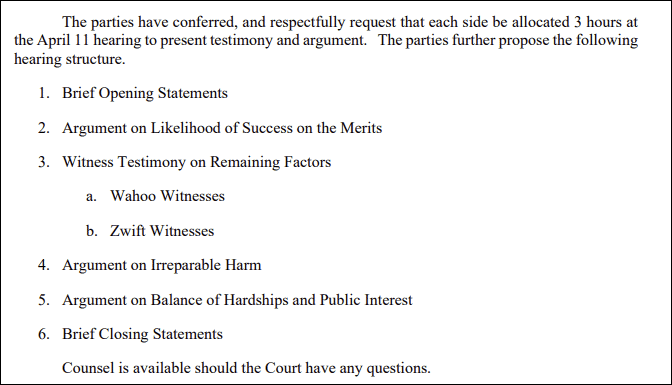 The federal court record system showed the hearing took place, and that minutes were taken, and all sorts of things. All of that was redacted or under seal in some capacity.
However today, finally, the federal court system finally today updated to show the judge's ruling:
"[SEALED] MEMORANDUM OPINION and ORDER: The motion for a preliminary injunction (D.I.10 ) is DENIED. Signed by Judge William C. Bryson on 04/19/2023.This order has been emailed to local counsel. (smg)"
As you can see, the motion to have Zwift stop selling the Zwift Hub trainer has been rejected. In other words, Zwift will get to keep on selling the trainer throughout the remainder of the trial.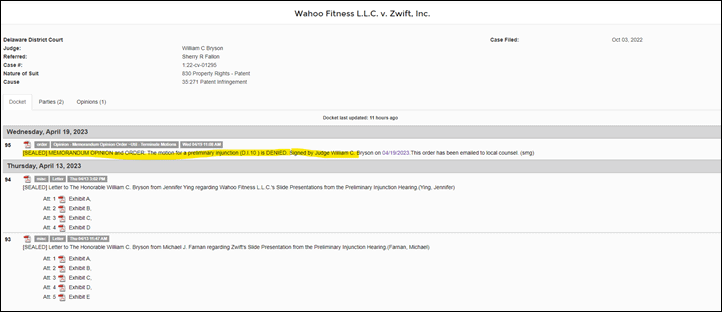 Of course, this is just the judge's opinion (which certainly matters a lot), but it's actually not the final outcome of the case. The injunction request was merely an interim step to stop Zwift from selling the trainer while the case moved through the courts. Of course, the word 'merely' here is kinda massive – but it's not the final verdict in the Wahoo/Zwift case.
That's because Wahoo has requested a jury trial, and as such, the efforts towards this trial will continue – however, the timetable for this is very, very, very long. Both sides also recently came to an agreement on that timetable, which has been signed off by the judge, it's outlined as follows (there are other sub-timelines within these, but I got tired of writing them all out):
April 28th, 2023: Initial Disclosures are filed

May 12th, 2023: Infringement contentions from Wahoo are filed

June 30th, 2023: Invalidity contentions from Wahoo to Zwift are filed

July 21st, 2023: All motions to join parties or to amend/supplement the pleadings are filed

March 1st, 2024: Document production complete

May 24th, 2024: Discovery cut-off

June 21st, 2024: Opposing party disclosure of expert testimony due

July 24th, 2024: Cut-off for other export reports

August 30th, 2024: All expert depositions taken

October 11th, 2024: Case dispositive motions are filed

November 15th, 2024: All responsive briefs to case dispositive are filed

December 6th, 2024: Reply briefs to the previous line are filed

February 2025: Pre-trial conference (the exact date wasn't specified yet)

March 2025 at 9AM: Jury trial finally begins, with each party given 15 hours to present their case, in subsequent days. Again, the exact day isn't specified yet.
Yikes – that's two years from now! That's a heck of a lot of Zwift Hub trainers sold, and either Wahoo trainers sold or not sold.
Wahoo provided the following official comment regarding the judge's decision:
"Wahoo is confident in the strength of its claims that Zwift's Hub infringes Wahoo's patents and that Wahoo will win at trial. This motion was just the first step in what is a lengthy legal process and the questions of infringement and validity will ultimately be decided by a jury.

Wahoo has spent millions of dollars innovating and developing patented technology for indoor trainers.  It's important to note that Wahoo does not claim to have sole intellectual property rights on the indoor trainer, rather we have very specific design features that make our product unique which are covered by our patents.  It's these features that were directly replicated by the Zwift Hub.  For these reasons we feel compelled to defend our IP.  Wahoo  looks forward to presenting clear evidence to the jury that its patents were properly awarded by the U.S. Patent Office and Zwift knowingly infringed those patents.

While we are disappointed in the ruling, we are pleased the Court agreed that the Zwift Hub likely infringes Wahoo's patents and that an injunction is in the public interest. The Court's sole reason for denying Wahoo's request was it could not go so far as to say that Zwift's invalidity defense lacked substantial merit.  A Preliminary Injunction, that would have immediately prohibited sales of the Zwift Hub before a full trial is held, is an extraordinary remedy that is only granted in rare circumstances."
Ultimately, regardless of whether or not Wahoo wins this case, the reality doesn't change that Wahoo needs to find a way to compete at these new lower price points. They themselves have literally testified to that in court, specifically noting that Wahoo has built a structure around a premium-priced product, and that the Zwift Hub has had a dramatic impact on sales. Again, they themselves have explicitly said this (see my linked comment).
Again, regardless of whether or not Wahoo wins in the end, they need to find a way to produce what is arguably a $599 KICKR CORE. They don't actually have to beat or even match Zwift's Hub pricing, they just need to find a way to entice people that the CORE is somehow a better product. However, that continues to get more and more difficult each month – as Zwift issues new features/updates for the Zwift hub, like those rolled out two weeks ago. Certainly, trainer announcement season tends to happen in the summer months (June-August), ahead of the fall/winter buying season. But these days, that cycle has become less and less important – people are buying trainers year-round.
With that – thanks for reading – and have a good weekend.