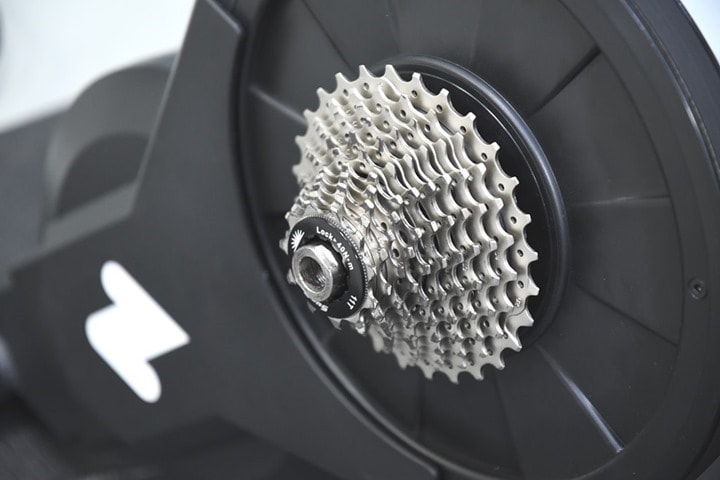 As you may be aware, earlier this fall Wahoo Fitness decided to sue Zwift over Zwift's introduction of their $499 Zwift Hub smart trainer into the market. Wahoo argues that the Zwift Hub infringes on a number of patents utilized in Wahoo's KICKR trainer series. However, Wahoo also concurrently sued JetBlack, who makes said trainer for Zwift, along with selling their own virtually identical units directly to consumers (the JetBlack Volt).
Wahoo initially filed suit against Zwift/JetBlack back on October 3rd, the same date that Zwift started shipping the trainers into the US & European markets (Zwift previously announced the Zwift Hub on September 6th, 2022). Zwift currently doesn't sell the trainers in any other markets at this time except the US and Europe.
Wahoo alleges that Zwift & JetBlack have infringed upon patents from back in 2014. We'll ignore the fact that this was the only issue the day Zwift decided to start selling a trainer that undercut Wahoo's KICKR CORE price by about 50%. We'll also ignore the fact that most other trainers in the market theoretically infringe upon what Wahoo believes their patent covers. And finally, we'll ignore that ultimately, having a patent actually doesn't mean much (as they are often given out like candy) – but successfully defending a patent is what matters. This is true of any patent, from any company.
In any case, since then, the two separate cases have been plodding along through the legal system. However, based on the pure volume of legal transactions filed in the court systems, it was clear that JetBlack was not really the target (even more clear since JetBlack has been selling this trainer for two years now without issue or response from Wahoo).
And indeed, Wahoo has dismissed its case against JetBlack: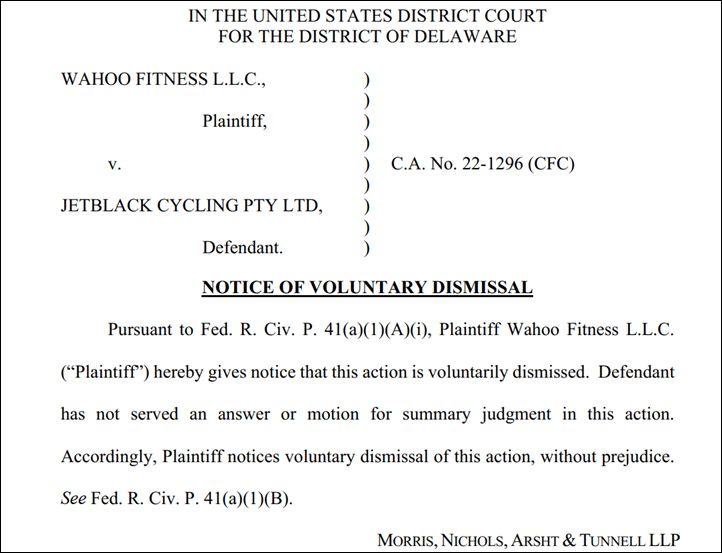 It's not clear what settlement, if any, occurred here. Given JetBlack was never really the target, the 'settlement' could range from absolutely nothing other than a pinky promise, to a single flat fee, to a per-unit fee for non-Zwift units, etc… Again, neither side is going to say, but realistically I'd be surprised if there was any meaningful impact to JetBlack here either technically or financially. They were never the target, but merely collateral damage.
Update Dec 6th, 2022 – statement from Wahoo:
"Wahoo and JetBlack have amicably settled the patent lawsuit Wahoo filed against JetBlack. As a result, JetBlack will cease selling its' Volt Smart Trainer in the United States and Europe – where Wahoo has patents. The other terms of the settlement agreement are confidential. The lawsuit filed against Zwift is a separate case and is still in progress."
Meanwhile, back on the main event, Wahoo and Zwift have been busy sparing. Though, mostly it's Wahoo doing the dancing right now. After their initial opening salvo, Team Wahoo then filed more than half a dozen declarations, including from local bike shops saying the Zwift Hub will kill their trainer sales. Other declarations include lots of pretty technical pictures and dramatic statements. A bit later, Team Wahoo asked for some document sections to be redacted publicly (the judge said 'OK', taking some of the fun away). Most of these sections are financial related. Oh, they then asked for a temporary injunction against Zwift selling the trainer in the US (the judge doesn't appear to have granted that). Declarations include from CEO Chip Hawkins, and CFO Nathan Fenwick (who joined in September 2022) – tiny snippets below.
Meanwhile, Team Zwift waited till the buzzer on the first round, and then asked for another month to have more time to prepare (totally normal). The judge granted that. They then let the clock run out again, and filed their opening salvo, which was mostly just a long list of "Nah, we didn't do that." There wasn't too much interesting in their initial documents.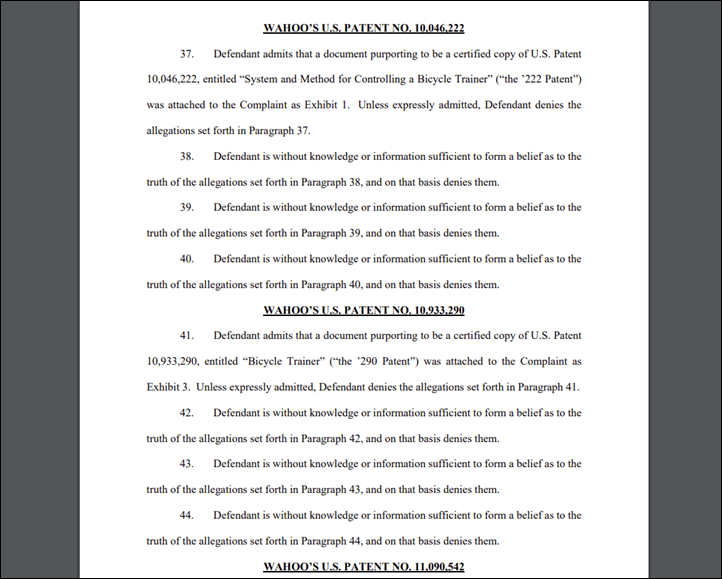 At this point, both sides appear set to have this case draw out for quite a while. The legal teams have put together and agreed upon a schedule for the case, which they've submitted to the judge. That schedule stretches out till next spring:
Today (December 1st, 2022), the judge agreed to the proposed schedule and put a hearing date of April 11th, 2023, at 9AM. Of course, that's just a stake in the ground. The two sides could settle before then, or they could request more time. Or the case could be dropped entirely and just go get ice cream together, Rocky Road I'd presume.
Going forward: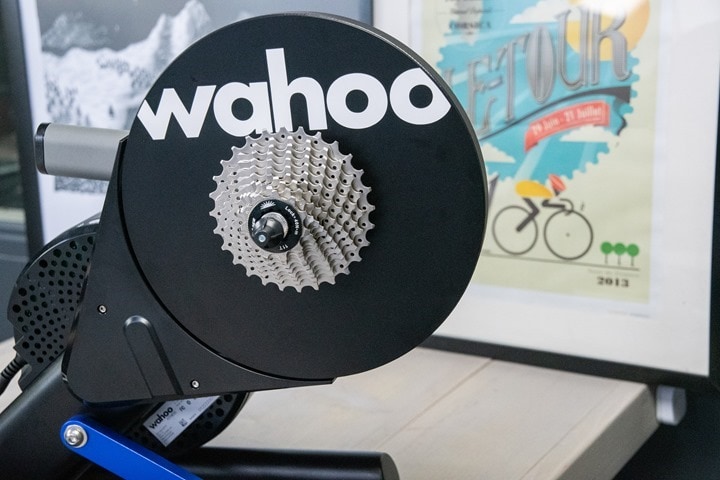 As for where this ends up? Time will tell. However, having reviewed the patents in question, I'm very skeptical that Wahoo's specific claims and patents will hold here. There's a lot more prior art than most people realize in the space, and most of it actually predates Wahoo's trainers. Wahoo unquestionably opened the floodgates to the indoor smart trainer industry, mainly through open software connectivity on their first KICKR. But there were still plenty of trainer companies doing connected trainer things well before Wahoo came along.
I'd also say more generally, with Wahoo's acquisition of RGT, and The Sufferfest, I'd be concerned with how much they expose themselves to a countersuit from Zwift, around software-focused patents Zwift may have in this arena. Having done a bit of digging on the legal team that Zwift hired, this isn't their first BBQ. Of course, all this is set against the backdrop of Wahoo apparently having another round of layoffs today.
Ultimately, none of this is good for consumers, and it's certainly not good for the smart trainer industry. As I've heard from a few companies, this is already having a chilling effect on cooperation amongst companies, as well as technical standards agreements (which was already at an all-time low). The indoor cycling industry is already feeling the effects of a bubble-bursting moment, with both Zwift and Wahoo having had rounds of layoffs this year. Zwift is financially in a far better position than Wahoo to weather the current storm, though inversely, Wahoo is more diversified in terms of products. Albeit, the bulk of Wahoo's revenue is indoor cycling based.
In any case, I'll keep ya updated if/when more spicy things get published. It's worth the ten cents per legal page I pay, kinda like morning snacks for sports tech geeks.
With that, thanks for reading!