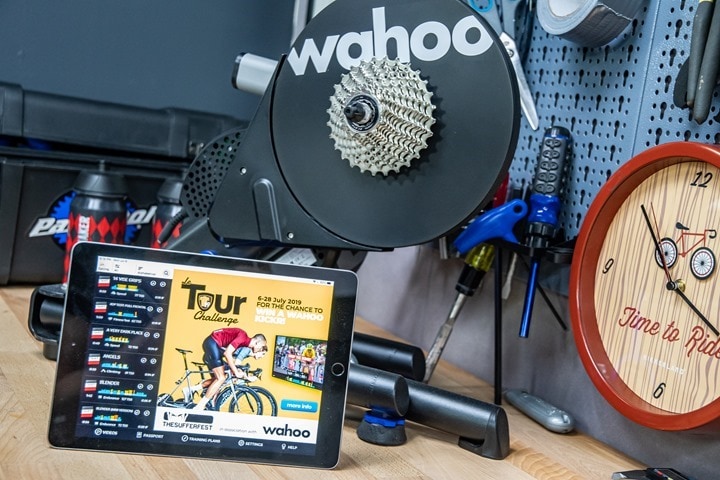 Continuing the 2019 trend of indoor training and related acquisitions, Wahoo has just announced the acquisition of The Sufferfest. For those not familiar with the platform, the company first started out years ago making indoor training videos. But back 3-4 years ago they shifted their business to a much more interactive app-based model that focuses heavily now on the targeted power-focused indoor sessions that still maintain a significant outdoor video element as you ride various roads or races to keep you entertained. All while a virtual coach of sorts shouts at you via text on the screen.
The company has grown well over the past decade since its inception, and for many businesses the peak of their journey is an acquisition. But in talking with Sufferfest about the acquisition, they don't see it as end-game. Instead, they see it as adding gasoline to their existing business plans in order to kick things up a notch much faster. Given Wahoo's backing from a private-equity firm, this will easily allow The Sufferfest to do so.
But what does it mean to not just Sufferfest, but the rest of the industry? I dig in.
What it means to Sufferfest: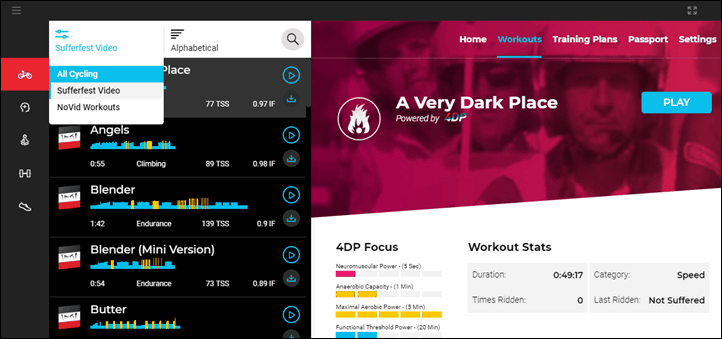 Before we talk about everyone else (which is just as important here), we'll start with Sufferfest. Perhaps the biggest question you might have is whether Sufferfest would continue to support non-Wahoo 3rd party hardware/trainers. Founder and CEO of Sufferfest David McQuillen answered near instantly to that one:
"Oh god, absolutely!…It would be foolish to lock everything down to one hardware platform."
Well, that's good. Hopefully that's something the remainder of the industry remembers going into the next few years as we continue to see acquisitions occur in the indoor training space. But saying the correct thing aside, David's comments are indeed spot on. As big as Wahoo is (#1 in the indoor training space based on unit sales), the indoor trainer landscape is still varied enough that app companies wouldn't dare limit themselves to a single vendor.
Even existing companies like CycleOps that had a strong relationship with Virtual Cycling (now Rouvy) always had significant 3rd party compatibility with virtually everyone in the trainer hardware business.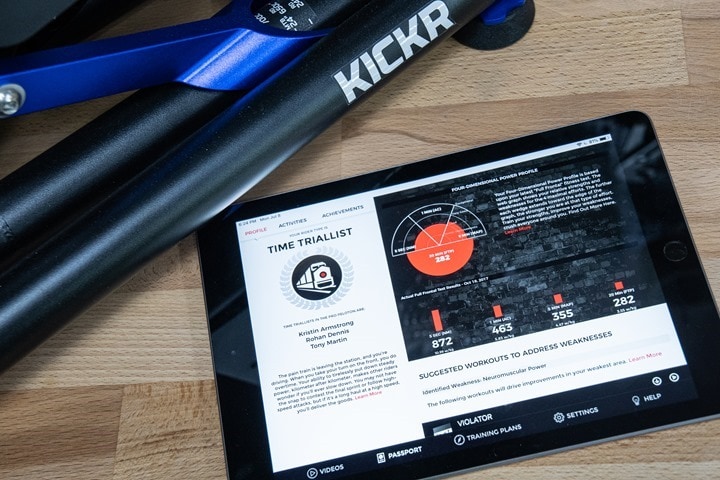 The next question then is – what's the money gonna be used for? After all, the point of this acquisition wasn't just about Wahoo owning a training app, but about accelerating The Sufferfest's business. And that takes money. Sufferfest says it basically comes down to two core things:
1) Leveraging Wahoo's position in the market
2) Hiring more people and bringing forward existing plans they've talked about (and some they haven't)
Starting with the first one, Wahoo has tremendous sales in the indoor space. Hundreds of thousands of units per year, far more than anyone else. In a typical business model, the online customer relationship that Wahoo has would be key (for marketing e-mails and such). But in Wahoo's case, that's unlikely to be a primary driver. That's because Wahoo doesn't require any registration to use their products. You can buy a Wahoo trainer from any bike shop or online store, and Wahoo never knows who you are (something many people like).
However, what Wahoo does have is the box. They can stick anything in the box they like. And that could include a 3-month or even 6-month Sufferfest membership. Not only that, but they could easily open that up to existing Wahoo owners too. All trainers identify themselves, and it'd be trivial for Sufferfest to allow Wahoo KICKR trainers to connect to the platform for free, or a reduced fee (or some other promotional element). Again, the volume numbers are what matters here.
And so is the marketing. Today, Wahoo's trainer box is fairly agnostic when it comes to 3rd party training platforms, just highlighting compatibility with a few. And certainly, I expect that'll continue to a degree. But I'd also expect they'll more heavily promote The Sufferfest over say, Zwift. Since most people know it'll be compatible with Zwift anyway, there's no loss there.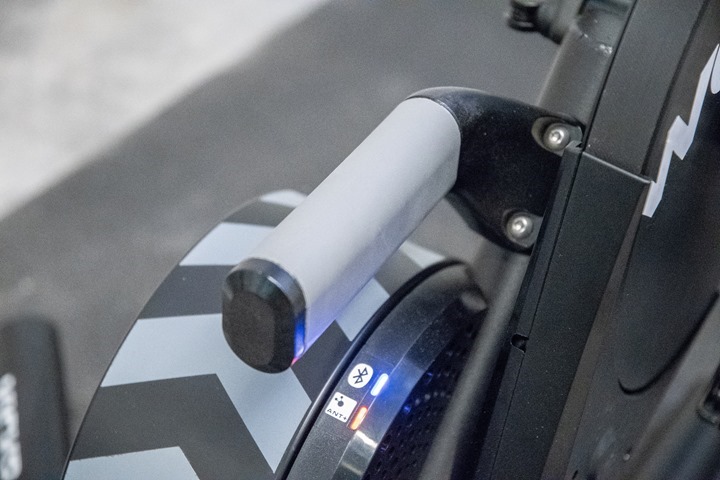 Next is Sufferfest's plans to expand their product offerings. David says they'll start "Really pushing forward with hiring more people, and accelerating some of the functions we want to bring on", specifically initiatives they've long talked about but weren't able to execute. For example David and his team have talked about expanded app platform compatibility (such as Apple TV).
And that also means continuing to invest in their exercise physiology portion of the platform, which David says was one of the "key reasons that Wahoo brought us on board was the sport science side of things".
Speaking of the Wahoo side, what types of integrations might we see on the hardware-side? Well, it's a bit less clear there, but David says they'll be looking at how to leverage devices like the Wahoo ROAM for integration with 4DP (their four dimensional power profile), as a starting point.
Finally, on the human/jobs side of things, Sufferfest says that nobody at the company loses their jobs, and nobody has to move anywhere. They'll be operating as their own unit, with Hobart remaining as the hub/HQ for creative elements, while Reno remains the hub for product developing/coding (which is run/lead by Reid Weber, one of the former founders of TrainerRoad).
What it means to everyone else: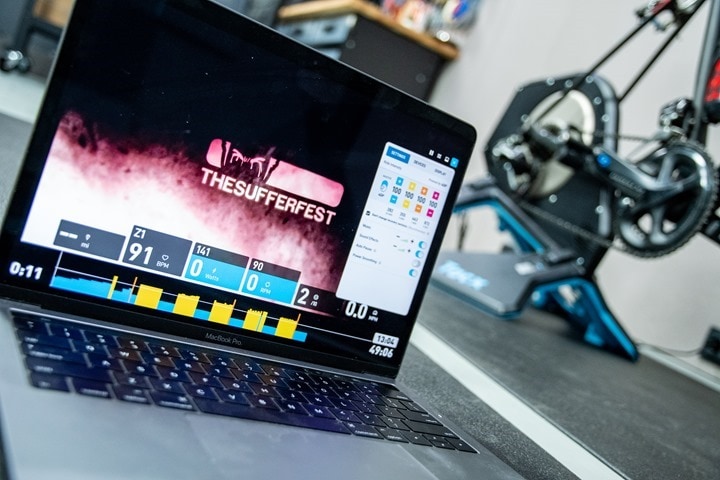 So what does this mean to the rest of the industry? Well, not a lot initially. This is one of those things that'll take some time to filter through – both from the Sufferfest side as well as the Wahoo side. Wahoo's side will be able to move quicker with promotional/box/etc stuff, whereas as Sufferfest will take longer to ramp up new employees and projects. So it's not something that I think will have any meaningful impact until early 2020 at best.
However, what it signals though to the rest of the industry is that Wahoo isn't content with just being a hardware vendor. Up till now they've had no online platform of any significance (aside from a small backend bit to keep some of your settings synced, and live tracking working). Instead, it's been all hardware, all the time. It also lets Wahoo join the fray of trainer companies that own indoor training platforms.  For example:
Garmin/Tacx: Has Tacx training suite (TTS)
Wahoo: Now has Sufferfest
Kinetic: Has Kinetic Fit platform
Wattbike: Has Wattbike's training platform
Bkool: Bkool indoor training platform
Elite: Has their own indoor training platform
Magene: Has strong ties to OneLap
And while CycleOps used to be tied to Rouvy, there's no longer any strong ties I'm aware of there. Which leaves the following free-agent apps:
Zwift
TrainerRoad
Rouvy
Kinomap
FulGaz
Road Grand Tours
VirtuGO
Plus some others I'm sure I'm forgetting, but those are the biggest, roughly sorted by size. And all of them are pretty device agnostic, but at the same time, so are some of the manufacturer specific indoor platforms as well. For example, both Tacx and Bkool's platforms can be used with other trainers in certain configurations. For them, it's about subscription revenue at that point. Either they can take some of the money, or none of the money.
All of this may have you wondering two things:
A) Why doesn't Zwift just buy Wahoo?
B) Why doesn't Wahoo just create a Zwift-like platform?
I suspect the answer to the first would be that Zwift simply couldn't buy Wahoo anymore. Not unless they did the mother of all funding rounds. Wahoo's business is far far far greater than Zwift's from a revenue standpoint. So while one might mistakenly see Zwift as bigger from a user base perspective, that doesn't really work in real-life for units Wahoo has sold.
Next, as for Wahoo creating another Zwift-like platform? That too seems unlikely. At least in the near-term. Going back to my conversation with Sufferfest's founder, he notes that one of the things that specifically appealed to Wahoo about Sufferfest was that they were  "not a platform that's a virtual world like Zwift", noting further that they have "no intention to go that direction."
Still, it's hard to believe that long term. While Zwift and Wahoo play nice publicly, there's no doubt they see each other as competitors – both in the short term and the long term. And there's far too many app options on the table for Wahoo to also acquire to start moving towards the idea of a legit Zwift virtual-world style competitor. I suspect it's just a matter of time.
Speaking of time. As I said earlier this year, I continue to expect more indoor training acquisitions over the course of 2019. And further, I continue to think we'll see something from Zwift in this realm before the year is out. Likely more of a necessary land grab than anything else. Which of course, is who everyone is really watching.
With that – thanks for reading!