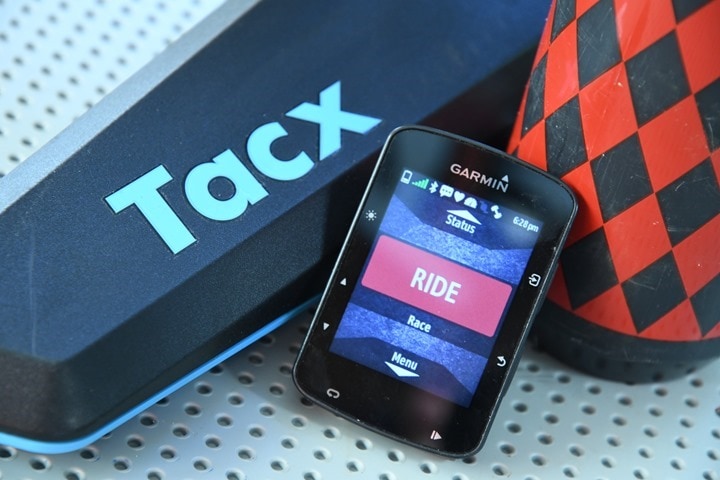 In what is unquestionably the biggest sports tech news of the year, Garmin announced today the acquisition of Tacx – the privately held Dutch company that makes trainers, water bottles, and tools. This news no doubt will have people turning their heads for quite some time, and will have even bigger ramifications across the indoor training industry.
The reasons behind the acquisition haven't been detailed by Garmin. However, their press release does hint at some of the areas that Garmin might focus on (such as the Tacx indoor training platform) – but on the whole it's mostly just generic corporate acquisition PR fluff outlining the purpose of each company.
There's no financials included in the press release, though I suspect that'll likely become clear down the road through various required public financial disclosures/statements.
I did get a bit more clarity from Garmin after the announcement on three key things:
A) Branding: Garmin says that things will remain Tacx branding, when asked: "Tacx is a highly respected name in the indoor trainer industry, and we intend to keep this brand for the foreseeable future."

B) Manufacturing: Garmin says that they'll continue all existing manufacturing in the Netherlands (where all Tacx manufacturing currently resides). However, they didn't specify if that'd be expanded. The existing Tacx trainer and bottle manufacturing is generally regarded as the most advanced in the entire indoor trainer industry. But at the same time, Garmin's unique position owning their own manufacturing facility in Taiwan (not contracting it out like everyone else) gives them significant manufacturing power others don't have. Further, Tacx is nearing completion on a significantly larger facility nearby their current home. Together, having manufacturing in both Taiwan and Europe could be massive for Garmin.

C) Support: Garmin says they'll also retain existing Tacx support and distribution elements, but haven't fully clarified how those might expand.
So that settles some elements right away. But it doesn't clarify who this impacts the most. So let's get right into that.
The Losers: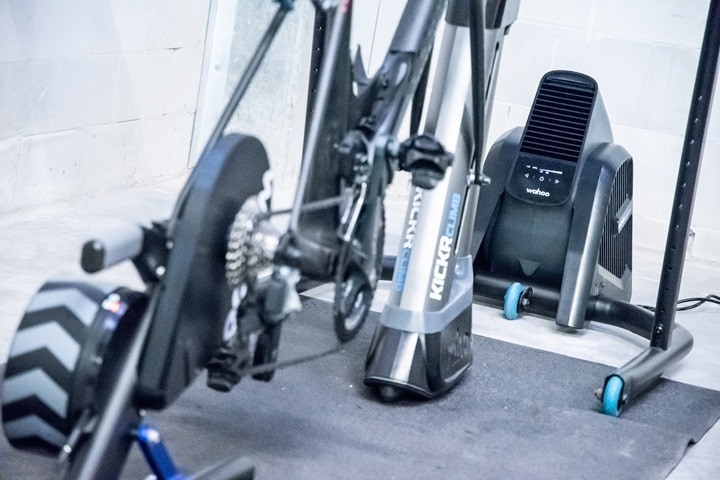 It might be too strong to call them losers, but this category of people certainly aren't winners here. And since this isn't a little league awards banquet, I'm gonna call it like it is:
Wahoo: Without question #1 on the list is Wahoo. Easily the biggest competitor to Tacx, and a growing competitor to Garmin, Wahoo stands to lose the most here. If there's anything in this acquisition for Garmin, it's being able to give Wahoo the finger. And trust me, that's something Garmin seems to take pleasure in. Garmin's distribution (e.g. how many retailers/stores/distributors/etc) is second to none in the sports tech world. Nobody has better distribution, not even Apple or Fitbit. Wahoo has good distribution, but it's always been somewhat selective and Apple-like premium in who they partner with. This will dramatically increase the channels folks can get Tacx trainers through. It'll also significantly increase the amount of money Tacx has to work with to hire developers and others to compete with Wahoo.
However, keep in mind that Wahoo is hardly poor here. Last summer they were given significant cash to work with as part of a significant stake taken by Norwest Equity Partners, which has a fund size of $1.6 billion. From discussions I've had, it sounds like they've mostly got a blank check at this point to make projects happen and accelerate the business. So while Garmin unquestionably has a bigger checkbook, I don't think they have a meaningfully bigger checkbook when it comes to needing additional funds. Wahoo's biggest issue is being able to hire quality talent quickly enough, not more money.
Zwift: Ahh, you thought I was going to say another trainer company? Nope. Zwift is the second biggest loser here – and that might surprise you. As much as we as consumers love riding on Zwift, the greater cycling industry is incredibly fearful of Zwift. Most believe Zwift is gaining too much power and given their Silicon Valley VC funding, have near limitless cash to burn on anything they want. While trainer companies like Tacx and Wahoo have made tremendous money from Zwift's growth over the past few years, they're also fearful of the inevitable day that Zwift starts making their own hardware. Given Zwift controls the platform, they could easily allow for features on Zwift only hardware – shutting out competition overnight. Just this morning Zwift announced that some 119,076 unique users raced in the Tour de Zwift this past month. That doesn't tell us the total number of paid users, but it gets us in the general ballpark and establishes a floor – my guess would be in the 180-200K overall range.
Companies like Garmin have expressed concern about Zwift deciding to one day expand beyond trainers and bikes. And for good reason. Zwift bought Milestone (a sensor pod company) back last summer in order to expand more in running (albeit, indoor running).
Sure, it'd be easy to dismiss these concerns – but they're echoed by every company I talk to in the sports tech space. And companies like Garmin don't just think about their competition today, but rather looking out 2-5 years. And viewed in that lens, Zwift could absolutely become Garmin's most important competitor.
CycleOps: This will likely hurt CycleOps the most out of the remaining trainer brands. The company has been struggling in the last two years to introduce meaningful new products, and this is just another nail in that box. Back of the napkin product comparison says that Garmin now competes with every category of product that CycleOps/PowerTap make. Power meters, trainers, sensors, and indoor bikes. The only category they don't compete with is Saris and their rack business.
Elite: The Italian trainer company has had some solid products in the past few years, notably the Elite Direto. But this year, with the Wahoo KICKR CORE and to a lesser degree the Tacx Flux 2 and Flux S, Elite is struggling a little bit to compete from a price standpoint. Not significantly, but enough that Elite will likely need to look at alternative manufacturing locales to compete strongly going into the 2019-2020 trainer season. The Garmin acquisition will only add fuel to that situation. It's nowhere near dire, but with Tacx being Elite's biggest European competitor, this will unquestionably hurt Elite.
Others: There are of course others that'll be impacted by this. For example, trainer company Kinetic will likely see a drop, and even Specialized will probably see long-term competition on the water bottle front. Today Tacx doesn't' do manufacturing of bottles in the US, whereas Specialized does (and inversely, Specialized doesn't do manufacturing in Europe). I could see Tacx/Garmin look to easily break into the massive US athletic water bottle market, where Tacx has significant strengths.
The Winners: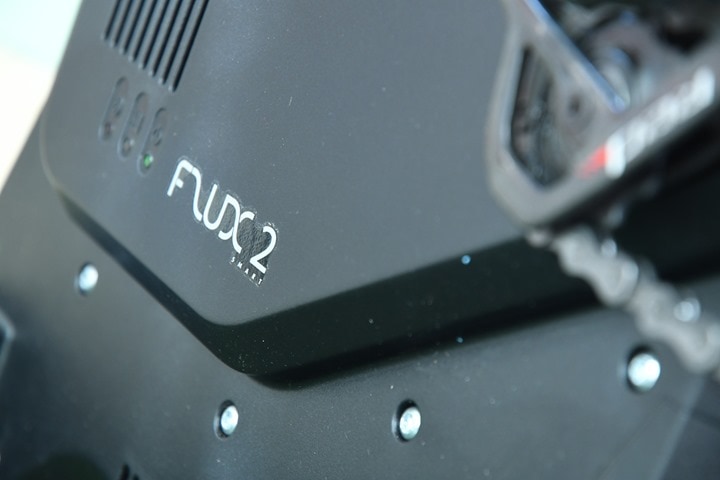 So, who are the winners here? Well, that list is unquestionably shorter. Certainly privately held Tacx is a winner, as they're likely to be enjoying all that Amsterdam's night scene has to offer this evening. Still, let's give this a whirl:
Tacx Customers: I actually can't think of many downsides here for Tacx customers. The first thing that often comes to mind in an acquisition is product support, and I see this being a big benefit for Tacx customers. While Garmin's support centers are a mixed game depending on which region you're in – even the worst regions are generally better than what Tacx can offer. Tacx has wholly centrally support in Europe, and then works with a distributor in your country to sort out returns/etc. It's mostly cumbersome. Undoubtedly Garmin will work longer term to consolidate support for Tacx products into the existing fairly well-oiled machine that is in place for Garmin products. Again – I'm definitely not saying Garmin product support is awesome everywhere, but it's better than what Tacx has by a long shot.
Additionally, for Tacx customers, I suspect we'll see more rigor in project management schedules. While neither Garmin nor Tacx is known for their quality assurance (software in Garmin's case, hardware in Tacx case), Garmin does manage to have very strong project management internally. It's exceedingly rare for a Garmin product to miss a timeframe or date, where it's more or less the norm for a Tacx product to be late. On the flip side, Tacx firmware does tend to be quite good – so perhaps the two companies can share lessons learned there.
Garmin Customers: I don't see any downsides for existing Garmin customers here at all. There will likely be better integration between Garmin head units and indoor training products in the future, which is a step above the generic and mostly non-existent integration today. I could actually see Garmin spending a bit of time to implement better trainer & bike computer integration. Though admittedly, I'm not sure what that'll entail since for the most part people want to use tablets, phones, and computers to control their trainers. Still, I can't see anything but upside for existing Garmin customers.
Zwift Customers Part 1: Oddly enough, I think this will be a good thing for Zwift customers as well. You see, as noted above this will undoubtedly keep Zwift in check. Which in turn means that when the day comes where Zwift announces their own trainers, there's more competitive pressure by the likes of Wahoo, Garmin, and maybe others to ensure a level playing field. A monopoly is never good in the indoor industry.
Zwift Customers Part 2: Akin to the Zwift hardware customer argument, I wouldn't be surprised to see Garmin make a go at competing with Zwift using elements of the existing Tacx training platform. Garmin has been sniffing around indoor trainer apps for a while, and they could decide to rebrand/rebadge the Tacx suite and make a meaningful run at Zwift directly. This would benefit consumers by likely seeing more functionality from Zwift given competitive pressure, while concurrently seeing price increases stall or even reverse. Garmin could easily decide to offer the platform at no cost, thereby putting enormous pressure on Zwift at a time when Zwift more than ever needs to prove a path to profitability. From a consumer standpoint though, increased competition between companies almost always leads to more features at a lower price.
Final Thoughts: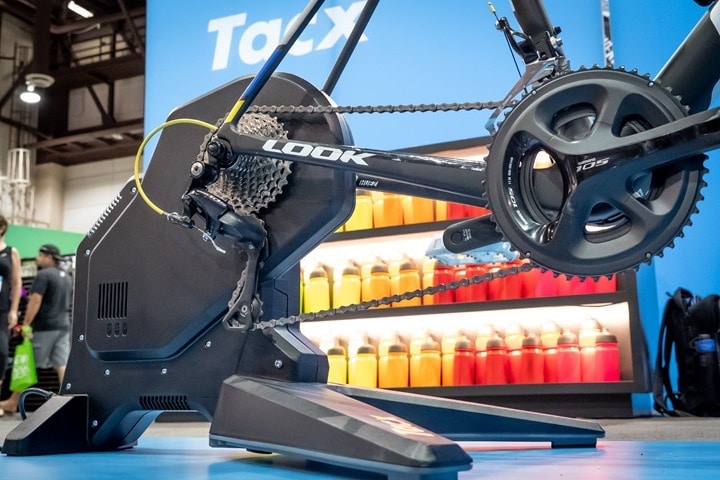 As I said at the beginning, this is unquestionably the biggest sports tech news in 2019 to date – and I suspect will end up being the biggest sports tech news of the year. As outlined, the ramifications are far wider than one might initially realize. And even more so since nothing will happen overnight.
With massive distribution and sales networks to get up to speed, it'll likely be some time before consumers (or retailers) see the meaningful change in either company's products or services. But I wouldn't be surprised if by next winter we're already seeing the impacts of the change. Heck, maybe we'll even see the Tacx bike by then too.
With that – thanks for reading!