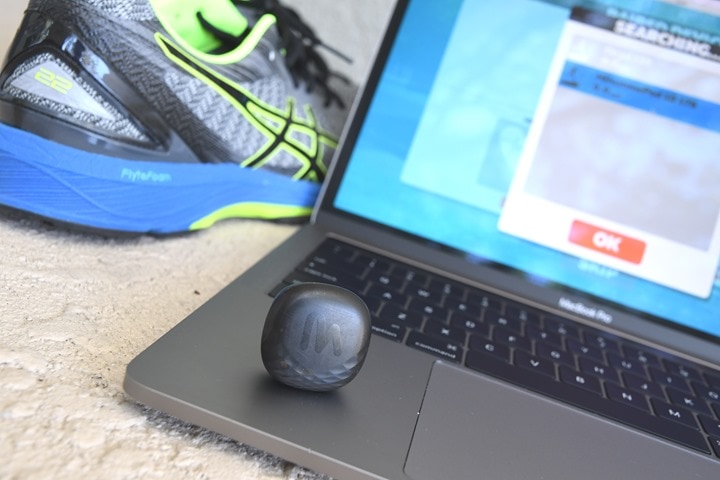 In a move that will turn heads within the indoor training industry, Zwift has acquired Milestone and their famed inexpensive ($25) running footpods.  This isn't the first time Zwift has dabbled in hardware, but it is definitely the first time they've overtly made a hardware play that will ultimately end in them having a Zwift-branded (and owned end to end) device.  And of all things? The unassuming running footpod.
The Milestone Pod: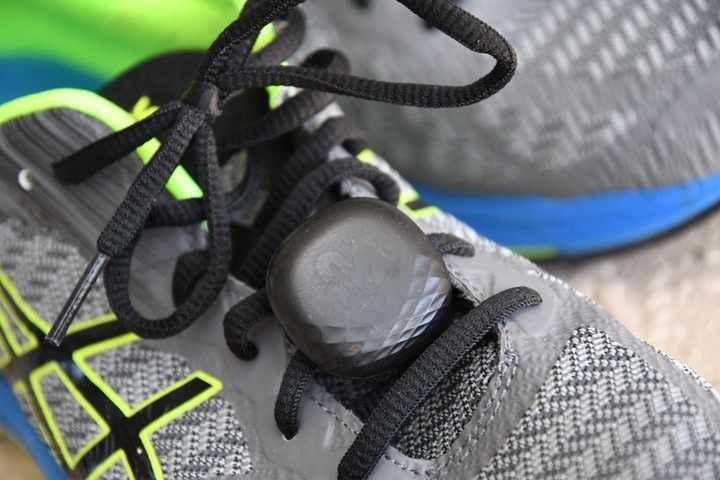 Now for those wondering why on earth Zwift would buy a running footpod company, the answer is simple: It's their gateway to indoor running success.  Zwift needed/needs some method for runners on treadmills to transmit pace to their apps, allowing those athletes to utilize Zwift for running.  Sure, there were previously a number of options in the market, but those options fell into two very distinct camps: Crappy or Expensive.
Crappy Options: These would be all of the existing ANT+ footpods that cost $50-$80 but were ANT+ only, not Bluetooth Smart. Additionally, there were the couple of Bluetooth Smart footpods that were either discontinued (Adidas) or the size of a Twinkie (Polar's option). Seriously, there was nothing on the market reasonable except Milestone.

Expensive Options: Then you had the other end of the spectrum. Very good devices, but all expensive. This past winter we saw Zwift partner with Stryd to produce a Zwift-colored variant, called Stryd Live. That footpod was ostensibly all about Zwift, and in fact was launched at a Zwift event in NYC. Accurate it is, but at $100, it's not viable for most.  Never mind higher end $200+ options like the full Stryd or RunScribe pods.  Or even higher end options like TechnoGym's treadmill that integrates with Zwift.
Again, those expensive options certainly existed in the market, but for 'world domination', they didn't fit the bill.
And then there was Milestone.  Floating for the past year or two at $15-$30 for their Bluetooth Smart only footpod, it was the perfect option for Zwift (and many other people).  It lacked ANT+ though, which was their biggest mistake as a company. See, without that it wasn't appealing to Garmin runners with older devices that only supported ANT+ footpods. Given Garmin at the time dominates the running market, it significantly hurt their revenue potential (since Garmin's footpods were 2-3x the cost).
About 18 months ago (January 2017), Milestone added standard Bluetooth Smart footpod support.  This sent them on a very different course then they originally intended when they had their own app that was the only platform that worked with the footpod.
You see, Milestone's initial business plan had them sharing your running footpod data with retailers (from your local running shop to big box companies).  They'd send everything from shoe preferences to exactly how many miles you ran each month, to the retailer.  The retailer could then customize marketing messages like "Looks like it's time for new shoes", based on shoe mileage.  The reason the cost for the device was so low was that your data was subsidizing the other half of things.  Milestone would charge the retailers for access to your data, and thus cover their hardware costs.
Except for one problem. Actually, two problems: Retailers balked in a big way.
First problem was they balked because the per-user pricing Milestone wanted to charge them for this constant update data was insane.  Second, Milestone's privacy policies at the time didn't cover any of this. According to their initial privacy policies (since updated), they explicitly stated they weren't sharing any data.  And while technically true (because they didn't have any retail partners), it still caused concern among a few retailers I talked to.
As a result Milestone found themselves in a pickle: Their product simply wasn't expensive enough to make any appreciable amount of money.  By the time you added in manufacturing and distribution costs, it was likely Milestone was making almost nothing on their product (especially when on sale at $15-$20).  And unlike a high volume product such as a Scrub Daddy, there isn't really a ton of footpod demand globally.
So here you had a company with a very solid product that most users liked, but that not enough people would buy to make it a meaningfully profitable company (Side note: I've had really good luck with it, though some say it's not quite as stable pace-wise in certain scenarios as Stryd is for them, for me it worked fine).
And thus Milestone was a target ripe for acquisition. And acquired they've now been.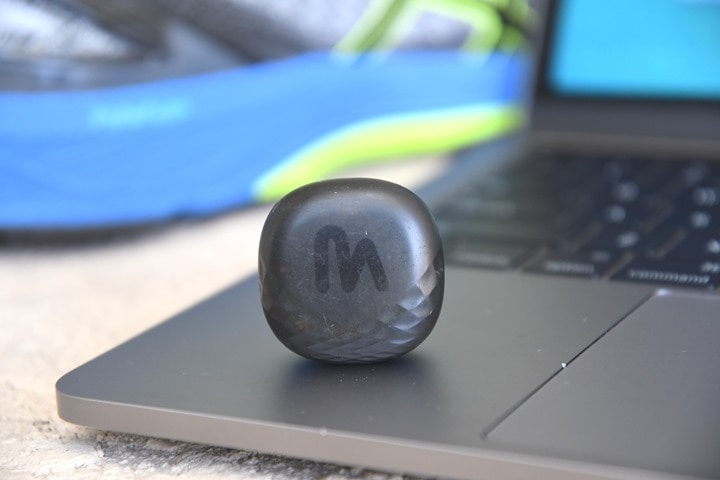 As part of the deal Zwift has officially "acquired the commercial rights to manufacture and distribute footpods previously manufactured under the
Milestone Sports brand", and additionally, they've acquired the core talent behind it: Milestone CEO (Jason Kaplan), Chief Technical Officer (Meir Machlin) and (VP of Business Development Tzach Goren).
According to Zwift's press release, they've got near-term plans for the pods (Milestone's pods have largely been unavailable on Amazon since late 2017, which the company says was due to manufacturing delays).  Zwift says that Milestone pods are now back in production and shipping to distribution partners.  According to the Amazon listing it's not yet back in stock. Hopefully that changes shortly.
But that's not all.  In addition, the company said:
"Zwift now aims to produce a new footpod model, which will be more "Zwift-centric," focused on improving the indoor running experience. The new Zwift footpod will be a refined version of the legacy MilestonePod, with enhanced technology and a more responsive feel for both indoor and outdoor experience."
They also noted in the press release when discussing Milestone's footpods:
"Not only do they provide connectivity to Zwift on any treadmill, but they also provide the outdoor runner with important
metrics such foot strike and rate of impact along with run distance and duration. These are not only great tools that help to refine running technique, but also help provide runners with important information that can improve performance, reduce injury risk, and make sure they are in the proper shoe."
Marketing fluff sure, but for a group well seasoned in writing press releases, there's so much you can read into this.  The fact that they acknowledge these metrics in a press release about the acquisition is a sure sign for things to come in Zwift.
So who's the biggest loser in this deal (it's definitely not consumers)? Stryd. Without question…Stryd.
As I cautioned in my Stryd Live post back in February, I noted the $100 price point was dangerous for them, and needed to be about half that.  They had a limited time period to sell as many footpods as possible and gain not just market share, but market PR in their product.  But at $100 for a footpod, it was hard to do that in the scale that Zwift wants running to be part of their platform at (hundreds of thousands of people).
Zwift's CEO Eric Min does state that they'll continue to work with existing treadmill and footpod makers though:
"We are determined, as much as ever before, to continue work with existing footpod and treadmill manufacturers to help us achieve this goal by providing customers the best possible experiences to suit their individual training needs."
And undoubtedly that sentiment is true.  But there's a simple reality that when a consumer can buy a footpod at $20-$30 (or heck, probably eventually even free and bundled into an annual membership), they aren't going to buy a $100 one.  And if Zwift improves the footpod as they say they're going to do, it's likely they can solve any of the nuances of the existing Milestone pod.
Zwift's Future Hardware plans: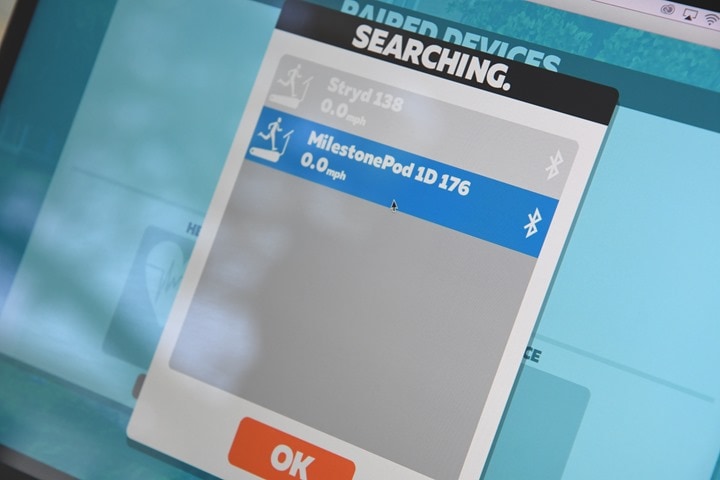 As I alluded to at the beginning of the post though, this is hardly Zwift's first foray into hardware.  Last year they courted a number of trainer companies to try and get exclusive deals on trainers that could be bundled with Zwift.  Most of the industry said 'No thanks', but there was one taker: CycleOps.
They did a deal with Zwift that went part of the way towards what Zwift ultimately wants. CycleOps handles the entire order/fulfillment/distribution process for the trainer piece, though to the end user you think you're on Zwift's platform.  That results in a consumer getting a deal on a bundled Zwift/CycleOps trainer package for the Magnus and Hammer trainers, a custom virtual kit, along with an ANT+ stick and USB extension cable (and a year's membership of Zwift).  You can even get 0% financing on the package too.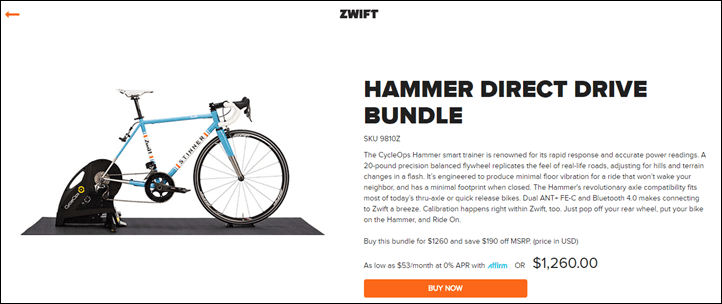 But as anyone in the industry will tell you – that's all merely a first step.  After all, Zwift has stated numerous times their admiration for Peloton, the enormously successful indoor cycling platform (which also announced their running plans earlier this year).  And Peloton is a 100% hardware inclusive platform.  Which isn't to say that would work as well for Zwift, but Zwift has also stated they want the consumer experience to be easier.  Not in terms of software, but the entire hardware experience.
They want you to ultimately get a box from the FedEx man that says "Zwift" on the outside, and inside you'll find the trainer, trainer mat, stand for your iPad, any sensors you need, and even potentially bundles with TV's or displays built-in.  In other words, just like Peloton.  And make no mistake, they'll get there.  It's just a matter of time and enough deal-making before they find the right solutions.
And that's where things will undoubtedly get interesting.  Hopefully Zwift will continue their support of third-party devices as they've done to date.  It'd be 'easy' for them to eventually acquire a trainer company and build their own trainer.  Even doing so at a loss to ultimately get subscription revenue – a core reason why so many trainer companies are hesitant to get too close to Zwift.  While Zwift is the biggest trainer platform, TrainerRoad isn't all that far behind. It's just that you don't see the numbers visually every time you log in as to how many other people are riding concurrently.
Whatever Zwift's future hardware plans are, in terms of what's good for consumers, today's MilestonePod is actually a good thing for consumers (assuming it continues to work with non-Zwift devices/applications – a question I've sent them to noodle on).  Zwift gives Milestone plenty of capital to get production back on track, and soon gets cheap $25 footpods back in people's hands.  All of which is good.
With that – thanks for reading!