New indoor trainer/bike season is heating up again this week, with Wahoo announcing not just one, but two new devices today – the Wahoo KICKR V6 as well as the new Wahoo KICKR Bike V2. Both of these trainers are more about internal connectivity upgrades than ride/experience changes. However, I'd argue that Wahoo's changes here will fundamentally shift the direction of the indoor training landscape for many years to come.
The biggest change in the Wahoo KICKR V6 is built-in WiFi. With this WiFi connectivity the unit will now allow apps to connect via WiFi, potentially reducing/eliminating dropouts that can occur on ANT+/Bluetooth Smart in some high-RF environments (such as dense apartment buildings). Further, this new WiFi capability also means your Wahoo KICKR gets quietly updated in the background, ensuring it's always up to date. The most notable ride change is a new ERG Easy Ramp, which automatically transitions back into ERG mode over 10 seconds if you stop (such as for the doorbell), mirroring a similar feature introduced by Elite this summer. Oh, and the price increases by $100, up to $1,299USD.
These announcements continue another busy week in the indoor trainer realm. Last week we saw Zwift announce their first indoor smart trainer, while Saris announced their new top-end Saris H4. And of course, earlier this summer Elite announced their new Justo top-end trainer. Your move, Tacx.
With that, I've been putting a media loaner Wahoo KICKR V6 through its paces across a variety of platforms and workout types to see how it handles. As usual, it'll go back to them afterwards. If you found this review useful, feel free to hit up the links at the end of the site, or consider becoming a DCR Supporter. With that – let's begin!
What's New: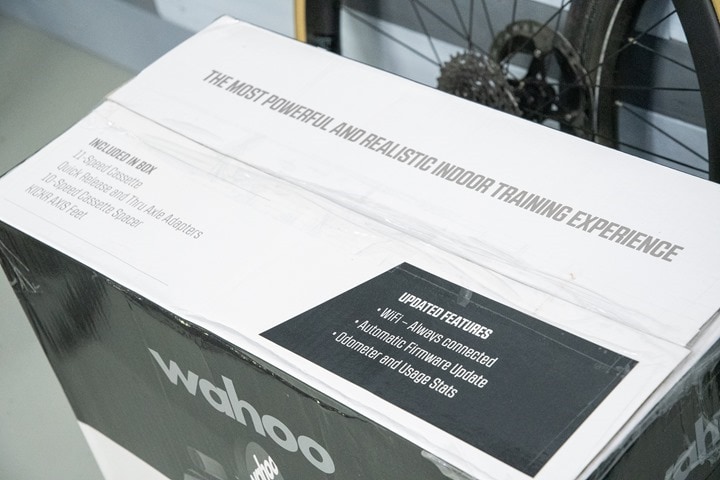 Before we get into all the hands-on action, let's quickly run through what's new on the KICKR V6 compared to the previous edition from 2020. Here's the changes:
– Added built-in always-on WiFi (2.4 GHz)
– Added automatic firmware updates via WiFi
– Tweaked LED status lights to now show WiFi status
– Added odometer & usage stats for the trainer (useful for resale purposes)
– Added ERG Easy Ramp: Returns power to target power over 10 seconds after stopping
– Increased price to $1,299USD (+$100), other currencies listed below
Regarding the WiFi components, what's cool here is that these use the exact same protocol as the existing Wahoo Direct Connect feature, which has been around for almost two years. Thus, all the major apps already support it – including Zwift, TrainerRoad, FulGaz, and of course SYSTM/RGT (among others). I've also verified and used the KICKR V6 with these apps without any issues.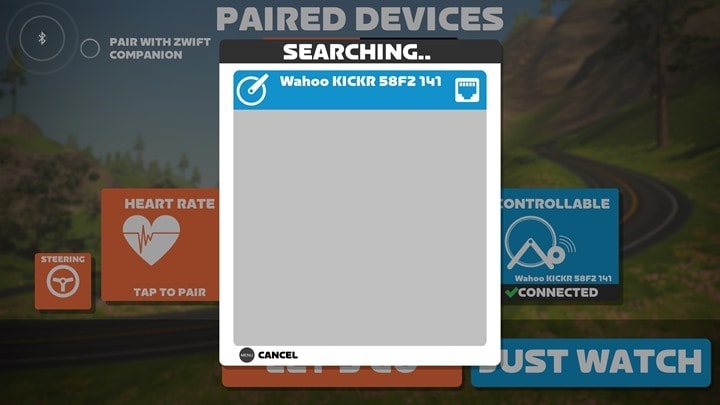 Oh, and just as a quick recap, here's the general overall specs that remain unchanged from the previous KICKR
– Compressing AXIS feet system to give slightly more motion (up to 5%), and quieter on harder floors
– Retains existing KICKR Direct Connect wired option for connectivity (requires adapter)
– Zero-calibration software algorithm
– Power Accuracy claim of +/- 1%
– Dual ANT+/Bluetooth Smart support, including ANT+ FE-C, plus power/speed/cadence broadcasting
– Axle Compatibility: 130 & 135mm quick release, 142x12mm & 148x12mm thru-axle
– 11-speed cassette included (11-28T)
– Compatibility for 8, 9, 10, 11sp cassettes (12-speed cassette compatible with XD/XDR adapter)
– Max 20% incline
– Max 2,200w supported resistance (at 40KPH)
– Built-in handle
– Requires power cable/be plugged in
And finally, here's the official pricing for all regions Wahoo has listed:
– USD$1,299.99
– GBP£1,099.99
– EURO€1,299.99
– CAD$1,879.99
– AUD$1,799.95
– JPN¥175,550
Got all that? Good. The trainer starts shipping today.
In The Box: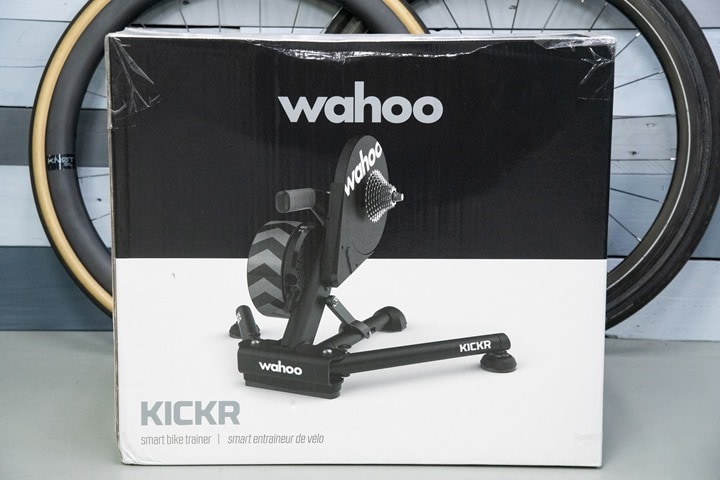 The Wahoo KICKR V6 comes in a box very similar to that of the KICKR V5, which you'll find artfully photographed above. Once you manage to free it of the inner box, you'll find it protected in foam: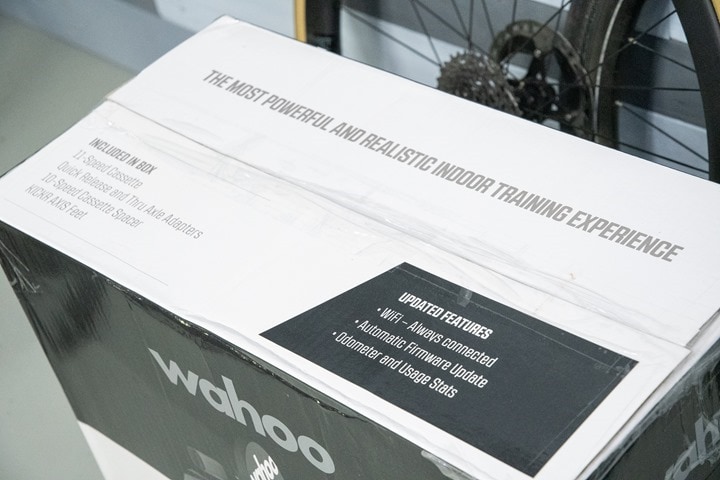 Below, are the parts included within the box. In a nutshell, you've got the trainer, a secondary set of AXIS feet (with more stiffness), the power cord, and some adapters for thru-axle bikes. Also, some paper stuff you'll pretend to read. Oh – and stickers!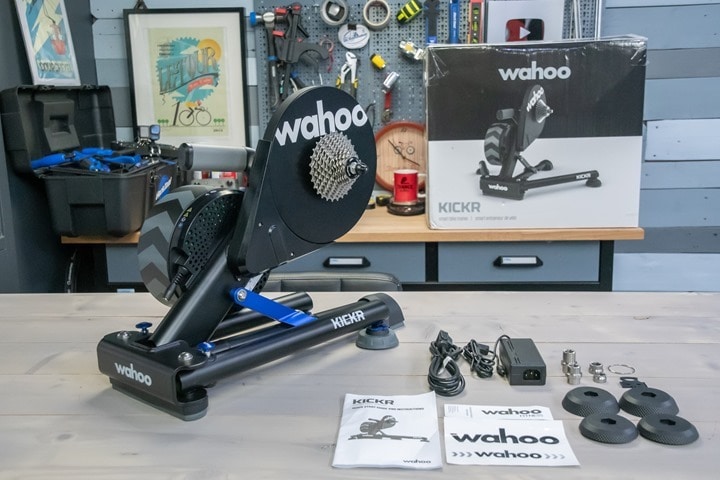 Starting off with the AXIS feet, these are extra sets that you can use to change stiffness levels. More on that later.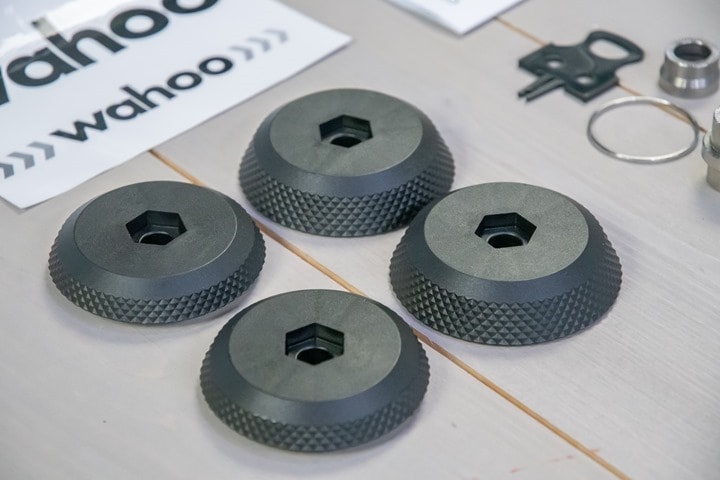 Here's the included thru-axle adapters as well as disc brake spacer: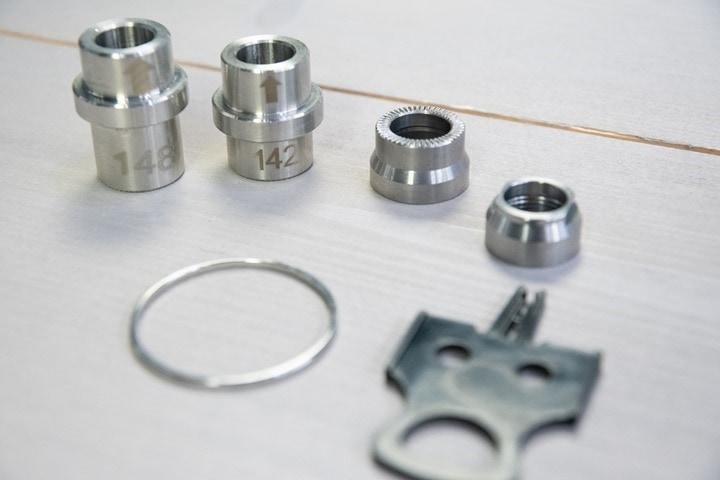 Then we've got the power cord. Depending on which region it's shipped from, it'll include differing power cord interfaces, though, the block portion is the same for all regions (100-240v).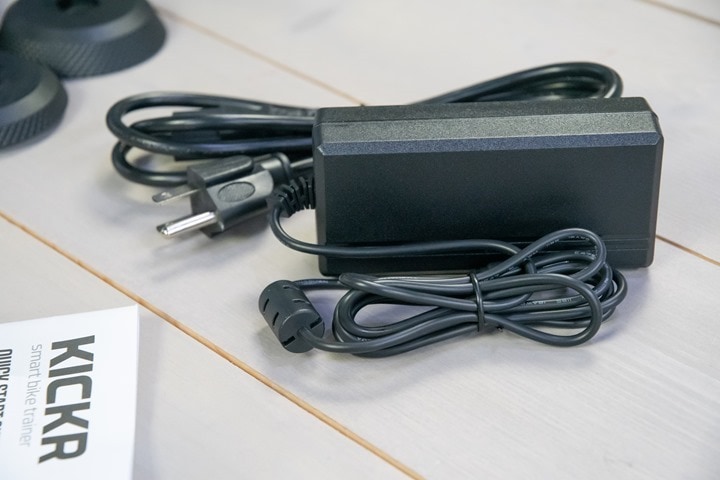 Then there's the trainer itself, which you'll have plenty of photos of. But you can see the new tag on the inside here: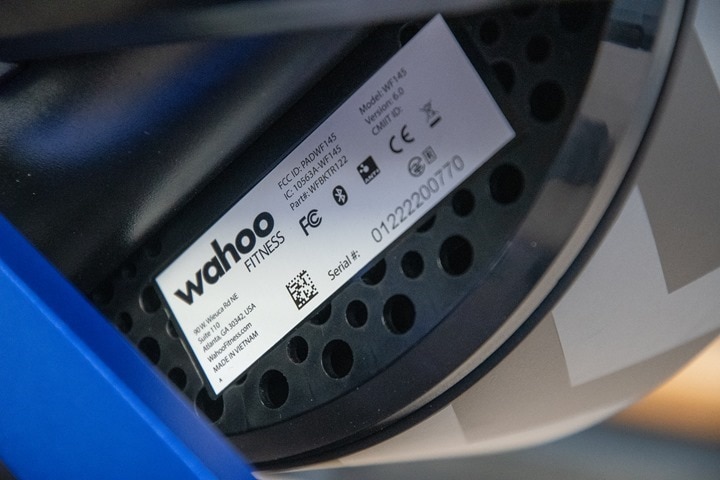 Then the paper manual stuffs, along with two stickers. Historically, I've placed these on the Wahoo KICKR power cord block, but these days that actually has a Wahoo label on the back of it (it didn't use to, it was generic). But sometimes I still stick the sticker on the front so I can quickly spot it from a glance (admittedly, with a gazillion trainers, this is more of a me-problem than a normal person problem).
And with that, we're done on this unboxing experience. Take the box and stash it somewhere in your garage or something, in case in a few years you want to resell it (notable with the new odometer feature for this purpose, though, admittedly more so if you ride less).
The Basics: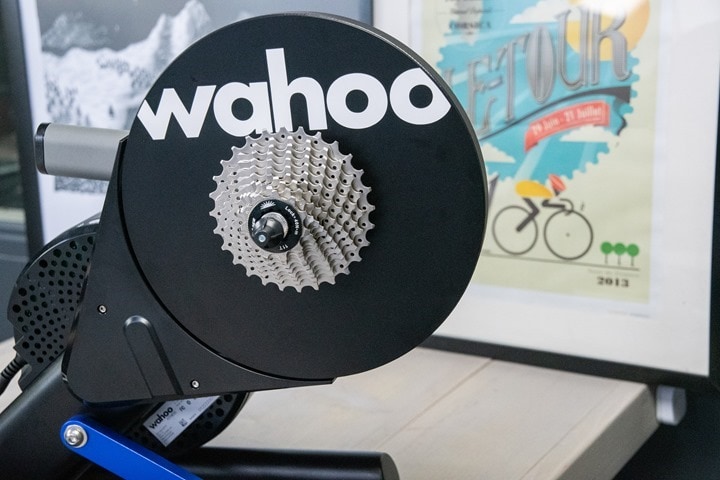 Setup of the KICKR is pretty quick and easy, at least assuming you're using it with an 11-speed bike. That's because it's got an 11-speed cassette on it by default. In the event you've got another speed bike, you can swap the cassette by purchasing one yourself and installing it. It's a pretty quick process that typically only takes 2-5 minutes.
So, assuming you do have that 11-speed bike, then the first order of business is opening up the legs. These are unlocked using the two little blue leg locks, which keep the legs both opened or shut, depending on the situation (storage/moving, or riding).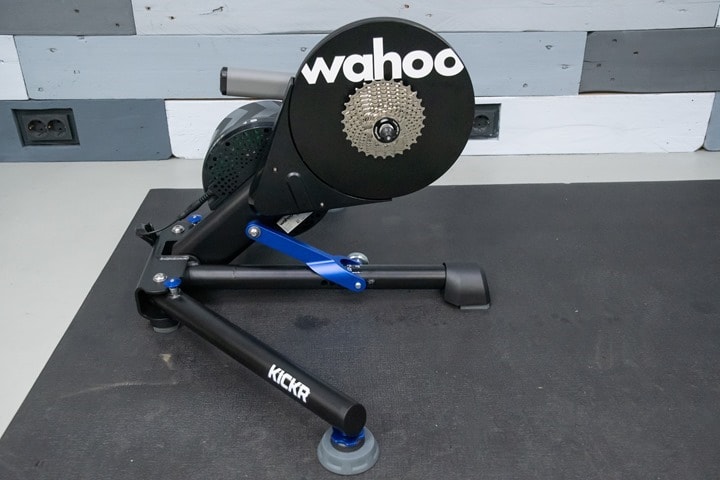 Additionally, you can adjust the height of the trainer itself, depending on what bike frame you're riding. You'll see the markings along the bottom. I always forget to adjust this each time I get a new KICKR, and then subsequently never remember to change it to the lower height when my wife rides her smaller bike. So half the time it's usually wrong. There's no real harm in that, it's simply for comfort.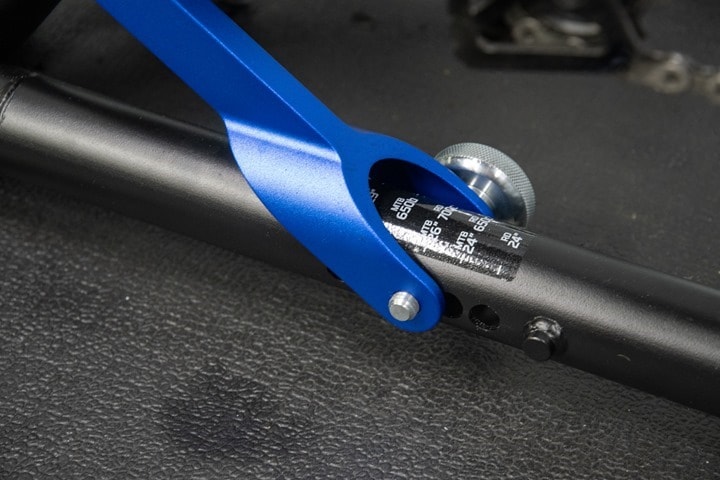 Next, if you haven't already, plug it in. Here's the back of the power cord, which I've always included in my reviews so you can figure out which is which down the road. Though, Wahoo has been writing the Wahoo name on the back for a couple of years now, which helps.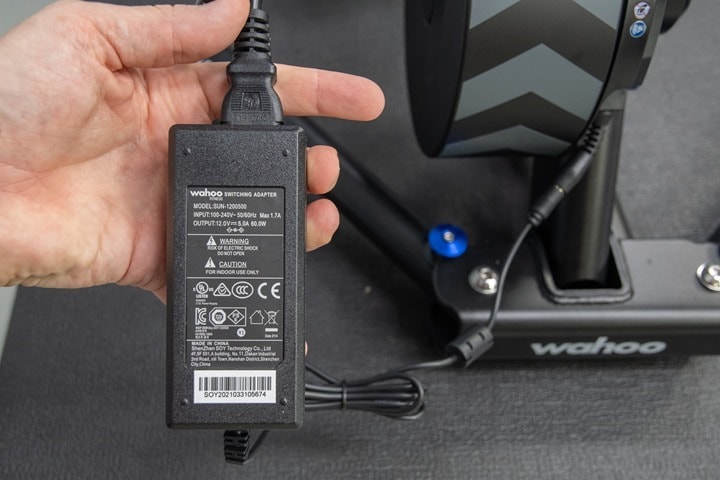 You'll plug it into the flexible adapter at the back of the trainer. This is a trip-resistant adapter that twists with the cord and then will unplug in case you stumble over it.
Once plugged in you'll notice the new status lights, specifically, the new WiFi one. Previously, it was ANT+ & Bluetooth Smart. Except, as Wahoo pointed out, since ANT+ was basically always-on broadcasting, then the light was always on making it mostly useless. Whereas both Bluetooth Smart & WiFi are connected on-demand, thus, now you can see status of the lights. Also, you may have noticed the added warnings about the flywheel being hot, new to the KICKR V6.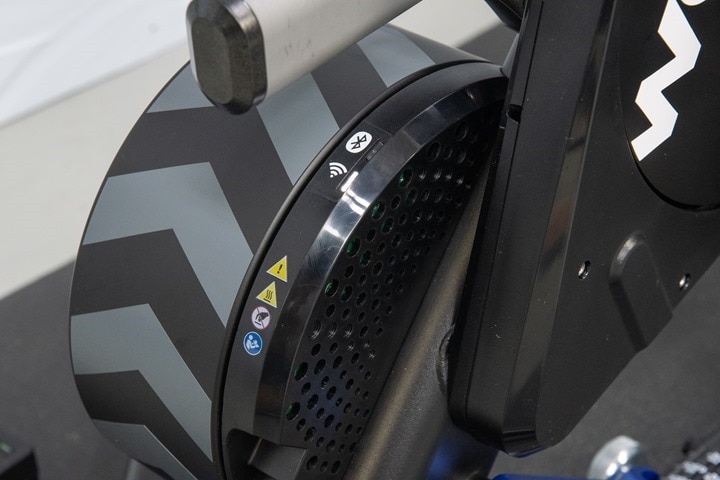 With that all set, go ahead and toss on your bike. Since the KICKR is a direct drive trainer, that means removing the rear wheel and attaching the bike directly to the cassette on the trainer.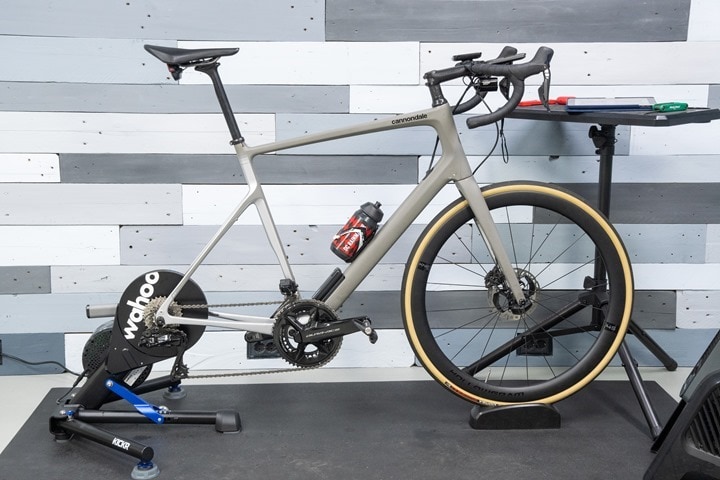 You can choose whether or not to use a front wheel-block. You don't need one, though I personally like it as it keeps my wheel from wobbling around aimlessly.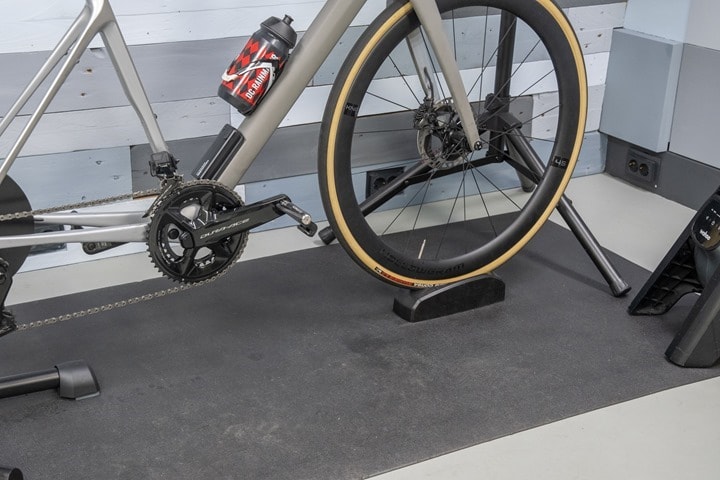 As with the last few generations of Wahoo KICKR units, the KICKR V6 is fully compatible with the Wahoo KICKR CLIMB, so if you have that, you can pair that up too. The KICKR CLIMB will raise/lower the front of your bike, simulating the climbs as you go through a course/route.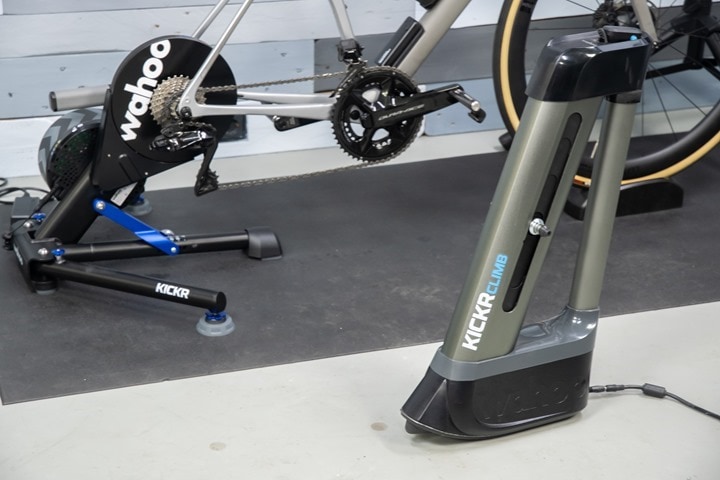 Next, there's the AXIS feet. These were introduced in the last version of the Wahoo KICKR (V5), and nothing has changed here. There's technically three sets of feet, with one foot per leg (the middle strut has a non-removable AXIS foot built into it). Here's all three feet (in black) laid out, plus the mounting hardware for the left/right sides: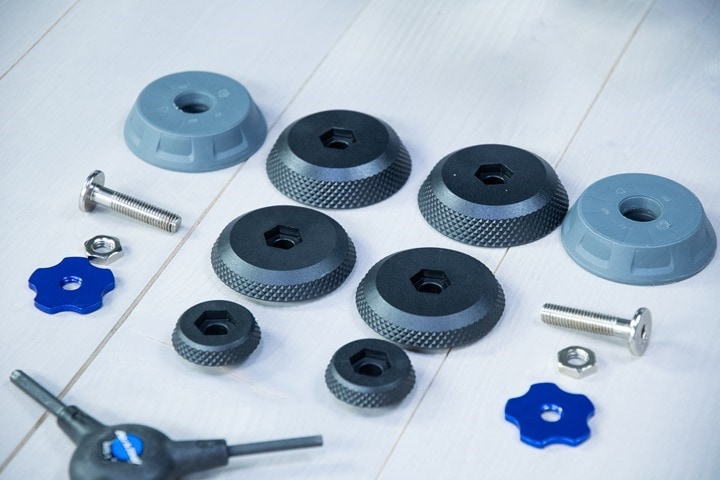 As you can see from the manual that you didn't read, the three sets of feet align to three different resistance levels, which would be most applicable based on rider weight. I've previously tried all the sets, including doing full rides on both the smallest and largest feet.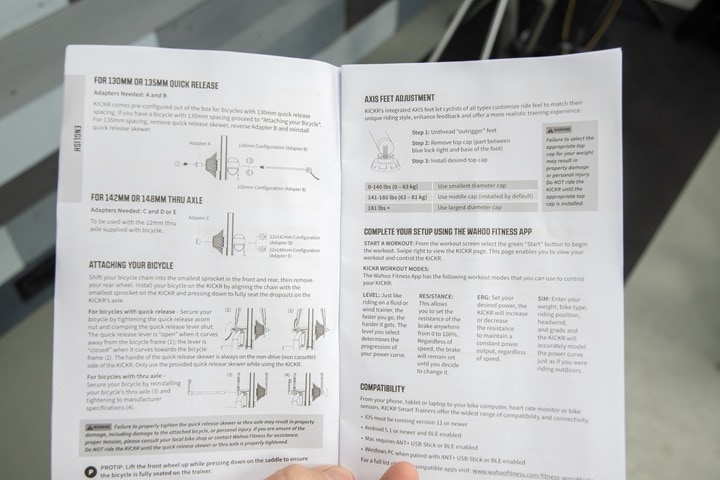 Looking at mounting, the feet spin off and then are disassembled with a simple hex wrench. It takes just a few seconds to do/change.
Here's what a mounted foot looks like up close: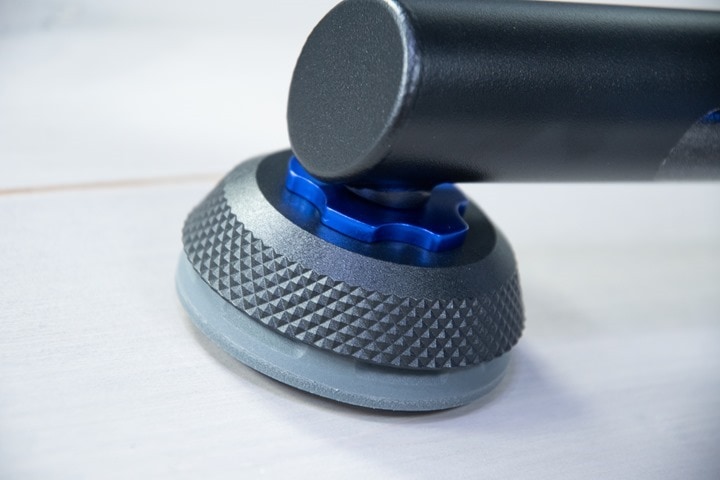 The feet are designed to give up to 5° extra movement/sway side to side. The main idea here is less about feeling like outside motion (such that a rocker plate would provide), and more about giving a little bit more sway that helps in longer trainer sessions by allowing your butt to make micro-adjustments on the saddle (as it would outside). Also, the feet help dampen vibrations on harder surfaces, for those that might need that (such as in some apartments).
So, by now you're asking whether or not it makes any difference? Nah, not really – at least not on a trainer mat. Basically, on a trainer mat you're gonna get all the cushion that you can get already. However, if you're placing the trainer directly on a hard surface like concrete, then yes, you'll feel very slightly more movement. But this is quite a bit less than the more modest movement you'd get from the new Elite Justo smart trainer, or an actual rocker plate.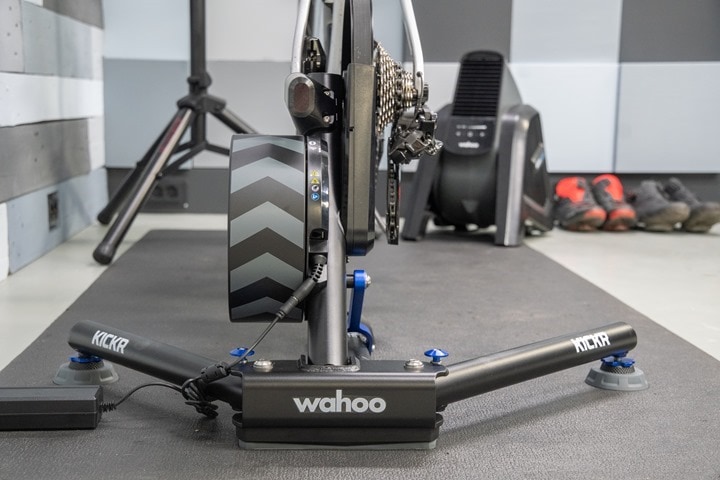 Note that the AXIS feet are also sold separately, and are compatible with all existing Wahoo KICKR trainers (but not CORE/SNAP, since that's a different leg design, and not ROLLR because there's no feet at all). So, if you do have an older unit (V1-V4) and want to reduce vibrations, that may be an option. They're $79.
With all that said, let's start riding. Given the KICKR is a smart trainer, it'll change resistance automatically in a few different ways, primarily driven by different applications/methods.  But most of this all boils down to two core methods:
ERG Mode: Setting a specific power level – i.e., 210w.  In this mode, no matter what gearing you use, the trainer will simply stay at 210w (or whatever you set it to).
Simulation (SIM) Mode: Simulating a specific outdoor grade – i.e., 14% incline. In this mode, it's just like outdoors in that you can change your gearing to make it easier or harder. Wattage is not hard-set, only incline levels.
In the case of simulation (aka slope) mode, the KICKR V6 can simulate from 0% to 20% incline – the same as the last two KICKR versions. While other trainers can simulate above 20% these days (including ones quite a bit cheaper than the KICKR), I continue to question how many people actually want to ride such a gradient. When I'm outside doing any road rides with more than about 12% gradient, it just sucks – let alone 14%, 16%, and more. A 24% incline? There's just no reason I want to relive that scenario voluntarily indoors.
Then, to top that (figuratively or otherwise), if you're using Zwift, most people never bother to change the defaults, which means Zwift will automatically half the values anyways. Specifically, Zwift's default Trainer Difficulty level is 50%, meaning, a 10% grade feels like a 5% grade. You need to change the 'Trainer Difficulty' level to 100% in order to feel it (and most people don't bother to). Where the higher incline values from manufacturers can matter though is at low-speed high-wattage climbs up those 12% or beyond ascents. But in the last couple of years, that's not really an issue either.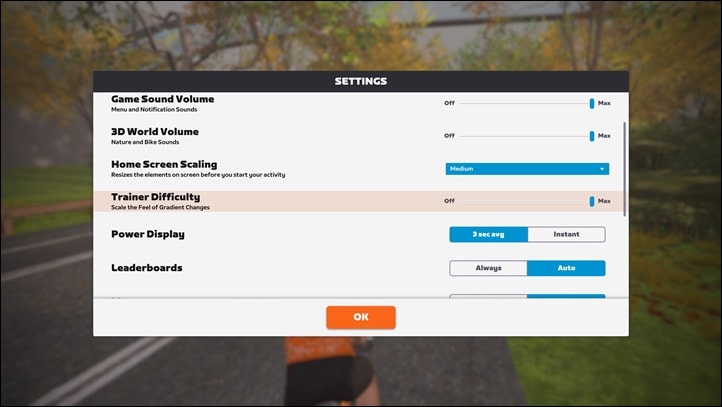 The second mode the trainer has is ERG mode.  In that case, the company claims up to 2,200w of resistance at 40KPH. Although, realistically, you don't care about that. I can only barely (maybe) break 1,000w for a second or two, and even most front of the non-pro pack cyclists aren't going to top 1,800w.  The pros would only be just a bit beyond that.  Said differently: Peak numbers in this competition don't matter.  Instead, what matters is actually a harder metric to make clear – which is the ability to simulate high grades and lower speeds (especially if you're a heavier cyclist).
One core test I do with all trainers though is responsiveness: How quickly does it respond to ERG mode changes? I typically do that with my 30×30 test via TrainerRoad, though it doesn't really matter what method you use as long as you're looking at big shifts in wattage:

Now, I dive into all the nuances of this later on in the accuracy section, specifically including my 30×30 test via TrainerRoad, though it doesn't really matter what method you use as long as you're looking at big shifts in wattage.
So what about road feel and noise?
Like I always say – for me personally, it's hard to separate the fact that I'm riding indoors from outdoors. It's still a trainer, and I'm still looking at a wall in front of me.  My brain can only turn off so much of that.  Still, much of the road-like feel is driven by the flywheel, and be it physical or virtual, flywheel sizes tend to be measured in weight.  This impacts inertia and how it feels – primarily when you accelerate or otherwise change acceleration (such as briefly coasting).
All that prefacing done, the KICKR V6 feels identical to the KICKR V5. And the KICKR V5/2020 feels identical to the KICKR V4/2018, because…well…nothing has changed there. The flywheel is identical here across all three of these units. And in terms of people's happiness level with the KICKR2018/2022, everyone is largely pretty happy there in terms of road-feel. Given this is the same, I'm just as happy here as before. It's smooth when it needs to be smooth, and ramps up (and down) correctly as you accelerate.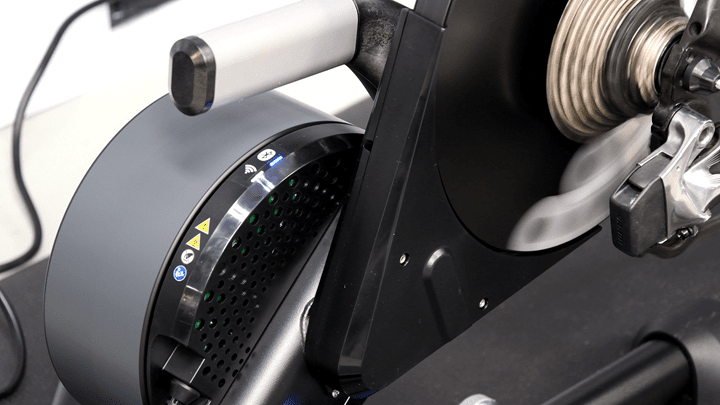 Finally, what about sound? It's silent. Just like the KICKR2018/2020. As with those trainers and most new trainers in the last few years, the only thing you're going to hear is the sound of your drivetrain. So essentially, how clean you keep your drivetrain is the key factor for how quiet your trainer is. If you've got a nice clean chain/chainring/cassette, then your KICKR will be legit silent. If it's full of gunk/grit, then you'll hear a (tiny) bit of sound.
With that, let's dive into app compatibility.
App Compatibility: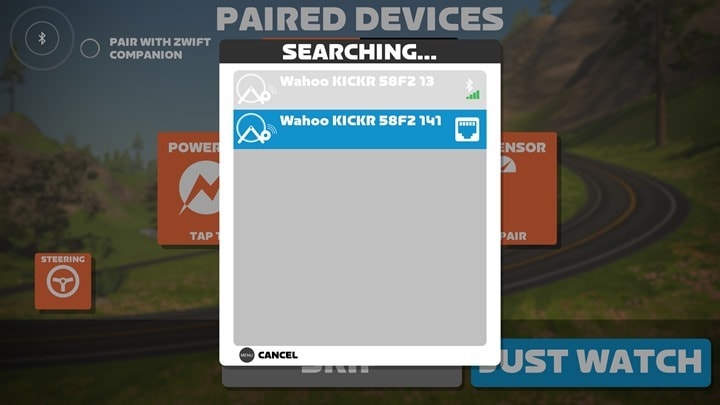 The Wahoo KICKR V6 finally gets back the title of one of the most compatible trainers out there. When the KICKR V5 shipped two years ago, it was actually still missing the Bluetooth Smart FTMS trainer control protocol established years earlier. It's since been added to that KICKR, so now with the KICKR V6 supporting both wired and wireless connectivity, it's hard to argue it's anything but the most connected trainer on the market – a title it first gained when the original KICKR was announced.
Here's the complete list of protocol transmission standards/types the Wahoo KICKR Supports:
ANT+ FE-C Control: This is for controlling the trainer via ANT+ from apps and head units, and includes speed/cadence data. Read tons about it here.
ANT+ Power Meter Profile: This broadcasts as a standard ANT+ power meter, with speed and cadence baked in as well.
ANT+ Legacy Wahoo Trainer Control: Some older apps might still use this to control the Wahoo KICKR, it's what Wahoo first started out on, but today most apps would use the FE-C variant.
Bluetooth Smart FTMS: This is the industry standard for apps controlling the trainer via Bluetooth Smart, and includes ANT+ power, speed, and cadence baked in.
Bluetooth Smart Wahoo Trainer Control: This is Wahoo's private method of controlling trainers, and includes speed/cadence data – still present for older apps using it instead of FTMS.
Bluetooth Smart Power Meter Profile: This broadcasts as a standard BLE power meter with speed and cadence data.
Wired Ethernet Direct Connect: This is using the Wahoo Direct Connect ethernet adapter
It DOES NOT, however, support these protocols/transmissions (which trainers from Tacx and Elite do support):
ANT+ Speed/Cadence Profile: This broadcasts just your speed and cadence as a standard ANT+ Speed/Cadence combo sensor.  Wahoo doesn't do this for any trainers.
Bluetooth Smart Speed/Cadence Profile: This broadcasts just your speed and cadence as a standard BLE combo Speed/Cadence sensor.  Wahoo doesn't do this for any trainers.
The above two are mostly just useful when pairing to more basic smartwatches that might not support power meters/cadence, but I don't expect it matters to too many people.
Now, by this point in this decade, most people know how a trainer pairs in Zwift via ANT+ & Bluetooth Smart, so instead, let's get right to the WiFi goodness here. But fear not, if this is your first ANT+/Bluetooth Smart BBQ, we'll talk about that in a second.
First, in order to get WiFi working on the Wahoo KICKR V6, you'll need to download the Wahoo Fitness app, which is used to configure the WiFi network. You can also use said app for controlling the trainer and doing workouts, as well as tweaking other settings. But for most people, you're just gonna use it once to configure WiFi. If you've just unboxed it, you'll probably be offered a firmware update, which you should most definitely go ahead and do. Updates take about 2-5 minutes depending on whether or not your KICKR is feeling speedy.
Once installed, you'll crack it open and search for nearby trainers, and add your KICKR. Then, you'll see it'll excitedly offer to connect up your WiFi network. Simply tap to search for your WiFi network and then type in the password. It'll do a test connect and you'll be done.
Note that the KICKR V6 only connects to 2.4Ghz WiFi networks, not 5Ghz ones. This is a disappointment for some, yes. Though, Wahoo says that they've done abundant testing with this, even putting a microwave directly next to the trainer, without any drops. It sounds like the primary driver for the lack of 5Ghz network connectivity is a story we've heard from countless other companies over the past two years: Chipset availability.
While some tech geeks might be displeased here, I also think most people (including myself) simply won't care. It connected up to my Google Nest mesh WiFi network just fine.
With WiFi set up, we'll jump over to the app of our choice. In my case, I'll show you Zwift first, since more than likely that's what you're using. When you open up the pairing menu, assuming you're on the same WiFi network, you'll see the KICKR listed, up to three different ways. You'll likely see it listed as both a Bluetooth Smart trainer as well as a WiFi trainer, and then if you've got an ANT+ adapter, you'll see that too. On the WiFi side, Zwift isn't updated yet to know it's WiFi, so it just assumes it's a Wahoo Direct Connect trainer via Ethernet. All works the same.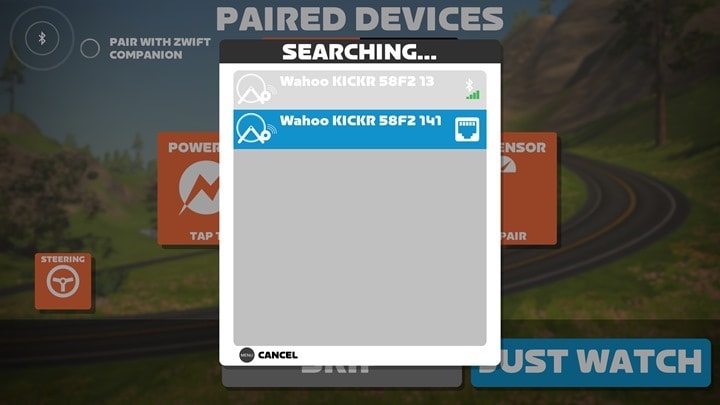 Once you've done the first one, you can repeat for both the controllable trainer as well as cadence side. And that's it, you're done.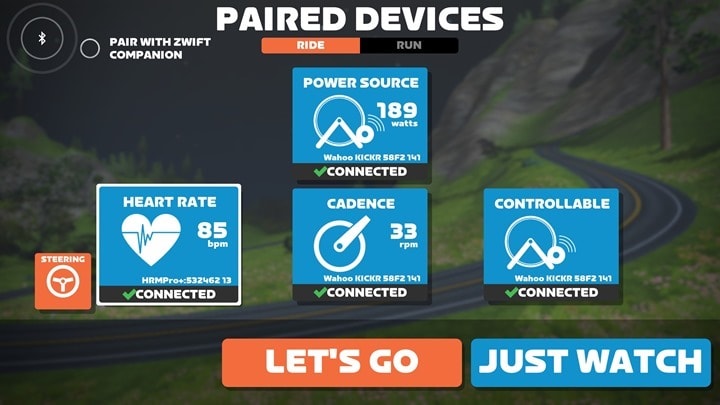 If you do want to use that wired port instead, you can do so assuming you buy the Wahoo Direct Connect adapter. While that wired port on the back might look like Ethernet, it's not.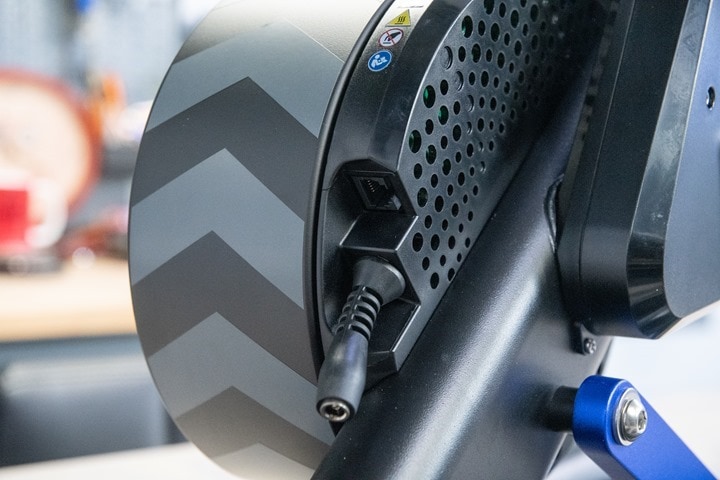 Technically it's an RJ25 port (identical externally to an RJ11 telephone jack port, just with more pins inside). However, you can't just plug that into a 14.4 modem and dial-in Zwift. Instead, you'll need to purchase a separate accessory adapter that'll connect from that RJ25 port into RJ45 (Ethernet), which Wahoo sells for $100. These days, all apps, including Zwift, are compatible.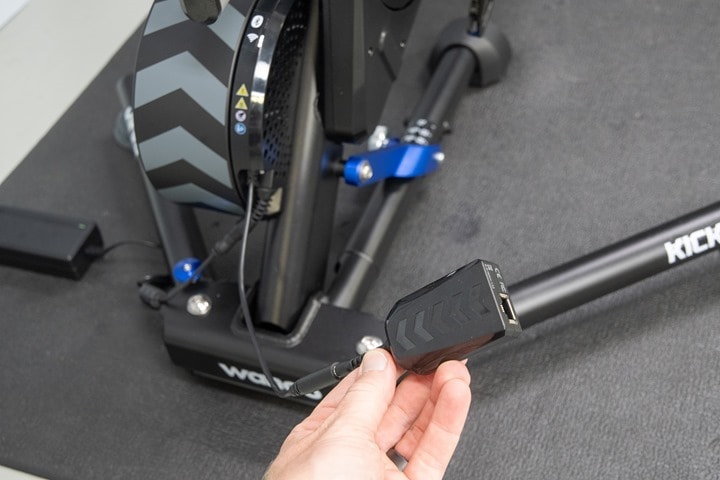 For reference, below, RJ45 (Ethernet) in yellow, RJ11 (telephone-style) in black.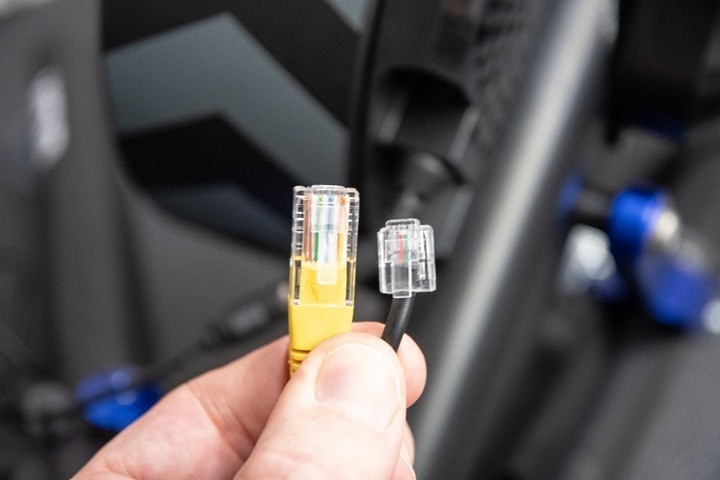 I had hoped that Wahoo would get rid of the adapter that precisely nobody wants. But, given they gave us WiFi instead – which solves the issue for 99% of people having connectivity problems, I'll take the tradeoff.
In any case, for my testing of the KICKR V6 I used WiFi for the app control, but also concurrently recorded a second copy of the data via ANT+ so that I could validate that the data streams matched (or, were better on WiFi). Further, I tested across both SIM mode (Zwift) and ERG mode (TrainerRoad, SYSTM, Zwift).
In terms of resistance and responsiveness, starting with SIM mode (where it changes the gradient), it had no issues while I hung out in a Pacer pack including the hilly terrain of the Titans Grove loop on Watopia. I've been using this route for a few years to test trainer responsiveness, as it's actually a great way to see how quickly trainers can respond, plus, it has a nice flat section later for some high flywheel speed testing.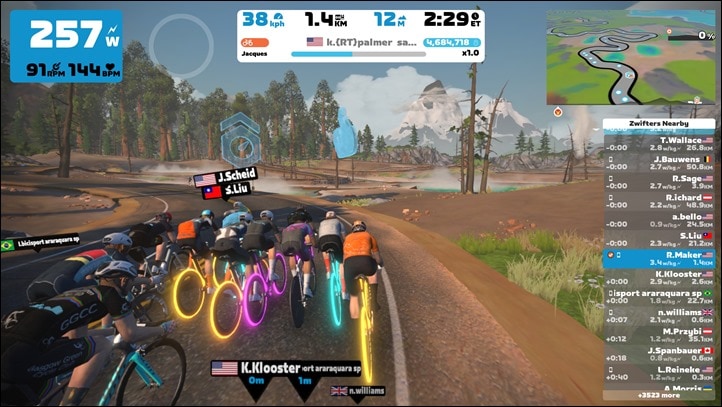 I'd also do ERG mode testing with Zwift as well, no issues there (see the accuracy section for more details on that). Then we've got some structured workout testing using SYSTM, which in this case leverages ERG mode. I tried getting it connected via WiFi, but it didn't seem to work. It showed WiFi and everything initially, but when it came to starting the session, it forced itself upon Bluetooth instead (I show this a bit more in the video). Odd.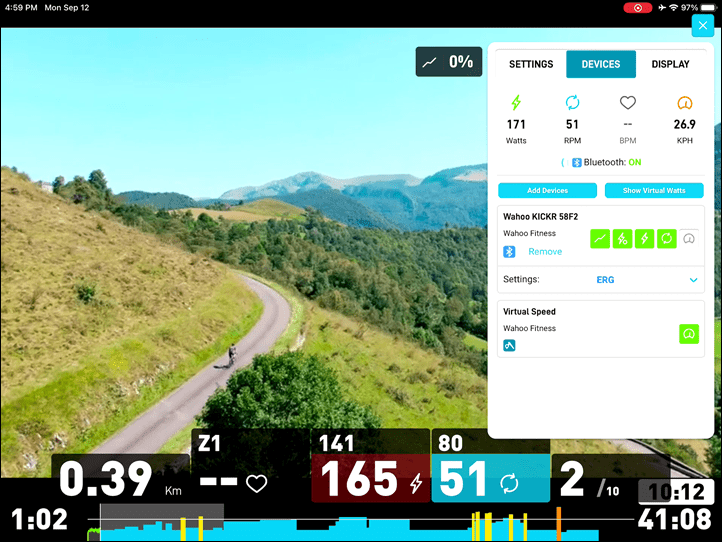 And then the workout itself, where everything worked well.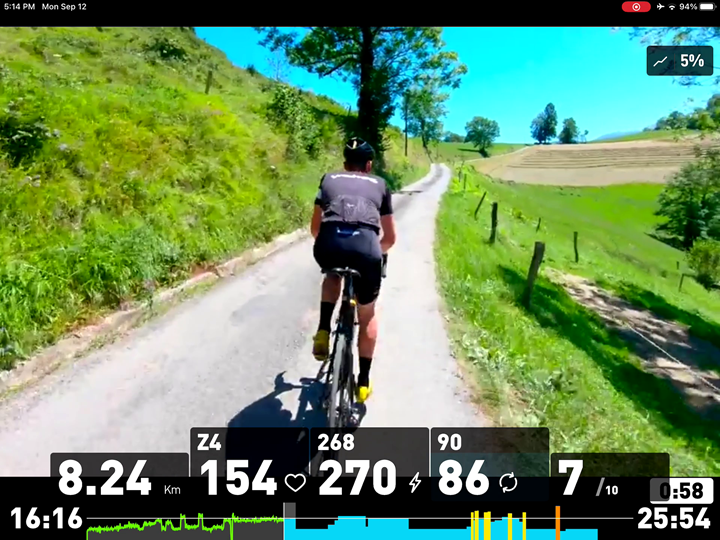 Finally, also some testing with TrainerRoad, also using ERG mode. You can see the DIRCON connection show up immediately here, alongside the Bluetooth Smart one (to the right).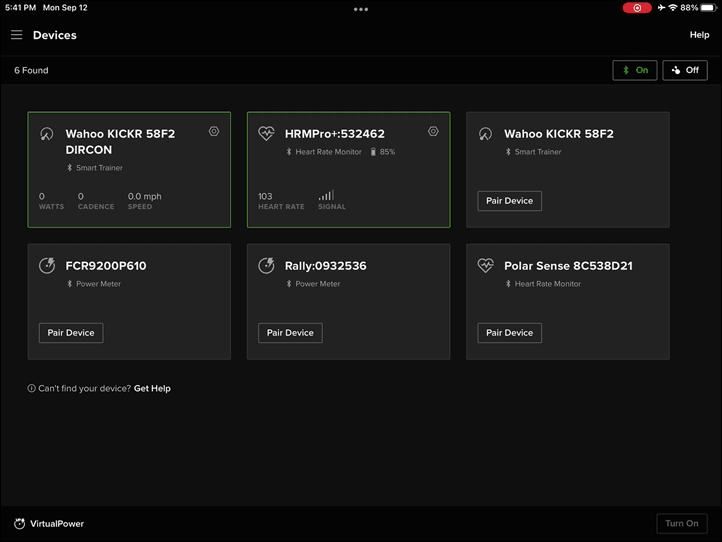 Doing the workout, all was good.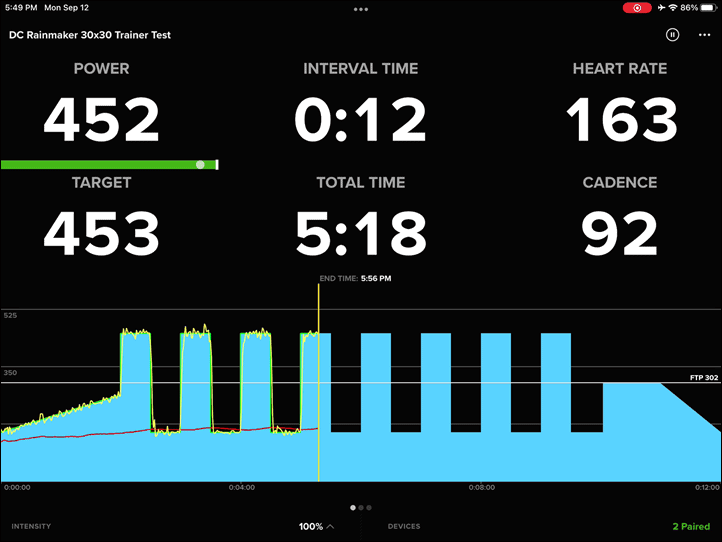 As I always do, it's important to make note of the gear selection section on the Tips page if doing a structured workout (this is shown in TrainerRoad, but it's applicable to all apps). Specifically, to keep it in a small gear up front for the fastest responsiveness and accuracy. This is also true of all smart trainers in ERG mode (e.g. where it sets specific wattages). This doesn't apply to SIM mode (regular gradient simulation).
I did all of my Zwift & TR ERG mode testing with the small chainring up front and about mid-cassette in the back. However, I did one ERG ride in Wahoo SYSTM with it on the big ring (simply because I forgot), and you can see how it's a bit more wobbly. Totally fine for that particular ride, but a good example of why it matters.
With the KICKR V5 & V6, it has auto calibration. This means that within the apps you'll see the calibration option, but that's basically just for show. It just ignores it a few moments later.
With the auto calibration feature, Wahoo says there is no reason to calibrate it. So much so in fact that Wahoo will quietly override any calibration values it takes within a minute or two using a new continuous calibration system. Aside from general accuracy, this system eliminates various ways that people could tweak older KICKR units to boost power numbers for cheating in Zwift or other online races (even in major in-person events). The new behind-the-scenes continuous calibration looks at factors like temperature but also how the unit responds over the lifetime of the trainer to, according to Wahoo, ensure that it's properly keeping itself in check even thousands of kilometers down the virtual road.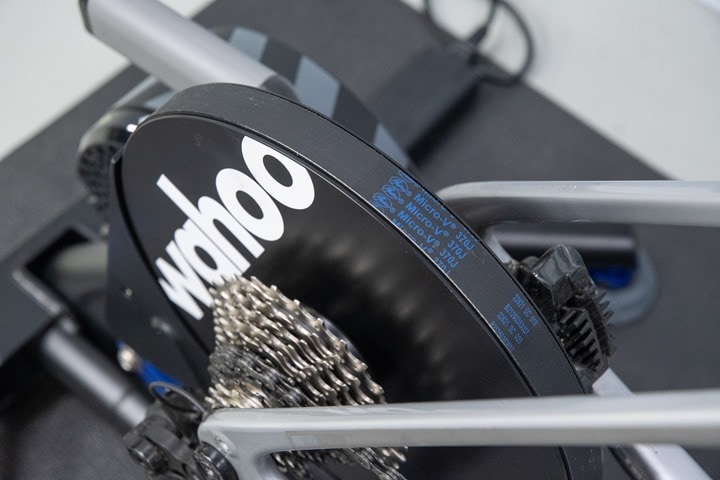 Calibration aside, Wahoo has their own app for validating various settings within the KICKR, as well as toggling a handful of settings related to how the trainer functions in apps. To access these, you'll go back to the app we already downloaded to configure WiFi.
In addition to this, there's two other notable features. First is the ability to use an external power meter to control your KICKR. In essence, this makes your trainer match your power meter. I very rarely recommend this (almost never), since it usually results in poor responsiveness. Plus, my general feeling here is that if either your trainer or power meter is so horribly off that this matters, then you should probably address that first. In the case of the KICKR, I'm not seeing issues with accuracy, so I really wouldn't recommend this. The second feature is ERG Mode Power Smoothing. This basically fakes what the power data looks like in ERG mode (such as in TrainerRoad or SYSTM). Sure, Wahoo would say that it's not faked and just heavily smoothed, but no matter, it basically makes everything look perfectly smooth rather than the reality of human and trainer fluctuations. I turn it off (it's on by default) for all my testing, because otherwise I can't compare actual accuracy.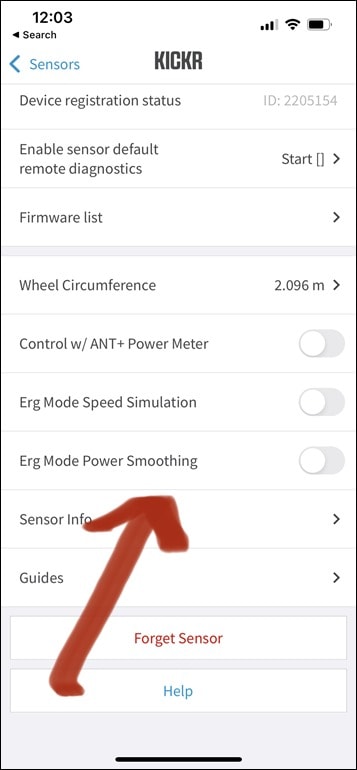 Beyond this, you can see the serial number, firmware version, hardware version, and ANT+ ID of your trainer. And in the event you're working on a support case with Wahoo, for troubleshooting they can also enable remote diagnostics of the trainer, which sounds kinda nifty:
Finally, Wahoo's own app can be used to control the trainer and record basic workouts. In fact, the Wahoo app is still one of the most widely compatible and data-driven apps out there for simply recording a workout (even an outside one). It'll happily pair to all your sensors, and then save files and upload them to piles and piles of 3rd party platforms.
While I rarely use the app indoors, I do occasionally use it for random tests. In fact, even Strava recommends it as an alternative to their own app after they killed off sensor support last fall.
You can control the trainer in a number of ways, including in ERG mode (setting a wattage point), incline/gradient mode (setting a % grade), and level mode (setting a specific level). You can't have it automatically execute a structured workout for you, though you can do that with 3rd party apps as outlined, or bike GPS computers like the Wahoo ELEMENT/BOLT/ROAM, by pairing the KICKR as a smart trainer: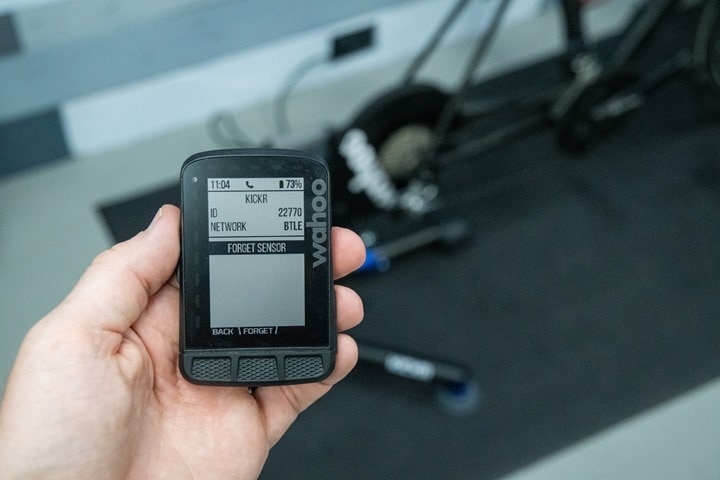 Aside from validating that the most recent firmware properly connects to the app and records data (it does), I didn't use the ROAM to control the KICKR on any workouts. I think that by and large the vast majority of people are using various 3rd party platforms like TrainerRoad, SYSTM, Zwift, or others to execute structured workouts.
Power Accuracy: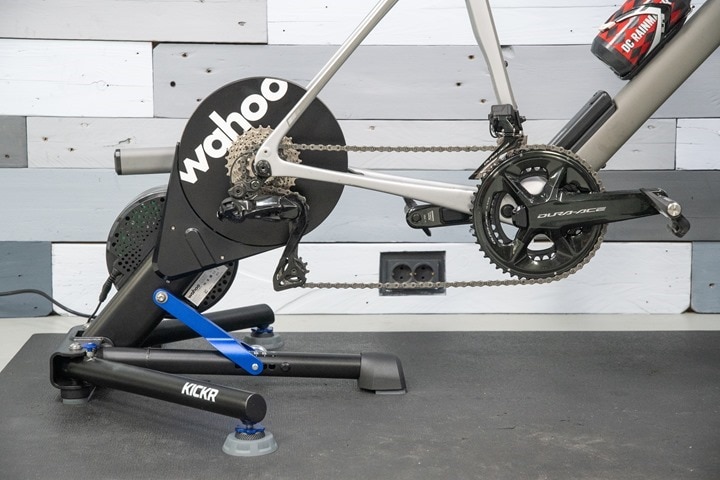 As usual, I put the trainer up against a number of power meters to see how well it handled everything from resistance control accuracy, to speed of change, to any other weird quirks along the way.
In my case I used one primary bike set up in the following dual-power meter configurations:
Canyon Bike Setup: Favero Assioma Dual-sided pedals, Quarq DZero crankset
Cannondale Bike Setup: Garmin Rally RS200, Shimano R9200P crankset
This is all in addition to the trainer itself.  Note that because you remove the rear wheel I can't use something like a PowerTap hub to compare as well (which I would use in power meter testing normally).
In any case, I was looking to see how it reacted in a few scenarios: Zwift (Apple TV), TrainerRoad (iPad), and SYSTM (iPad). The actual apps don't typically much matter, but rather the use cases are different.  In Zwift with simulation mode you get variability by having the road incline change and by being able to instantly sprint.  This reaction time and accuracy are both tested here.  Whereas in TrainerRoad and SYSTM in ERG mode I'm looking at its ability to hold a specific wattage very precisely, and to then change wattages instantly in a repeatable way.  There's no better test of that than 30×30 repeats (30-seconds at a high resistance, followed by 30-seconds at an easy resistance). However, I also did an ERG workout in Zwift as well.
There's two ways to look at this.  First is how quickly it responds to the commands of the application.  So for that, we need to actually look at the overlay from TrainerRoad showing when it sent the command followed by when the Wahoo KICKR achieved that level.  Here's the levels being sent (the blue blocks) by TrainerRoad (in this case via Bluetooth Smart on iPad) and how quickly the Wahoo KICKR responded to it:

The main thing I'm looking for here is how quickly it responds. In this case, the Wahoo KICKR was completing the transition in 2.5 seconds (below), which is exactly where I want it (ideally 2-4 seconds). Any faster and it's actually too fast, and any slower and you're burning interval time. There's also the question of stability of holding the power set point. Stability is two factors: How even I pedal, and how evenly the trainer/bike controls the power. I generally only judge a trainer on my more perfect pedaling efforts. So you can see that I really nailed the first one, but towards the end of the workout (above) my body is a bit annoyed at its now 4th workout in 24 hours.

Next then is whether or not the unit is actually producing accurate power relative to known good units. For that we'll look at this data set here, which compares it to a Garmin Rally RS200 dual power meter, and a Shimano R9200P power meter. Here's the data set:

As one can quickly see, the Shimano R9200P is far above the others. This is a pattern I have seen across all of my tests over the last two months. However, it's inaccurate in different ways on different days. To be clear, the Shimano is wrong. Sometimes it's right, but not today. Meanwhile, the Garmin Rally RS200 and Wahoo KICKR match up nicely, with the Garmin Rally being slightly higher than the KICKR, where it should be from a drive-train loss standpoint.

Next, we've got another ERG workout, this one in Zwift. Frankly, this is boring. Everyone aligns basically happily. The Quarq DZero and Favero Assioma (Shimano edition) are all nearly identical save one spot:

Before we talk about the differences, notice above that little purple drop-out. That's the KICKR ANT+ signal having either drop-out or wireless interference. It's being recorded on the Edge unit, but that unit doesn't drop the HR sensor – telling me that it wasn't the Edge itself that had a hiccup, but either the air between the trainer/bike computer, or the trainer itself. Whereas the WiFi connection had no such issue.
Meanwhile, we do see the Quarq going a bit higher than the other units on these surges. Not sure what to say there, other than to note it. It could very well be right, but it's hard to prove in this scenario.

Next, a ride within Wahoo SYSTM, comparing the Wahoo KICKR to the Garmin Rally pedals and Shimano R9200P unit. At this point you may be wondering why this one looks perfect but the 30x30s above aren't? Well, two possible reasons. First, in the below case, I'm in the big ring (not usually where I do ERG workouts, but I just simply forgot). That results in the KICKR being a bit more wobbly with power control. Not a huge deal, but not as crispy as you see above in Zwift when using the small ring.
However, I suspect it also increases accuracy of the Shimano (put differently, the Shimano unit has issues with the small ring).  Either way, the KICKR is a happy critter here.

Next a more traditional ride on Zwift, this time doing some loops in a group via pace partners. This makes it super interesting because it's constantly shifting power while also constantly shifting terrain. All the units were happily together here (Shimano in the big ring). You do notice the very last sprint I did though, the KICKR ANT+ signal has a single drop (and again, the HR signal doesn't drop-out). This particular route had both flat and hilly terrain, thus getting a workout of the gear shifting.

This is two drops on the ANT+ signal for the KICKR, even while none of the other power meters recorded ANT+ signal drops, nor any HR signal drops for the same time period (across three different bike computers). This makes me think there may be something up there, but it's going to take many more rides to start establishing a pattern. But it's something I'll keep an eye on.
Ultimately, Wahoo nailed the power accuracy on this one the first time around, with no apparent issues across a wide range of tests, including different gearing as well as different terrain. I'm glad to see that, after the nearly 6-month period it took to get the previous KICKR V5 accuracy issues fixed after launch.
(Note: All of the charts in these accuracy sections were created using the DCR Analyzer tool.  It allows you to compare power meters/trainers, heart rate, cadence, speed/pace, GPS tracks, and plenty more. You can use it as well, more details here.)
High-End Trainer Comparison:
I've added the Wahoo KICKR V6 into the product comparison database.  This allows you to compare it against other trainers I've reviewed. For the purposes of this particular table, I've compared it against the Elite Justo, Saris H3, and Tacx NEO 2T, all of which are the top-end trainers from each company. Technically Saris launched the H4 unit last week, but I don't typically add units to the database until I have them in-hand. Still, the differences are increased grade simulation at 25%, increased resistance to 2,300w, and increased accuracy to +/-1%. You can also mix and match and create your own trainer comparison charts with just about any trainer on the market in the aforementioned/linked product database.
Function/Feature

Wahoo KICKR V6/2022 (Current Version)
Elite Justo
Saris H3
Tacx NEO 2T Smart
Copyright DC Rainmaker - Updated September 11th, 2023 @ 6:12 pm New Window
Price for trainer
$1,299
$1,199
$1,099
$1,399
Trainer Type
Direct Drive (No Wheel)
Direct Drive (No Wheel)
Direct Drive (no wheel)
Direct Drive (no wheel)
Available today (for sale)
Yes
Yes
Yes
Yes
Availability regions
Global
Global
Global
Global
Wired or Wireless data transmission/control
Wireless + Wahoo Direct Connect Ethernet Adapter (Accessory)
Wireless + Upcoming Ethernet Adapter (Accessory)
Wireless
Wireless
Power cord required
Yes
No (Note: No control w/o power though)
Yes
No
Flywheel weight
16lbs/7.25kgs
13.7lbs/6.2KG
20lb/9kg
Simulated/Virtual 125KG
Includes cassette
Yes (11 Speed SRAM/Shimano)
No
No
No

Resistance

Wahoo KICKR V6/2022 (Current Version)
Elite Justo
Saris H3
Tacx NEO 2T Smart
Can electronically control resistance (i.e. 200w)
Yes
Yes
Yes
Yes
Includes motor to drive speed (simulate downhill)
No
No
No
Yes
Maximum wattage capability
2,200w @ 40KPH
2,300w @ 40KPH
2,000w
2,200w @ 40KPH
Maximum simulated hill incline
20%
24%
20%
25%

Features

Wahoo KICKR V6/2022 (Current Version)
Elite Justo
Saris H3
Tacx NEO 2T Smart
Ability to update unit firmware
Yes
Yes
Yes
Yes
Measures/Estimates Left/Right Power
No
Yes
No
Yes
Can directionally steer trainer (left/right)
No
With Elite Rizer or Sterzo Smart (accessories)
No
No
Can simulate road patterns/shaking (i.e. cobblestones)
No
No
No
Yes

Motion

Wahoo KICKR V6/2022 (Current Version)
Elite Justo
Saris H3
Tacx NEO 2T Smart
Whole-bike physical gradient simulation
With KICKR CLIMB (Accessory)
With Elite Rizer (accessory)
No
No
Can slide forward/back with movement
No
No
With Tacx NEO Motion Plate (Accessory)
Can rock/tilt side to side (significantly)
Barely...just barely.
Very slightly
No
No

Accuracy

Wahoo KICKR V6/2022 (Current Version)
Elite Justo
Saris H3
Tacx NEO 2T Smart
Includes temperature compensation
Yes
Yes
Yes
N/A
Support rolldown procedure (for wheel based)
N/A
N/A
Yes
N/A
Supported accuracy level
+/- 1%
+/- 1.0%
+/- 2%
+/- 1%

Trainer Control

Wahoo KICKR V6/2022 (Current Version)
Elite Justo
Saris H3
Tacx NEO 2T Smart
Allows 3rd party trainer control
Yes
Yes
Yes
Yes
Supports ANT+ FE-C (Trainer Control Standard)
Yes
Yes
Yes
Yes
Supports Bluetooth Smart FTMS (Trainer Control Standard)
Yes
Yes
Yes
No, but supports most apps
WiFi or Ethernet
Built-in WiFi, Ethernet with Wahoo accessory adapter
Ethernet (with accessory)
No

Data Broadcast

Wahoo KICKR V6/2022 (Current Version)
Elite Justo
Saris H3
Tacx NEO 2T Smart
Transmits power via ANT+
Yes
Yes
Yes
Yes
Transmits power via Bluetooth Smart
Yes
Yes
Yes
Yes
Supports Multiple Concurrent Bluetooth connections
Yes, 3 Concurrent
Dual (Two Channels)
No, just one
No, just one
Transmits cadence data
Yes
Yes
Yes
Yes
Bridging or re-transmission
No
Yes (HR & Cadence)
No
No

Purchase

Wahoo KICKR V6/2022 (Current Version)
Elite Justo
Saris H3
Tacx NEO 2T Smart
Amazon
Link
Link
Backcountry.com
Link
Link
Competitive Cyclist
Link
Link
Link
REI
Link
Link
Link
TPC
Link
Wiggle
Link
Link
Link

DCRainmaker

Wahoo KICKR V6/2022 (Current Version)
Elite Justo
Saris H3
Tacx NEO 2T Smart
Review Link
Link
Link
Link
Link
And again, you can hit up the product comparison database to mix and match any trainers you'd like.
Wrap-Up: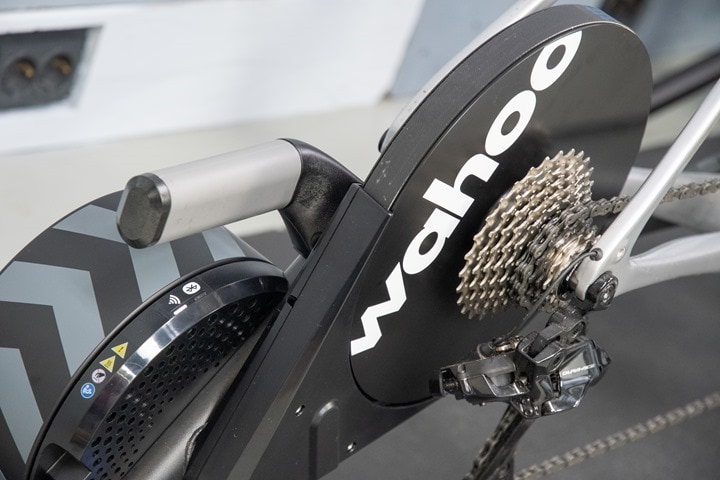 The Wahoo KICKR V6 is a modest upgrade at face value, but one that nails ease of use in two key areas: Connectivity, and ERG mode. On the connectivity front, nothing is more frustrating on a smart trainer than dealing with drop-outs. And while Wahoo's existing Direct Connect option solved that for many, it also required that you run an ethernet cable potentially some distance (which wasn't always viable). Whereas the addition of WiFi is literally a Staples Easy Button solution. Speaking of which, the new Easy ERG just makes it easy to get back onboard in case the UPS man ding-dongs delivering your giant case of 100 fortune cookies. Long-time trainer users know how useful this is (the ERG recovery, but also the case of fortune cookies).
About the only disappointment here is that we didn't see Wahoo switch to an electromagnetic design, akin to what Wahoo has on their KICKR Bike, and which Tacx has been using for nearly a decade on their Tacx NEO series trainers. That type of electronic drive system can not only react faster, but, more notably, simulate downhills (by driving forward the flywheel), while also simulating road conditions (e.g. cobblestones/gravel/etc…).  And of course, it's also unfortunate to see the increase in price when most trainers have been decreasing in price the last 12 months, albeit that was more an overstock situation and new products are dealing with increase costs/inflation.
Still, Wahoo's latest offering is solid – and the inclusion of WiFi is something I and others have been asking for, for years. It substantially increases reliability of the trainer by minimizing wireless interference (as I showed in my testing above, no less), while also simply ensuring your trainer is always up to date on the latest firmware updates. Protocols like ANT+ & Bluetooth Smart certainly aren't going anywhere anytime soon, but this offers another option for users, and one that I expect will become the default for most.
As for the usual question people will ask: Wahoo KICKR series or Tacx NEO Series? Like before, that's almost a political preferences question. The reasons to choose one over the other haven't changed much in the last few years. But, the added Wahoo WiFi connectivity here does meaningfully add to the calculus, and I'd also argue that combined with the still ongoing lack of multichannel Bluetooth on Tacx trainers, or gradient simulator option (e.g. KICKR CLIMB), increases the need for a Tacx NEO series refresh while concurrently shifting a greater share of reasons towards Wahoo's offerings. Meanwhile, with Elite's new Justo introducing the ERG Easy Start feature and having RISER gradient simulation, it should absolutely be considered when looking at these top-end units. But more on comparisons in a later piece.
With that, thanks for reading!
Found This Post Useful? Support The Site!
Hopefully you found this review useful. At the end of the day, I'm an athlete just like you looking for the most detail possible on a new purchase – so my review is written from the standpoint of how I used the device. The reviews generally take a lot of hours to put together, so it's a fair bit of work (and labor of love). As you probably noticed by looking below, I also take time to answer all the questions posted in the comments – and there's quite a bit of detail in there as well.
If you're shopping for the Wahoo KICKR V6/2022 (Current Version) or any other accessory items, please consider using the affiliate links below! As an Amazon Associate I earn from qualifying purchases. It doesn't cost you anything extra, but your purchases help support this website a lot. Even more, if you shop with TPC (The Pro's Closet), you'll save $40 on purchases over $200 with coupon code DCRAIN40! The Pro's Closet has been a long-time partner of the site here - including sponsoring videos like my cargo bike race, as well as just being an awesome Colorado-based company full of good humans. Check them out with the links below and the DCRAIN40 coupon!
Here's a few other variants or sibling products that are worth considering:
And finally, here's a handy list of trainer accessories that most folks getting a smart trainer for the first time might not have already:
And of course – you can always sign-up to be a DCR Supporter! That gets you an ad-free DCR, access to the DCR Quarantine Corner video series packed with behind the scenes tidbits...and it also makes you awesome. And being awesome is what it's all about!
Thanks for reading! And as always, feel free to post comments or questions in the comments section below, I'll be happy to try and answer them as quickly as possible. And lastly, if you felt this review was useful – I always appreciate feedback in the comments below. Thanks!