Update – October 3rd, 2022: The Zwift Hub has now started shipping, and with it, I've released my full Zwift Hub In-Depth Review. In that review, you'll find my accuracy testing on the final firmware/hardware, as well as all the other usual testing bits. I'd recommend reading that instead of this older post done on a pre-production unit.
A few months ago Zwift semi-announced the cancellation of their smart bike (Zwift Ride) and corresponding Zwift Wheel smart trainer. In doing so, they laid off a significant number of employees, and concurrently committed to getting back to partnerships with the industry. And indeed, those partnerships have seemed to start appearing again. However, that was somewhat based on the assumption that Zwift wasn't making their own smart trainer.
Today, that changes.
Zwift has just announced their Zwift Hub, a $499 smart trainer that will likely slaughter pricing in the market. Well, maybe. First, it requires Zwift to make it accurate. But assuming they do that, the product has specs that are roughly half the cost of most of their other competitors.
Now, before we go too far, it's important to know one key detail: Zwift didn't make this trainer. At least not entirely. Instead, they're rebranding the JetBlack Volt smart trainer (which I reviewed a year ago), and repricing it significantly lower than the $849 it previously was. That very capable direct drive trainer did quite well in my testing, arguably better than some of the large trainer companies have done at the same price point.
What Zwift has done is take that trainer, add a dash of orange to it, make setup easier via some nifty bits of cardboard (seriously, it's actually brilliant), and add a few bits of integration into the Zwift companion app. They didn't take away any 3rd party compatibility, thus, you can buy the Zwift trainer and use it with any 3rd party app via the established industry trainer standards. I did exactly that in my testing.
But before we get too far, note that this is not an in-depth review. I'll get to the details of why it's not a bit later on, but the TLDR version is it's not baked yet. This trainer won't launch until October 3rd, and you won't be able to buy it till then. Once it finishes baking (namely, the firmware), then I'll release a full in-depth review. Till then, this is more of a hands-on explainer.
Got it? Good, let's dive into the specs.
The Specs: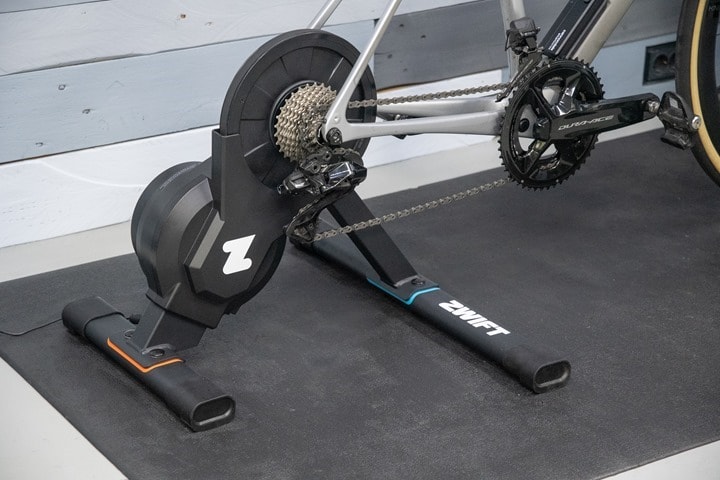 First, just a quick run through the top-line specs, which are identical to the JetBlack Volt because it's the same hardware (something Zwift confirmed as well, there are no changes here):
– Direct drive trainer: This means you remove your rear wheel
– Flywheel: It has a flywheel weight of 4.7kg
– Cassette: A cassette is included, and you choose how many speeds (8/9/10/11/12) upon ordering on Zwift's site. Which is then officially compatible with Shimano and SRAM drivetrains (unofficially, 11sp Campagnolo will also work on Shimano cassettes, just as many users do so today on Jetblack and other trainers)
– Sound: Essentially silent. Only the sound of your drivetrain is heard.
– Handle: This unit lacks a handle, which continues to make it slightly awkward to move around.
– Protocol Compatibility: ANT+ FE-C, ANT+ Power, Bluetooth Smart Trainer Control, Bluetooth Smart Power (everything you need)
– Unique Party Trick: Can rebroadcast your heart rate sensor within a single channel, ideal for Apple TV Zwift users (who are Bluetooth channel limited)
– App Compatibility: Every app out there basically (Zwift, TrainerRoad, Rouvy, RGT, The Sufferfest, Kinomap, etc…)
– Skewer Compatibility: All the skewers and adapters you could ask for: Road 130mm, 135mm, 142x12mm, 148x12mm
– Max Incline: 16% simulated grade
– Max Wattage: 1,800 watts resistance (or 1,300w @ 40KPH)
– Stated Accuracy: < +/-2.5%
– Power Cable Required: Yes, power block compatible with 100-240v
– Pricing and Availability: $499USD, £449, 499EUR, order/ship October 3rd
Just for context, these specs are very similar to the Wahoo KICKR CORE, which costs $899 without a cassette (figure another $50 for that). The JetBlack VOLT, when sold with JetBlack branding was $849USD, or 749EUR (though, it went for about 700EUR street price, including an 11-speed cassette).
What's Different About It?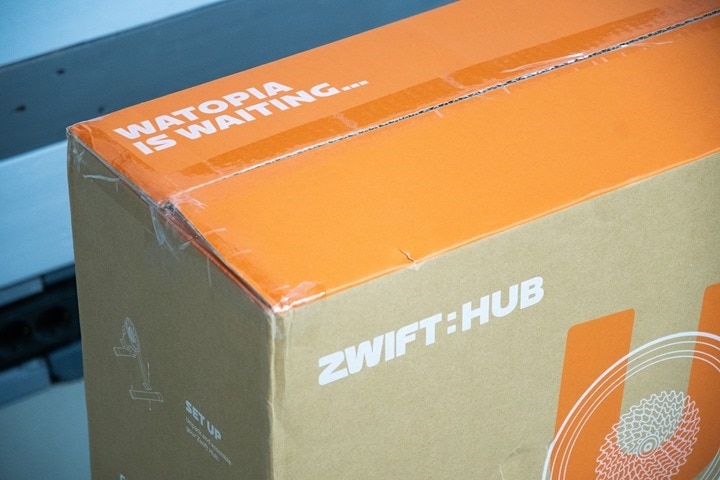 Now, as I noted earlier on, this is merely a rebranded JetBlack Volt. Honestly, that's a smart move. Zwift futzing about trying to create their own smart trainer/bike when plenty of very solid companies existed to acquire or OEM, just didn't make a lot of sense. As I noted at the top, the JetBlack VOLT is a legit good trainer. It competes just fine with mid to upper-end trainers quite easily. Plus, it already had an orange color scheme.
So, what has Zwift changed?
Well, things fall into basically three buckets:
A) The outer box it comes in, setup guides, pamphlets, etc…
B) The exterior paint scheme of the trainer
C) The firmware: This controls things like accuracy, features integration, etc…
Starting off with the box, here's the new box it comes in. Though, I think this isn't entirely finished yet either. But – I do like the look of it: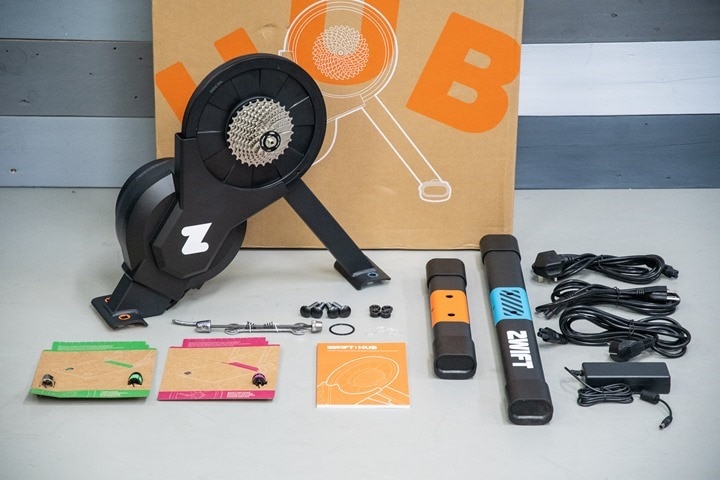 Next, there's the setup guides. And this is arguably the biggest change. To people that can rattle off bottom bracket and similar standards, knowing exactly which skewer/axle type you have is old hat. But for most others, especially those new to the sport, it can be confusing. Zwift aims to solve this with these cardboard cards that you slide in between your rear dropouts, which handily gives you the exact specification and then color-coded adapters that are zip-tied to the cards.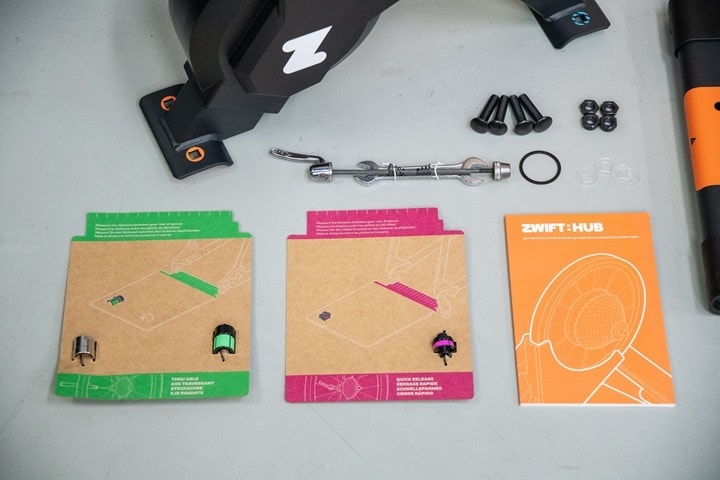 It fits here: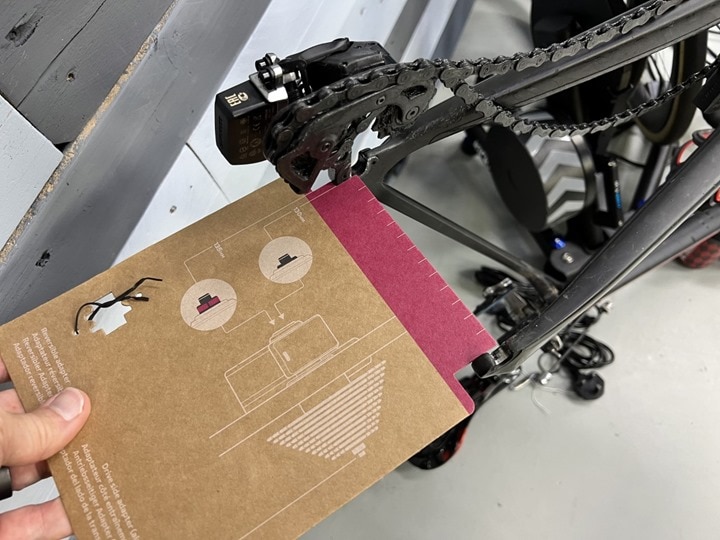 It's absolutely freakin' brilliant. And why on earth nobody else thought of this before seems idiotic in hindsight. But hey, kudos to them! Also, there's a very thorough and very well-done manual. Nobody else has an as clean or easy to use manual as Zwift does.
And that's largely because Zwift repeated numerous times in our conversation that they wanted to make it easier for people who have never had a trainer before, to get the Zwift Hub up and running. All these little things matter.
For example, when you put on the legs of the trainer, they have a little warning symbol which will only show if you put the legs on the wrong direction. Not only that, the legs are color-coded to match the frame of the trainer, again, so you just match the colors.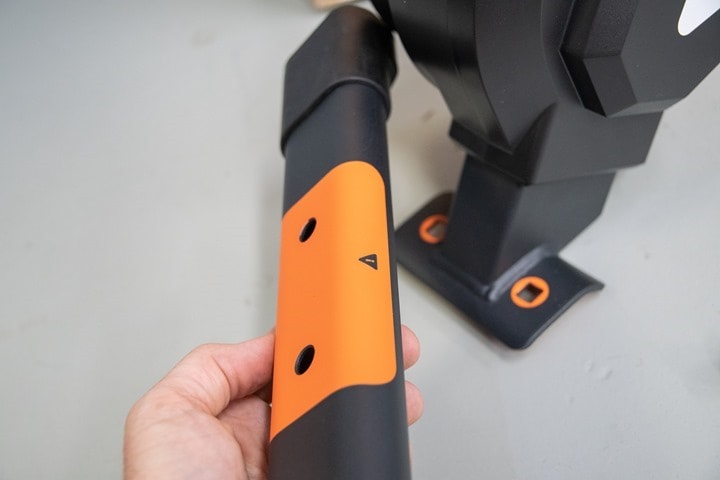 If you've ever assembled a Wahoo KICKR CORE or the original JetBlack Volt, you'd know it's relatively easy to put the legs on the wrong orientation (and have it work too).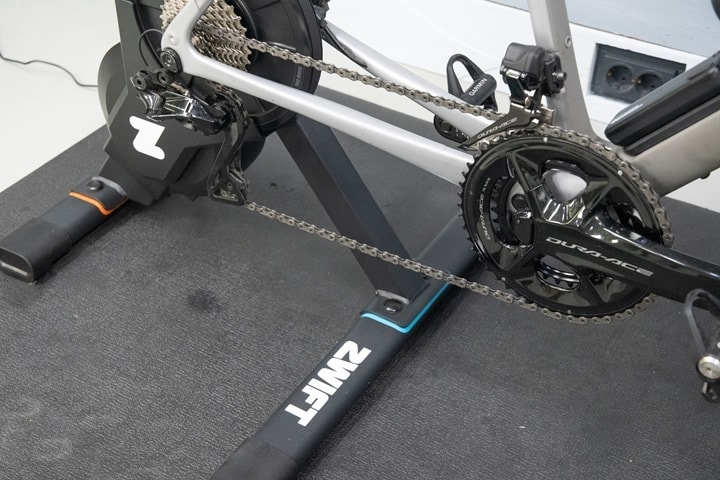 The last change is the firmware. Zwift has made the firmware their own, so it shows up properly as the Zwift Hub using standard protocols, and integrates with the Zwift Companion App for firmware updates and heart rate sensor pairing. You can see the firmware update portion here:
Further, if you have Apple TV, you can use the heart rate sensor pass-through option. This is useful due to Apple TV's 2-Bluetooth connection limitation. Thus normally if you wanted to connect your trainer + heart rate sensor + steering, you'd be one short. Here, the Zwift hub connects to your heart rate sensor and then re-broadcasts it as part of the trainer data stream (also including power/cadence/control), so it in total only takes up one channel: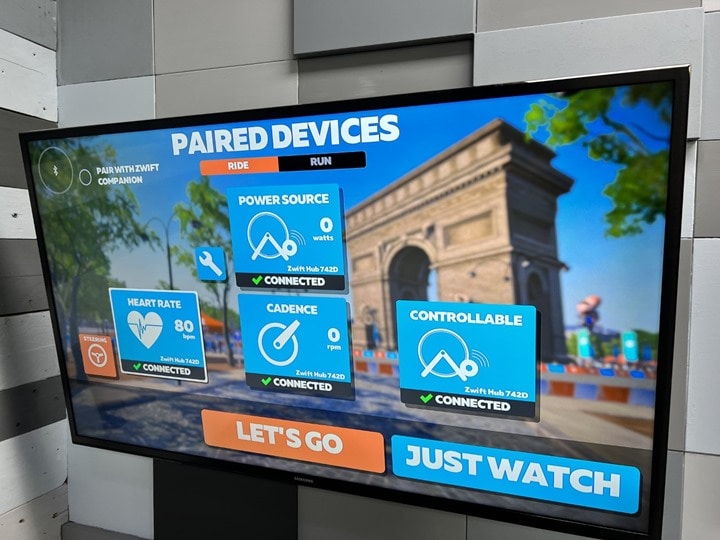 This of course works with any app (I used it with TrainerRoad too), but it is particularly useful for Apple TV trainer apps.
First Rides Thoughts: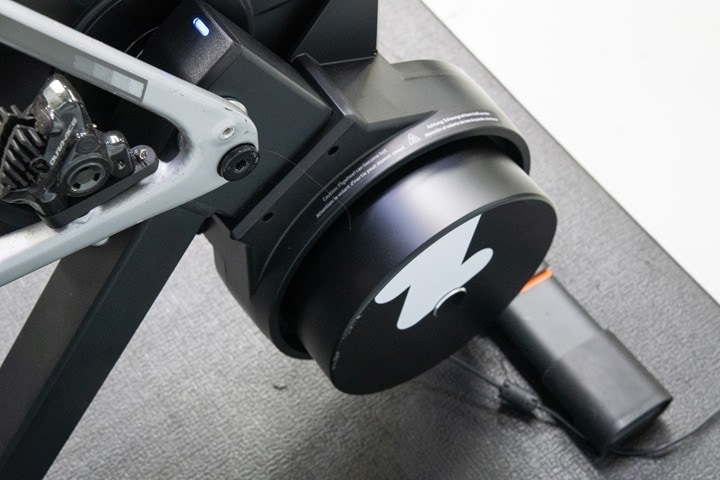 Now using the trainer was pretty straightforward. I cracked open Zwift and then paired it up in the pairing menu. First as the controllable trainer, then power source, then cadence, and finally also the heart rate channel. You don't have to use the HR re-broadcasting, but I did on a few rides.
Next, you'll do whatever ride it is that you want to do on Zwift, be it an ERG ride (structured workout) or a regular SIM ride (just normal riding where it changes the gradient). All of this works just like any other trainer, namely because it is any other trainer – just now with Zwift branding.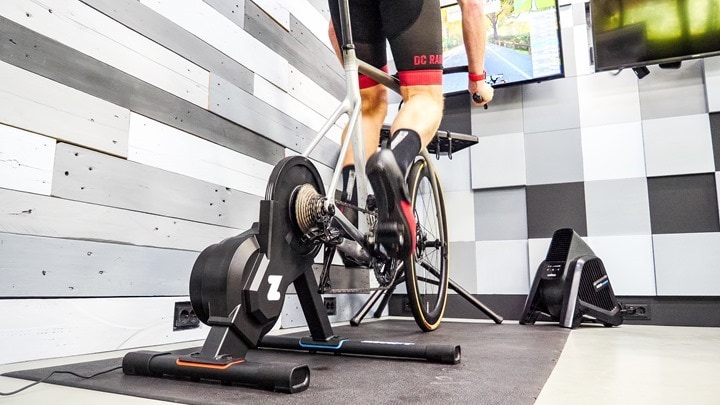 In terms of ride feel, it's quite good. Just like the previous branded JetBlack Volt was. It's pretty much the same ride feel and inertia as the Wahoo KICKR CORE is. So yes, it's very good for the price.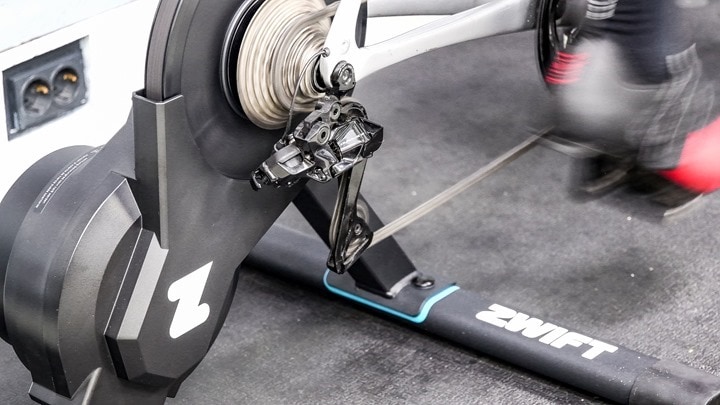 Sound/noise-wise, it's silent. The only sound/noise you're going to hear is your own drivetrain, so depending on how clean that is, that'll determine how much noise you hear. I include a little snippet of it within the video.
Next, it's fully compatible with other apps too. Since it uses the industry standard ANT+ FE-C and Bluetooth FTMS trainer control standards, I had no issues using it with TrainerRoad or Rouvy, to name two. Nor any problems pairing it to my watches (up till the most recent firmware broke that non-trainer connectivity, but I'm told that's coming back in the next firmware version).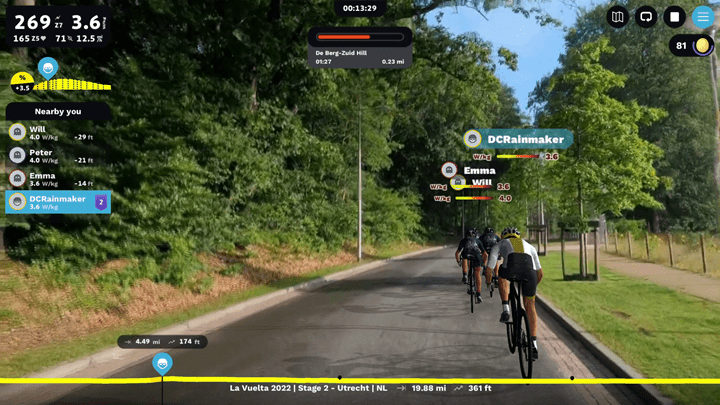 Which then leaves accuracy. To step back briefly, the original JetBlack Volt had very solid accuracy. Things were great in my testing. This time around with the Zwift Hub though, testing it on three different bikes with half a dozen power meters, I ran into some not-so-small accuracy issues. These snags were mirrored by others.
As a result, this isn't a review, since the firmware that you'll be getting won't mirror what I'm currently using. Zwift isn't going to start selling or shipping units till October 3rd. In my discussions with them last week, they asked to hold off on a review and data analysis while they go back to the drawing board. That's a fair request, given I generally don't publish "reviews" unless a product is for sale, or already shipping. Thus ensuring what I have matches what you have.
Then, just a few hours ago (yes, today), they sent over an e-mail confirming they found two items that contributed to the accuracy issues I and others were seeing on recent firmware, and believe they have them fixed for the next firmware update. That firmware version isn't yet available to me, but likely will be within the next few days. Once I get that, and go back and put it through its paces over the course of a number of rides, I'll circle back with a full in-depth review.
Summary: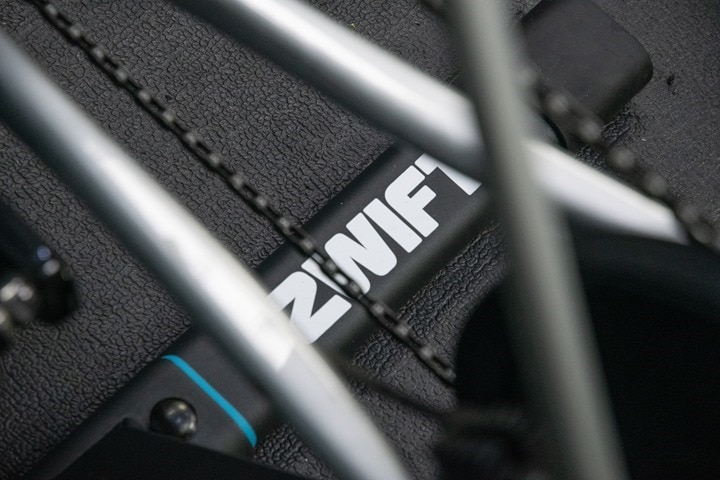 Assuming Zwift can sort out the accuracy issues I stumbled into (and I have every reason to believe they will, given it was perfectly functional until recent firmware), this trainer will absolutely gut the low to mid-range trainer sales from their partners/competitors. There's simply zero reason to purchase anything else below $900, except perhaps the Wahoo KICKR CORE since it includes integration with the Wahoo KICKR CLIMB (and has dual Bluetooth connections). Almost everything else below $900 has the same or lesser specs as the Zwift Hub, but at a higher price. Of course, at launch, the Zwift Hub is only going to be available in the US/UK/EU, of which there are more than a handful of countries outside of those three areas.
When you get to the $1,000+ trainers, then things get a bit more complicated, as the specs tend to increase, both in things like gradient simulation as well as road feel (slightly). I'm interested to see how Zwift's competitors react here, both in terms of pricing, but also just the simple fact that this isn't entirely truthful to what Zwift implied they were doing back in May when they said they were stopping development of their smartbike/trainer. Perhaps the nuance there was "that trainer", or more specifically the Zwift Wheel, versus this trainer.
Either way, more to come down the road once I get the final firmware, and continue putting it through its paces. Plus, this is apparently the start of new trainer announcement season, with Saris also announcing a new Saris H4 smart trainer today. Things are getting warmed up!
With that – thanks for reading!