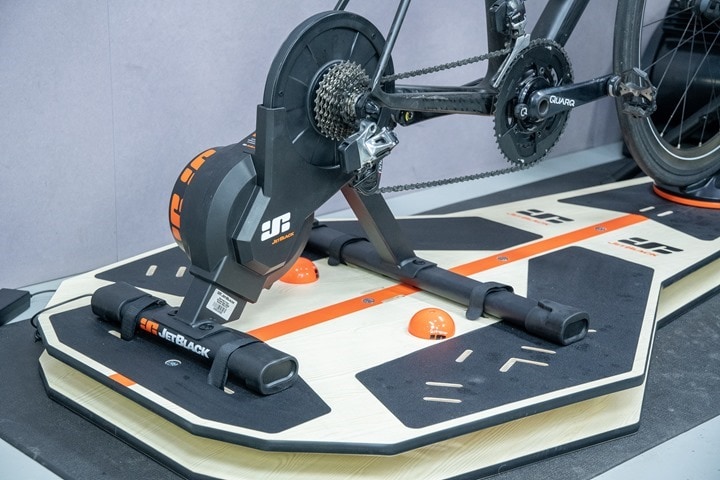 I like being pleasantly surprised by smaller companies that nail a product. And the JetBlack VOLT is one of those such products, from one of those such companies. Sure, in the past JetBlack didn't always have the most competitive or accurate trainers, but with the VOLT direct drive trainer, those days are clearly gone. And perhaps most interestingly – it has one trick up its sleeve that no other trainer has, and is especially useful for Apple TV users.
The VOLT is not only a direct drive trainer, but one that comes with a cassette. Priced at about $849USD, it easily undercuts the Wahoo KICKR CORE in price – and seems to match it on real-world accuracy and sound (it's basically silent). Plus, it's got a nifty feature that passes through your heart rate sensor data via the trainer, allowing you to pair the entire trainer/power/cadence/heart rate as a single channel on Apple TV, saving you one further channel for steering (with Zwift). Don't worry, I'll explain how that works later.
I've been using the JetBlack VOLT for more than a month now for all my trainer rides, and frankly, if blindfolded, you'd never be able to tell this wasn't a KICKR CORE. Of course, sometimes it's more than just the trainer itself that makes the experience. While many users never bother opening up the manufacturer's companion app for their trainer (except firmware updates), JetBlack has one. And if there's any area that needs a bit more love, it's the app. Still, as you'll see, it's hardly mission-critical to the day to day Zwift or TrainerRoad user.
Note that JetBlack sent over this VOLT & rocker plate media loaner, which I've been using to put it through its paces. Once this review is done, I'll get it boxed back up and sent back to them.  If you found this review useful, you can use the links at the bottom, or consider becoming a DCR Supporter which makes the site ad-free, while also getting access to a semi-weekly video series behind the scenes of the DCR Cave. And of course, it makes you awesome.
With that, let's get into it.
The Main Specs: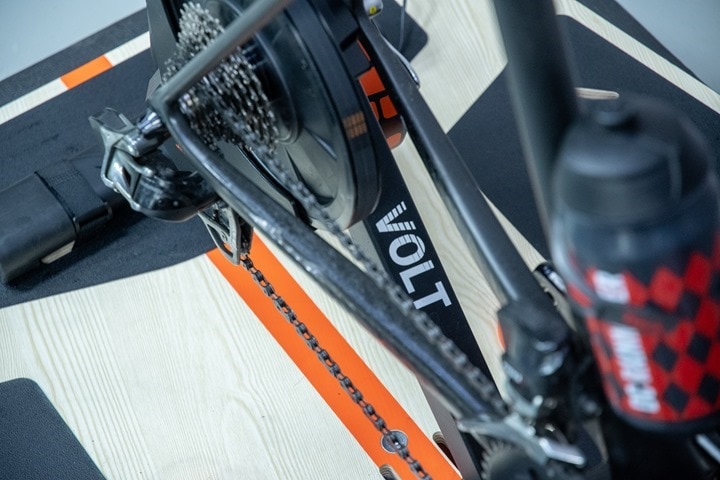 This section will be quick and to the point. Here's the top-line specs for this trainer, so, let's dive right into it:
– Direct drive trainer: This means you remove your rear wheel
– Flywheel: It has a flywheel weight of 4.7kg
– Cassette: An 11-speed cassette is *included*, which is compatible with Shimano, SRAM, and Campagnolo (but an XD-R body is sold separately)
– Sound: Essentially silent. Only the sound of your drivetrain is heard.
– Handle: This unit lacks a handle, which continues to make it slightly awkward to move around.
– Protocol Compatibility: ANT+ FE-C, ANT+ Power, Bluetooth Smart Trainer Control, Bluetooth Smart Power (everything you need)
– Unique Party Trick: Can rebroadcast your heart rate sensor within a single channel, ideal for Apple TV Zwift users (who are Bluetooth channel limited)
– App Compatibility: Every app out there basically (Zwift, TrainerRoad, Rouvy, RGT, The Sufferfest, Kinomap, etc…)
– Skewer Compatibility: All the skewers and adapters you could ask for: Road 130mm, 142x12mm, 148x12mm
– Max Incline: 16% simulated grade
– Max Wattage: 1,800 watts resistance (or 1,300w @ 40KPH)
– Stated Accuracy: < +/-2.5%
– Power Cable Required: Yes, power block compatible with 100-240v
– Pricing and Availability: $849USD, 749EUR (but really about 700EUR street), already shipping
Essentially, this competes with the Wahoo KICKR CORE – except that it includes a cassette and costs less. It roughly looks like a KICKR CORE too, though the KICKR CORE is actually more akin to the Magene design than something Wahoo was first to market. But spec-wise, this competes in virtually every category with the KICKR CORE. The only meaningful differences are that the JetBlack VOLT can re-broadcast your HR (and Wahoo can't), while the KICKR CORE has dual Bluetooth Smart transmission channels (and the JetBlack VOLT doesn't).
With that, let's dive into the box.
Unboxing: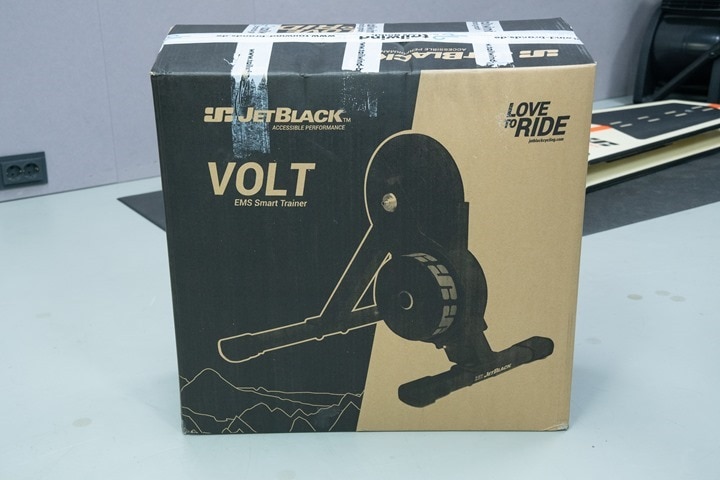 Like many (but not all) mid-range trainers, the VOLT requires assembly of the legs to the trainer. So to begin, you'll get the box as pictured above. And then after removal of all the pieces from the box, you've got this: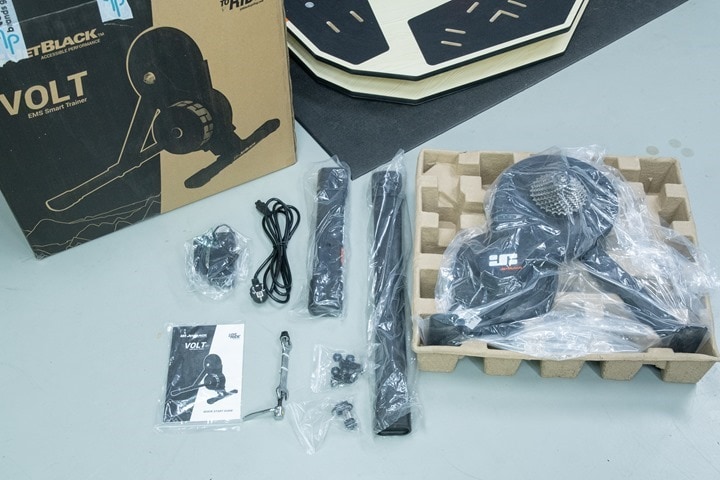 A bit more plastic removal, and you're down to the core bits: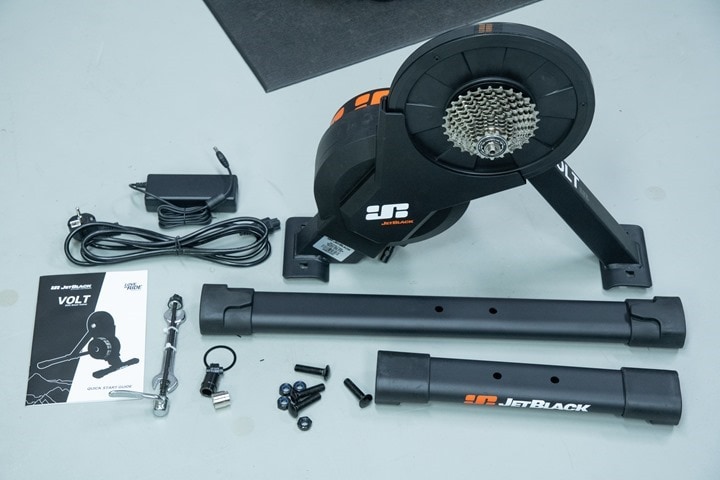 You can see it's essentially the two legs, the main trainer chunk, and then some skewers/adapters. Plus of course the power cable.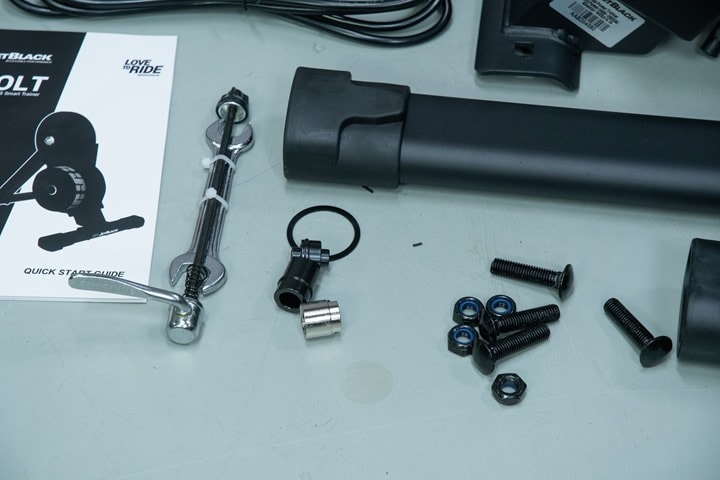 Grab yourself the manual to ensure you've got the correct leg on the correct side (else, it'll be tipsy), and then use the included wrench to tighten the couple of bolts on. Yes, it actually came with a wrench (you can see it above, zip-tied to the skewer).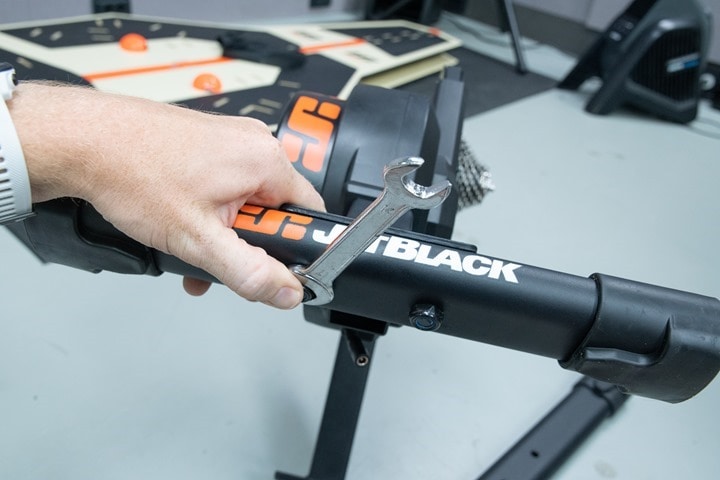 However, the main thing to note here is that the JetBlack VOLT includes your 11-speed skewer, just like the higher-end Wahoo KICKR does, as well as the Elite Suito & Elite Direto XR. While some people will undoubtedly swap out this cassette for a 12-speed (if on a swanky new bike), or something else, the reality is the vast majority of people have existing bikes with 11-speed cassettes – and even myself, I appreciated not having to deal with installing a new cassette for the fun of it.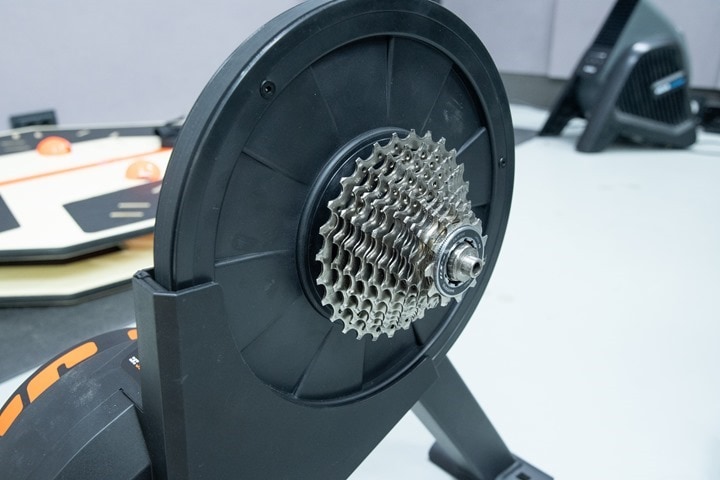 Still, if you do need to install a different cassette, it's no biggie. They even include instructions: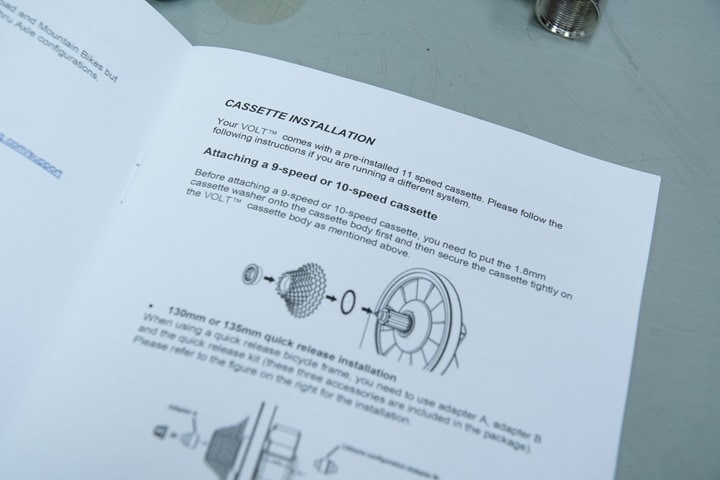 Do note though that if you're installing an XDR cassette, you'll need the XDR hub/adapter from JetBlack. So just mentally allocate time to get that from them. Those folks aside, the only other thing you need to do is simply plug it in.
The Basics: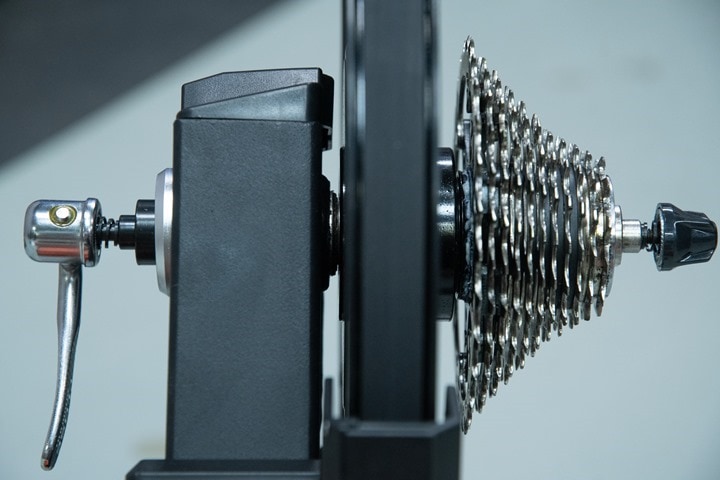 With your trainer 'built', you're ready to throw it on a trainer mat, or in this case, their rocker plate. I was testing multiple things, so the plate is atop the trainer mat, but obviously, you don't need a rocker plate. Also, like Wahoo KICKR CORE, there's no handle on this unit, making it slightly awkward to lug around. I've never really understood why cheaper trainers do have handles, then the $800-$1,000 trainers don't, and then you get it back again at higher price points.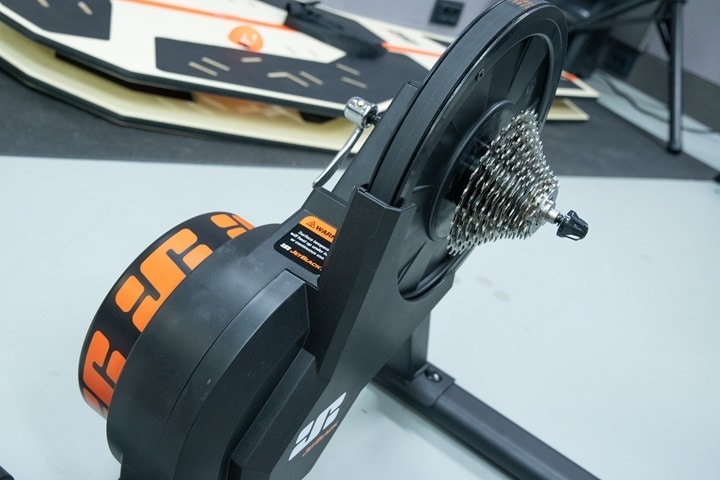 In any event, if you haven't yet, plug it in. The trainer has a quick-release power cord 'tail' off the bottom, so if you trip on it, then it won't (ideally) rip the power cord in half, or damage your trainer. Again, another thing that *EVERY* trainer should have these days, especially anything over $500. Lookin' at you Tacx and Elite.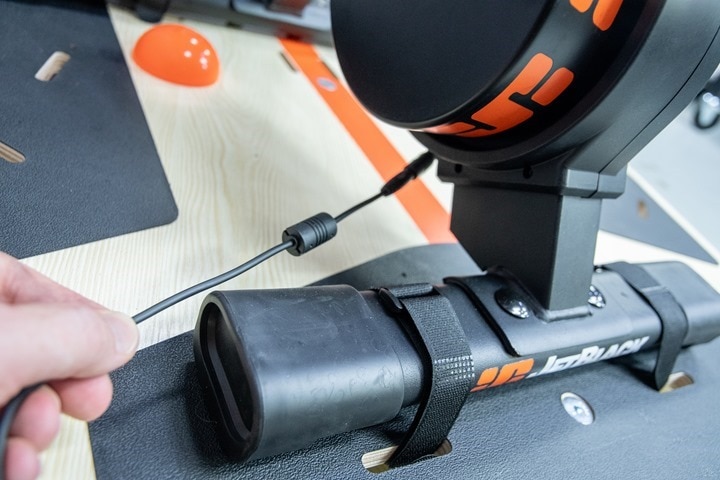 Also, more handily if you're a trainer collector like me, it's got the brand of the trainer written on the back of the power block. Wahoo started doing this a couple of years ago, and it's super handy if you move or such, and power cords get all mixed up – to know this one is the trainer one. Glad to see JetBlack is doing the same (otherwise, most companies simply source generic power adapters that are random no-name Asian companies written on them).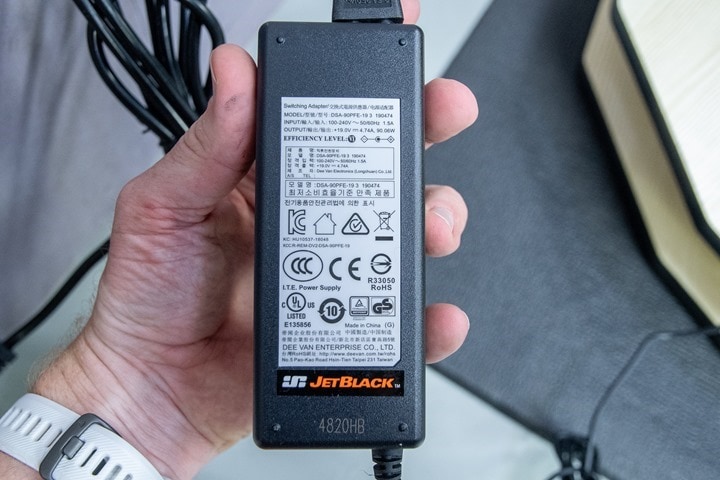 Once you do so, it'll illuminate status lights on the upper edge of the trainer, near the flywheel – which can be used to troubleshoot connectivity: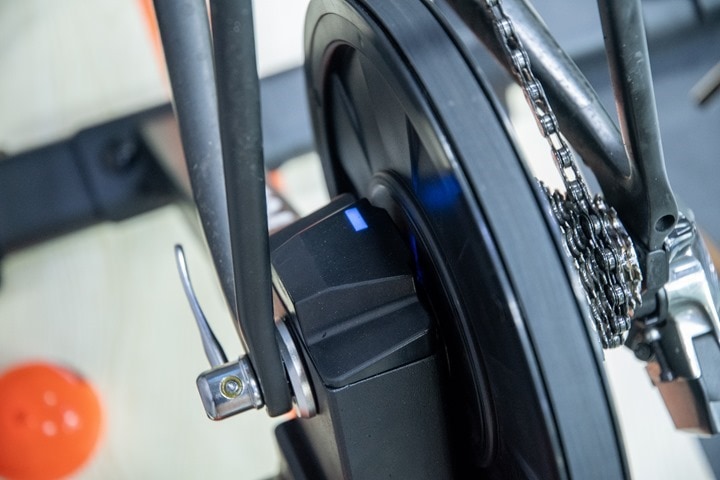 Now, if you haven't done so already, go ahead and toss your bike on the trainer. Since this is a direct drive trainer, you'll remove the rear wheel, and mount the bike directly on the cassette of the VOLT. The trainer doesn't come with a front wheel block. Some people (myself), still prefer them, even if you don't need it, as I like when the front wheel is either static, or recenters with a steering block (as shown here). Otherwise I find the front wheel gets all loosey-goosey. But again, you can buy such front wheel blocks for $5 (a generic example linked at end of post).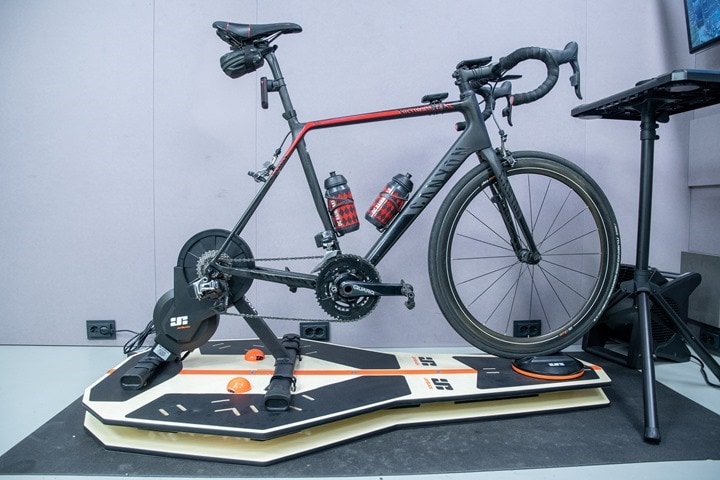 With all that said, let's start riding. Given the JetBlack VOLT is a smart trainer, it'll change resistance automatically in a few different ways, primarily driven by different applications/methods.  But most of this all boils down to two core methods:
ERG Mode: Setting a specific power level – i.e., 215w.  In this mode, no matter what gearing you use, the trainer will simply stay at 215w (or whatever you set it to).
Simulation (SIM) Mode: Simulating a specific outdoor grade – i.e., 9% incline. In this mode, it's just like outdoors in that you can change your gearing to make it easier or harder. Wattage is not hard-set, only incline levels.
In the case of simulation (aka slope) mode, the JetBlack VOLT can simulate from 0% to 16% incline – the same as the KICKR CORE, though slightly less than the Elite Direto XR (which is slightly more expensive but also includes a cassette like the VOLT). While other trainers can simulate above 20% these days, I continue to question how many people actually want to ride such a gradient. Seriously, if you actually have ridden a 17% grade outside, it's tremendously difficult. There was an arms race a few years ago for indoor trainer gradients, and then they realized nobody cared, because nobody really wanted to ride a 24% grade.
And atop that, there's little reason most of this matters if you use the defaults in Zwift, because it automatically halves the values anyway. A 12% grade feels like a 6% grade. You need to change the 'Trainer Difficulty' level to 100% in order to feel it (and most people don't bother to). Where it can matter though is at low-speed high wattage climbs up those 12% or beyond ascents, but that's not really an issue with this trainer (it's typically more an issue with wheel-on trainers, and older trainers).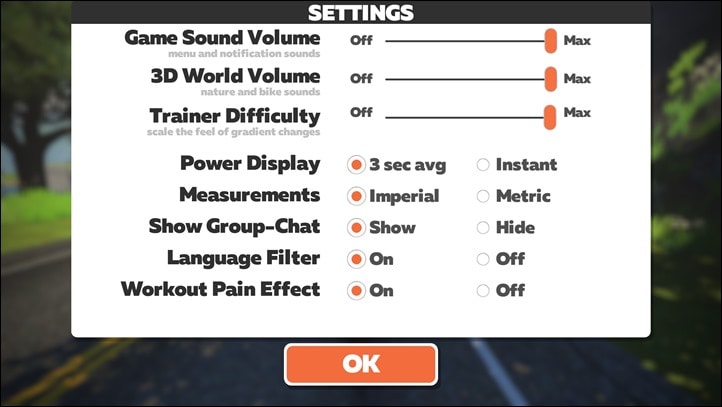 The second mode the trainer has is ERG mode.  In that case, the company claims 1,300w of resistance at 40KPH, and up to 1,800 at a speed that'll likely be impossible for you to hit. Although again, realistically, you don't care about that. I can only barely (maybe) break 1,000w for a second or two, and even most front of the non-pro pack cyclists aren't going to top 1,800w.  The pros would only be just a bit beyond that.  Said differently: Peak numbers in this competition don't matter.  Instead, what actually matters is a harder metric to make clear on paper – which is the ability to simulate high grades and lower speeds (especially if you're a heavier cyclist). I cover that in my accuracy section.
One core test I do with all trainers though is responsiveness: How quickly does it respond to ERG mode changes? I test this in a variety of ways, usually with some variant of 30×30 type intervals, where the intensity quickly shifts substantially, and I'm looking to see how responsive it is/was. For this go-around, I used a workout that had a slate of 30-second intervals spread across other larger intervals. But I'll cover exact responsiveness down below in the accuracy section.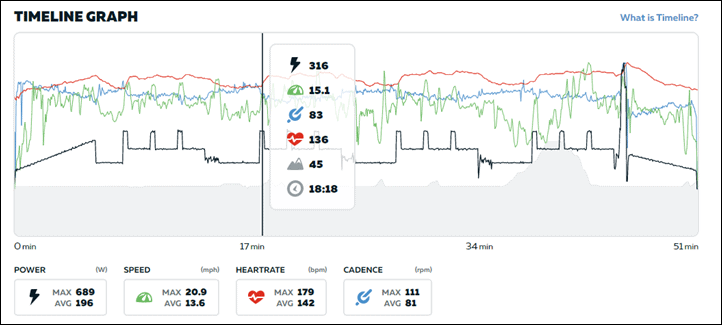 So what about road feel and noise?
Like I always say – for me personally, it's hard to separate the fact that I'm riding indoors from outdoors. It's still a trainer, and I'm still looking at a wall in front of me.  My brain can only turn off so much of that.  Still, much of the road-like feel is driven by the flywheel, and be it physical or virtual, flywheel sizes tend to be measured in weight.  This impacts inertia and how it feels – primarily when you accelerate or otherwise change acceleration (such as briefly coasting).
All that prefacing done, the JetBlack VOLT is quite good. The road feel to me is about the same as the KICKR CORE (which is the same as slightly older KICKR's, and frankly, not that much different than newer KICKR's). I prefer road feel here a bit more than the Direto XR, it just seems more realistic/responsive (slightly). Also notably, if in Zwift (or any other app), the response-time on incline changes was very good, arguably one of the better ones I've tested. It was something I noticed last night in the Titans Grove course with endless up and down rollers only lasting a couple of seconds each, how near perfectly in-sync the incline value on the screen was (e.g. 8%) to what the trainer was doing. On some trainers the response time is so slow you're going up when it's going down. Not the case here, it nailed it.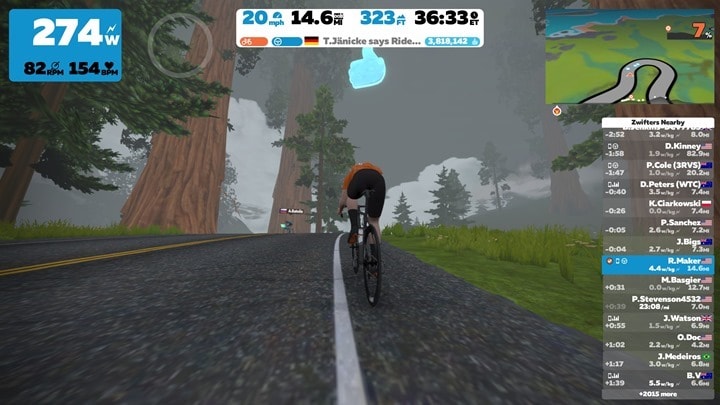 As for the noise level, the only thing you're going to hear is the sound of your drivetrain interacting with the cassette (which is the same on any bike/trainer). There's virtually no other noises that the trainer itself makes. So in other words, the level of noise from the trainer is entirely dependent on how clean your bike drivetrain is. I should have recorded some video/audio snippets a few weeks ago when my bike drivetrain was nice and clean, cause now it's an abominable crap-show after a few rough weather rides. And I can't be letting the internet hear that.
App Compatibility: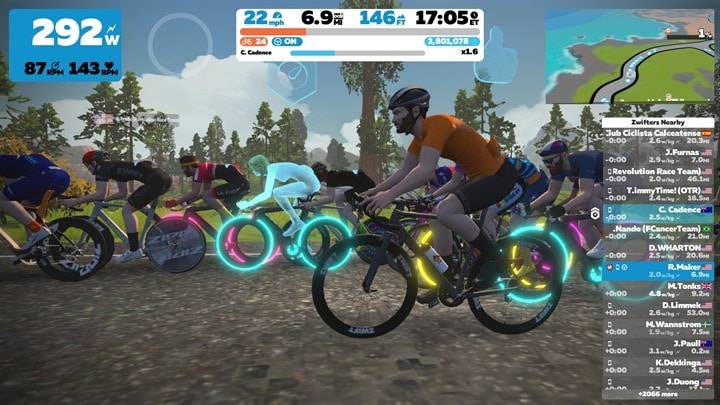 The VOLT uses smart trainer app compatibility standards you'd need and expect by following the industry norms.  As you probably know, apps like Zwift, TrainerRoad, The Sufferfest, RGT, Rouvy, Kinomap, Xert, and many more all support most of these industry standards, making it easy to use whatever app you'd like.  If trainers or apps don't support these standards, then it makes it far more difficult for you as the end user.
Thankfully, that's not the case here. The VOLT transmits data on both ANT+ & Bluetooth Smart, as well as allowing interactive resistance control across both ANT+ & Bluetooth Smart. By applying resistance control, apps can simulate climbs as well as set specific wattage targets.
The unit supports the following protocols and transmission standards:
ANT+ FE-C (Trainer Control): This is for controlling the trainer via ANT+ from apps and head units (with cadence/power data). Read tons about it here.
ANT+ Power Meter Profile: This broadcasts as a standard ANT+ power meter, with cadence and speed data
ANT+ Speed/Cadence Profile: This broadcasts your speed and cadence as a standard ANT+ Speed/Cadence combo sensor
Bluetooth Smart Power Meter Profile: This broadcasts as a standard BLE power meter, with cadence and speed data
Bluetooth Smart Speed/Cadence Profile: This broadcasts your speed and cadence as a standard BLE combo Speed/Cadence sensor
Bluetooth Smart FTMS (Trainer Control): This allows apps to control the VOLT over Bluetooth Smart (with cadence/power data)
Between all these standards you can basically connect to anything and everything you'd ever want to. Be it a bike computer or watch, or an app – it'll be supported. The cadence data is baked into the various data streams. That's handy if you're connecting to Zwift on an Apple TV, due to Apple TV's two concurrent Bluetooth Smart sensor limitation (plus the Apple TV remote). This means you can pair the trainer and get power/cadence/control, while also pairing up a heart rate strap.
However, the VOLT actually goes slightly further than the rest, and has one more protocol party trick up its sleeve: Embedding your heart rate sensor data into its trainer data stream. This nifty trick means that you initially use the JetBlack app to pair up your heart rate sensor to the trainer, and then it broadcasts it within its existing trainer data stream to apps. The reason you care about that is some platforms (namely Apple TV) can only support two concurrent Bluetooth Smart sensors. So if you had your trainer/cadence/power as one, and then a heart rate strap as another – you couldn't also pair a steering device, or some other sensor. But with the VOLT, you can! That's because it sends it down the same sensor package as the rest of your data, thus only taking up one channel.
To get started with that, you'll crack open the JetBlack app and connect to your trainer. Then tap next. Do NOT try and pair your HR sensor on this first page (shown below). Doing so will basically make the other pages not work correctly. It's sorta a user interface garbage can fire (not a full on dumpster fire, more just like a small bathroom garbage can fire). The good news is JetBlack agrees, and coming in August or September is an entirely refreshed smartphone companion app that won't suck.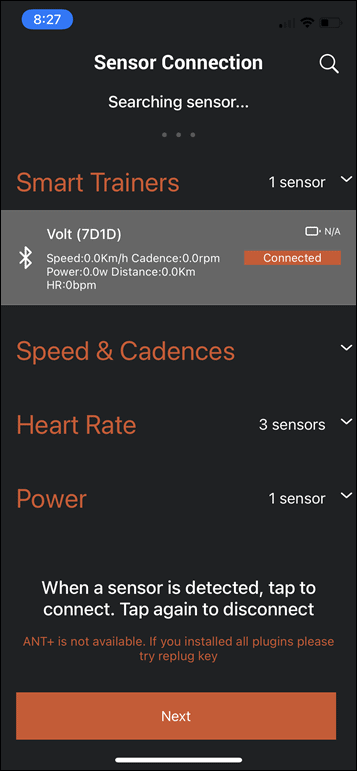 In any event, fires aside, on the next page you'll see your heart rate sensor option to 'Add Sensor', from there you can tap to save nearby sensors, so that it's automatically connected to by the trainer. In theory this allows connecting to both ANT+ & Bluetooth Smart heart rate sensors, but in practice the user interface didn't seem to show both for me (just showed me the Bluetooth Smart ones). And frankly, once I managed to get it working, I was reluctant to dork with it again.
Once cookin' though, jump over to Zwift and go through the sensor pairing menu. You'll pair up your trainer like normal, but then when you get to the heart rate sensor screen, you'll see the JetBlack VOLT as a pairing option. That's the re-broadcasted data from your HR sensor.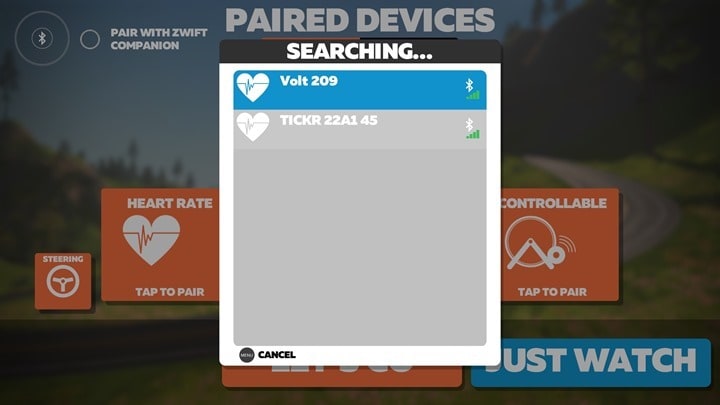 And again, why that matters is that while on Apple TV (which is what these screenshots are from), I can then pair up a steering device. Right now, that's the Elite Sterzo Smart. But soon JetBlack's own steering device will be available/certified by Zwift, and you'll be able to use that too. But for the moment, you can see I have the Sterzo Smart paired up, and then went on to use it the entire ride. So as you can see below, all four main sensors are coming from the JetBlack VOLT, while the Sterzo is connected (all natively on Apple TV).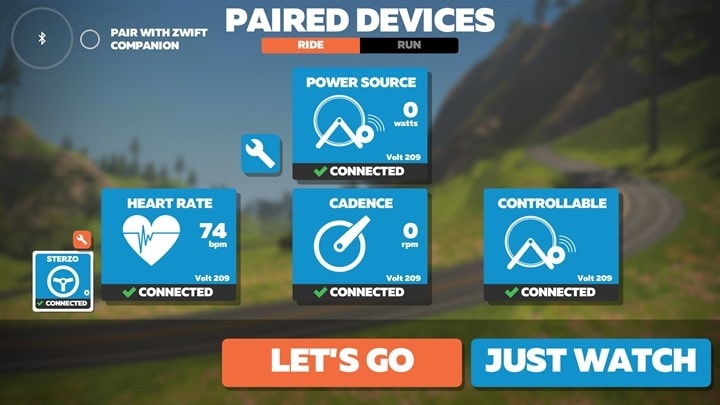 Now, it should be noted that while the heart rate pass-through worked just fine on Zwift on Apple TV, it doesn't seem to show up at all on TrainerRoad (on an iPad). I don't know why, but, the HR sensor simply didn't show up at all there – but hey, the trainer itself did: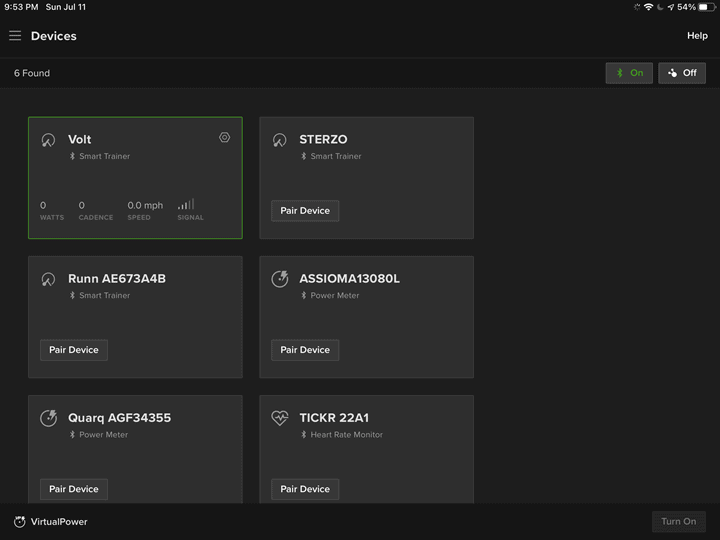 And on TrainerRoad I was able to calibrate it too, using the calibrate button:
In this case that means you simply pedal to 24MPH, and then stop pedaling. Ensure you warm-up the trainer first – ideally 10-15 mins. In my testing, I saw no need to re-calibrate often. I did it once a month ago, and it stayed spot-on, even despite the ever-warming of the DCR Cave into summer (ain't got no air conditioning!).
In general though, you should calibrate every once in a while (perhaps every few weeks), or anytime you've moved the trainer some distance (like to a new home/etc…). Additionally, you should calibrate if you've had a major temperature swing (such as if it lives in your garage and now the sweat puddle on the floor is frozen). In my case, I last calibrated it over a month ago, and it's been spot-on since.
In terms of general usage in apps, the VOLT worked perfectly fine. I primarily used Zwift at the DCR Cave the last month with the VOLT. But I did validate with others on the VOLT, and all seemed well.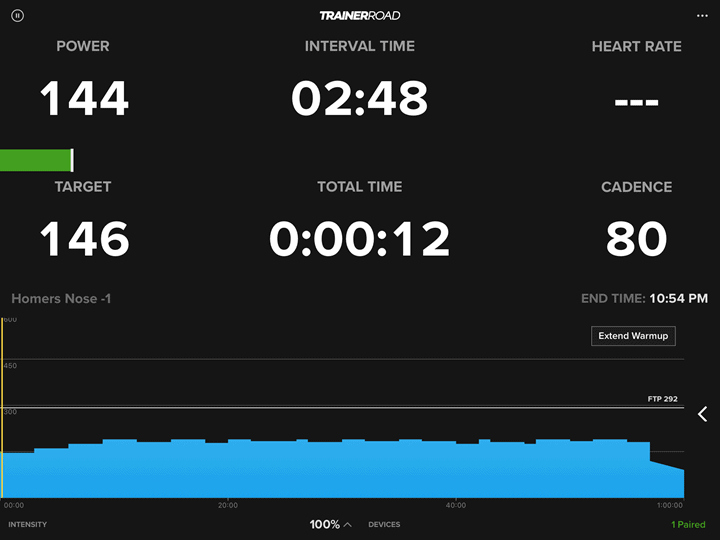 Now as I mentioned earlier, JetBlack does have their own app that has sensor pairing it in, calibration, and even the ability to do structured workouts in it. However as noted earlier, while the app has lots of good foundational tech, the actual user interface is cumbersome. Given that it's being revamped next month, I'm not going to focus on it much here, other than to note it exists, does some neat stuff, but let's just wait till the next version is out.
Plus, the overwhelming majority of people never use the trainer company's apps for anything other than firmware updates anyways (and, in this case, pairing up your heart rate sensor).
With all those things covered, let's dive into the accuracy data for the VOLT.
Power Accuracy Analysis: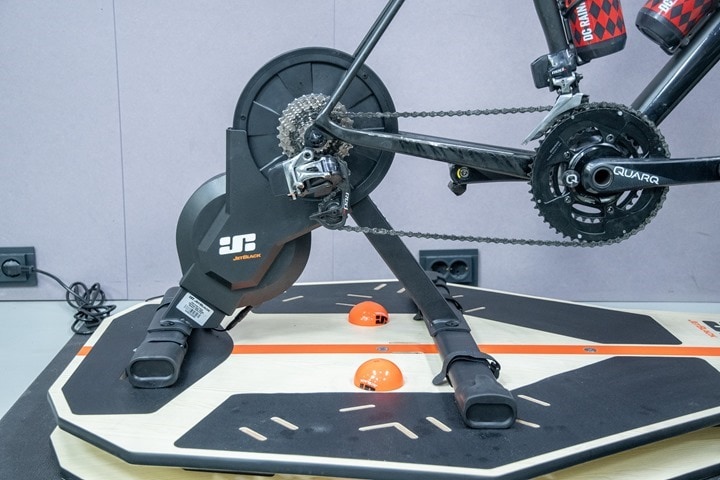 As usual, I put the trainer up against a number of power meters to see how well it handled everything from resistance control accuracy, to speed of change, to any other weird quirks along the way.
In my case I used one primary bike set up in the following configuration :
Canyon Bike Setup #1: Favero Assioma dual-sided pedals, Quarq DZero crankset
Canyon Bike Setup #2: Garmin Rally dual-sided pedals, Quarq DZero crankset
This is all in addition to the trainer itself.  Note that, because you remove the rear wheel, I can't use something like a PowerTap hub to compare as well (which I would use in power meter testing normally).
In any case, I was looking to see how it reacted in two core scenarios: ERG mode & SIM mode. Or translated more simply: Structured workout support (ERG mode), and replication of gradients on a course (SIM mode, for simulation mode)
The actual apps don't typically much matter, but rather the use cases are different.  In normal Zwift riding you get variability by having the road incline change and by being able to instantly sprint (SIM mode).  This reaction time and accuracy are both tested here.  Whereas in structured workout (ERG) mode (be it Zwift, TrainerRoad, etc…) I'm looking at its ability to hold a specific wattage very precisely, and to then change wattages instantly in a repeatable way.
There's two ways to look at this.  First is how quickly it responds to the commands of the application. In other words, when an app tells the trainer to go from 150w to 325w, how long does that take? For this I had an ERG workout with these large jumps in it. You can see it took exactly two seconds to get there. It got to 300w in 1 second, but didn't stabilize till the 2-second marker.  However, we do see that it isn't till the 3-4 second marker the other power meters stabilize as well (which, is normal). Also note that with three power sensors recording concurrently, the maximum recording rate is every second, so you're going to see minor 1-second differences here.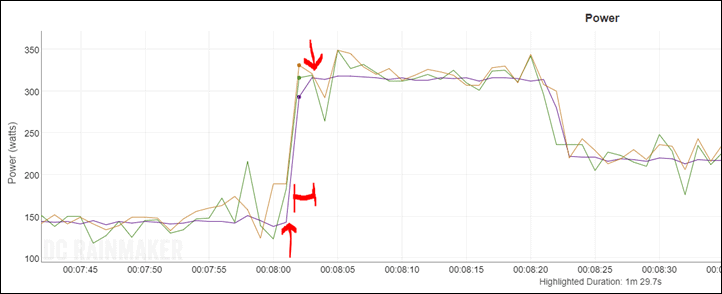 Anyway, point being is that responsiveness is solid here, and where I like to see it in the 2-3 second timeframe. Good!
The next bit is stability. In other words, do you see any oscillation at higher (or lower) wattages. In this case, again, it's really stable. Even more notable is that I actually accidentally did this workout in the big ring (front). Typically you want to do ERG workouts in the smallest front ring, which gives trainers less speed and makes the stability better. Almost every app and trainer company recommend this. But sometimes I forget. So the fact that it was this stable despite being in a harder combination is impressive.
Now, let's talk about the actual power accuracy of this set. In other words, did the trainer's reported power values match that of the other trusted power meters I had on my bike? To make this a bit easier to see, I've added a 5-second smoothing to the graph (here's the data set):

As you can pretty easily see, that looks super crispy good. The data sets are very closely aligned, one might even argue slightly too closely aligned (given my drivetrain cleanliness state), but it'd be hard to know which exact power meter to blame for being a couple of watts too lower or too high.
It's interesting to look closely at some of the intervals, and you can see when I was paying attention, versus when I wasn't at the start of an interval. The bigger the 'jump' the more likely I wasn't paying attention and was caught off-guard. Also, it's notable to see that sometimes the trainer reports a value that doesn't quite seem right.

For example, check out the 3rd interval above. Notice how the other two power values go a bit higher, while the VOLT stays low and stable? That indicates that it's not quite reporting the actual power value, but is instead reporting a variant of the target value. We see that on the Wahoo KICKR if you leave on the 'ERG Mode Smoothing' checkbox. Given I've got two power meters above that reported a spike, they don't lie together.
Said differently, if one person farts in a room, and two others smell it – the first person denying it doesn't make the fart go away. It still happened, and it still stinks.
Still, in ERG mode these differences are relatively minor when they do occur, as you can see again later in other sets:
In terms of cadence on this one, things look spot-on across the board, using the VOLT's estimated cadence. I see a single one-second cadence dropout (which was actually just a connectivity drop-out) early on, but otherwise it's solid. You'll see that slight drop after the sprint towards the end, which is very normal for smart trainers just after you start pulling back from a sprint, as the 'bottom drops out' on your power. Practically speaking you'll never notice this unless you've got a boatload of power meters concurrently recording:

Next, we'll dive over into simulation mode for a ride on Zwift. In this case, I'm starting off the first 30-35 minutes in a large group at a relatively consistent wattage, but with any sort of group ride, you get constant micro-fluctuations in wattage, which are harder than you might think for trainers to handle properly (without see-sawing). Here's that data set:

As you can see, it's incredibly similar. Let's zoom in though on a few random chunks. The first thing I'll note is that we generally see 'proper' ordering, with the VOLT as the lowest power source (since drivetrain losses occur the further away from the foot we get). So that's good. I do occasionally see a tiny bit of undershooting on some surges, but not all. I'm not entirely sure of a pattern there, but it's fairly rare. Yet, that's also something that's common across a high number of trainers, so it's not exclusive to the JetBlack VOLT. It often involves gear shifting at the same time as a surge (you can see it below where the dots are on the lines).

And you can see it on some of these more moderate surges as well. Whereas the slower surges don't exhibit this. Again, while less than ideal, it's not uncommon for many trainers to see this – and most would consider this nitpicking.

If we look at this 800w sprint (keeping in mind this multi-second average graph is smoothed, so the actual value is higher), you can see it's actually rather close to the Quarq. Whereas the Favero overshoots a bit higher. In any sort of sprint effort, it's often rather difficult to know exactly which one is actually correct.

Meanwhile, cadence is virtually identical across the board, save the handful of times coming down from a sprint/surge where you see the divergence for a second or so.

Finally, we've got the heart rate accuracy chart. Heart rate accuracy you say? Yup, I wanted to validate that the values passed on from the VOLT (originating from the Wahoo TICKR) were precisely the same as the actual data from the TICKR. Here you can see both Garmin Edge units recording the Wahoo TICKR, while the Zwift side recorded it via the VOLT. All three are perfectly identical, with zero delay at all. Nifty!

Overall, I'm pretty darn happy with accuracy here. While there were some early firmware reports of very small amounts of drift, I don't see that at all on current firmware, or during any of my testing. Accuracy appears to easily be greater than the claimed +/- 2.5% figure that the company has for their tech specs, and seems to be closer to the +/- 1% variants we see on many higher-end trainers.
As with any trainer, there are some minor quibbles that I discussed above. But I can find those same quirks on a Tacx NEO 2T or a Wahoo KICKR 2020, and don't even get me started on the $2,500-$3,200+ smart bikes that have worse accuracy quirks. So for $850USD all-in, accuracy is really strong here.
(Note: All of the charts in these accuracy portions were created using the DCR Analyzer tool.  It allows you to compare power meters/trainers, heart rate, cadence, speed/pace, GPS tracks, and plenty more. You can use it as well for your own gadget comparisons, more details here.)
Trainer Comparison Charts:
I've added the JetBlack VOLT into the product comparison database.  This allows you to compare it against other trainers I've reviewed. For the purposes of this particular table, I've compared it against the Tacx Flux 2, Wahoo KICKR CORE, Elite Direto XR. One could have also added the Saris H3 in there, which technically retails for $999, but is semi-often on sale for $800-$850USD. Thus one should at least check the price before making a purchase decision. You can also mix and match and create your own trainer comparison charts with just about any trainer on the market in the aforementioned/linked product database.
And again, as always don't forget you can mix and match your own trainer product comparison tables using the database here.
Summary: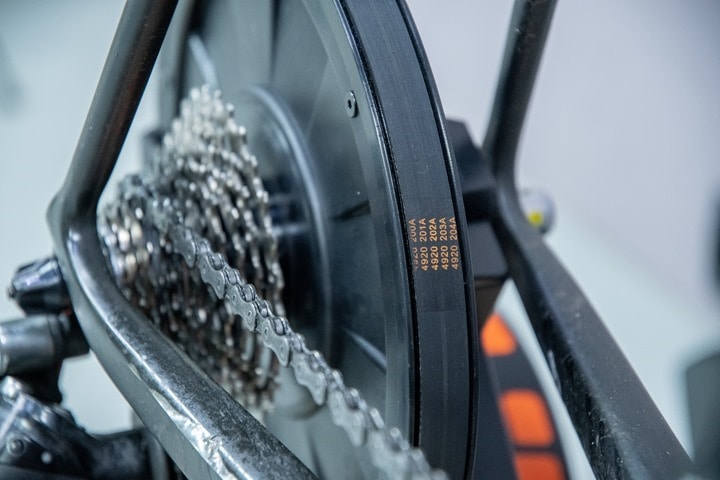 Overall, I'm pretty darn impressed with the JetBlack VOLT. They really nailed the hardware, and the accuracy this time around. From ride feel to power accuracy, it easily competes with other trainers of its category, but also the higher end ones too. And that's before we talk about the nifty heart rate rebroadcasting trick, which is clutch for Apple TV users. I'd be more than happy to use this trainer as a daily driver.
In terms of minor quibbles, almost all of them reside with the companion app – the one getting a complete revamp next month. And honestly, even if it weren't getting a revamp, it's not something I'd use more than once every few months anyways. So it wouldn't heavily enter into the equation, in the same way that neither the Elite or Tacx basic firmware apps are all special. In fact, technically, both those apps have less end user features than this, albeit are prettier and easier to use. And as shown in accuracy, it's basically on-par with the higher-end trainers in this category.
As I said before, I like what I'm seeing from JetBlack in this round of products. Not just the trainer itself, but also some of the other products I haven't yet posted about, primarily their accessories. It's always good to see more competition, and if they can increase US distribution, that'll help consumers as well. Currently they're more widely available in Europe, Australia, and New Zealand – but they've just started getting units into the US pipeline, so hopefully that'll sort itself out by fall.
With that – thanks for reading!
Found This Post Useful? Support The Site!
Hopefully you found this review useful. At the end of the day, I'm an athlete just like you looking for the most detail possible on a new purchase – so my review is written from the standpoint of how I used the device. The reviews generally take a lot of hours to put together, so it's a fair bit of work (and labor of love). As you probably noticed by looking below, I also take time to answer all the questions posted in the comments – and there's quite a bit of detail in there as well.
If you're shopping for the JetBlack VOLT or any other accessory items, please consider using the affiliate links below! As an Amazon Associate I earn from qualifying purchases. It doesn't cost you anything extra, but your purchases help support this website a lot. Even more, if you use Backcountry.com or Competitive Cyclist with coupon code DCRAINMAKER, first time users save 15% on applicable products! Or, with TPC (The Pro's Closet), you'll save $40 on purchases over $200 with coupon code DCRAIN40!
And finally, here's a handy list of trainer accessories that most folks getting a smart trainer for the first time might not have already:
And of course – you can always sign-up to be a DCR Supporter! That gets you an ad-free DCR, access to the DCR Quarantine Corner video series packed with behind the scenes tidbits...and it also makes you awesome. And being awesome is what it's all about!
Thanks for reading! And as always, feel free to post comments or questions in the comments section below, I'll be happy to try and answer them as quickly as possible. And lastly, if you felt this review was useful – I always appreciate feedback in the comments below. Thanks!