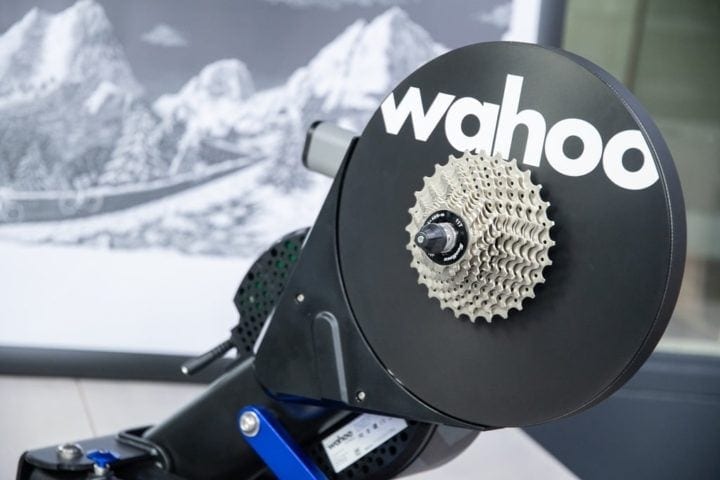 Just a super quick Monday heads up that Competitive Cyclist is running a 2-day sale on a boatload of Wahoo gear, for 10-20% off almost everything. We've semi-occasionally seen these 20% off sales on Wahoo products the day after the Tour de France ends (yesterday), though I don't think we saw one last year. But it's never included their Wahoo KICKR Bike before, and rarely this wide a range of products. Nor has the RIVAL GPS watch been on sale. For European folks, Wahoo is offering the same sale on their European site.
So if you're in the market for any of this Wahoo gear, then frankly, you're not going to find a better deal (and no deal to match it anytime soon). The best deals we ever see in the US market top out at 20% off Wahoo stuff (never more), and usually tied to spring and Black Friday sales (give or take a few weeks). I don't expect this summer to be a busy one for new trainers, and I certainly don't expect any new version of the Wahoo KICKR Bike either. There's just no reason for Wahoo to launch a new bike right now. Instead, Wahoo has been focusing on increasing distribution of the current version and ironing out quirks.
This sale only lasts today and tomorrow, and is only available in the US. All of the links below help support the site, so if you're considering picking up something from this list, using these links makes you awesome.
Trainer Recommendations: If you're looking for trainer recommendations, my guide from this past fall is still 100% valid. The only change I'd make is to add the JetBlack VOLT into the mid-range recommendations guide. Given the JetBlack VOLT trainer is $50 cheaper than the KICKR CORE with similar specs/accuracy/etc, it doesn't change the landscape much there beyond adding choice.
Smart Bike Recommendations: Like with trainers, not much has changed in the smart bike realm. The smart bike realm is a largely simple field, with the prices pretty linear to the features you get. I'd agree with the consensus that the KICKR Bike is the best smart bike of the bunch (even if not perfect), and the price reflects that. Normally the KICKR BIKE is $3,500USD (and the most expensive unit). Now it's $3,149USD, and putting it basically at the same range as the Tacx Bike.
In any case, here's the full list of what's on sale, along with links to all my reviews (just click on the product name):
There are no deals currently.
This sale ends tomorrow, Tuesday, at 11:59PM US Mountain Time, or, until supplies last. As always with these high-value deals/sales, I recommend clicking buy first, and sorting out cancelling an order later if it turns out you can't get wife/husband-acceptance-factor approval. Especially for the KICKR & KICKR Bike ones.
So basically, to summarize in simple text:
– All Wahoo KICKR, KICKR CORE, KICKR SNAP, and KICKR BIKE units
– Wahoo's trainer accessories, notably the desk, CLIMB, and Headwind Fan, plus the KICKR V5 Direct Connect Ethernet Adapter
– All one of Wahoo's watches (the Wahoo RIVAL)
– Wahoo's sensor accessories (TICKR & speed/cadence sensors)
– Their Speedplay pedals & accessories
The full Wahoo sale listing on Competitive Cyclist is here, in case you prefer to browse that way.
What's not on sale:
– Their bike computers
– Their previously sorta-announced POWRLINK Zero power meter, since pricing/availability isn't announced yet.
– Anything else I forgot
Again, you simply won't get any better deal any time, than 20% on Wahoo gear. That's just the way Wahoo works. It's been that way forever, and save some sort of weird clearance event for a discontinued product, that's the extent of things. Thus, if you're in the market for any of those products, go forth and be done with it. Note: I do NOT expect the full Wahoo KICKR V5/2020 (specifically that unit) stock levels to last long on this one. And these days, the 20% off Wahoo trainers specifically, Wahoo seems to have killed most of those deals with retailers over the past year.
With that, thanks for reading – and for supporting the site via the links! More unrelated sports tech goodness coming up in about 4.5 hours!