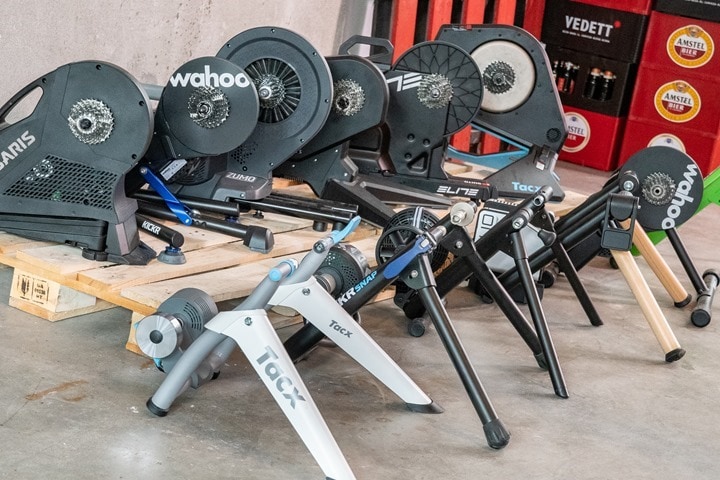 For nearly a decade my trainer recommendations guide has been a staple of this time of year, consolidating all the latest trainers into the do and don't buy list to consider before spending some hard-earned cash to then suffer inside. But this year is different.
The simple reality is that finding in-stock trainers is near impossible in many regions of the world. Especially the more popular models, or rather, the ones you actually want to buy. So in some ways, the recommendations guide this year could read: Buy anything you can actually find.
Still, on the off-chance you do have some choice on what you buy – then this guide is here to help you pick the right trainer. Note that as one might expect there's been very few trainer announcements this year, and those that have occurred have been incredibly minor updates. So the vast majority of this guide remains pretty similar to last year. Still, I have swept through and added or removed some trainers for various noted reasons, as well as retested trainers where applicable. I do not expect any further/new mainstream trainers until next summer.
Keep in mind this guide is essentially focused on smart trainers. Specifically ones that transmit some sort of ANT+ and Bluetooth Smart signal (dual/concurrently), and allow control of the trainer itself (via ANT+ FE-C and/or Bluetooth Smart FTMS). In other words: A company has to follow the well recognized standards to even be considered for this list.
Finally, for indoor bikes – I might do a separate shoot-out guide on those, if there's interest. I have my guide from last year, though that was prior to the Stages Bike SB20 this past June and Wattbike ATOM 2020 a few weeks ago.
(Oh, and if you're looking for my 2020 Cycling Smart Trainer Apps guide, you'll find that from late this past spring here. There honestly hasn't been a fundamental shift in apps since then, as most apps have been trying to keep up with the surge in their user base.)
How I Make Trainer Recommendations: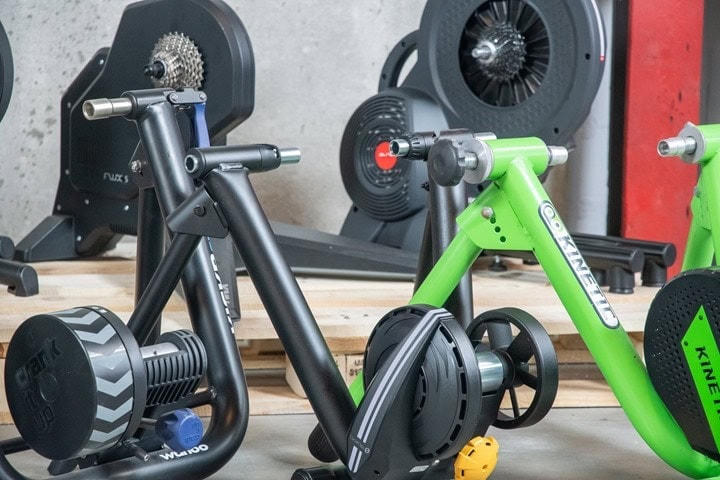 First and foremost, I only recommend trainers I've actually used.  It's simply hard to judge things like accuracy or total ride feel unless I've got a unit in-hand. And while one might think you can just look at a past similar trainer, my testing has shown that's rarely the case (and in fact, we see very specific examples of that this year with the KICKR 2020 and ATOM 2020 being different in the accuracy realms).
When I look at recommendations across all products I make, I try and recommend products to you in the same way that I'd do to friends and family.  I keep it simple and explain exactly why I feel a given way.
My goal is NOT to make a roundup of every trainer on the market.
Though I will briefly discuss why I didn't include some trainers in this piece at the end.  This is, again, my *recommendations*, not the holy grail of everything ever made by everyone.  Still, I'm lucky enough to have been able to try almost everything made by all the major trainer companies this year, at least at the mid to upper end (I don't tend to review the 342 different models of trainers from $75 to $200).
Price Ranges & Currencies:
Over the last few years we've continued to see major shifting in price vs feature-set combinations.  For example, functionality and accuracy that used to be reserved for $1,200 trainers has slid down to $900 trainers and even $700 trainers.  I had to change my price bucketing last year to account for this (again). My purpose isn't so much moving the goalposts, as it is making the groupings more logical.  Meaning, someone looking to spend $599 is probably OK spending $699, and someone teetering at $529 might be OK spending that $699 too if the benefits make sense.
Meanwhile, someone looking for a $599 trainer isn't likely the same person as one looking at a $1,199 trainer.  So, here's the 2020 buckets, aligned to the trends of trainer pricing over the past year:
Budget – Sub-$450: Most of these (all of these?) are wheel-on trainers that have basic smart trainer functionality (including replicating climbs, setting specific wattages, and working with apps). However, they tend to be less powerful trainers and may not be as accurate or as realistic feeling.
Mid-Range $450-$700: These tend to be units that have everything of the price bucket below it, but usually with just a bit more accuracy and a bit more power. Often with that slightly better road feel.
Mid-High End $700-$975: This category exists because there's a clear line in the sand between the flood of sub-$599 trainers, and the flotilla of $700-$800 trainers.  I just don't think it makes sense to put them in the lower-priced category, though the case could easily be made that they compete with the $1,000+ trainers (and are almost universally a better buy). The key difference here tends to be accuracy and road-feel, once again stepping it up a bit.
High-End $999+: These are the high-end trainers, and primarily distinguish themselves from the mid-range by increasing durability, reducing noise, increasing road-like feel, incline/wattage increases, or just being expensive for the heck of it (i.e., legacy branding/marketing). Still, the line is getting fuzzier and fuzzier here between a $900 trainer and a $1,199 trainer.
Now – you'll notice the dollar signs, which in this case is implying US pricing.  I call this out specifically because the whole pricing business is kinda wonky, especially in the differences between US and European markets.  There are specific cases where something may have a price gap in one market (i.e., KICKR vs. NEO in the US), yet be nearly identical in other markets (some European countries).  Similarly, the European markets generally get a better deal on European-made products (Tacx/Elite), while US consumers tend to get better pricing on US-made products (Wahoo).  All of which ignores the reality of MAP (Minimum Advertised Pricing), which exists in the US and doesn't exist in Europe.
Next, be wary of purchasing trainers outside your home country (meaning, if in the US, buying from a retailer in Europe).  This is because if you have a problem, you'll be on the hook to pay for shipping of the trainer back across the pond for service.  As one who does that regularly, it's @#$#@ expensive. If you don't believe me, go and look at the older 2015 trainer recommendation post, and see the river of tears for folks who have had to deal with cross-Atlantic shipping of cheap trainers they bought when things went wrong.  By all means, if you understand the risk – buy where it makes sense.  But do understand it's a very real risk.
And finally, note that I tend to focus on trainers that have some element of technology in them.  It's not that I think that all non-technology trainers are the same (cause they aren't…well…except that most are), but it's because that's just what I happen to review the most here.
Things to Consider:
There's a lot of things to look for in a trainer – but some are applicable across the board from a sub-$100 unit to a $1,500 unit.
First and foremost, it needs to be sturdy.  The more plastic involved, the less likely it's going to last over time – at least on vulnerable and load-bearing components/areas.  Take for example, the old CompuTrainer, otherwise known as the rock.  A tank really.  I'm certain I could throw that in front of a semi-truck, and it'd probably be fine.  As such, those units last 10-15 years (or more).  In fact, I don't know anyone who's ever broken a CompuTrainer frame (ok, ignore the flywheel).  Some electrical components eventually wear out, but the frame is astoundingly sturdy.  I find the Wahoo KICKR in that same camp.  It's a beast component-wise.  In many ways, the KICKR SNAP frame is the same way – as are the Kinetic frames too.
Inversely though, while the Tacx NEO series shell is made of plastic, directly under that layer is a metal frame. And nobody is kicking the side of their trainer randomly from that angle. Frankly, looking at anything on this list there's no durability-type issues. The 'worst' durability type issue we've seen is the stickers (chevrons) on the back of the Wahoo KICKR/CORE trainers flying off the flywheel. Which I feel is almost a badge of honor that you put out that much wattage.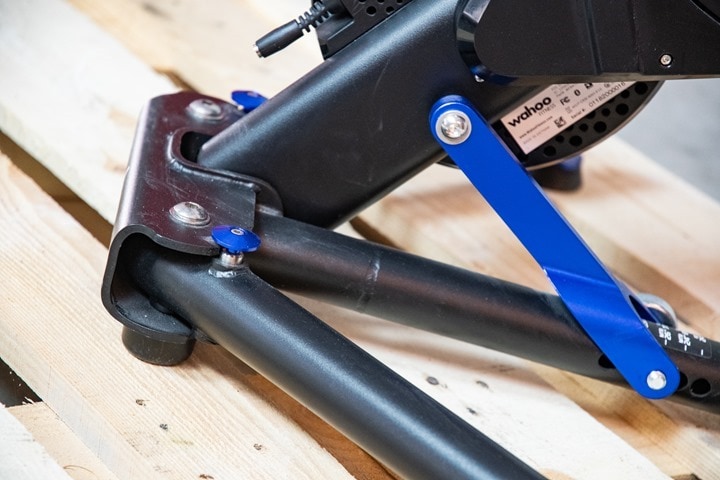 Second, look at the attachment point to your bike.  I'll start with the ones that leverage a skewer of some sort and don't require removal of the wheel.  In these cases, try to find one that has a 'quick-release' mechanism for quickly locking the trainer into place.  One that doesn't require you to endlessly spin the tightening lever and try to find an exact spot each time.  See below for an example of a quick-release lever on the mid-range Tacx options: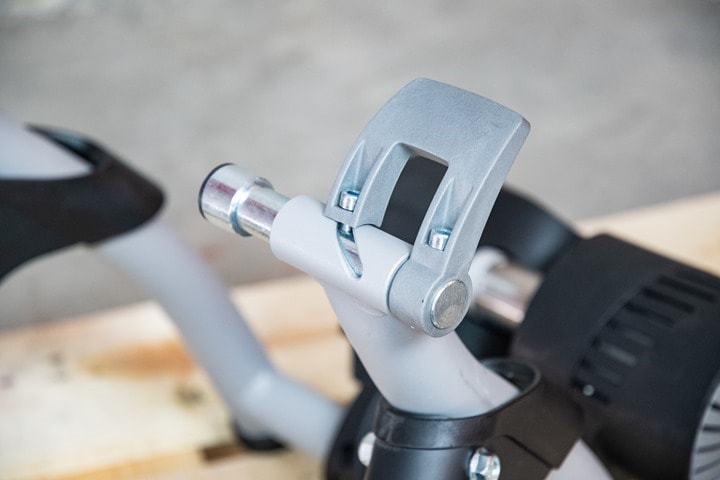 In the case of trainers that you attach your bike directly into a cassette mounted on the trainer  – called 'direct drive trainers', be sure that it'll be compatible with your bike frame.  There are only a few edge cases where an incompatibility occurs (primarily higher-end bikes, usually of the triathlon or disc variety), but just be aware of them.  Many trainer companies have printouts on their support sites where you can double-check frame compatibility on your bike.
And if you've got a disc-brake equipped bike, ensure that the trainer you're purchasing includes the adapters for that. Generally speaking, most trainers include 130/135 x 5mm & 142 x 12mm adapters, but require you purchase extra adapters for other sizes. Beware if you're looking at an older unit (like 3+ years old), as many of these didn't support thru-axle natively, or even at all. These days in 2020 virtually all trainers handle thru-axle compatibility just fine.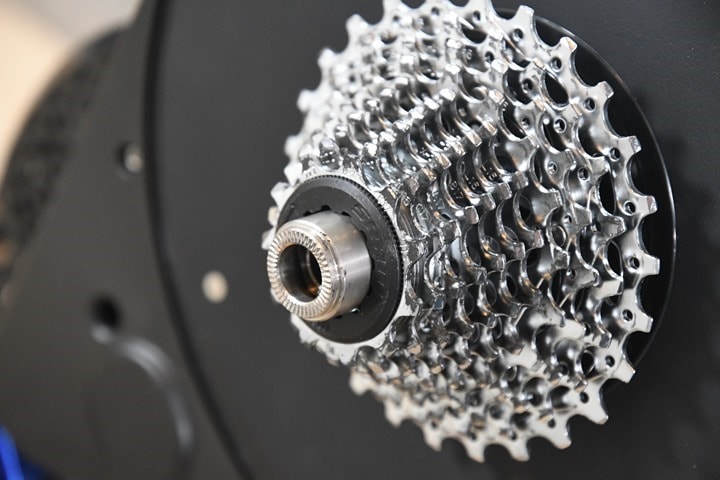 Speaking of fancy, if you're going with something like SRAM's AXS 12-speed bikes, be sure that your trainer works with that. Most companies have adapters (and in many cases finally just released them in the past few months), but not always – again, especially for any older trainers beyond about 2 years old. If in doubt, I *strongly* encourage you to e-mail the company in question and ask them about your specific bike and the specific trainer to validate compatibility.
Third, look at how stable the platform is.  The smaller the base of the trainer, the more likely it is to tip over (and you along with it).  And while tip-overs are extremely rare – they are a problem on lower end trainers ($50-$150) where the base is really small.  This can be further compounded when the trainer mounts the wheel higher up – meaning a higher center of gravity.  It's not hard to get a situation where you try and reach for a TV remote control, or something off to the side, and fall over.  None of the trainers I'm recommending have this issue, but in general, keep it in mind.
Fourth, direct drive or wheel-on? If you went back 3-5 years ago, only the most expensive trainers were direct drive and the rest wheel-on. But these days direct-drive smart trainers are down to $699 (Elite Zumo), and that's great for consumers. Wheel-on trainers mean that you mount the entire bike, inclusive of your back wheel, to the trainer. Whereas direct-drive trainers mean you remove the back wheel and attach the bike directly to the trainer (via a cassette on the trainer). This means that you don't get any tire slip on direct drive trainers, and for many models you can also get away without having to do calibration/spin-downs.
My preference is overwhelmingly direct-drive, but I also totally get that such a trainer may be out of the ballpark of one's budget.
Fifth, how do you move it around? This might sound silly – but if it's a heavier trainer (which is most mid-range and above trainers), then is there some sort of handle to move the darn thing around? Most of these trainers come in at nearly 50 pounds (about 23KG) – so they're beastly.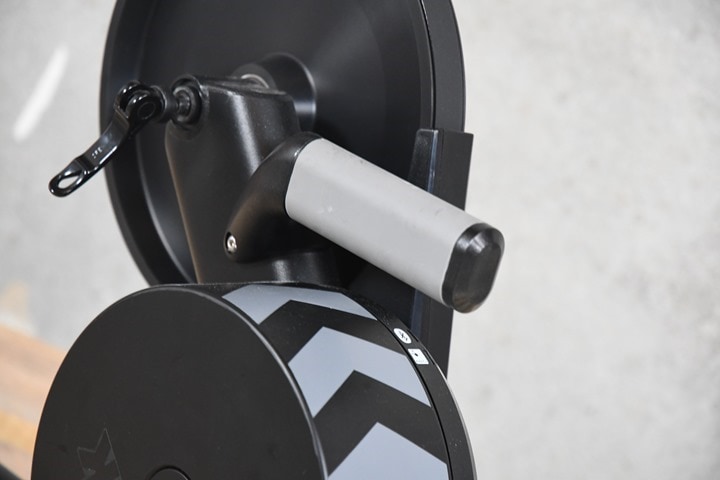 Again – virtually everything on this list has already taken into account all of these considerations. But still, it's worthwhile thinking of them and how they factor into your decision-making process.
Sixth, support and customer service: For the most part, all of the major trainer companies (Wahoo, Tacx/Garmin, Elite, and Saris) have pretty good customer support, and very rarely do I hear of stories of customers being left in a lurch. This year obviously is more challenging with spare parts/units and such due to COVID, but despite that overwhelming demand/strain, bad stories from the majors are few and far between. Said differently – while there are nuances to each company's support in a given region, for the most part I wouldn't let it be a major factor in 2020 between the brands.
Technical Considerations: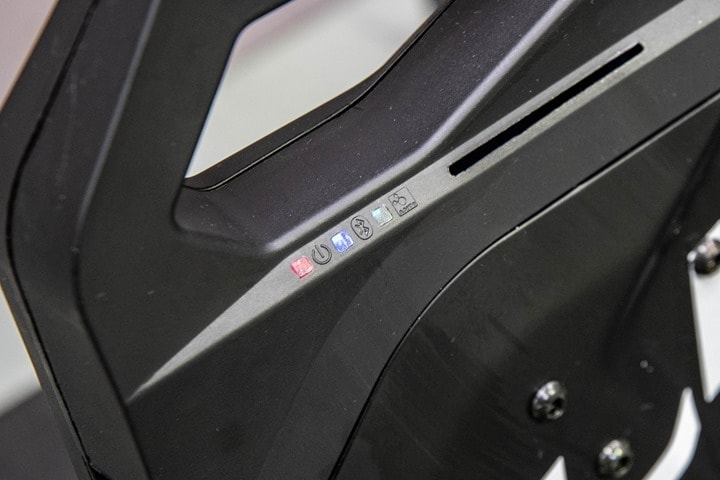 Ok, we're almost to the recommendations.  But we need to all be on the same table when it comes to some of the technical terms that we're going to talk about.  Notably, the protocols and communications side of how trainers talk to apps.
In the sports world there are essentially two camps: ANT+ & Bluetooth Smart.  Virtually all devices use one or both of these low-power technologies to transmit and capture information such as heart rate, power, speed, cadence, and more.
In the trainer realm, that means trainers tend to support two types of things over these protocols.  The first is simple broadcasting (one-way) from the trainer to the app/device that you're using.  This is done for the following on trainers:
ANT+ Broadcast: Power, Speed, Cadence
Bluetooth Smart Broadcast: Power, Speed, Cadence
Compatible devices, such as a Garmin/Suunto/Polar/Wahoo unit can pick up these signals and record them.  The same goes for apps like Zwift, TrainerRoad, or Rouvy.  Almost all trainer companies now broadcast dual on both protocols concurrently. No trainers in the 2020 guide fail to meet this requirement, to me it's considered a baseline specification.
Next, for control there are basically two semi-standards that allow trainers to be controlled via apps:
Open/Standard Communication Channel: Via ANT+ FE-C (all trainers use this today) or Bluetooth Smart FTMS (most trainers have this today as well).
Private communication channel: Prior to FE-C and and FTMS there wasn't a standard. So each company did their own thing. Wahoo, Saris, (once CycleOps), Tacx, Elite, Kinetic, etc… Most of these companies now support the ANT+ & Bluetooth Smart standard versions, but some of them also support their older variants to help out older apps.
For ANT+ FE-C, devices such as the Garmin, Stages, Wahoo, and Hammerhead cycling units support controlling the trainer straight from your head unit.  This also means you can re-ride your outside rides (elevation changes and all) without any other software.
Meanwhile, for Bluetooth Smart, there's FTMS, which is basically the same thing as FE-C when it comes to trainers. It's not quite as widely adopted yet by trainer companies, but is by app companies. On the trainer company side only Elite, Saris, and Kinetic support it across the board. With Tacx having it on some but not all units, and Wahoo having it on no units (but all Wahoo and Tacx trainers support private Bluetooth Smart with all major apps anyway). Each year Wahoo and Tacx say they'll get around to adding it to their higher-end units, and each year they don't (practically speaking though, it won't impact your app usage, since all major apps support Tacx/Wahoo variants anyway).
Ultimately, almost all major apps support all companies' Bluetooth Smart implementations (whichever variant they're on).  Where the issue matters more is smaller apps that may not have the time to implement all the variants. Nonetheless, here's where things stand.
Elite: ANT+ FE-C and Bluetooth Smart FTMS on all 2020 smart trainers.
Gravat: ANT+ FE-C and Bluetooth Smart FTMS on all 2020 smart trainers
JetBlack: ANT+ FE-C and Bluetooth Smart FTMS on all 2020 smart trainers.
Kinetic: ANT+ FE-C and Bluetooth Smart FTMS on all 2020 smart trainers.
Minoura: ANT+ FE-C and Bluetooth Smart FTMS on all 2020 smart trainers.
Saris: ANT+ FE-C and Bluetooth Smart FTMS on all 2020 smart trainers.
STAC: ANT+ FE-C and Bluetooth Smart FTMS on all 2020 smart trainers.
Tacx: ANT+ FE-C on all 'Smart' branded trainers (except Satori). FTMS on all non-NEO models.
Wahoo: ANT+ FE-C on all smart trainers. Gives developers access to private Wahoo Bluetooth Smart control, no proper FTMS support yet.
This all matters when it comes to apps – but the thing you need to know is that you want your trainer to be dual capable, and it should ideally support if you want resistance control across a broad number of apps. But ultimately, if you buy any trainer from this guide, it'll be some variant of dual.
Kids Smart Trainer: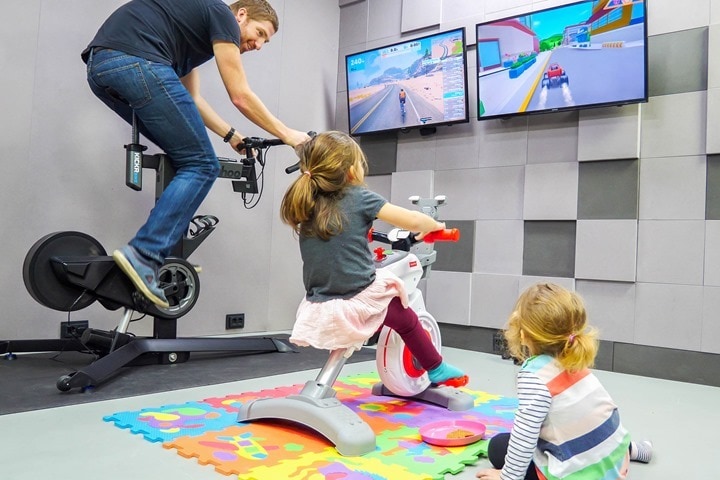 Wait, did you think this category wasn't going to happen? Of course it is. Mostly cause I've got an epic review about this trainer and it'd be a failure to omit it somehow here.
For the money, there's no smart trainer on the market which delivers as much functionality as the Fisher-Price Smart Cycle. App compatibility across virtually every larger-format screen you can think of, half a dozen themed apps with dozens of modules (courses) between them, and more alphabet games than there are letters. Now I know my ABC's for sure.
Hardware-wise it appears well built. Even as an adult I could sit on the bike and it didn't feel like it was going to fall apart. Albeit, I was unable to get my legs in the right position to pedal unless I used an accessory chair. Plus, neither the KICKR Bike or the NEO Bike can steer, or go in reverse. Also, neither have horns or bouncy options.
About the only downside would be the global availability – it's mostly restricted to the US/Canada unless you can find an importer. The Amazon Europe sites all offer it, but they also add hundreds of dollars of shipping costs. Maybe there's a business model for bringing in containers of these bikes to sell to athletic DCR reading parents. What triathlete cave wouldn't be complete without this? Also, since my review last year, the price has skyrocketed from the usual $80 it had been for years….to…umm…far higher.
But hey, on the bright side – my girls love this more than ever before – and they still haven't reached peak understanding for its capabilities, nor has the littlest peanut (not pictured above) even begun to sit on it.
Budget Smart Trainers (sub-$449):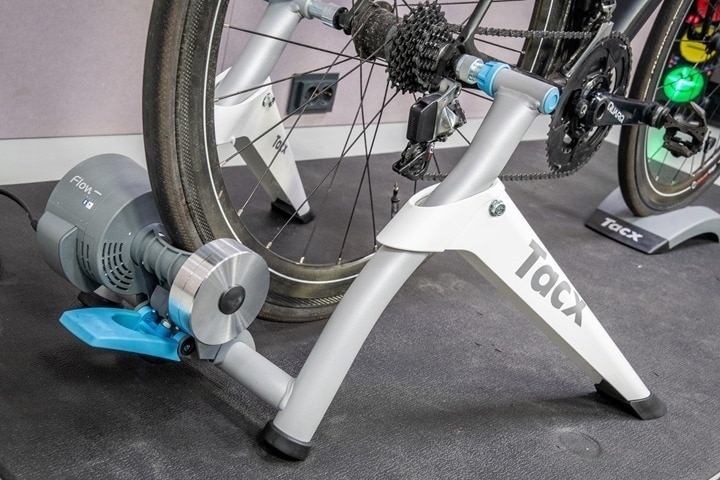 There's once again been almost no appreciable shift in this category this year, so things stay basically the same as last year.  And, there's really only a few entrants in this category anyway. Only Tacx, Elite, and in some areas Magene compete in this realm as a true smart trainer (ones where you can control resistance).
But let me be clear – there are TONS of trainers out there for less than $450 that don't have any smart electronic gadgets in them and work just great.  Really, there are.  But there's only a few units in this price range (again, looking at USD MSRP) that have ANT+ & Bluetooth Smart broadcasting of speed, power, and cadence…AND…control of the incline/wattage.
Lastly, this is the one category I don't have a ton of riding time on either of those units. Both of them have been at trade shows or the like.
The main option that I can recommend is as follows:
Tacx Flow Smart – 239EUR/329USD: This is without question the least expensive smart trainer on the market, though it mostly is only available in Europe (some European companies may ship to the USA). This tops out at only 6% inclines and 800w.  The 800w piece probably isn't too challenging for most people, especially triathletes, but the 6% gradient may be tricky (of course, if you leave defaults on Zwift, you're unlikely to notice). Still, it's an incredible trainer for the money, and a great place to start if you aren't sure you really want a smart trainer or not.
Note for 2020: I've removed the BKool Smart Go from this list (previously $399USD), because the company sold off their trainer division late last year to a company called Zycle, which appears to be focusing purely on the Spanish market. Though, it's not clear to what extent they're actively shipping units.
Mid-Range Trainers ($450-$700):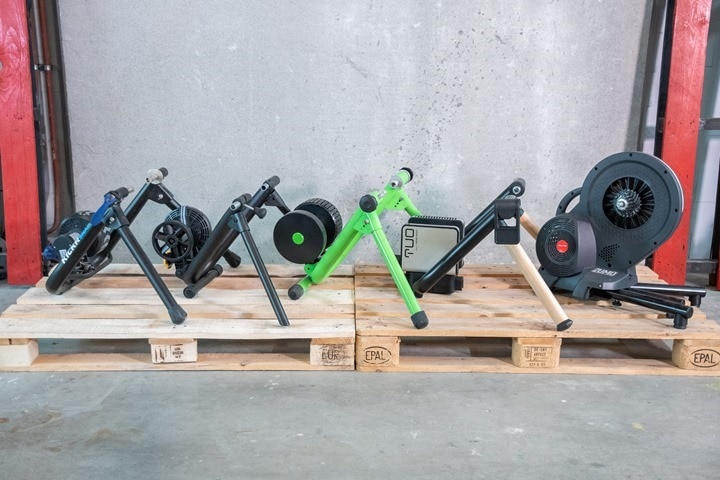 While this is a very specific price bracket, it mostly captures the entire mid-range market.  And to be perfectly clear: They're all similar, despite looking different.  There are minor nuances between these trainers, for which you'll want to look at closely, depending on your needs.  Specifically, look carefully at these four areas:
A) Maximum incline
B) Maximum wattage
C) Which protocols/standards/types they transmit on (i.e., power, but not cadence, etc…)
D) Flywheel weight
That's about the only real tangible differences between them.  They all have about the same road feel (and each company will tell you their road feel is better). They all have ANT+ FE-C and Bluetooth Smart control, and they all work with Zwift and TrainerRoad.
The flywheel weight, in theory, gives a more road-like feel, but the thing is, at these weights, it's all kinda wimpy to begin with.  I know a lot of folks want the most road-like feel, but my brain can't really separate out the fact that I'm still inside looking at a wall going nowhere.  I'd rather have greater accuracy and more app support than the mythical road-like feel. Still, at this level it's definitely different between these $500-$600 trainers and those a $1,000+. The exception to this is the new Elite Tuo, which somehow manages really good road-feel. Perhaps because they spent a year after their planned release working on it. I don't know.
This lineup largely stayed the same this year except two changes:
A) I added the Elite Tuo to the mix: Last year I mentioned it, but it hadn't started shipping yet. Turns out, that delay would last a year, but it finally started shipping in September and my review was out last month. And I really like it, it has slightly better road feel in certain areas (namely initial ramping up, and shifting between speeds) than the KICKR SNAP. Not major, but it's there. The other difference is that the Elite Tuo has a better system for mounting the bike (ignoring the mess that first-time setup instructions are). Specifically that, due to the back lever, you can get the exact same resistance amount each time, which means you know your calibration is the same each time. Whereas with the KICKR SNAP, getting the exact same press-on rotations after removing the wheel for an outside ride is trickier.
B) Removal of the 4iiii Fliiiight (previously by STAC): Last year this was on the list provisionally while I finished testing for my in-depth review. But ultimately, this year it's hard to make that cut unless you fall in a very specific requirements range. Specifically, if you need an absolutely truly silent vibration-free trainer (it uses magnets), and if you're a lighter weight rider (like a small female). OR, if you *ONLY* ride in ERG mode (e.g. TrainerRoad). While they have made some improvements in firmware, the bulk of DCR readers that have circled back to me say it's just not ideal for regular Zwifting for heavier riders. Mind you, if you're a lighter rider or just do ERG mode – then absolutely – go forth and enjoy all the magnety awesomeness. But overall as a recommendation at large, it's just tough.
Moving along to the entire group, there are also very minor differences in how you mount your bike to each one in terms of the clasp/lever, but that's too a wash.  About the only notable difference here is that the Saris Magnus/M2 has a nifty resistance knob that makes it easy to ensure your bike is at the same resistance setting each time. It's actually kinda brilliant. Just like the Elite Tuo with the toaster lever getting you to the same exact point each time is.
But no matter, all of these will require calibration about 10-15 minutes into a ride to ensure accurate numbers.  With that in mind, here are your lower-priced options:
Elite Zumo – $699 (if you're looking for direct drive at this price bucket)
Elite Tuo – $529
Kinetic Smart Control Road Machine 2018 Edition – $569
Saris (CycleOps) M2 – $499
Wahoo KICKR SNAP – $499
*4iiii Fliiiight $549 (only noted if you meet aforementioned requirements)
A few years ago I included the Bushido Smart, but it got kicked off the island this year as its price stayed static at $620 despite everyone else going lower, I don't see any reason to pick up the Bushido Smart at that price. And similarly, the Vortex Smart is at $520, but spec-wise it just doesn't compete with the others above from a simulation of incline or accuracy standpoint. Though again, being 2020 – beggars can't be choosers, and there's nothing wrong with it per se – it just wouldn't make the list in a normal year.
I know a lot of folks will want some sort of concrete answer on which of the aforementioned trainers to pick, but the reality is that they are just so darn similar.  That's obviously on purpose, the companies have largely modeled them after each other, and thus the end-state is basically the same.  I'd be happy with any of these five trainers.  I think the KICKR SNAP is probably the most robustly built of the bunch, whereas I think the Magnus/M2 is the most accurate of the bunch (plus it has up to 15% incline resistance, which along with the Bushido is the most of the bunch).  And the Elite Zumo is the only direct drive trainer of the bunch – which is super appealing.
If I were to really narrow it down, it'd probably be between the Elite Zumo if you can find it (distribution of that model is more rare), and the Wahoo KICKR SNAP or Elite Tuo. The SNAP & Tuo have better road-like feel than the Zumo, but Zumo has the convenience and accuracy of a direct drive trainer (in that you don't have to worry about tire pressure. Accuracy of power numbers is equal, but in different ways. I've historically found the SNAP slightly more variable on the whole, whereas I find the Zumo can clip some sprints (meaning, it shorts you a bit). Overall, roughly a wash. Keep in mind though with the Zumo you're still gonna spend another $50 for a cassette to put on it (and another $20 for tools if you or a friend don't have them). Which means you're within a few Starbucks visits of the $799 that is the Elite Suito – a more powerful trainer with better road-like feel that includes the cassette pre-installed.
Note: The Elite Zumo is not currently distributed by any retailers in the US (it is in Canada though, and in many places in Europe). This is up to individual retailers for whether they carry a given product, which may have different margins than the rest of the Elite lineup.
Here's some nifty tables that might help narrow it down.  Remember, you can make your own comparison tables here.
[Pop-open a new window to see all 6 trainers here, including the 4iiii Fliiiight]
Mid-High End ($700-$975):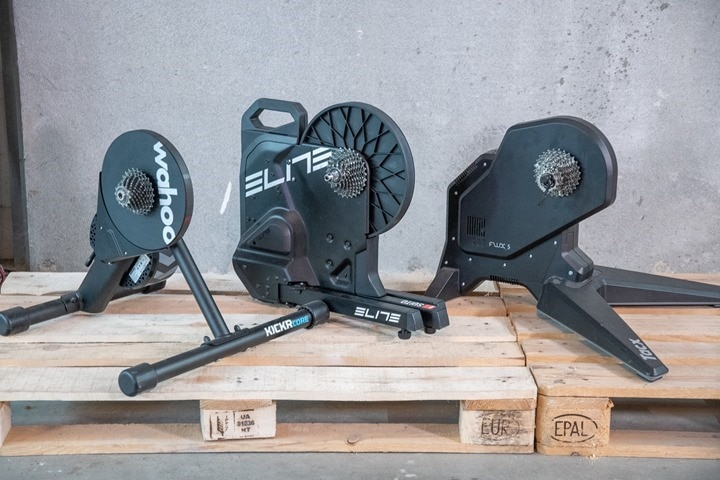 This is a tricky category, and where the vast majority of 'innovation' is occurring. Though, not necessarily product innovation, but rather just price innovation. Companies continue to pack more and more features and power into sub-$1000 trainers. Especially trainers in the $799-$899 price points.
And in some ways, these companies are slicing and dicing really thinly. For example with Tacx you've got the Flux S ($749) and Flux 2 ($899) both in the market. And Elite has the Zumo ($699), Suito ($799), and Direto XR ($949). When Elite released the XR, it had some very minor shifts from the X the year before except a bump in specs (albeit, useful specs). Just like when Tacx quietly (and unofficially) released the Flux 2.1 a year ago, it only sought to tweak a few internal issues from the Flux 2 a year prior.
But then there's the KICKR CORE. When that came out Wahoo basically took a full 2017 KICKR and made it silent. They then lopped $300 off the price and changed the leg system.  This meant that you got what up until that summer was one of the best trainers on the market that was loved by most, for $300 cheaper – and now it didn't make any tangible noise. Well, until it broke. But I think those issues are largely behind us these days for people going out and buying new trainers. Point being, this category is more about hand-me-downs from the top-end units than new offerings. And frankly – that's totally great. I'll save $300+ for last year's model by a different name.
In any case, as with last year, I think the value prop for the Elite Direto XR is tough (last year it was the Direto X). Specifically because the Direto XR is $949, while the KICKR CORE is $899. Sure, the Direto XR includes a cassette, but a cassette only costs about $50-$60 anyway, and more importantly, the KICKR CORE has (in my opinion) far better road feel. It also has dual-Bluetooth Smart channels, something super useful in 2020 as you end up with multiple devices needing to connect on Bluetooth Smart (both Elite and Wahoo still have endless ANT+ connections). Which isn't to say the Direto XR is bad – not at all (in fact, ERG mode was quite good). It's just that if I'm standing in front of both of them at their list prices, I'm gonna grab the KICKR CORE every time.
However, Elite still has the Suito priced at $799, which also includes a cassette. Like the KICKR CORE, it had a bit of a rougher initial launch hardware-wise (albeit, to a far lesser extent). And I think for many people the Suito is hitting a bit of the sweet spot. Or, Suito-spot. You get a direct drive trainer that requires zero assembly – pull it straight out of the box, plug it in, and you're riding. And doesn't cost anything more. With all the other direct drive trainers in this category you'll still need to do some assembly as well as adding that $50 cassette (+ $20 in tool costs if you don't have them).
Update for 2021: I'm happy to add the JetBlack VOLT to this list for the mid-tier. It proved very accurate in my tests, and passes all my other categories. It was basically the only trainer released in 2021, but it manages to make the trainer recommendation list because it definitely deserves it.
Wahoo KICKR CORE: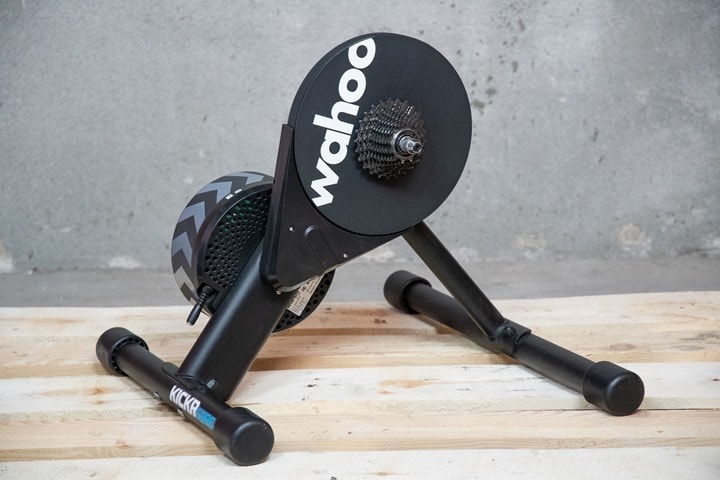 There's really no surprise this trainer is here. Two years later and it still amazes me that more people don't buy KICKR CORE's over KICKR's. It's hard to get this level of a trainer road feel at this price, except of course when you see the Saris H3 on sale for $800 or something. But let's be honest, that ain't happening anytime soon again in the current environment. As I noted earlier, while the KICKR CORE had a rough initial launch period, I think most people would say that as of a year ago that was pretty well settled out. Sure, a few complaints here or there pop into my inbox – but no more than any other trainer/brand. Not to mention the fact that Wahoo continues to sell those units in higher volumes than ever before, so given that combination – I think this is solved.
In any case, ultimately, the CORE is essentially a 2017 KICKR that's been muted with a non-adjustable leg.  If you had told someone earlier that summer that they can buy a quiet KICKR for $300 less, albeit with no ability to adjust height – people would have scrambled for it.  And, that's what happened.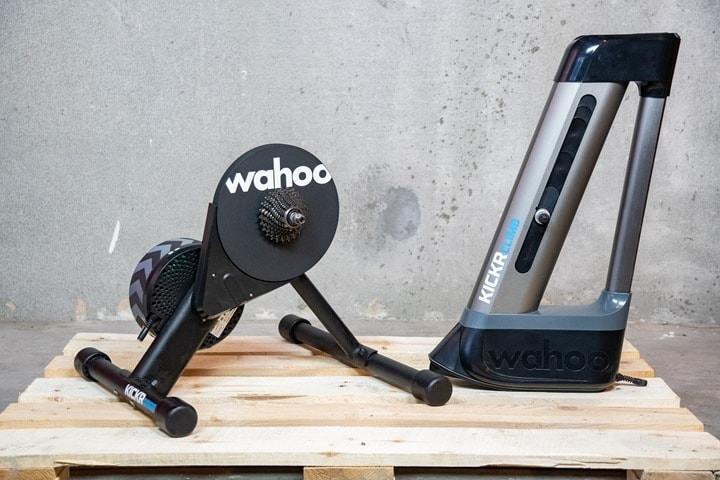 Finally, the CORE is compatible with the KICKR CLIMB. The fact that the CORE is compatible with the KICKR CLIMB means that you can get a CORE + CLIMB for $1,500, versus just a KICKR FOR $1,200.  Said differently, you can justify to your significant other that you're saving $300.
Elite Suito: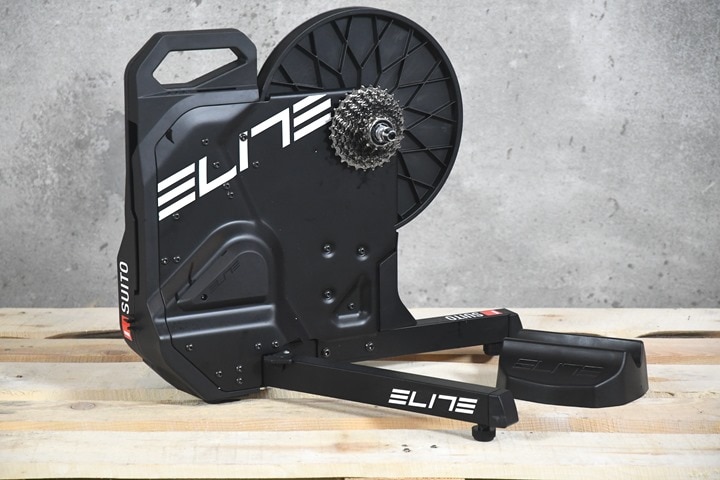 Next, we've got Elite's pretty darn smart plan of simplifying the end user experience – rather than just throwing another trainer into the $700-$800 mix. With the Suito you get the cassette pre-installed on the trainer (they then continued this concept in 2020 with the Direto XR). The only other trainer that has that is the full Wahoo KICKR (at $1,199), though I think Kinetic has started offering the R1 with a cassette now. In any event, Elite even saves you $5-$10 by tossing in a front wheel riser. All while giving you a fairly capable direct drive trainer. Finally, it folds up easily for storage and comes entirely pre-assembled.
Now the key difference between the Elite Direto/X/XR and the Suito is the lack of power meter within it (called OTS by Elite). But keep in mind, having a power meter in it doesn't really matter. What matters is whether or not it's accurate. After all – neither the Tacx NEO nor the Wahoo KICKR series have power meters in them (in fact, Wahoo even ditched the power meter in theirs years ago due to accuracy issues). Of course, nobody is saying the Direto-X/XR isn't accurate. It is. It's incredibly accurate.
And in my testing, I've found the Elite Suito is pretty darn accurate. I have no issues with it from a Zwift or TrainerRoad standpoint, meaning no issues in regular riding, sprints, or doing ERG mode 30×30's – all of which can be demanding. And while Elite did go through some teething pains last fall during the launch period, those seem to have completely evaporated pretty quickly, and I haven't heard much commotion since last winter.
All in, I think the Suito is (again) this year's best value for a trainer, especially if you aren't really sure what you need or want. Sure, the Wahoo CORE has more inertia and thus slightly better road-feel. But the Elite Suito will basically save you $150 once you factor in the cassette cost.
Tacx Flux S: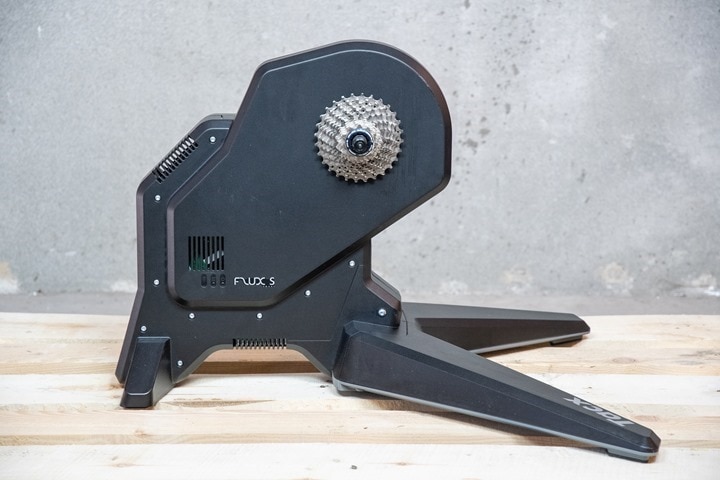 Sitting at $150 cheaper than the CORE at $749, the Flux S is basically just the 2016/2017/2018 Flux 1 with a bunch of internal changes and support for longer derailleur cages. And by basically, I mean, that's all it is.  But that's OK. The Flux 1 was incredibly popular and for good reason. It was the first direct-drive smart trainer below $1,000 when it came out, and supported all the apps people wanted.  Thus, it's an easy pick.
Now between this and the Elite Suito, it's a tough call. It's basically a wash price-wise once you factor in the required cassette. Form-factor the Suito wins because it can fold its legs for storage (and it actually has a handle, versus carrying around the Flux is miserable). Though the Flux is a bit beefier in terms of stability. Also, I feel like the Flux has slightly better inertia than the Suito, though I also think the Flux sounds a bit more 'rough' than the Suito does (a bit more gravelly, if that makes sense). But again, minor differences one way or another.
Neither the Flux S or Elite Suito is silent in the same way the CORE is.  But ultimately, all those trainers make some amount of noise once you put a bike on it. After all, there's still a drivetrain of metal on metal.  No doubt the CORE is very quiet, but once you turn on a fan – all of these trainers are quiet in comparison.
High-End Trainers List ($999+):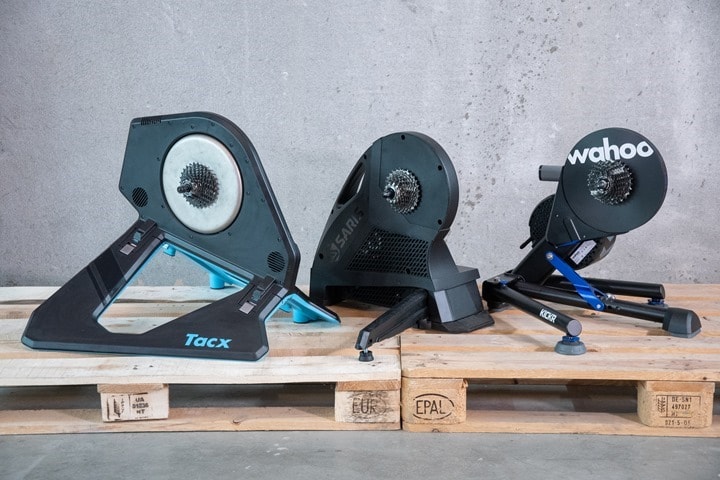 Ahh yes, the vaulted space of the super expensive trainers.  While the upper-mid tier of trainers gets closer and closer to these units in specs, the distinguishing aspects of the high-end trainers tends to be road feel and resistance ceilings (and to a lesser extent these days, accuracy which is equal/better than +/- 1%).
This category has mostly remained the same for years, until last year when Saris managed to join the ranks with the H3. And this year, the Wahoo KICKR v5/2020 remains in the contenders, though with a solid asterisks next to it – namely for accuracy. Just as the H3 gets an asterisk for noise levels (the KICKR and NEO are basically silent…the H3 is very much not).  Though, the H3 is quieter than the Hammer 1 and Hammer 2.
Ultimately, in all three of these trainers you're gonna be down to which nuanced feature matters the most to you. You're basically left with comparing 'extras'. By that, I mean that we've got what I'm going to call the 'Move it' features.  With the Tacx NEO series that's the ability for the trainer to simulate cobblestones and other road surfaces.  It's pretty cool in a geeky way, albeit without a ton of specific training value.  Meanwhile, with the Wahoo KICKR (and KICKR CORE/SNAPv2) you can add their $600 CLIMB accessory, which simulates climbing by lifting the front of your bike up. The Saris H3 doesn't move by itself, though you can spend an extra $1,200 for their motion platform. But that's compatible with all trainers, Saris and non-Saris alike.
Tacx NEO Series: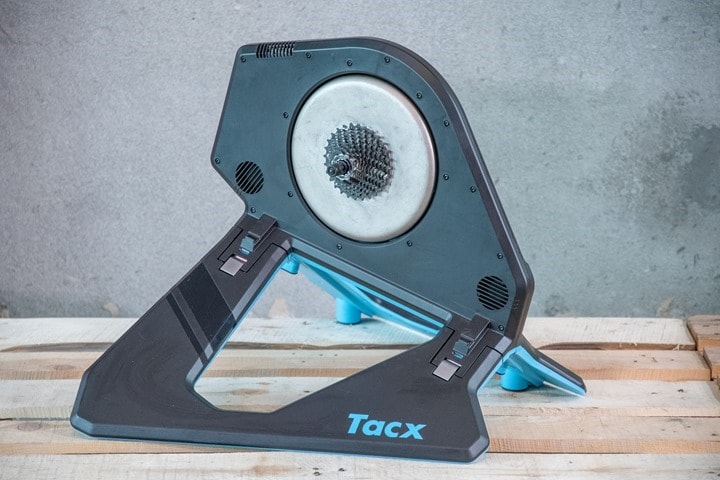 You'll notice I said 'NEO Series', and not just the NEO 2T. Because frankly, all of them are still really solid. The NEO 2 added some minor internal hardware over the NEO 1, and eventually Tacx plans to release Garmin Cycling Dynamics to the NEO 2T and NEO 2 based on that (but a year later…it's still not actually there). Whereas the NEO 2T got substantially increased power from an internals standpoint.
With that, Tacx got rid of the low-speed slip-sprint problem of the NEO 1/2. That sub-second issue was rare for most people, but basically occurred if you were at very low speeds (like going up a steep hill, or just easy pedaling on the flats waiting for your buddy) – and then instantly sprinted hard. It would feel like the trainer 'slipped' for a fraction of a second. It never really bothered that many people with the NEO 1/2, but either way, it's gone now. And…that's it in terms of end-user differences.
Ultimately the NEO 1 and 2 trainers were usually the trainer I turn to when I'm not testing other trainers.  It's my go-to – and is what I have at home in the garage/shed (a NEO 2, not 2T).  And for good reason: It requires no calibration, it's really damn accurate, and it just works.  Oh, and it vibrates.  Everyone likes good vibrations.  Technically they're cobblestones or what-not on Zwift, but you get the point.
Still, I think I value most the accuracy pieces.  I just don't have to think about it.  There's not even an option to calibrate it – and nobody has seen any reason for them to include one either.  It just works.  It also folds up relatively small, though the lack of a handle is fairly awkward in the event you're trying to move it frequently and for long distances.  Did I mention it also looks like a ship from Star Wars?  Cause seriously, that design is worth something (though, slightly less so with the new blue bottom on the NEO 2).
While the NEO 2T did have some initial accuracy issues when it was first announced, those were largely resolved in subsequent firmware updates to my satisfaction.
Wahoo KICKR 2018/V5-2020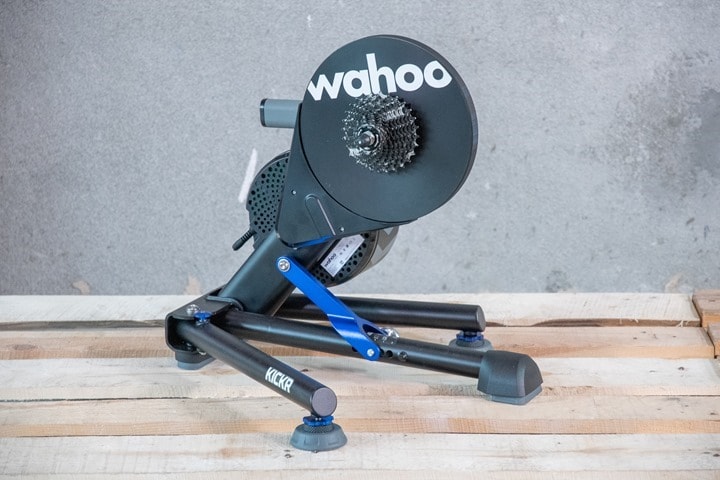 When it comes to the Wahoo KICKR, they released a new version of their top-end trainer this past summer, the KICKR V5/2020. That trainer added in a zero-calibration feature, some squishier feet, and a wired connectivity port that'll require an extra adapter (but isn't yet available). But otherwise, it's basically the same trainer as before in the KICKR 2018. Except accuracy, which I'll discuss.
The previous version from the KICKR 2017 to the KICKR 2018 was the much larger jump, mainly due to it becoming silent. Also, that was the cut-off point for getting dual Bluetooth Smart channel connectivity (2018 and 2020 both support it – the only trainers on the market to do so). Technically the 2017 to 2018 jump also slightly increased the flywheel size, but most people can't feel that difference side by side. I can't, and GPLama/Shane Miller has said the same.
If you're planning on buying the KICKR CLIMB, then obviously, get a Wahoo KICKR series unit. The CLIMB doesn't work with non-Wahoo trainers. And yes, the CLIMB is fun to ride – it's the ultimate in upwards/downwards indoor trainer movement (well, technically the KICKR BIKE has a greater range). Not to mention the fact that unlike the more expensive Tacx NEO, you actually get a cassette included here. Why on earth the NEO doesn't include a cassette is (still!) beyond me.
Now – all that said, the KICKR V5 does have an accuracy issue that earns it a caveat. Specifically that the KICKR V5 has an issue with low flywheel speed and accuracy. I've outlined it in my review, and Wahoo says they're working on a fix (though, three months to the day later and there's still no fix). So in my case I saw it in some surges (spikes) in the KICKR V5 power values for short periods of times when at slow speeds and transitioning to mid-range speeds. A straight-up sprint didn't see any issues for me. Others have reported similar results with the KICKR V5. I did not see this on the KICKR 2018 or KICKR CORE.
As for the squishy feet on the KICKR 2020 vs the previous edition, the so-called AXIS feet are actually available as a $79 accessory for any Wahoo KICKR trainer, which Wahoo says add increased tilt (up to 5°). In my testing there was zero difference on a trainer mat (since that squishes anyway), though a tiny virtually unseen difference on a harder surface like a concrete floor (sans-mat). Wahoo says that you're more likely to notice it on much longer rides though (multi-hour). I wouldn't let it be a decision factor at this point.
Finally, some people will ask about whether it's safe to buy a KICKR 2020 (or even a KICKR 2018 if you can find one) in terms of some of the issues they previously had two winters ago. And at this point, I think it is. We're now three months into the KICKR 2020 and I've only seen a handful of people report  bad/broken units, which would seem to be well within the specs of typical one-off manufacturing failures. And given the substantially higher volumes this year of new trainers going out than years past, we'd hear about it otherwise.
Oh, one more thing – many people ask/debate which has better road feel, the KICKR series or the NEO series. It's debatable. Everyone who has ridden this and the KICKR differs on which is more road-like.  I could put 10 well-respected cycling journalists in a room and blindfold them and ride both trainers and they'd likely even have differing opinions ride to ride. I don't think most people could tell blindfolded without having ridden one or the other extensively as their 'main' trainer first.
Saris H3 (Hammer 3):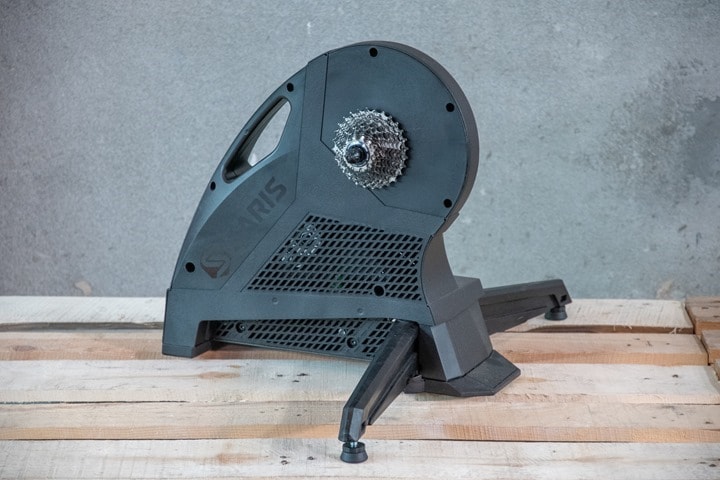 I feel like the Saris H3 is the little trainer that could. In past years the H1 and H2 have always fallen short on the list. But last year the H3 finally climbed into the top recommendations list. With the H3 the company made some minor technological tweaks, but also substantially reduced the price. And that combination put it over the edge.
First up, from the technology side, they reduced the noise. I remember two winters ago Des of DesFit was at the DCR Cave doing a workout a few days after the Open House, and he curiously picked the then CycleOps H2 trainer as he wanted to give it a whirl as he hadn't tried it yet. Well, the rest of us that day (GPLama, his wife Von, and my wife) certainly remember it – because it was so darn loud echoing around the concrete box that is the DCR Cave. Thankfully, Saris did a bunch of work to dramatically reduce that noise with the H3. It's not as quiet as either the Wahoo KICKR or Tacx NEO, but it's basically below the noise levels of most people's fans.
Next, from a technology standpoint, they fixed the sprint overshooting issue this summer. In fact, both the H1 and H2 trainers got that firmware update – but it meant this was more accurate now.
However, the one strength of the Hammer series has always been just how darn good it is at ERG mode. If TrainerRoad were ever to acquire a trainer, I'm pretty sure they'd acquire the Saris Hammer series. Seriously. There's no trainer that works better on TrainerRoad than the H3. Period. If you live in TrainerRoad, then you'll love just how good the H3 feels. So smooth, so purposeful as it shifts between intervals. If I wasn't so lazy moving around trainers, I'd probably ride the H3 anytime I rode TrainerRoad.
Finally, the last thing they did was reduce the price down to $999. This makes sense. They can't compete on brand recognition with Wahoo or Tacx these days, and they can't compete on silence. So…you've gotta compete on price. $999 is priced perfectly.
The Why I Didn't Include It List:
First and foremost, this isn't a list of bad trainers.  If you take that away from this section, then you're mistaken.  In fact, there are some awesome trainers in here.  Instead, this list is to save me time answering the same question 327 times below for each trainer as to why I didn't include them.  I'm keeping these explanations short and sweet.  In many cases, I've detailed out longer answers in posts related to those products.
Elite Direto/Direto X/XR: Look, this is a great little trainer – and the *only* reason it's not in the above list is purely because of pricing. At $949, the Elite Direto XR sits $50 more than the better road feel (and silent) Wahoo CORE at $899 (though, that'll require a ~$50 cassette) – but still. Obviously, in Europe the pricing game shifts a bit. But it's hard for me to track Euro pricing as it shifts about every 8 seconds based on whenever a given retailer decides to go even lower. So ultimately, I'd say you can kinda figure out what you value here in terms of price to features. But certainly don't shy away from a good deal on the Direto X/XR – it's solid for the right price.
Magene Gravat: Distribution is the main factor here. It's largely only available in Asia, and while they do actually make some good trainers (see my review on it previously), it's just hard to include when the majority of the world can't get it. I'm looking to try and get the latest one, though distribution is frankly still the main issue here.
Kinetic R1: Oh Kinetic. You had so much potential with the R1. Unfortunately, it's simply not accurate. Not even close to where it needs to be. I wish it would. They wish it would. And if they can sort that out (it's been a year), then definitely – I'm totally there. Until then, I simply can't recommend it.
Minoura Kagura DT (Not Direct Drive): While this almost made the cut for the mid-range trainer bucket two years ago, the accuracy was just a bit beyond the price point I'd expect. I think they're getting closer on it, and depending on where you are (specifically, Japan), this may be a very good option based on the costs of other trainers being more expensive.
Minoura Kagura DD (Direct Drive): Is it even shipping yet? Still?
Tacx Flux 2: This originally came out two years ago, but my initial testing found ERG mode issues with accuracy being vastly off (10%+). They went back to work, and eventually quietly released a revamped version internally dubbed the Flux 2.1 which had physical hardware changes inside (+ new software). And while that fixed the ERG mode issues, I found other drop-out issues instead in my review this past summer. Thus, it's a no-go for me.
CompuTrainer: They went out of business (or at least stopped making them) three years ago.  I generally don't recommend products that don't have a sustainable support path.  I do think if you can get a used unit under about $400, and know exactly which apps you're using and if they're compatible – then go forth.
LeMond Revolution Pro: The company has folded and ceased operations many years ago. Like CompuTrainer, they're out of business.
Trainers FAQ:
Most of this is from years past, but I wanted to repeat it for this year.  I've tweaked things where appropriate and/or where they've changed.
What about specific trainer tires?
I commented on trainer tires a long while back in a Weekly Mailbag post, so here's what I said then – which still applies today.
I train every day on the stock wheels and tires that came with the bike.  Just normal tires and normal wheels.  In fact, I don't even bother to swap out for a separate trainer tire.  Why?  Well, my thinking is that I spend 3+ days a week on a trainer, and the last thing I want to deal with is swapping tires or wheels every time I go inside to outside or the inverse (I'm kinda lazy that way).  Further, when you step back and look at the total cost of triathlon or cycling, and the total cost of simply getting a new tire each year due to wear – the new tire is pretty low (between $30-45).
Now, if you're riding race wheels with expensive race tires – you'll have to balance the much higher cost of most race tires.
Do trainer tires make it quieter?
Nope, actually, not at all.  And I proved this as part of my Tacx Genius review way back when – some actually make it louder.  I've then further confirmed this with a few other tire companies as well.  Most of them kinda silently laugh at the fact that people actually buy expensive trainer tires.  Hint: Just use last season's tire and toss it at the end of the winter.
The only benefit of trainer tires is that some tires will slowly shred tire specks over the course of the winter, depending on both the specific tire and the specific trainer. Not ideal in a carpeted living room, but not even noticed in a garage.
Why didn't you recommend XYZ trainer or software instead?  It's waaaaay better!
As noted above, it's likely because I haven't used it.  I'm pretty strict in that I don't recommend things I haven't used or know a lot about.  I know magazines love to, but I don't.  Sorry!
Any tips or suggestions on where to place remote controls/jelly beans/bike computers/etc. while on a trainer?
Yup, you're in luck.  I'd recommend either a simple 4-cup OXO measuring cup (silly, I know, but it clips onto almost all road bike bars and triathlon bike aerobars – awesome).  Or, you can build your own like I did here in this post.
What about that desk you use on the trainer?
Ahh yes, that desk is awesome.  There's both the Wahoo KICKR Desk, but also the near identical but slightly better version by 3rd parties here for half the price.
Do you use a trainer pad/mat (floor protector)?
Sometimes.  You can find endless numbers of them online or at your local bike shop – usually around $30.  You can also just use a towel, just be sure that if you're on carpet that you change the towel regularly, otherwise it'll eventually stain the carpet below (sweat going down into it).  Here's the thing, don't overspend on this – that's silly.  You don't need a $70 trainer mat.  As long as it's waterproof (thus, sweatproof) and offers some padding to lower sound profiles, that's really the key thing.
What's the quietest trainer?
It's easily the 4iiii/STAC Halcyon/Zero trainers – but those have some limitations. Beyond that, it's the the Tacx NEO 1/2/2T, and the Wahoo KICKR/KICKR CORE which are super quiet.
How do you test for accuracy? Or, how can I see if my trainer is accurate?
Simple – follow my full post here where I go into both testing and troubleshooting your trainers and power meters for accuracy.
What about generic rollers, any thoughts?
I don't have a ton of experience on rollers unfortunately. I have recently tested the InsideRide solution with the floating fork, and I found that super compelling. But it's hard to recommend that for most people, given the accuracy and price limitations.
In any event, I find that the cross-over between people who really like riding rollers and the people who really like the technology aspect tends to be rather small.  Said differently, roller people tend to be more purists who don't want technology in the way (not all of course, but most).
What about one of those bike protective thong cover things?
Do I look like an Instagram supermodel? No (especially given how little I post). Thus, my bike isn't either – I don't cover up my bike.  I've spent A LOT of time on my bike, pouring a lot of sweat – many multi-hour rides.  But you know what?  I've never seen any adverse issues due to it.  Perhaps I'm lucky, perhaps it's not normal.  Either way, I don't use one.  That said, Tacx released a cool one that actually has a cell-phone holder built in (with a protective plastic cover).  Kinda neat.
Favorite Trainer Accessories: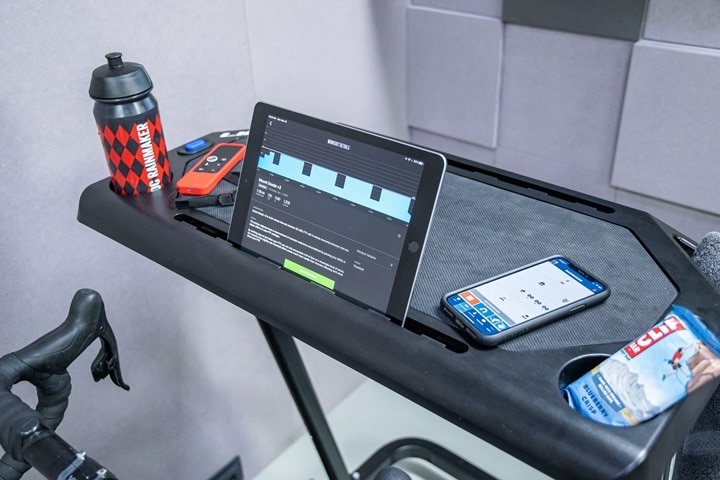 People always ask my favorite trainer accessories, and these are the ones that I use most frequently/daily. I'm a simple person in that respect, I typically don't need the fanciest versions of these things. I'm happy with a $10-$20 trainer mat, a $7 front wheel block, and the cheaper trainer desk. Also, I've been using that fan listed below for a few months – both the US variant (Lasko), and the EU/UK variant (Vacmaster). If you're in the UK/EU, you'll get the correct one when you click on it automatically.
| | Product | Amazon | Note |
| --- | --- | --- | --- |
| | Apple TV 4K (2021 Edition) | Amazon | There's no better bang for your buck in getting Zwift (or FulGaz/etc) on your big screen TV than Apple TV - it's the primary way I Zwift. Even if you don't have a 4K TV, the 4K version has more powerful graphics than the base, worth the extra $30. |
| | Basic Trainer Mat | Amazon | This is a super basic trainer mat, which is exactly what you'll see me use. All it does is stop sweat for getting places it shouldn't (it also helps with vibrations too). |
| | Elago R1 Apple TV Remote Silicone Case with Strap | Amazon | I use Apple TV for Zwift the vast majority of the time, but also just for watching YouTube/Netflix/etc on the trainer. The Apple TV remote sucks though. This $8 case fixes that, it's a silicone strap that makes it easy to grab, but also has a strap to easily place on the edge of your handlebars. Boom! Note: Not compatible with 2021 Apple TV Edition. |
| | Front Wheel Riser Block | Amazon | Here's the thing, some people like front wheel blocks, some don't. I'm one of the ones that do. I like my front wheel to stay put and not aimlessly wiggle around. For $8, this solves that problem. Note some trainers do come with them. Also note, I use a riser block with *every* trainer. |
| | Honeywell HT-900 Fan | Amazon | I've got three of these $12 fans floating around the DCR Cave, and I frequently use them on rides. They work just fine. Sure, they're not as powerful as a Wahoo Headwind, but I could literally buy 20 of them for the same price. |
| | Indoor Cycle Trainer Desk (RAD/Lifeline/Vinsetto/Conquer/etc...) | Amazon | This desk is both a knock-off of the original KICKR Desk, but yet also better than it. First, it's got wheel locks (so the darn thing stays put), and second, it has two water bottle holders (also useful for putting other things like remotes). I've been using it as my main trainer desk for a long time now and love it. Cheaper is better apparently. Note: Branding varies by country, exact same desk. |
| | KOM Cycling Trainer Desk | Amazon | This is by far the best value in trainer desks, at only $59, but with most of the features of the higher end features. It's got multi-tier tablet slots, water bottle holders, non-stick surface, adjustable height and more. I'm loving it! |
| | Lasko High Velocity Pro-Performance Fan (U15617) | Amazon | One of the most popular trainer fans out there, rivaling the Wahoo Headwind fan in strength but at a fraction of the price. It doesn't have smartphone/ANT+/Bluetooth integration, but it does have secondary outlets. I've been using it, and a similiar European version lately with great success (exact EU variant I use is automatically linked at left). |
| | Tacx Tablet Bike Mount | Amazon | I've had this for years, and use it in places where I don't have a big screen or desk, but just an iPad or tablet on my road bike bars. |
Buy Now, and support the site!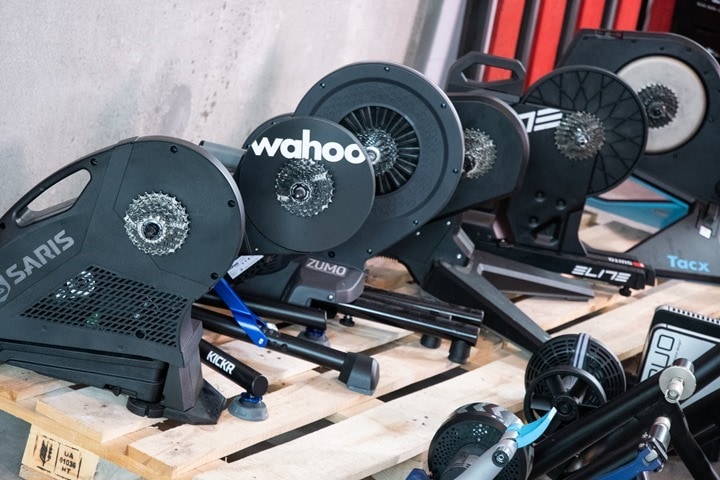 If you're looking at any of the above devices, you can support the site by making purchases through any of the below links.  Here's a handy table of everything mentioned above that I have a review on. Thanks for reading, and thanks for considering to do your shopping through the links on this website.
Product

Amazon

Chain Reaction Cycles

Competitive Cyclist

Wiggle

Elite Suito
$799 (incl cassette)
Amazon
Awin1
Competitive Cyclist
Wiggle
Elite Tuo
$580
Amazon
Awin1
Competitive Cyclist
Wiggle
Elite Zumo
$699
Awin1
Competitive Cyclist
Wiggle
Fisher-Price Smart Cycle
$89-$299
Amazon
Awin1
Competitive Cyclist
Wiggle
Kinetic Smart Control 2018 (Road Machine/Rock & Roll)
$569
Amazon
Awin1
Competitive Cyclist
Wiggle
Saris H3
$1,099
Amazon
Awin1
Competitive Cyclist
Wiggle
Saris M2
$499
Amazon
Awin1
Competitive Cyclist
Wiggle
Tacx Flux S
$749USD
Amazon
Awin1
Competitive Cyclist
Wiggle
Tacx NEO 2T Smart
$1,399
Amazon
Awin1
Competitive Cyclist
Wiggle
Wahoo Fitness KICKR CORE
$899
Amazon
Awin1
Competitive Cyclist
Wiggle
Wahoo KICKR + CLIMB Bundle
Awin1
Competitive Cyclist
Wiggle
Wahoo KICKR SNAP (Current edition)
$499
Amazon
Awin1
Competitive Cyclist
Wiggle
Wahoo KICKR V5/2020
$1,199
Awin1
Competitive Cyclist
Wiggle
Thanks for reading!  And feel free to drop any questions below, I'll be happy to answer them.