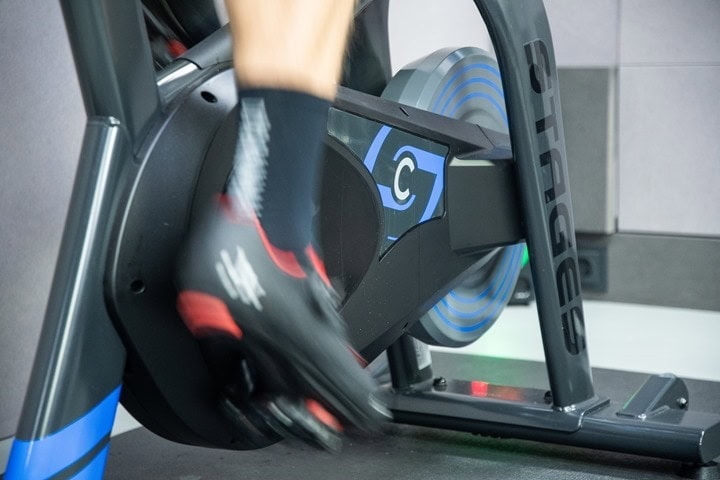 The Stages Bike becomes what I'd argue is the 'final' competitor to land in the indoor smart bike space for probably some time. Last summer we saw Wahoo, Tacx, and Stages all launch their first smart bike offerings at Eurobike, albeit on varied timelines. That's in addition to Wattbike already having theirs in the market at the time and just launching their updated V2 variant last week.
The Stages Bike is in many ways like those others, but also in many ways not. Each company has their own unique strengths and weaknesses. Stages core strength is they've built more bikes than any other company in this segment. Sure, you might know them as a power meter company, but the rest of the world knows them as an indoor bike company, both with their own lineup of bikes, but also for numerous high profile brands too.
The Stages Bike's origins are clearly from their commercial gym lineup – but it also pulls from the company's power meter heritage too. Each Stages SB20 bike has a dual-sided power meter built into the crank arms. Unlike all the other bikes on the market, Stages is actually measuring power, not just doing the math on it. Though practically speaking, all the other bikes have been pretty darn accurate – so that hasn't really been a true issue.
In any case, the main difference between the new Stages Bike (SB20) and all of Stage's other bikes is that this one is a smart controllable bike that works with apps like Zwift, TrainerRoad, and The Sufferfest. So when the terrain goes up, the bike, in turn, mimics that.
With that, I've had one now in the DCR Cave for almost two months and have been putting it through its paces with workouts 3-5 times a week. I've pedaled a lot on this bike. So much so that I even made a full review video on it. You can just tap play below:
Otherwise, you can continue on to piles of text.
Note that Stages sent over this media loaner unit to try out. Once I'm done with it, I'll figure out how to get it back down the Dutch staircase and back into the semi-truck that dropped it off – so it can find its home back at Stages. Or maybe I'll just stick it on a passing canal boat and hope for the best. Either way, if you found this review useful you can hit up the links at the bottom.
With that – let's get digging into it!
Unboxing & Setup: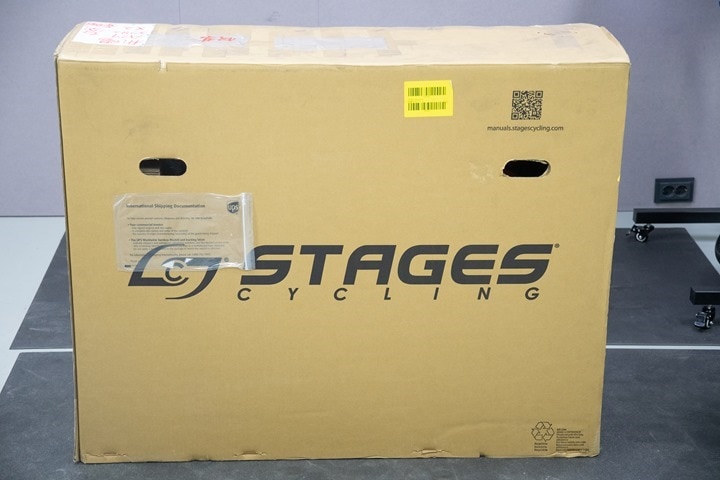 For each company's smart bike that I've unboxed, I've seen slightly different tacks taken with their box design. For example, with the Tacx NEO Bike Smart, it was all about a super-optimized and small box. For the Wattbike Atom, it was the idea that you could take the lid off the box and the bike was basically ready to go. With Stages? It was clearly: "This bike box is ready for war – we're gonna pack this thing to fall out the back of an airplane and still survive!"
Which, might not be a bad plan. Until stairs are involved.
The stated shipping weight of the Stages bike and box is a hefty 160 pounds (72.5kg). In a non-COVID19 world, Stages had planned so-called 'white-glove' delivery, just like a Peloton bike. These days that's not currently allowed, so they drop it at your door and you've gotta man or woman-up and make it work. Just like I did:
However, if going upstairs/downstairs you're best to de-box it on the main level, as that'll dramatically reduce the weight by having individual components to move. Obviously, in my case I didn't do that and made my life more challenging. It's how I generally roll.
Flip open the side of the box, and everything is somehow magically packed inside: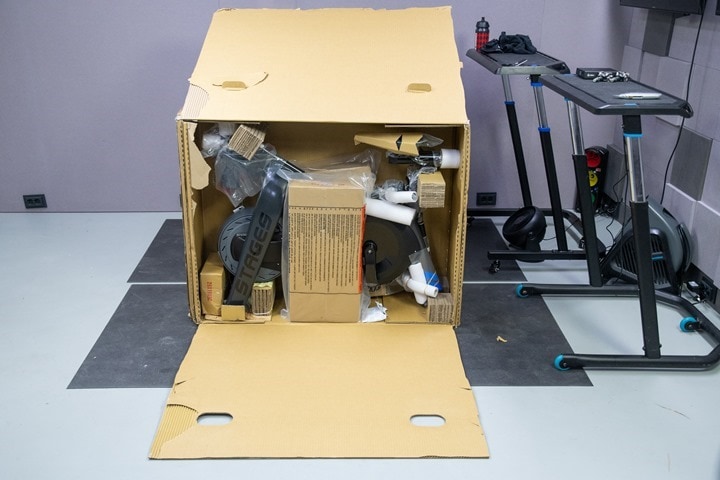 Five minutes later of unboxing, it'll look like this: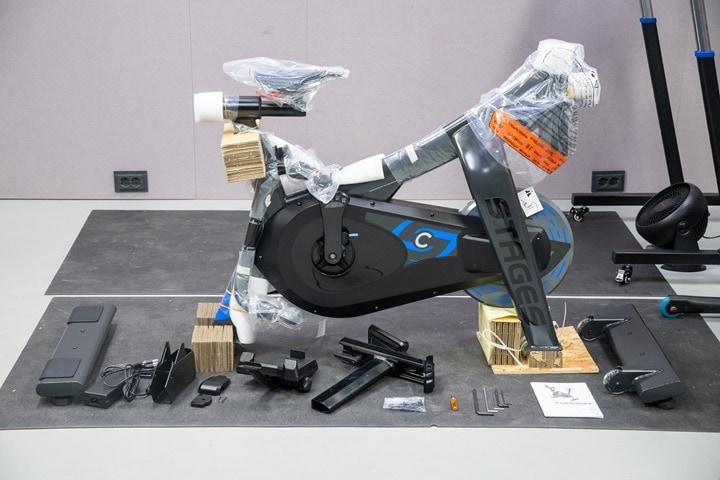 And here's a closer up gallery of those parts:
Roughly speaking this boils down to the following:
A) Bike frame
B) Bike feet/stabilizers
C) Handlebars
D) Front tablet holder
E) Nine million pieces of packaging
F) Power cord
G) A bunch of hex wrenches
No part of the installation is difficult, nor even hard to do solo. If you managed to get the box/parts where you wanted to by yourself, then that's the hardest part. Most of it is simply time-consuming removing enough packaging to supply an Amazon warehouse for a few days. Better safe than sorry?
First up is getting the feet on the bike to get the bike all stabilized before attaching everything else:
Next, you'll slide the main front post/assembly onto the bike.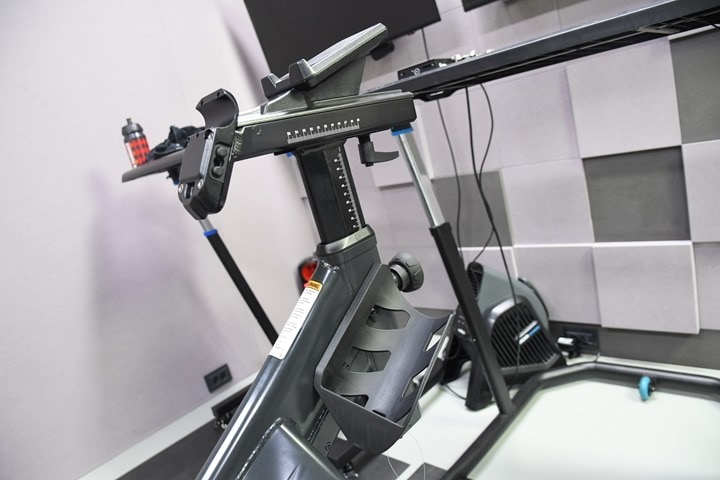 This includes threading the wiring down the tube, but that's mostly already done for you. You just attach it at the end.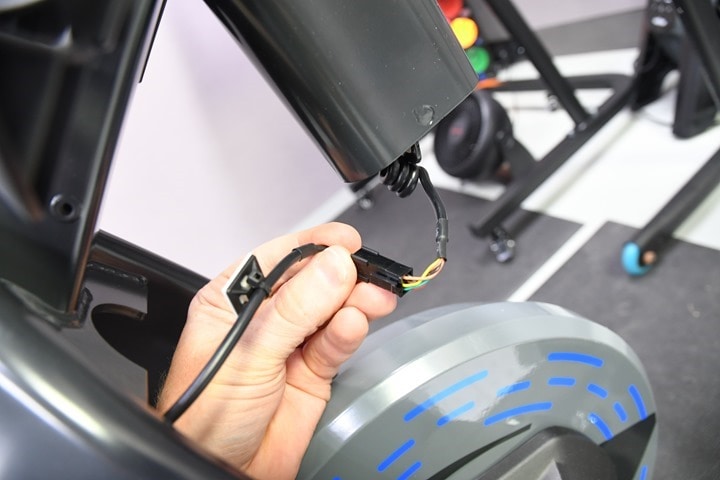 Then you've got the choice of attaching the tablet holder or not. In my case I added it, but you can skip it (especially if you plan to add triathlon/TT bars later). Or, if you've already got a big screen or something.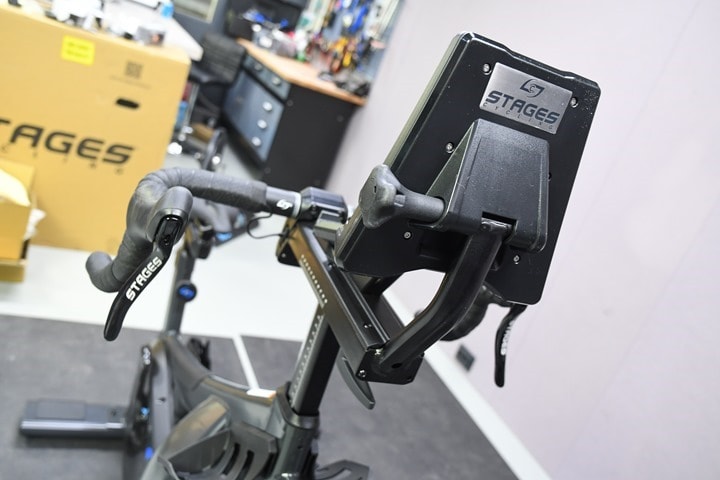 Even though I have a big screen, I've found it perfect for TrainerRoad workouts. I use the big screen to watch what I'm gonna watch, while using the tablet holder to hold my iPad with TrainerRoad.
Next, we'll need to install pedals on there. The bear-claw style cranks means you can choose from four crank arm lengths: 165mm, 170mm, 172.5mm, 175mm.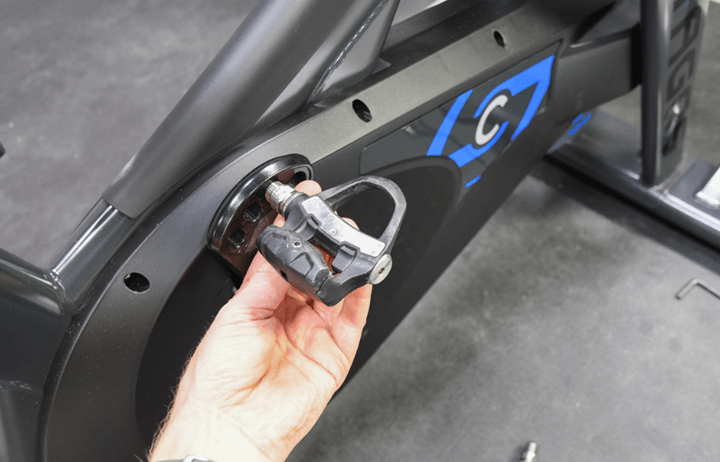 You can choose whether or not to use a washer with your pedals depending on the pedal. In this case I went with a pedal with them to get just enough clearance for the pods. If using a hex wrench through the back of the pedal, it's a bit tight – but you can make it work:
Next, you'll need to remove the small battery tag off the battery compartment: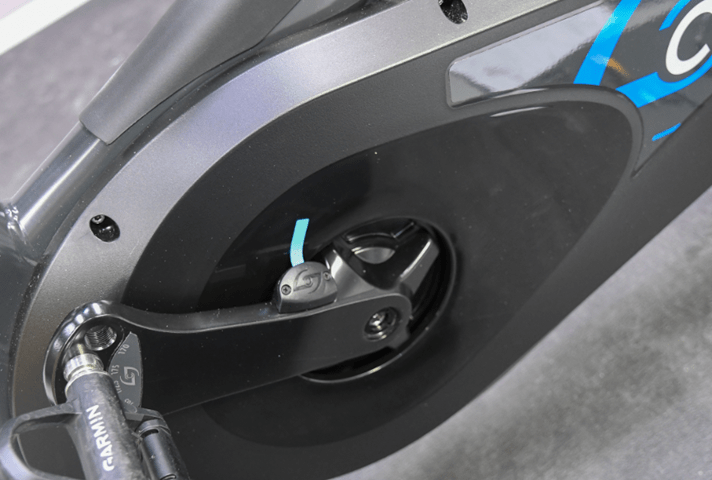 The Stages Bike technically has three power meters on it: One per crank arm, and then a secondary reference one at the flywheel. The ones on each crank arm are basically like those from a Stages power meter that you'd install on your bike. Except in this case they control the entire casting/specs of the crank, so it's even more accurate. But otherwise you can pair to that power meter just like a normal power meter. Kinda neat.
And finally, don't forget to plug it in: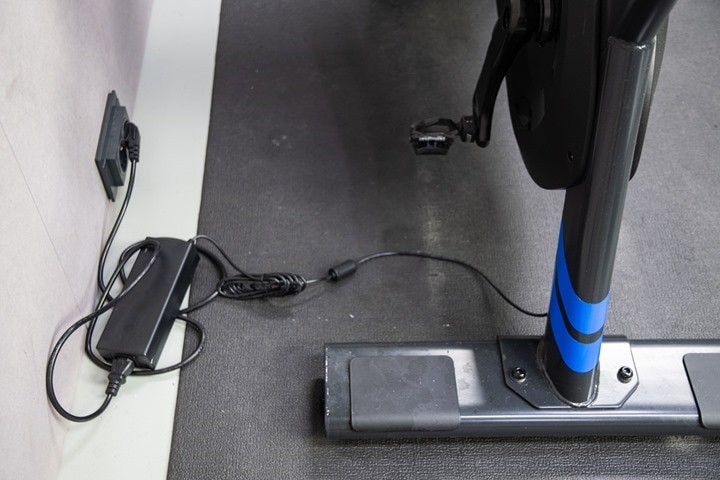 You will need to remember to adjust in the Stages app afterwards the crank length to get correct power, don't worry, it'll walk you through that.
And with that, we've got the bike ready to set up. Do double-check and ensure you've got the latest firmware, but we'll talk about the app in a minute anyway.
The Basics: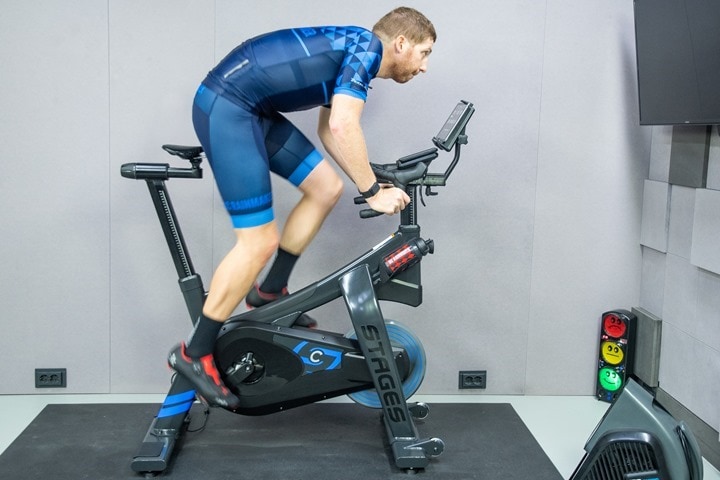 For this section, I'll cover some of the basics of the hardware, before we get into setup of rider fit as well as things like gearing and shifting, plus app connectivity. All of which are detailed in separate sections. There's a tiny bit of overlap from this section to others, but I think this is laying the foundation for later geekery.
Like all these bikes, it'll require power to fully take advantage of all its features – namely resistance control and broadcasting of data. Though interestingly, the Stages Bike can actually still broadcast your power with just its little battery-powered crank arms, even when not plugged in. It's a nifty party trick.
Here's a closer look at the power brick specs: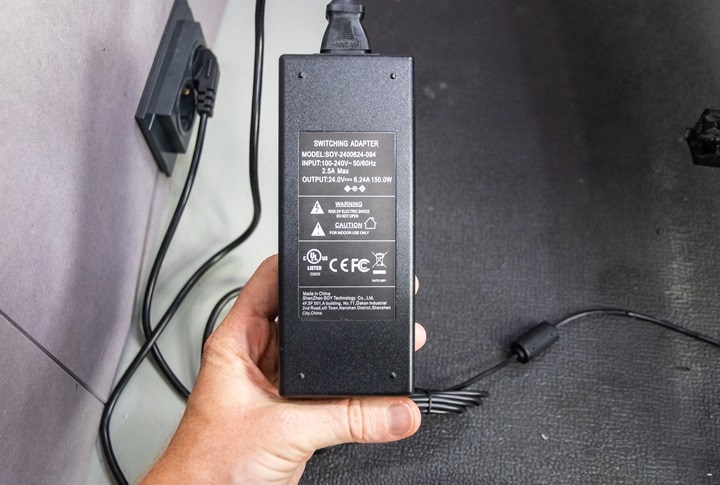 Now as I just alluded to, that doesn't actually power the entire bike. It powers the 'smart bike' side of it, but the actual power broadcasting for the non-bike part comes from the crank arms. So those are the battery caps we removed the packing tape from back in the unboxing. Realistically that'll last you at least a year – unless you're putting in crazy hours on it weekly. It's one CR2032 per crank arm.
However, the plug does power other aspects. For example, it's what allows the bike to be smart controllable, increasing or decreasing resistance. Also, it's what powers the shifting, as well as the two 2AMP USB ports at the front of the bike: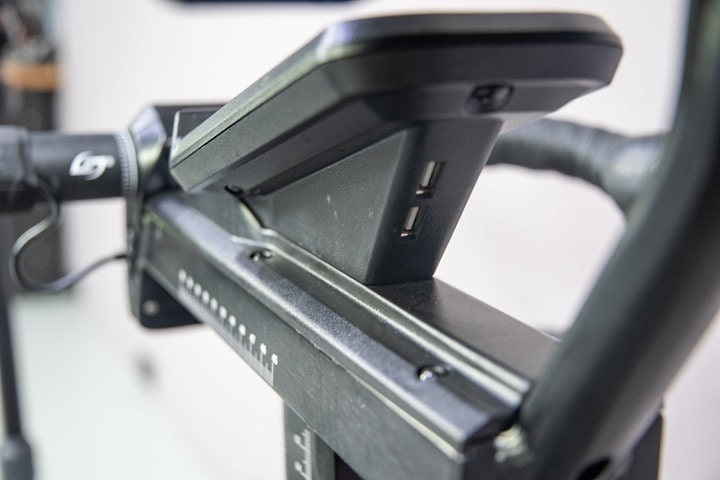 I like these ports. Like the Tacx Bike, they're in a good spot and have reliably powered all my things without issue. No problems keeping my iPad fully charged while also using it for Zwift or YouTube.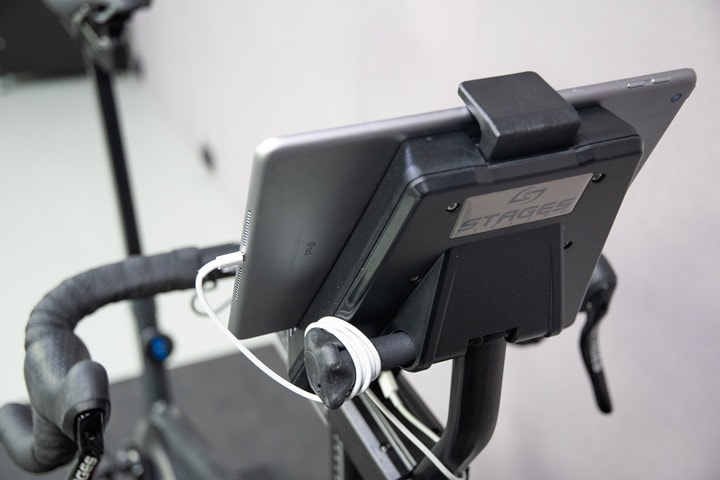 Speaking of which, let's take a look at this entire front console setup. As you remember from before, I selected to install the included tablet holder. You don't have to, but it's super well built and I've found good uses for it. With TrainerRoad, I run it on an iPad there, and then use my big screen TV for watching movies or whatever. And then with Zwift, I actually started using it with the same iPad turned vertically to run the companion app. Thus leaving my phone to run the Stages shifting app: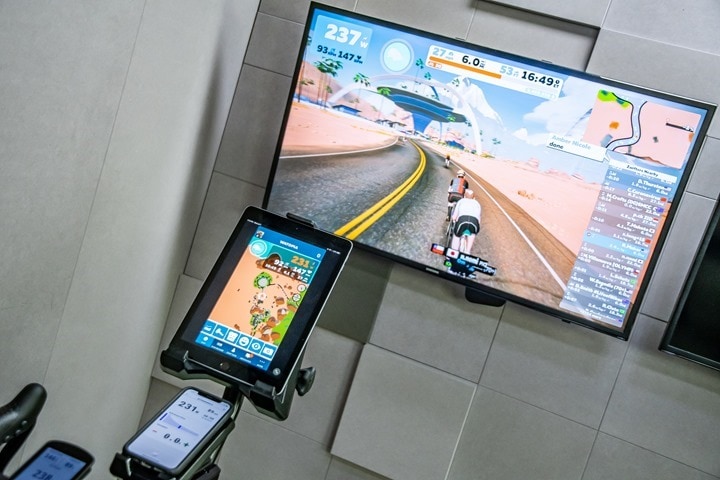 The tablet holder is spring-loaded and easily fit my iPad both vertically or horizontally. Additionally, it has an inset piece to also hold just a smaller phone: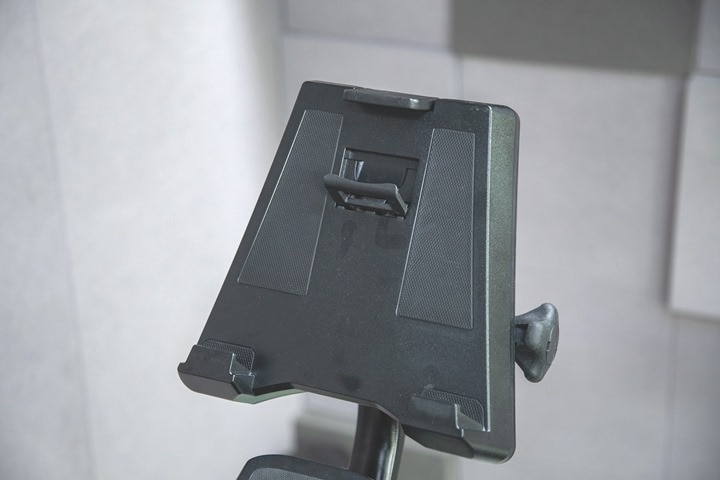 The phone meanwhile has its own little throne, below the tablet holder (and still there if you don't install the tablet holder). This has a rubberized non-slip surface that keeps it in place, and a gap in the bottom so a charging cable can go to your phone.
You can also stash a remote control there too, but honestly, without any edges you'll eventually just bonk it off. For those, I ended up using either a trainer desk (like the Wahoo KICKR Desk or this generic one I've actually been using lately), or also just the spare water bottle holder for most rides. The bike has two of them: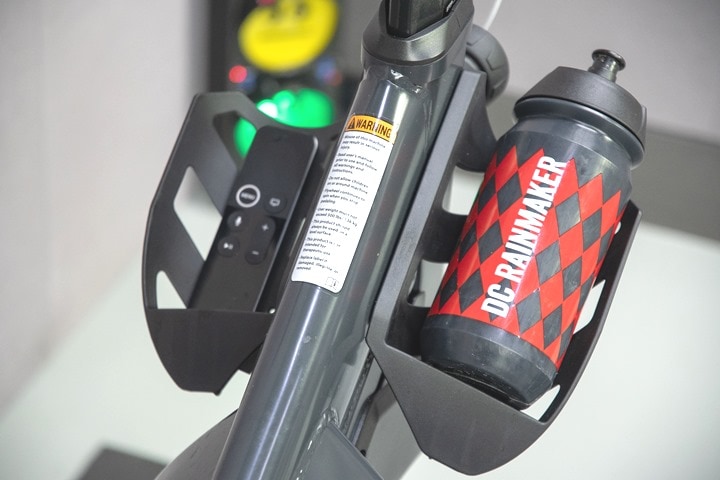 Notably absent at this point is any sort of display to see your shifting.  We'll get into that later – but it's a bummer.
Next, there's auxiliary ports on the stem of the bike. These are used for connecting additional shifters you can place wherever you want. For example, you could actually wire up some time trial bars if you wanted to, to make a TT/triathlon bike. Unlike Wahoo/Tacx/others, Stages is already shipping these (and in fact, a set is on the way to me in the next few days – I'll update the review once installed. There's three ports on each side, two of which are open on each side.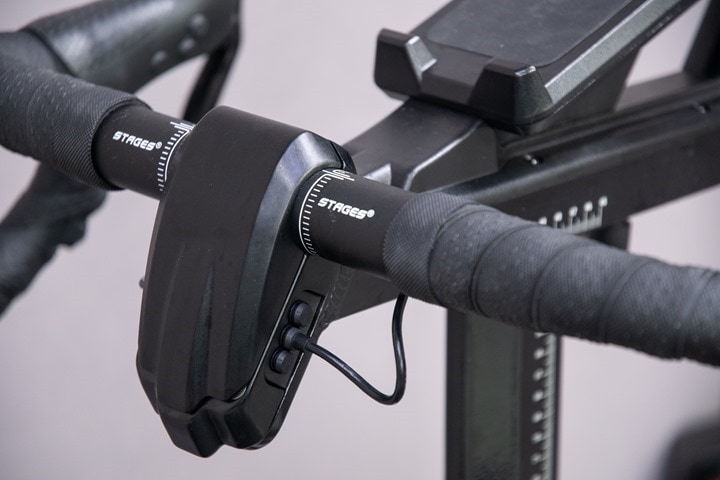 Stages says the ports can also be used for any other magical idea down the road too, just like the Aux ports we saw on the KICKR Bike. I can only assume it'll be for a nacho cheese dispenser.
I'll dive deeply into shifting later, but essentially on each side of the handlebars there's buttons on the interior that can be customized. There's also one brake per side. While these don't function in apps today, they will stop the bike's flywheel just like on a real bike:
Speaking of that flywheel, it's a beast. The biggest beast in fact – coming in at a whopping 50 pounds (22.7kg) The KICKR bike flywheel is a mere 5.9KG and the WattBike Atom's is 9.3kg. The Tacx NEO Bike however can 'simulate' 125KG, but that's sorta a different situation.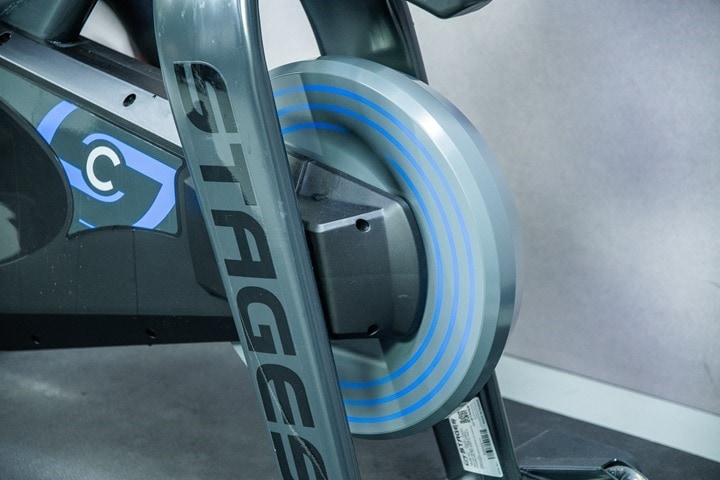 However, despite being beastly, it doesn't make much noise. In fact, I'd argue it's the quietest smart bike out there. The closest would be the Tacx NEO Bike Smart, which is I think very slightly louder. But we're talking basically the sound of a microwave. The Wahoo Bike is louder than both, and the Wattbike Atom V1 louder than all those.
*You can listen to the audio within the video at the top of the page at the 13:00 marker*
Now, that said, I did start running into odd sounds about two weeks ago with the Stages Bike, whereby it started creating a slight thunking sound from somewhere inside the flywheel. Stages believes the flywheel bearings might be bad, and has offered to swap out the flywheel. GPLAMA thinks I should just replace it with a big wheel of Gouda cheese from the cheese shop around the corner. However, I checked into that, and that'd actually cost a sizable portion of the Stages Bike cost. Not a cheap option.
In any case, the sound actually went away this past week. So…ok. Either way, Stages customer service is pretty well known as being super responsive, so I'm not super worried about it at this point.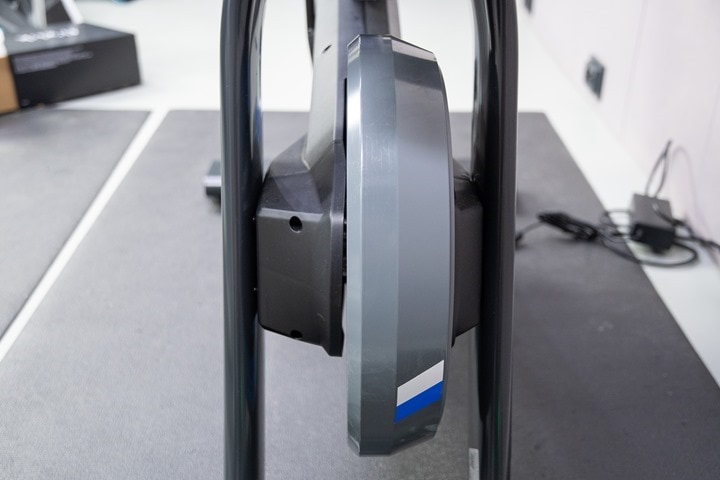 In terms of road-like feel of that flywheel, it's pretty good. However, I wouldn't say that it's a massive difference to the Wahoo KICKR Bike or Tacx NEO Bike. All of them feel pretty good. And in the case of both of those units, they can forward-drive the flywheel while descending in apps like Zwift. The Stages Bike doesn't have that, and it's something I kinda have come to enjoy.
Now, to wrap up this section I've got a quick little summary of things I do and don't like about the bike from a basics standpoint. I hesitate to call this a pros and cons list, though that's more or less what it is. I'm sticking it here in the middle of the review so people that just skip to the end without reading will miss it (and thus hopefully read the whole review to make an informed decision – nuance matters). I'll ignore any accuracy likes/dislikes in this section and keep it more on practical things, also ignoring spec-specific things too. Basically, this is more of a practical list of likes/dislikes:
Things I really like:
– The tablet mount is nailed, it might look a bit clunky, but it's the most stable one out there and easiest to actually use
– Double water bottle cage holder
– Dedicated rubberized spot for placing your phone, with two USB ports below
– No wires sticking out, tons of expansion ports already usable today
– Usability between riders and super quick and clean (not clunky like some bikes)
– No rubbing anywhere, easily fits me and my awesome calves
– The Dream Drive concept is cool for configurable shifting jumps
Things I really dislike:
– I'm not a fan of the Stages Bike shifter hardware, it's hard to overstate how good the KICKR Bike shifters are in comparison
– Lack of small screen for gear indicator display is a pretty tough pill to swallow
– ERG mode stability is pretty rough (this is slated to be addressed in firmware)
– It's not exactly the most sleek bike looks-wise, looks more like a gym bike than a home bike
– While minor, I wish the unit didn't require batteries. I get that realistically you'll have to change it only once a year, but still.
You'll see the same list formatting on all my indoor bike reviews. With that, onto the details of rider setup, and then shifting
Bike & Rider Fit Setup: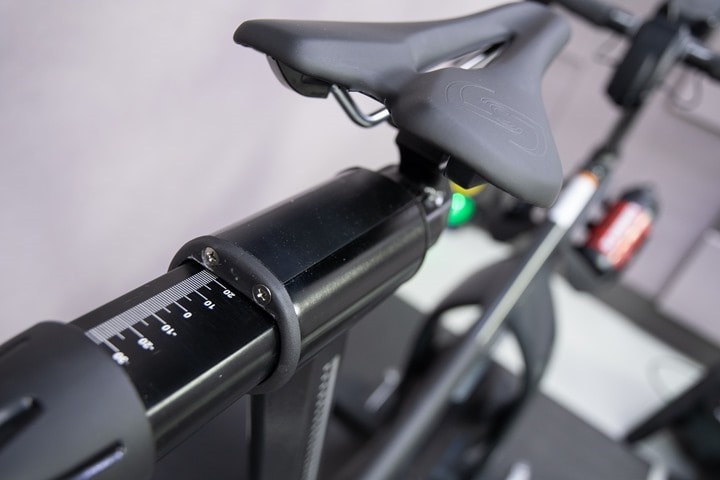 Ok, with everything all built, we'll get the bike fit to you from a sizing standpoint.  Later on in the post, I talk about multi-user considerations and swapping positions. Given Stages experience in selling more indoor bikes for the gym market than probably anyone else, they've pretty much nailed the customization aspects of the bike from a sizing standpoint.
With the SB20, you can adjust the bike in these five ways (plus more if you include loosening the handlebars and changing the orientation there):
1) Saddle height (up/down)
2) Saddle position (forward/back/tilt)
3) Handlebar height (up/down)
4) Handlebar position (forward/back)
5) Seat tilt
In the case of the Stages Bike, you can also adjust crank length too of course, within the four parameters noted earlier. Unlike the KICKR Bike, there's no need to adjust a step/stand-over height, since it's designed without a top-tube (so as to maximize sizing for shorter riders).
Here's a quick gallery of all of those measurement bits.  Like Wahoo and Tacx, Stages also only puts ruler measurements on the right side of the bike (plus the top for the saddle fore/aft). Though in Stages case those measurements are laser-etched into the frame, versus just stickers on the other bikes.
To adjust a given component you'll either use a rotating knob (saddle/seatpost/front post), or a lever (front handlebars fore/aft). All of them work great, and are infinitely adjustable, compared to the KICKR bike which in some cases locks into certain grooves. Or in the case of the Tacx Bike where the handles stick out at odd angles.
However, what Stages lacks compared to Wahoo is a sizing/fit guide. Unlike Wahoo's app which will duplicate our road bike setup using your phones camera, or tell you exactly what sizes to put the bike at based on your inseam/height/etc – Stages mostly just says 'Shrug – you figure it out' (just as Tacx does).
Technically, Stages does have a small portion of their web user guide that talks in general about how to take measurements from your outdoor bike and convert them to your indoor bike: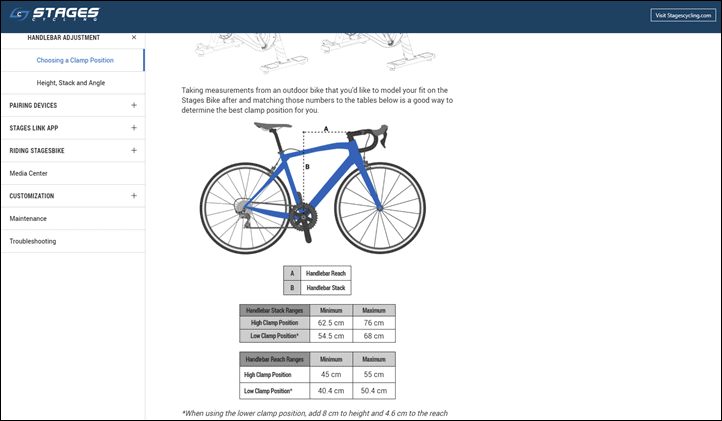 One of the issues I saw on the Wahoo Bike, and to a lesser extent the Tacx bike, was what I dubbed the 'thigh gap' problem. Which was that the seat stay of those bikes were abnormally large, and thus would actually rub against certain people's thighs (mine, and others).
However, I'm happy to say that the Stages Bike mirrors that of the Wattbike Atom and there's no thigh-gap issue. This is because of the lack of top-tube frame design. So it's not even an issue.  To be clear, look at the three other bikes and the top-tube: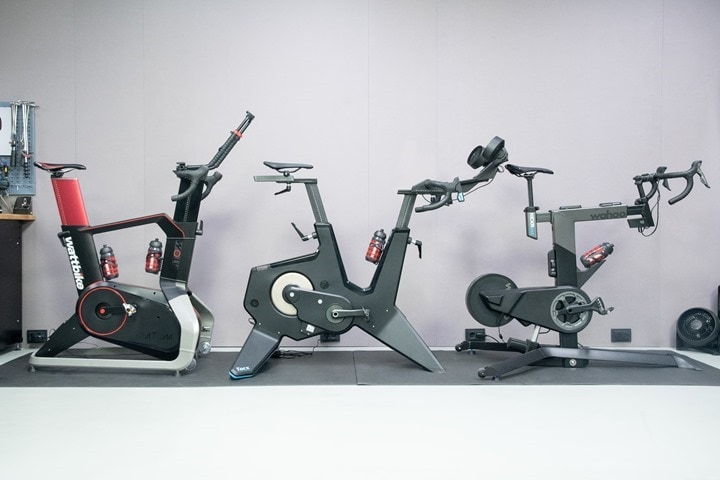 And then look at the measurements for those:
Now the 40.40mm measurement (basically at your ankles) for the Stages Bike – but again, it's at your ankles, so it's a non-issue: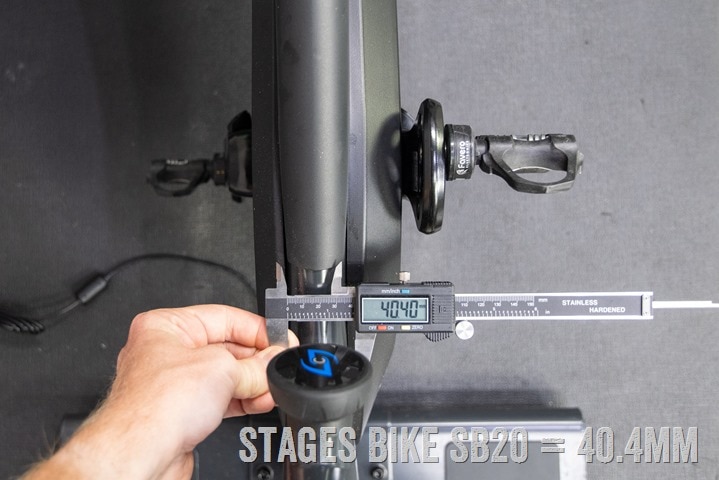 Next, there's the crank length. The Stages bike supports 165mm, 170mm, 172.5mm, and 175mm crank arm sizing, via the bear-paw design. You simply put your pedals into whatever crank arm hole you want, and magically it's the right crank arm length: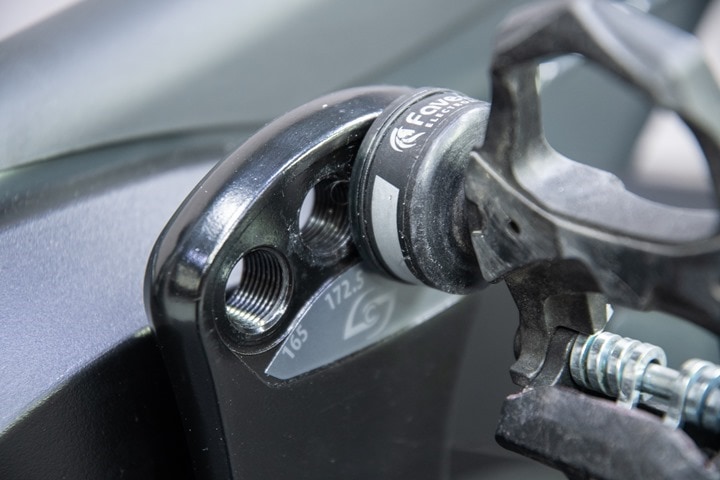 Finally, what about triathletes or time-trialist? The Stages Bike doesn't include any aerobars or specific aerobar kits. But it uses a standard 31.8mm handlebar, which means most aerobar clip-ons will work just fine. However, in order for most aerobars to work you'll need to remove the tablet holder. Not a big deal, since they include a front cover plate. It's plausible with shorty aerobars you can make them fit, but I don't have a pair handy.
Beyond the aerobar attachment, all other TT/triathlon-type aspects would really fall more under the rest of the FIT section above. Given the flexibility here, I imagine most folks will have no issues finding their right fit here. And, Stages also already offers remote shifters that you can integrate into your aerobars – something that nobody else offers. So that's a huge deal for triathletes. A set of those is on the way to me as we speak
Finally – what about multi-user scenarios in terms of the software settings?
Stages says that the best option there is to use their Stages Link app, installed on each person's own smartphone, and then to connect to the bike to set the gearing customizations that you want before starting your session (actually, you can technically set them mid-way through the session too). As soon as the other person's app connects to the bike it'll update the settings with those from that person's app.
I'd love to see apps like Zwift, FulGaz, etc, be able to send your gearing customizations straight to the bike from your account profile. That way it's just there for whoever jumps on the bike. Still, it's a general problem that hasn't really been solved for the industry yet, but with Zwift looking to build their own bike – it's something that'll need to get solved sooner or later.
Overall though, the Stages Bike is super flexible in terms of getting everything fit to your specific needs. I had no problems with my fit setup on it.
Shifting, Braking, and Steering: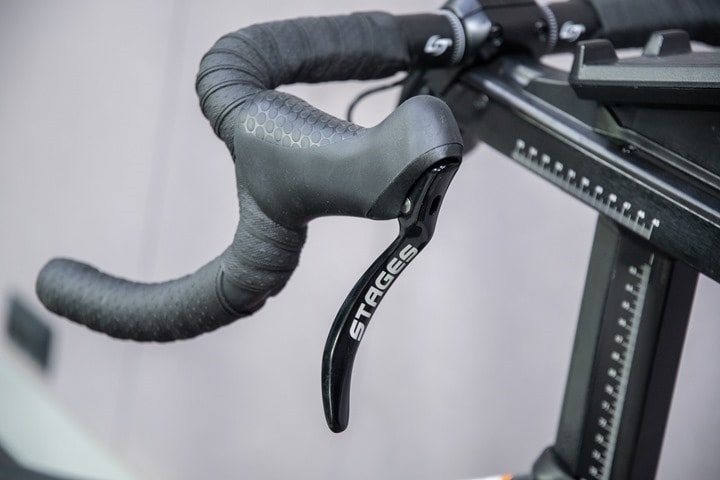 When it comes to shifting on the Stages Bike, I'd put it in the 'mostly good, but still a work in progress' category. Meaning that it's more flexible than the Wattbike Atom, but not anywhere near as nailed as the Wahoo KICKR Bike. Some of that will be tweaked via software, but some pieces are shortcomings in the actual shifters themselves. On the flip-side, the KICKR bike cost like $700 more.
But first, let's step back just a little bit. The purpose of adjustability to shifting in an indoor bike may not seem obvious at first. But this bike is replacing your outdoor bike, and on that bike you've got a specific gearing setup you're used to. Be it the shifters type (such as Di2), or having a different gearing combination (like a compact crankset). If you're going to do an app or route with lots of climbing, you'll want to replicate that compact crankset (or, change into such a crankset).
With the Stages Bike, you're going to configure this shifting using the Stages Link app. It's effectively your digital bike shop for what you want your stages virtual drivetrain to look like. I say 'virtual', because, well…it's virtual. But also because it's effectively infinitely customizable. Nothing physical changes on your bike. It's just simulating different gearing.
So once you've got it all paired up you'll connect to the bike. The first time you do so you'll get the option to create your virtual bike. You can create numerous virtual bikes. So this is just your first one. Give it a name to begin, and then choose the type of gearing and buttons:
When it comes to gearing you've essentially got three core options:
Dream: With Dream Drive you can customize the number of total gearing steps, and then how many steps you want the left shifter to 'increment' each time you press it. The right shifter will always increment one shift up or down. Don't worry, I'll explain it in a second.
Road: With the road bike config, you've got a standard 1x and 2x configurations.
MTB: While I saw this option initially, I actually can't get back to it specifically after the fact, I think it's just rolled under the generic 'Custom' setting.
Once you've done that, then for the road and MTB button options you can customize the exact front chainring and rear cassette gearing. If you dive into the Road settings you'll see options for 1x and 2x (meaning one chainring or two chainrings), and then options for 11 or 12 speed:
In general, I think Dream Drive is probably where the goods are. With Dream Drive, you're effectively on a 1X type system. You've got a single virtual front chainring, and then up to 50 rear cogs. The key though is that your front gear shifter becomes a super-shifter. So instead of shifting just up/down once (as the rear shifter does), this can shift a customizable number of times. For example, tap the front gear shifter and it shifts by default 3 steps. But you can make that 5 steps or even 10 steps. Here, take look at the default at left (3 steps) – and then a tweaked version at right (5 steps):
It's a pretty cool concept, though, like most of these bikes – does take a little bit to get used to. And, I'd argue – really re-enforces the need for a gear shifting display. Which, is why you can connect using the Stages Link app to act as that secondary display: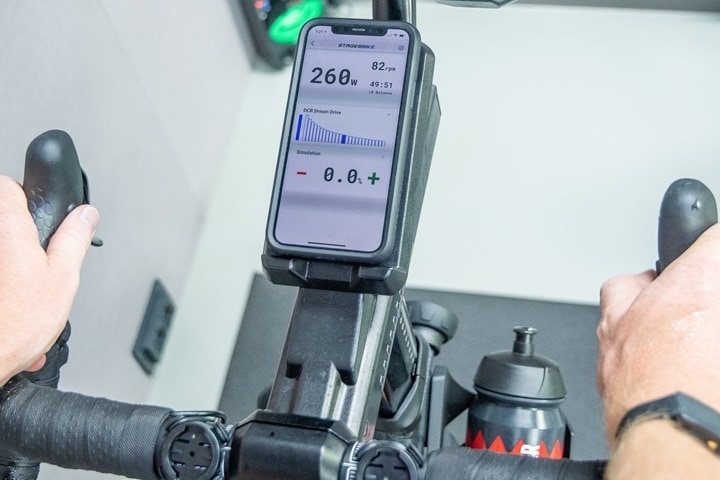 This way you can see in real-time what you're currently in, as well as easily switch gear mid-ride. Now note that as of today, the Stages Bike only accepts one concurrent Bluetooth Smart connection. When it first shipped, it was dual Bluetooth Smart (plus unlimited ANT+), but then they rolled back to a single Bluetooth Smart (and still unlimited ANT+) connections to sort out some issues. However, as of yesterday I tried a new beta firmware update that brings back the dual Bluetooth Smart bits. That allowed me to use my iPhone to connect to the Stages Bike while also using Apple TV to connect to it for Zwift: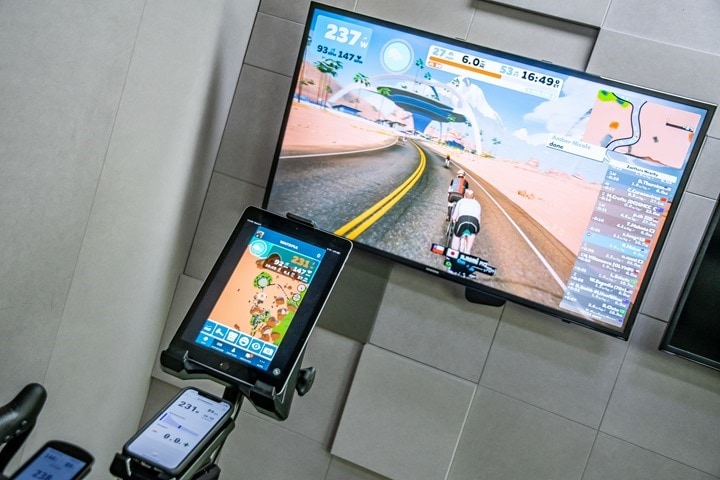 However, we should probably talk about the shifters themselves. Which, are basically just small buttons. On the inside of each handlebar where our thumbs go there are three buttons. Two of which are used by default on each side. The left side will increase/decrease your front chainring (virtually), or, increase/decrease big skips with Dream Drive.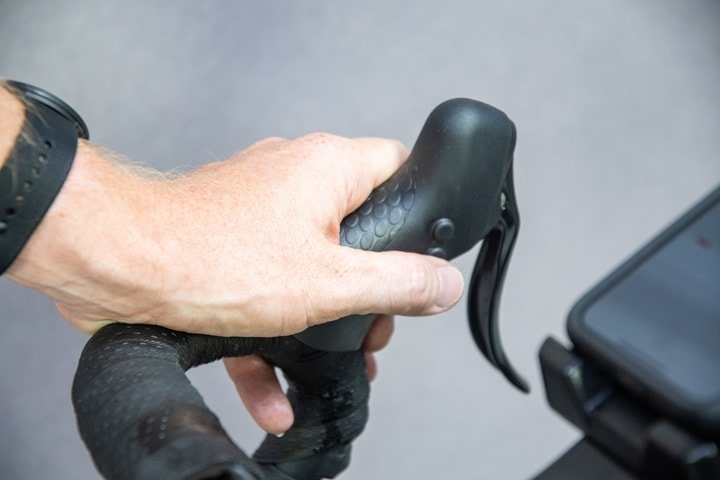 While the right side will increment the rear cassette (again, virtually). This will go up/down a single increment/gear shift.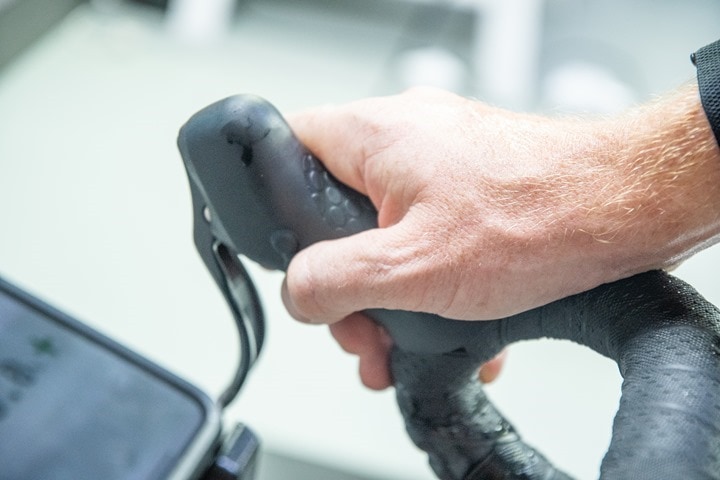 But all this is customizable within the app. So you can scroll down in the app and change these buttons, as well as the remote shifters that connect to them.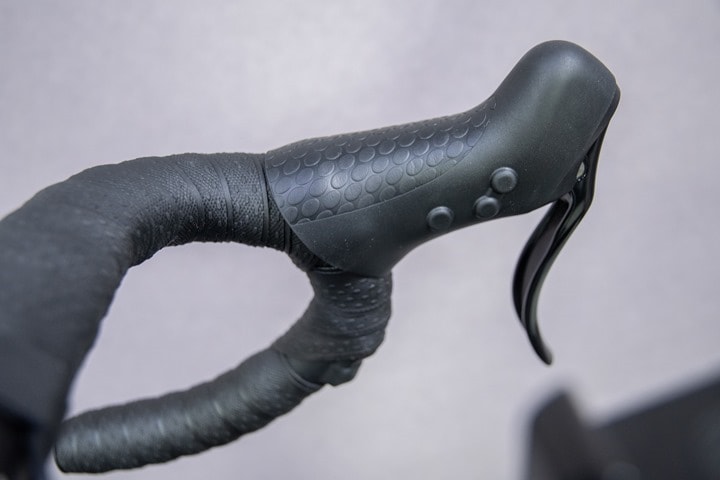 You can assign them to do whatever you want shift-wise:
In addition, down below on the lower portion of the handlebars there's two more shifter buttons on each side, sorta wedged under the tape. These are also customizable as you see fit up above.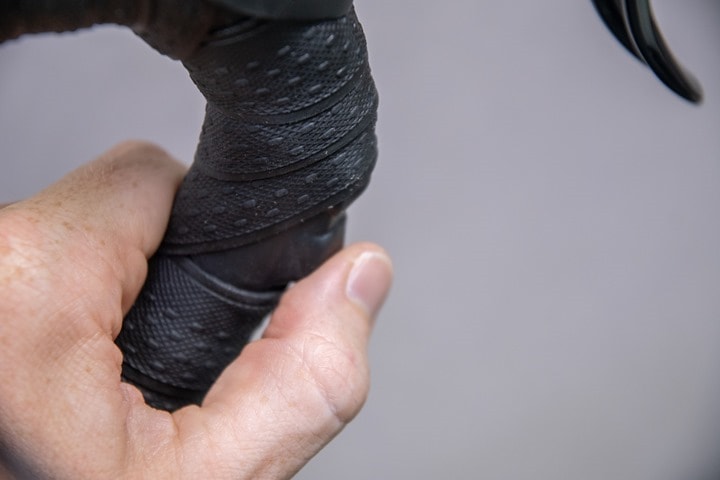 Also, as noted earlier there's further yet aux ports for those remote shifter cables. They've shipped over to me, so once I have them in-hand I'll go ahead and update this post to show how they work. There's three per side, and you can see that one port on each side is already utilized.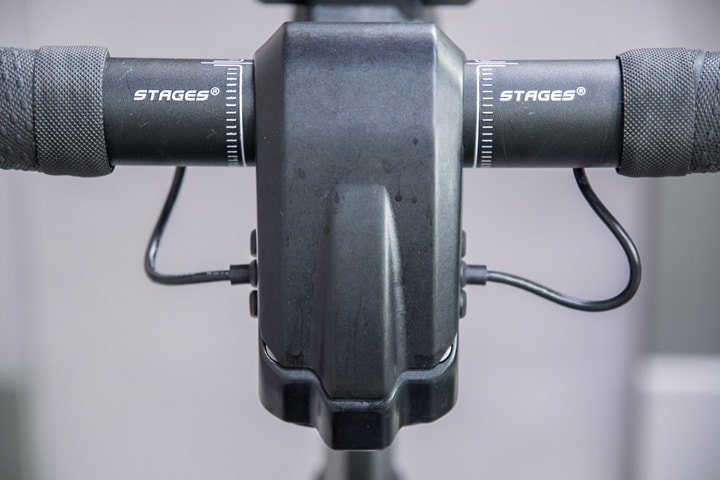 And yes, those are customizable too:
You'll also notice there's brakes on each side of the handlebar. These brakes don't stop the in-game avatar in Zwift (or any other app), but will stop the flywheel when held. In fact, if you hold those brakes while trying to pedal, it'll actually cause your Zwift dude or dudette to go faster. That's because it spikes your power (since it requires more effort to pedal with the brakes on, just like outside).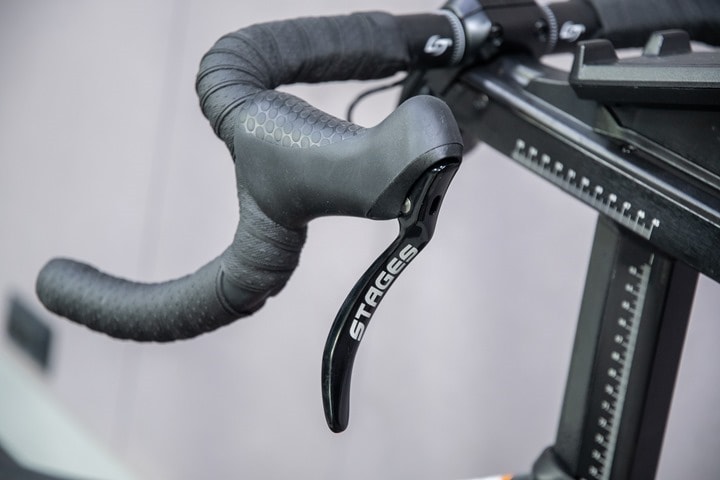 Perhaps some day we'll get braking in Zwift. Until then, they aren't super useful.
It's worth noting that none of the indoor bikes today (including Stages) support the ANT+ Shifting Profile at this time. While not a big deal, it'd be cool if that data was transmitted and then recorded by apps or bike computers, just like it is on a real bike. This really shouldn't be that hard and I've yet to think (or hear of) any technical blocker here. After all, most head unit companies already support it today.
And what about steering? Well, physically it's there – but there's nothing hooked up yet software-wise. Like other bikes on the market, the Stages Bike has extra buttons, one per side below your normal shifters. These were ostensibly put there for when Zwift wanted to enable steering/veering. To date, that hasn't happened.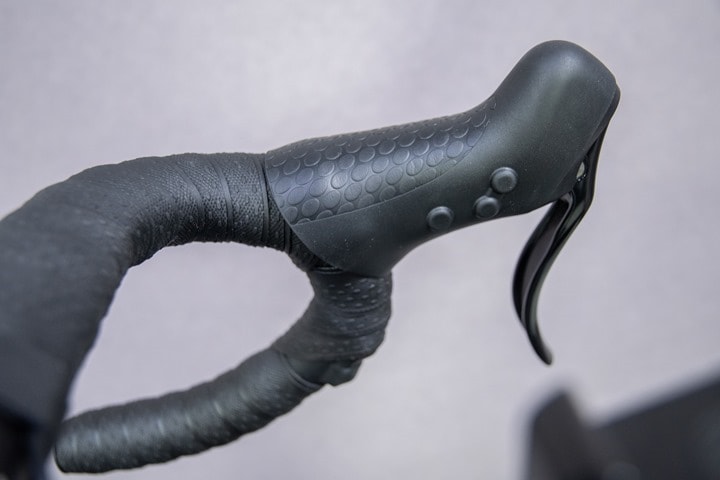 Finally you may have noticed that the Stages Bike actually has splayed out bars by default. This means that the handlebars taper outwards, akin to gravel bike bars.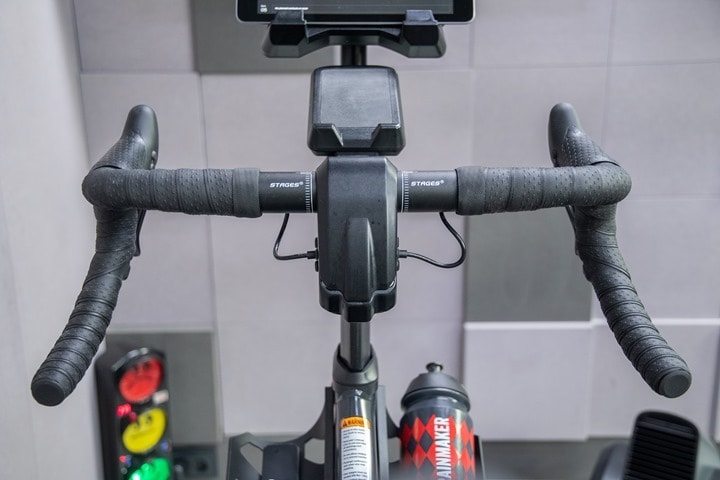 Just a minor thing I figured I'd mention somewhere.
App Compatibility: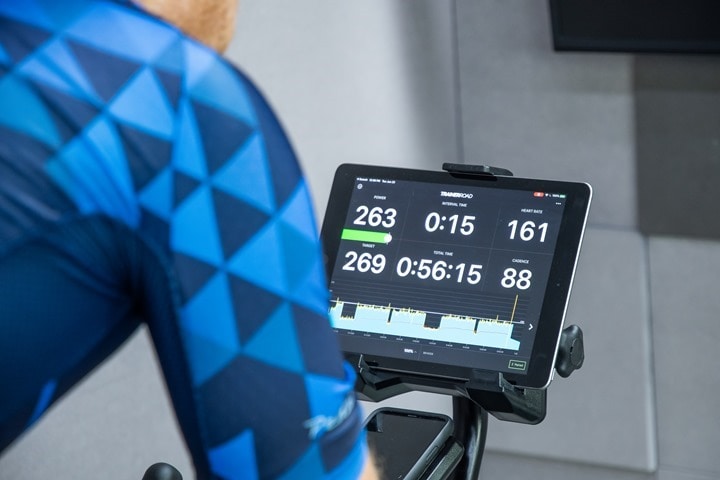 The Stage Bike (SB2) follows all of the industry norms as you'd expect from most trainers/smart bikes these days.  As you probably know, apps like Zwift, TrainerRoad, SufferFest, Rouvy, FulGaz, Kinomap, and many more all support most of these industry standards, making it easy to use whatever app you'd like.  If trainers or apps don't support these standards, then it makes it far more difficult for you as the end user.
The Stages Bike transmits data on both ANT+ & Bluetooth Smart as well, allowing interactive resistance control across both ANT+ & Bluetooth Smart.  By applying resistance control, apps can simulate climbs as well as set specific wattage targets.
To be specific, the Stages Bike supports the following protocol transmission standards:
ANT+ FE-C (Trainer Control): This is for controlling the trainer via ANT+ from apps and head units. Read tons about it here. Stages also includes cadence and speed data here.
ANT+ Power Meter Profile: This broadcasts as a standard ANT+ power meter, with cadence data as well as left/right power balance data measure independently including also torque efficiency and pedal smoothness. This does not include speed data.
Bluetooth Smart FTMS (Trainer Control): This allows apps to control the Stages Bike over Bluetooth Smart (with cadence/power/speed data)
Bluetooth Smart Power Meter Profile: This broadcasts as a standard BLE power meter with cadence
Between all these standards you can basically connect to anything and everything you'd ever want to. Be it a bike computer or watch, or an app – it'll be supported. This is actually notable because the Wahoo KICKR Bike & Tacx Bike don't actually do proper Bluetooth Smart FTMS. Practically speaking, it doesn't matter a ton since most apps support their proprietary variants. What is notable though is that the Wahoo KICKR Bike *still* doesn't support broadcasting out power via ANT+ or Bluetooth independently. That's notable for Garmin & Polar users that want to connect to their bikes to record training load on their watches or bike computers. Whereas the Stages Bike does support that just fine (and how I recorded all of my data here).
The Stages Bike also bakes in the cadence data (like everyone else). This is handy if you're connecting to Zwift on an Apple TV, due to Apple TV's two concurrent Bluetooth Smart sensor limitation (plus the Apple TV remote).  While you can use the Zwift mobile companion app for additional sensors, I find that can be sometimes a bit flaky.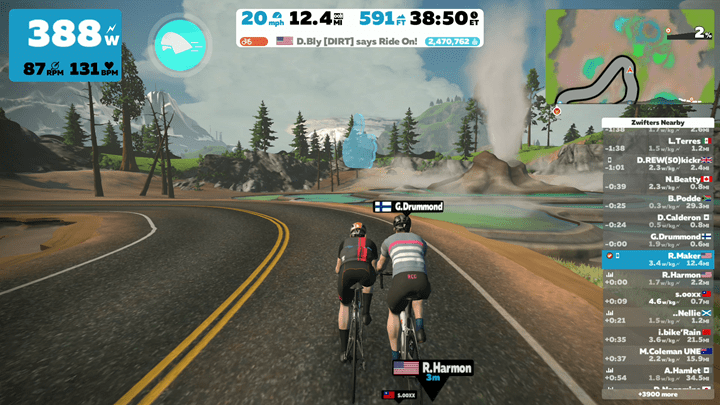 It's these same standards that also allow you to connect via head units too. For example the Stages Dash L50/M50, Hammerhead Karoo, Wahoo units, as well as Garmin Edge series support ANT+ FE-C for trainer control, so you can re-ride outdoor rides straight from your bike head unit to your trainer. For example, for my accuracy testing section, I recorded the data on a Garmin Edge 830 & 1030 Plus, as well as the trainer apps.  From there I'm able to save the file and upload it to whatever platform I like.
In addition to baseline power and cadence, the Stages Bike also includes both left/right balance as well, which you can see on head units as well as in recorded data files.

Not only that, but it also transmits torque effectiveness and pedal smoothness…which, you'll probably never use.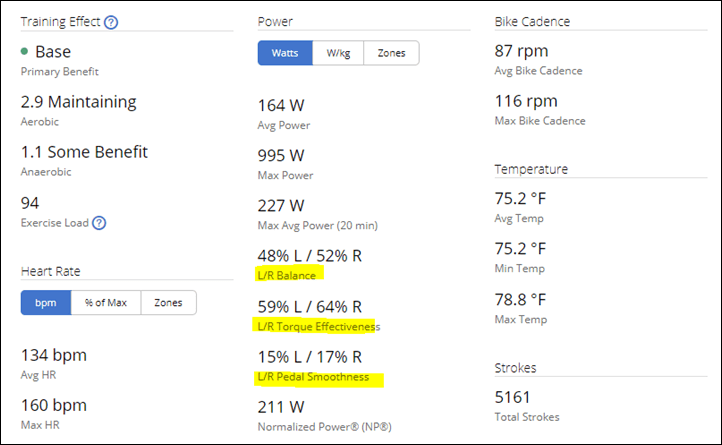 For me, in my testing, I used Zwift and TrainerRoad as my two main apps (which are the two main apps I use personally). In the case of Zwift, I used it in regular riding mode (non-workout mode, aka SIM mode), whereas in the case of TrainerRoad I used it in a structured workout mode. I dig into the nuances of these both within the power accuracy section.
Here's an example of Zwift paired on an Apple TV, you can see it shows the sensors as a controllable trainer, a regular power meter, and a cadence sensor: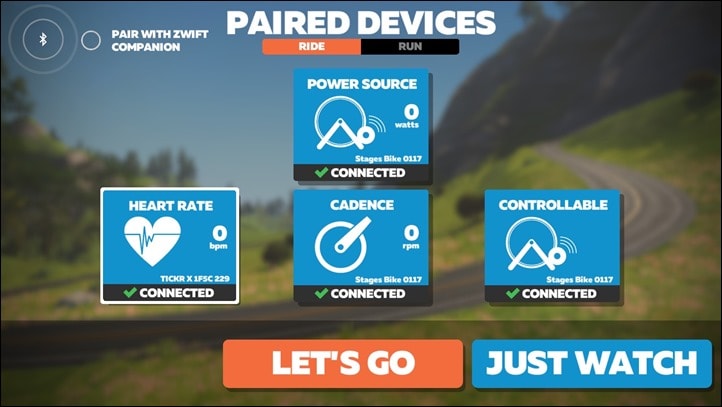 I had no issues riding the Stages Bike in Zwift on numerous occasions – everything worked as expected, including gradient responsiveness. More on accuracy in the next section: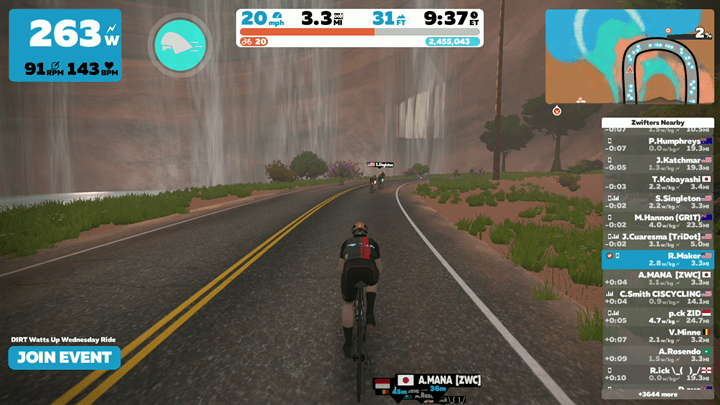 And here paired up in TrainerRoad using Bluetooth Smart on an iPad:
When it comes to calibration of the Stages Bike, that's actually calibrating the two crank arm power meter sensors (just like real Stages crank arm power meters…cause they are). To do that you'll connect to the bike via the app and then go to calibrate the bike, which asks you to place the crank arms vertically (you can use the brakes if you need to stop the crank arms from rotating).
In fact, you'll actually see the two individual Stages power meters listed here, complete with their own firmware (which means that yes…you have to update the firmware on three different components – something I think Stages should try and sort out in the background when you update the main bike firmware).
Note that you can't calibrate the bike from within apps. For example, within TrainerRoad when you go into the settings, there is no option to trigger a calibration for the Bluetooth Smart FTMS connection of the bike. That's fine – it's something you won't likely have to do often in my experience (Stages already does temp compensation in their units – and that's cross-checked with the secondary flywheel power meter sensor).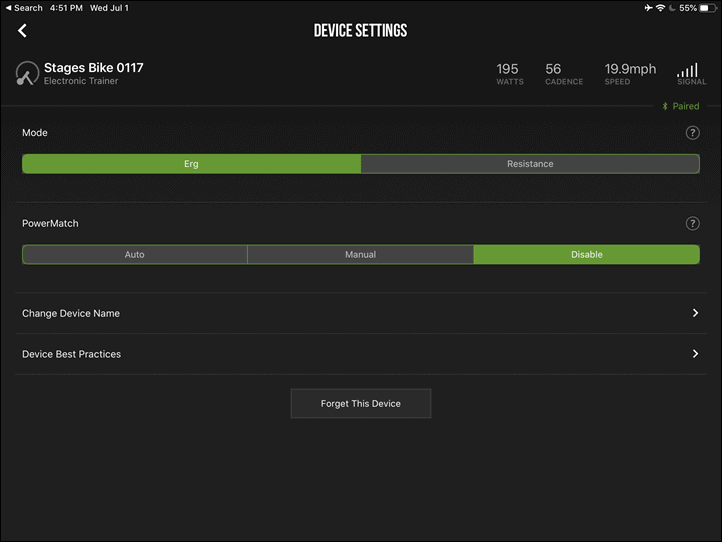 I haven't seen any difference in calibrating versus not calibrating on a weekly basis. To give a solid spoiler on accuracy, it's been spot-on no matter whether I calibrate the bike or not. But wait – don't skip the next section, there's some important tidbits on ERG mode!
Power Accuracy Analysis: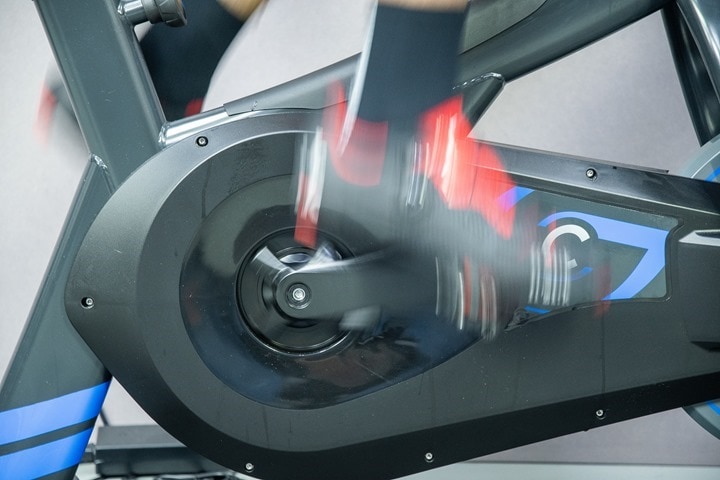 As usual, I put the bike up against a number of power meters to see how well it handled everything from resistance control accuracy, to speed of change, to any other weird quirks along the way. In the case of indoor bikes it's a bit more tricky to have 2-3 other power meters, since you typically can't swap out the crankset or rear hubs. So you have to rely upon other power meter pedals.
No problem, I've got plenty of those. I've had the bike set up with two main configs over the past month:
Config 1: With Favero Assioma Duo pedals
Config 2:  With Garmin Vector 3 pedals
Within this timeframe I've also seen multiple firmware versions, with most of the data below from either the most recent or version prior to it. Today's ride was also made with a beta firmware version, though there's no changes in that related to accuracy (it's related to re-instating dual Bluetooth Smart connections).
We're going to start this parade with today's ride actually, a Zwift ride. This ride is on my favorite trainer and smart bike testing course: Titan's Grove. This route on Zwift starts off on the flats, which is good for sprint testing and high-flywheel testing, then it loops up into the hills and mountains for some solid rollers. These rollers are tricky for many trainers/bikes with their constantly shifting intensities.
In any case, here's how it compared against the Favero Assioma pedals:

As you can see, it's pretty darn close. The maroon color is the pedals, with the blue as Stages bike. In general, I see slightly more variability with respect to swings of power from the Stages Bike than the Favero Assioma pedals. I'm not sure if that's simply because Favero smooths slightly more (something I've shown in other reviews). In the case of a SIM mode ride in Zwift, it's largely a non-event (more on ERG mode in a moment).

Even looking at sprints – for example this almost 1,000w sprint, both units peak within 1w – which is pretty darn crazy alignment at this point. Keep in mind the measurement of the Stages Bike is at the crank arms, not somewhere in the drivetrain like most of the other bikes. Said differently – that's crazy impressive closeness as there's virtually no power transfer loss between the pedal and crank arm.

In fact, I don't believe I've ever seen a result so close between two units at such a high power level. Usually by the time you clear 700w or so you'll see more divergence in the max peak-power simply due to timing and recording rates. So part of this is dumb luck, but part of this is just being damn close (physically and in accuracy).
To illustrate the dumb luck aspect, here's another half-hearted sprint a short bit later. In this case the timing and responsiveness isn't quite perfectly aligned. The Stages Bike sees it first, and then the Assioma about a second or so later:

There's virtually no practical difference in those though from a riding standpoint.
Next, we'll shift to another Zwift ride – this one from last week on the current production firmware. This ride was supposed to be a group ride, but apparently I mostly missed the group lead-out. So, I was in some groups and sometimes by myself – just chugging along. Here's that data:

Now on the above chart, for fun, I left two different recordings of the Stages Bike. One via the Stages Bluetooth Smart FTMS connection, and one via the Stages power crank-arm connection via ANT+. Point being they mirror each other. But that's not always the case with trainers/bikes, hence why I sometimes poke at it. For the purposes of simplicity, let's remove the duplicate one:

Well, that's pretty crispy. I mean, how much crispier do you want?
I mean, sure, you see slight divergences of a couple of watts here and there. That's pretty much expected with any power meter comparison. This is really really really good.

There are however in this workout a few moments where one of the two units floats a bit. I don't though have any way of knowing whether this was the Favero Assioma pedals floating down, or the Stages Bike floating up. There's literally no way to know.

One could look at the left/right balance and take a guess. For example, on that same section above, if I look at the comparative left/right balance split, the Stages Bike on the left-side appears to rise up slightly. Is that an incorrect reading from Stages, or an incorrect lack of reading from Favero? I simply don't know. And there's no other way to install any other power meters on the bike at the same time to find out.

Whoever's fault it was, it's gone a couple of minutes later:

Oh, and just to mention cadence accuracy somewhere, I think this graph explains it all. They all look just like this:

Next, let's change from some SIM mode workouts to some ERG mode workouts. This is where we see a significant change in how the Stages Bike works. And unfortunately, my least favorite part of it. There's really two parts to this. The first piece is how stable the bike is, and how responsive the bike is. In other words, if TrainerRoad tells it to set the wattage to 300w (after being at 150w), how long does it take to get to 300w? And then, how well does it hold 300?
Well, in my case I've been doing a lot of TrainerRoad workouts the last month, and unequivocally the answer is: It's not a smooth operator.
It'll change resistance pretty quickly – basically the same as others. That's fine. But what's not fine is just how wobbly it is at a given level. Here's an example of a workout I was super smooth on, and yet look at how wobbly the power output is: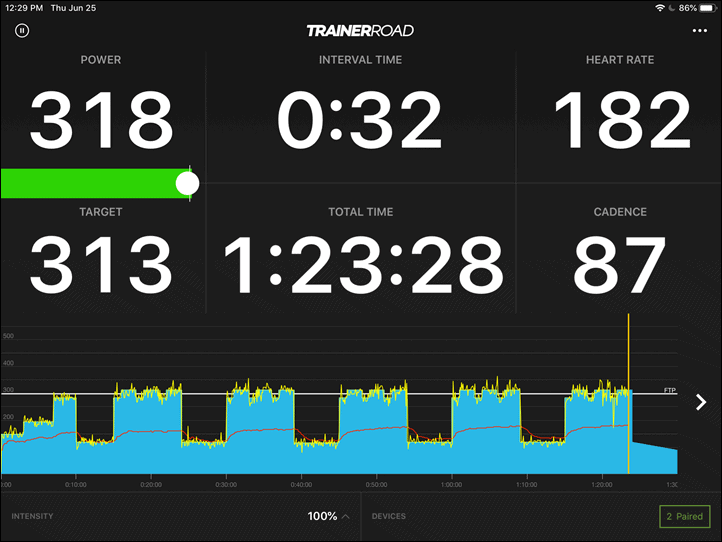 The output will typically be +/- 20-25w from my set-point. So if I've got a target power of 313w, it'll range anywhere between ~285w and 335w. Sometimes upwards of 350w+. It's all over the place. Here's another workout example: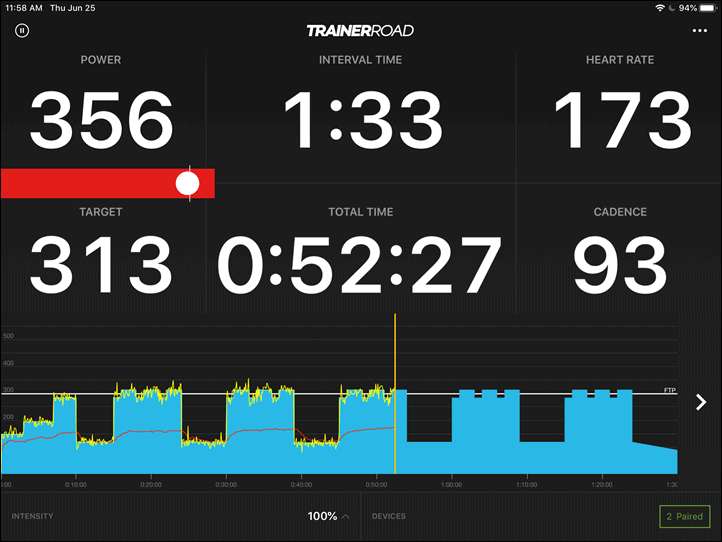 Now, the total average power for that set is indeed 300w. But it's less than ideal to be so variable, because my workout called for 300w which is a specific zone. Not spikes to 330w. Now in talking to Stages, they say part of the trouble is the gigantic Gouda cheese flywheel they have up there, which is sorta like wrestling a bull. But part of it is also software smoothing. While I typically argue against software smoothing, I think in this rare case they need to apply a little bit more so that it's at least usable to figure out what power levels I hit.
So that first piece covers responsiveness and stability – but what about accuracy in ERG mode?
Let's look at last Thursday's 90-minute TrainerRoad session first:

Ok, so at a high level with a 5-second smoothing applied (ya kinda have to with the Stages Bike), it looks pretty similar. Let's dig into an interval:

Again, we have to separate target power stability, from actual power accuracy. From an accuracy standpoint, the Stages Bike and Favero pedals are incredibly close at almost all times – usually a couple of watts apart. Every once in a while one of them floats away slightly (upwards of 5-10w on 300w), but then corrects itself. I've got no way to know which is the incorrect unit in those situations.
There are two dropouts on the Stages connection, and two dropouts on the Favero connection (to the Edge units). I double-checked the Stages duplicate recording I had on TrainerRoad, and there were no dropouts there. So, looks to be just a random transient connection issue to that specific bike computer.

Oh, and cadence too – for fun:

In any event, from a power accuracy standpoint, that 90-minute workout looks solidly similar.
Let's take a look at another TrainerRoad workout. This one is a much more chillax easy week workout, where the power slowly goes up and slowly goes down. But it shows super-well the problem I have with ERG mode currently You can't even tell/see the stated power chunks (where the blue section changes) if you look at the yellow pieces. It's not easy to see that at a glance.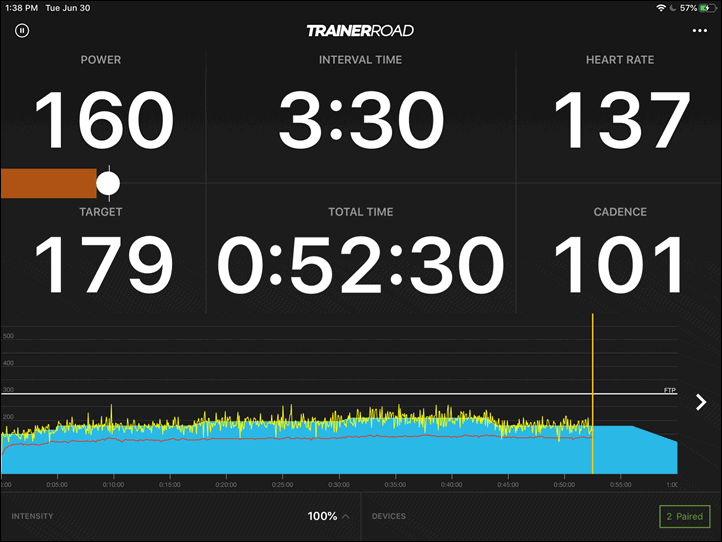 Here's the power accuracy data:

This is one of the ones where the power between the two actually was further apart at first glance. It's darn-near impossible to tell based on the above chart, which just looks like a giant fuzzy mess of colors.
But, if I graph the mean-max chart, then you see it more clearly:
However, mind you that where those two dots are is *ONLY A 3-watt difference* – technically in-spec.
So this is an example where the averages work out, even despite the wobble. But of course, averaging is the lowest common denominator in this situation.
So ultimately, this gets us to the wrap-up here. Having done countless other sessions like this over my time period with it, everything can basically be boiled down to:
A) Power accuracy appears to be identical to the well regarded Favero Assioma power meter pedals – spot on there
B) ERG more stability in terms of maintaining the target power, needs a lot of work
At present, the ERG mode target power stability/smoothness is even more volatile than the Tacx Bike was when it launched last year (and I gave them a hard time too). It's roughly in the same ballpark as the instability of the Wahoo KICKR Bike at launch in terms of stability.
Stages said that they're working on the stability/smoothing aspects already (which should just be a software fix), and so hopefully we'll see that simmer down a bit going forward.
Note: All of the charts in these accuracy sections were created using the DCR Analyzer tool.  It allows you to compare power meters/trainers, heart rate, cadence, speed/pace, GPS tracks and plenty more. You can use it as well for your own gadget comparisons, more details here.)
Indoor Smart Bike Comparisons:
While I've previously done an Indoor Smart Bike Shootout with the Wahoo Bike, Tacx Bike, and Wattbike Atom – that did not include the Stages bike, since the Stages Bike was about 8 months late to the party. Now that it's here I'll probably revisit that with the Wattbike Atom V2 (which hopefully I'll have later this week or next). Until then, you can hit up that previous post here – and then simply cross-reference it with this post. Spoiler: Nothing has changed since I published that previous post. Seriously, nothing.
In any case, here's a blow by blow spec comparison between them – complete with some new data fields I've added into the trainer database to account for indoor bikes. I won't add the new Wattbike Atom V2 to the chart until I get it in-house – though functionally speaking the only aspect that changes there is internals around the drive system/flywheel.
Function/Feature

Stages Bike (SB20)
Wattbike Atom V1
Tacx NEO Bike Smart
Wahoo KICKR Bike V1
Copyright DC Rainmaker - Updated November 25th, 2022 @ 5:28 pm New Window
Price for trainer
$2899
$2,599
$3,199
$3,499
Trainer Type
Indoor Bike
Indoor Bike
Indoor Bike
Indoor Bike
Available today (for sale)
Yes
Yes
Yes
Yes
Availability regions
Global
UK/South Africa/Australia/Scandinavia/USA
Global
Limited Initially
Wired or Wireless data transmission/control
Wireless
Wireless
Wireless
Wireless
Power cord required
Yes
Yes
No
Yes
Flywheel weight
50lbs
9.28KG/20.4lbs
Simulated/Virtual 125KG
13bs/5.9kgs

Resistance

Stages Bike (SB20)
Wattbike Atom V1
Tacx NEO Bike Smart
Wahoo KICKR Bike V1
Can electronically control resistance (i.e. 200w)
Yes
Yes
Yes
Yes
Includes motor to drive speed (simulate downhill)
No (but kinda)
No
Yes
Yes
Maximum wattage capability
3,000w
2,000w
2,200w @ 40KPH
2,200w @ 40KPH
Maximum simulated hill incline
25%
25%
20% (and -15% downhill)

Features

Stages Bike (SB20)
Wattbike Atom V1
Tacx NEO Bike Smart
Wahoo KICKR Bike V1
Ability to update unit firmware
Yes
Yes
Yes
Yes
Measures/Estimates Left/Right Power
Yes (actually measured independently)
Yes
Yes
No
Can directionally steer trainer (left/right)
Yes (with compatible apps)
No
YES (WITH COMPATIBLE APPS)
Yes (with compatible apps)
Can simulate road patterns/shaking (i.e. cobblestones)
No
No
Yes
No

Motion

Stages Bike (SB20)
Wattbike Atom V1
Tacx NEO Bike Smart
Wahoo KICKR Bike V1
Whole-bike physical gradient simulation
No
No
No
Yes
Can rock/tilt side to side (significantly)
No
No
No
No

Accuracy

Stages Bike (SB20)
Wattbike Atom V1
Tacx NEO Bike Smart
Wahoo KICKR Bike V1
Includes temperature compensation
Yes
Yes
N/A
Yes
Support rolldown procedure (for wheel based)
Cross-references power meter data
No
N/A
N/A
Supported accuracy level
+/- 1.5%
+/- 2%
+/- 1%
+/- 1%

Trainer Control

Stages Bike (SB20)
Wattbike Atom V1
Tacx NEO Bike Smart
Wahoo KICKR Bike V1
Allows 3rd party trainer control
Yes
Yes
Yes
Yes
Supports ANT+ FE-C (Trainer Control Standard)
Yes
Yes
Yes
Yes
Supports Bluetooth Smart FTMS (Trainer Control Standard)
YEs
Yes
Yes
Yes

Data Broadcast

Stages Bike (SB20)
Wattbike Atom V1
Tacx NEO Bike Smart
Wahoo KICKR Bike V1
Transmits power via ANT+
YEs
Yes
Yes
Yes (added Sept 30th, 2020)
Transmits power via Bluetooth Smart
YEs
Yes
Yes
Yes
Supports Multiple Concurrent Bluetooth connections
No, just one
Yes, 3 Concurrent
Transmits cadence data
Yes
Yes
Yes
Yes

Indoor Bike Features

Stages Bike (SB20)
Wattbike Atom V1
Tacx NEO Bike Smart
Wahoo KICKR Bike V1
Brake levers or buttons
Yes
No
Brake Levers
Yes
Shifting type
Buttons
Buttons
Button Based
Normal bike levers
Can customize shifting (Shimano/SRAM/Campagnolo)
Yes (not yet SRAM)
No
In future update
Yes (Shimano/SRAM/Campagnolo)
Can customize gearing
Yes
Mininimal
Yes
Yes (both cassette and chainrings)
Supported Crank Lengths
165/170/172.5/175mm
170mm
170/172.5/175mm
165/167.5/170/172.5/175mm
Display
No
No
Yes
Small display near top-tube
USB Ports
Two Ports (Fast Charging)
No
2 USB Ports (2AMP)
1 USB port

Purchase

Stages Bike (SB20)
Wattbike Atom V1
Tacx NEO Bike Smart
Wahoo KICKR Bike V1
Amazon
Link
Backcountry.com
Link
Link
Competitive Cyclist
Link
Link
Link
REI
Link
Wiggle
Link
Link
Link

DCRainmaker

Stages Bike (SB20)
Wattbike Atom V1
Tacx NEO Bike Smart
Wahoo KICKR Bike V1
Review Link
Link
Link
Link
Link
Oh, and before you ask why I haven't included some products into the above – here's the quick and dirty answers:
Peloton Bike: It's not a 'smart' bike in the sense of the above, it doesn't allow you to set a specific power level (it does tell you the current power level). But nonetheless, look for my review very shortly! It's actually written in text, but I'm waiting on a calibration kit from Peloton to see if I can get things just a bit closer accuracy-wise.
SRM Bike: I just don't see this as a competitor in this space. At $5,000, it's mostly for various research purposes and is designed in that realm.
True Kinetix Bike: I've had this bike for a bit, then returned it while they sorted out technical issues. It's currently only shipping mostly in the Netherlands, so that's probably less appealing from a widespread standpoint.
VirtuPro: At present this bike isn't compatible with any 3rd party apps, and in nearly a year since I last chatted with them, I haven't seen any concrete evidence that's changed.
Again, I'm more than happy to add products into the database. In general, my rule of thumb is I want hands-on time (or butts-on in this case), and I want some realistic level of clarity on delivery time frames.
Summary:
The Stages Bike is a solid entrant into the smart bikes category. No, really, it's physically very solid. It's the tank of bikes compared to competitors. You'll be pedaling this well into the next century. But, it's also a good bike for working with apps today. It supports all the right protocols to work with every app or device on the market via ANT+ or Bluetooth Smart. And perhaps just as important, given its lineage with Stages existing indoor business – the physical aspects of the bike are unlikely to see as much physical teething pains as both Tacx and Wahoo saw in their bike launches during the early phases.
Almost all of the quirks or competitive shortfalls of the Stages Bike lie in software, mostly in the gear shifting realm. For example, it lacks SRAM shifting configuration, though Stages says that'll come within the month. It also lacks some of the setup/fit software bits that Wahoo has nailed (though, I'd easily argue it has more physical flexibility in terms of actually getting the right fit for more riders). As for the lack of gear display, I can only hope that Zwift comes through and implements the gear shifting support that's already available for the Wattbike Atom over Bluetooth Smart. Like with the Wattbike, it'd make a world of difference. Though at least with Stages you can still display it on your phone concurrently.
Ultimately, price is probably the largest factor for most when choosing a smart bike. One can't pretend to operate in a vacuum when writing a review on that factor. But I think Stages gets pretty close to finding the right balance here for price versus competitive functionality. It's $600 cheaper than a KICKR Bike, and to me that feels roughly about right in terms of trade-offs. I'd absolutely love to see Stages come out with a different/optional handlebar setup that feels like shifting a real bike from a levers standpoint. But, I've said that about all the smart bikes too. It's a huge differentiator. Until then, their tablet/phone/power situation is easily the best out there. Super functional and stable. Love it.
If you're looking at a Stages Bike, you won't go wrong with hardware as it is today. Sure, the software needs to mature a tiny bit more to really sing (let's be honest, so does everyone's) – but I don't think it's a blocker for day to day usage with any apps or features. And, if there's one bike out of all of them that I'd trust hardware-wise to be reliable, it's this one.
With that – thanks for reading!

Found This Post Useful? Support The Site!
Hopefully you found this review useful. At the end of the day, I'm an athlete just like you looking for the most detail possible on a new purchase – so my review is written from the standpoint of how I used the device. The reviews generally take a lot of hours to put together, so it's a fair bit of work (and labor of love). As you probably noticed by looking below, I also take time to answer all the questions posted in the comments – and there's quite a bit of detail in there as well.
If you're shopping for the Stages Bike (SB20) or any other accessory items, please consider using the affiliate links below! As an Amazon Associate I earn from qualifying purchases. It doesn't cost you anything extra, but your purchases help support this website a lot. Even more, if you shop with TPC (The Pro's Closet), you'll save $40 on purchases over $200 with coupon code DCRAIN40! The Pro's Closet has been a long-time partner of the site here - including sponsoring videos like my cargo bike race, as well as just being an awesome Colorado-based company full of good humans. Check them out with the links below and the DCRAIN40 coupon!
And finally, here's a handy list of smart bike accessories that most folks getting a smart bike for the first time might not have already:
And of course – you can always sign-up to be a DCR Supporter! That gets you an ad-free DCR, access to the DCR Quarantine Corner video series packed with behind the scenes tidbits...and it also makes you awesome. And being awesome is what it's all about!
Thanks for reading! And as always, feel free to post comments or questions in the comments section below, I'll be happy to try and answer them as quickly as possible. And lastly, if you felt this review was useful – I always appreciate feedback in the comments below. Thanks!