Ahh yes, the rite of passage for any tech company is posting job positions that give away your future plans. Be it Apple posting autonomous car engineering positions or Uber trying to build flying things, eventually companies have to show their hands on what their plans are.
Today's episode of this is brought you by the Zwift Career page, which just showed they're working on an indoor smart bike. I suppose technically it could also be an ANT+ connected construction digger, but that seems unlikely once you look at all the components they're looking for. After all, they had previously entered into contractual agreements with VirtuPro to license that technology for future hardware projects. But a year later that contract has unraveled and is now caught up in a legal mess.
In a statement, Zwift confirmed today to DCRAINMAKER that the new Fitness Tech group is responsible for production of new indoor training hardware, though says it goes beyond that (more on that in a moment):
"While Zwift's Fitness Technology division is a new addition to the business, this news will come as a surprise to few in the industry and the picture has more depth than manufacturing our own hardware….We know it is no easy task to create hardware. Our industry partners have years of trusted experience and our priorities as a business will continue to center around our core business as a software platform. "
So Zwift is clearly taking matters into their own hands. These postings are far more concrete on their intentions, with incredibly specific experience requirements that leave no room for guessing.
Zwift's Job Postings: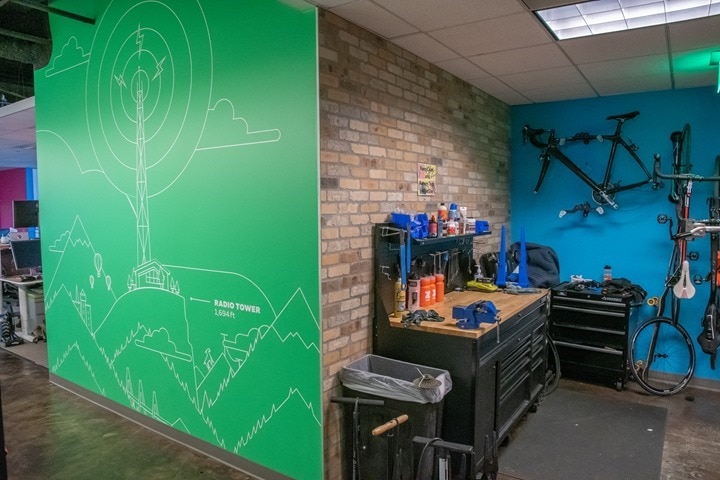 Let's get right into what they're looking for. Zwift has posted 7 job positions, for positions in a division called 'Fitness Tech'. Of course, like any company, that doesn't mean they're only asking for 7 employees, rather, those are the 7 specific job titles.
They could well hire 10 software developers under a single posting. These positions are based in Surrey, which is a bit outside of London. In other Zwift job postings, their London office is explicitly listed as 'London', versus these being listed as 'Surrey'. In any case, you're in the greater London area one way or another.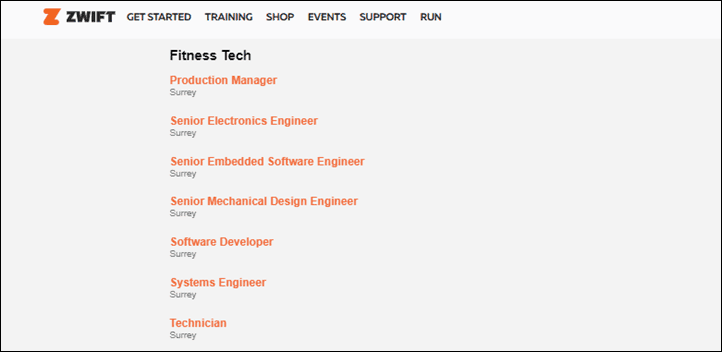 Back to that 'Fitness Tech' Division, here's what Zwift (via the job descriptions) says about the new group:
"Fit-Tech will consist of high calibre, experienced individuals rolling up to the CEO through the Director for Engineering and the VP Fitness Technologies. The division will form a new P&L within the business and will focus on topics of high strategic importance to Zwift and Zwift eSports, in particular developing new products that improve or enhance the overall Zwift offering. Fit Tech consists of 3 main divisions, of which Engineering is the largest, the others being Programme Management and Product Management."
And yes, they spelled both 'calibre' and 'programme' the British way. No Americana posting here.
We'll start with the first job posting, which is for the production manager. This position is clearly overseeing the production of the units, and goes onto specify exactly that. For example, FMEA (Failure Mode and Effects Analysis) would be used on any sort of fitness device, but specifically a new device for the company (as referenced by the NPD notation used twice).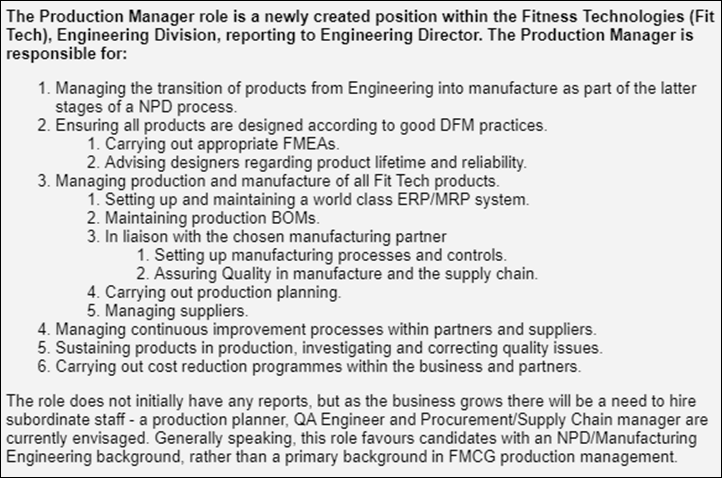 Later within that job posting you'll see the travel requirements – specifically to Taiwan, where the vast majority of cycling industry products are made. For example, the Giant factory made Wahoo KICKR trainers for years, and countless companies make their products there. This also sidesteps any current China tariff related issues too. The fact that they know they're going to Taiwan already is actually somewhat surprising –but may tell you just how far along they are. Compare that with Wahoo for example that shifted production to Thailand and China in the last few years.
Note that all positions in the Fit Tech group have travel to Taiwan for manufacturing as a requirement.

But let's get to the fun stuff. There's the 'Technician' position. At first you might overlook this less-noble looking title compared to the others, but this is where many of the cards are laid down. Specifically, this person is responsible for tearing down competitor products and seeing how they work: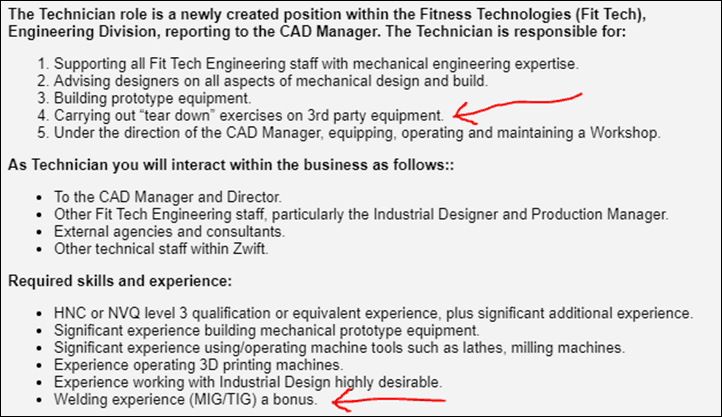 Given the number of smart bikes on the docket right now, it must be slightly awkward for companies to send bikes to Zwift for compatibility testing, knowing that the job role of the person above is to take them apart for competitive reasons.
Further, you see 'Welding Experience' a bonus. Let's be clear, there's no welding going on in some random Zwift footpod or small steering device. Welding happens when you build a trainer or other large device. And of course above there's the building of prototype equipment as well, meaning this person is likely acting as the one to build up prototypes in the office before moving to manufacturing in Taiwan. They too have travel to Taiwan on the list.
Then we get to the electronics engineers. It starts off pretty normal, with the person needing experience designing circuit boards, which you'd of course need in just about any electronic device:

However, one line in the next section gives it all away. Can you spot it?

Nope, not the ANT+ or Bluetooth ones – that's expected.
Rather, the one listing 'electromechanical actuators'. In other words, a KICKR CLIMB (or, KICKR BIKE). The only indoor trainer device that uses that today is the KICKR BIKE, which uses an actuator for replicating the uphill/downhill movement and it moves the bike from +20% to –15%. Even the MEMS inclusion also gives things away as well (MEMS is Micro-Electro-Mechanical Systems). A footpod this is not. Plus of course, regulation and distribution of power. Sure, you'd have regulation of power on just about any device. But it's really going to matter here.
Meanwhile, shifting to the senior mechanical design engineer, she too needs knowledge of actuators and sensors. Note in the context here the words 'small scale actuators', because they're not looking for something at the construction level here. Technically speaking there's even actuators in cell phones for vibration alerts, but that'd be an off the shelf component. Whereas this is clearly buying an actuator and needing the two engineers here to both understand the basics of it, but also be able to program it.

Next, the senior embedded software engineer needs knowledge of ANT+ & Bluetooth Smart. But they also need knowledge of USB. None of the current indoor smart bikes have USB on them, but it's often been discussed that for Zwift racing scenarios, having a USB connection could be beneficial on numerous fronts. First, to reduce latency. Second to minimize interference issues. And third, to improve security by minimizing what's broadcast. Sure, many times companies will troubleshoot via USB. But the fact that it's on the same line item as ANT+ & Bluetooth Smart seems pretty telling.

The software developer position only gives one small hint that they're building more hardware, when they say quite clearly it's to "develop hardware…that creates the best enhancement to the overall Zwift experience."

Then we've got the 'Systems Engineer' role. Most of the items on the complete list here are pretty vanilla and expected, and don't give away too many details. However, one does – this person is responsible for dealing with 3rd party companies/apps. However, that doesn't actually mean what Zwift is building is compatible with 3rd party platforms. It just means this person may need to interact with them. For example, if you use an ANT+ or Bluetooth Smart heart rate strap – they might want compatibility. And this person's job may be dealing with some of that.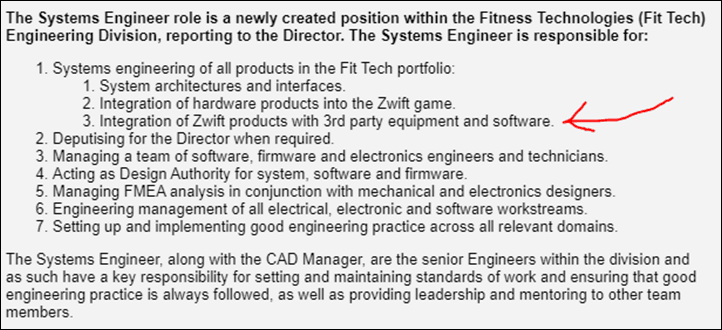 And with that – we pretty much wrap things up. Sure, could they be building something else? Perhaps, but unlikely. To distill this all down into the most important bits that clearly point to an indoor bike (or very high-end trainer), you've got the following:
1) Tearing down 3rd party competitor designs to understand how they work
2) Requirement for work with electromagnetic actuators (like a KICKR BIKE's CLIMB component)
3) Requirement for welding experience for prototyping, meaning they're building something that handles heavy load
4) Requirement for ANT+, Bluetooth Smart, and USB, meaning they're likely looking for a wired option for competitions
5) Requirement to work frequently in Taiwan for manufacturing/assembly
6) Specification that this is a consumer goods device (listed within the product manager's job description)
7) Setting up of a supply chain is specified in the listings, indicating this isn't a one-off internal project
Of course, I doubt Zwift is going it alone here. Many of the trainer companies in the indoor space have been for sale. We saw Garmin purchase Tacx earlier this year, and almost all the companies except Wahoo have a number they're willing to sell for. Some less than others. I suppose even Wahoo's private equity financers have a number too – but frankly Zwift's investors can't afford Wahoo (and it'd be a waste of money anyway).
For example, we still don't know who the heck ever bought the CompuTrainer portion of RacerMate. Nor do we know what on earth SRAM/Quarq are doing with the other portion yet (Velotron that they acquired), which…happens to be a variant of an indoor smart bike. There's also plenty of companies out there swirling around making variants of Peloton bikes, which would clearly be appealing as a way to kickstart into this space. There seems to be a new one each week.
In addition – whatever Zwift is planning isn't going to happen quickly. Given they're just starting to hire the lead positions for this, they'd be at least 18-24 months out. The KICKR Bike was roughly a 2-year development process from initial ideas to where it got to today, and the Tacx Bike even longer. Both companies with significant experience in this sector. Certainly, if Zwift were to enlist other industry partners they'd rapidly move things forward. There are other indoor bike companies that are for sale that would seem to be a better fit than re-inventing the wheel. But we'll see.
The Impact On The Industry: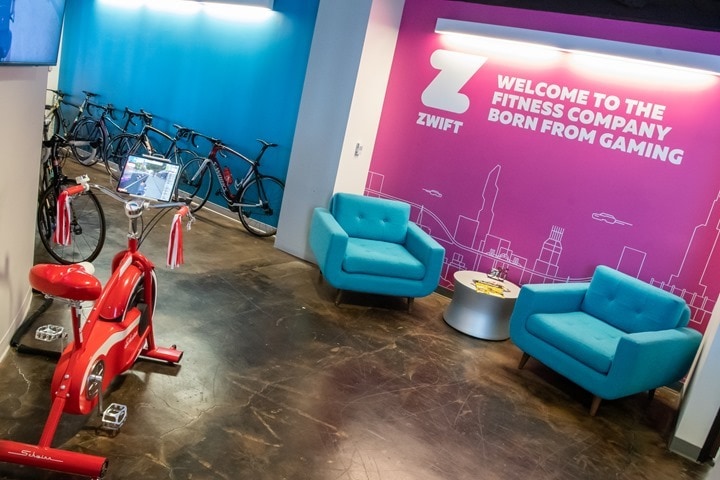 I've long talked about this day. The reality is, every trainer company feared it. Though, most thought it'd happen via acquisition – and, to be clear, it still might. There's very good reason (all the reasons actually) it'd be faster to jumpstart this via purchasing one of the handful of companies that are purchasable (Elite, Wattbike, trainer division of Saris).
Of course- there's no good reason to believe this would be limited to smart bikes (which are higher end in cost). The division isn't called 'Smart bikes', it's called 'Fitness Tech', and the vast (overwhelming) portion of the market today is trainer. Zwift has approximately 300,000 paying users right now, but they're growth rate appears in recent months to finally have more than doubled that of previous seasons (at least based on some data floating around the interwebs in the last week or so).
While Peloton counts hundreds of thousands of subscribers (including people who have bought bikes), there's undoubtedly a wider market for people willing to buy a fitness-focused indoor bike than a Zwift focused one. At least, based on how Zwift is positioned today (tagline: "Fun is fast"). If Zwift were to pivot just a little bit to include Peloton-like workouts or a division like that, then the world is their oyster for an expensive bike.
So it's likely that trainers are somewhere in the mix here. They've tried repeatedly to close various 'tighter' partnerships with trainer companies, but have never quite sealed the deal. Part of that hesitancy comes from these companies' concern that Zwift will essentially go direct to consumer with trainers, cutting them out of the picture. I'm a firm believer that more competition is better. And the proof is in the pudding here. When we had less trainer companies doing smart trainers a decade ago, prices were high. Now they're lower than ever, quality better than ever, and experience better than ever.
Today these trainer companies share all of their advanced/forward thinking plans with Zwift, including piles of confidential information on their roadmaps. How that will shift going forward remains to be seen. After all, they'd be giving their biggest (and most important) competitor information on their product roadmap.
On the flip side, they somewhat have to. If they want to be able to ensure compatibility for launch, and ensure new features are supported – they have little choice but to acquiesce to Zwift. At least to an extent. Though, the current status quo hasn't seemed to helped anyway – more trainers have issues upon launch with Zwift compatibility than ever before. So I suppose customers having to wait another few weeks probably isn't a big deal.
Finally – for completeness, here is the entire statement from Zwift concerning the group division and hardware futures:
"While Zwift's Fitness Technology division is a new addition to the business, this news will come as a surprise to few in the industry and the picture has more depth than manufacturing our own hardware.


First up, as we have always sought to do, we will continue to work closely with hardware partners to deliver business growth, new innovations for cyclists, runners and triathletes, and create a more immersive and better value consumer experience. As the industry leader in indoor training, Zwift will continue its commitment to grow the market for industry hardware sales.


This vision of better integration between partner hardware and Zwift software aligns with our ambition for Esports. With the first UCI Cycling Esports World Championships taking place next year, we at Zwift need to ensure we take on the responsibility of certifying trainers for esports competition at the highest level – where world titles and prize money is on the line. This certification process will be a key responsibility for the department.


We know it is no easy task to create hardware. Our industry partners have years of trusted experience and our priorities as a business will continue to center around our core business as a software platform.


It's too early for us to disclose any more detail, or to provide any indications on timings at this point but, as ever, we look forward to what the future holds."
As it notes – they'll continue to work closely with their partners (as expected). They noted the previously announced UCI Cycling Esports World Championships for next year. Obviously, there's no chance of them building hardware with a new division in time for that (unless they acquire someone or work specifically with an already in existence industry player). The certification element they discussed is something that Zwift has long since noted in various industry circles as a core area they need to focus on. And I agree. It's far more broad and deep than I think most people realize today, if having a UCI world championship event is a milestone along the way to the oft-stated goal of the Olympics. But, it also perhaps more importantly impacts everyday riders like you and I.
We want our gear to work out of the box just as much as anyone else.
Which, may ultimately be what this is all about. Zwift has seen the overwhelming success of Peloton. The 'just works' factor is enormously high. Their subscriber retention rate is astronomically high (94% – not even drug cartels can manage that). All of which manage to sidestep the fractured aspect of the indoor trainer market today. Too many pieces that often don't work the first time around, or are clunky to get working for someone not a geek.
If Zwift can master that, they'll probably see continued success. They just have to navigate their partner waters carefully until then – as they're wholly dependent on those partners for their own future success.