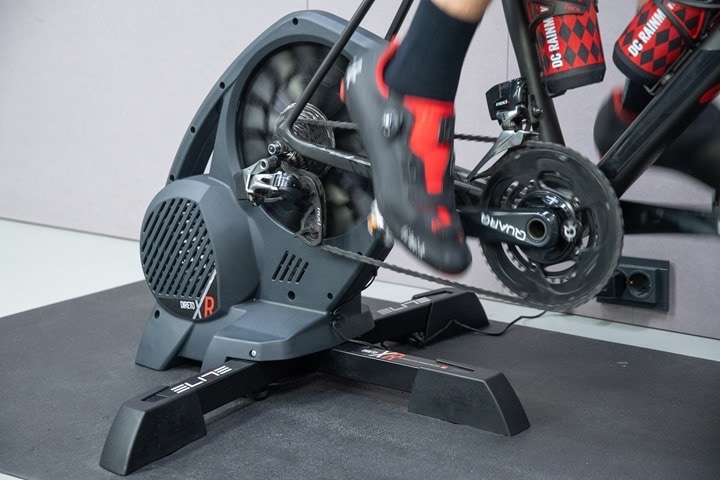 The Elite Direto XR continues the lineage of the Direto trainer brand, but significantly ramps up the capabilities of the trainer. For example, it'll now replicate grades of 24%. But in doing so, this more powerful Direto kills off the Drivo series trainers from Elite, which were Elite's prior top-dog trainers. Of course, that added power comes at a slight increase in price – now $949, but it now includes the cassette pre-installed, saving you money there.
In addition to the included 11-speed cassette and ramped up internals, the unit also  increases the flywheel weight as well – from 4.2kg to 5.1kg. As usual, it comes with a front wheel block. Oh – and they've taken a page from Wahoo's playbook this year: The Direto XR is shipping as of today. Depending on which region you're in, it's either already available to order and ship today, or it's on a boat.
I've been using a media loaner Direto XR for a few weeks now on a number of workouts, including Zwift and TrainerRoad, putting it to the test to see how it handles everything from shorter rides to longer ones – including climbing Mont Ventoux in Zwift. Once I'm done with it, I'll get it packaged up and back to Elite. Until then, whack that play button below to get the whole skinny in one tidy video:
And for everything else, you can continue swiping down through piles and piles of text and photos. Just the way I roll!
What's New: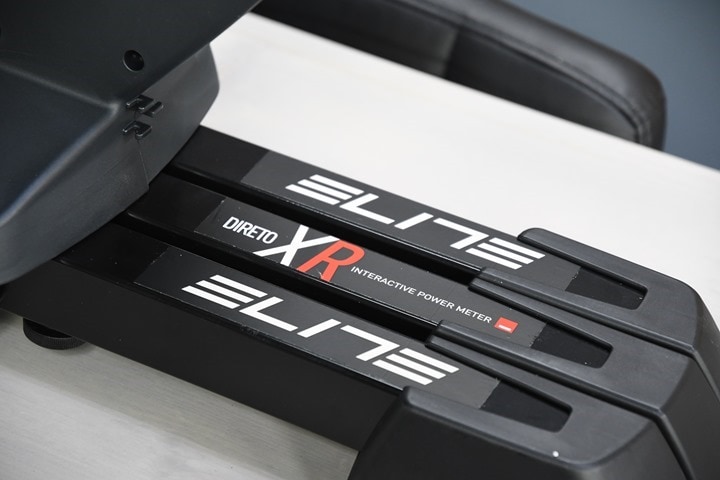 Before we dive into all the usual review stuff, let's just do a super quick recap of what's changed between the Elite Direto X, and the newer Direto XR. Also, we'll recap some general spec stuff too:
– Cassette now included (11-speed Shimano/SRAM compatible)
– Increased grade simulation from 18% to 24%
– Increased flywheel from 4.2kg/9.2lbs to 5.1kg/11.2lbs
– New ERG mode algorithm with increased responsiveness/stability
– Trainer is now fully assembled out of box (no attaching legs or cassette anymore)
– Now includes 1-month Zwift coupon
Update July 31st, 2020: There was a mistake in the original flywheel specs/sheets from Elite, which didn't actually include the weight of the discs. They're updating their specs now to conform to how it's usually spec'd. So in reality it's 5.1kg (not 4.5kg as originally announced), thus making it 21.5% higher than the Direto X.
Elite says this makes a 26% larger inertia amount:
Direto X Moment of Inertia = 15800 kgxmm2
Direto XR Moment of Inertia = 19930 kgxmm2
Increase Moment of Inertia 26%
In any case, that's not a hugely long list of new things, but some of the items in it are big ticket ones – notably the inclusion of a cassette, but also the increased grade simulation. Which, in turn gets us to the quick overall specs:
– Dual ANT+/Bluetooth Smart support, including FE-C and FTMS, plus power/speed/cadence broadcasting
– Axle Compatibility: Race 130x5mm, MTB 135x5mm, 142x12mm (with adapter for 135×10-12mm & 148x12mm)
– Cassette compatibility of 8 through 12 speed cassettes (adapters required for XD/XDR/NX/Campy)
– Max 24% incline
– Max 2,300w supported resistance (at 40KPH), 1,100w @ 20KPH
– Integrated Power Meter (OTS), with accuracy claim of +/- 1.5%
– Requires power cable/be plugged in
Got all that? Good. Let's get this puppy unboxed.
Unboxing:
Finally, an Elite unboxing that's flawless. While the Suito was pretty darn close last year to the perfect trainer unboxing, this one just seems a tiny bit more polished somehow. Though, the box is bigger (because, the Direto XR is bigger). So much so that it actually hit my overhead camera rig I use for smaller watch unboxings in my video. I ended up having to move it out of the way. No worries, not a normal person problem.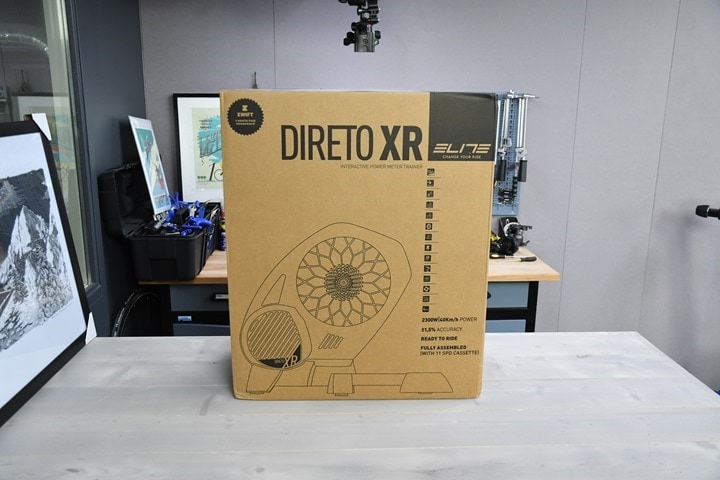 While the box tells you to point it upwards, it's actually going to slide out from the side once you remove the top, which, works exceedingly well. Sorry if I get excited about these things – but I've unboxed a lot of trainers over the years, and manufacturers come up with some pretty "special" ways of getting trainers out of boxes. None of which are usually good. This was good.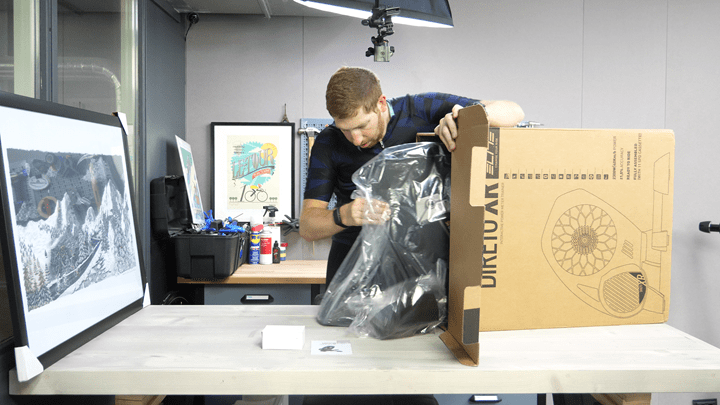 In any case, with all the things on the table you've got a pile of freebie codes for various apps, including a free 30-day card for Zwift, as well as some paper manuals you'll never read.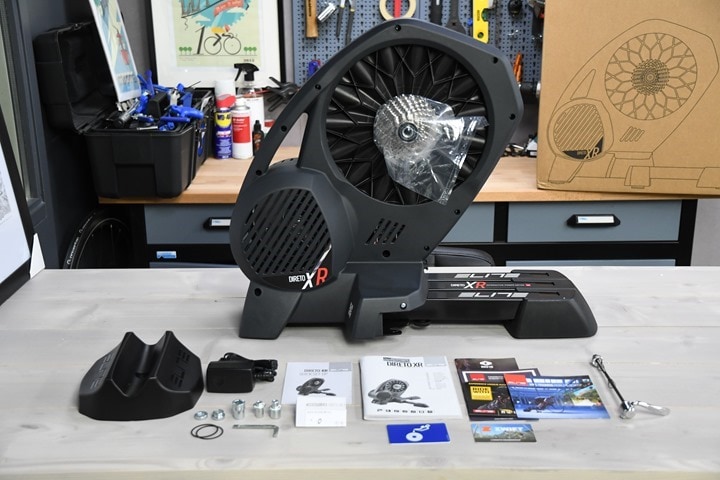 There's also the axle adapters for thru-axle and standard quick release, plus two spacers in the event you need to swap out the cassette.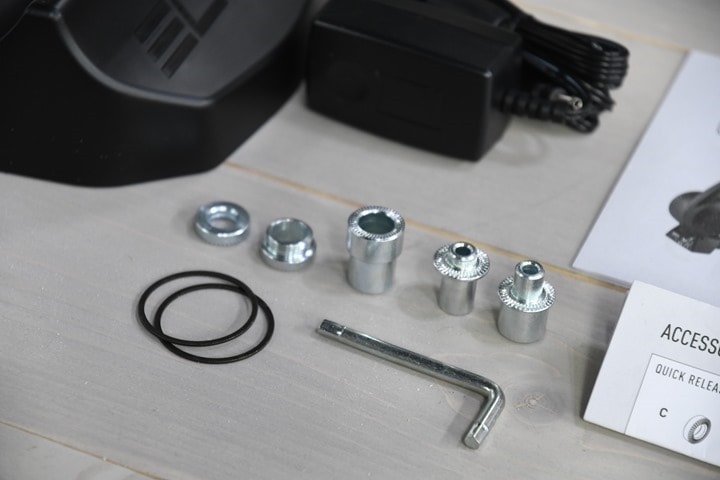 And down below there's the quick release skewer, and various freebies.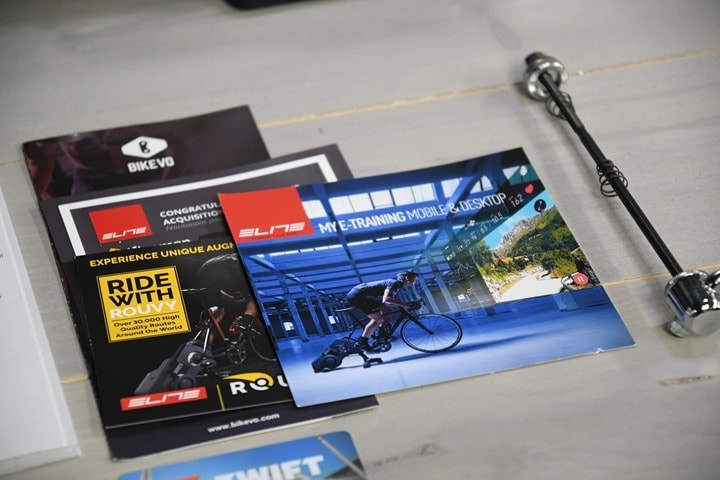 Also included is a 30-day trial on Zwift, and the manual you won't read:
There's a power cord, which measures 2.5 meters: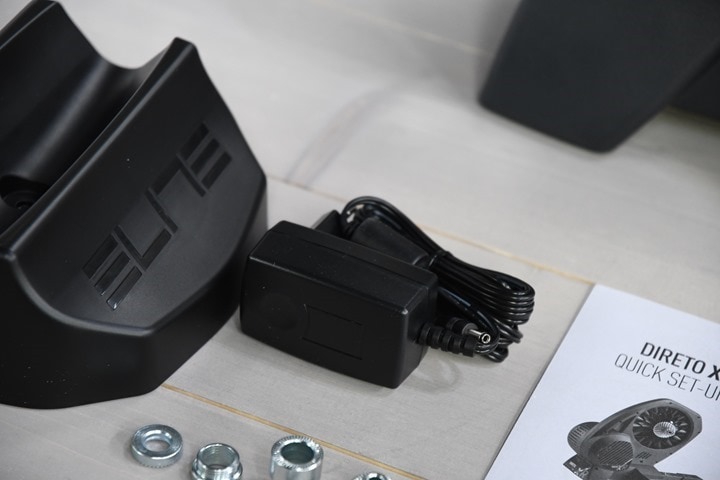 Atop that there's the front wheel block, which helps keep your front wheel straight, as well as makes the rest of the bike even in height.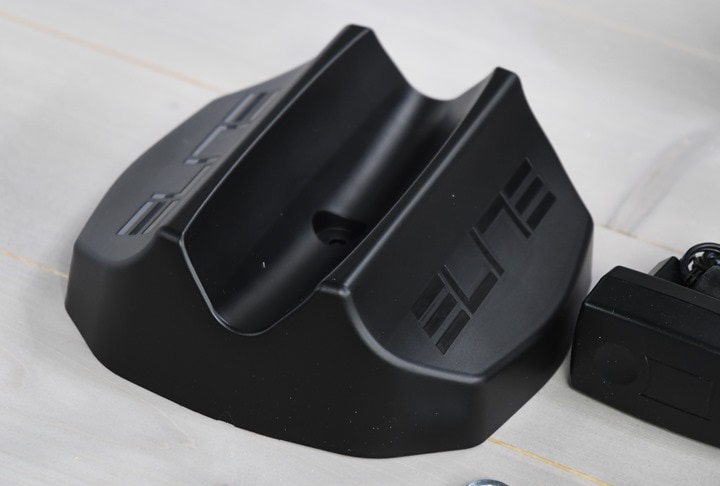 Oh, and yeah, there's the trainer:
As noted, it has the cassette on it, and it also has all the legs pre-connected. So nothing further to install or dork with. Just throw it at the ground and plug it in: Done.
The Basics: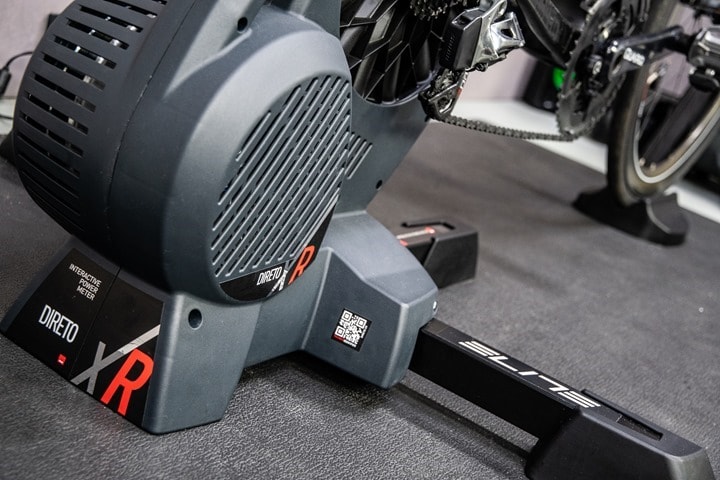 Elite has taken the Suito 'pull it out of the box and done' concept from last year, and applied it to the XR. No cassette to install, no legs to assemble, and hopefully no foam to clean-up. Just remove the trainer, plug it in and you're done.
After removing all the plastic stuffs, you've got the trainer ready to go, which takes precisely three steps:
A) Unfold legs
B) Put correct axle adapters on sides, add skewer
C) Plug it in
And I guess, if you count adding your bike atop it – then you need to do that too.
Oh, that said, here's a before/after of the folding legs, in case you do need to fold it up and put it away somewhere:
If you need to move it around, it's got a handle atop it, so it's pretty simple that way: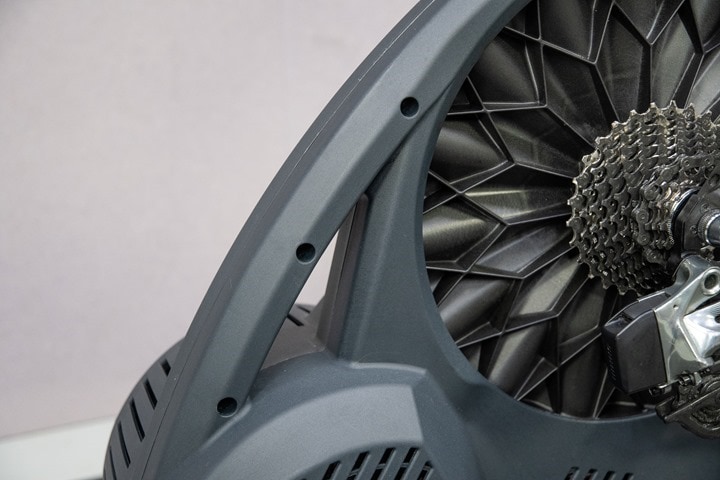 Also, it's not that heavy. The entire unit only weighs 16.2kg.
On the underside of the legs are two feet, in case your floor is wobbly. I found that I needed to extend them slightly, just so the trainer actually rests on them, versus the larger legs. That made it nice and stable: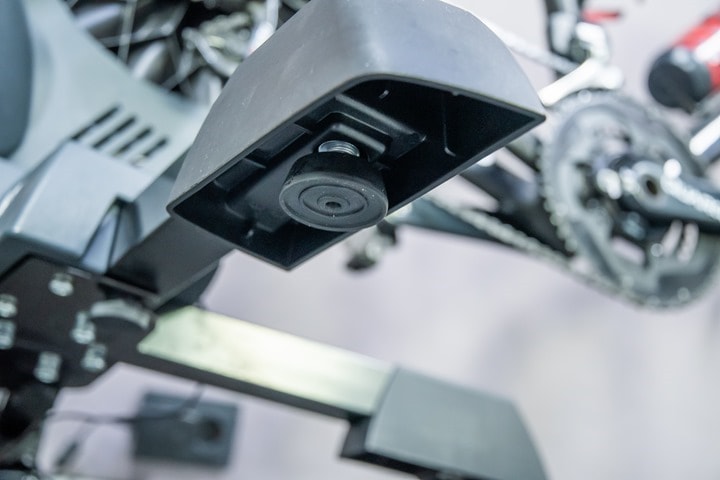 And as for the power cord, it's got a small trip prevention sorta thing there you'll twist it through. In theory this keeps it from breaking the trainer power port if you trip over it and rip it out. In reality though I think it'll just snap the power cord in half. This is the one area I'd prefer Elite adopt what Wahoo has done with a small flexible 'tail' plug, that will easily detach if tripped over.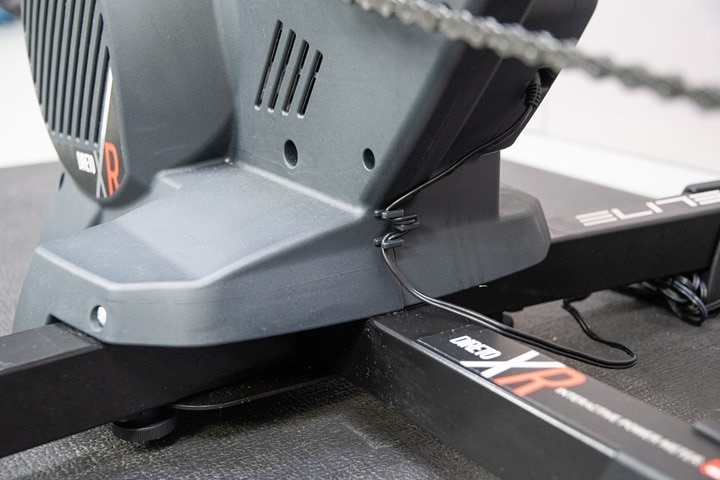 Oh, and here's the power adapter side going into the wall: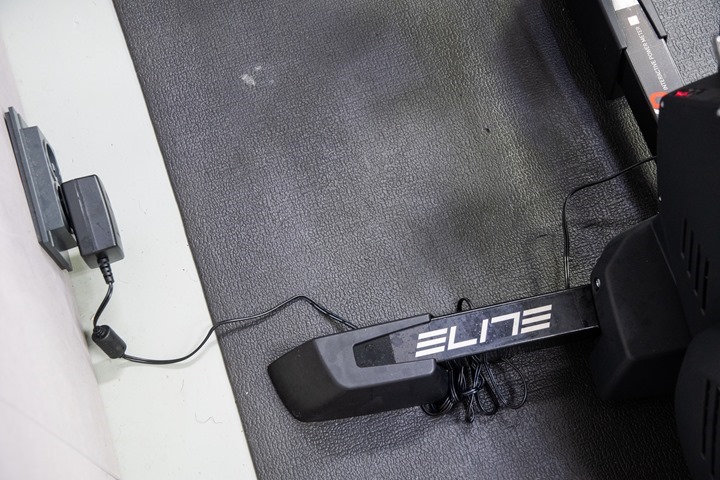 On the non-sexy side of the trainer there's the status lights. These show the state of your trainer. Specifically whether or not it's powered/plugged in, followed by whether or not there's an ANT+ device, and/or then a Bluetooth Smart device controlling it.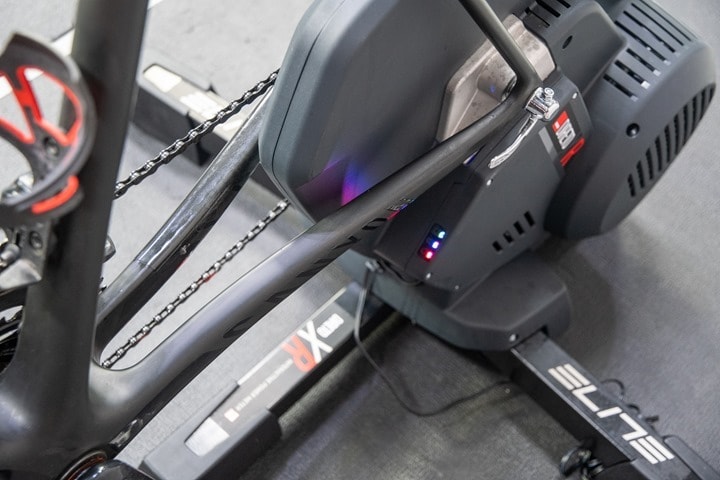 So finally, with your bike on it, don't forget to stick that front wheel block up there: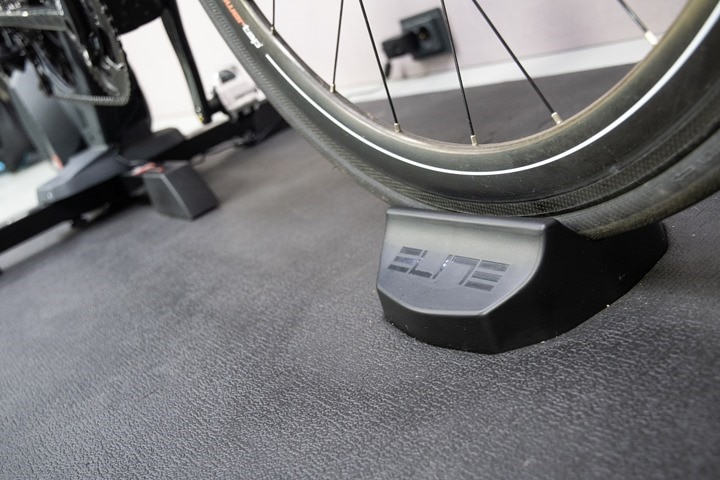 Or, you can throw that out the window and put an Elite Sterzo down there instead: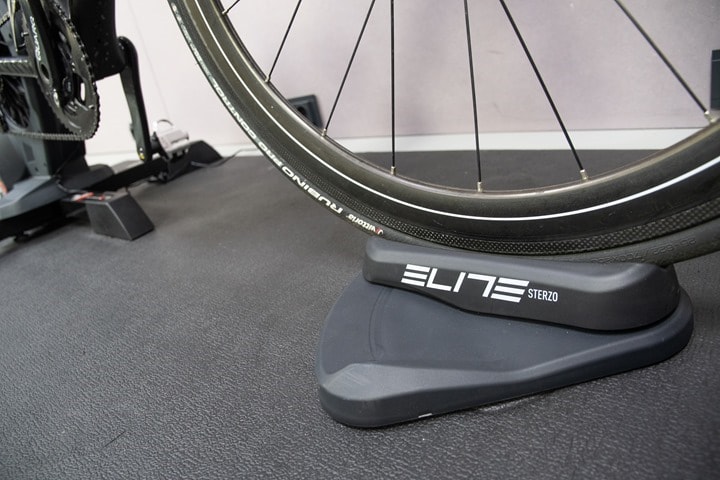 And now, we start pedaling.
Given the Direto XR is a smart trainer, it'll change resistance automatically in a few different ways, primarily driven by different applications/methods.  But most of this all boils down to two core methods:
ERG Mode: Setting a specific power level – i.e., 220w.  In this mode, no matter what gearing you use, the trainer will simply stay at 220w (or whatever you set it to).
Simulation (SIM) Mode: Simulating a specific outdoor grade – i.e., 14% incline. In this mode, it's just like outdoors in that you can change your gearing to make it easier or harder. Wattage is not hard-set, only incline levels.
In the case of simulation (aka slope) mode, the Direto XR can simulate from 0% to 24% incline – way above the original Direto X at 18%, and well beyond anyone else at this price range. For the most part you don't clear 20% until you get above $1,000.
That said, it's a bit of a spec battle for the sake of battling. First off, nobody actually wants to go up a 24% hill. Seriously, you don't. And atop that, there's little reason most of this matters if you use the defaults in Zwift, because it automatically halves the values anyway. A 10% grade feels like a 5% grade. You need to change the 'Trainer Difficulty' level to 100% in order to feel it (and most people don't bother to). Where it can matter though is at low-speed high wattage climbs up those 12% or beyond ascents.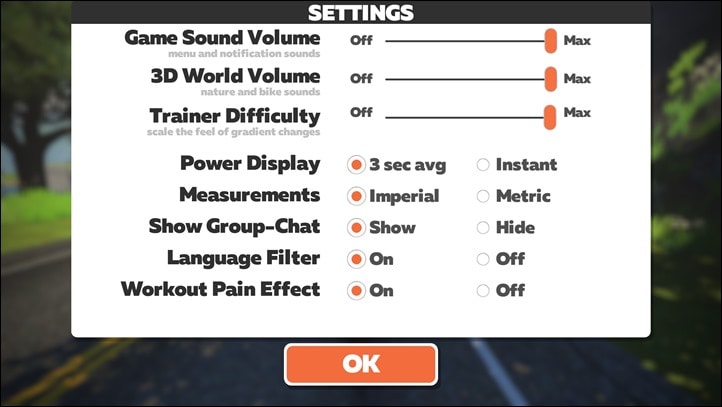 The second mode the trainer has is ERG mode.  In that case, the company claims up to 2,300w of resistance at 40KPH. Although, realistically, you don't care about that. I can only barely (maybe) break 1,000w for a second or two, and even most front of the non-pro pack cyclists aren't going to top 1,800w.  The pros would only be just a bit beyond that.  Said differently: Peak numbers in this competition don't matter.  Instead, what matters is actually a harder metric to make clear – which is the ability to simulate high grades and lower speeds (especially if you're a heavier cyclist).
One core test I do with all trainers though is responsiveness: How quickly does it respond to ERG mode changes? I typically do that with my 30×30 test via TrainerRoad, though it doesn't really matter what method you use as long as you're looking at big shifts in wattage: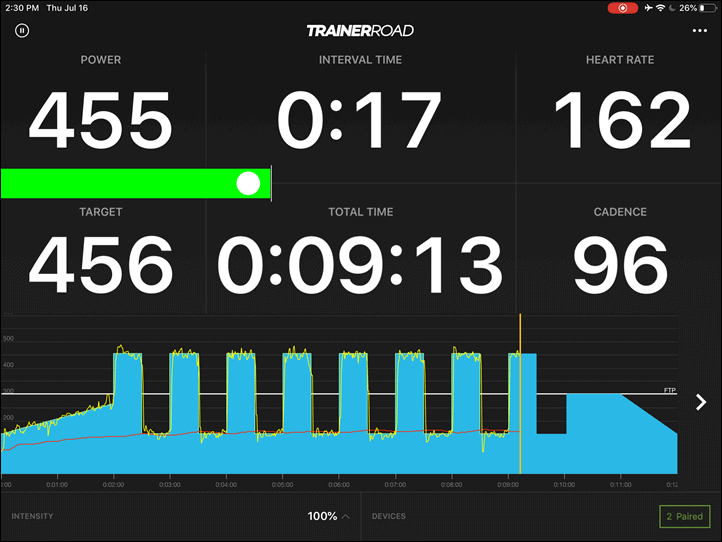 Now, I dive into all the nuances of this later on in the accuracy section, specifically including my 30×30 test via TrainerRoad, though it doesn't really matter what method you use as long as you're looking at big shifts in wattage.
So what about road feel and noise?
Like I always say – for me personally, it's hard to separate the fact that I'm riding indoors from outdoors. It's still a trainer, and I'm still looking at a wall in front of me.  My brain can only turn off so much of that.  Still, much of the road-like feel is driven by the flywheel, and be it physical or virtual, flywheel sizes tend to be measured in weight.  This impacts inertia and how it feels – primarily when you accelerate or otherwise change acceleration (such as briefly coasting).
All that prefacing done, the Direto XR is in the same realm as the Flux 2 in terms of road feel, though the Flux 2 has a larger flywheel. Still, I didn't think the road-feel aspect was as nailed on the Flux 2 as the XR. So I'd give a slight edge to the XR, but only slight (I rode them back to back).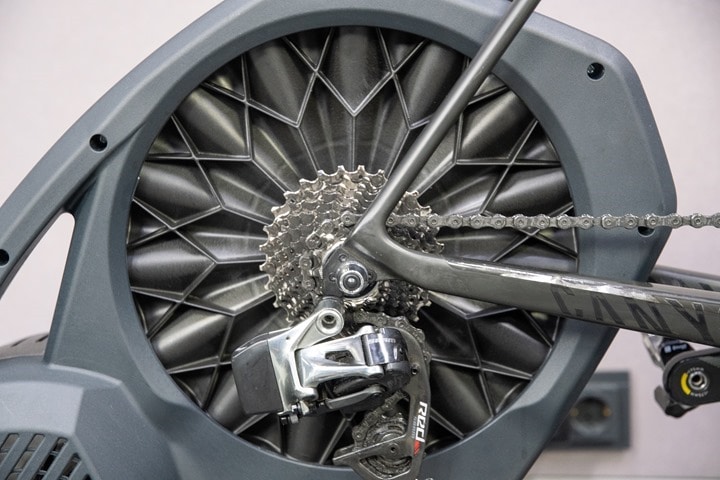 Elite says that the increase of flywheel weight from 4.2kg to 5.1kg was specifically done to increase the road feel realism. And it feels good, but I'm not sure it's appreciably different enough that most people be able to notice unless the two were side by side. Of course, it's not the same feel as you'd see with a KICKR or Tacx NEO or Saris H3, but those are all more expensive trainers. So you have to balance that aspect in there. Still, I think most people will be good with it.
It felt perfectly fine climbing Mont Ventoux for nearly two hours a few weekends ago, which has a grade that fluctuates between 9% and 14% for the vast majority of it. No issues with overheating or anything else there.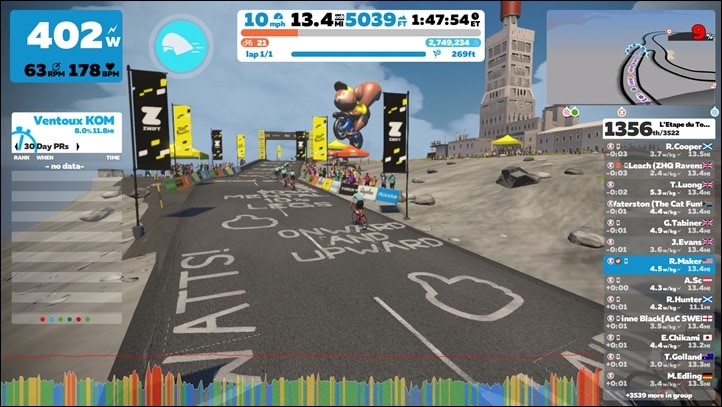 And as for sound? Well, it's not loud. But it's also not silent. Still, it's pretty darn quiet. Quieter than a Flux 2 for sure, but not as quiet as a KICKR Core. But it's below that of most people's fans, unless you have some quiet fan or something. I cover it within my video at the top of the page.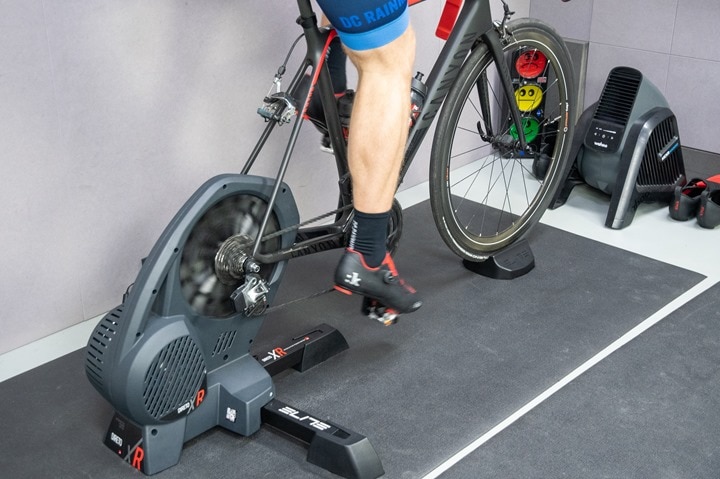 Ok, with all the basics out of the way, let's talk app compatibility.
App Compatibility: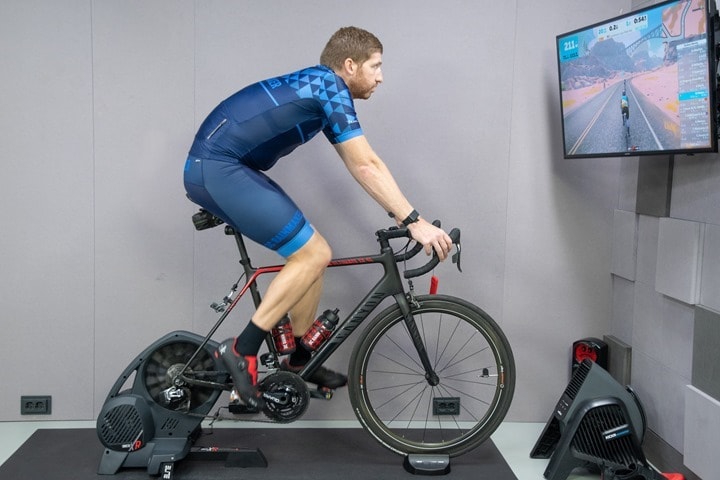 The Direto XR follows the same app compatibility standards as previous Elite products, and essentially follows the industry norms as you'd expect from a high-end trainer.  As you probably know, apps like Zwift, TrainerRoad, SufferFest, Rouvy, Kinomap, and many more all support most of these industry standards, making it easy to use whatever app you'd like.  If trainers or apps don't support these standards, then it makes it far more difficult for you as the end user.
Thankfully, that's not the case here.  The Direto XR transmits data on both ANT+ & Bluetooth Smart, as well as allowing interactive resistance control across both ANT+ & Bluetooth Smart.  By applying resistance control, apps can simulate climbs as well as set specific wattage targets.
The unit supports the following protocols and transmission standards:
ANT+ FE-C (Trainer Control): This is for controlling the trainer via ANT+ from apps and head units (with cadence/power data). Read tons about it here.
ANT+ Power Meter Profile: This broadcasts as a standard ANT+ power meter, with cadence data
ANT+ Speed/Cadence Profile: This broadcasts your speed and cadence as a standard ANT+ Speed/Cadence combo sensor
Bluetooth Smart Power Meter Profile: This broadcasts as a standard BLE power meter, with cadence data
Bluetooth Smart Speed/Cadence Profile: This broadcasts your speed and cadence as a standard BLE combo Speed/Cadence sensor
Bluetooth Smart FTMS (Trainer Control): This allows apps to control the Direto XR over Bluetooth Smart (with cadence/power data)
Between all these standards you can basically connect to anything and everything you'd ever want to. Be it a bike computer or watch, or an app – it'll be supported. In fact, Elite's really been one of the leaders for years in supporting the various standards – including FTMS.
In the above, you'll note there's cadence data baked into the various streams. That's handy if you're connecting to Zwift on an Apple TV, due to Apple TV's two concurrent Bluetooth Smart sensor limitation (plus the Apple TV remote).  This means you can pair the trainer and get power/cadence/control, while also pairing up a heart rate strap.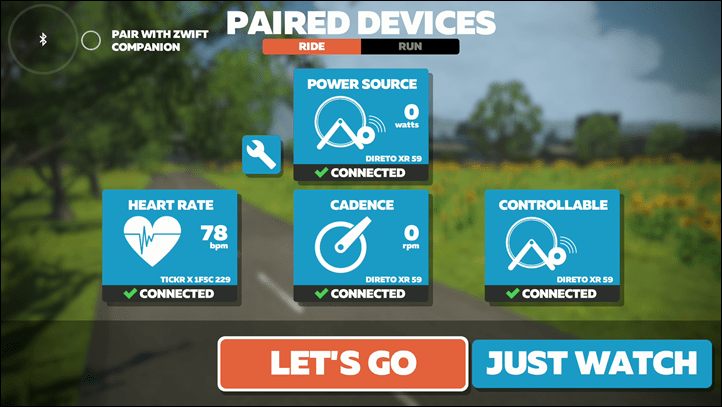 For me, in my testing, I used Zwift and TrainerRoad as my two main apps (which are the two main apps I use personally).  In the case of Zwift, I used it in regular riding mode (non-workout mode, aka SIM mode) as well as ERG mode (workout mode). Whereas in the case of TrainerRoad I used it in a structured workout mode (ERG mode). I dig into the nuances of these both within the power accuracy section.
Starting with Zwift, you can see the Direto XR listed as not just a controllable trainer, but also within the regular power meter and cadence section. You'll want to pair it up as a controllable trainer (which will also pair it as a power meter) – as seen above.
You'll see the trainer enumerated in a fairly similar manner on TrainerRoad as well: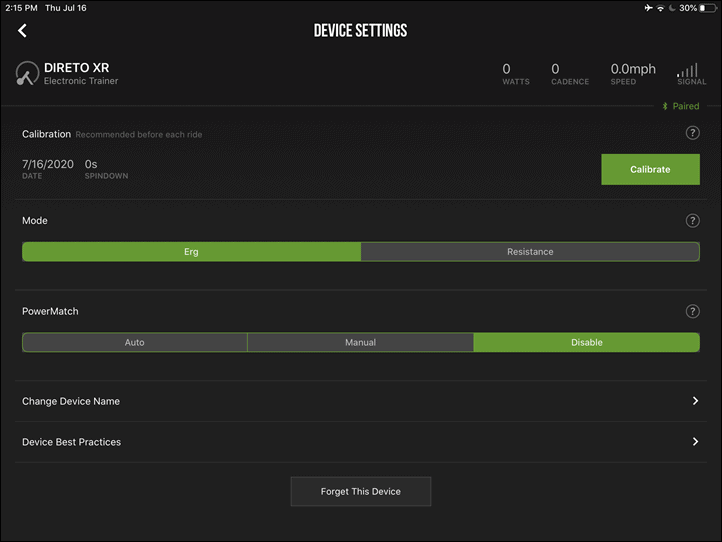 Also, TrainerRoad's tips page on using smart trainers in ERG mode (which interestingly thinks this trainer is the Elite Real E-Motion B+):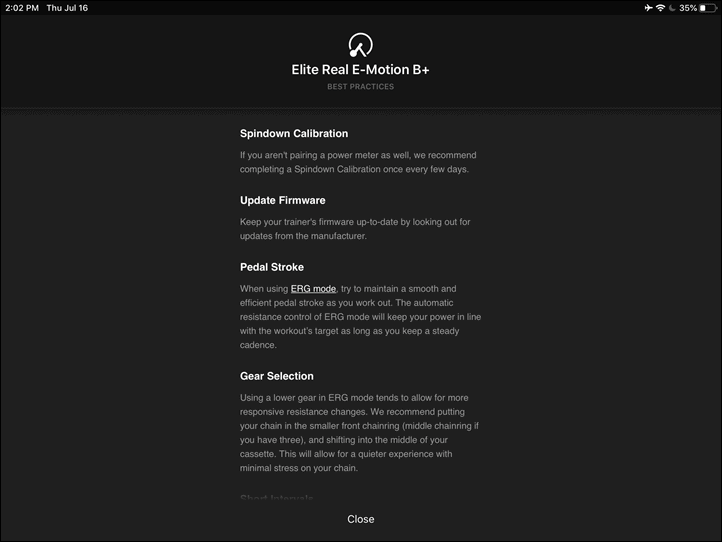 I'd *strongly* recommend you either read that page, or just simply do two things:
A) Calibrate the Direto XR: I did it once upon initial setup, but never calibrated again. Frankly, it was spot-on, and so I wasn't about to dork with it again.
B) Ensure you're using the small ring up front: This is for ERG mode specifically, shift into the small ring to get better control. I'd also recommend going to a mid to upper-end portion of the cassette as well (towards the wheel hub) in order to increase precision on the XR (more on this later).
As far as calibration goes, you can complete it easily from most apps – including TrainerRoad and Zwift. You'll see either a calibration prompt in the app (like TrainerRoad), or a small wrench or such in the settings (like Zwift).  For example, here it is doing the spin-down within TrainerRoad on an iPad:
It's super easy to do, you just pedal a bit fast for a moment until it reaches a given threshold speed, and then you stop pedaling. It's going to measure how long it takes to coast to a stop. Super easy.
In general, you should calibrate every once in a while (perhaps every few weeks), or anytime you've moved the trainer some distance (like to a new home/etc…). Additionally, you should calibrate if you've had a major temp swing (such as if it lives in your garage and now the sweat puddle on the floor is frozen).
Finally, Elite does have their own app that you can use for a handful of functions, but frankly I had no use for it here at any point in the testing cycle. And technically, there are two apps here. The first is their Elite My E-Training app, which you can do calibrations from within:
As with most trainers, they recommend you warm-up first:
And then there's the Elite Upgrado app – which actually launched in the fall of 2019 for updating Elite trainers (finally!). This allows you to do firmware updates of the trainer. Simply crack it open and let it search for nearby trainers:
At present there aren't any firmware updates for the Direto XR, and historically speaking we don't see Elite do too many firmware updates. Though also, historically speaking they didn't have an easy way to issue those till the Upgrado app last year. In any case, assuming there is an update, the process usually only takes about 4-5 mins, super quick and super easy. Just like most other companies' trainer update apps.
Last but not least there's a few configuration options within the Elite My E-Training app. Most notable of those options is what Elite calls Power Meter Link (PML). This means it can match up to an external power meter to provide more finite control of the trainer. Personally, I'm not a big fan of power meter matching/linking type technology from any company, as I often find it does weird things around delays in power. I'd rather the darn trainer be accurate to begin with. So I don't use it. But, if you want it, it's listed under 'Power Smoothing', where you then pair it up to an external power meter.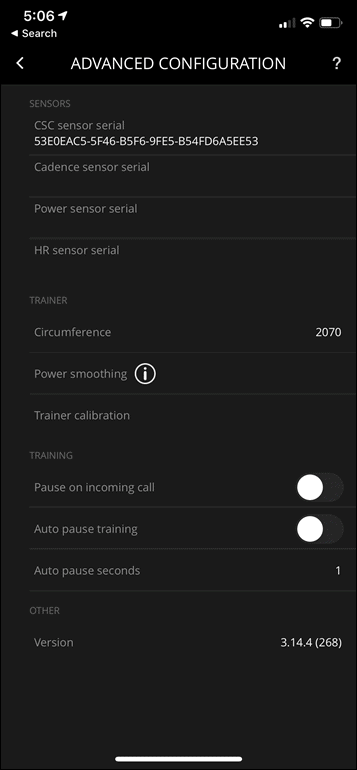 With all those things covered, let's get into a look at how accurate the trainer is.
Power Accuracy Analysis: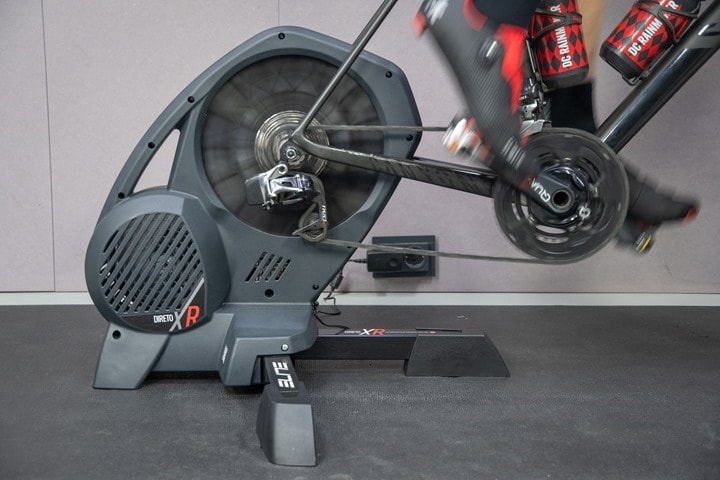 As usual, I put the trainer up against a number of power meters to see how well it handled everything from resistance control accuracy, to speed of change, to any other weird quirks along the way.
In my case I used one primary bike set up in the following configuration:
Canyon Bike Setup #1: PowerTap P2 Dual-sided pedals, Quarq DZero crankset
Canyon Bike Setup #2: Garmin Vector 3 Dual-sided pedals, Quarq DZero crankset
Canyon Bike Setup #3: Favero Assioma Dual-sided pedals, Quarq DZero crankset
This is all in addition to the trainer itself.  Note that because you remove the rear wheel I can't use something like a PowerTap hub to compare as well (which I would use in power meter testing normally).
In any case, I was looking to see how it reacted in two core apps: Zwift and TrainerRoad (Bluetooth Smart on Apple TV and iPad). The actual apps don't typically much matter, but rather the use cases are different.  In Zwift you get variability by having the road incline change and by being able to instantly sprint.  This reaction time and accuracy are both tested here.  Whereas in TrainerRoad I'm looking at its ability to hold a specific wattage very precisely, and to then change wattages instantly in a repeatable way.  There's no better test of that than 30×30 repeats (30-seconds at a high resistance, followed by 30-seconds at an easy resistance).
There's two ways to look at this.  First is how quickly it responds to the commands of the application.  So for that, we need to actually look at the overlay from TrainerRoad showing when it sent the command followed by when the Direto XR achieved that level.  Here's the levels being sent (the blue blocks)) by TrainerRoad (in this case via Bluetooth Smart on iPad) and how quickly the Direto XR responded to it:

In general, when it comes to ERG mode 'accuracy', I'm actually looking at three specific things:
A) Base power accuracy: Is the power measurement aspect correct?
B) Power Responsiveness: How quickly can it achieve a given set point (e.g. how long to go from 150w to 450w?)
C) Power Stability: How stable is it in holding a given ERG mode setting?
So, looking at the Direto XR, the simple answer to all of those is: Pretty darn good in most cases.
For example, on responsiveness, it was taking about 3-4 seconds to go from 150w to 450w, pretty consistently. In some cases I might prefer 2-3 seconds, but I'm not going to quibble too much there.

The next bit is stability. In the case of the above workout, it was after doing 90 mins of relatively hard riding. So I was a little bit shot. So some of the intervals I was a little bit less stable than others. The key ones to look at were #5 & #6, where I actually pretended to focus on pedaling nice and smooth and focusing on form. In that case, those were pretty darn smooth.

I'd note though that I did need to go up 1-2 shifts mid-way through on the cassette to get things more stable. As always for ERG mode, I used the smaller ring in the front chainring (as recommended by trainer company and app company, as it helps control flywheel speed). However, I typically don't worry too much about the rear cassette. But in this case I found that keeping it on the upper half made a big difference in the power stability (how much it wobbles). No biggie, that's easy enough to do.
So what about actual power accuracy then? Meaning – how does it compare to other power meters? For that here's a comparison with a Quarq DZero power meter (data set here):
As you can see, they're super close – basically identical. I normally would have a third data point, but for that set I was having issues with the SRM X pedals I was running, so I excluded it from the set. Since then, those issues have been resolved. In any case, it's basically identical – within 4-8w @ 450w, which is what I'd expect for slight differences in drivetrain.

Next, let's look at a longer TrainerRoad workout with longer sets. Because, longer is better – right? Here's that data:
Now in this case there's a slight offset between the Direto XR and the two other power meters. My guess here is that due to the temp shift of the room (up about ~8°F/4°C from the previous day), may have contributed to this. However, I don't know which units were off. At the lower recovery intervals they were slightly further apart, whereas at the upper work intervals the gap was closer (about 5w on 265w).
And in this interval there were short 400w intervals built into each set, and those handled quite nicely actually for all of them.

Also, looking at cadence briefly – I do see a handful of calculation dropouts here. Meaning, I suspect this is an algorithm based error rather than interruption based dropout, because I was recording on multiple devices and the power never dropped out (part of the same channel), on any devices.

Note that none of my other workouts had cadence drops in them, so whatever was unique about this workout or gearing/resistance combination was more challenging.
Next, let's look at some Zwift sessions. This was a crit race on the new Zwift Paris course, and so you can see the constant ups and downs of it. Yet, despite that, this and the two other power meters are virtually glued together. It really is impressive. Here's the high level overview:

Here's a closer look at a few different surges as well. These are all crazy close together, especially considering how quickly and dramatically the power is shifting.

Same goes for whatever little I had left in the tank (basically, nothing) for a sprint to the finish:

Cadence meanwhile, is mostly very good. However, there are a few obvious cadence spikes in there, where the green line spikes up for a second or two, to 120rpm+:

Finally, let's look at that previously mentioned Mont Ventoux session on Zwift. Here's that data:

Given how long it is (and somewhat variable), it can be hard to see the nuance, so let's just zoom in to a random section:

Overall it's very very close together, though there are some slightly lower spots from the Quarq when I ease off the power. But be mindful of the scale of this particular graph here. We're talking a difference of on average about 4-5w. Very small amounts, largely within the accuracy claims of the various units.
Looking at the mean/max graph for this ride, it's also pretty darn close:

And on this long ride, cadence looks perfectly flawless:

So, overall I'm not seeing any issues related to power meter accuracy on the Direto XR. There's a handful of minor cadence quirks in occasional spots, but as you can see from the chart above – it's only in certain ride situations and is limited to a second or two. I haven't fully figured out the pattern there, but it wasn't something I even noticed while riding – only afterwards looking at the charts.
(Note: All of the charts in these accuracy sections were created using the DCR Analyzer tool.  It allows you to compare power meters/trainers, heart rate, cadence, speed/pace, GPS tracks and plenty more. You can use it as well, more details here.)
Trainer Comparison:
I've added the Elite Direto XR into the product comparison database.  This allows you to compare it against other trainers I've reviewed. For the purposes of this particular table, I've compared it against the Tacx Flux 2, Wahoo KICKR CORE, and Saris H3. While the H3 is slightly higher in price, it's also so often on sale for $800-$850USD, that one should at least check the price before making a purchase decision. You can also mix and match and create your own trainer comparison charts with just about any trainer on the market in the aforementioned/linked product database.
What about within the Elite product lineup? Well, essentially that's simplified now to three products: The Elite Tuo, Elite Suito, and Elite Direto XR. The Elite Drivo series is being retired, as is the existing Elite Direto X. Elite will continue to make some lower end trainers and rollers, but the core three they're focusing on for this 'season' will be the Tuo, Suito, and Direto XR.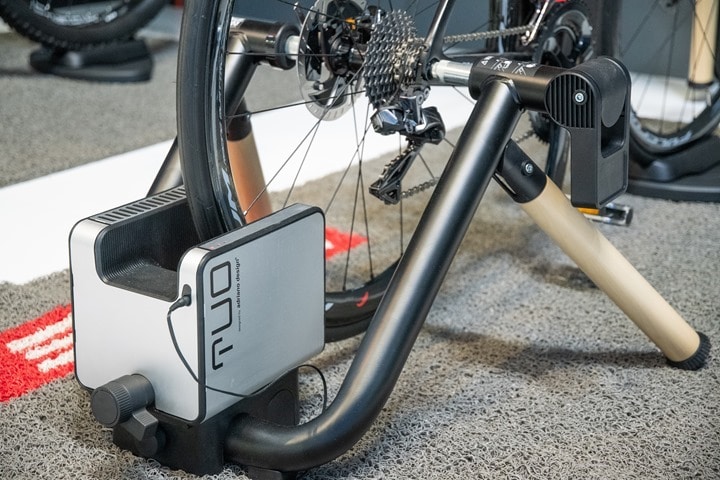 The only problem? The Tuo still (a year later), isn't shipping yet. Supposedly that'll happen in the August-September timeframe, but the so-nicknamed toaster (because it looks like a toaster) is still missing in action. If however, it can live up to the road-feel that I saw last year at Eurobike, as well as the accuracy claims they have, it'll be a solid budget option for those that don't want to deal with taking off their rear wheel.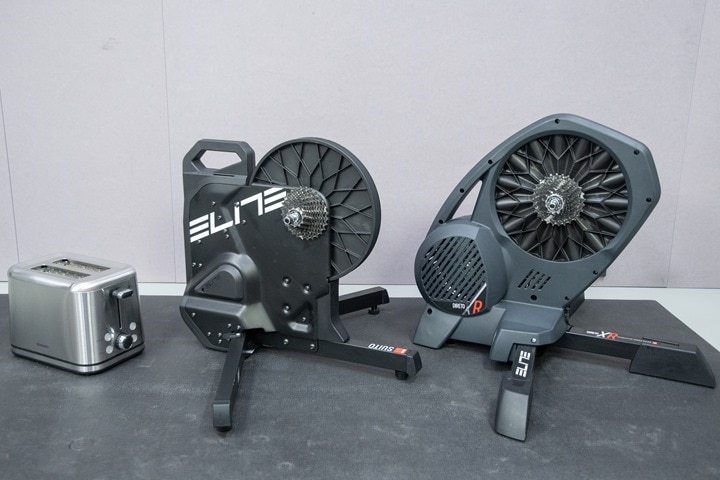 In any case, here's that comparison chart:
Function/Feature

Elite Tuo
Elite Suito
Elite Direto XR
Copyright DC Rainmaker - Updated May 11th, 2021 @ 4:02 am New Window
Price for trainer
$529
$799 (incl cassette)
$949
Trainer Type
Wheel-on
Direct Drive (No Wheel)
Direct Drive (No Wheel)
Available today (for sale)
Yes
Yes
Yes
Availability regions
Global
Global
Global
Wired or Wireless data transmission/control
Wireless
Wireless
Wireless
Power cord required
Yes
Yes (no control w/o)
Yes (no control w/o)
Flywheel weight
2.5kg / 5.5lbs
3.5kg/7.7lbs
5.1KG/11.2LBS
Includes cassette
N/A
Yes (11 Speed SRAM/Shimano)
Yes (11 Speed SRAM/Shimano)

Resistance

Elite Tuo
Elite Suito
Elite Direto XR
Can electronically control resistance (i.e. 200w)
Yes
Yes
Yes
Includes motor to drive speed (simulate downhill)
No
No
No
Maximum wattage capability
1,250 (40KPH)/2,050 (60KPH)
1,900w @ 40KPH / 2,900w @ 60KPH
2,300w @ 40KPH
Maximum simulated hill incline
10%
15%
24%

Features

Elite Tuo
Elite Suito
Elite Direto XR
Ability to update unit firmware
Yes
Yes
Yes
Measures/Estimates Left/Right Power
No
No
9EUR one-time fee
Can rise/lower bike or portion thereof
No
No
No
Can directionally steer trainer (left/right)
No
No
With steering accessory & compatible app
Can rock side to side (significantly)
No
No
No
Can simulate road patterns/shaking (i.e. cobblestones)
No
No
No

Accuracy

Elite Tuo
Elite Suito
Elite Direto XR
Includes temperature compensation
Yes
Yes
N/A
Support rolldown procedure (for wheel based)
Yes
Yes
Yes
Supported accuracy level
+/- 5%
+/- 2.5%
+/- 1.5%

Trainer Control

Elite Tuo
Elite Suito
Elite Direto XR
Allows 3rd party trainer control
Yes
Yes
Yes
Supports ANT+ FE-C (Trainer Control Standard)
Yes
Yes
Yes
Supports Bluetooth Smart FTMS (Trainer Control Standard)
Yes
Yes
Yes

Data Broadcast

Elite Tuo
Elite Suito
Elite Direto XR
Transmits power via ANT+
Yes
Yes
Yes
Transmits power via Bluetooth Smart
YEs
Yes
Yes
Supports Multiple Concurrent Bluetooth connections
No, just one
No, just one
No, just one
Transmits cadence data
Yes
Yes
Yes

Purchase

Elite Tuo
Elite Suito
Elite Direto XR
Amazon
Link
Link
Link
Backcountry.com
Link
Link
Link
Competitive Cyclist
Link
Link
REI
Link
Link
Link
Wiggle
Link
Link
Link

DCRainmaker

Elite Tuo
Elite Suito
Elite Direto XR
Review Link
Link
Link
Link
And again, as always don't forget you can mix and match your own trainer product comparison tables using the database here.
Summary: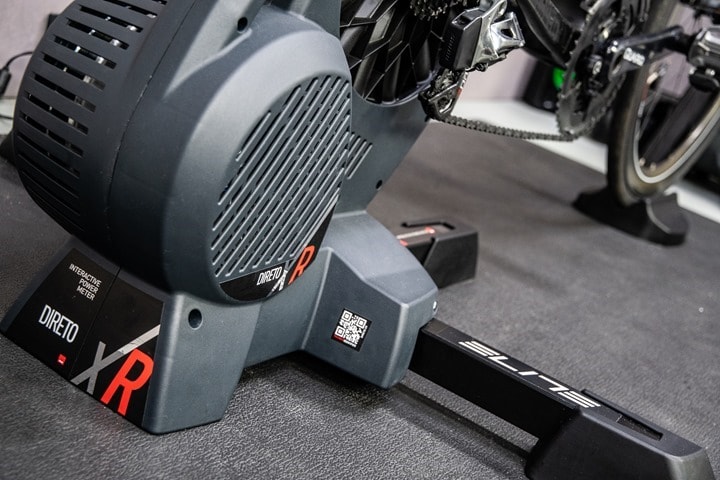 The Elite Direto XR is somewhat the equivalent of a trainer graduating up from high school to university. The Direto product series has always been the mid-range offering, but with the increases in power, inertia, and ERG mode control – it effectively becomes a freshman college student. Sure, it's not quite in the same grade as a full blown Wahoo KICKR or Saris H3, but it's not priced there either. Instead, Elite cuts the price and adds a cassette – making it far more accessible with very few trade-offs.
So what are the unknowns? Well, long term and/or manufacturing issues would be one. We saw stumbles with the Suito last year in that realm, though not with the Direto X. That kinda makes sense because the Suito was new-new, whereas the Direto X was basically just a slightly revamped Direto. And hopefully, since the Direto XR is a tidier Direto X, that we won't see any manufacturing issues. But again, only time will tell. It is clear though that there's improvements around the firmware, beyond just hardware. The ERG mode accuracy is crispier than in the past, which Elite says comes from improved algorithms around the newer flywheel size.
I'd have no reservations in recommending the Direto XR at this point, it checks all the boxes and is ideal for someone who doesn't want to deal with anything more than just pulling a trainer out of the box, sticking a bike on it, and starting riding. Which, come to think of it – isn't that all of us?

Found This Post Useful? Support The Site!
Hopefully you found this review useful. At the end of the day, I'm an athlete just like you looking for the most detail possible on a new purchase – so my review is written from the standpoint of how I used the device. The reviews generally take a lot of hours to put together, so it's a fair bit of work (and labor of love). As you probably noticed by looking below, I also take time to answer all the questions posted in the comments – and there's quite a bit of detail in there as well.
If you're shopping for the Elite Direto XR or any other accessory items, please consider using the affiliate links below! As an Amazon Associate I earn from qualifying purchases. It doesn't cost you anything extra, but your purchases help support this website a lot. Even more, if you use Backcountry.com or Competitive Cyclist with coupon code DCRAINMAKER, first time users save 15% on applicable products!
And finally, here's a handy list of trainer accessories that most folks getting a smart trainer for the first time might not have already:
And of course – you can always sign-up to be a DCR Supporter! That gets you an ad-free DCR, access to the DCR Quarantine Corner video series packed with behind the scenes tidbits...and it also makes you awesome. And being awesome is what it's all about!
Thanks for reading! And as always, feel free to post comments or questions in the comments section below, I'll be happy to try and answer them as quickly as possible. And lastly, if you felt this review was useful – I always appreciate feedback in the comments below. Thanks!