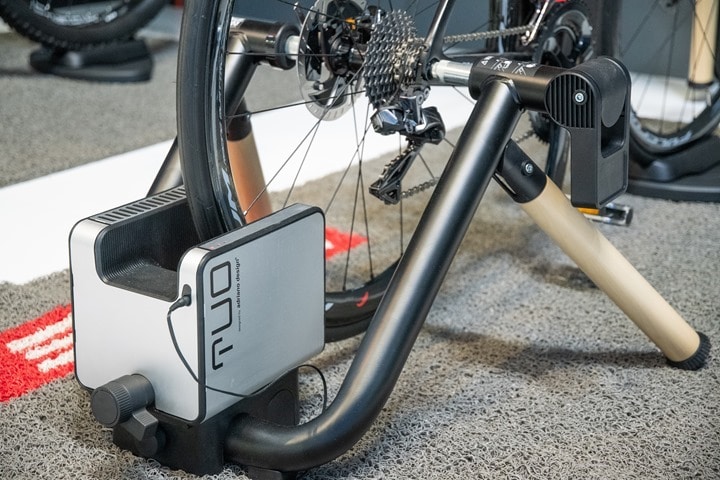 You know, for a toaster, it rides pretty well.
I'm serious – Elite's newly announced Tuo smart trainer actually feels way better than I expected it would. Which isn't a knock on Elite, but a compliment. The reality is that for the most part wheel-on smart trainers just don't have the inertia (and thus road-like feel) of most direct drive trainers. Sure, some non-smart units of yesteryear did, but most of today's models don't. These days wheel-on trainers like the Tuo tend to be low-end affairs without much focus on road-feel (or looks). Elite seems to have changed both though with this unit.
Assuming you appreciate toasters anyway. Fear not, I love myself a good toaster.
First though, note that this isn't a review, and doesn't even rise to the my classification level of "Hands-On", though I did get handsy with it. Instead, I'm keeping it as "First Look" since my riding time is only briefly on a show-floor without any comparative data.  This trainer is a bit behind the curve in terms of availability, so availability is looking like October to Europe, and either late October or early November for the US (due to on-water container ship times from Italy to the US). It sounds like I'll have a unit in the next week or two, so expect a full in-depth review sometime in October and consider this a bruschetta sized appetizer till then.
The Tech Details & Specs: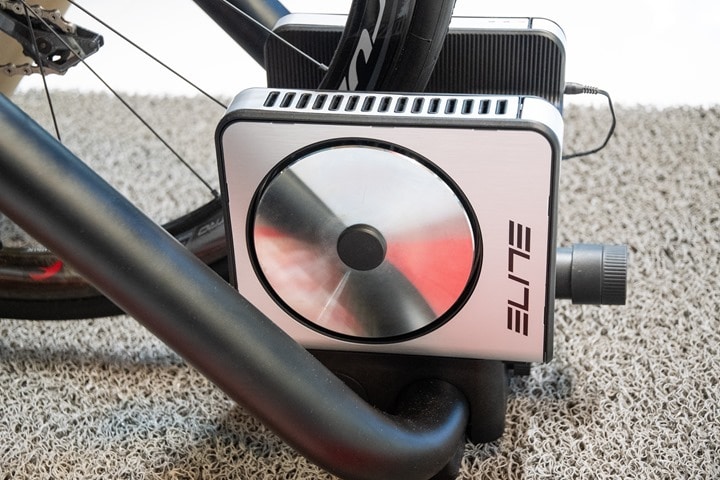 There's no mistaking the Elite Tuo for another trainer. When you see the carb grilling machine nestled in between two wooden dowels stolen from someone's bannister railings – you'll instantly know it's the Elite Tuo. Gone is the plasticky look of past Elite low-end trainers, and in with a bit of Italian style and discman attached to the side. The frame is indeed a blend of metal and beechwood, which has been treated so it should stand up to any sweat. Interestingly, this isn't the first trainer product that's gone with wood this year – as we saw CycleOps do the same on their platform and trainer desk.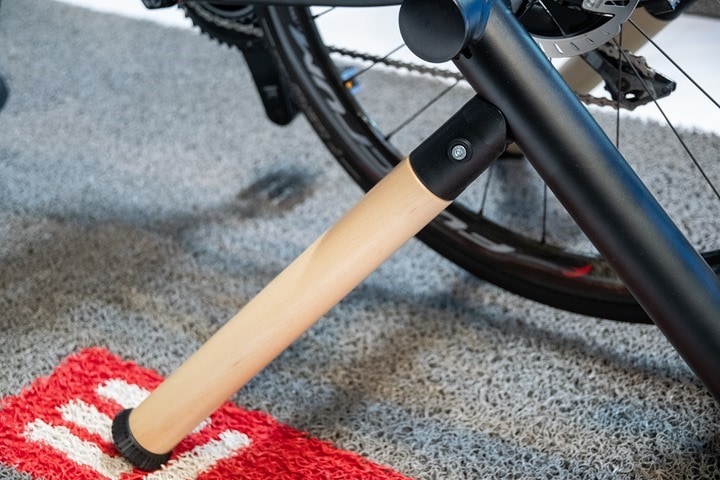 The frame can fold up to slide under a bed or other smallish space to save room.
The frame of the trainer includes a press-down latch mechanism for locking and tightening the trainer to the frame. I much prefer this style over some units that (still) use the older never-ending spinning handle variant that takes forever to get in and out. This is a single movement and you're done.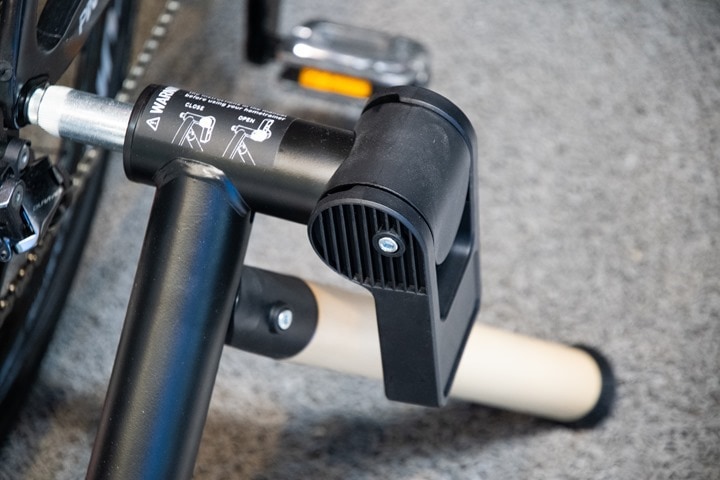 Now as noted and hopefully you've realized by now, this is a wheel-on trainer At this price point we haven't quite gotten to direct drive (meaning, you take your rear wheel off). Direct drive trainers are generally preferred as they eliminate slippage issues for the most part, and they also tend to be easier to calibrate (or at least, more consistent to calibrate). On the flip side, if you're not thrilled by the prospects of removing your rear wheel each time you want to ride, this makes it easy to just pop the whole bike on there as-is: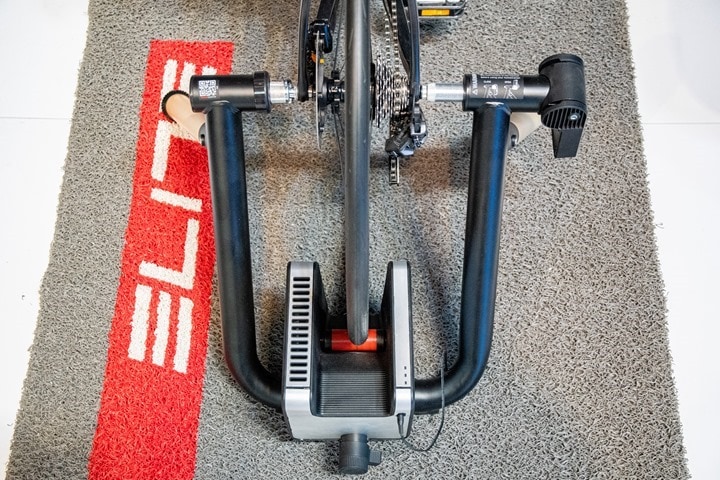 The tire will then rest on the main resistance unit of the trainer, where the silver box that holds the roller presses against your tire. In addition inside there are all the electronic bits.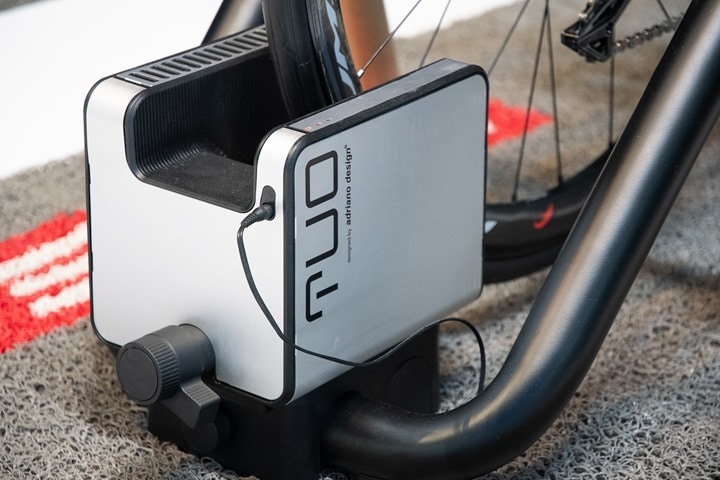 It'll plug in the back to provide power for the unit, which is used for all the smart features including transmission of power, speed, and cadence via both ANT+ & Bluetooth Smart. In addition, it includes both ANT+ FE-C & Bluetooth Smart FTMS trainer control. In other words, basically all the stuff you'd expect from a tech standpoint. There's three status lights on the upper edge so you can sort out power, ANT+, and Bluetooth Smart connectivity status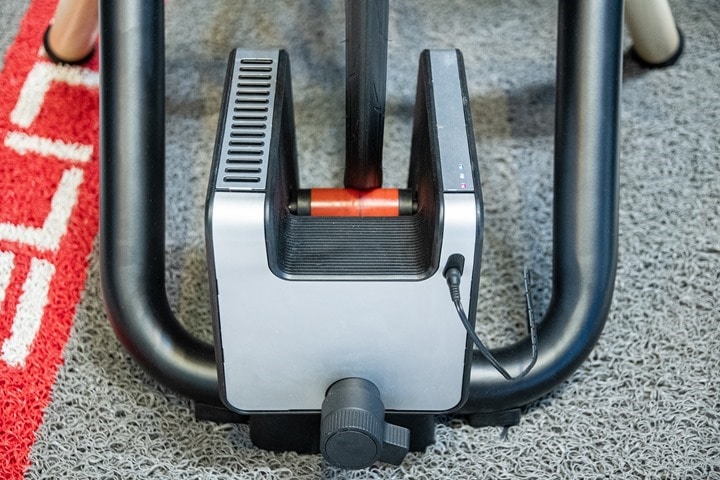 This means interactivity on apps like Zwift, TrainerRoad, Kinomap, The Sufferfest, Fulgaz and plenty of others will work as normal. Those apps can control the trainer up to an incline of 10% grade, and a max power of 1,250 watts (at 40KPH), or an unachievable 2,050w (at 60KPH). Though, I suspect your rear tire would probably melt through the tostapane at 60KPH. But yeah, technically it was tested by Elite to those levels.
However, in many ways what surprised me the most was the road-like feel. Sure, I had seen the trainer numerous times over the past few months, but never quite had the chance to jump on it with a bike attached. However, at Eurobike there was a bike, a power cord connected, and my legs halfway functional. So I gave it a spin.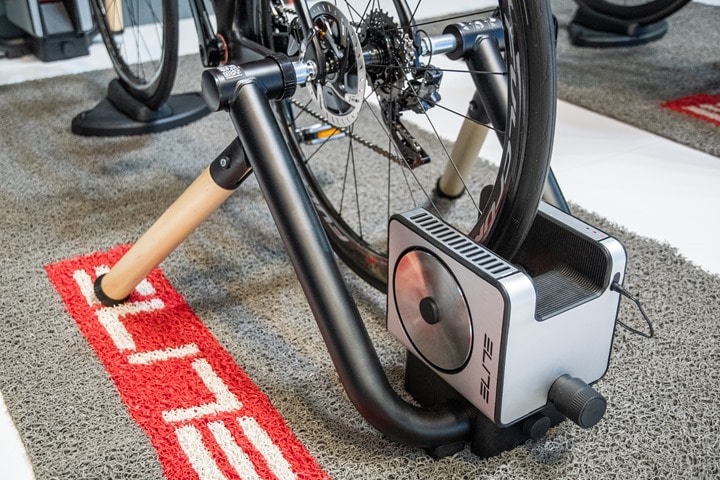 And within about two pedal strokes I was frankly confused. This did not feel like a typical wheel-on trainer, cheap or otherwise. It felt like a mid to high-end direct drive trainer from a feel standpoint. Sure, I was riding it at the end of a long show-floor day on two hours of sleep with running shoes on flat pedals, but having been jumping on trainers all day long – this was definitely different. This felt…I don't know…good?
I grabbed a few of the Elite folks to validate I wasn't crazy. I mean, it's kinda hard to be like "So, this trainer doesn't suck, does it?" – but they got the gist of what I was asking, and apparently there actually are changes to how the internals of this unit works compared to others. Elite partnered with the Fraunhofer Institute for Industrial Mathematics ITWM around the power accuracy as well as how to handle the variations in speed data coming off the flywheel to more accurately replicate the outdoor pedaling road-like feel.
All of which is again, a long way of saying it doesn't suck.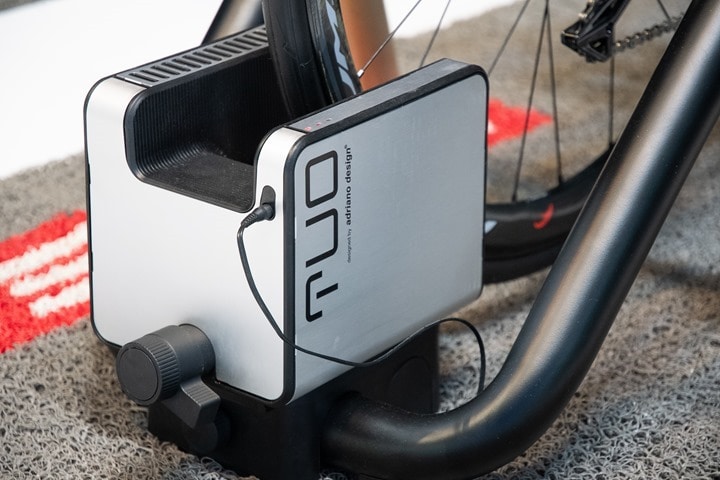 Again, I do want to get it into the DCR studio and see if my brain agrees with this assessment on an actual night of sleep and a final unit. Though realistically this was probably the single biggest stand-out item for me on that second day of Eurobike, so it seems unlikely to change significantly. What may vary is the actual accuracy. The unit claims +/- 3% accuracy, which is on the better end of average for this price range.
Still, Elite has had a bit of a rougher go of accuracy over the last few months in some of their newer products – so hopefully by the time Tuo arrives those tweaks are incorporated into the Tuo as well. This unit doesn't have a power meter in it like the Direto/Direto X, but instead relies on algorithms akin to those found in the Suito and Zumo. Given I haven't tested the Tuo with other power meters for accuracy (which is internally different than the Suito/Zumo), I can't say whether or not it'll be accurate.
Speaking of specs, here's the complete run-down of specs:
– Price: $499USD, October availability Europe/US expected late Oct-Early Nov.
– Wheel-on trainer, clamp lever design
– Max Resistance: 1,250w (40KPH) / 2,050w (60KPH)
– Max Incline Simulation: 10%
– Accuracy level: +/- 3.5%
– Trainer Control: ANT+ FE-C & Bluetooth Smart FTMS
– Power Transmission: Both ANT+ & Bluetooth Smart open power signals
– Cadence Transmission: Yes
– Looks like a sliced bread cooking machine: Yes
– Compatibility: Quick Release for road/mountain bikes (130/135 x 5mm), and thru-axle for 142x12mm included (with Boost 148x12mm accessory adapter available)
– Weight of trainer: 10.3KG/22.7lbs
And finally, note that it also includes their power meter link (PML) which is also known as power meter match, and can be used to connect to a power meter on your bike and use the power meter to control the power accuracy of the trainer. I don't tend to use that feature on most trainers I test, since I find it somewhat unreliable and occasionally laggy. Though, I haven't tested Elite's implementation very heavily. But, it's there if ya want it.
Wrap-Up: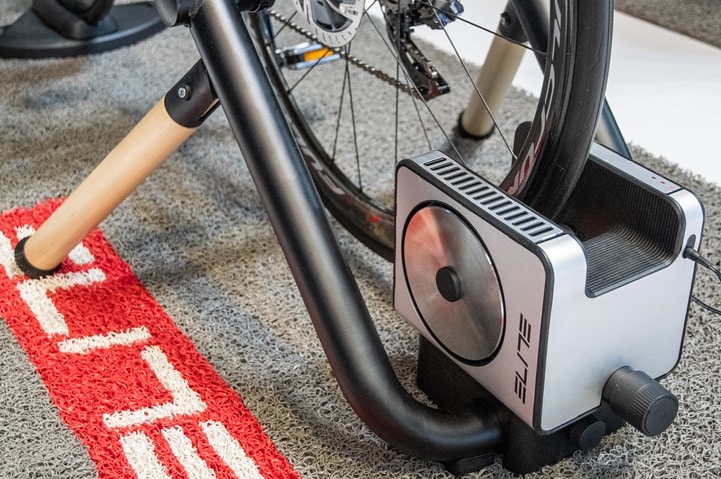 Over the past several years Elite has come a long way as an indoor trainer company. They were a company that once had over a dozen different trainer SKU's with clinical sounding names longer than most ingredients found in processed foods. These days on their 40th anniversary of the company they've simplified to just a handful of trainers with single-word names. Albeit, Italian names that none of us can ever pronounce. Thus, it's totally not my fault this just got renamed to The Toaster.
Still, with that shift, they're also taking risks. The indoor trainer industry is full of semi-bland looking wheel-on trainers. Elite themselves has been making them for years, both for themselves and under various other brand names around the world. The Tuo simply doesn't look like those trainers visually. Sure, that might not appeal to everyone – for which there are plenty of black, plastic, and metallic trainers still out there. And, some might even correctly point out there's not much cohesion between the rest of the Elite line and the Tuo. That's true too, the Tuo's external design was outsourced to Adriano Design, a nearby design firm. And then there's the price – at $499 it's less expensive than most of the options in this category that are closer to $599.
On the flip side, we'll need to see if Elite can actually deliver on accuracy here. The Suito that was announced in July hasn't been nailed yet in terms of accuracy, though Elite says they're close. And the same is somewhat true of the Direto X when it comes to ERG mode stability. We've also seen some early teething pains on Suito's as they've started to ship with various production issues. Of course, they just started arriving in the last few days – and having early shipping unit pains seems to be the norm for trainer companies these days (a trend I'm not thrilled about).
In any case – I'm definitely looking forward to getting back on the Tuo and seeing if it can find itself a spot in the trainer recommendations guide for this fall. Hopefully that'll be sooner rather than later!

Found This Post Useful? Support The Site!
Hopefully you found this review useful. At the end of the day, I'm an athlete just like you looking for the most detail possible on a new purchase – so my review is written from the standpoint of how I used the device. The reviews generally take a lot of hours to put together, so it's a fair bit of work (and labor of love). As you probably noticed by looking below, I also take time to answer all the questions posted in the comments – and there's quite a bit of detail in there as well.
If you're shopping for the Elite Tuo or any other accessory items, please consider using the affiliate links below! As an Amazon Associate I earn from qualifying purchases. It doesn't cost you anything extra, but your purchases help support this website a lot. Even more, if you use Backcountry.com or Competitive Cyclist with coupon code DCRAINMAKER, first time users save 15% on applicable products! Or, with TPC (The Pro's Closet), you'll save $40 on purchases over $200 with coupon code DCRAIN40!
And finally, here's a handy list of trainer accessories that most folks getting a smart trainer for the first time might not have already:
And of course – you can always sign-up to be a DCR Supporter! That gets you an ad-free DCR, access to the DCR Quarantine Corner video series packed with behind the scenes tidbits...and it also makes you awesome. And being awesome is what it's all about!
Thanks for reading! And as always, feel free to post comments or questions in the comments section below, I'll be happy to try and answer them as quickly as possible. And lastly, if you felt this review was useful – I always appreciate feedback in the comments below. Thanks!