This weekend was a bit of a calm before the inevitable storm. The storm that will inevitably occur anytime the number of children increases in a household, but in particular, increases beyond the number of parents in the household. In short, we're about to be outnumbered. But that'll probably be covered in next weekend's 5 Random Things. For now, there's just two Peanuts – though I think they've got some sort of energy multiplier already in effect. For what could be one of our last weekends of 2:2 ratio, here's what we were up to!
1) Lions, Sea Lions, and Elephants
There are no tigers or bears at the zoo. Though, there are panthers. They curiously had a sign in front of them as such: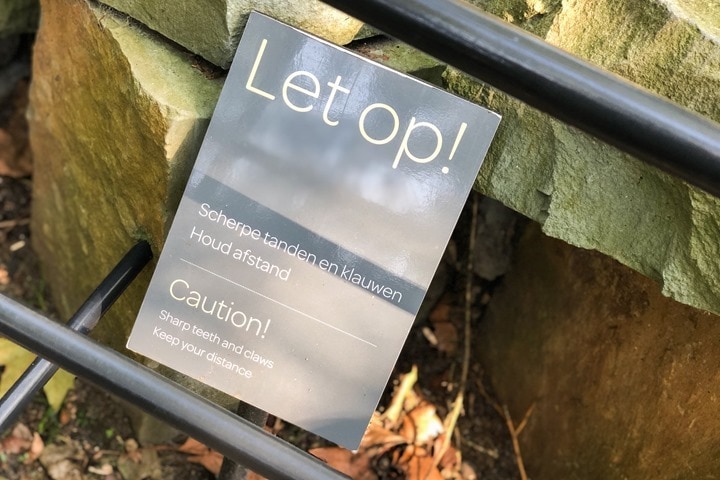 Which begs two questions:
A) Was there ever uncertainty around this fact?
B) In what situations during your stay would this fact be of concern?
Interestingly, they had variations of the sharp claws/teeth sign up on a few different animal exhibits. All of the signage was definitely accurate, although, this would seem to be akin to having a sign in front of an airplane that says 'Heavy if it falls on you'. This shouldn't be an issue.
Still, I suppose some people are more inclined to receive a Darwin Award than others.
And in the case of the Amsterdam Zoo in particular, there are a number of scenarios where the zoo has created wall-less or fence-less habitats that don't create a visual barrier between you and the animal. For example the elephants, giraffes, and zebras are all merely behind a lake stocked with fish: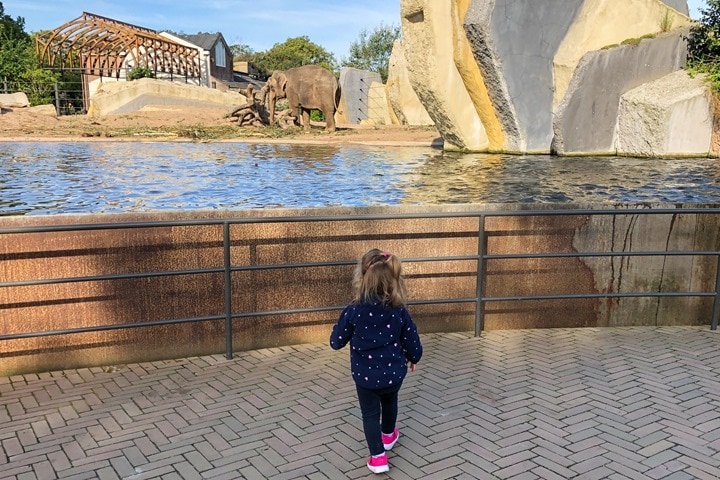 Or the camels, buffalo, and others across this little waterway: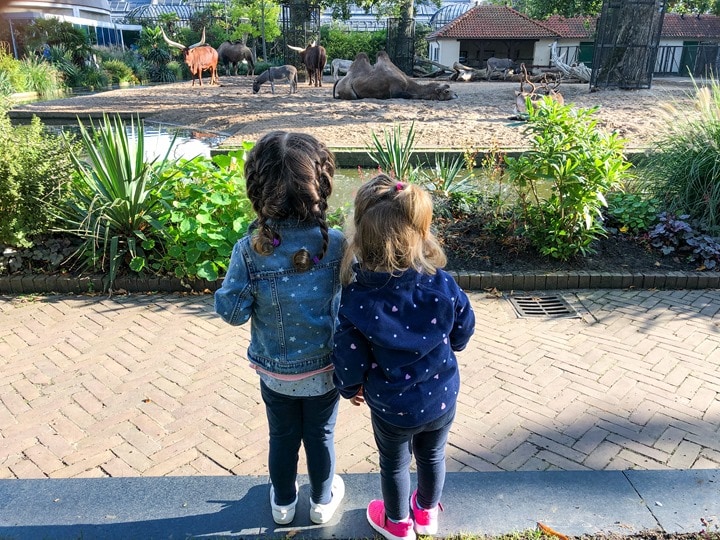 And even the lions are a mere canal away. And less you think lions don't swim – you'd be mistaken as we saw. One errant bird apparently annoyed the lion one too many times and boom – lion leapt full Michael Phelps style into the canal. Regrettably, I didn't get a photo of that while holding the two kiddos, but, here's the lion prior to him looking like a drowned rat: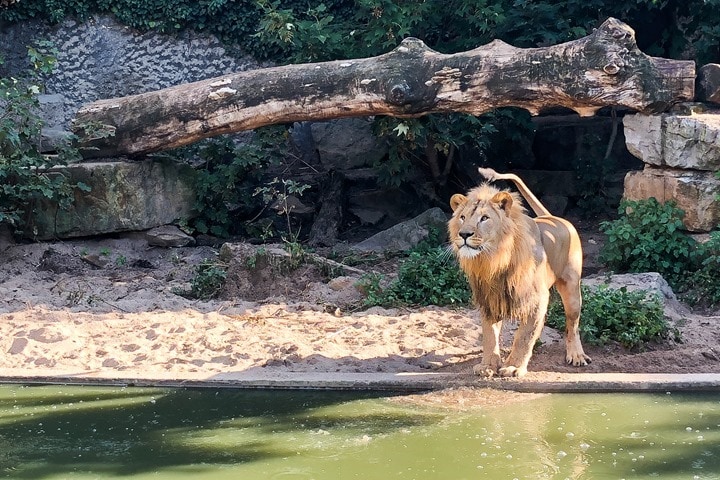 Oh, and here's the sea lions. The Girls stood/sat next to them and watched them forever.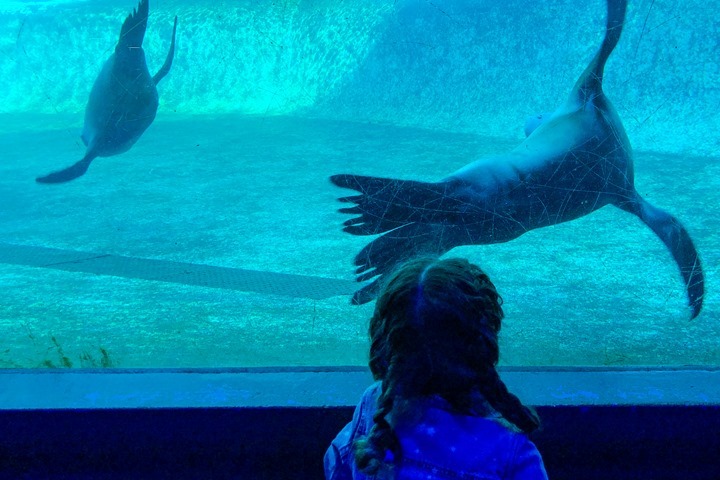 After hanging out with plenty more creatures we headed home in time for lunch. And also in time to avoid the influx of people. Going to the zoo early in the morning is the best time for sure.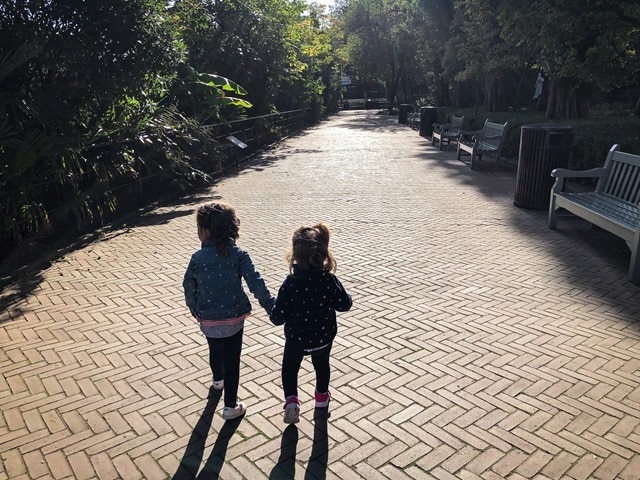 Empty pathways for ages. Again, go to the zoo at 9AM, not noon.
2) TrainerRoad Saturday Intervals
After dropping off the kiddos at home for a nap, I turned right back around and headed to the DCR Cave for some quick test riding. I had updated the Tacx NEO bike a few days prior to the final production firmware and have been doing the rounds on it with various apps.
Today's turn was TrainerRoad with a longer/extended workout, not my usual 30×30 test workout (30-seconds high wattage, 30 seconds rest, repeat a bunch). That specific custom 30×30 test workout I have is fine for testing devices and responsiveness/stability, but it's not terribly ideal as a workout for me. Certainly, I could make it longer (there are plenty of examples of that), but I like that every single trainer I've ever tested in the last half a decade or so has this specific 30×30 workout in the review. Easy to compare.
So for this one I selected Cartwright -1. It was a bit more steady-state:

In any case, I had the bike completely ready to go. Which for most people would be the normal configuration – but for me it's ensuring that all the extra sensors and computers to record the data are already charged and ready to roll. So all I needed to do was change into cycling gear and start pedaling.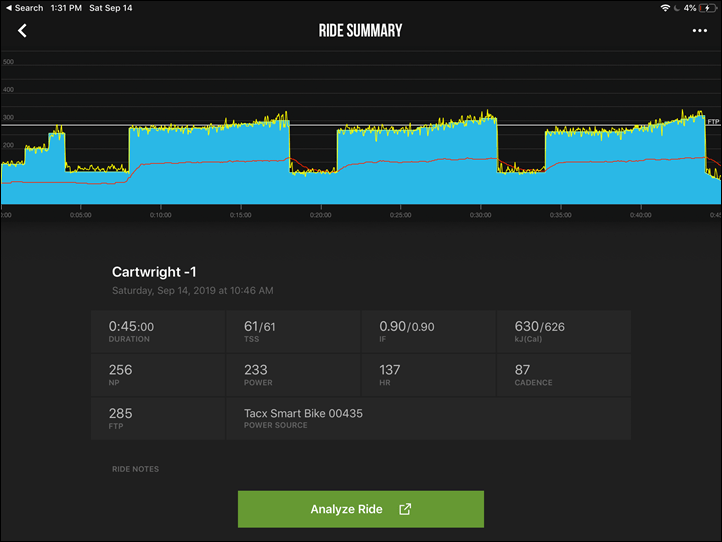 And that I did, and of course, taking a few pics along the way. I'll dive more into this data set tomorrow in my full Tacx NEO Bike In-Depth Review.
3) Street Parties
Our neighborhood was having a bit of a street and square party. I'm not entirely sure why, but there were plenty of things going on. It was the first year for the event. Out in the square there was a stage setup, along with live music all day and well into the night: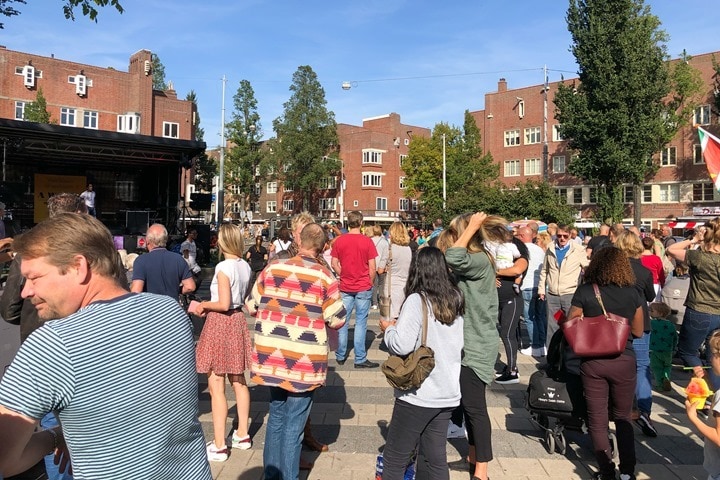 Plus plenty of food stalls, including this awesome one making gigantic fresh Stroopwafels on-demand:
And then one of the quieter streets was totally closed down to cars (with no cars permitted to park there either), and folks could hang out and enjoy it. They even brought in a few bouncy castles: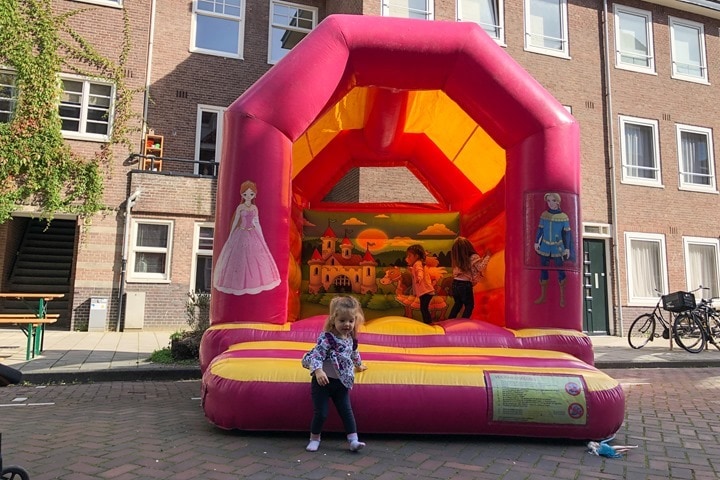 Plus face painters, clowns that made balloon animals, and plenty more. The kids were thrilled at the bouncy castles and sidewalk chalk.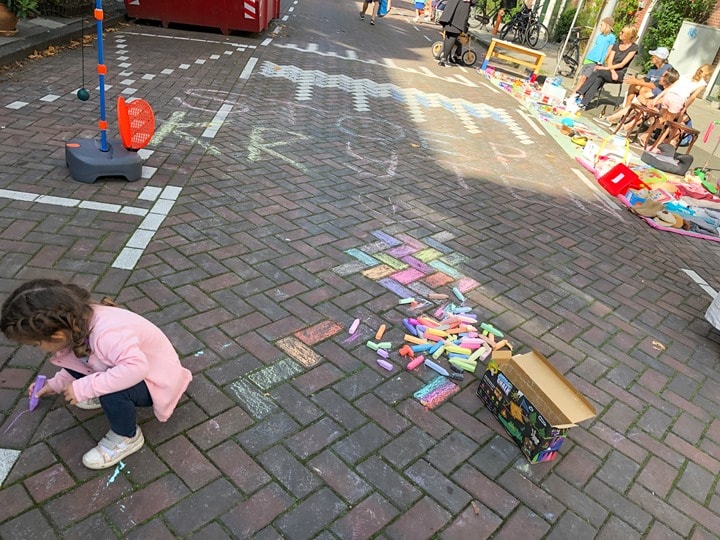 Though, I guess since it was in the middle of the street, it's not really sidewalk chalk anymore. Hmm…
4) Goats & Planes via Bike
On Sunday I took the kids on two similar multi-hour adventures via bike. In the morning just after breakfast we headed out to the Bos (Amsterdam Forest) and after much meandering arrived at the goat farm. You can get in and feed the baby goats bottles of milk here, or feed the pigs or really all sorts of animals. It's all animals all the time.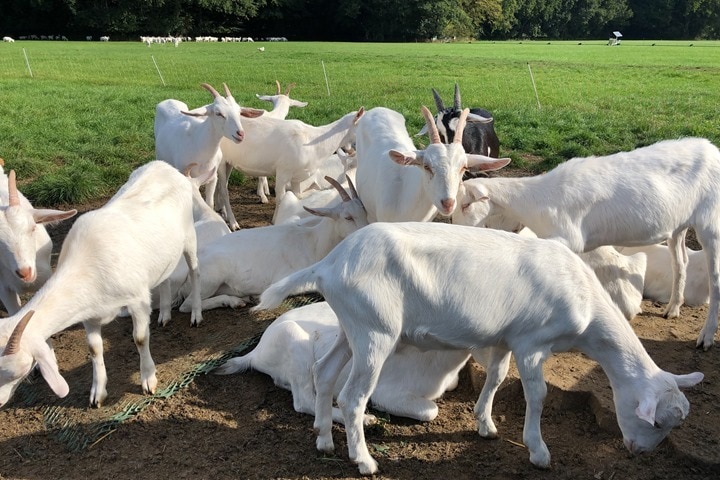 And then there's a café that has products from the farm and others nearby: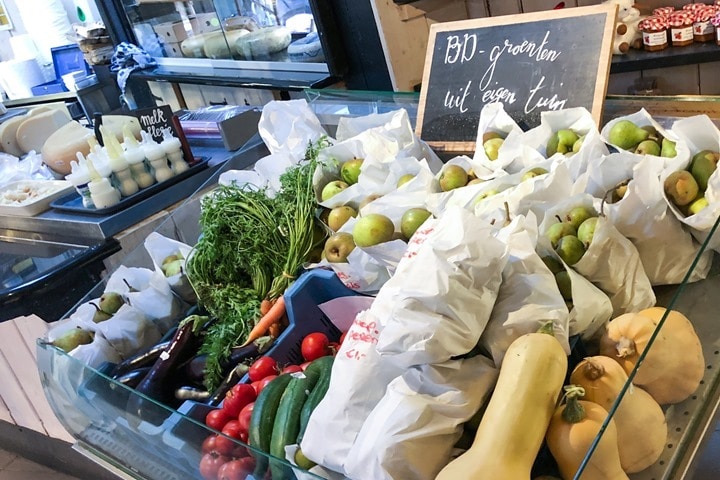 The Peanuts just wanted fresh apple pie. Which is a fair request, a dessert that the Dutch do exceptionally well: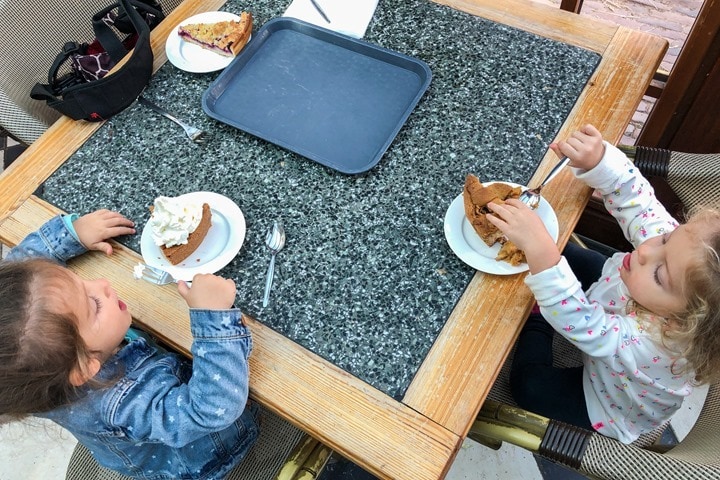 After that, we peddled across the river to Schiphol airport. There's actually a hotel you can stay at nearby that had a 747 delivered to it earlier this year (far more detail here). I've always seen it on the way to the airport, but due to the highway walls you couldn't really see it well. So we went and checked it out. Yes, that's the bike down below it: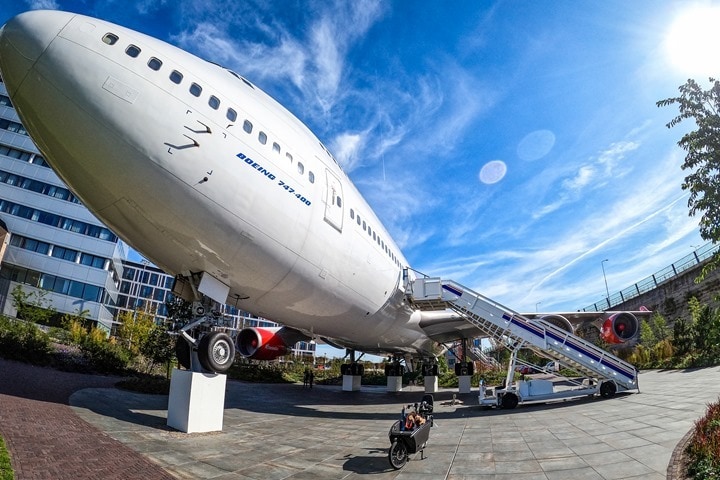 And then afterwards we wandered off to watch airplanes take-off and land. The Peanuts loved it and were (rightfully so) displeased when we had to leave.
Can't blame them really. Fear not, turns out the end of the runways are only 21 minutes by bike. Though, a few minutes longer when you have to wait for fuzzy cows to get off the path. You can spot 4-5 of them in the photo below. They were all sitting on the path until they decided to slow roll it out of the way.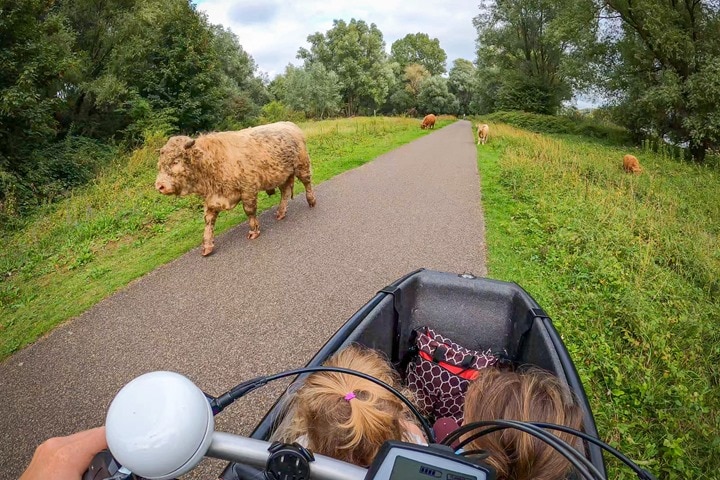 Despite the fuzzy cow blockade, we'll make our way back again for sure!
5) Review Prep Bits
Finally, last but not least, there were a bunch of review related prep bits for a few different things coming out over the next 1-2 weeks. Lots of photos to take, and data to analyze.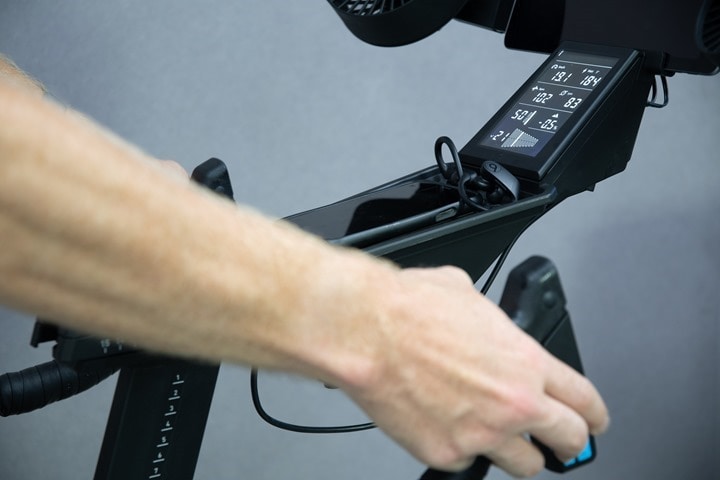 Expect that you'll see a bit more indoor trainer/bike focus the next week or two, and then a bit of a shift back to wearables around the end of the month as I push out reviews on the Apple Watch Series 5, Venu, and Vivoactive 4/4S. It was an expensive last week around these parts: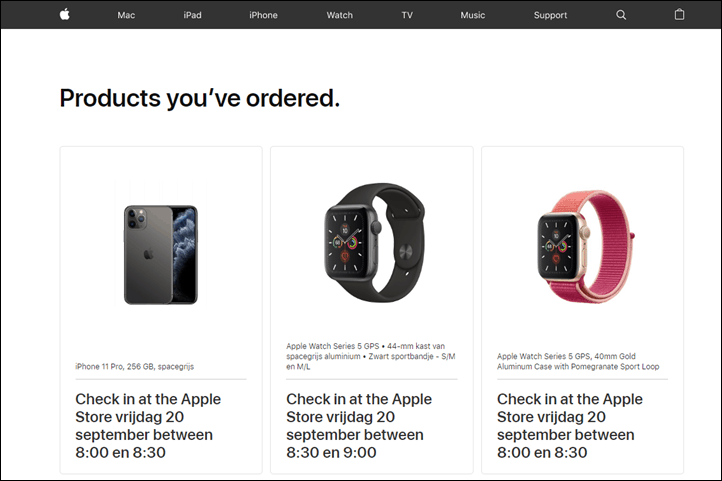 Look…The Girl wanted an Apple Watch. Who am I to deny her access to sports tech? Apparently none of the ones in the bin in the closet titled 'Apple Watches' would do. Wrong color or something. Shrug. Beyond that, who knows what else will float down the canal into the DCR Cave. Probably not another boat.
With that – thanks for reading and have a good week ahead!