There's a pretty good chance you've never heard of Magene, nor Gravat (or the Gravat2).  But that's OK, now you have. There's also a pretty good chance you're not going to buy this product. Not because it's got any issues, but rather, because you don't live in a region where it's offered and supported.
But that doesn't mean this review isn't worth a read (or at least a skim). There's no doubt the major trainer companies will be paying attention, and for good reason: While this may be a bit of a copy-cat trainer, it's also one that's actually executed well. Surprisingly well.
See, Magene is a cycling company based in China, and Gravat is one of their trainer lines, with the most current iteration being the Gravat2.  This direct drive trainer aims to compete with trainers like the Wahoo KICKR and Elite Direto.
Now just because a trainer is made in China doesn't disqualify it from consideration. After all, some of the most popular products in both the cycling and consumer tech scene are made in China, or Asia at large. Wahoo has historically made their KICKR trainers in Taiwan, and of course the iPhone is made in China.  Both fine examples of high-end products that are made well.  When I see a comment from someone saying that a product made in China is junk, it shows a misunderstanding of how products are made. The reality is that it all comes down to how a company oversees development manufacturing – be it in China, Wisconsin, or Italy.  All places are fully capable of producing both great products…and great pieces of crap.
The question is then – is the Gravat2 trainer accurate and respectable, and if so – is it worth the risk of buying from a relatively unknown newcomer?  That's what I set out to find out.  The company shipped me a loaner Gravat2 to try out, which I've already since returned to them. And after a bit of time, like a fine wine, here's my in-depth review on my experience with it.
(Note: Like all my reviews, I don't accept payment for reviews. I want to specifically call that out on this review, as Magene attempted/offered numerous times for payment in exchange for review of their products – all of which I've declined. I've never taken payment of any type for a review of any sort. Thus, if looking at other reviews, it's something to consider.)
What's in the box:
Here's the box. It took a bit of a beating as it travelled a gazillion miles through a pile of different countries, but that's OK, it's just the exterior box.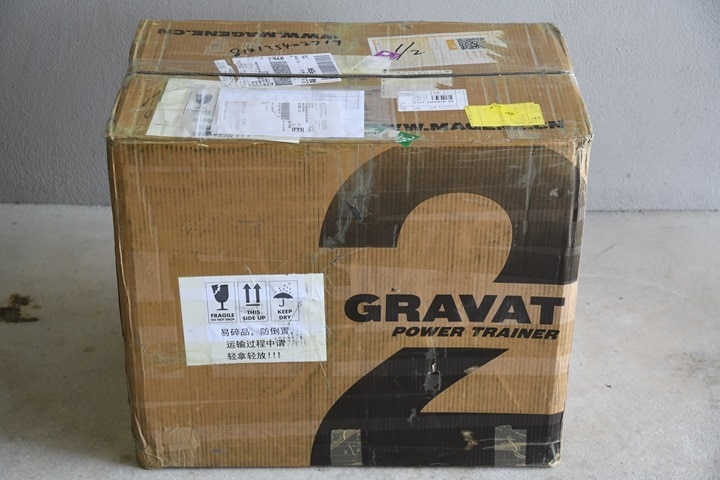 Like a Russian stacking doll, inside there was another box with the trainer inside of it: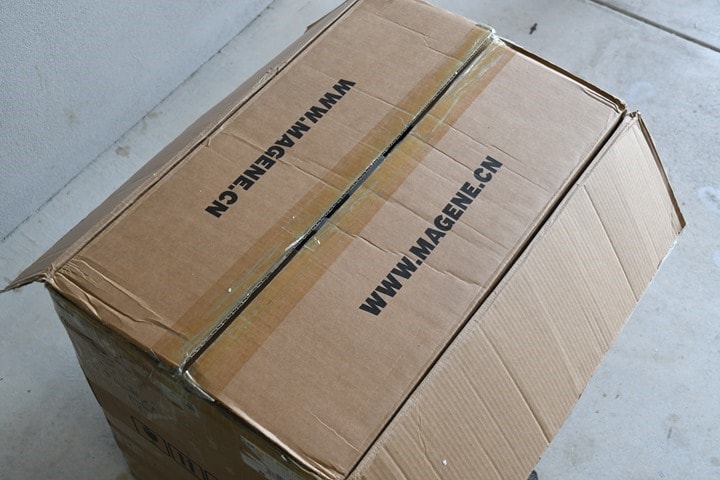 I took everything out and placed it in front of the box doll: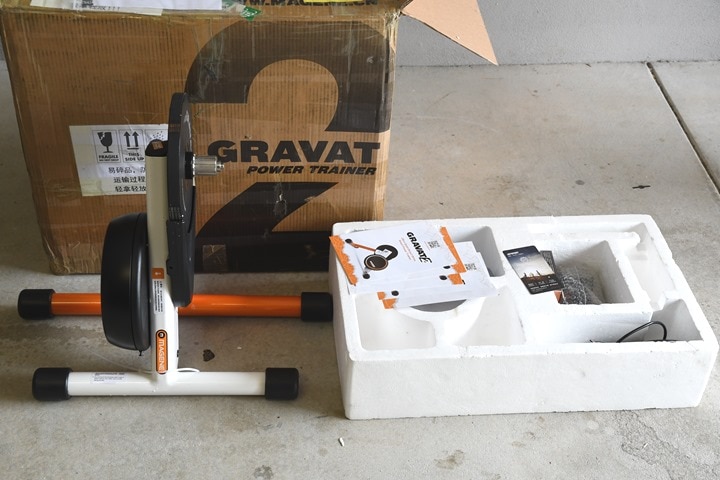 Looking at some of the smaller bits in the box, here's what we've got: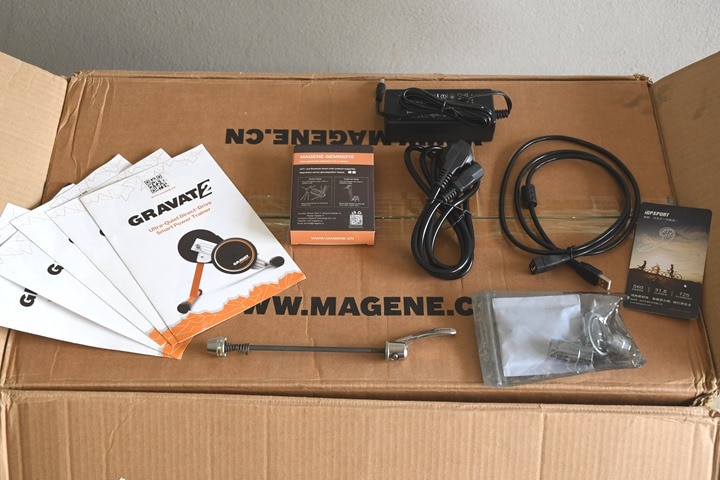 You can see above:
A) A trainer skewer
B) Thru-axle adapters
C) USB Extender cable
D) Power cord (in two parts)
E) A separate cadence sensor
F) A large pile of papers
G) ANT+ USB Stick [Not pictured, it fell out of the box later on]
A number of trainer companies include accessory cadence sensors in their boxes – including Wahoo and Elite. Magene is no different here. It's simply a duplicate of the Garmin magnet-less cadence sensor that came out a few years back.
The included USB extender cable is a good idea in theory, though perhaps a bit short in reality. See, the cable, in theory, is supposed to be used with an ANT+ USB adapter, for apps like Zwift and TrainerRoad.  But it's simply too short for that purpose. When companies talk about extender cables, they're looking at ones that are perhaps a few meters in length – enough to put the ANT+ stick right next to your trainer (usually to deal with interference elsewhere).  For example, the slightly overpriced Tacx extender ANT+ doohicky is 2-meters (though, it is designed quite a bit fancier).
And then we've got the papers: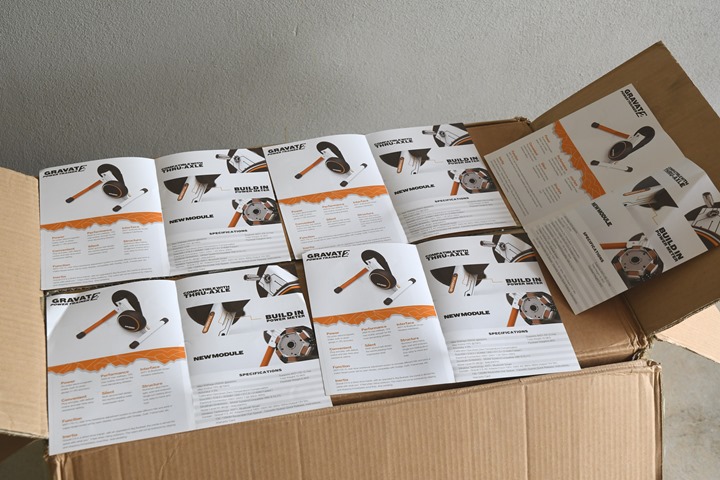 At first I thought they were separate languages. But then I realized they were all English, and essentially just advertising the same trainer I had. I'm not exactly sure what went wrong here, but I suspect it's just a minor oversight in shipping. Either way, I distributed all of these to my neighbors, just in case.
Oh, and here's the trainer!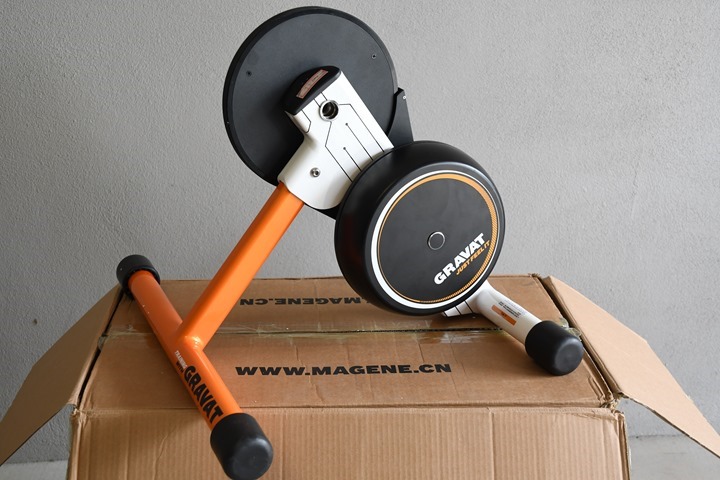 It had some minor stickers on it that didn't seem to belong – I think they were for internal tracking of demo samples or something: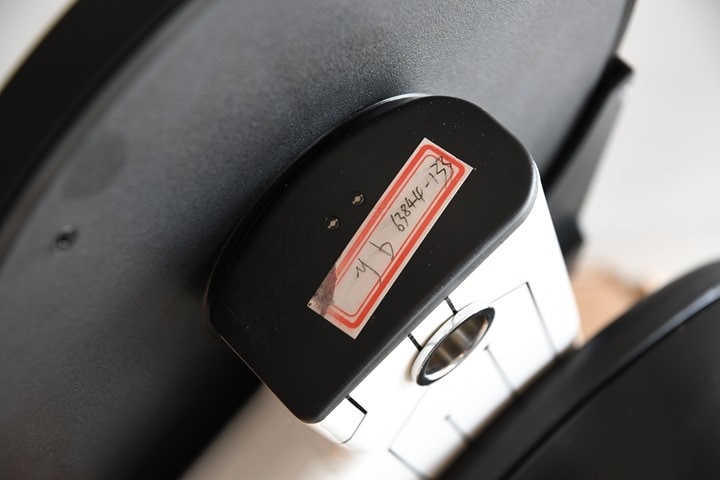 As a bit of a behind the scenes on 'how the sausage is made', with respect to reviews, typically I get brand new units off the line (from any company) in generally untouched packaging (or at least, it's made to appear untouched).  Of course, when I buy stuff myself as well, it's also untouched.
In this case I suspect these units float around to different reviewers.  Which has its pros and cons. It's less ideal on one hand because it implies these are likely triple-checked for quality.  But on the flip-side it's actually good because more time has been put into these units than by any single reviewer.
Finally, given the primary market for this trainer is China, it stands to reason that there are stickers in Chinese. What I found somewhat interesting though is that the various warning stickers on the trainer actually aren't duplicate in language though.  Meaning, there's a warning sticker in Chinese and English telling you to not touch the flywheel: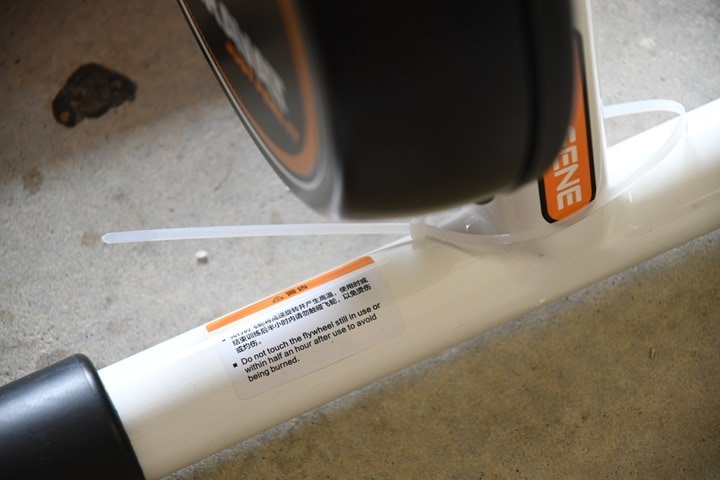 And then there's this one in just Chinese in a different part. I don't know what it says, but it's not the same characters as the first one. I'll presume it says to run away from purple elephants.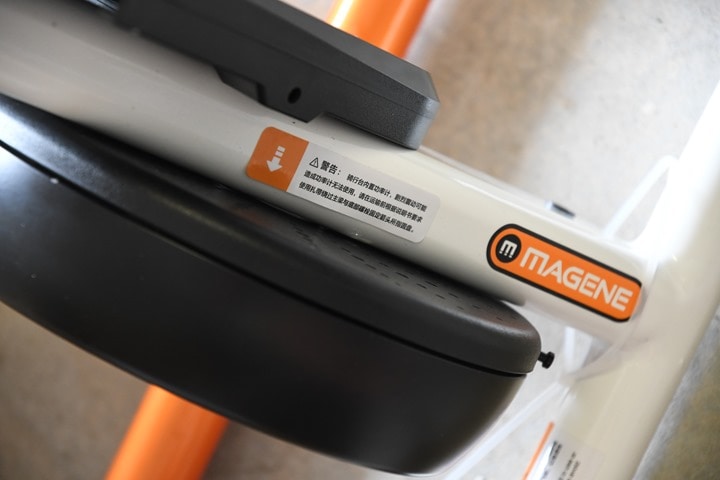 In any event, let's get this thing set up.
The Basics: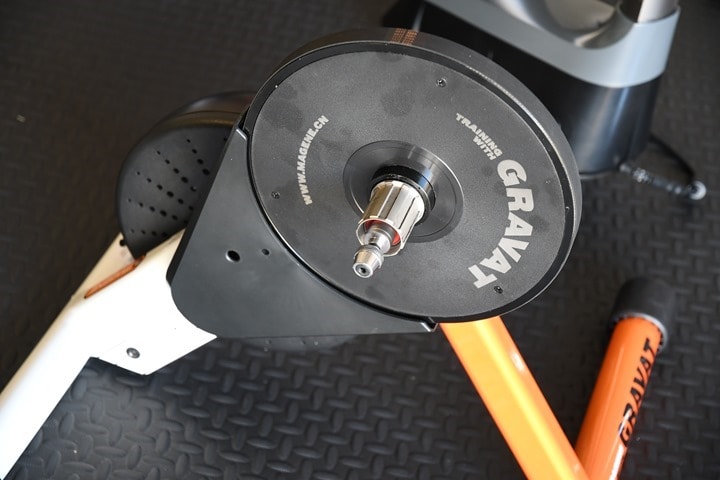 Like many sub-$1000 direct drive trainers, the Gravat2 doesn't come with a cassette. For that, you'll need to procure and install your own. On average the cost of a Shimano Ultegra 11-speed cassette runs about $65.  Of course, you can go SRAM if you have SRAM, it's compatible with 9/10/11 speed cassettes from both companies.  You will need a lockring tool though to install the cassette, and ideally a chain whip.
Since I was travelling for a few months at the time I got this, I went to the bike shop and bought all this stuff – tools included: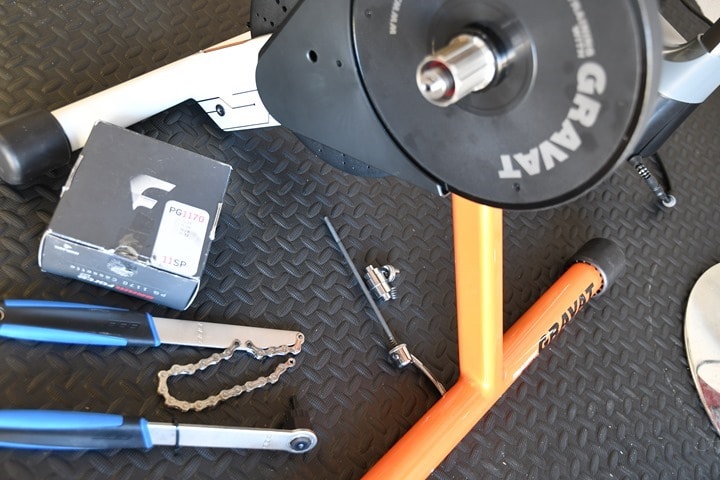 (Funny story: When I returned home from Australia, it was one of these tools that put me over the luggage weight limit. We ended up throwing it away at the check-in desk, as the fee for keeping the tool would have been about 5x what the tool was worth. Sad panda.)
Installing the cassette is pretty quick and easy and only took a couple of minutes:
In my case, I didn't need to swap out for the thru-axle adapters, since this specific bike was using a standard quick release skewer.  So I simply mounted up the bike quick and easy. Given it's a direct drive bike, that means my rear wheel is removed (hence why I needed the cassette).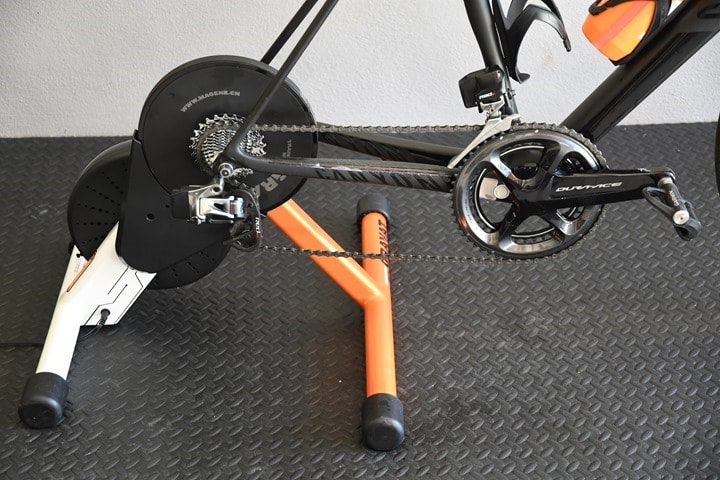 Of course, it's at this juncture that you'll say that looks a heck of a lot like a KICKR CORE.  Well, technically, the Gravat2 trainer came first, so the KICKR CORE looks a lot like the Gravat2.
But that would be missing the more correct observation – which is that the Gravat2 actually looks identical the original KICKR, minus the legs.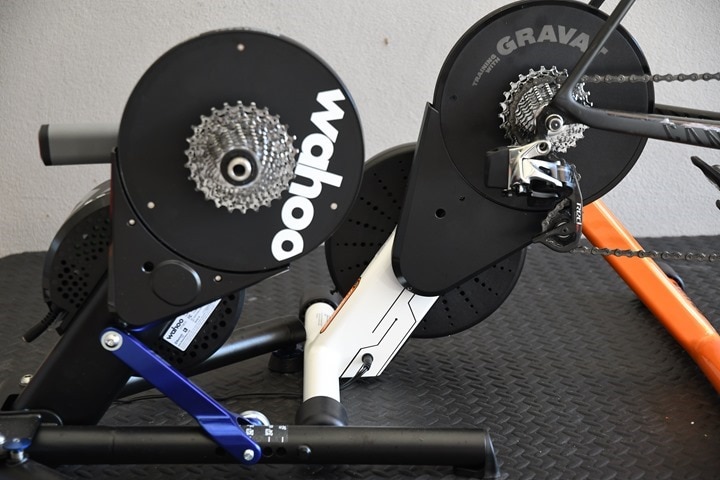 As you can see, it's basically a copy of the main portion of the Wahoo KICKR. Even some of the screw holes line-up precisely. About the only difference from this side of the trainer is the pattern of holes on the plastic. Imitation is the greatest form of flattery?  Something like that.
In any case, the Gravat2 (like the KICKR) does require it be plugged into a power source, and this is done via a small port at the bottom of the legs.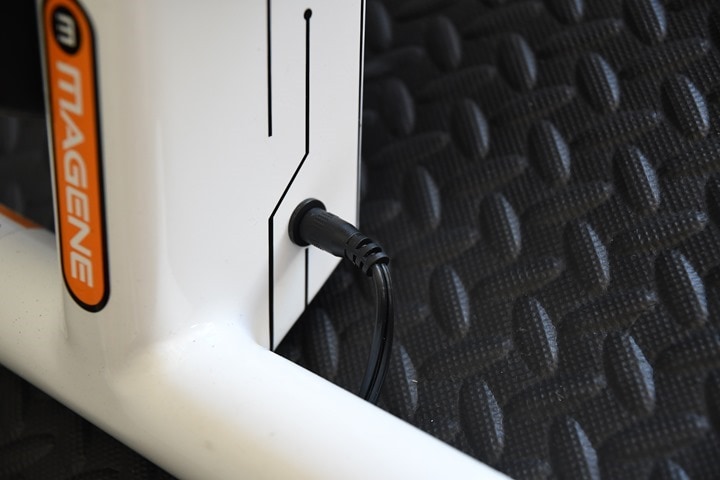 And atop that frame is a small status light as well indicating power status and connectivity across control protocols.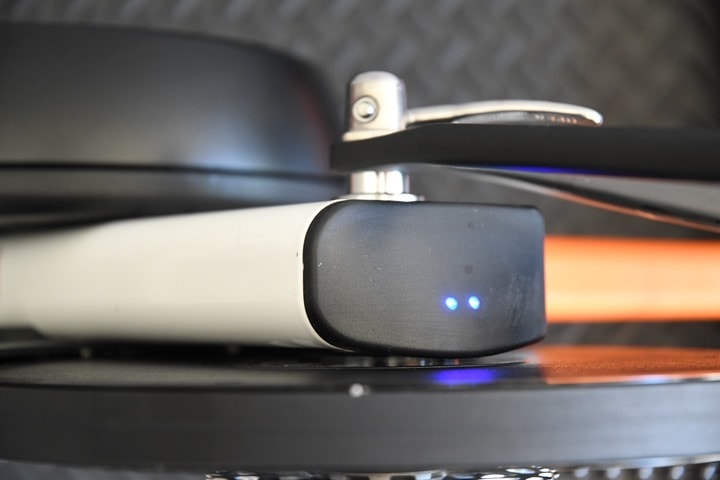 Now the single biggest thing that I didn't like on the Gravat2 was actually a hardware design element: The legs.  Specifically, how easy it is to get your fingers caught in them when folding up the trainer to move/store it.
The Gravat2 lacks a handle to pick up the unit with.  So, you've naturally gotta decide where to do that. The most logical place is the point of the trainer closest to the middle near the flywheel, so that it doesn't swing back and hit you in the legs.  Thus, that's the upper portion of the orange leg as it meets the main flywheel.  But when you do that, the rest of the trainer swings towards the orange legs, crunching your fingers. It's an awesome feeling that you'll only do once.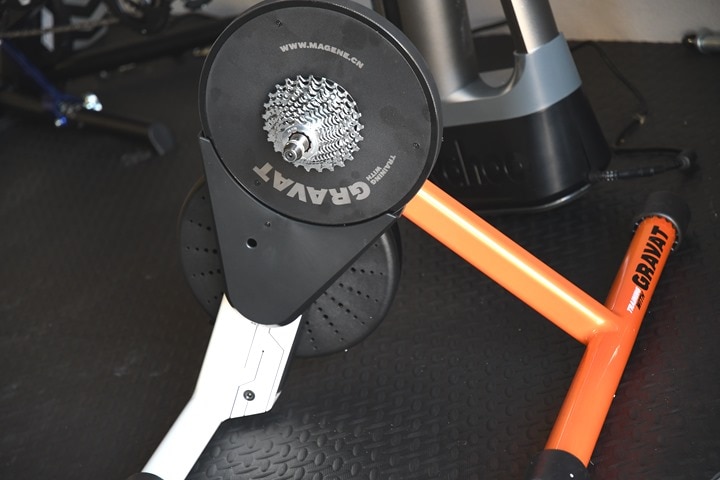 There's no safety lock on the Gravat2 to prevent that.  I asked Magene about this, and they seemed to agree it would be a good idea to add such a lock.
In fact, if you look at the new Wahoo KICKR CORE, you'll find it has a safety lock. Sorta. Even Wahoo's safety lock design is somewhat sucky, it's not a sturdy lock, but more of a half-ass pin designed to slow the inevitable crunching of your fingers.  In the case of Wahoo, your fingers will still get crunched eventually, but you're somewhat forced to realize it's about to happen before it does.  Not sure why welding a handle is so difficult for either of these companies.
(Actually, I know why: Partially cost, but mostly because I can see the engineering discussions around a table about how placement of a handle wouldn't be weight-balanced when picking it up. So the solution? Leave you still weight-unbalanced but now awkwardly holding a heavy trainer and crunching your fingers. Sigh.)
In any event, all that aside, we last left off with my bike happily on the trainer: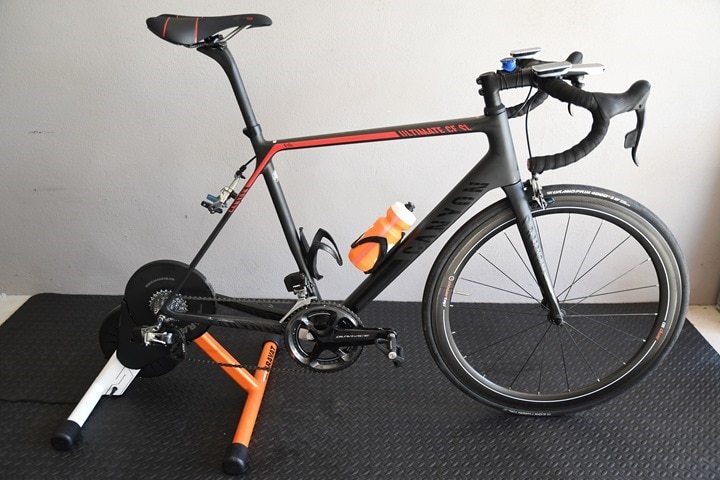 The first thing you'll want to do is calibrate the trainer using their app – just to ensure it's all settled. No different than most other trainers these days: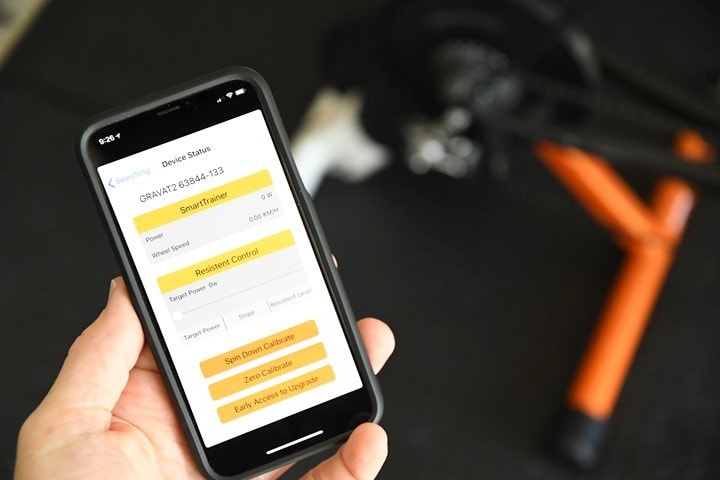 Doing so with the app is quick and straightforward. You simply go and select the Gravat2 trainer from the list of random Bluetooth Smart devices nearby, and then select to do a spin-down calibrate:
After which you'll spin up and then let the trainer coast down:
I will note on calibration that I found no need to constantly recalibrate it, even when temperatures shifted. I had the trainer in the garage of our AirBNB, which got hot as balls in the Australian summer…and then pretended to cool-down at night.  No matter what temp I did my rides in, it stayed consistent.
From the app, you can also upgrade the firmware as well, though in my case, it was on the latest.
Note above you can do a very simple resistance control mode from their app – setting a target power, slope, or resistance level. It all worked just fine, and did as I expected.
So what about road-feel? Well, as I've noted many times before, I still can't separate the fact that I'm on a trainer staring at a blank wall (or garage door as it was here) from pretending to ride outside. So to me, it all still feels like a trainer. But given I had a KICKR 2017 trainer directly next to it, it actually made it reasonably easy to see if there were any differences – and to me, they pretty much felt about the same. The Gravat2 technically has a bigger flywheel than the KICKR 2017, though slightly less than the KICKR 2018.
I'm sure there would (like comparing any two trainers) be some specific edge case that you'd notice one more than the other.  But road-feel wasn't really an issue on the Gravat2 trainer, all good there.
And finally, before we start talking app compatibility and power accuracy, what about sound? It was quieter than the KICKR 2017 I had next to it.  I have a video I shot somewhere, but after looking through 8 terabytes of videos/photos from the last 6 months, I can't figure out where that video clip went. Either way, it's very quiet and ultimately you're most likely to hear the drive-chain over it. Like most trainers in this category, as soon as you turn on a fan to cool you, the sound disappears anyway. Given the new KICKR 2018 and KICKR CORE, that are also silent, have come out a few months later, since I tried this product, I wouldn't be able to say unless side by side which was most silent.
Ok, let's get into the app side of the house!
App Compatibility: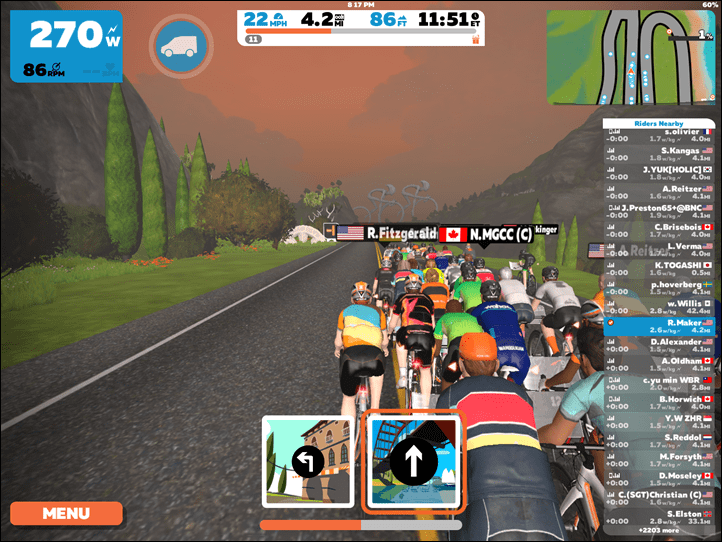 The Gravat2 follows the industry norms as you'd expect from most trainers these days.  As you probably know, apps like Zwift, TrainerRoad, SufferFest, Rouvy, Kinomap and many more all support most of these industry standards, making it easy to use whatever app you'd like.  If trainers or apps don't support these standards, then it makes it far more difficult for you as the end user. Ironically, this trainer worked more consistently with these apps than some of their better-known competitors. Go figure.
The Gravat2 transmits data on both ANT+ & Bluetooth Smart as well, allowing interactive resistance control across both ANT+ & Bluetooth Smart.  By applying resistance control apps can simulate climbs as well as set specific wattage targets.
The trainer supports the following protocol and transmission standards:
ANT+ FE-C Control: This is for controlling the trainer via ANT+ from apps and head units. Read tons about it here.
ANT+ Power Meter Profile: This broadcasts as a standard ANT+ power meter with speed, but NOT cadence.
Bluetooth Smart Control: This follows the Bluetooth Smart FTMS trainer control industry standard.
Bluetooth Smart Power Meter Profile: This broadcasts as a standard BLE power meter, with speed, but NOT cadence.
It's these same standards that also allow you to connect via head units too. For example the Wahoo ELEMNT/BOLT as well as Garmin Edge series support ANT+ FE-C for trainer control, so you can re-ride outdoor rides straight from your bike head unit to your trainer.  In the case of the Gravat2 these easily pair up that way.  You can also use it for recording data as well too.  For example, for my accuracy testing section, I recorded the data on a Garmin Edge 520 directly from the Gravat2.  From there I'm able to save the file and upload it to whatever platform I like.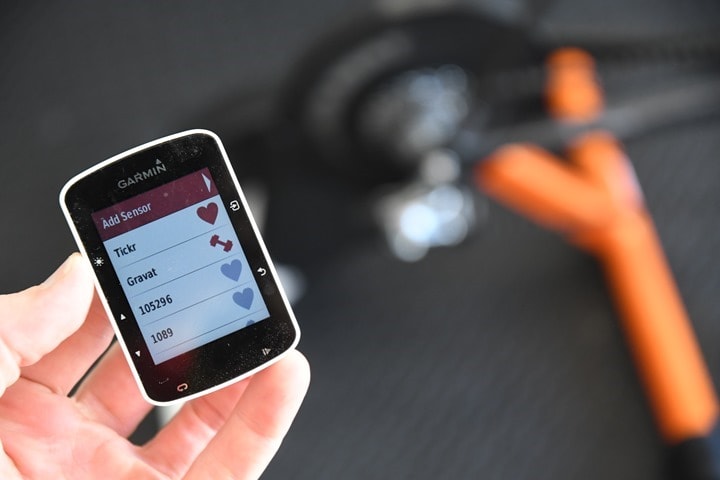 For me, in my testing, I used Zwift and TrainerRoad as my two main apps (which are the two main apps I use personally).  In the case of Zwift, I used it in regular riding mode (non-workout mode), whereas in the case of TrainerRoad I used it in a structured workout mode.  I dig into the nuances of these both within the power accuracy section. Here you can see TrainerRoad paired as an ANT+ FE-C trainer:
And here you can see the same trainer via ANT+ FE-C in Zwift:
And one last time, here's said trainer in both Zwift and TrainerRoad, this time on my iPad via Bluetooth Smart FTMS.
You know what I appreciate here?
It just @#$#@ worked.
For once.
Seriously. Magene got it right, and it worked on both ANT+ FE-C and Bluetooth Smart FTMS straight out of the box. They did their homework and I didn't have to play 50 questions with Zwift and TrainerRoad and the company in question as to why this new trainer didn't work right because the trainer manufacturer couldn't follow the spec. Again, I can't say that about everyone else. Or even the majority of others.
So kudos to Magene here on assigning someone that knows how to read a spec sheet, implement it, and by the looks of things – even got all crazy and actually tested it! Congrats!
Power Accuracy: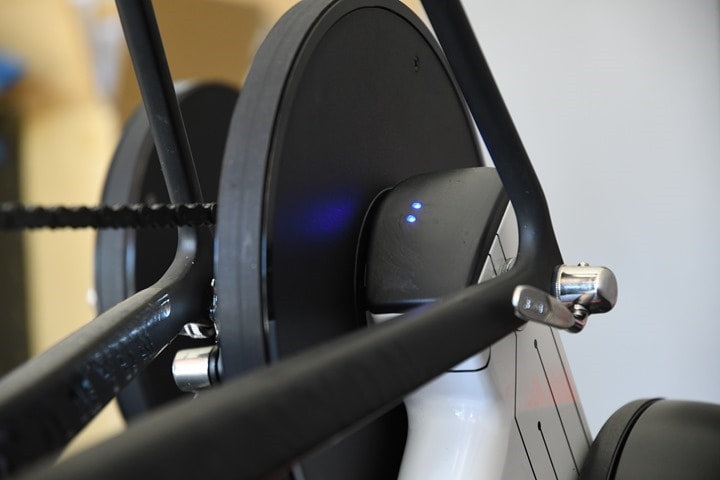 As usual, I put the trainer up against a number of power meters to see how well it handled everything from resistance control accuracy, to speed of change, to any other weird quirks along the way.
In my case, I used two different bike setups that I have in my stable at the time, each equipped with two additional power meters. Because this is a direct drive trainer I can't place a typical third power meter on my wheel hub, since said hub is removed.
Specialized 2018 Tarmac: Specialized dual-sided crank-arm power meter, Favero Assioma pedal power meter
Canyon Bike: Garmin Vector 3 power meter, Shimano dual-sided power meter
In my case, I was primarily looking to see how it reacted in two core apps: Zwift and TrainerRoad.
Those two apps basically cover the vast majority of ways trainers can connect to apps.  In my case, I did a blend of both ANT+ & Bluetooth Smart connections.  Some days I rode Zwift via ANT+ on a Windows PC, and other days I did so via Bluetooth Smart on an iPad. And with TrainerRoad the same.
We'll start with TrainerRoad, because it's my favorite test of trainers – the 30×30 test.  This tests a trainer's responsiveness as well as power accuracy.  The intervals are 30 seconds long in duration, with 30 seconds rest, and generally shift from about 100-150w up to about 400-500w, depending on how I feel that day.  I'm looking for a trainer to take about 2-4 seconds to make that power shift.  Any slower and you lose the benefits of the interval, and any faster (such as sub-second), and it's like hitting a brick wall. No, you really don't want it to change power in 0.2 seconds, it's not natural.
Here's the workout from TrainerRoad's view:

As you can see, things are actually very good on responsiveness.  If I zoom in on a random interval, you can see it took 3 seconds to shift from 142w to 423w.  And more importantly – it sustains it beautifully smoothly.

This is a fairly smooth job – and most (all?) of the tiny variances you see are more a result of me faulting than it.
But what about accuracy compared to other power meters? After all, it can be as smooth as it wants, but if it's not actually accurate, it doesn't mean much. Here's the data files from that:

Holy cow – that's super close!
Seriously, that's very very close for three power meters on this workout. If you don't believe me, go pick out any of my other trainer reviews up top and look at this same chart on other reviews.
Here's a closer look at one of the intervals:
The only nuance I'd point out is the slight bit of fluctuation during the recovery portions.  You see the Magene unit a little bit 'flexi', and that's likely due to the gearing I was in. When doing these intervals, TrainerRoad specifically recommends that you be in a gear that's producing a high speed, as it helps in stability of these exact scenarios, especially on the lower wattages.

While it's well known that trainers have max wattages (actually – dirty secret, most don't truly, it's just that companies don't have equipment to test above the wattages they specify), they also have what are known as 'wattage floors', which is when they struggle to produce a low enough wattage at certain gears.  I don't often test too much in this area, since in most cases the trainer floors tend to be in the range of 50-80w for most trainers, which tends to be below the level people often train at.
Ok, let's switch over to Zwift for a non-ERG mode effort.  Behind the scenes this tests a different mode, whereby Zwift is controlling incline rather than set-points of wattage like TrainerRoad was doing. Here's the data files from that.

Now you might immediately notice a weird line around the 10-minute marker.  I had gone to calibrate it after about 10 minutes in, and something went amiss with Zwift gaining control again of the trainer. Oddly the Gravat2 trainer actually kept broadcasting 127w throughout it, as you can see.  I didn't see that in other scenarios. I suspect there's some edge-case bug there when an app loses control of the trainer briefly and the wattage values it puts out.
Still, as you can see above – the overall plot of power between the three units is almost identical.  However, in the first 5 or so minutes, the Gravat does seem to read a little bit lower than the others before stabilizing:

Now, some would argue – probably correctly – that the Gravat should actually be reading lower than the other units, since it's further down the drive-train.  And that's true.  Usually 1-3% depending on drive-train cleanliness.  Thus, if it's matching identically, then in theory that means it's a bit high. Also potentially true. However, usually I'd account that into the category of 'within the +/- 2% tolerances of multiple units.
In any event, after the 5-minute marker, the three units are very close. The only times you see it a bit lower seems to be when I back-off on wattage. It's not quite perfect, but almost seems to back-off faster than the power meters, which is kinda…unique.

The Gravat2 also goes a bit higher on the sprints than the two other power meters. I sometimes see this with trainers and 'overreaching' a bit on short sprints, often due to the flywheel still speeding up a bit at the peak of the sprint, when I've since stopped pedaling.

After the sprints it does seem to remain a bit lower for the remainder of the workout, about where it probably should be.  So there is an element here where it seems to slowly shift a bit – perhaps 1-2% throughout the workout, compared to the other two units.

Next, let's quickly look at another Zwift workout, this one a bit shorter as I was trying to validate something else entirely on the Shimano power meter, and so I figured I'd share this for fun.  Here's the data files:

As you can see above, the three units are very very close.  What we do notice though is that on the sprints, the Gravat2 does as before – which is very slightly overextend itself beyond the other units:

In fact, if you look at the power curve for that set, you can see the Gravat2 ends up as the highest value over the sprint timeframe (far left edge):

In general – the trainer should always be the lowest value, and the power meter closest to your foot should be the highest value (in this case, Vector 3 pedals, then almost indistinguishable below that, the Shimano crank-based unit).  Obviously, once you're within the 1-2% range of each other, you're likely within the realm of their stated accuracy claims, but just as general overview of where things should stand.
In any case, overall the Gravat2 puts out fairly respectable wattage from an accuracy standpoint. It's certainly as good as other trainers in that same price point, and appears to be only marginally below the competitive higher end trainers that cost a few hundred bucks more (or substantially more in some regions this trainer is sold in).
(Note: All of the charts in these accuracy portions were created using the DCR Analyzer tool.  It allows you to compare power meters/trainers, heart rate, cadence, speed/pace, GPS tracks and plenty more. You can use it as well for your own gadget comparisons, more details here.)
Trainer Spec Comparison:
I've added the Gravat2 into the product comparison database.  This allows you to compare it against other trainers I've reviewed.  For today and tomorrow I've compared it against the Wahoo KICKR CORE, Elite Direto, and Tacx Flux 1.  These are all lower in price, but equal in specs. Above that in price is the full KICKR, but you can hit up the product comparison database link to see how it matches up there instead.
Again, remember you can hit up the product comparison database to make your own comparison charts with any products I've reviewed.
Summary: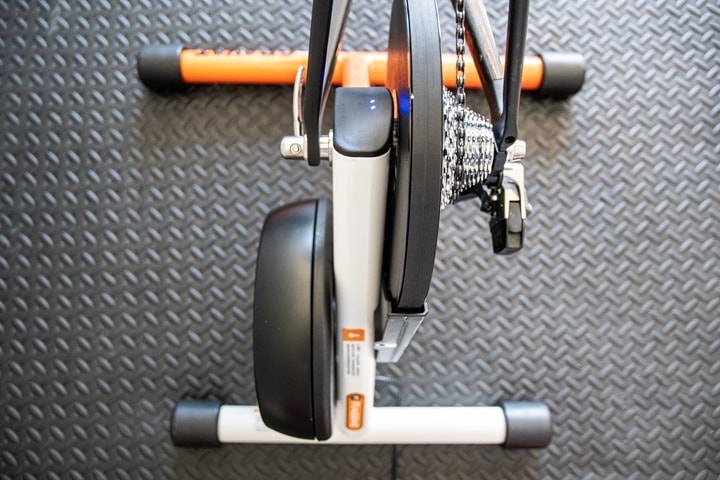 As I said at the beginning of this post, no matter how well this trainer performs, it's unlikely most of you are going to buy one. Officially the company only has distributors in China (lots of them), and one each in Thailand and Vietnam.  You can buy it globally on AliExpress, but it'll set you back $999USD, which is $100 more than the new KICKR CORE, and $100-$200 more than the Elite Direto and Tacx Flux have been for the last year.  For 98.72% of you reading here, you're outside of those three countries – and as such, that would significantly increase your support challenges.
As a rule of thumb, I strongly recommend never buying a heavy/bulky trainer outside of your supported region. Simply visit any cycling forum to read the sad-panda stories of what happens when something breaks. When you have to spend your money to ship back a 50-pound trainer half-way across the world, you'll quickly lose any cost savings you had.  Of course, I know folks in Singapore and other Asian countries that the math works out to buy the Gravat over a Wahoo trainer due to costs.
Given the limited distribution, why'd I bother to review this at all?
I'd seen more and more questions about whether one should consider this unit over a KICKR specifically– and if it was truly the same.  I think I show in this review that it's actually a pretty good duplicate of a KICKR. But I don't think it's a good trainer to buy instead of a KICKR, simply because of Magene's distribution model being so limited. If you live in China – then you'll have to do the pricing math and see if it makes sense.
Second, sometimes it's fun to shake things up a bit and cover brands outside the norm of what I usually do.  Which doesn't mean I'm going to review other Magene trainers/products. Quite honestly – that's unlikely. When a product is applicable to a mere 1.28% of my readers, that's a poor use of any site's resources (unless it involves ice cream or cookies of course). Had I actually done that math via Google Analytics prior to 4 minutes ago, I'd probably have skipped this product and you'd have some other review today instead.
But, I do want to end on the important tidbit here: While it may seem that Magene just copied a KICKR – they actually did something far more important than that: They got the underlying software and accuracy right. That's the bit that requires a lot of work and much more than just duplicating external hardware. That shows they've spent time and testing, and as I showed in the app compatibility section, they legit got everything right there across the two trainer standards.  Many 'mainstream' trainer companies still can't declare that; heck, even Wahoo still doesn't do Bluetooth Smart FTMS yet.
Thus, congrats on making a well-rounded product that conforms to everything I'd expect from a trainer in 2018.
With that – thanks for reading!