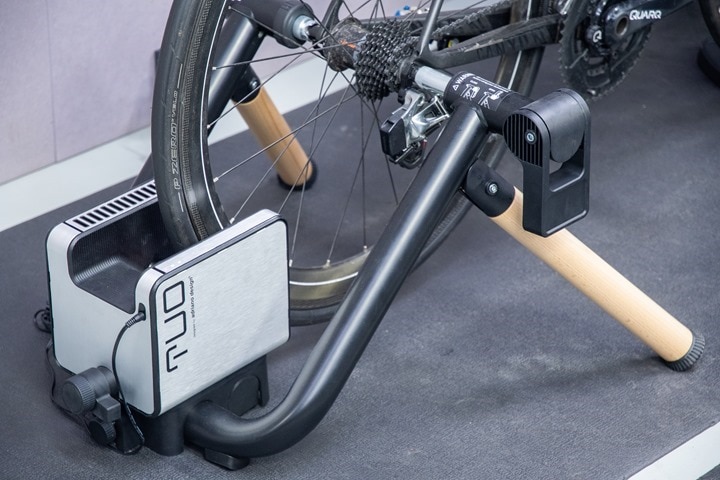 Almost exactly one year to the day after announcing the Elite Tuo trainer, Elite finally started shipping the thing last month. To their credit, the reason they held back was that the accuracy of the unit wasn't where they wanted it to be a year ago, so they kept engineering to get it where they wanted it. Of course, I'll dive into details on whether or not they achieved that goal, or just gave up and shipped it.
Of course, for some people it's not the Tuo's toaster-like appearances that are most notable, but rather the fact that it's a wheel-on trainer. These days, that type of trainer is mostly going out of style (compared to a wheel-off, direct-drive trainer). However, in reality, the wheel-on trainer remains incredibly popular in the sub-$500 price point. After all, there are no direct-drive trainers in that range.
But in reality, the most notable thing about the Tuo is actually the road-feel. Wheel-on trainers have a well-deserved reputation for having poor road-like feel. However, last year when I first tried this on a trade-show floor I was blown away by how good it felt. To the point I questioned if perhaps trade-show lack of sleep was contributing. However, after a few other industry folks I know that also jumped on it for a few seconds confirmed my thoughts, I was then eager to try it out in real-life with my own bike (and side by side to others).
I've now had that opportunity. And thus, here's my data-driven in-depth review. And, you can hit that play button below to dive straight into all sorts of toaster fun:
Note that this Elite Tuo media loaner was sent over by Elite to try out. As usual, it'll go back to them in Italy, afterwards. If you found this review useful, feel free to hit up the links at the end of the site, or consider becoming a DCR Supporter. With that – let's begin!
The Tech Specs: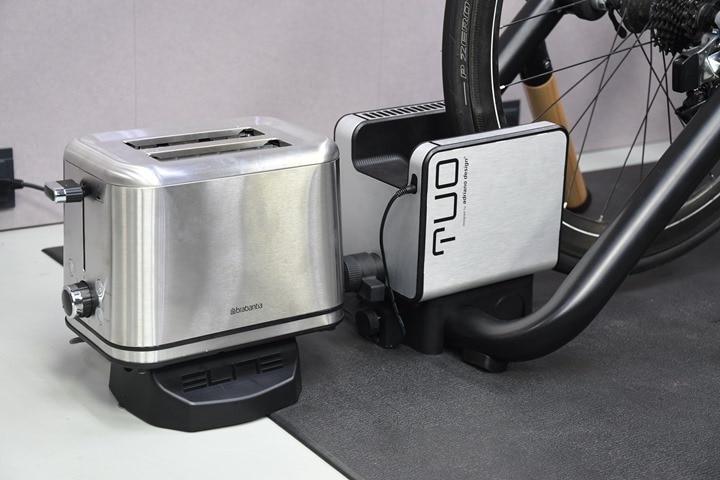 Normally this section would be a 'What's new' compared to the last edition. But in the case of the Tuo, there is no last edition. At least not in any formal way. This is the first toaster Elite has made, though, they've made countless wheel-on trainers over the years. However, deciding exactly which one grew up to bread crisper is a tall order.
Thus, we're just gonna do a quick roll of the main tech specs before we start the normal review bits. Here we go:
– Price: $529USD/499EUR…and finally shipping
– Wheel-on trainer, clamp lever design
– Max Resistance: 1,300w (40KPH)
– Max Incline Simulation: 10%
– Accuracy level: +/- 5.0%
– Trainer Control: ANT+ FE-C & Bluetooth Smart FTMS
– Power Transmission: Both ANT+ & Bluetooth Smart open power signals
– Cadence Transmission: Yes
– Looks like a sliced bread cooking machine: Yes
– Compatibility: Quick Release for road/mountain bikes (130/135 x 5mm), and thru-axle for 142x12mm included (with Boost 148x12mm accessory adapter available)
– Weight of trainer: 10.3KG/22.7lbs
Got all that? Good. Let's get it out of the box and built.
What's in the box: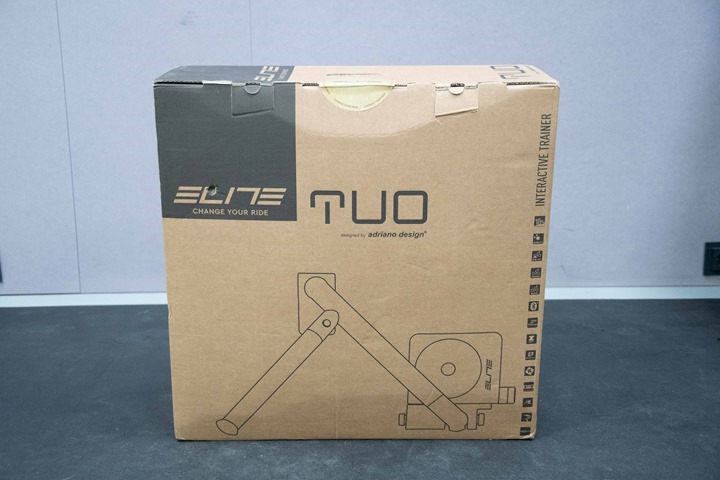 Above, is the box for the Elite Tuo, which falls in line with most of the other Elite boxes as of late. As we'll soon discover, it's not assembled out of the box, which is pretty common on less expensive trainers.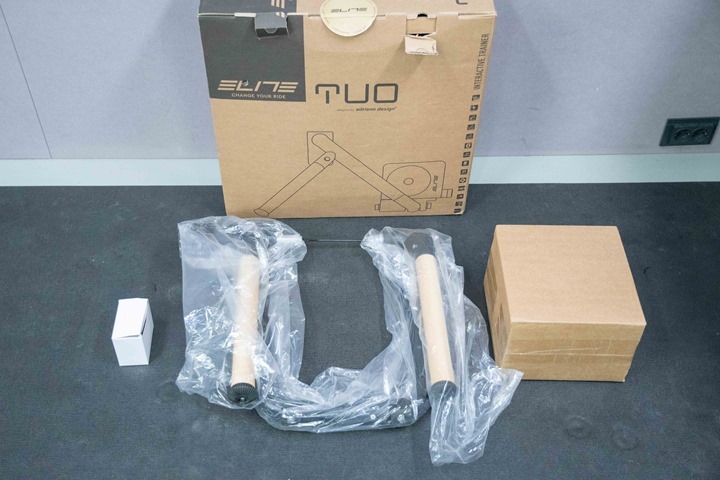 After laying the main parts sets out, we'll debox again, and find all the pieces for assembly. It's not a ton of pieces per se, but rather, some of them are just slow to assemble (such as some small screws on the underside of the Tuo). None of it is hard – if you can put batteries in a children's toy, you can assemble the Tuo.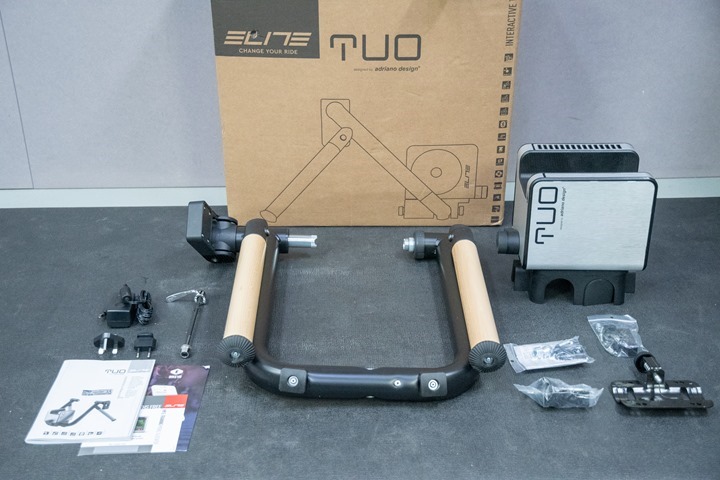 Looking closely at the parts, you've got the main resistance unit – that's the silver thing: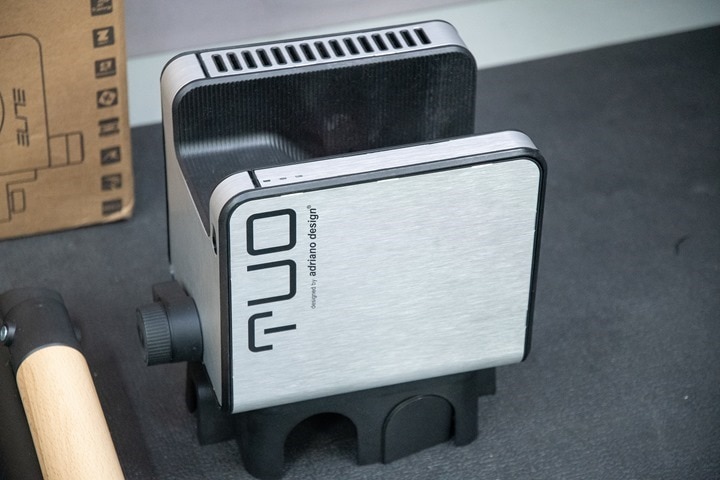 Then there's a small pile of papers with discount codes for apps and such. Oh, and the manual is in there: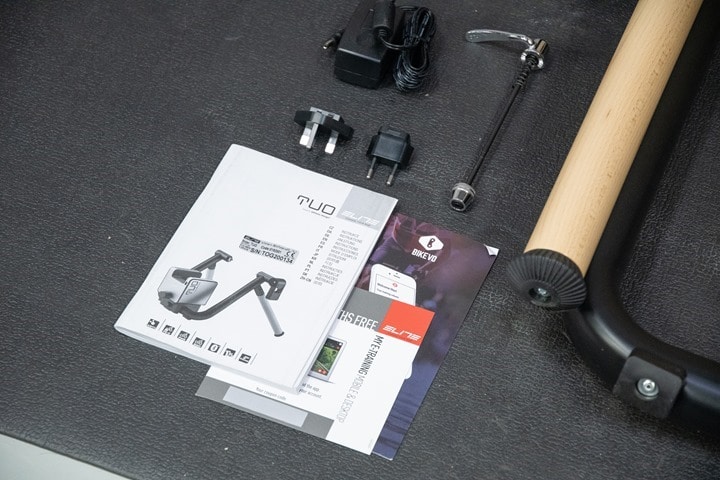 There's also a quick skewer, thru-axle adapters, and power cord: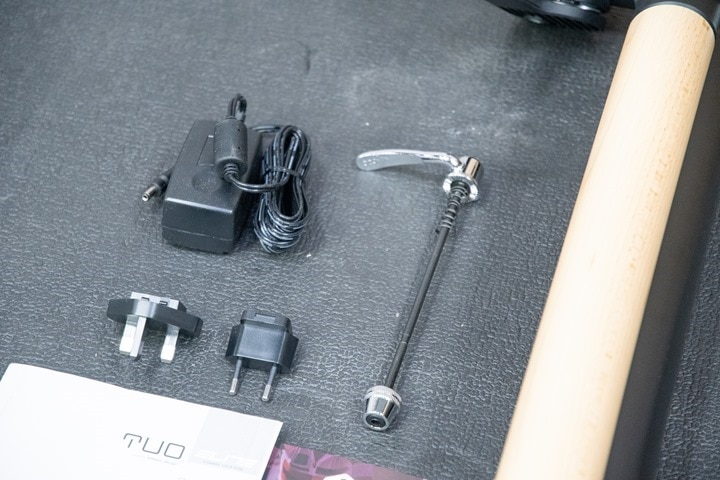 And then some of the parts you'll need to attach the Tuo onto the frame, using a bracket of sorts.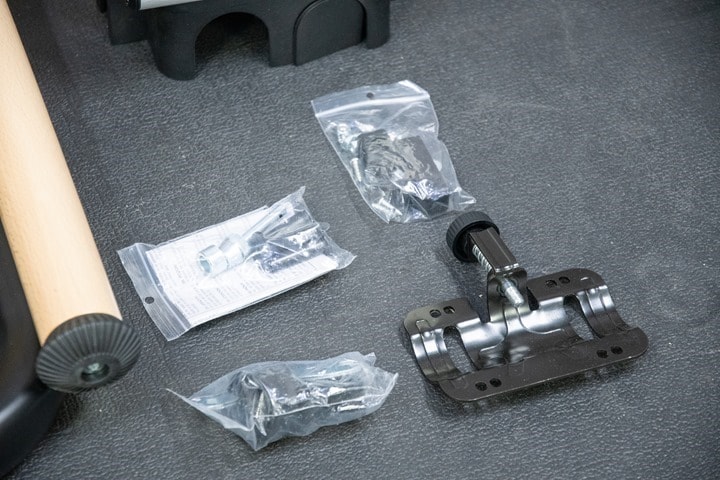 With that out of the way, let's get into assembly.
Setup:
It's been a long time since I've had to include a 'setup' section in a trainer review. A very long time. These days for many trainers you just take the trainer out of the box and you're done, or at worst you have to attach legs and a cassette. And Elite's other latest offerings are really the pinnacle of that, ready to use within 15 seconds.
The Tuo?
Nope, this toaster isn't that kinda gal (or guy).
Instead, you're gonna spent 15 minutes attempting to decipher the instructions, then another 15 minutes installing it the wrong way. A few seconds second-guessing yourself, and then realizing you did it wrong. After which you'll undo everything, re-do it again, and then realize you actually did have it right the first time.
I mean, just talking about a friend of course.
In all seriousness, it's a dumpster fire. But the good news is that as long as you simply read the few lines below – I'll make it easy for you. And none of it is technically hard. It's just unclear. The actual build, with good instructions, would take at most 3-5 minutes.
So, here's where you start: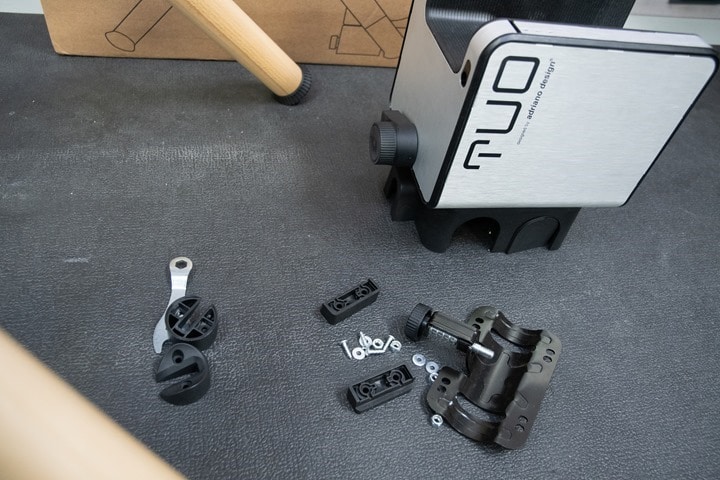 Then you're going to put the Tuo frame upside-down on the Tuo, which is when you decide which 'channel' to put the Tuo into. There's basically two alignment sots.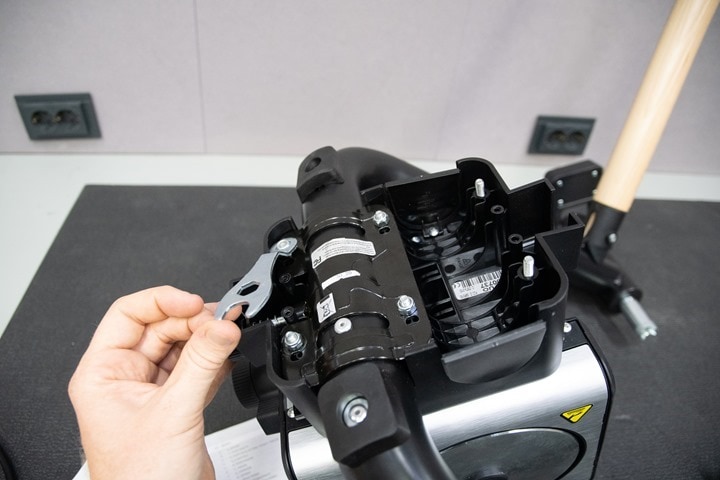 To figure out which one you need, it asks you if you're using 28" tires or not. Ok…so…umm…I have no idea how big a road tire is. Seriously, I don't. I know some mountain bike tires are 29'ers (short for 29"), and I know that my road bike tire is a 700c. But 28"? No effin clue. Turns out – in case you're curious, a 700c road bike tire is 28". So no, it's not bigger than 28".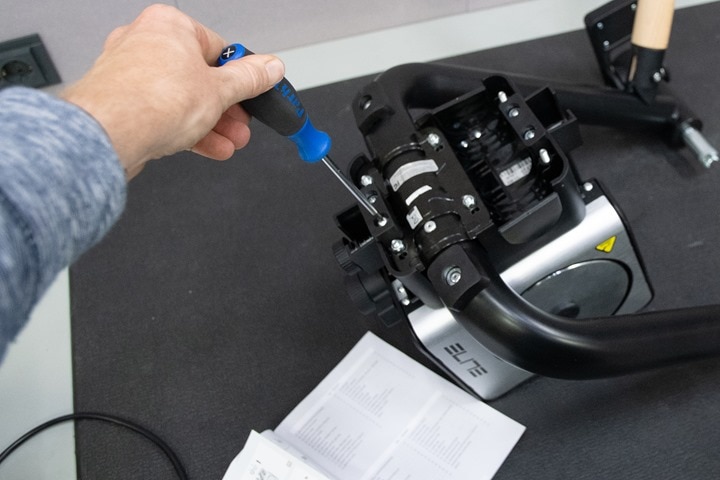 Once you've done that, you'll finish attaching the bracket and Tuo slowly with a small pile of screws. There's also a rubber stopper or two to attach as well. Again, none of this is remotely hard. It's just a bit slow. Once you're done, it'll look like this: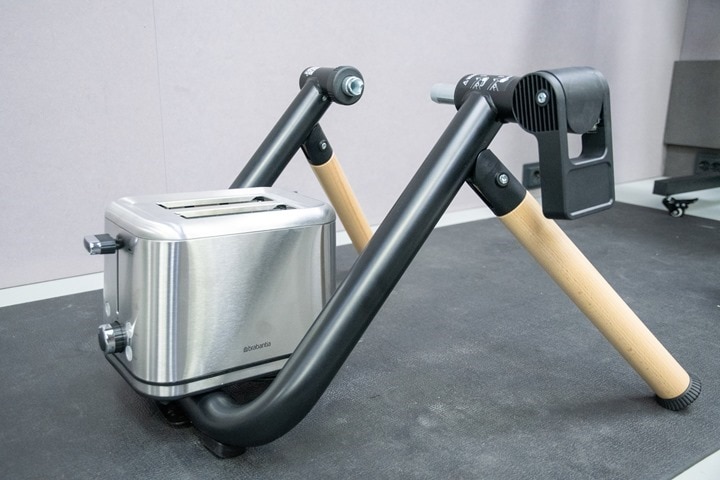 Crap, I did the instructions wrong. So you'll start second-guessing yourself, and then you'll take it all apart and put it on the other channel.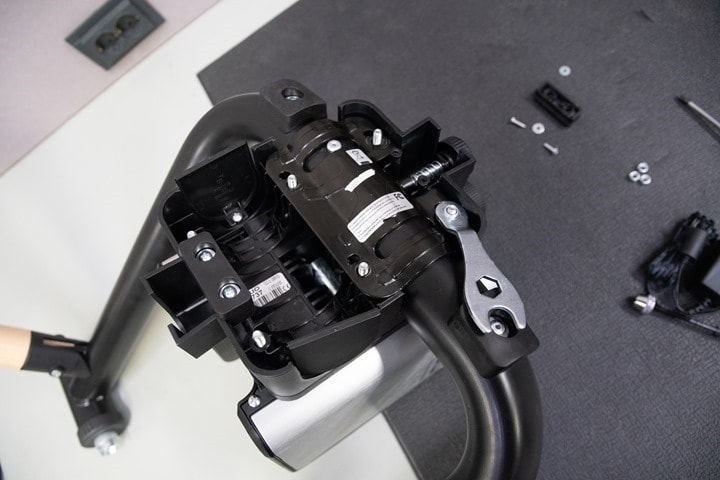 Only to realize you had it right the first time, but just didn't think to undo the spinning knob all the way to make room for the tire.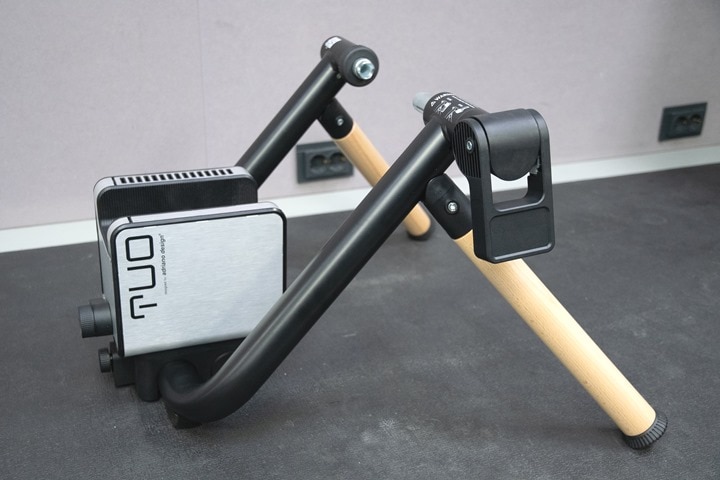 This is largely because the manual is so incredibly complex it's useless. A sentiment shared by a number of DCR Readers (as well as sports tech trainer reviewer friends of mine).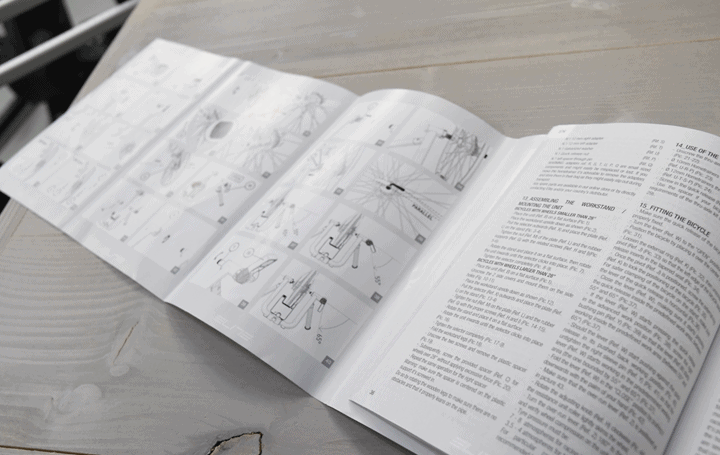 Now, since my initial setup feedback a month ago when I did this the first time, Elite has worked to put together a quick setup video on YouTube, and is also updating their written instructions to make it less confusing.
Until then, here's some quick assembly tips for doing it yourself:
Elite Tuo Assembly Top Tips:
1) Basically, you've gotta decide whether the Tuo will sit on the forward holes or the rear holes. Essentially, if you've got a road bike, then you'll configure it like the photos in this review. Whereas, if you've got a mountain bike, you'll configure it on the other hole/channel.
2) Once you've got that done, ensure you rotate the lower knob all the way nice and tight, else, you'll get inaccurate results.
3) Ensure the locking latch is in the unlocked position
4) Then, rotate the upper knob outbound enough so your wheel will fit. You'll notice it moves the Tuo very slowly, so much so you might not have noticed it does anything.
Once that's set, then you mount your bike and follow my calibration instructions below.
Again, it's not hard. And if you simply follow my four steps above, you'll be up and running in no time.
The Basics: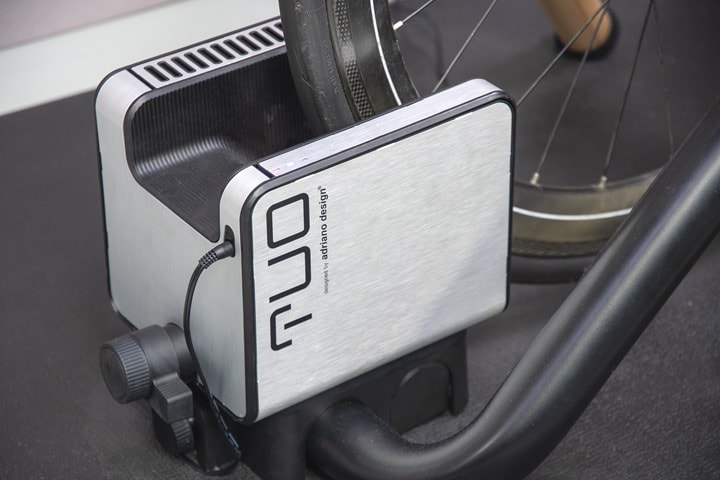 With the trainer assembled, you'll unfold the legs and set it up. When folded, the trainer will store more easily, though not quite as flat as some other wheel-on trainers, mostly due to the toaster at the back.
The Tuo comes with a rear trainer skewer, which you'll want to put on your bike if you don't already have one on there. A trainer skewer is metal on both ends, and can support your bike properly, else a typical skewer that came with your bike is plastic on both ends, and won't support it (or even fit correctly). I use the trainer skewer both inside and out. Some people will go back to their regular skewer for races, but I rarely remember.
You'll need to plug in the Tuo in order to get transmission of power data, as well as resistance control. Here's a close-up of the power adapter, in case you have to figure out which one it is in a pile of power cables some day: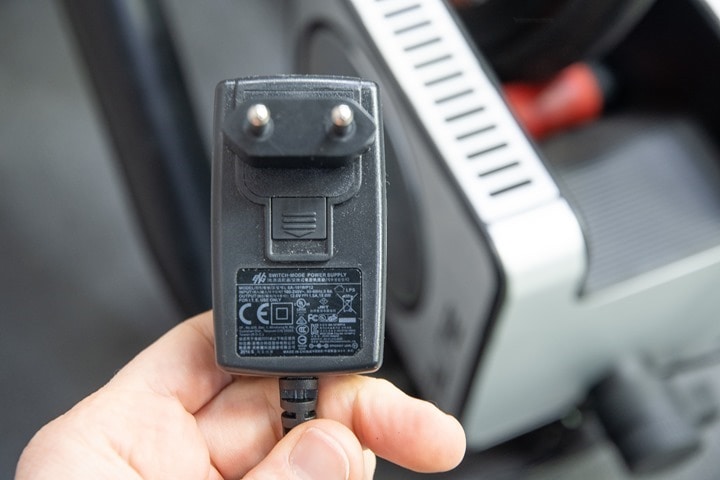 It'll connect to the rear of the trainer, where you can see the LED status lights just above it. These lights indicate power (that it's on), Bluetooth connectivity (Blue), and ANT+ connectivity (Green).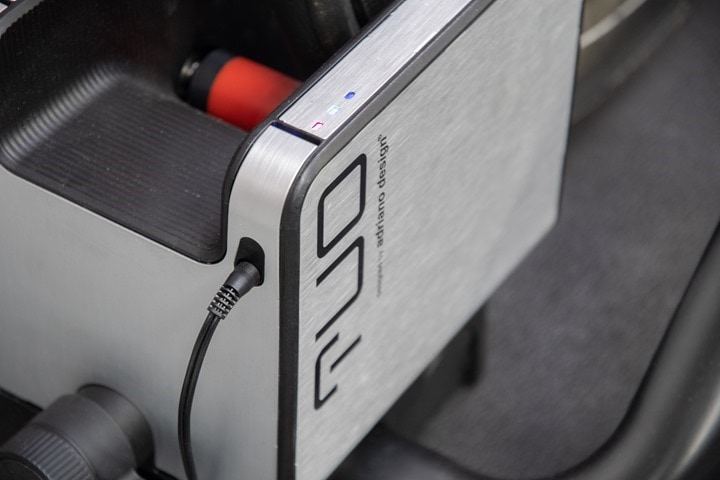 To install your bike you'll open the side mounting handle, as well as flip the rear switch to the left, which moves the Tuo backwards away from the trainer frame.
Stick your bike in the frame, and then adjust the metal prongs so that they're closer to the skewer. Then close the latch, which will make it nice and tight.
Oh, if you haven't pumped up your tire yet, then undo the latch we just closed on the rear of the trainer, and pump up your tire to 110PSI/7.5bar – the specifics matter here. Don't be free-styling this – just trust me, use these values (because this is what Elite uses, and it makes a difference for wheel-on trainers). Then, on the back of the trainer, you'll adjust the upper knob (that's basically inside the lever) to just barely touch the tire.
After that's done, then close the lever to the right, so it'll press on the tire nice and tight.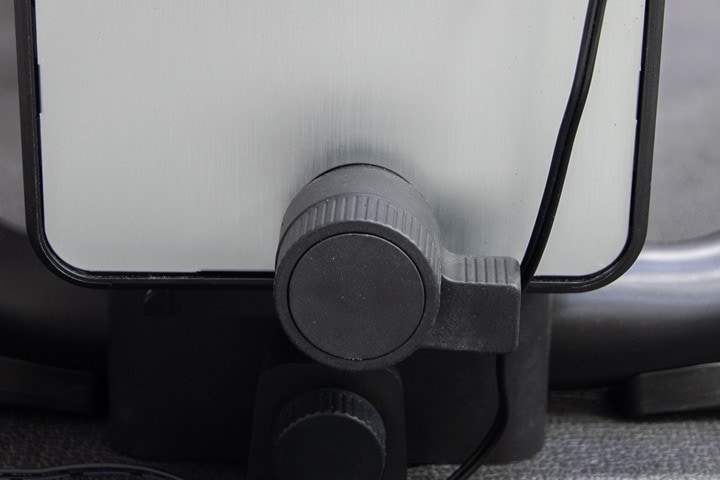 There are some key steps to getting the Elite Toaster to work consistently from a power accuracy standpoint. Aside from pumping up your tire, in my experience the rest of the steps only need to be done once a month or so.
1) Pump up your tire to 110PSI (7.5 bar)
2) Do a 10-15 minute warmup on the trainer
3) Get off bike, and unlock the Tuo lever (so, it'll slide the unit away from your tire)
4) Now, adjust the upper rear knob so that the tire just *BARELY* touches the roller
5) Now close the lever, so it presses on nice and tight
6) Do a calibration roll-down.
7) You're done.
Now, all you need to do every subsequent time with the Tuo is simply ensure that your tire is pumped up to the same 110PSI value. To prove this, I haven't re-done the calibration since mid-September, and the rides you see in this review include basically spot-on accuracy data from this morning.
Oh, and before we start riding, if you haven't done so yet, stick a wheel-block up under the front of the wheel. This both makes the bike level, but also keeps your front wheel from wobbling all over the place.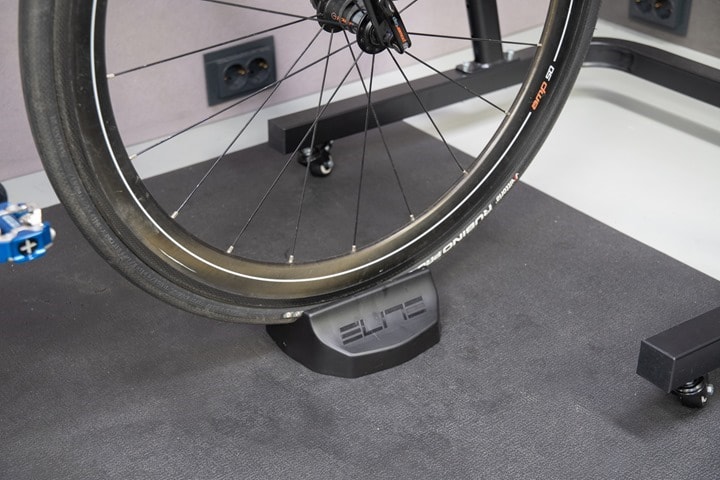 You can also use the new Elite Sterzo Smart if you want to control steering in Zwift: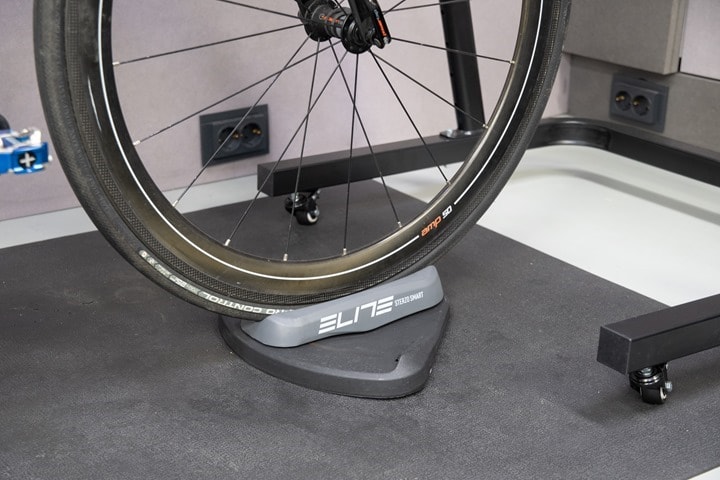 And now, let's start riding.
Given the Elite Tuo is a smart trainer, it'll change resistance automatically in a few different ways, primarily driven by different applications/methods.  But most of this all boils down to two core methods:
ERG Mode: Setting a specific power level –i.e., 215w.  In this mode, no matter what gearing you use, the trainer will simply stay at 215w (or whatever you set it to).
Simulation (SIM) Mode: Simulating a specific outdoor grade – i.e., 8% incline. In this mode, it's just like outdoors in that you can change your gearing to make it easier or harder. Wattage is not hard-set, only incline levels.
In the case of simulation (aka slope) mode, the Tuo can simulate from 0% to 10% incline – which is slightly less than the 12% gradient simulation of the competing Wahoo KICKR SNAP wheel-on trainer.  But it's also kinda in the sweet spot. The vast majority of climbing people do is below 10%. And if you go above that, it's not as if the trainer stops – it simply doesn't simulate it as well. Note though that if you're a heavier rider, this is where you can get into issues with low-speed climbing at high intensities.
One other thing to keep in mind is that within Zwift, by default it halves the grade values anyway. A 10% grade feels like a 5% grade. You need to change the 'Trainer Difficulty' level to 100% (seen below) in order to feel it (and most people don't bother to).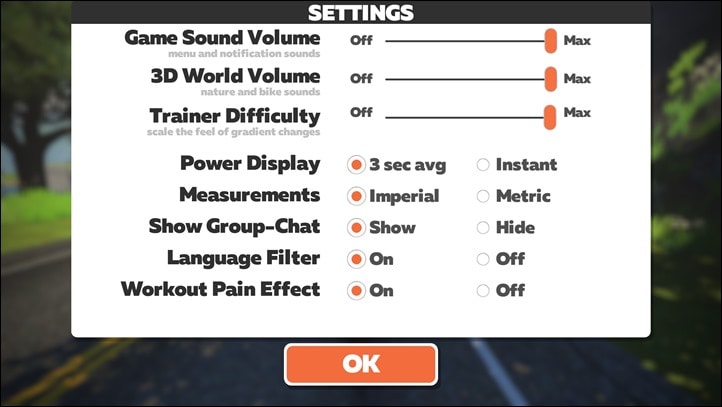 In my testing on Zwift, at 100% trainer difficulty, with numerous climbs just under 10%, it felt fine, and the resistance correctly smoothly applied while going through the rollers on the Titans Grove course.
The second mode the trainer has is ERG mode.  In that case, the company claims up to 1,300w of resistance at 40KPH. Although, realistically, you don't care about that. I can only barely (maybe) break 1,000w for a second or two. For comparison, most pros are going to top-out in the 1,600-1,800 range. And ultimately, if you're breaking the 1,000w barrier frequently, you probably really want a direct-drive trainer anyway.
So what about road feel and noise?
Like I always say – for me personally, it's hard to separate the fact that I'm riding indoors from outdoors. It's still a trainer, and I'm still looking at a wall in front of me.  My brain can only turn off so much of that.  Still, much of the road-like feel is driven by the flywheel, and be it physical or virtual, flywheel sizes tend to be measured in weight.  This impacts inertia and how it feels – primarily when you accelerate or otherwise change acceleration (such as briefly coasting).
All that prefacing done, the Elite Tuo blew me away here. When I first stepped on it a year ago at the Eurobike trade show, I couldn't believe I was actually on a wheel-on trainer. Historically speaking road-feel on a wheel-on trainer is iffy at best. The press-on force typically required to avoid slippage reduces the natural acceleration and deceleration, and adding to that, most wheel-on trainers have pretty small flywheels.
And yet, this felt really really really good. Sure, it wasn't on the same level as a $1,200 Wahoo KICKR, but it wasn't that much different than an Elite Direto XR or other more expensive Elite trainer. So kudos to them on surprising me.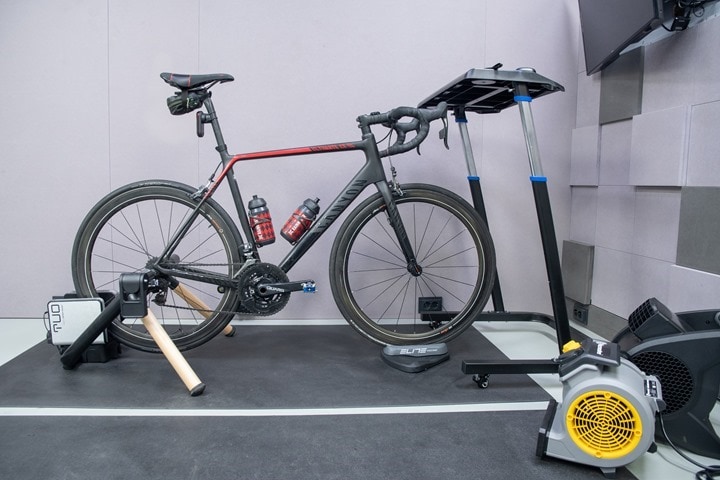 And as for sound? Well, it's not quiet. That's for sure.
It's a wheel-on trainer, thus, you're going to have the noise of the tire against the roller, and depending on how fast you go, that's gonna be pretty loud. Far louder than most other trainers on the market today, because most other trainers aren't wheel-on trainers. And that's fine. If you're out in a garage, nobody cares. Or, if you've got a dedicated room in your home, nobody cares. But if you're trying to do workouts with a sleeping baby in a small apartment – this isn't the trainer for you.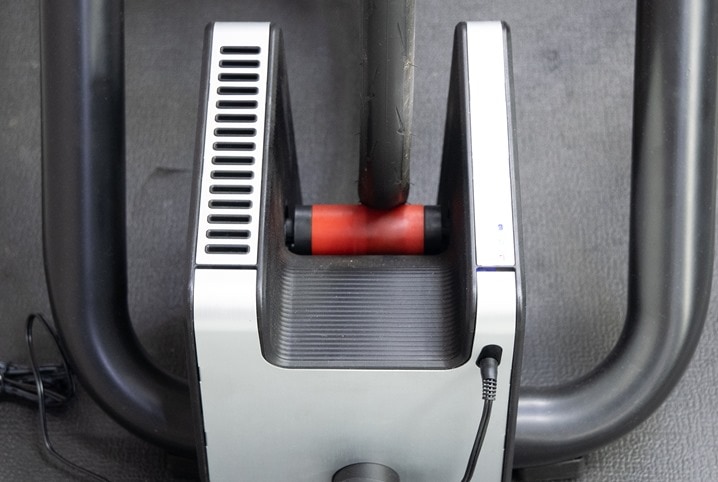 I've included an audio section in the video at the top of this post. As well as a bit of a discussion on vibrations, which can be pretty meaningful here. But again, a better choice, if both of those are of concern, is a direct-drive trainer.
Ok, with all the basics out of the way, let's talk app compatibility.
App Compatibility: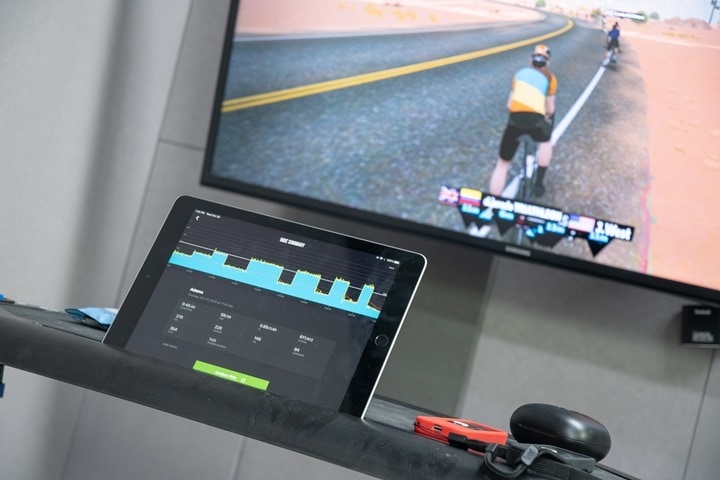 The Tuo follows the same app compatibility standards as previous Elite products, and essentially follows the industry norms as you'd expect from a high-end trainer.  As you probably know, apps like Zwift, TrainerRoad, SufferFest, Rouvy, Kinomap, and many more all support most of these industry standards, making it easy to use whatever app you'd like.  If trainers or apps don't support these standards, then it makes it far more difficult for you as the end user.
Thankfully, that's not the case here.  The Tuo transmits data on both ANT+ & Bluetooth Smart, as well as allowing interactive resistance control across both ANT+ & Bluetooth Smart.  By applying resistance control, apps can simulate climbs as well as set specific wattage targets.
The unit supports the following protocols and transmission standards:
ANT+ FE-C (Trainer Control): This is for controlling the trainer via ANT+ from apps and head units (with cadence/power data). Read tons about it here.
ANT+ Power Meter Profile: This broadcasts as a standard ANT+ power meter, with cadence and speed data
ANT+ Speed/Cadence Profile: This broadcasts your speed and cadence as a standard ANT+ Speed/Cadence combo sensor
Bluetooth Smart Power Meter Profile: This broadcasts as a standard BLE power meter, with cadence and speed data
Bluetooth Smart Speed/Cadence Profile: This broadcasts your speed and cadence as a standard BLE combo Speed/Cadence sensor
Bluetooth Smart FTMS (Trainer Control): This allows apps to control the Tuo over Bluetooth Smart (with cadence/power data)
Between all these standards you can basically connect to anything and everything you'd ever want to. Be it a bike computer or watch, or an app – it'll be supported. In fact, Elite's really been one of the leaders for years in supporting the various standards – including FTMS.
In the above, you'll note there's cadence data baked into the various streams. That's handy if you're connecting to Zwift on an Apple TV, due to Apple TV's two concurrent Bluetooth Smart sensor limitation (plus the Apple TV remote). This means you can pair the trainer and get power/cadence/control, while also pairing up a heart rate strap.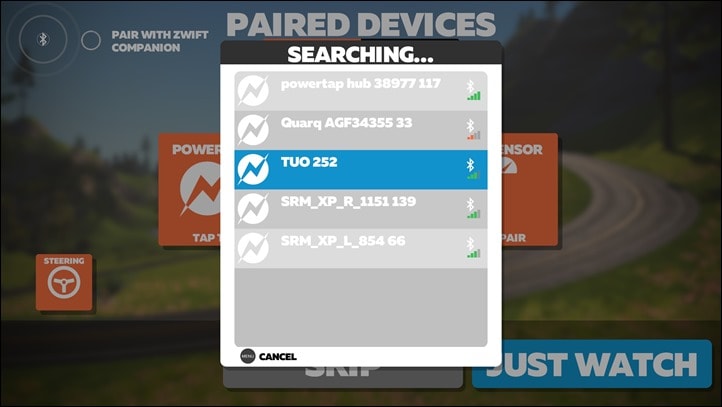 For me, in my testing, I used Zwift and TrainerRoad as my two main apps (which are the two main apps I use personally).  In the case of Zwift, I used it in regular riding mode (non-workout mode, aka SIM mode) as well as ERG mode (workout mode). Whereas in the case of TrainerRoad I used it in a structured workout mode (ERG mode). I dig into the nuances of these both within the power accuracy section.
Starting with Zwift, you can see the Tuo listed as not just a controllable trainer, but also within the regular power meter and cadence section. You'll want to pair it up as a controllable trainer (which will also pair it as a power meter) – as seen above.
You'll see the trainer enumerated in a fairly similar manner on TrainerRoad as well: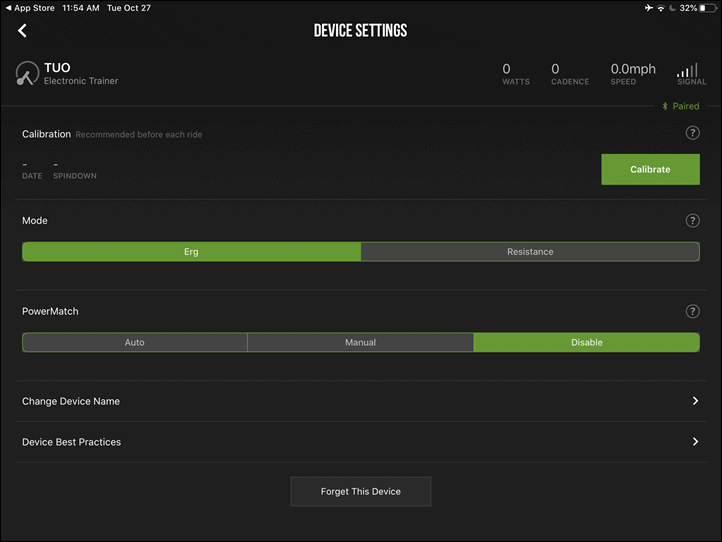 Also, TrainerRoad's tips page on using smart trainers in ERG mode: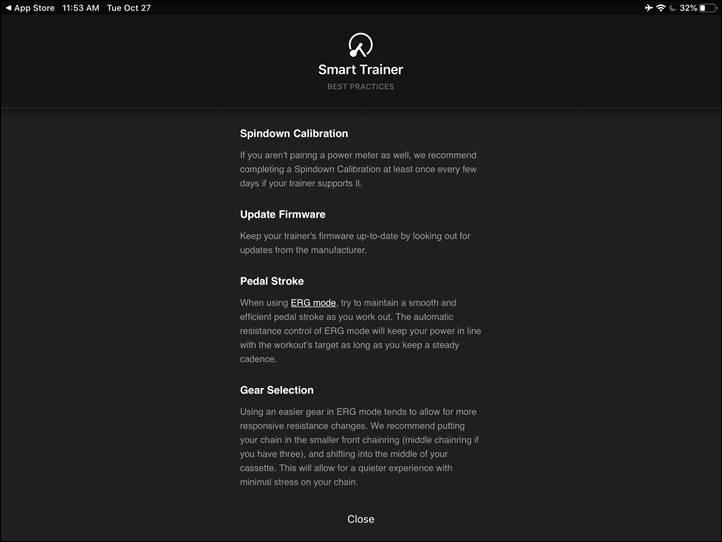 As far as calibration goes, you can complete it easily from most apps – including TrainerRoad and Zwift. You'll see either a calibration prompt in the app (like TrainerRoad), or a small wrench or such in the settings (like Zwift).  For example, here it is doing the spin-down within TrainerRoad on an iPad:
It's super easy to do, you just pedal a bit fast for a moment until it reaches a given threshold speed, and then you stop pedaling. It's going to measure how long it takes to coast to a stop. Super easy. And here on Zwift:
In general, you should calibrate every once in a while (perhaps every few weeks), or anytime you've moved the trainer some distance (like to a new home/etc…). Additionally, you should calibrate if you've had a major temperature swing (such as if it lives in your garage and now the sweat puddle on the floor is frozen). In my case, I last calibrated it over a month ago, and it's been spot-on since.
Finally, Elite does have their own app that you can use for a handful of functions, but frankly I had no use for it here at any point in the testing cycle. And technically, there are two apps here. The first is their Elite My E-Training app, from which you can do calibrations:
As with most trainers, they recommend you warm-up first:
And then there's the Elite Upgrado app – which actually launched in the fall of 2019 for updating Elite trainers (finally!). This allows you to do firmware updates of the trainer. Simply crack it open and let it search for nearby trainers:
At present there aren't any firmware updates for the Tuo, and historically speaking we don't see Elite do too many firmware updates. Though also, historically speaking, they didn't have an easy way to issue those till the Upgrado app last year. In any case, assuming there is an update, the process usually only takes about 4-5 minutes, super quick and super easy. Just like most other companies' trainer update apps.
Last but not least there's a few configuration options within the Elite My E-Training app. Most notable of those options is what Elite calls Power Meter Link (PML). This means it can match up to an external power meter to provide more finite control of the trainer. Personally, I'm not a big fan of power meter matching/linking type technology from any company, as I often find it does weird things around delays in power. I'd rather the darn trainer be accurate to begin with. So I don't generally use it. But, if you want it, it's listed under 'Power Smoothing', where you then pair it up to an external power meter.
All that said, I did actually try two sessions with it back a bit ago, and it worked surprisingly well (below), and kept the Tuo virtually perfectly locked to one of my power meters. However, I haven't spent lots of time looking at all the edge cases there.

With all those things covered, let's get into the weeds on the accuracy of the Elite Tuo in terms of power.
Power Accuracy Analysis: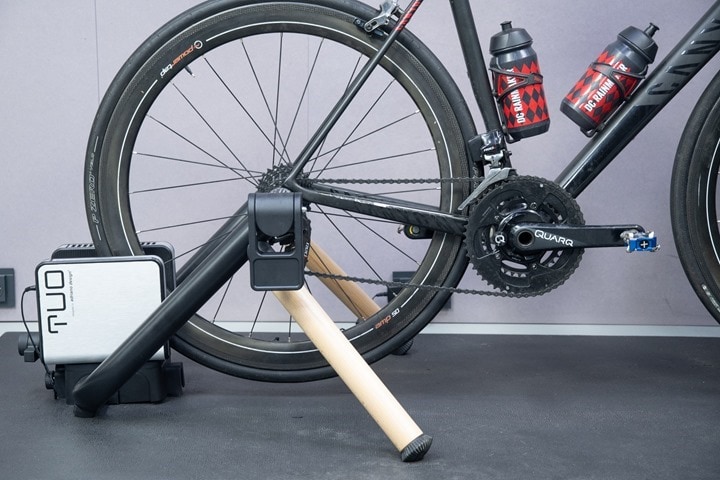 As usual, I put the trainer up against a number of power meters to see how well it handled everything from resistance control accuracy, to speed of change, to any other weird quirks along the way.
In my case I used one primary bike set up in the following configuration:
Canyon Bike Setup #1: PowerTap G3 Hub power meter, Quarq DZero crankset power meter, SRM X SPD pedal power meter
This is all in addition to the trainer itself.
Note for *ALL THESE TESTS* power meter link (PML) is forced off. And in fact, I'm able to double-verify that not only by manually forcing it off, but because the firmware version I'm on won't broadcast cadence from the Tuo if PML is enabled. It's a bit of a quick sanity check that's actually helpful. That said, I did actually do two rides with it enabled early on. I'm obviously not including those in this accuracy section, since that'd defeat the point of accuracy testing. I typically don't recommend PML, but this actually worked better than I expected.
In any case, I was looking to see how it reacted in two core apps: Zwift and TrainerRoad (Bluetooth Smart on Apple TV and iPad). The actual apps don't typically much matter, but rather the use cases are different.  In Zwift you get variability by having the road incline change and by being able to instantly sprint.  This reaction time and accuracy are both tested here.  Whereas in TrainerRoad I'm looking at its ability to hold a specific wattage very precisely, and to then change wattages instantly in a repeatable way. A great way to test that is any significant jump in wattage in ERG mode.
There's two ways to look at this.  First is how quickly it responds to the commands of the application.  So for that, we need to actually look at the overlay from TrainerRoad showing when it sent the command followed by when the Elite Tuo achieved that level.  Here's the levels being sent (the blue blocks) by TrainerRoad (in this case via Bluetooth Smart on iPad) and how quickly the Tuo responded to it. This is part of a larger workout, but I've zoomed into the last three blocks because they're the highest wattages (and thus, the biggest jumps):

Now, let's zoom in again to the first one, where we're looking at a jump from 122w to 328w. As usual, TrainerRoad tells the trainer to start the ramp one second early (since it takes a second for the trainer to start to respond). Then, it takes three seconds from the start of the interval for the Tuo to each the target wattage:

In general, my preference is that trainers reach that level (and be stabilized) in 2-4 seconds. If you go too fast (like 1-second), it's like hitting a brick wall and kinda sucks. In this case, it basically nails this – but just as important, it's super stable.
Here's a bigger jump, this time up to 368w. It also takes three seconds. You see a bit more wobble after that for a couple of seconds, but that was frankly more me than the trainer. At this point in the workout, it was starting to have an impact on my stability.

Ok, so, responsiveness and stability are good (better than many $1,000-$3,000 trainers and smart bikes in fact). What about power accuracy itself?
Well, let's start in ERG mode, and then work our way out of that. For ERG mode I'm using the small chainring as recommended (and mid-way up the cassette), so that lowers the flywheel speed, and typically makes it easier for trainers to respond.  In any case, here's the full data set from the same workout above. This is compared to a Quarq DZero power meter, PowerTap G3 hub power meter, and a pair of SRM X power meter pedals. Here's the full data set:

What you see is actually pretty interesting, and, I'm not entirely sure why. First off, we'll ignore the first 5-10 minutes, since as a wheel-on trainer it needs to warm-up to stabilize back to the same temperature range I calibrated it at. That's why we see the first warm-up interval so much more offset than the later ones at the same wattage. Again, that's the reality of a wheel-on trainer warming up (and has been for decades).
So, let's look at a few of the intervals after the 10-minute marker. I've drawn lines to point out specific sections, namely the low-wattage sections it's off by 10w (on ~130w), whereas during the work intervals it's off by on average just 1w.

(This set shows a few transients done with two-second drop-outs across multiple devices, something must have been up WiFi interference wise this day in the Cave)
I suspect we may be running into a wattage floor issue here. And I suspect that if I were to toy with gearing (which in turn impacts speed), I'd find a setting that 'works' well for low wattage…but then inversely breaks high wattage. And vice versa. It's a pattern that's common in some trainers.
In my case, I wouldn't really care that much that my rest interval is off by 10w – it doesn't impact anything for me in terms of training metrics or my recovery. Of course, I'd prefer it be accurate. But if I needed something to be accurate, the fact the work interval is nailed is good.
As for cadence, things are pretty much within 1RPM this entire ride – so that's good.

Let's switch gears and look at a few Zwift rides. For this first ride I was using the Titan's Grove, which I've been using for quite a while now to test trainers. It's a great route for that purpose as it includes flat and fast sections to test differing flywheel speeds, as well as climbing and rollers, where you can test trainer responsiveness and reactions within climbs. Below, you can see how the trainer matched up against the same set of power meters as the previous test. Here's that data set:

As you can see above – it looks pretty darn good. Note that the Elite Tuo color has changed to blue on this one. You see there's a little bit of variance the first 5-8 minutes as it warms up, and then it's pretty locked in for the rest of the ride. Let's zoom into one section to begin:

For this section I was constantly oscillating. I believe I had joined up with one of the Zwift Pacer bots, and you can see the rubber-banding as you go in/out of the draft zone. But the Tuo is doing a pretty damn impressive job of holding the wattage accuracy here.
Now, I start to do some light climbing while increasing my power, and you can see there's a little bit more lag on some of the harder efforts. For out-right sprints it usually does great. Whereas for more casual surge type efforts you'll see the algorithm is a bit more conservative initially for a couple of seconds, and then catches up. Mind you, the Tuo (in blue) *should* be the lowest value out of all these power meters, since it's the one furthest from my legs in terms of the drivechain looses. And that's largely where it is.

As I noted above, one of the good parts of the Titan's Grove course is the desert flats, allowing some high flywheel speeds. This is an area we can often see issues with trainers and maintaining accuracy. But with the Tuo, there's virtually no difference.

You can see the flywheel speed, crossing over 50KPH on this section (as measured by the PowerTap G3 hub, so we're talking real-world speeds here) – and the Tuo is basically spot-on.

And an 800w sprint? No overshooting there – in fact, the PowerTap G3 was the one to briefly overshoot.

And what about cadence on this you ask? Spot-on:

Now, the single exception on power accuracy in this workout however happens here:

You'll notice a bit of separation from the Elite Tuo – going higher than the rest. There isn't a clear reason for this. If we look at both the speed and cadence graphs, you can see cadence on all the units burps coming off the second surge, but the speed isn't abnormal on the Tuo. So this separation is a bit of a mystery to me.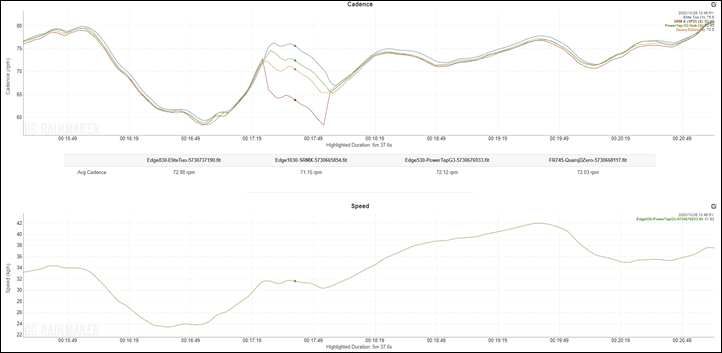 And finally, in the mean-max graph, we see a little bit of a dip as we approach the 30-second range, which makes sense, as that's in the territory where some of my slow-moving surges happen, and where we see latency in the Tuo. It's also likely that it's that one section I just covered that's causing this separation. Whereas at the upper end things consolidate again.

Next, we'll look at another ride. Just cause. For this ride, back a few weeks ago, you see a bit more instability from the SRM-X power meter pedals, because I just had moved them to this bike, and this was that unit's first ride. As such, it was still 'settling'. You see by about half-way through the ride it completes that and is nice and stable. Anyway, here's the data set. Note, red this time for the Elite Tuo – just to keep you on your toes.

As you can see, things are super close. If we pick a nice surge-filled section to look at, you'll see all the units track fairy close for the most part:

However, if I remove a bit of the graph smoothing and zoom in on some sprints, you'll see the Tuo can occasionally overshoot, depending on the original flywheel speed. It only lasts a handful of seconds before it gets back in, but you do definitely get a bit of a boost.

And the same goes for cadence:

Ultimately, from the data I'm seeing in my testing, in almost every scenario the Elite Tuo is exceeding the accuracy specs it has for itself, but also the expectations I have for a $500 smart trainer. These numbers are easily better than a number of high-end trainer and smart bikes.
It's not perfect of course, for example the lower recovery wattages in my ERG test seem to indicate a likely wattage floor/speed issue there. But beyond that, there are very few things to nitpick on from all my test data.
(Note: All of the charts in these accuracy sections were created using the DCR Analyzer tool.  It allows you to compare power meters/trainers, heart rate, cadence, speed/pace, GPS tracks and plenty more. You can use it as well for your own gadget comparisons, more details here.)
Trainer Comparison:
I've added the Elite Tuo into the product comparison database.  This allows you to compare it against other trainers I've reviewed. For the purposes of this particular table, I've compared it against the Wahoo KICKR SNAP, Tacx Flow, and Saris M2. You can also mix and match and create your own trainer comparison charts with just about any trainer on the market in the aforementioned/linked product database.
And again, you can compare/mix/match/all the goodness in the product comparison database.
Summary: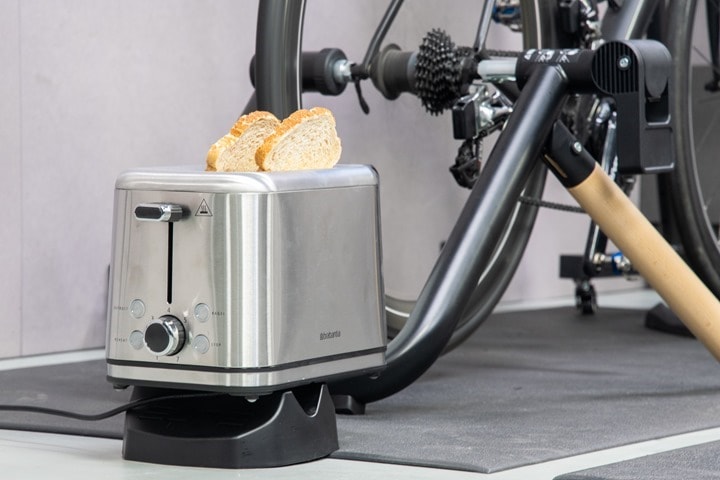 A year ago, when the Elite Tuo was first announced, it's appeal was that it was a trainer that didn't look like a typical trainer. It looked like something that might fit more easily into the modern décor of a living room (or, on a kitchen counter), than the industrial looking trainers Elite usually makes. In fact, the same design firm that designed Elite's 14,000EUR smart bike (for private yachts apparently) also designed the Tuo.
Fast forward a year though, in the world where smart trainers are scarce commodities, you'll take pretty much anything you can get your hands on, even if it looks like a toaster. But here's the thing: It's actually pretty impressive. For this price point and for a wheel-on smart trainer, I generally expect poor road feel and lackluster accuracy. Yet the Tuo actually delivers on both. Plus, it has that modern décor vibe.
Of course, the trade-off is that while the engineers spent the last year holding the product back to nail the road feel and accuracy, they did not expend that effort on the setup manual. And it's a mess. But the good news is Elite has acted quickly there to put out videos to help make sense of installation, and ultimately you'll see a new setup manual soon. Plus, in the grand scheme of things, those frustrations only last a few minutes…one time.
Again, as I said – I'm really impressed with it. It's definitely not perfect – and certainly not quiet. But it's way better than it should be for a $500 smart trainer. And while using it over the past month, I routinely forgot that I was actually riding a trainer that didn't cost more than $1,000. After all, it easily beat the accuracy of some other recent near-$3,000 smart bikes I've tested. Not bad for a toaster.
With that – thanks for reading!

Found This Post Useful? Support The Site!
Hopefully you found this review useful. At the end of the day, I'm an athlete just like you looking for the most detail possible on a new purchase – so my review is written from the standpoint of how I used the device. The reviews generally take a lot of hours to put together, so it's a fair bit of work (and labor of love). As you probably noticed by looking below, I also take time to answer all the questions posted in the comments – and there's quite a bit of detail in there as well.
If you're shopping for the Elite Tuo or any other accessory items, please consider using the affiliate links below! As an Amazon Associate I earn from qualifying purchases. It doesn't cost you anything extra, but your purchases help support this website a lot. Even more, if you shop with TPC (The Pro's Closet), you'll save $40 on purchases over $200 with coupon code DCRAIN40! The Pro's Closet has been a long-time partner of the site here - including sponsoring videos like my cargo bike race, as well as just being an awesome Colorado-based company full of good humans. Check them out with the links below and the DCRAIN40 coupon!
And finally, here's a handy list of trainer accessories that most folks getting a smart trainer for the first time might not have already:
And of course – you can always sign-up to be a DCR Supporter! That gets you an ad-free DCR, access to the DCR Quarantine Corner video series packed with behind the scenes tidbits...and it also makes you awesome. And being awesome is what it's all about!
Thanks for reading! And as always, feel free to post comments or questions in the comments section below, I'll be happy to try and answer them as quickly as possible. And lastly, if you felt this review was useful – I always appreciate feedback in the comments below. Thanks!