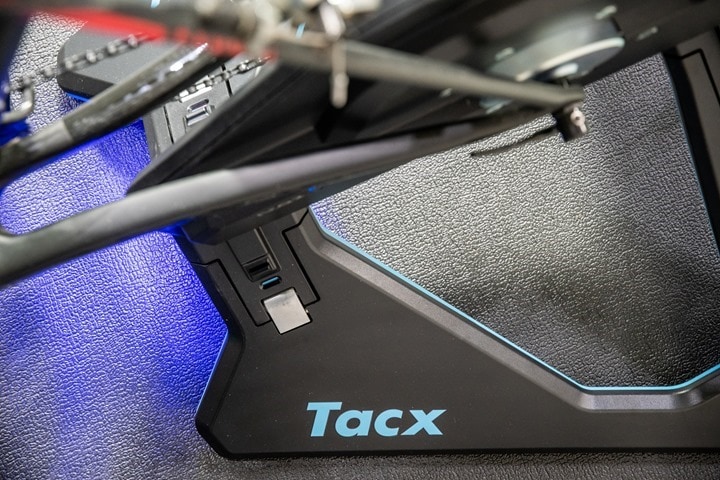 (** Update: the Tacx NEO 2 has since been superseded by the Tacx NEO 2T. Check out that link for the most up to date information on this Smart Trainer line up!**)
While the Tacx NEO 2 was the last product of the year that Tacx announced – a mere 45 days ago – it's actually shipping already, unlike its bigger brother the long-awaited Neo Smart Bike.  Part of that reason, as you'll see, is likely due to the fact that the Neo 2 has relatively minor changes in comparison to building an entire indoor bike.
In some cases, keeping changes to a minimum might not be a bad thing for reliability though. And ultimately it follows Wahoo's popular model of incremental changes to existing trainers – rather than massive shifts from model to model.
In any event, I've been riding a media loaner Neo 2 as my primary trainer since it announced early last month, and now have plenty of data on it to dive into.  Once I'm done with it I'll get it all boxed back up and returned to the Tacx folks. Just like normal.
If you find this review useful, hit up the links at the end to help support the site. I appreciate it. Onwards with the review!
Technical Overview: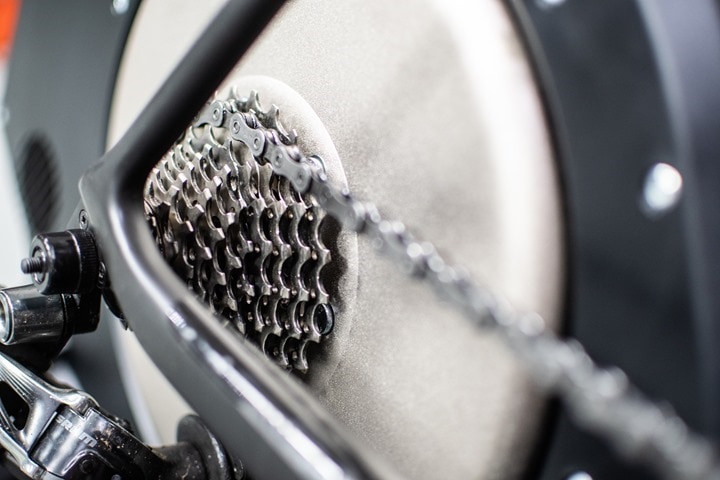 While earlier this year we saw the Flux S replace the original Flux (plus a new Flux 2), the story on the NEO 2 is a bit different than that. In the case of the Flux S/Original swapparoo, the changes were virtually non-existent – features or internally.
Whereas in the case of the NEO 2, the internals have been significantly refreshed.  Albeit that hasn't resulted in much in the way of new features for us end users. Instead, it's more about the promise of unknown new stuff down the road.
But first, let's talk about what it is exactly:
– Direct drive trainer: This means you remove your rear wheel
– Flywheel: It has a virtual flywheel up to 125kg, the largest of any trainer on the market.
– Downhill Drive: This is one of only a handful of trainers that drives the rear 'wheel' forward while going down hills, thus simulating descending inertia.
– Cassette: No Tacx trainers include a cassette, which will set you back $50-$60, plus $10-$20 in tools to install.
– Sound: Identical to the original NEO, essentially silent. Only the sound of your drivetrain is heard, and a very faint hum of internal fans/electronics.
– Handle and Folding: This unit lacks a handle, which continues to make it slightly awkward to move around. It does have foldable legs though for easy storage.
– Protocol Compatibility: ANT+ FE-C, ANT+ Power, Bluetooth Smart Trainer Control, Bluetooth Smart Power
– App Compatibility: Every app out there basically (Zwift, TrainerRoad, Rouvy, Road Grand Tours, SufferFest, Kinomap, etc…)
– Skewer Compatibility: All the skewers and adapters you could ask for: Road 130mm, MTB 135mm, 142x12mm, 148x12mm
– Max Incline: 25% simulated grade, the highest of any trainer out there
– Max Wattage: 2,200 watts resistance
– Stated Accuracy: < +/-1%
– Power Cable Required: No, it can operate powered or standalone sans-power.
– Pricing and Availability: $1,399/€1,299/£1,199 Shipping next week
Ok, so as seen above, that's the baseline and basically the same as the NEO 1.  However, here's what's new/unique on the new NEO 2:
– Added pedal stroke analysis: Will plot out full pedal stroke, akin to some power meters. This was added to a degree last December in a firmware update for NEO 1 users, however, the internal changes for NEO 2 makes this more accurate. Additionally, this will also be broadcast to 3rd party apps for NEO 2.
– Added left/right balance information: Will show distribution of power between legs, as well as broadcast this to 3rd party apps.
– Increased cadence accuracy: Uses new magnetless object detection (more on that in a second)
– New microcontroller and additional memory: This will improve ERG control Tacx says, and reduce vibrations
– New communications controller: This will improve firmware update, and allows faster communication with apps (which would likely be used for real-time pedaling analysis)
– Added extra axle adapters: A full bag of them as seen in video
– New underside color: Blue versus previously black, also changed frontside text logo color to blue
– Added internals for future features: None of which have been announced
As I noted above, there's no clarity on exactly what new features might be unlocked – or even when. As such, I can only assume there's an ice cream machine hidden in there. If not, I'll be deeply disappointed.
For comparison, here's the price/feature points of some of the Tacx 2018 Trainer lineup (they have a pile of other trainers, these are the ones I'm considering most interesting/relevant):
Tacx Flow Smart – 299EUR: Wheel-on trainer with 6% incline, all standards supported.
Tacx Bushido Smart – $619: Wheel-on trainer with 15% incline, all standards supported.
Tacx Flux S Smart – $749: Direct drive trainer with 10% incline capability, no cassette included
Tacx Flux 2 Smart – $899: Direct drive trainer with 16% incline and better low-speed resistance for climbs, no cassette included
Tacx Neo Smart – $1,369: Top of the line direct drive trainer that's virtually silent, can replicate road vibrations too, no cassette included
Tacx Neo Bike Smart – $3,199: A full indoor bike built atop the Neo. Nifty fans included too
Oh, with that out of the way let's get into the details of setup and configuration…which won't take too long.
What's in the box: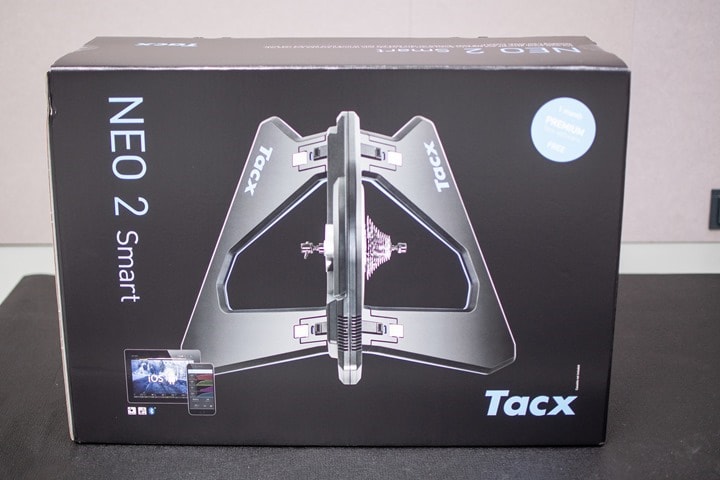 The Tacx NEO 2 comes in a box not unlike the NEO 1. Unlike the slightly lower-end Tacx trainers, this takes zero assembly of the unit itself, except for adding a cassette. It just unfolds like a typical Star Wars aircraft, and locks into place.
First though, here's what's in the box: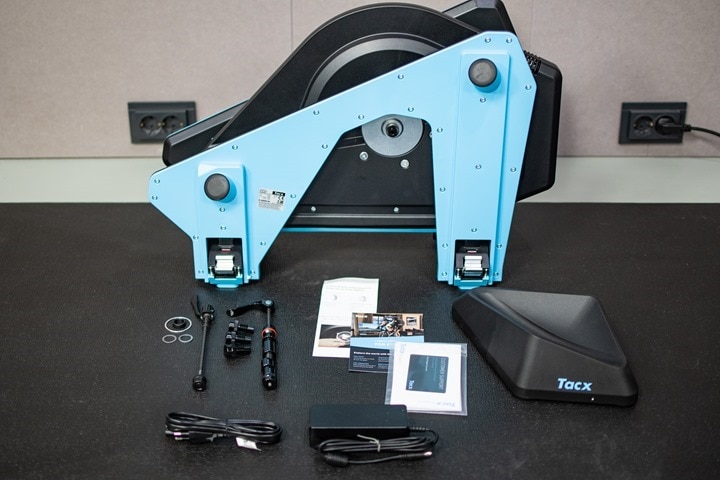 You've got a small package of various adapters for thru-axle and quick release adapters.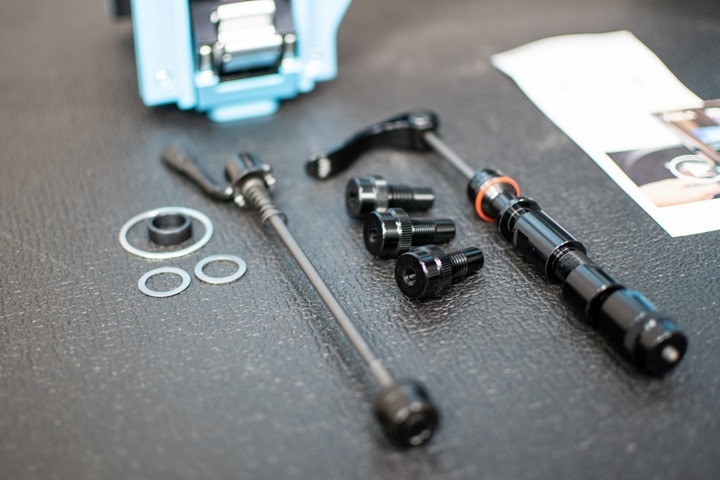 In addition, it comes with a power cord applicable to the region you're in. The power block is capable of 110-240v though, so it'll work anywhere you take it. Note though that you don't have to plug it in if you don't want to.  More on that in a minute.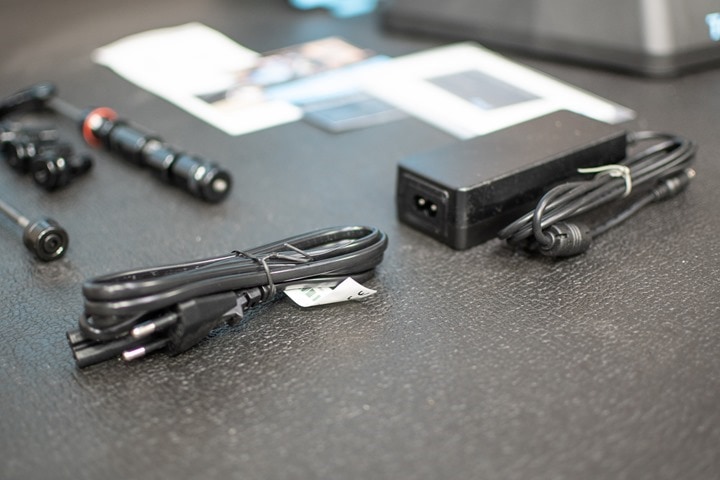 There's also some paper/warranty/etc stuff in there. The usual 'Please don't manage to fall off your bike while indoors on this trainer, because realistically, we know it's your fault if you do' type stuff.  Oh, and a front wheel block: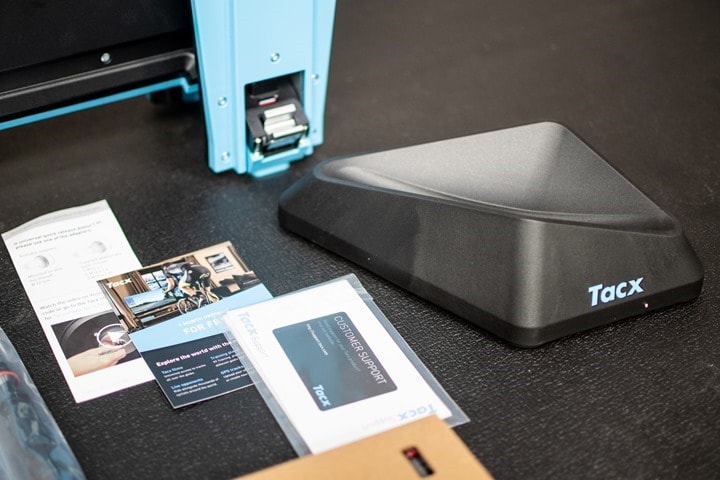 But about that cassette. Despite being one of the most expensive consumer smart trainers out there, it doesn't come with a cassette. The KICKR – which costs $200 less, does come with one. Never really understood why.  I know it's a theoretically minor thing, but for a lot of people getting into the sport that may just want 'the best', it's not a minor thing. It'll cost them another $80-$100 in tools+cassette.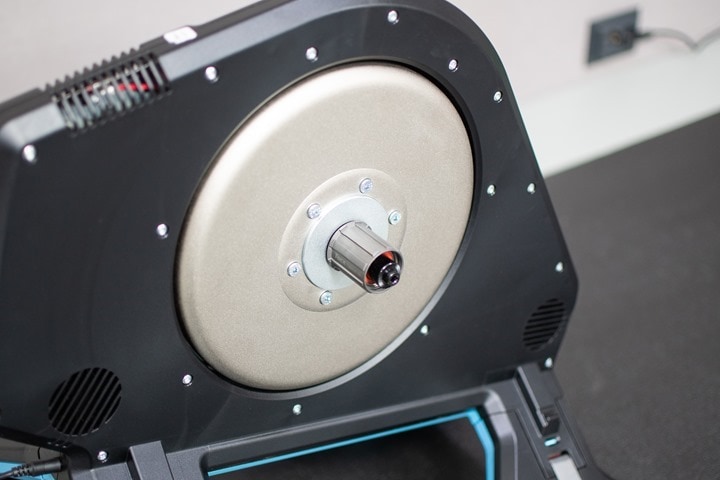 But we'll put that all on in a second.
In the meantime, here's a side by side. First, with the existing Neo 1. You'll notice the Neo 2 has a blue-bottom on it. Personally I preferred the all-black Neo 1. Like a little black dress, it matches better with more accessories (my bike).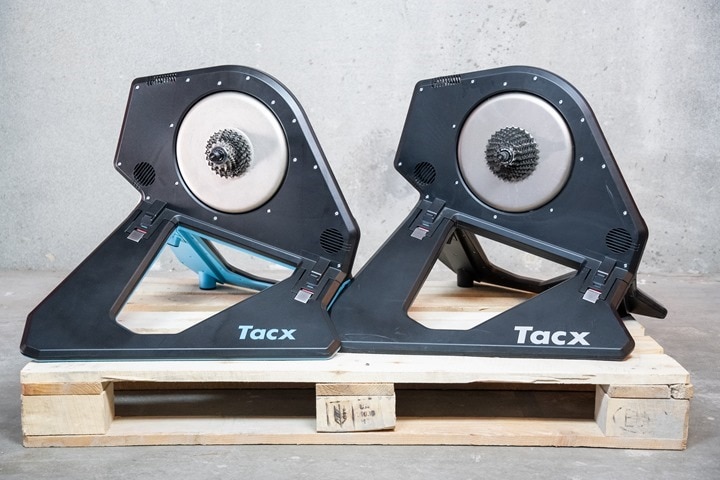 Weight wise the Neo 2 comes in at 47.3lbs, just below most airline's 50lbs luggage limits.
The Basics: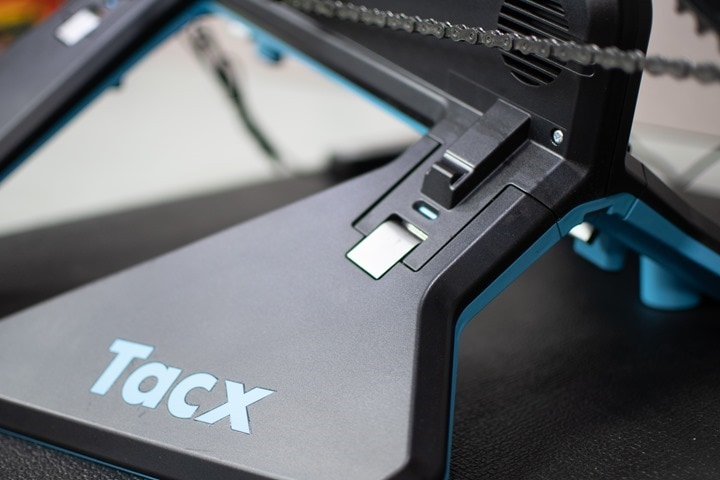 Once the Neo 2 is unfolded and locked we'll need to add the cassette. As noted it doesn't include a cassette, so you'll need to pick one up. I typically buy Shimano Ultegra cassettes for my trainers (mostly for sound-testing consistency across videos), but I've also done a few SRAM ones and whatever else happens to be on sale from the bike shop. It generally doesn't matter, except sometimes you'll find some of the lower end cassettes (like a Shimano 105) don't quite sound as quiet as mid to higher end ones.
In any case, with a cassette, you'll need two tools. A lockring tool (or lockring + a wrench, in my case), and a chain whip. In this case, you need the chainwhip since you can't get a good grasp on the flywheel. Whereas for a trainer like a KICKR, you can simply hold the flywheel to get the opposite tension you need.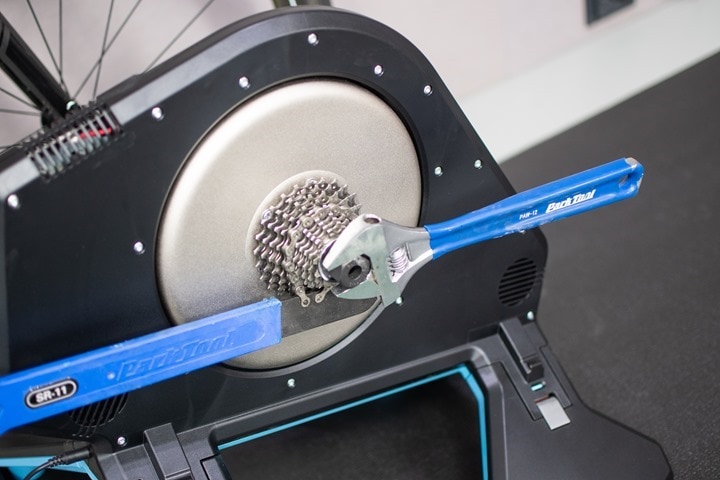 After sliding the cassette on, just validate it doesn't wiggle any. If it wiggles, then something is amiss (either it's not tightened properly or if on a 9/10 speed cassette then a spacer is likely missing).
And with that – installation is complete: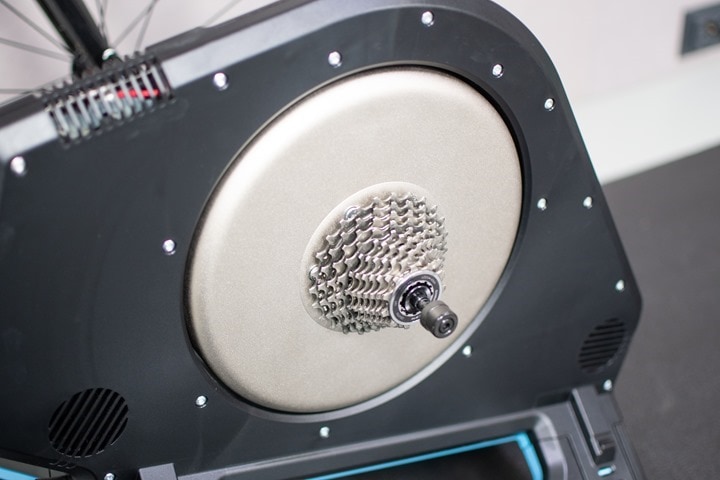 You've now got the choice of whether or not to plug it in. You don't need to – it's fully self-generating for power, and can provide all the resistance you want. However, if you plug it in then it's usually easier for 3rd party apps to find it when you're not on the trainer. That's because the trainer will go to sleep if not plugged in and nobody is generating pedal-power.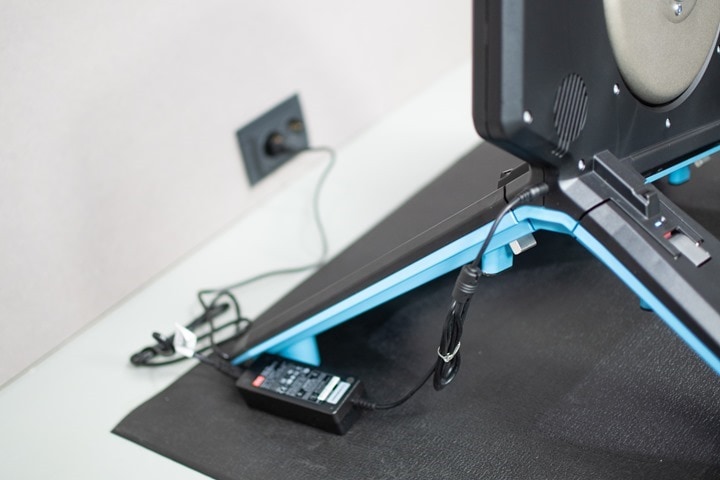 Whereas if always plugged in then you can get yourself all ready and the apps all paired up to the trainer before you step on the bike. Again, it's purely a personal decision – but I like to keep it plugged in so I know the tech side is fully happy before I get on the trainer. Just my preference.
Once plugged in you'll see a small status light panel on the side of the trainer.  One is for general power (green), the next for Bluetooth Smart connectivity (Blue), and the last for ANT+ connectivity (red).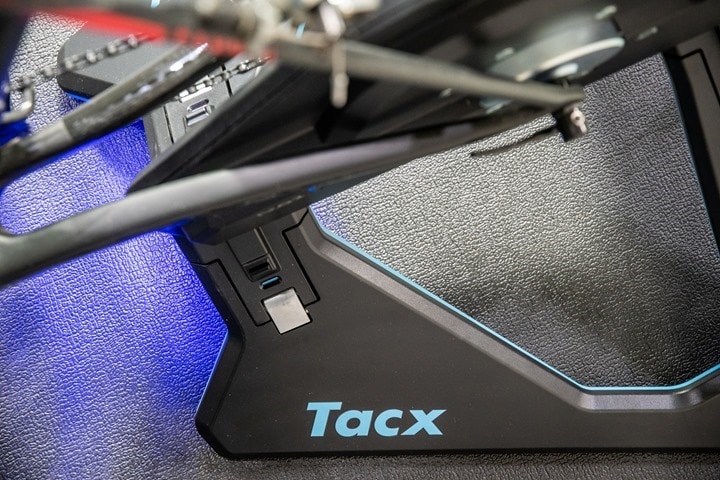 In terms of storage and such, the Neo 2 has two positions: Folded and unfolded. It has locks that automatically engage once unfolded.
Someone recently asked how to compare the storage footprint of something like the KICKR CORE versus the NEO 2. The thing isn't so much the direct footprint, but the elevation profile is vastly different (to use a cycling term). The NEO 2 is a beastly skyscraper of a trainer, super tall. You can see that in this KICKR 2018 vs NEO 2 photo I took back in October: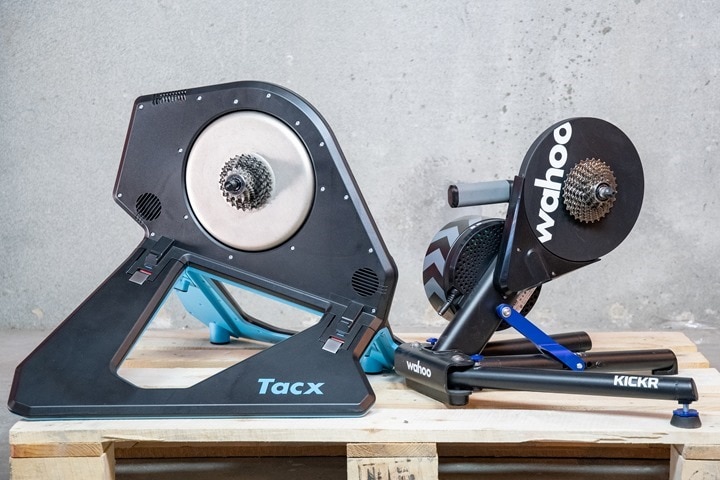 So if for some reason you've got height limitations in your storage spot in a small apartment, this may not be the trainer for you.
Once you've got the trainer ready/unfolded, you'll attach your bike to it using the included trainer skewer: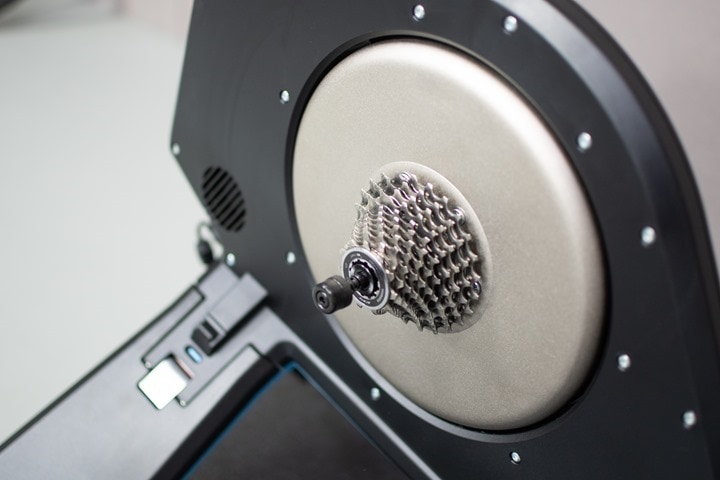 And with that, you'll start pedaling.
Sound-wise there's no appreciable difference between the Neo 1 and Neo 2 – they're both silent-ish. I say 'ish', because there's still the noise/sound of the drivetrain (meaning, your bike's chain and gears), so that exists. But the sound of that will be tied directly to how clean you keep/maintain it.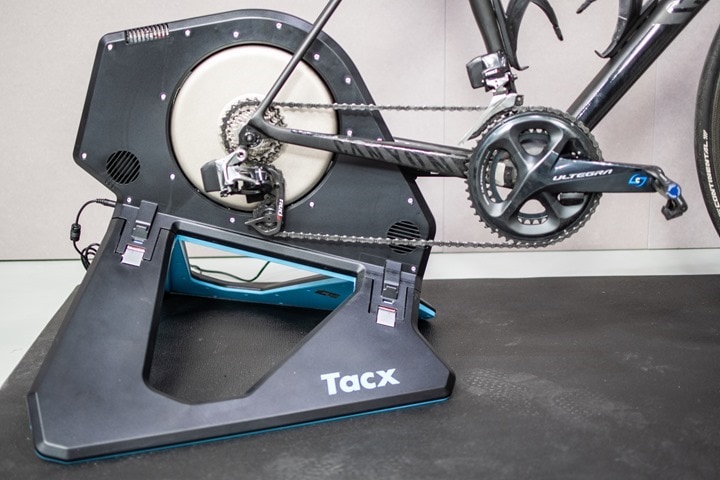 I dive into the sound/audio portions in the video below, if you want to hear that and how it sounds.  Comparison-wise, it's basically the same as the KICKR 2018/KICKR CORE, which are also both silent-ish.  Note that on my Canyon bike with eTAP, I do seem to be running into a minor issue where if in the easiest gear on the cassette, the derailleur will slightly rub against the flywheel. I haven't had a moment to check with the local bike shop to see if we can tweak things a millimeter or so to avoid that.
Next, while Tacx does have a mobile app for their trainer, it's unlikely you're going to use it much if you use other 3rd party software.  However, it is valuable for setting your correct weight so that you can get realistic grade simulation (as well as firmware updates). Do note that this is super important when using the Tacx NEO series over Bluetooth Smart with trainer apps like Zwift.
If this weight isn't set (or is set for another person in your family), then Zwift or such will 'feel' incorrect. The road-like feel won't be right. Note that when connected over ANT+ FE-C, Zwift will properly transmit the weight to the trainer. But this will not occur over Bluetooth Smart. In other words, if you have a heavier rider and a smaller rider in your household, be sure to either use ANT+ FE-C in Zwift, or use the app to change the weight before each ride.
The app also allows you to test out the road file and ISOKINETIC/ISOTONIC options. I dig into road feel a bit later on. You can see below in the two side by side shows a handful of the many different road feel modes.
Unlike most other trainers on the market (virtually all of them), there's no calibration required – or even offered, for the Neo series. While it was initially a concern of mine with the Neo 1 (would it stay accurate?) – that's proven unfounded over time.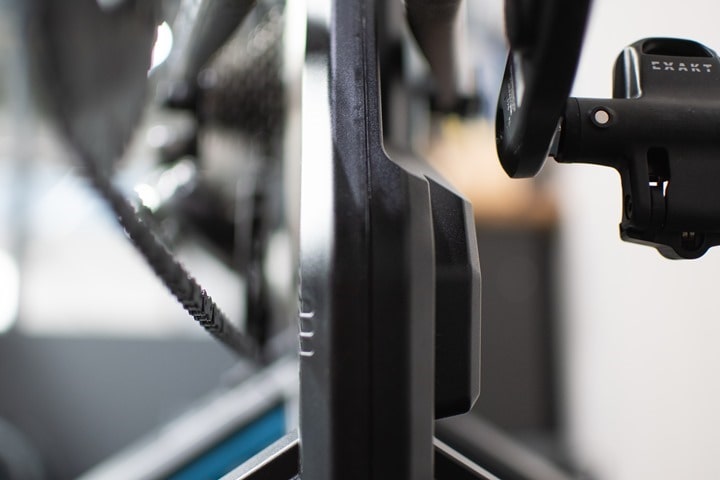 Given the Tacx NEO 2 is a smart trainer, it'll change resistance automatically in a few different ways, primarily driven by different applications/methods.  But most of this all boils down to two core methods:
ERG Mode: Setting a specific power level – i.e., 230w.  In this mode, no matter what gearing you use, the trainer will simply stay at 230w (or whatever you set it to).
Simulation Mode: Simulating a specific outdoor grade – i.e., 8% incline.  In this mode, it's just like outdoors in that you can change your gearing to make it easier or harder.  Wattage is not hard-set, only incline levels.
In the case of simulation (aka slope) mode, the Tacx Neo 2 can simulate from 0% to 25% incline – which is the highest out there.
The second mode the trainer has is ERG mode.  In that case, the company claims up to 2,200w of resistance at 40KPH. Although, realistically, you don't care about that. I can only barely break 1,000w for a second or two, and even most front of the non-pro pack cyclists aren't going to top 1,800w.  The pros would only be just a bit beyond that.  Said differently: Peak numbers don't matter.  Instead, what matters is actually a harder metric to make clear – which is the ability to simulate high grades and lower speeds (especially if you're a heavier cyclist).
One area that power does matter is that nifty color projected onto the floor below you. The more watts you put out, the more vibrant that color gets. Easy pedaling and it's blue, while throwing down in a sprint and it gets angry red. I kinda like it.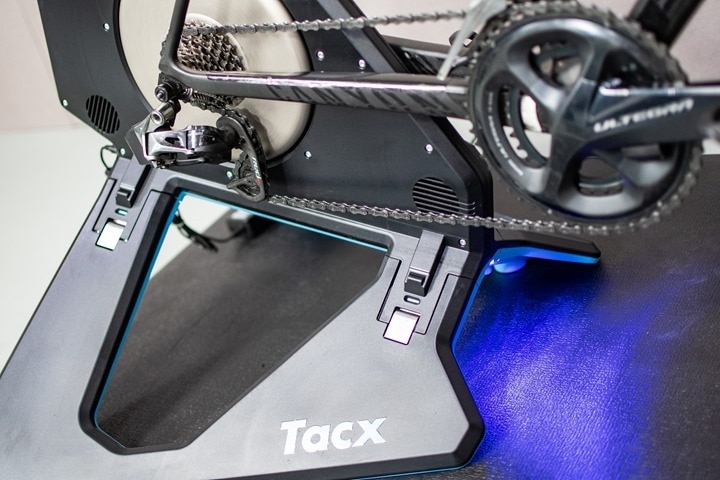 One core test I do with all trainers though is responsiveness: How quickly does it respond to ERG mode changes? I typically do that with my 30×30 test via TrainerRoad, though it doesn't really matter what method you use as long as you're looking at big shifts in wattage:

In my case, there were no issues with this test from a responsiveness standpoint – and I cover the accuracy bits down below.
The one area I have seen challenges with though is if the trainer is at a low speed (such as a low-speed climb), and then I apply a significant sprint-like force to the pedals, it'll slip. By 'slip', I mean it feels like for a split second you out-power the trainer. As if you pulled too fast on the toilet paper roll and things went flying.
It only lasts under a second, and *only* occurs if you're going very slowly and apply a ton of power. It won't happen if you're already pedaling along nicely and then go into a sprint. So the use case is rare, but it's the same behavior as the NEO 1 had.
Next, one of the new features on the NEO 2 is the internal left/right balance related metrics and then associated pedaling dynamics features. Specifically, in this case, the introduction of hardware inside the NEO 2 that detects your pedals passing by on both sides. So rather than a typical magnet based cadence sensor on your crank arm, they've actually added hardware that detects that without any required magnet. I cover the accuracy bits of that sensor down below – but so far mostly good.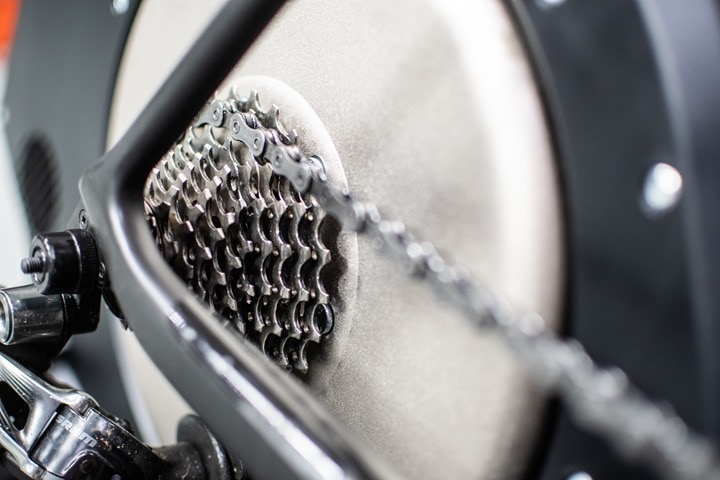 Finally, a lot of folks will ask about road-like feel, and I always say pretty much the same thing:
For me personally, it's hard to separate the fact that I'm riding indoors from outdoors. It's still a trainer, and I'm still looking at a wall in front of me.  My brain can only turn off so much of that.
Still, much of the road-like feel is driven by the flywheel, and be it physical or virtual, flywheel sizes tend to be measured in weight.  This impacts inertia and how it feels – primarily when you accelerate or otherwise change acceleration (such as briefly coasting). Tacx can simulate a flywheel of up to 125KG – which is by far the largest of the industry. Of course, that doesn't mean everyone likes that simulation (as compared to a more standard physical one), but it's definitely the largest.
I find the NEO 2 road-feel pretty good though. And I suspect that if I placed blindfolded cycling journalists on either KICKR 2018 or NEO 2 units they'd be unable to tell the difference between the two, and would likely be happy on either.
App Compatibility: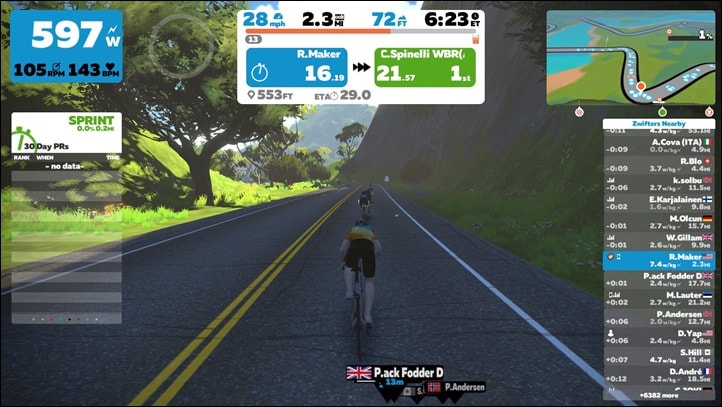 The Tacx Neo 2 follows the industry norms as you'd expect from most trainers these days.  As you probably know, apps like Zwift, TrainerRoad, SufferFest, Rouvy, FulGaz, Kinomap and many more all support most of these industry standards, making it easy to use whatever app you'd like.  If trainers or apps don't support these standards, then it makes it far more difficult for you as the end user. Given the original Neo 1 followed these norms, it's no surprise the Neo 2 does as well.
The Tacx Neo 2 transmits data on both ANT+ & Bluetooth Smart as well, allowing interactive resistance control across both ANT+ & Bluetooth Smart.  By applying resistance control, apps can simulate climbs as well as set specific wattage targets.
In any case, the Tacx Neo 2  supports the following protocol transmission standards:
ANT+ FE-C Control: This is for controlling the trainer via ANT+ from apps and head units. Read tons about it here.
ANT+ Power Meter Profile: This broadcasts as a standard ANT+ power meter, with speed baked in as well.
ANT+ Speed/Cadence Profile: This broadcasts the speed and cadence portions as a standard ANT+ speed/cadence sensor. This is handy for those that have devices/apps that may not support power meters, but still get some basic cycling data.
Bluetooth Smart Tacx Trainer Control: This is Tacx's private method of controlling the trainer. At this point it does NOT yet support FTMS, but that switch-over is very near term according to the company. Most apps support this Tacx method, so it's not a huge deal at this point in time.
Bluetooth Smart Power Meter Profile: This broadcasts as a standard BLE power meter with speed as well.
Bluetooth Smart Speed/Cadence Profile: Same as the ANT+ variant above.
Both Tacx and Elite lead the way when it comes to protocol standards support, with Elite having a slight edge over Tacx due to supporting FTMS already on their trainers.  Both companies (as well as Kinetic and a few others) also transmit estimated cadence data, which Wahoo and CycleOps lack in their transmissions (The new CycleOps H2 and M2 do now have cadence, and the company says it'll add it to the original Hammer and Magnus in a firmware update).  Baked in cadence data is handy if you're connecting to Zwift on an Apple TV, due to Apple TV's two concurrent Bluetooth Smart sensor limitation (plus the Apple TV remote).  While you can use the Zwift mobile companion app for additional sensors, I find that can be sometimes a bit flaky.
It's these same standards that also allow you to connect via head units too. For example the Wahoo ELEMNT/BOLT as well as Garmin Edge series support ANT+ FE-C for trainer control, so you can re-ride outdoor rides straight from your bike head unit to your trainer. For example, for my accuracy testing section, I recorded the data on a Garmin Edge 520 as well as the trainer apps.  From there I'm able to save the file and upload it to whatever platform I like.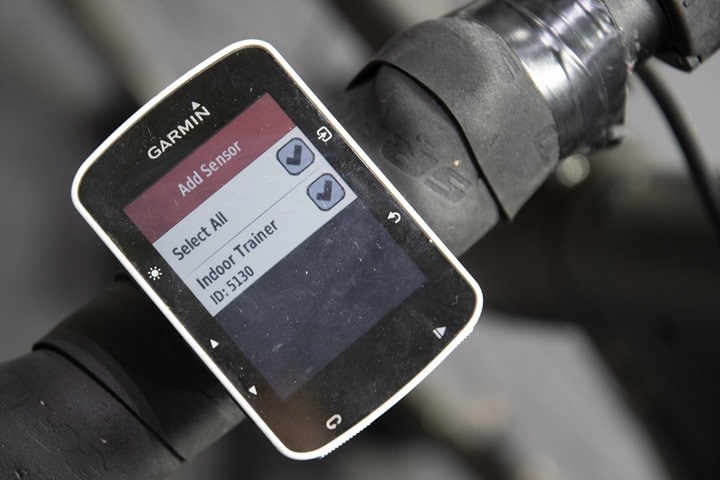 Note that Tacx has a complete suite of training apps that they sell like other 3rd party app providers do. What's notable about that is that's where you'll be able to see the pedaling metrics these days. Tacx says that's coming to 3rd party apps soonish (and also likely via the ANT+ standards around it too).  But today that advanced data is only shown in the Tacx app – and frankly, very few of you are using that (I'm not one of those people either).
For me, in my testing, I used Zwift and TrainerRoad as my two main apps (which are the two main apps I use personally), with a side dish of SufferFest for this round of testing.  In the case of Zwift, I used it in regular riding mode (non-workout mode), whereas in the case of TrainerRoad I used it in a structured workout mode. For SufferFest it was in ERG mode.  I dig into the nuances of these both within the power accuracy section. Here you can see the NEO paired as an ANT+ FE-C trainer (and as a cadence sensor) with Windows:
And here in TrainerRoad using Bluetooth Smart on an iPad:
And here in Rouvy via Bluetooth Smart as well on an iPad: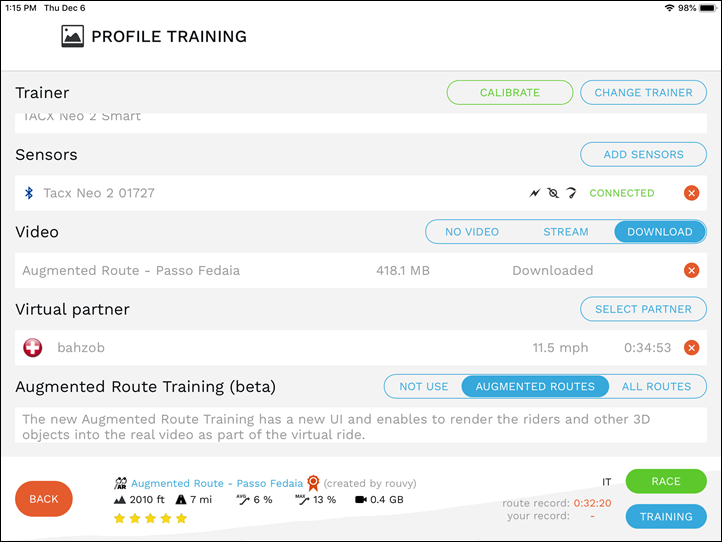 What you may notice though is that the calibration option is actually present. In reality, if you try using it, it'll fail. The Neo basically just gives it the hand, and nothing comes of it (either good or bad). So, I'll save you the time of trying – it won't work.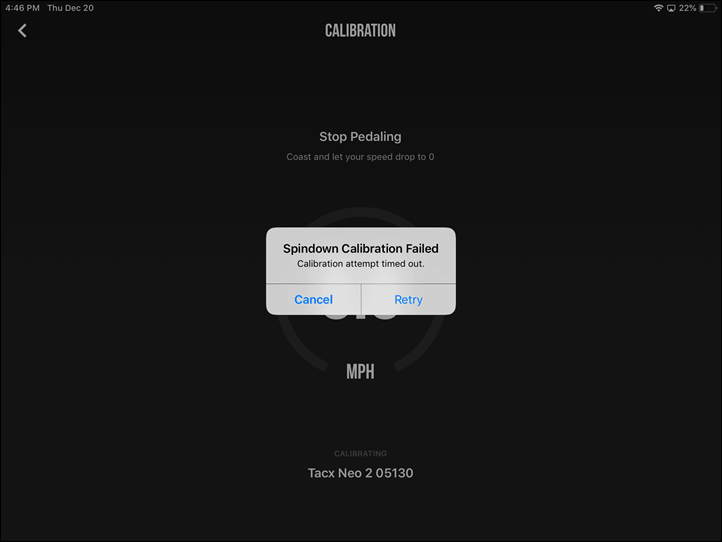 Now we'll wrap up with what is arguably the most interesting feature on the NEO series which is the 'road feel' functionality. This functionality enables the trainer to replicate the feel of the roads as you ride them in the game. Cobblestones will feel like riding on cobblestones. Planks on a boardwalk will feel just like an actual boardwalk. It really is fascinating – and has been a draw for the Neo series since it came out a few years back.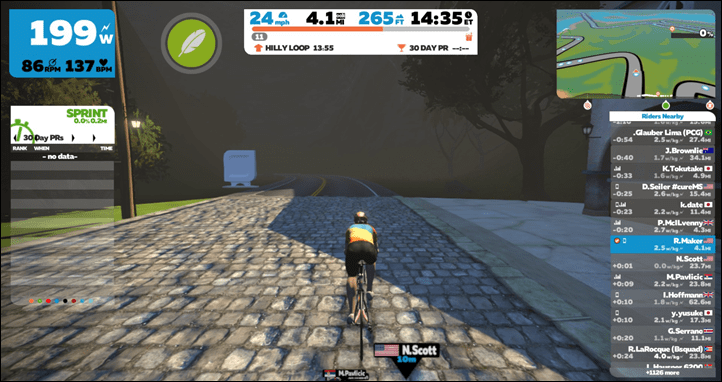 Now, there's not a ton of training benefit here, per se. But that's true of many things we do on trainers indoors. If it was all about training benefit we'd just be riding in ERG mode every day on perfectly structured workouts. Instead, we have a wide variety of apps that by and large are designed to keep us entertained.  And this feature simply adds to that entertainment factor.
And I like it.
It's fun to have the feeling of the road kick in on certain sections of Zwift. Just like when you go from clean pavement to something dirty, there's a realism factor there. No other trainer offers that today.
Next the NEO 2 has downhill drive simulation, which means that as you go downhill the trainer will forward spin the rear 'wheel' (cassette and flywheel since there is no wheel). This means that the trainer will simulate the inertia of going downhill.  This is yet another little touch that makes things feel more realistic than they are.
Finally, some will ask about Wahoo KICKR CLIMB compatibility. At this point in time, no 3rd party trainers are compatible with it. However, both Wahoo and Tacx are working together to make that happen.  In the case of the NEO, nothing is finalized yet, but it sounds like Tacx is getting closer. It's looking like it'll require some sort of accessory for the Neo to allow full/clean rotation of the rear axle. It's unclear what that accessory will cost, but Tacx has other similar accessories and they aren't too pricey. There's also no specific timelines for this yet either, but rather only public commitments from the CEO of Wahoo Fitness and the lead engineer at Tacx.
My guess would be sometime in the spring, but we'll see. Hopefully it's something they'll make backwards compatible to all Neo 1/2 units, given that's essentially 'free money' to Tacx in terms of accessory upsells they wouldn't otherwise get.
Power Accuracy Analysis: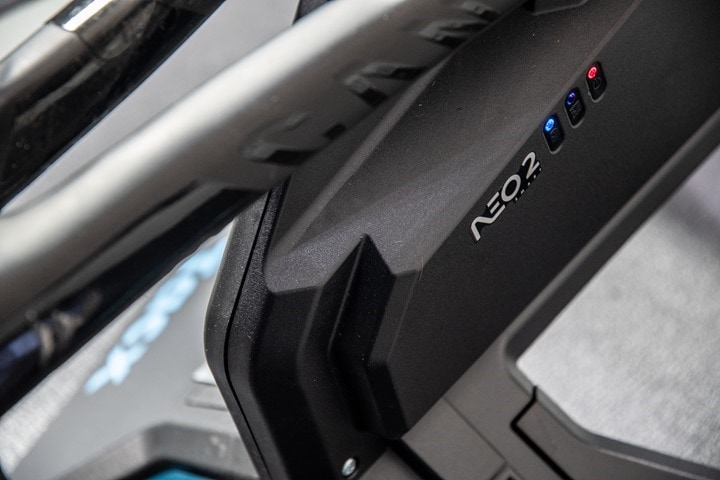 As usual, I put the trainer up against a number of power meters to see how well it handled everything from resistance control accuracy, to speed of change, to any other weird quirks along the way.
In my case I used one primary bike setup as follows in two configurations:
Canyon Bike Setup #1: SRM EXAKT (Dual sided), Stages LR (Dual sided)
Canyon Bike Setup #2: Garmin Vector 3 (Dual-Sided), Stages LR (Dual sided)
This is all in addition to the trainer itself.  Note that because you remove the rear wheel I can't use something like a PowerTap hub to compare as well (which I would use in power meter testing normally).
In my case, I was looking to see how it reacted in two core apps: Zwift and TrainerRoad (Bluetooth Smart on Apple TV and iPad), but I also did some work on The SufferFest (ANT+ FE-C on Windows)  The actual apps don't typically much matter, but rather the use cases are different.  In Zwift you get variability by having the road incline change and by being able to instantly sprint.  This reaction time and accuracy are both tested here.  Whereas in TrainerRoad I'm looking at its ability to hold a specific wattage very precisely, and to then change wattages instantly in a repeatable way.  There's no better test of that than 30×30 repeats (30-seconds at a high resistance, followed by 30-seconds at an easy resistance).
There's two ways to look at this.  First is how quickly it responds to the commands of the application.  So for that, we need to actually look at the overlay from TrainerRoad showing when it sent the command followed by when the NEO 2 achieved that level.  Here's the levels being sent (the super hard to read green line) by TrainerRoad (in this case via Bluetooth Smart on iPad) and how quickly the NEO 2 responded to it:

But that doesn't tell us accuracy. Instead, it just tells us responsiveness – which is fantastically fast. Perhaps even a bit too fast for my legs last night. It's funny, I haven't done this test on the Neo in a while (like a year+), and I forgot just how fast it is compared to all other trainers out there. It's a test I do on every trainer I get, and usually the response time is about 3-5 seconds for these wattage jumps (~150w to ~410w).  The Neo 2 though? About 1.5-2 seconds. Damn.
It's also pretty consistent as well in terms of holding wattage – especially when I was paying attention.  The first one caught me off-guard and so it wobbled a bit in terms of holding power…because I wobbled to hold it. Whereas if you look at something like the 3rd one I kept my pedaling nice and smooth and it came out quite nicely.
In any case, what about accuracy? Well, for that we need to compare against the other units. So here it is compared against Garmin's Vector 3 pedals and the Stages LR dual-sided system:

As you can see, things are super close across the board. Sometimes it's a touch bit higher than others, but not enough that I'd worry about it. It's almost always within 1-2% of the other units. Here's my whole post on how I do power accuracy testing and troubleshooting.
Here's a closer look at two of the intervals:

On the first one, it's very very tight together, whereas the second interval above we see a bit of droppage from the Stages LR unit. It appeared one side of that unit dropped slightly more than I expected it to. A bit odd from that, but not something I saw repeated.  As an interesting aside, how'd cadence look on that test (using the special Neo 2 cadence system)? So-so.

Sure, it gets it right about 95% of the time, but there are cases above where you see that blue line waver – primarily when I'm shifting cadences significantly (i.e. from 60RPM to 90RPM). Minor shifts and it appears spot-on. We'll dig into this more over the other files.
Next, let's look at a SufferFest workout I did. This was intended to be an ERG mode workout, but due to some confusion on SufferFest beta builds I was using – it didn't set ERG mode and was more of a free-ride. No worries, the power accuracy data is still totally valid:

Looking at things, the NEO 2 and Stages are very close together, with the NEO 2 often below the Stages LR, where it should be. The SRM EXAKT pedals? Sigh…always le sigh.

There does appear to be a case or two where it slightly overcommits on power – such as here in going a bit higher than the others:

But by and large, it's pretty darn close to the Stages LR.
Here's a look at the cadence on that ride. You can see that for the most part it's almost identical. There are a few quirks around the 14-16 minute marker where it varies by a few RPM in comparison to the others, but hardly enough for anyone to be concerned about.  This is likely because there wasn't much in the way of larger shifts like I had in the other file.
Next, moving onto a Zwift ride, this was a standard simulation mode ride (meaning, not structured workout). Here it is compared against the SRM EXAKT pedals and Stages LR (dual):

At a high level, things look pretty darn close, there are a few cases where the SRM EXAKT pedals randomly lose connection/data. It's unclear if this was a head unit issue or a power meter issue. It doesn't much matter here as we can easily see those dropouts and mentally ignore them.
Let's look at one of the sprints in there:

In this case series of a few smaller surges, we see that things are very close, though the NEO 2 does spike slightly over the others for the peak 1-second power.  This was a known issue on earlier firmware, and this unit should have been on the latest firmware at the time – so not sure why we see that. The first sprint is within acceptable limits for max 1-second sprint differences, but that later sprint at the right of the charge is a bit excessive.
To illustrate the challenge of getting good 1-second matching between units, here's another ride from a few days earlier. You can see on this ~800w sprint that the units are all separated like airplanes flying at different altitudes.
It's true that sometimes I manage to get units to all properly align and almost match, though, that's more the exception than the rule unfortunately.  Oh, and as for cadence on that last ride? Pretty clean across the board – nearly perfectly matching its power meter buddies (again, ignoring the SRM drops):

Ultimately, I'm not seeing much in the way of anything that's concerning here accuracy-wise for power. For cadence, there's a few foibles when making big shifts in cadence of more than about 30RPM (i.e. 60RPM to 90RPM), but since cadence isn't part of any power algorithm on the NEO 2, there's no concerns of that spilling over into power accuracy.
(Note: All of the charts in these accuracy portions were created using the DCR Analyzer tool.  It allows you to compare power meters/trainers, heart rate, cadence, speed/pace, GPS tracks and plenty more. You can use it as well for your own gadget comparisons, more details here.)
Trainer Comparisons: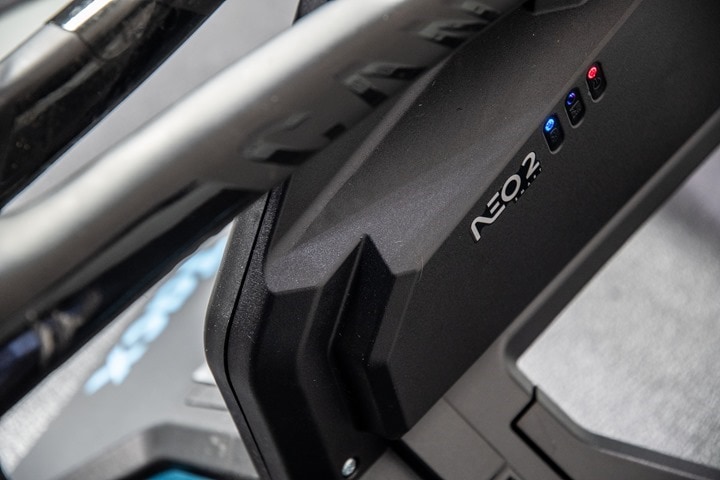 I've added the Tacx NEO 2 into the product comparison tool, though honestly, you won't see much differences here compared to the NEO 1, since for the fields I track, they don't cover more of the nuanced changes.  For purchase recommendations, see my annual trainer buyers guide and recommendations here.
Nonetheless, here's how it stacks up against the Wahoo KICKR 2018 and Elite Drivo II, which are the two trainers I'd mainly compare it against. For fun, I also tossed in the CycleOps H2, though I don't really view that in the same league as the KICKR 2018 and Drivo II from an accuracy or quietness standpoint.
Function/Feature

Tacx NEO 2 Smart
Wahoo KICKR V4/2018
CycleOps Hammer
Elite Drivo II
Copyright DC Rainmaker - Updated September 11th, 2023 @ 4:50 pm New Window
Price for trainer
$999
$1,198
$1,199USD
$1,199
Trainer Type
Direct Drive (no wheel)
Direct Drive (No Wheel)
Direct Drive (no wheel)
Direct Drive (no wheel)
Available today (for sale)
Yes
Yes
Yes
Yes
Availability regions
Global
Global
Global
Global
Wired or Wireless data transmission/control
Wireless
Wireless
Wireless
Wireless
Power cord required
No
Yes
Yes
Yes for broadcast, no for general use
Flywheel weight
Simulated/Virtual 125KG
16lbs/7.25kgs
20lb/9kg
13.2lbs/6kg
Includes cassette
No
Yes (11 Speed SRAM/Shimano)
No
No

Resistance

Tacx NEO 2 Smart
Wahoo KICKR V4/2018
CycleOps Hammer
Elite Drivo II
Can electronically control resistance (i.e. 200w)
Yes
Yes
Yes
Yes
Includes motor to drive speed (simulate downhill)
Yes
No
No
No
Maximum wattage capability
2,200w @ 40KPH
2,200w @ 40KPH
2,000w
2,296w @ 40KPH / 3,600w @ 60KPH
Maximum simulated hill incline
25%
20%
20%
24%

Features

Tacx NEO 2 Smart
Wahoo KICKR V4/2018
CycleOps Hammer
Elite Drivo II
Ability to update unit firmware
Yes
Yes
Yes
Yes
Measures/Estimates Left/Right Power
Yes
No
No
9EUR one-time fee
Can directionally steer trainer (left/right)
With accessory
No
No
No
Can simulate road patterns/shaking (i.e. cobblestones)
Yes
No
No
No

Motion

Tacx NEO 2 Smart
Wahoo KICKR V4/2018
CycleOps Hammer
Elite Drivo II
Whole-bike physical gradient simulation
No
With KICKR CLIMB accessory
No
Can slide forward/back with movement
With Tacx NEO Motion Plate (Accessory)
Can rock/tilt side to side (significantly)
No
No
No

Accuracy

Tacx NEO 2 Smart
Wahoo KICKR V4/2018
CycleOps Hammer
Elite Drivo II
Includes temperature compensation
N/A
Yes
Yes
N/A
Support rolldown procedure (for wheel based)
N/A
Yes
Yes
Yes
Supported accuracy level
+/- 1%
+/- 2%
+/- 3%
+/- 0.5%

Trainer Control

Tacx NEO 2 Smart
Wahoo KICKR V4/2018
CycleOps Hammer
Elite Drivo II
Allows 3rd party trainer control
Yes
Yes
Yes
Yes
Supports ANT+ FE-C (Trainer Control Standard)
Yes
YEs
Yes
Yes
Supports Bluetooth Smart FTMS (Trainer Control Standard)
Yes
No, but supports most apps
Yes
Yes

Data Broadcast

Tacx NEO 2 Smart
Wahoo KICKR V4/2018
CycleOps Hammer
Elite Drivo II
Transmits power via ANT+
Yes
Yes
Yes
Yes
Transmits power via Bluetooth Smart
Yes
Yes
Yes
Yes
Supports Multiple Concurrent Bluetooth connections
No, just one
Yes, 3 Concurrent
No, just one
No, just one
Transmits cadence data
Yes
Yes
Yes

Purchase

Tacx NEO 2 Smart
Wahoo KICKR V4/2018
CycleOps Hammer
Elite Drivo II
Amazon
Link
Link
Link
REI
Link
Link
Link
Wiggle
Link
Link
Link
Link

DCRainmaker

Tacx NEO 2 Smart
Wahoo KICKR V4/2018
CycleOps Hammer
Elite Drivo II
Review Link
Link
Link
Link
Link
And remember, you can mix and match against all trainers I've poked at within the product comparison database here.
Summary:
The Tacx NEO 2 feels (and is) essentially a placeholder new trainer. By that, I mean that it's a perfectly functional NEO 2, with nothing really amiss about it. If you like the NEO 1, you'll like the NEO 2. There's virtually no meaningful shifts between the two for consumers today. Sure, there's the promise of something magical via firmware or what-not down the road, but there's no substance behind that promise. Certainly Tacx has previously delivered many times on software updates. For example, there was the road-feel that came to the original Neo without notice. Then there was ANT+ FE-C that was delivered, plus the ISOKINETIC training modes too.
So it's not like Tacx is without precedent here.
Essentially this release is mostly to keep the NEO 2 fresh in your mind as one of the top two trainers (it and the KICKR 2018). If you've got a NEO 1, there's absolutely zero reason to upgrade. And similarly, if you see a good deal on a NEO 1, I'd probably save the cash and pick up that. But for everyone else, there's also no reason to avoid it. It's still likely to be my main daily-driver trainer going into 2019. The only competitor being a Wahoo/CLIMB combo – which is ultimately how the conversation has been for many people over the last year. I don't have a good answer there. It's really a practical cost thing more than anything else. They're both great trainers, and both silent.

Found This Post Useful? Support The Site!
Hopefully you found this review useful. At the end of the day, I'm an athlete just like you looking for the most detail possible on a new purchase – so my review is written from the standpoint of how I used the device. The reviews generally take a lot of hours to put together, so it's a fair bit of work (and labor of love). As you probably noticed by looking below, I also take time to answer all the questions posted in the comments – and there's quite a bit of detail in there as well.
If you're shopping for the Tacx NEO 2T Smart or any other accessory items, please consider using the affiliate links below! As an Amazon Associate I earn from qualifying purchases. It doesn't cost you anything extra, but your purchases help support this website a lot. Even more, if you shop with TPC (The Pro's Closet), you'll save $40 on purchases over $200 with coupon code DCRAIN40! The Pro's Closet has been a long-time partner of the site here - including sponsoring videos like my cargo bike race, as well as just being an awesome Colorado-based company full of good humans. Check them out with the links below and the DCRAIN40 coupon!
I've also put together a quick list of some of my favorite or most compatible accessories for this unit:
And finally, here's a handy list of trainer accessories that most folks getting a smart trainer for the first time might not have already:
And of course – you can always sign-up to be a DCR Supporter! That gets you an ad-free DCR, access to the DCR Quarantine Corner video series packed with behind the scenes tidbits...and it also makes you awesome. And being awesome is what it's all about!
Thanks for reading! And as always, feel free to post comments or questions in the comments section below, I'll be happy to try and answer them as quickly as possible. And lastly, if you felt this review was useful – I always appreciate feedback in the comments below. Thanks!