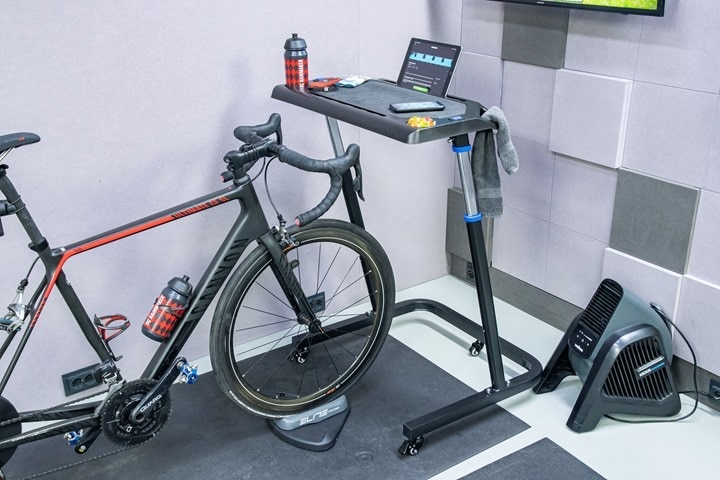 Want the Wahoo KICKR Desk (which work with any brand trainer), but can't exactly justify spending $250 on an indoor trainer desk? No problem, there's an alternative – the RAD Cycling Desk, also branded as the Lifeline Cycling Trainer Desk, Vinsetto Cycling Desk, Conquer Cycling Trainer Desk, as well as some truly special brand names. This 'I can't decide what I want to be called desk', is almost a direct knock-off of the KICKR Desk.
The difference though? It actually has more features…for less than half the price.
Look, I'm no fan of direct knock-offs. I think there's valid reasons why you should support the engineering pipeline of companies that do that original innovating. But, there's also a point in time for every company to innovate on existing designs or address noted shortcomings. Yes, I love the Wahoo KICKR Desk I bought nearly 5 years ago, as does almost everyone that buys one (despite the price). But in that initial review there were only two complaints I had with the original Wahoo design. Both of which could easily have been rectified down the road in minor revisions. Neither happened. Instead, a mostly no-name company was apparently this listening. And implemented both of them, for half the price.
And so, because obviously I need two KICKR/Wannabe KICKR desks in the DCR Cave, I went out and bought another one (at full price too). This time the Lifeline Cycling Trainer Desk. And thus, this is my review of that desk. Note: I've never talked to said random company. I assume they have 32 other names in various countries they go by.
Now, if you'd like to see this thing in action, then just hit play below. Everything's better with action.
I'll try my hardest to keep this review shorter than 12,000 words. But realistically, I can't make any promises. The TDLR: It's better than the KICKR Desk in most ways that matter but isn't quite as sexy. If desks can be sexy. But hey, it costs less than half as much in most countries, and I've been using it for most of this year, side by side with the KICKR Desk.
What's in the box: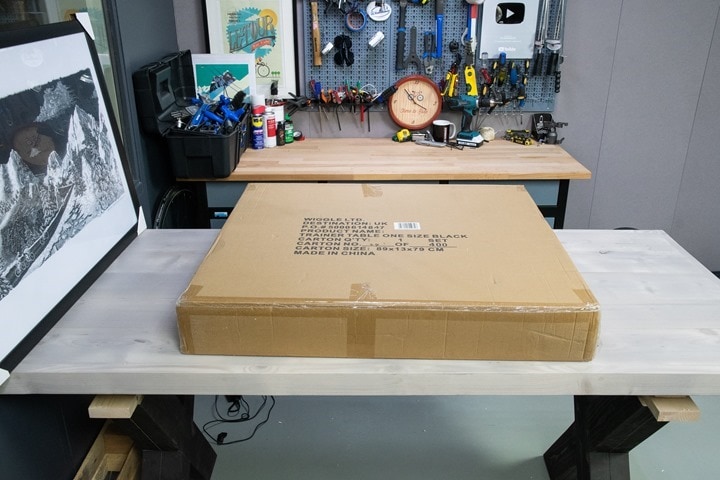 There is no fancy box here. It's just a cardboard box imprinted with the product name and the retailer it was destined for. As well as the Sharpie'd quantity for that lot. In my case, I bought mine (at full price) from Chain Reaction, which is owned by Wiggle. It was the only place I could find it earlier this year in Europe in-stock. Now though, it's in a boatload of places under different names (all linked at the end). In the US, you can get it on Amazon. Perhaps those boxes say 'Amazon' on the side.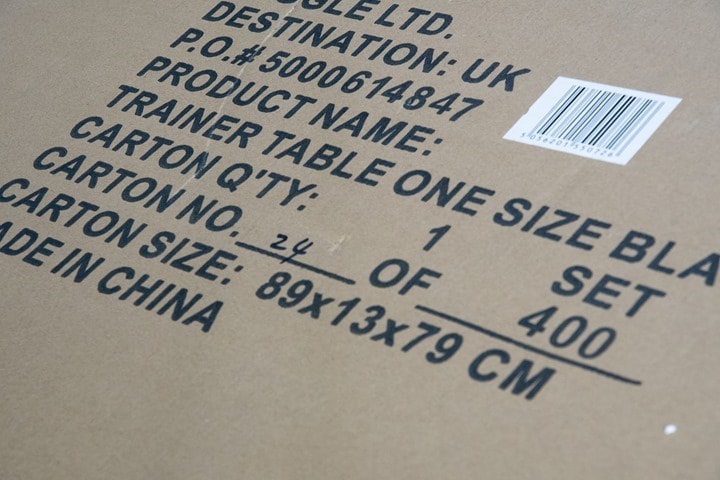 After I removed all the parts, here's what I've got: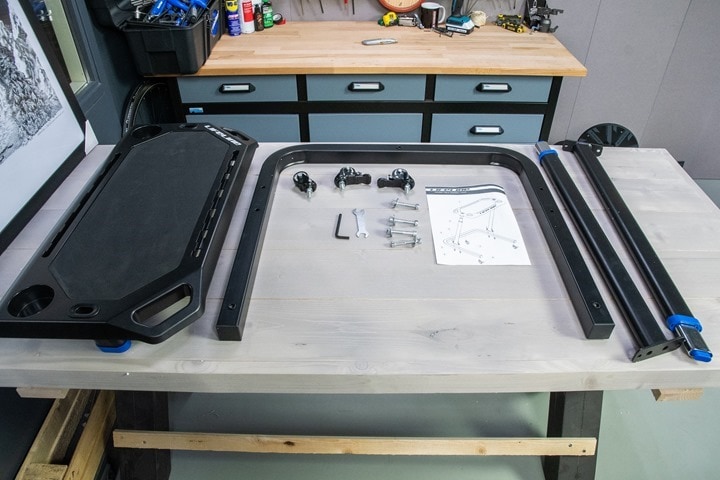 Basically there's the following things:
– Table top
– Floor base (the u-shaped thing)
– Legs (pretty obvious)
– Three Wheels
– Four bolts
– Allen key and wrench
– A quick-start manual you might actually read
Here's a close look at those pieces for fun:
And, the unboxing section is done.
Setup: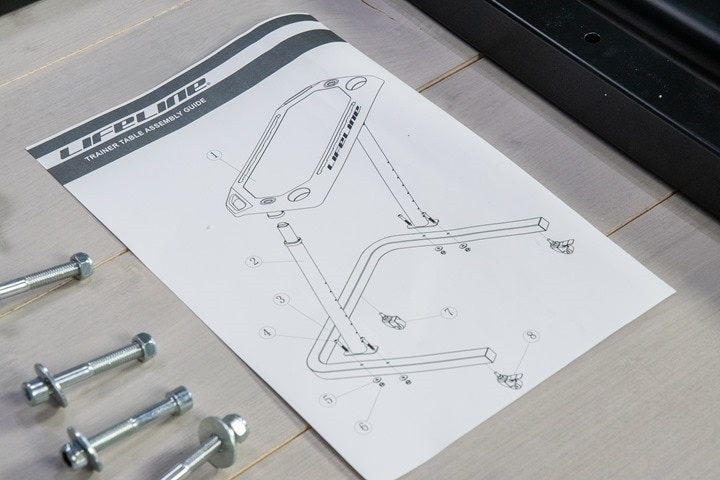 Putting together is pretty straightforward. In my case, I selected to do so on the most awkward surface I had – the unboxing table. I wouldn't recommend building a rolling table on top of another table. Poor life events can happen that way. But that's how I roll.
I put the wheels on first (stupid idea), then put the legs on.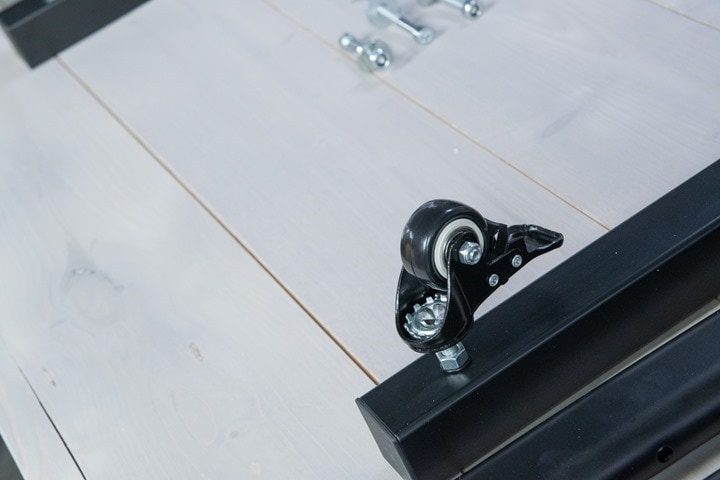 On the bright side, the wheels do have locks on them, which helps…assuming all those legs actually fit on our table top.
Then I stuck the legs on:
About the only quirky part here was inserting the table top into the base. It didn't lock at first, but I think that was just user error. Once it locked in by pressing the buttons, then it was nice and crispy from there on out.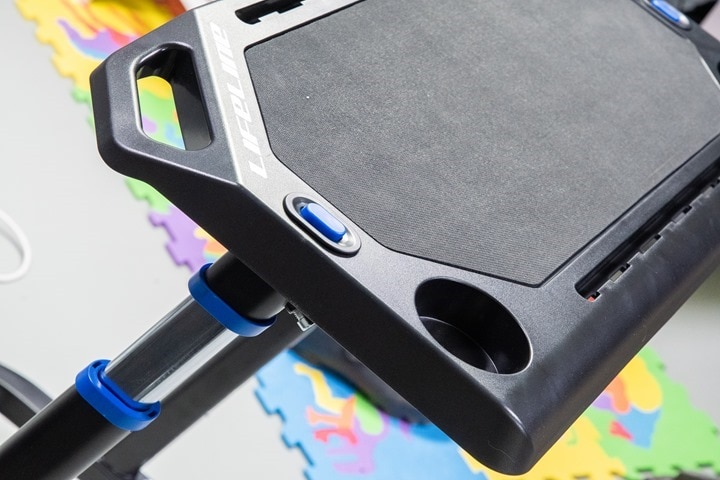 Total DCR install time: 10 minutes including taking a pile of unnecessary photos and shooting video too. Normal person assembly time: 3 minutes tops.
Daily Usage: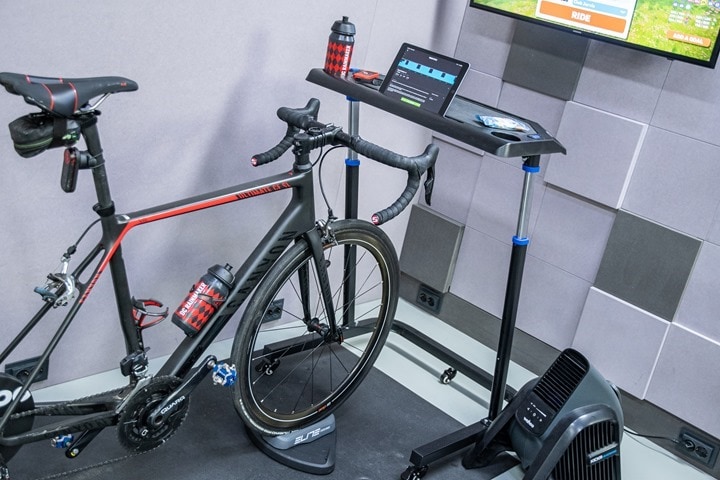 The whole point of a trainer desk is simply a place to stash all your crap while you ride. That could be things like nutrition, but also stuff like a laptop,  tablet, your phone, or Haribo. In my situation my primary use cases are:
A) Hold my iPad for training apps (special groove to keep it upright)
B) Place to stick my phone, sometimes charging too
C) Place to stash the 18 extra bike computers I'm recording data from
D) Place to stash Apple TV remote
Plus of course, sometimes things like cameras or whatever else I need to have up there.
And yes, since the days of the KICKR Desk people have selected all sorts of hospital side-table desk & musical instruments things that are cheaper, as well as other contraptions. All of which is cool. I think the point of this desk is basically splitting the difference for something that's purpose-built, but won't set you back as much as a mid-range GPS watch.
(The above $7 Apple TV remote case is amazeballs for trainers, it's a non-slippery silicone that goes around it, while including a strap. It also often hangs on my handlebars. Here's my full review on it. Yes…serious, I wrote an entire review about an $8 silicone case – it's that awesome.)
The first thing you'll want to do is adjust the height of the desk. You'll simply press the two blue buttons and then push/pull to adjust to where you want it.
In general, you'll want this to clear your handlebars, so that you can have it rest over the edge of it if you want to. Also, if you have a KICKR CLIMB, remember that's going to go up and down, so do consider that elevation situation prior to your first ride (and find it goes up into the desk and throws your laptop, water bottle, and Haribo all over the ground). Further, if you have an Elite Sterzo or Sterzo Smart, consider that your handlebars will turn. My bike is probably about as tall as you're gonna get height-wise, and it barely clears under the desk at it's highest when I rotate the handlebars fully. But there's no reason you really need to have it overlapping if you don't want it.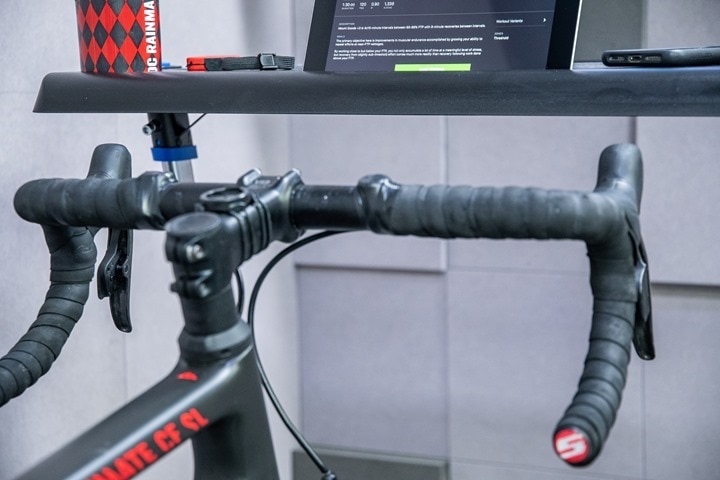 Meanwhile, down at the base are the wheels. This allows you to roll it front/backwards, useful if perhaps you just want your screen further out of the sweat drip-zone. And most notably, wheel locks.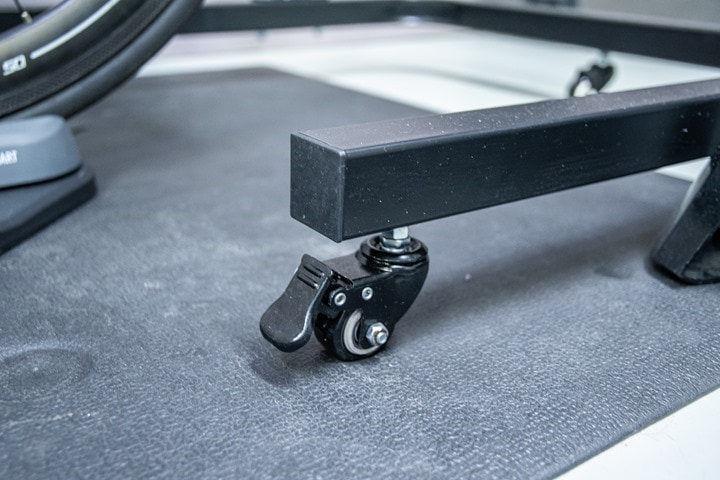 This is one of the two core features I found the Wahoo KICKR Desk lacked. It mattered to me when I reviewed it because in the Paris DCR Cave, the floor wasn't level. So much so the KICKR Desk would literally roll away (no joke). So I had to always block it wish something so my desk wouldn't end up on the other end of the cave.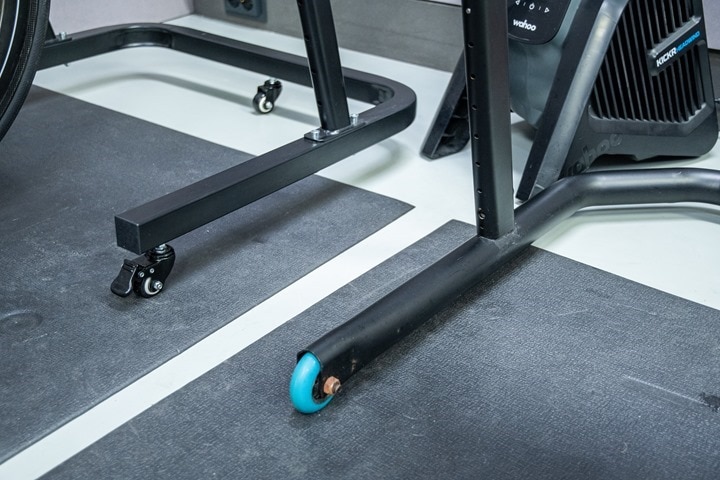 While we're down here, you'll see that the base bar structure is higher off the ground than the KICKR Desk. This is notable if you're a Wahoo Headwind fan user *AND* also put your Headwind fan atop that base bar (that's why there's a cut-out in the Headwind design, it's made to perfectly fit the KICKR Desk). So on the RAD/Lifeline desk it ends up just looking a bit weird.
That said, I don't tend to use my fan there, since about the only thing it'll then cool is my crotch. And while my junk's hotness levels might be off the charts, I can't say it's a major priority compared to cooling my chest/head. So I tend to put the fans off to the side anyway.
Meanwhile, back up top desk-side, you've got the two towel holders, interestingly, the RAD/Lifeline desk has slightly larger towel holder slots, which is nice cause it makes it easier to actually get the towel back in again. Though, most times it just ends up on my handlebars anyway since the holes are on the 'far side' of things.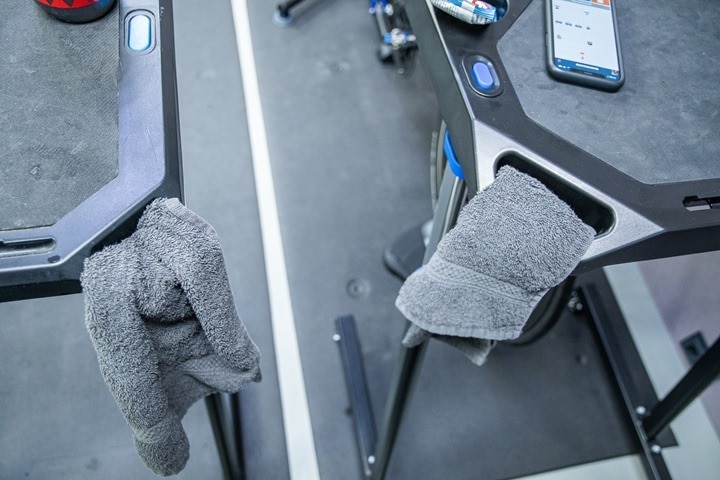 (Above: KICKR Desk left, Lifeline desk right)
And then up front the two water bottle holders. Why do water bottle holders matter when the KICKR Desk doesn't have them? Because, as any KICKR-desk owner will tell you, one slight bonk of the desk and off goes the water bottles. This solves that. Also, it makes for a great place to put snacks and such.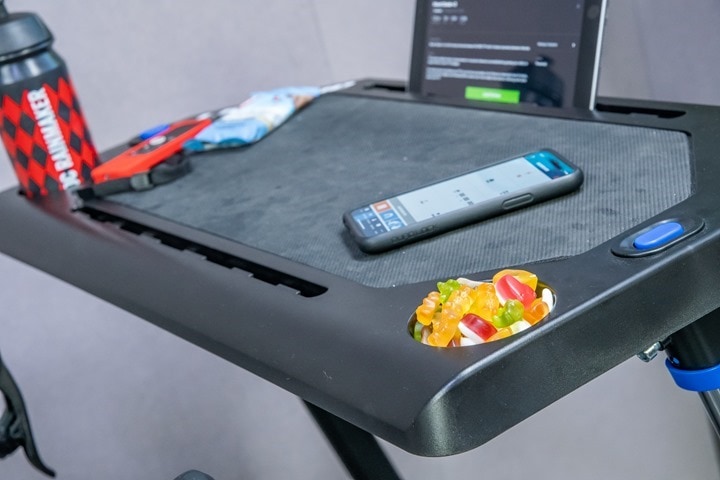 Then there's two sets of grooves. These allow you to place a tablet in there and have it stand up at a slight angle. Here's the two positions. Note that you can fit a phone in there just fine, but not a phone with a case. I've never had my iPad fall out of it (or the KICKR desk for that matter), it's pretty solid.
You'll notice at the base of the grooves there's cut-outs, so that you can wire a very slim cable up if you want. Or, they also act as drains if they fill with sweat or whatever, it'll simply drain out and not become a swimming pool.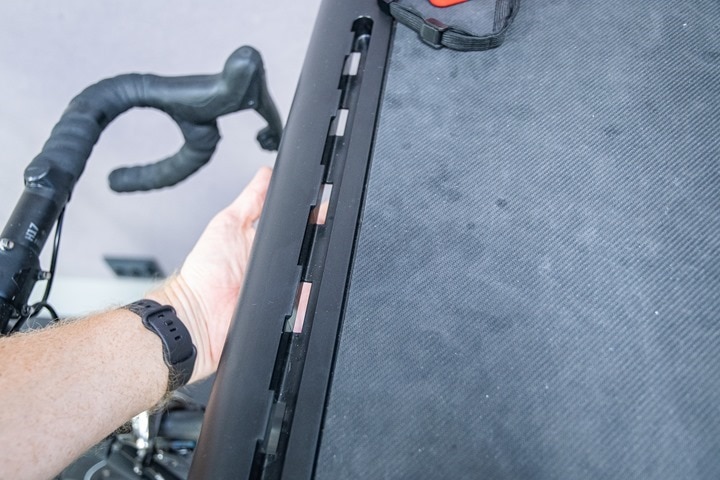 Next, there's the surface. It's got a bit of a non-slip surface atop it, so that things don't slid off. It's the exact same surface as the KICKR Desk.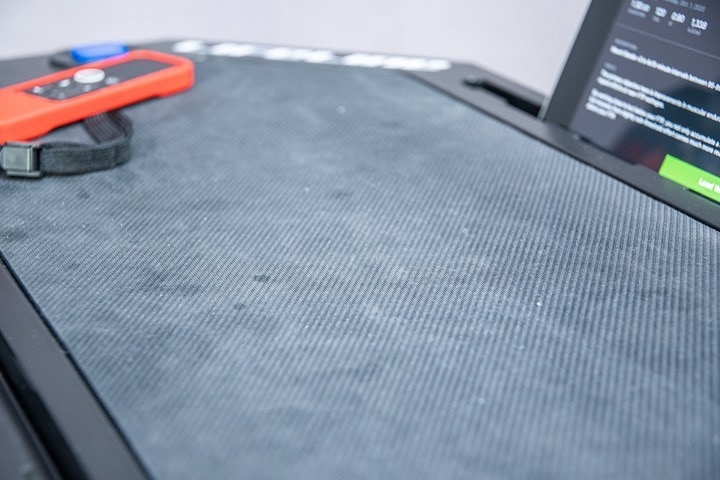 Still, keep in mind my Wahoo KICKR Desk is just shy of 5 years old now, which is a @#$#@ crap-ton of trainer rides. So in the grand scheme of things it looks pretty good. It's more that photographically close-up it's not quite as sharp.
Finally, note that there's no power in it. In my case, I just have a longer USB-C cord and longer Apple Lightning cord nearby that I can drag up there if I need to charge things. The SARIS TD-1 desk does have two USB ports and two AC outlets, super handy. In fact, it's also sitting in my cave. Expect a review of that in a few weeks.
In any case, day to day wise I'm pretty darn happy with this variant.
Compared to KICKR Desk: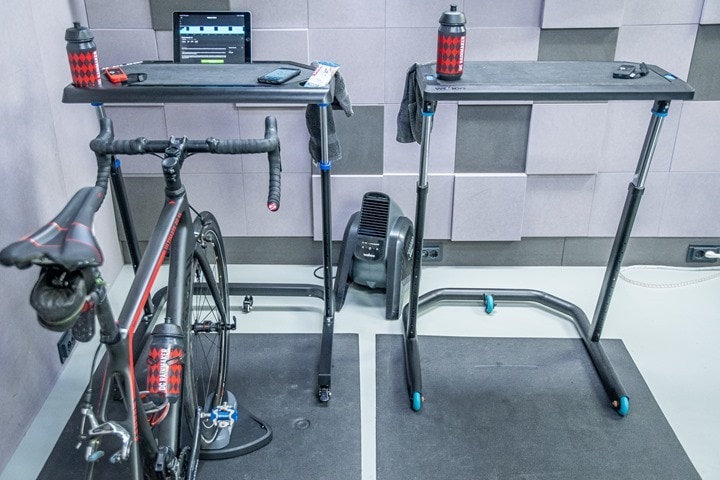 So I've been using both decks, literally side by side, since earlier this year. Some days I'm at the RAD/Lifeline desk, and some days I'm at the KICKR Desk. It's purely dependent on which bike or trainer spot I'm at.
In general, at a high level, you probably wouldn't notice the difference between them. But, you don't come here for high-level differences. Here's the nuances:
– RAD/Lifeline desk has two water bottle holders (Wahoo has none)
– RAD/Lifeline desk has wheel locks for uneven surfaces so it doesn't roll away (like the DCR Paris Cave was) – Wahoo has none
– RAD/Lifeline desk has slightly larger towel holes than Wahoo
– Wahoo Desk has better and silkier wheels than RAD/Lifeline, which a professional rollerblader might notice. Didn't matter to me.
– Wahoo Desk fits the Wahoo Headwind Fan perfectly (by design), so you can stick it over the front bar. The RAD/Lifeline desk is raised slightly too high. You can make it work, it's just not pretty. That said, the fan works better when it's not pointed at your crotch anyway, so I usually place it off to the side (for either desk)
– Wahoo's frame base is definitely prettier being rounded surfaces versus the squared look of the RAD/Lifeline. Not sure if anyone would notice unless I said something.
– RAD/Lifeline desk's wheels can actually rotate, useful when you need to rotate it out of a tight space, the KICKR desk only goes forward/backwards
– Non-slip textured surface is the same on both
– Tablet holder situation is the same on both
– Usable surface area is the same on both
– Max/min adjustable height is the same on both
– Both can withstand my entire body weight (see the video!)
As I said, I've been using both side by side for quite a while now, and probably even use the RAD/Lifeline desk more since it's in the position closest to the wall (which is what I consider my primary trainer spot).
The biggest advantage for me is really the water bottle holders…but as noted, not actually for water bottles. Instead, I put my remotes in there most times. I just find it easier to grab. Also, sometimes I put nutrition in there. But yeah, I've one water bottle too.
Wrap-Up: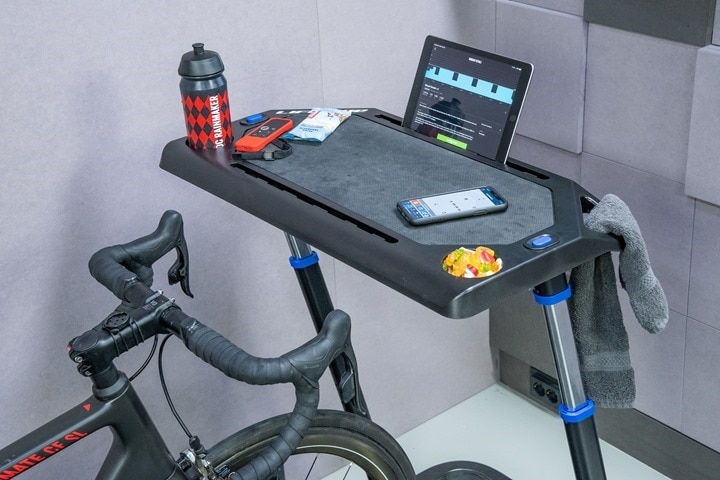 In general, knock-offs across numerous consumer product categories tend to be lesser devices. Usually sacrificing something (often notable) in quality or functionality compared to the original products. Not always, but often. However, in this rare case, I think the RAD/Lifeline trainer desk is actually better than Wahoo's KICKR Desk. Simply put, it's got two water bottle holders and wheel locks that Wahoo lacks. These are functionally useful. Plus, obviously it's roughly half the price of Wahoo's option.
As for downsides, about the only thing I could possibly nitpick on is the base legs aren't as pretty as the KICKR Desk. Also, if you have a Wahoo Headwind fan, it doesn't fit over the legs of the RAD/Lifeline desk as seamlessly as the Wahoo KICKR desk. But frankly, if you spent $250 for the Wahoo fan, I have a funny feeling you might have already spent $250 for the KICKR Desk anyway.
Of course, I'd love to see Wahoo iterate on their desk. Not massively, just slightly. The two features added were ones I identified in my Wahoo KICKR Desk review 5 years ago. Nothing has changed in Wahoo's Desk since then. I'd want those features incorporated, and most notably, some element of power. Specifically 1-2 international outlets, and then 2-3 USB ports.
But if you're looking for a trainer desk, you won't go wrong with this one. And I'll probably even pick-up another too for home, since this one has pretty much exclusively lived at the DCR Cave.
With that – thanks for reading!
Found this review useful? Support the site:
Hopefully you found this review useful. At the end of the day, I'm an athlete just like you looking for the most detail possible on a new purchase – so my review is written from the standpoint of how I used the device. The reviews generally take a lot of hours to put together, so it's a fair bit of work (and labor of love). As you probably noticed by looking below, I also take time to answer all the questions posted in the comments – and there's quite a bit of detail in there as well.
You'll find the RAD/Lifeline/Confidence/Conquer/PPWear Cycling Trainer Desk on Amazon under either brand depending on which country you're in. Here's those specific links. TRY MULTIPLE LINKS IF ONE IS PRICING CRAZY, it just means it's out of stock for a few days. These are all *identical*. In my tracking of the US Amazon site, every week these come in/out of stock, and tend to be in-stock around Tues-Thursday most often (and then out of stock for the weekend. The three links below are the ones to check!
RAD Cycling Trainer Desk – Amazon US (blue accents)
Vinsetto Cycling Trainer Desk – Amazon US (blue accents)
Conquer Cycling Trainer Desk – Amazon US (orange accents)
RAD Cycling Trainer desk – Amazon Canada
Confidence Cycling Trainer Desk – Amazon UK
RAD Cycle Trainer Desk – Amazon Australia
PPWear Cycling Trainer Desk – Amazon France
PPWear Cycling Trainer Desk – Amazon Germany
PPWear Cycling Trainer Desk – Amazon Italy
PPWear Cycling Trainer Desk – Amazon Netherlands
PPWear Cycling Trainer Desk – Amazon Spain
For European/Australian/New Zealand readers, you can also pick up the unit via Wiggle at the links below, which helps support the site too (and, !
Lifeline Cycling Trainer Desk (EU/UK/AU/NZ – Wiggle) – [Back in stock!!!! best deal for Europe folks at 99GBP]
Or, anything else you pick up on Amazon helps support the site as well (socks, laundry detergent, cowbells). If you're outside the US, I've got links to all of the major individual country Amazon stores on the sidebar towards the top.