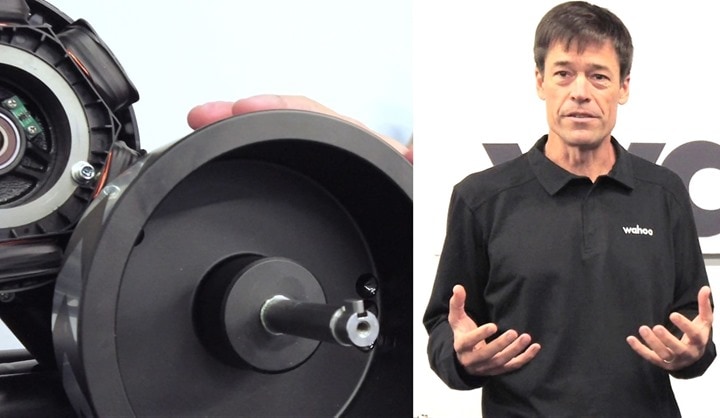 Since the Wahoo KICKR 2018 and KICKR CORE were announced back at Eurobike 2018 (in July), it hasn't entirely been smooth sailing for either product. While both have been enormously popular, and certainly the vast majority of people haven't had problems – those words haven't been much comfort for those that have run into issues. Especially if they're on their 3rd KICKR.  To those unlucky folks, it would seem as though every KICKR made was broken.
So while at CES two weeks ago I got the chance to chat with CEO Chip Hawkins about the issues the company has faced, and whether the company feels like they've got a handle on them. As well as a bit of clarity on exactly how many people (or percentage) of the units this impacted. As always, it's a bit tricky to tell by looking at forums or Facebook pages, since for the most part only people with broken units bother to reply. Whereas most with perfectly functional units continue about their daily life unaware.
I had wanted to film a video there, but the logistics didn't quite work out. Instead, we ended up filming a video via Skype call a few days ago – with one of the Wahoo engineers present (plus CEO Chip Hawkins) to detail the issues and the fixes Wahoo has put in place. I wouldn't really want to call it an interview per se, as that's not really my cup of tea.
Instead, I generally prefer to provide a bit of background, and then ask some starter questions and let companies discuss the technology themselves. With a few more clarifying questions tossed in. After which, I give some closing thoughts. To cut right to it, here's that video:
Again, I realize a 21-minute video is a bit long for some to watch, but I personally prefer listening to a company explain the details of an issue and how it came about, than a 2-minute canned PR piece.
The Tech Details:
In case you're looking for the 'too-long, didn't watch' version, here's the basics of what was covered in bulleted fashion. Again, since it was mentioned multiple times – this won't impact everyone, or anywhere near everyone. Wahoo noted after the call that the issues in total represent about 3% of units shipped (read-on to understand how someone could end up breaking multiple consecutive units though). Here's the quickie version of that video:
– KICKR 2018 Noise Issues: This was primarily due to a locking key that wasn't designed for certain states, and would end up being too loose and rattle. Wahoo has provided a self-repair kit you can get from support. Or, they'll swap your KICKR out for you. Your choice. Wahoo implemented this fix the week of Sept 24th, 2018 (units made after that), however, keep in mind that it takes about four weeks on the water (by ship) before units hit distribution centers. And then more time before they hit retailers, and finally more time before they end up in your living room. The self-repair kit can easily be requested from Wahoo support, and they note it'll take about 20-40 minutes to complete the procedure. I've had one friend that recently did the self-repair kit and it fixed his issue pretty easily.
– KICKR CORE Noise Issues: This is a slightly different issue than the KICKR 2018, and in this case is a much quicker fix requiring no additional parts. It's simply opening up the CORE and tightening a few things. Quick and easy. Wahoo has a detailed PDF as well for this.
– KICKR CORE No Power/Speed Issues: This is probably the most challenging issue of all. This is the result of electrostatic discharge (ESD) that results in killing the onboard chip responsible for that. Totally dead killing, no half-deaths here. There's no recovery from this except a unit swap. Wahoo details in the video what they're doing to address this. The first step is switching to new power supplies (the power brick thing you plug in the wall) with discharge grounding. This should help most people. The second is adding an ESD diode to the CORE itself. They did note that this has actually been the same since the very original KICKR, it's just that the KICKR sales volumes Wahoo has now are dramatically bigger (read: they're selling way more units). It's notable that when Wahoo support sends folks a replacement KICKR, they are very explicit in telling folks not to use the older (non-protected) power supply and instead to use the new power supply.  They even have a nifty picture to tell them apart with green and red text.
In particular though, the death by ESD bit is heavily environmentally weighted. Meaning, it explains quite logically how a single person could manage to kill 2, 3, 4 KICKR's in a row. If you're in a carpeted room with socks on, and manage to 'shock' your bike/trainer, that'll do the trick. Trainer dead. Whereas if you're in a concrete or other hard surface with little static electricity build-up, it's less likely to happen to you. For example in the DCR Cave, it's just a concrete beast. I don't think I've shocked myself on anything yet (thus, no ESD issue on my trainers). Whereas if I was back in Washington DC, my living room there likely would have killed units like no tomorrow.
– KICKR Stickers Flying Off: While a somewhat funny problem if you sprint too hard – Wahoo says they've ordered better Elmer's glue, and the stickers are no longer flying off. They do have sticker replacement packs in the event you unlocked the STICKR KICKR achievement.
Got all that? Good.
Chip in the video also noted that as much speculation as there has been on whether Wahoo's new factories were to blame, he said that while he wished he could blame them for this, ultimately it was just engineering design mistakes.
A few people have asked since posting the video about a few other random issues. For the most part the above issues where the vast majority of what I heard from folks over the last while. Whereas some of the ancillary items people have noted seem to be far smaller in scope (such as potential belt overtightening and bearing wear). I honestly also think a bit of some of those questions are folks confusing some issues together (some are legit issues, but some are the result of a bad game of telephone). Still, I'll ask Wahoo to clarify those items and what changes (if any) have been made and note them here when I hear back.
Wrap-Up:
To say the trainer industry is perfect would be untrue. Almost every manufacturer has had challenges in recent years (or even this year). Certainly Wahoo with their trainer this season, Tacx has also had some stumbles primarily with the Flux lineup, JetBlack with accuracy earlier, Kinetic is struggling a bit with software integration, Elite struggling with the Zumo release, and CycleOps…well, actually, CycleOps is good. Mostly because the only thing that's new in their new 2018 units is they painted them black instead. I suppose that's one way to do it.
Of course, someone will invariably recall the days of the CompuTrainer or some other product from years ago. But the reality is that big brands like Wahoo and Tacx are roughly shipping more trainers per month than CompuTrainer did in total over their entire 20+ year existence. Obviously CompuTrainer was the grandfather for all these brands, but comparing the two isn't exactly Apples to Apples. More like Raisins to Watermelons.
Still, companies like Wahoo and Tacx need to ensure that quality is meeting consumers expectations, especially for the price point. I think we're seeing that with why Tacx continues to push back the Tacx Bike shipping date, as they work to ensure they don't have any stumbles like they've had in the past. And certainly for Wahoo, dealing with swapping out heavy trainers isn't a cheap proposition by any means. Both in terms of shipping costs, but also the personnel required from a support standpoint too.
Hopefully though the video above helps explain things a little bit.
Finally, I don't really have any overall concerns with recommending any of these brands/trainers. My guesstimate prior to the discussion of the impacted % of people was pretty close to what they provided. It may not feel like that if you're on the wrong end of things, but the key difference between this year and even just a few years ago is simply how many trainers companies are shipping. This segment is exploding in popularity, and all of these companies are struggling to meet the demand. But by and large, the vast majority of people on all these brands don't have issues. They're off happily Zwifting or FulGazing or what-not.
With that – thanks for reading!