The fact that indoor cycling company Bkool has just announced today it's exiting the indoor trainer business isn't terribly surprising. What is the most surprising thing out of the last 24 hours is the number of active users Bkool has on their training platform: 100,000. And – despite what you might think, the vast majority are actually not in Spain, but rather a wide number of countries.
With those two tidbits out of the way, let's get to all the details. I sat down with the Spanish company's CEO Wences Sevillano and CMO Javier Cepedano yesterday to get an understanding of why they're making the shift they are, and to dive into the details of their online cycling platform that's divided into the traditional hardcore cycling segment as well as the more casual fitness element. In other words, people who would Zwift as well as people who would Peloton.
Ending Hardware Production: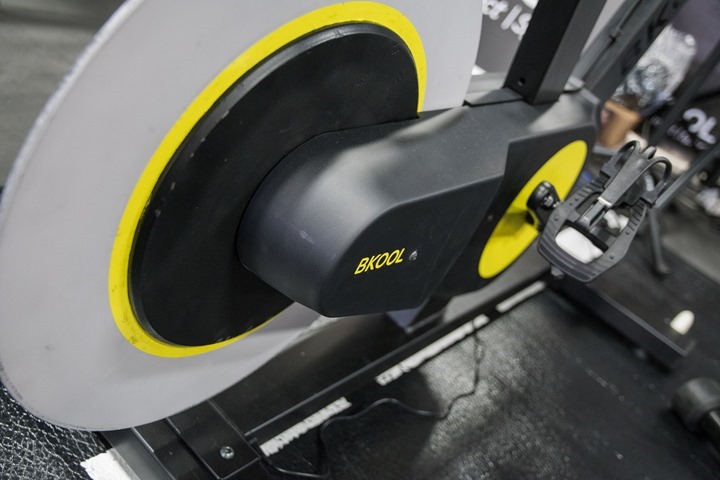 It'd be easy to simply write-off Bkool's hardware decision as an example of a company discarding a loss-driving business segment. But that doesn't entirely tell the full hardware story, nor how Bkool will need to position its software element going forward.
For those watching the industry for some time, it was well known that Bkool has long struggled to really break into the global smart trainer field. Which in some ways is ironic because they have had decent offerings for some time, though usually more in the budget range than their more recent higher-end offerings. Part of that historical challenge though was decisions made to lock some of these trainers down to just Bkool's platform. Some of their trainers were totally open standards and worked across the board, while others had more restrictions.
And in some points in the past the company toyed with a subscription model that unlocked your trainer while subscribed, but locked it down to Bkool's platform when not subscribed. Unto itself this wasn't necessarily a horrible idea, but when competing against an industry that widely adopts open standards, it makes for a harder sell.
Add to that the growing number of indoor trainer apps in the market at the time – and people wanted guaranteed freedom to move around. Said more simplistically, Bkool got a bit of a bad rap over it – one that dogged their hardware lineup for quite some time.
So what exactly are they doing?
Well, essentially they've sold off the hardware business to a company focused primarily on the Spanish market (where trainer hardware appeared to do reasonably well previously).  That company, Zycle.EU was actually the electronics integrator for Bkool up until this point. However Bkool was manufacturing trainers elsewhere. And up until a few weeks ago, Bkool had planned to continue selling trainers through the 2019-2020 season (and then discontinue them next summer). But Bkool's current manufacturing partner has run into some financial challenges of their own, and thus it hastened the decision to kill off the lineup.

Going forward, Zycle will actually assume not just the trainer lineup/branding/etc, but also production via their own facilities as well. Atop that, some Bkool employees will transfer to that company as part of the sale. These are mostly employees in the hardware sales roles, as well as support.
Speaking of which, if you have a Bkool trainer already – the company says that the agreement covers support for all existing Bkool customers as well. So you won't lose any support of your existing trainer.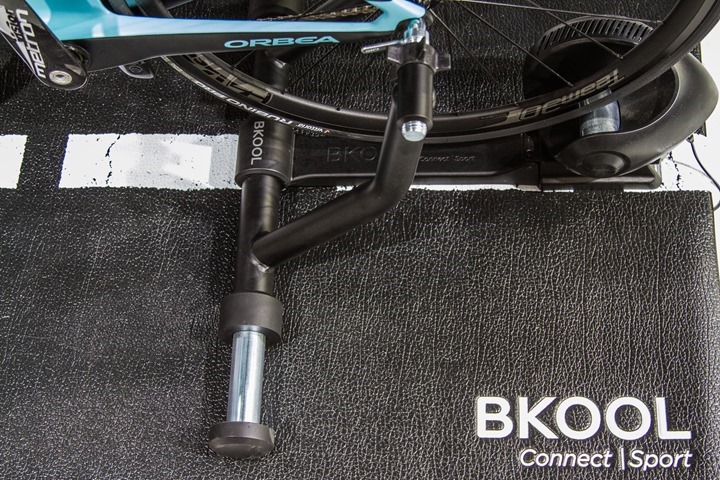 As for Zycle's plans for the hardware, they will be selling it not under the Bkool name, but under the Zycle branding with different logos and colors. They'll be focusing exclusively on wheel-on trainers, so the direct-drive Bkool Smart Air and a planned Bkool Smart Lite won't be continued. Longer-term, Zycle may get back into those product line-ups, but it's not on the radar for this season.
While Zycle initially plans to focus on the Spanish market, they have the rights to sell wherever they want. For example, as you'll see in the next section – Bkool has done reasonably well in other European countries, including the UK and Denmark. So it's plausible that Zycle will look to entertain those markets as well.
In some ways, I think Bkool summed it up best in their letter to users today:
"Ending the production of our hardware was a difficult decision; Bkool pioneered the development of Smart Trainers. Despite our company's size and resources, we have done a good job. But we do not believe that it is our place as a company to compete against Elite, Tacx, Saris or Wahoo, but to develop our simulator so that everyone can enjoy the best indoor cycling experience possible."
I agree, I don't think Bkool was really competing anymore with those trainer companies. The hardware simply wasn't keeping up, and it was clear their focus was elsewhere. I don't think Bkool was really driving prices down elsewhere in the market, and given the single-EU market, the Spanish pricing of Bkool wasn't really lowering the pricing of Tacx or Elite products in the EU either.
Their Online Platform: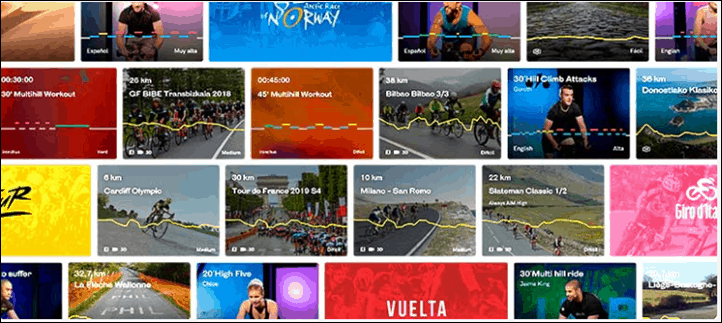 So if not hardware, then what?
Well, their online training platform – which is something Bkool has spent significant time on over the years. After all, it pre-dated Zwift. It just didn't get the same explosive growth as Zwift.
Still, to my surprise – the company is hardly a laggard in the online space. In fact, my napkin math puts them at either a solid #3 or #4 spot based on paying users (with the order being Zwift, then TrainerRoad, then either Bkool or The Sufferfest). During my discussion with them, they outlined the current subscriber numbers and they're nothing to sneeze at.
The company has 100,000 active users (defined as someone uploading twice in the past 12 months), of which 50,000 are paid premium users (in total some 250,000 users have tried Bkool). While the company is heavily known in Spain (likely due to being based there), it's actually not entirely Spanish driven. Sure, 35% of users are in Spain, but 15% are from Denmark, 10% from Great Britain, 7% from France, and 6% from the US. After that, Germany and Colombia are each at 4%, while Italy and the Netherlands take home 2%. The remainder of the world holds 16%.
Many of you probably just went: Denmark?!? WTF chuck?!?
Nothing wrong with Denmark of course, but it would seem an outsized user metric for a platform based in Spain. Turns out though the company had focused on both Denmark and the UK as part of some distribution partnerships where they did special 'experience' centers, which did exceedingly well at driving growth in those markets.
So much so in fact that they've signed an agreement with the Danish Cycling Federation (downstream of the UCI) for indoor trainer racing this winter that will see the races split evenly between Bkool and Zwift. They are seen as equals in this venture, rather than it being a purely Zwift play. I'm super interested in seeing how that works out.
Of course – I probably should step back and explain what their online platform is. Well, it's got two core halves:
A) The indoor cycling side: 3D World, Videos, and Maps (plus workouts)
B) The fitness side: Essentially a variant of Peloton, without the expensive bike
Most people know the indoor cycling side of Bkool with its ability to not just ride around in a virtual world that replicates real-life locations, but also to ride on outdoor videos (even ones you upload yourself), as well as a map view to ride anywhere you darn well please. And atop that, structured workouts. In a lot of ways it's kinda like the diversified platforms of Kinomap or Rouvy.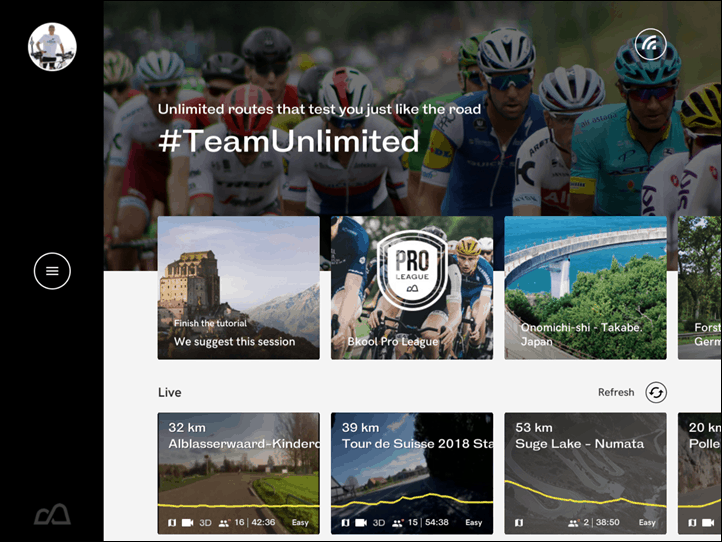 Then there's the "Fitness" side of the house. This roughly mimics a Peloton experience, including in multiple languages. The difference is the classes aren't live (yet, that's coming), and instead are recorded. The company has 100 classes from a variety of instructors already on the platform, and another 100 on the way. The production quality of these is substantially higher than some of the other platforms out there, which I think is a key reason we look at why Peloton has had the success they've had. Within the fitness side of the house (it's technically its own app, but a subscription covers both sides), Bkool has 10,000 active users (which is a subset of the 100,000 users).
While Bkool's numbers are certainly strong – what's changing going forward? In other words, how are they going to move the needle?
The company says they've started to focus on partnerships with trainer brands in the space. For example, they've put in place an agreement with Elite that starts to put vouchers for Bkool in every Elite box (akin to how Zwift puts 30-day trials in every Elite Suito box). In addition, with the Spanish distributor of Wahoo, users are given a voucher for Bkool there as well. From here, they want to establish partnerships with other trainer brands to make it more obvious that Bkool's platform is an option to new consumers.
Further, unlike some of their rivals – Bkool says they're going to actually have a dedicated certification division within the company to get trainers certified as compatible across all protocols. While standards like ANT+ FE-C & Bluetooth Smart FTMS exist, the unfortunate reality is incompatibilities exist between many apps and trainers for all sorts of weird reasons (trust me, I've stumbled onto them all). So Bkool wants to get ahead of those issues with a simple place users can look-up compatibility.
From an app standpoint, they're also working on an Apple TV variant as well – though today they're already cross-platform on everything else. And lastly, pricing-wise the company is 9.99EUR a month (but there's an annual membership rate too), which gets you access to both the traditional cycling side of the apps as well as the fitness portions of the apps.
Wrap-Up:

I think this is a smart move for Bkool, especially if they can find a way to grow that somewhat unique blend of having both the traditional cycling app aspect (riding a course, doing an indoor race, etc), as well as the more general fitness instructor-led classes. I know many people that may primarily ride on platforms like Zwift, but also like to occasionally mix it up with Peloton style workouts. Bkool seems to be really the only one that has this capability at the production levels people expect and the variety people expect. If they can find a way to make that message resonate – that could be a distinct advantage for them.
As many of you know, I'll be doing another annual indoor app round-up this year (after taking a year or three break from it). Bkool is on the list of apps I'll be digging into more deeply. Rather than trying to cover 20 apps like years past, I'm taking a more surgical approach with the top 5-7 apps out there, and then short mentions of everyone else. Otherwise it becomes this unsustainable juggernaut of a beast.
In any case, I've been ticking away at these apps as part of the never-ending indoor trainer reviews I'm working through, so it's working out. In any case, expect that full app guide some time this month.
With that – thanks for reading!