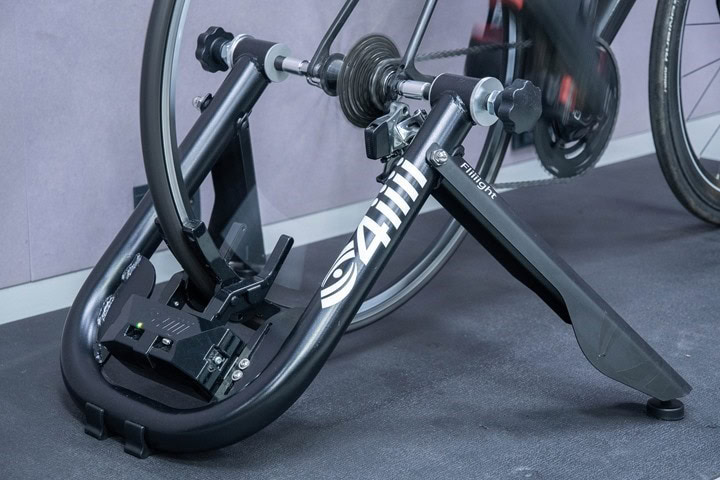 The Fliiiight is a different kind of trainer on so many levels. First off – it doesn't use any sort of traditional trainer resistance technology to provide resistance. Instead, it recreates gradients and wattage levels by moving magnets, which depending on how close they are to your metal wheel rim will increase or decrease the amount of work you have to put in. The primary benefit of this concept is that it creates exactly zero sound. At least the trainer itself anyway. Your bike's drive train will still create sound depending on how clean you have it (or how good your mechanic/parts are).
This design isn't new though. This past spring, 4iiii bought STAC, which previously made the STAC Zero trainer. That trainer had the same technology foundations, but lacked style (it was traffic cone orange) and was finicky to set up. You had to deal with alignment issues as well as installing these weights on your wheels. But once you got it all set up, it worked just fine. The new Fliiiight gets rid of the weights, as well as the alignment issues. Now it has this crazy cool robotic alignment system. Frankly, I could create and play GIF's of it all day long.
However, beyond all the tech bits – this trainer is different in its target market. While not clear from 4iiii at launch (or even till I finally started testing it) – it was designed for a rider that could put out less. Power that is. Simply put – this trainer isn't for most people at the front of the pack. Nor for many people in the middle of the pack. I'll get into all that below – but 4iiii now says that this trainer is designed for someone with an FTP of about 200w – and I'd agree with that (though, with some more caveats that I'll get into).
But before we get into all those details (and trust me, there are many details) – note that 4iiii sent me this media loaner sample to test. Once I'm done with it here for testing I'll sort out how to get it back to them in Canada. Just the way I roll. If you found this review useful, feel free to hit up the links at the bottom to help support the site – I appreciate it!
What's in the box: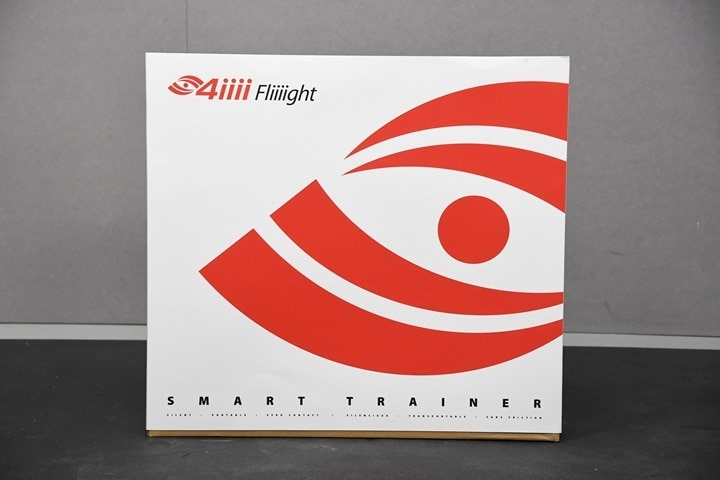 You'd easily mistake the 4iiii Fliiiight box for someone who managed to order a double-stack pizza. It's actually almost identical to two pizza boxes stacked together. It's amazing.
Slide off the sleeve, and crack open the top – also, pizza box style.
Inside you'll find a sticker that's your quick-start guide. It literally is as simple as this sticker implies.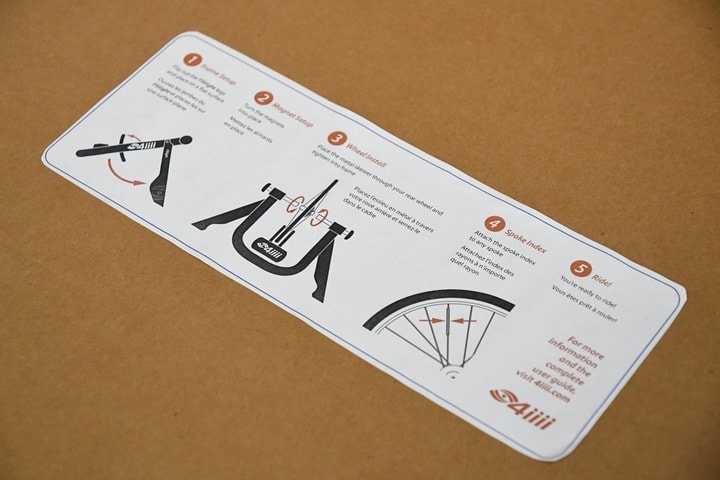 Open up the stickered level, and you'll see the trainer just chillin' there:
And then here's everything laid out for its maiden unboxing photo: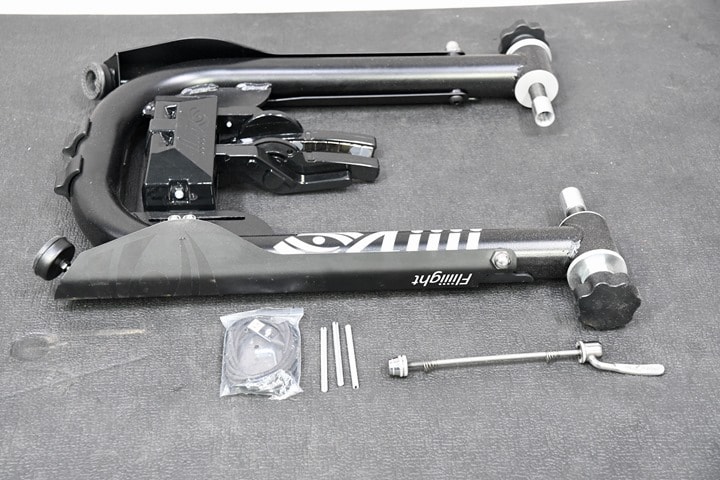 There's only a few parts inside, as seen below:
A) USB-C cable with nifty magnetic attachment thingy
B) Three spoke clasps (you only need one)
C) A trainer skewer
Here's a closer a closer look at that: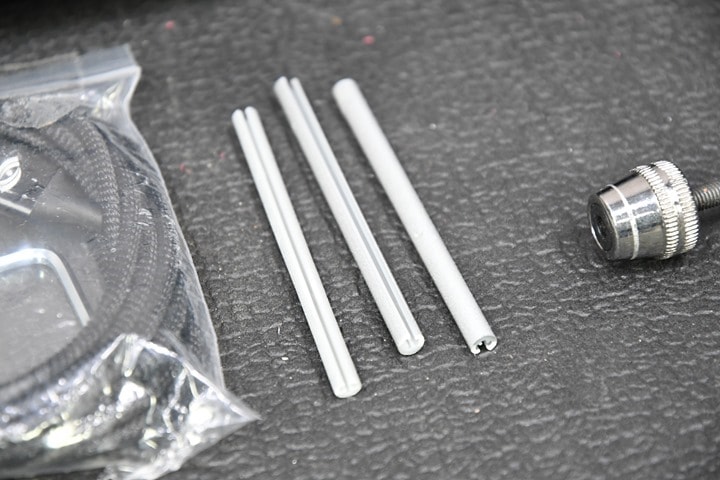 Those spoke clasps are used by the optical sensor on the trainer to detect your wheel speed. You simply just slide it around one of your spokes and you're good to go. Just like giving your spoke a hug.
And that's it. No wheel weights here, nor anything else. Oddly, not even a USB wall outlet adapter. Though you can use any USB adapter port you have sitting around your house. The trainer has a battery in it, which is claimed for 2 hours of usage. In my testing though I just ran it plugged in all the time to an older iPhone wall adapter. The way USB works it doesn't matter what you plug it into.
The Basics:
So now that we've got it unboxed, we'll get it setup. Which is equally as simple. First, unfold the legs and stand the trainer up: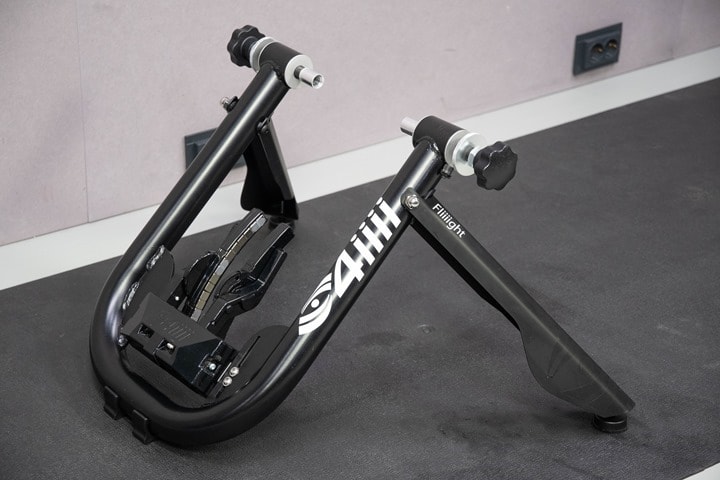 Next, unfold the rear arms. Its' technically a two-level origami unfolding process. It takes approximately 3.8 seconds. Any slower, and you need to do some more reps to get your form down:
After that go ahead and stock the spoke hugger on your favorite spoke. It doesn't matter which spoke, but just arrange it so that it's closer to the outer edge of the wheel.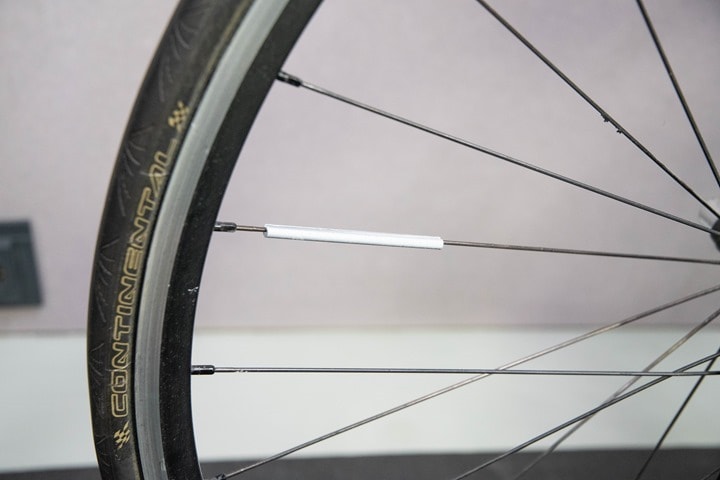 And finally, mount your bike using either your existing metal skewer or the included one. If you have a plastic skewer on your bike from your wheel, swap it out. Don't worry, you can use the metal one for regular riding as well.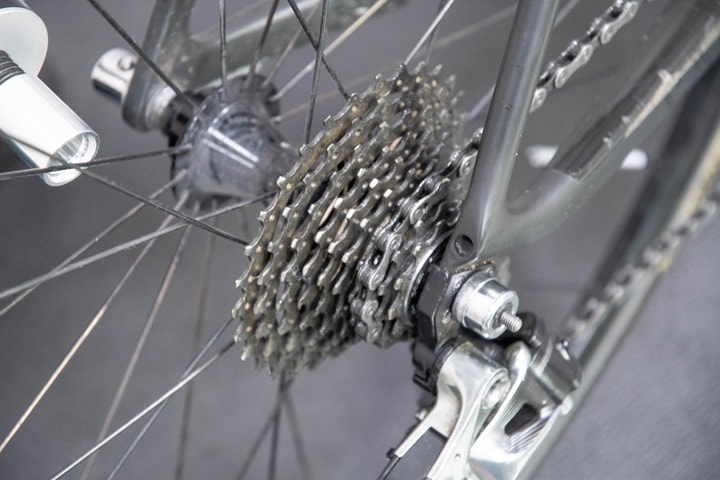 Now's a good time to mention that you do indeed need a wheel rim with metal in it. If you've got yourself a fancy carbon wheelset, that won't do here. The magnets need the metal to interact with.
Oh – and even better is that you don't even need to keep your tires pumped up, like this:
You'll want to ensure the bike is nice and snug. The entire robotic moving arm system works best when there's no sway of the bike itself, as it's already having to deal with the fact that your wheel isn't true from the like 28 times you tried to jump the curb and failed.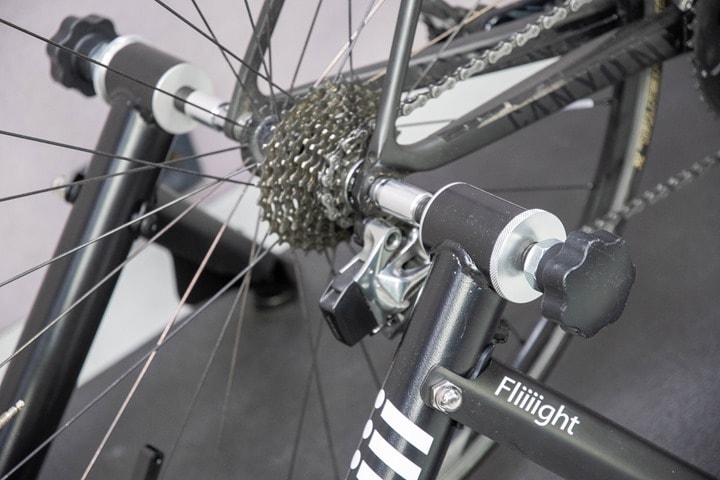 Finally, go ahead and plug it in to ensure it's charged up. The trainer has a USB-C port on it, that charges its internal 2hr battery. But what's cool is that 4iiii included a set of these tiny little magnetic USB-C breakaway adapters (you can actually buy them here). This means if you trip over the cable it won't rip away from your trainer. You know, like Apple used to have on their MacBook's before we all had to move to 4 ports filled with dongle adapters.
I'd love to see more and more trainer companies shift to USB-C for standardized power delivery. If only because it'll make my life easier having to keep track of which power plug is for which trainer. Most trainers don't actually need that much power, and some of them even generate their own power. Obviously they'll require more power than this lowly USB adapter below (such as a laptop charger) – but heck, at least there would be a standard.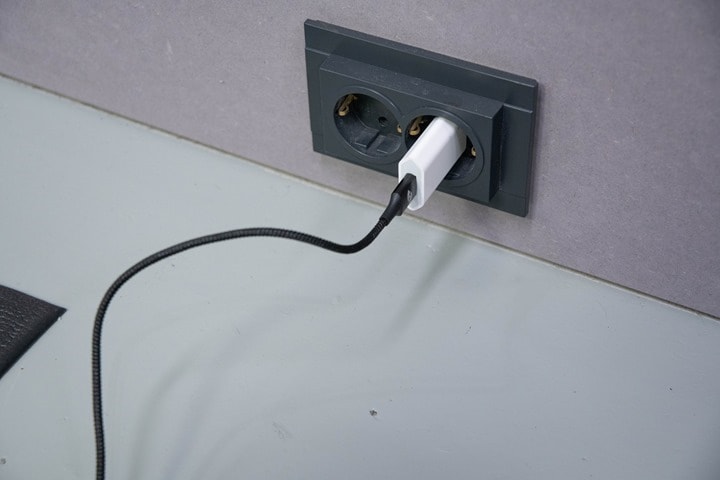 If you haven't turned on the power switch by now, it's a good time to do so: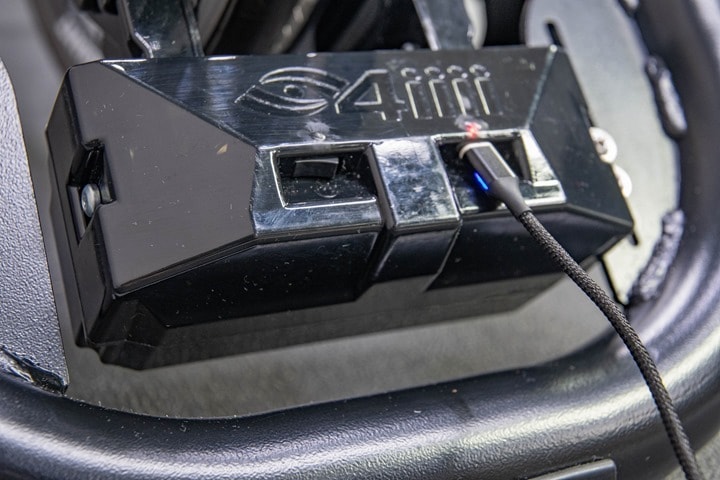 You'll notice that as soon as you either power it on, or spin the wheel and stop pedaling the robotic arms will go to town. They'll close up on the wheel and then release. This is the automatic calibration feature. Yup, that's it – your trainer is now calibrated.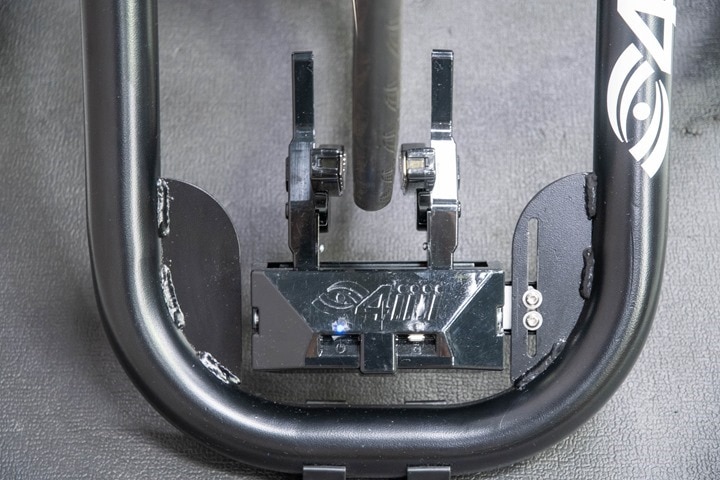 What's really cool about this is that it not only aligns itself across the entire horizontal length of the back of the trainer (in case you didn't put your bike in centered), but also figures out your exact wheel width and position too. Seriously, just click play and watch the entire sequence – including the normal riding sound it makes towards the end:
Now let's start pedaling for realz. You'll notice as you pedal that the little robotic arms are constantly swaying in and out. This is because your wheel likely isn't true (perfectly even). It's using that spoke magnet to measure your wheel speed in real-time, and then countering for the variations in your pedal stroke in real-time as well. It's almost as fascinating to watch as the calibration sequence.
As you request more power from the system (such as going from 150w to 300w), the arms will move closer and closer to your wheel rim, providing more resistance. The idea being that they never touch, else that'll make some noise (but is otherwise harmless).
And remember that little spoke condom? That's actually passing by these optical sensors right here. The white helps the sensor see it clearly compared to your spokes: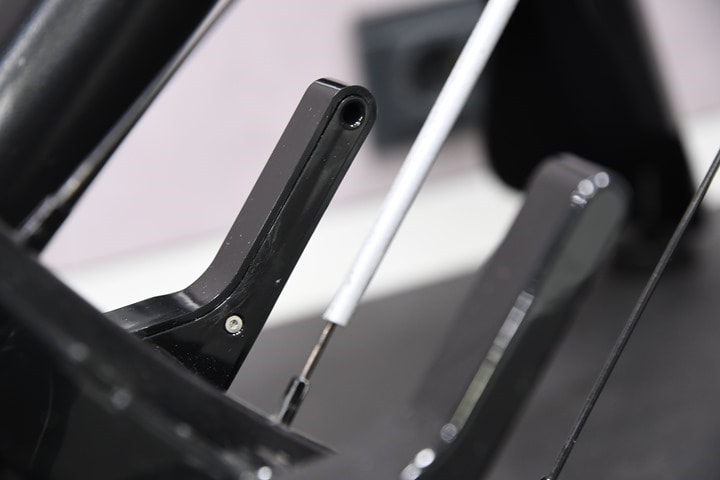 Now given the Fliiiight is a smart trainer, it'll change resistance automatically in a few different ways, primarily driven by different applications/methods.  But most of this all boils down to two core methods:
ERG Mode: Setting a specific power level – i.e., 185w.  In this mode, no matter what gearing you use, the trainer will simply stay at 185w (or whatever you set it to).
Simulation Mode: Simulating a specific outdoor grade – i.e., 6% incline. In this mode, it's just like outdoors in that you can change your gearing to make it easier or harder.  Wattage is not hard-set, only incline levels.
In the case of simulation (aka slope) mode, the Fliiiight can simulate from 0% to 7% incline – which is below the competitors in this price point. The Elite Tuo goes to 10%, the Saris M2 to 15%,  the Wahoo KICKR SNAP simulates up to 12%. Keep in mind that by default on Zwift your gradient is halved (this doesn't impact your speed or power required, just gearing). While I always use it at 100%, here's what that setting shows by default at 50%: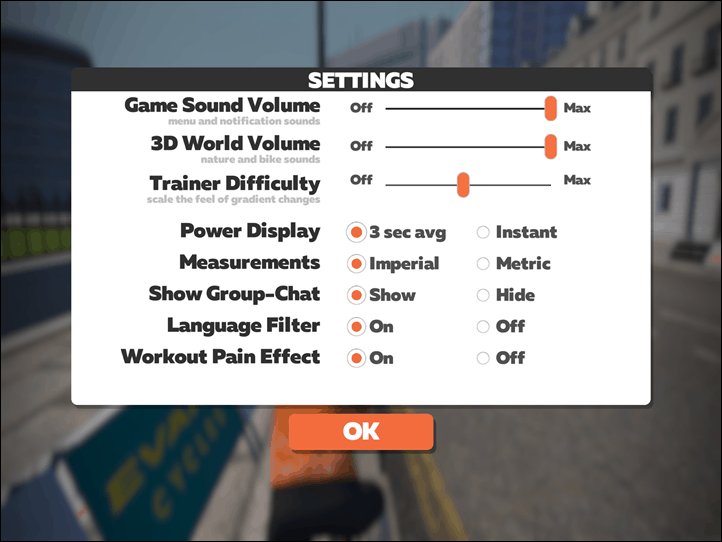 This means that by default a 10% gradient becomes a 5% gradient unless you change it to 100%. Which in the case of the Fliiiight is probably a good thing, given its relatively low ability to replicate grades.
The second mode the trainer has is ERG mode.  In that case, the company claims up to 2,200w – but there's no way in hell it'll ever hit that unless you're doing like 900RPM. This is very low in the smart trainer world, even for a $500 smart trainer. And this probably gets to the core 'challenge' with the Fliiiight: It's essentially designed for riders with an FTP up to about 200w. FTP is essentially how much wattage you can hold for approximately an hour. So if you can hold 200w for an hour, your FTP is 200w. If you can hold 285w for an hour, your FTP is 285w. There are various ways to test this that don't require you pedal balls to the wall for an hour, just lookup FTP test or RAMP test.
In any case, let's step through each of these very Fliiiight specific aspects one at a time. First being ERG mode responsiveness. Here's my standard 30×30 test using TrainerRoad, which shifts between recovery at about 150w, and then intervals at about 420w. Repeating every 30 seconds. For this test I'm looking to see how quickly a trainer responds, as well as how well it holds the set point. We'll get into the actual power accuracy portions (comparative to other units) in a later section. First tough, responsiveness:

So you can see for the first set above, it was really low. Huh.
Turns out my cadence was around 85RPM. A bit lower than my usual 90's or so, but hardly an issue on any smart trainer I use. As such, the trainer wasn't able to supply the required power – short by some 50-70 watts, since my wheel speed wasn't fast enough. You can see that as I brought up my cadence into the upper 90's the Fliiiight was able to provide the power just fine.

As such, for the next set I kept my cadence above 100RPM, and the trainer matched the required/requested ERG mode set point of 428w just fine (give or take a few watts, as is normal for most trainers):

I eventually found that for these sets I could get away with approx. 98RPM. Any lower and it wouldn't hold resistance.

Why does this matter?
Well, if you wanted to do low-cadence drills you couldn't do so – at least at these wattages. If you had a target of say, 300w, then sure, there's no issues there. That's where we get into the FTP bit of 200w. The trainer, as you can see, can certainly put out more than 200w just fine. But if you're doing training sessions, then you'll undoubtedly have parts of a structured workout that are higher than 200w. That's how you get stronger. If you just train below FTP, it's unlikely you'll make meaningful training gains.
Now – I circled back to 4iiii on this to see if the challenges I had with cadence and getting more power were expected. Essentially they said they were. However, they also gave an option to tweak the distance buffer between the magnets on the arm and my wheel. Remember that controls how much power the trainer can respond with. Normally they have a bit of a margin of error to handle less than true wheels so they don't rub. But one could reduce that margin through settings, and that'd, in turn, give you more resistance.
So I did that (it's a feature of their upcoming Android app, but 4iiii Support has a website you can change it from as well). It allowed me to set the Motion Limit in closer. By the time this releases to the public it'll be much prettier and probably have normal human terms. But to test the concept out, it worked just fine.
I then tried TrainerRoad 30×30's again. Good deal – much better in terms of top-end power. I was able to do the first set at 77RPM and it was coming in at 450w. Granted, the power was a bit higher than the set point, but I wasn't super even in my stroke since I hadn't entirely expected it to actually match me at 450w for 77RPM. I then did a second interval, this one in the mid 80's, and it was still able to hold the power just fine.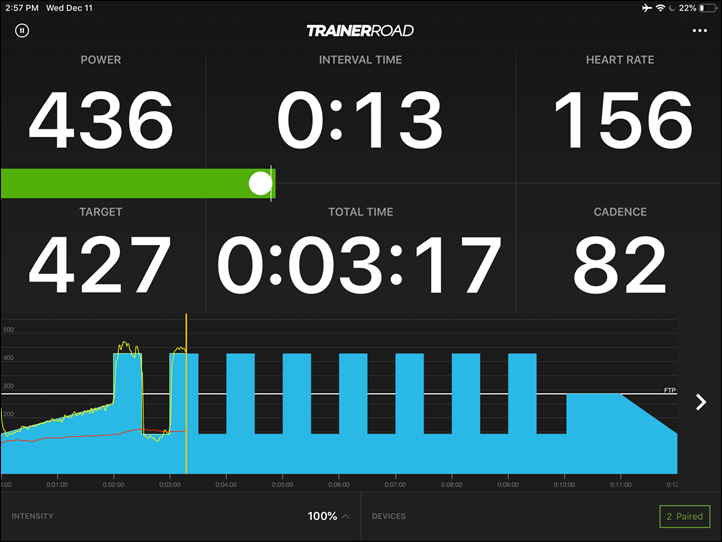 So ok – ERG mode is fine within that context of holding power, assuming you're riding in the fastest possible gearing combination (big ring in front, smaller rings in back). Unlike other trainers in ERG mode, the 4iiii is the opposite. It *wants* wheel speed. The faster the better. All other trainers are the opposite (slower flywheel speed is more responsive/accurate). The downside though is that with this change the road-feel got worse. Substantially worse. Like pedaling through mud. But, at lower wattages (I also tried the mid-200's and low 300's), it was better.
What about SIM mode – meaning, regular Zwift riding? Well, in a nutshell it's the same, except even worse. Way worse.
See, unlike in ERG mode where you can just put your bike in the fastest possible speed and it'll be acceptable, you can't do that in Zwift (or other road simulation type apps). You need to shift to deal with changes in terrain, or to catch-up to a breakaway in a sprint. So what ends up happening is you run out of gears to get the resistance you need, be it on the flats or even during climbs (with the default settings) – but more than anything else also on descents.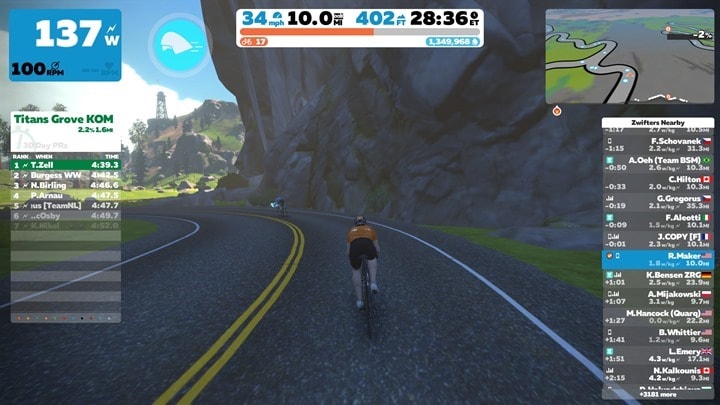 Take the above screenshot for example – that's as much power as the trainer would allow me to do – and that's at a cadence of 100pm down a mere 2%.
On the flats, here's me trying to sprint: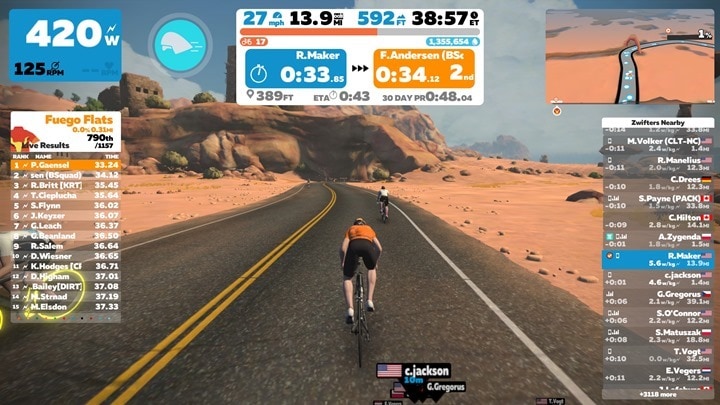 Note that I'm in my hardest gear and the unit is only giving me 420w of resistance – at a pretty darn high 125RM.
The same was true trying to go through Titan's Grove with the rollers. I simply couldn't get it to give me the power I needed without having to hold a cadence of about 100+RPM throughout the entire thing (my natural cadence is more around 90-95RPM). For example this bit here I snapped a shot at 76RPM, but even up this 7% grade it could only do 158w. My legs at 76RPM should easily have been pushing 300+ watts in here in my hardest gear: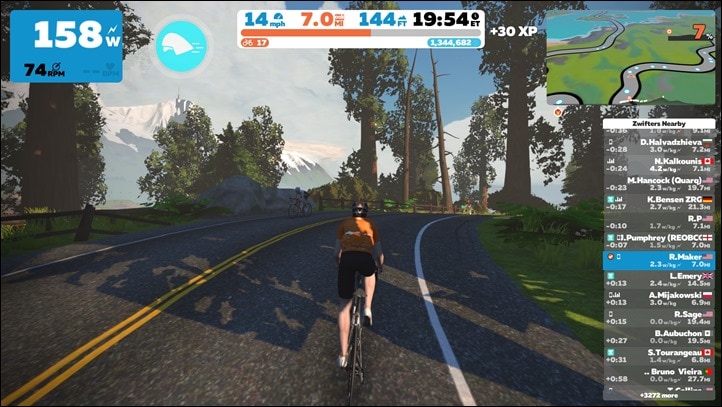 Now I get it – I'm a more powerful ride than many. But not that many. My numbers are hardly epic. My sprints top out around 900-1,000w, and my FTP floats in the 285-295w range. So again, if you're a less powerful rider, this would technically probably work just fine for you. For example, my wife could ride this trainer just fine from a power standpoint, her wattage isn't above 4iiii's thresholds.
Now – there were certainly times where I found just the right balancing of gearing and gradient that I was in a good spot. But on a rolling course like this it was few and far between.
But wait – what if I applied the 4iiii buffer app tweaks like I did for TrainerRoad? Would that help? Yes, somewhat. I was able to fairly easily hit the mid-250's at only 65RPM. And, with all of my juices flowing I spun up to 140RPM and the trainer topped out at 716w. I suspect I could get it higher still.
However, that gets into road feel a bit. In other words, how does inertia feel – do the accelerations feel like riding on the road? With the original STAC Zero trainer they added wheel weights to help with inertia. Sure, they were finicky to setup, but if you got them nailed – it was good. Not $1,200 Wahoo KICKR great, but good enough good. But the Fliiiight doesn't have weights, instead trying to do it all with magnets.
And for at least my non-perfect wheel – it's just not a great feeling outside of ERG mode (ERG mode is mostly acceptable, but not great). Now perhaps my wheel is super abnormal, but I suspect not. In fact, this metal wheel has only a handful of miles on it. I virtually never ride it since it came with one of my bikes and I virtually always ride other wheelsets I have with PowerTap hubs in them for power meter testing. So it's not like this wheel has thousands of miles on it. My bet is that it has at most a few hundred miles, maybe even just a few dozen miles.
I wish I had a better story here, but ultimately I think that in 2019 going on 2020, the magnetic driven technology might be too little too late to compete with other trainers at this price point. Had they had this technology 4-5 years ago at this price point – absolutely. Trainers were different then. But these days with the KICKR SNAP and others at $499 with mostly good road feel (and zero of the power limitations above), it's a hard sell.
Though, to be fair – the 4iiiii Fliiiight is certainly far quieter than anything else in this price point (by miles), and from a power accuracy standpoint (as I'll discuss), it's far more accurate than any other trainer in this price point (or even other trainers at double its price). It nails those two categories, but like Captain Kirk: Scotty, I need more power!!!
App Compatibility:
When it comes to app compatibility, the 4iiii Fliiiight follows the industry norms as you'd expect from a smart trainer in 2019.  As you probably know, apps like Zwift, TrainerRoad, Sufferfest, Rouvy, Kinomap and many more, all support most of these industry standards, making it easy to use whatever app you'd like.  If trainers or apps don't support these standards, then it makes it far more difficult for you as the end user.
The unit supports the following protocols and transmission standards:
ANT+ FE-C (Trainer Control): This is for controlling the trainer via ANT+ from apps and head units (with cadence/power data). Read tons about it here.
ANT+ Power Meter Profile: This broadcasts as a standard ANT+ power meter, with cadence data
Bluetooth Smart FTMS (Trainer Control): This is for controlling the trainer over Bluetooth Smart from a variety of apps.
Bluetooth Smart Power Meter Profile: This broadcasts as a standard BLE power meter, with cadence data
In the above, you'll note there's cadence data baked into the various streams. That's handy if you're connecting to Zwift on an Apple TV, due to Apple TV's two concurrent Bluetooth Smart sensor limitation (plus the Apple TV remote).  This means you can pair the trainer and get power/cadence/control, while also pairing up a heart rate strap.
In my case, I largely tested with Zwift and TrainerRoad – simply because those are the two biggest apps out there today.  Within that framework, I did both regular riding in Zwift, as well as ERG workouts in TrainerRoad. If you do structured workouts in Zwift, then those are identical to TrainerRoad, leveraging ERG mode.
Starting with TrainerRoad, you'd go ahead into the Devices area and find the Fliiiight listed:
I went ahead and disabled PowerMatch, because for testing reasons I want to know it's thinking for itself and not relying on another power meter.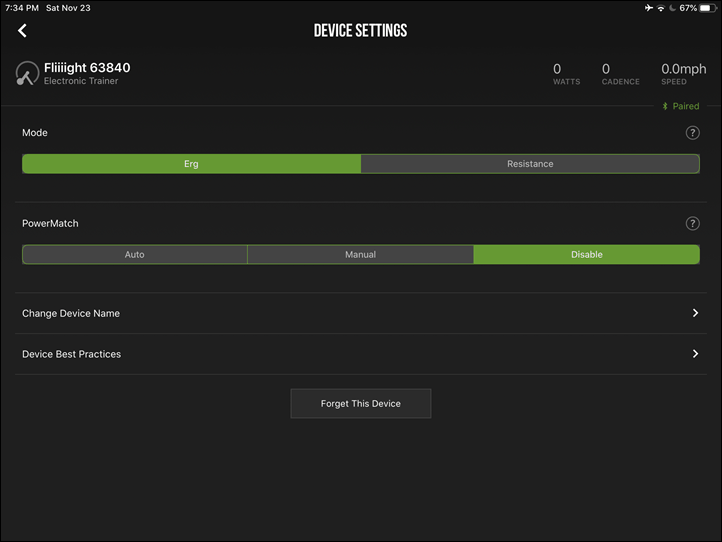 Now somewhat interestingly TrainerRoad still shows their boilerplate text for the Fliiiight upon pairing, which is actually incorrect. In this case, we need to do the opposite of what it says (go with a big gear and go fast):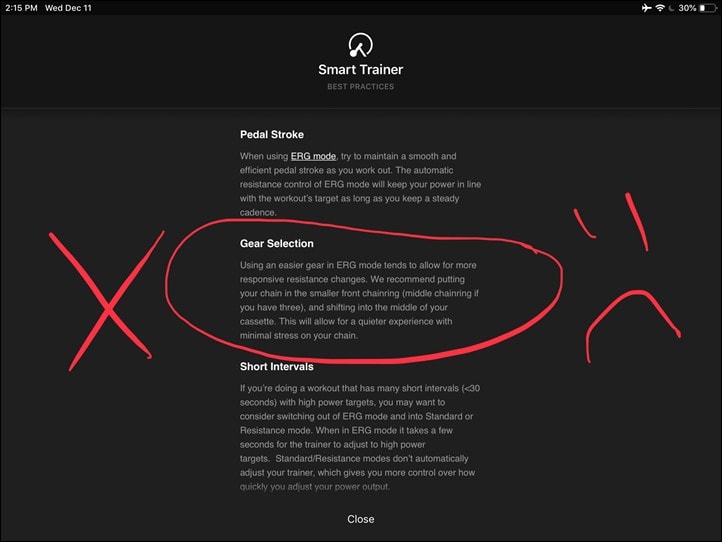 Next, I loaded up my usual 30×30 trainer test.  This is something I end up running on virtually all trainers as a great way to validate ERG mode responsiveness.  It starts off with a short two-minute ramp, and then it oscillates power at 30-second intervals between a low wattage (about 150w on this day), and a high wattage (~430w). You can run this same workout yourself here.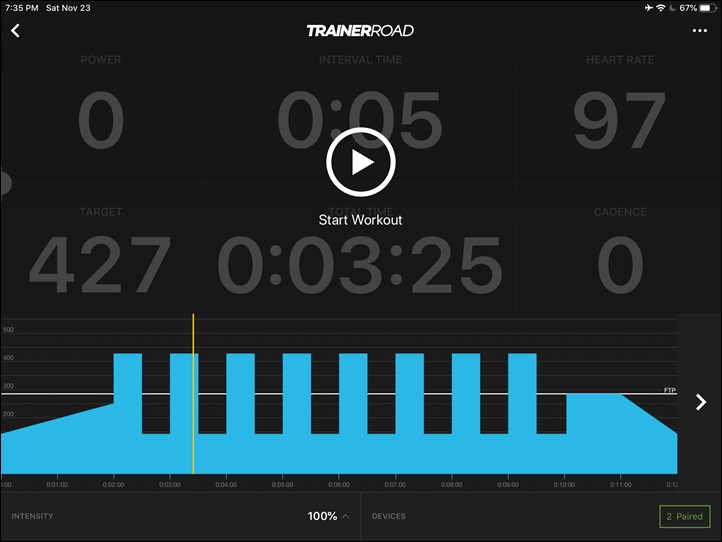 Obviously we've talked about the results of that already up above, so no need to rehash that.
Next, let's look at Zwift.  Here things are pretty darn similar.  You'll start off by pairing to the Fliiiight trainer within the equipment menu:
After that, you're off and cruising in Zwift.  Of course, in regular (non-workout) mode, Zwift is transmitting the grade to the Fliiiight, which in turn automatically adjusts the grade on the trainer: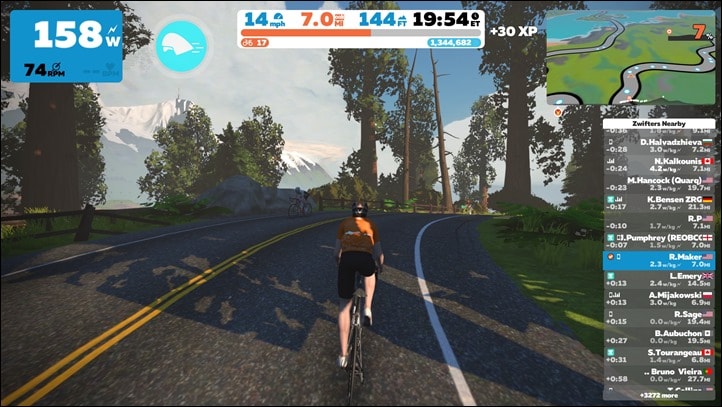 And again, I've discussed how this all works up above in the 'Basics' section in terms of road feel and such.
Finally, 4iiii has their own app for some configuration bits of the Fliiiight trainer, including firmware updates. This app is available on iOS today and shortly on Android (but they have a support website that gets you the other functions in the meantime – in fact, even some additional features not on iOS, so fear not Android folks). From the app you can go ahead and check the battery status as well as update the firmware:
You can also do a 'calibrate'-like command (it's just recentering the arms), as well as dork with some other settings you probably shouldn't touch. And finally, you can also control the trainer in either ERG or resistance level, handy for super quick testing.
All of this worked just fine for me, as well as did connectivity. I didn't experience any Fliiiight specific dropouts, largely using Bluetooth Smart to both Apple TV and an iPad (and both an Android phone and iOS phone for configuration).
Power Accuracy: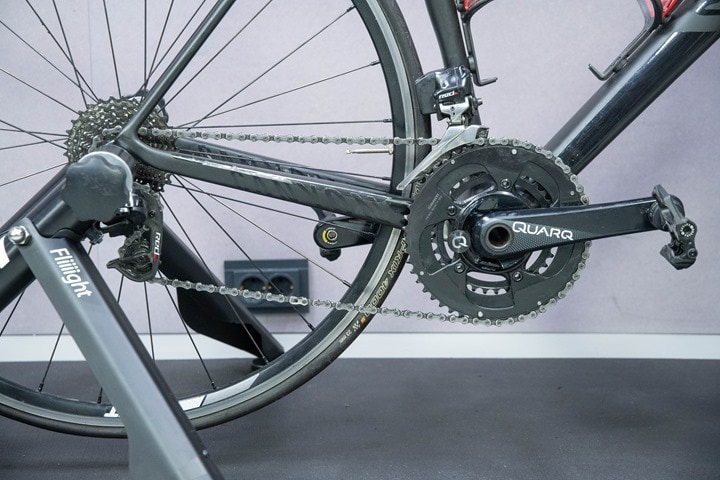 As usual, I put the trainer up against a number of power meters to see how well it handled everything from resistance control accuracy, to speed of change, to any other weird quirks along the way.
In my case I used two different bikes set up in the following configurations:
Canyon Bike Setup: Favero Assioma Duo power meter pedals, Quarq DZero
Giant Bike Setup: Garmin Vector 3 dual-sided power meter pedals, Stages LR dual-sided crankset
This is all in addition to the trainer itself recording power. While I have PowerTap hubs for rear wheelset, all of those are laced into carbon-rimmed wheels, which aren't compatible with the Fliiiight.
In any case, I was looking to see how it reacted accuracy-wise in two core apps: Zwift and TrainerRoad (Bluetooth Smart on Apple TV and iPad). The actual apps don't typically much matter, but rather the use cases are different.  In Zwift you get variability by having the road incline change and by being able to instantly sprint.  This reaction time and accuracy are both tested here.  Whereas in TrainerRoad I'm looking at its ability to hold a specific wattage very precisely, and to then change wattages instantly in a repeatable way.  There's no better test of that than 30×30 repeats (30-seconds at a high resistance, followed by 30-seconds at an easy resistance).
There's two ways to look at this.  First is how quickly it responds to the commands of the application.  So for that, we need to actually look at the overlay from TrainerRoad showing when it sent the command followed by when the Fliiiight achieved that level.  Here's the levels being sent (the blue blocks via the green line) by TrainerRoad (in this case via Bluetooth Smart on iPad) and how quickly the Fliiiight responds to it:

On average, responsiveness time was actually OK. It took about 3 seconds once it received the command, to go from 150w to 428w – which is perfectly acceptable and normal.
So what about power accuracy? In this case, I've compared it to a dual-sided set of Vector 3 power pedals, as well as a single-sided Stages LR. Technically it was dual-sided, but only when you remember to swap out the battery when it dies. So it was more of a Stages R, than LR. Either way, it gives us another data point, though I think the Vector 3 are good enough for telling this story. Here's this data set:

As you can see, it's pretty darn close. If we look at the 2nd interval where I stabilize a bit, you'll see the wattages are within 5w of each other (at 440w) – or a spread of 1%, not too shabby. In theory, the Fliiiight should be the lowest value of the units here because it's furthest down the drivetrain (for which there is still drivetrain loss), but in practice we see them all about the same value-wise this ride.

It's also notable that we see the power floor isn't impacted much here – it holds accuracy at lower wattages just fine:

And cadence you ask? Very close. Not exactly the same between all three – but within 1-2RPM of measurement across the entire range.

And for fun, here's the mean/max graph on that ride. You'll see that the Fliiiight is slightly lower than the other units, exactly as it should be.

Next, let's slide over to Zwift. This file is from the Titan's Grove course where I've been testing all trainers this season. I use this course because it allows me to do some high flywheel speed stuff early on with the desert bits on the flats, and then I climb up over a series of rollers and climbs before descending a bit. It's very demanding of trainers, but covers a broad range of terrain. Here's that data set:

Accuracy wise that's actually really really good. The three units are virtually identical. There's a disconnect or two in here on both the Stages and briefly on the Fliiight side, so likely indicative of some wireless interference, but power wise these three are virtually identical when viewed at the full-ride level. We see this impact the mean/max graph later since one of the data dropouts was 18-seconds long during a harder effort.
So obviously, let's zoom in on some sections – starting off with some early sprint attempts:

Accuracy-wise though the power is very very close during the ramp and build. The Vector 3 measures slightly higher, and the Stages R is closer to the 4iiii Fliiight (but that's doing only single-leg power capture at that point on the Stages).
Normally I do these sprints at about 900w. But as you can see, I topped out at roughly 500w. That's as much resistance as the trainer would give me when I put it in the hardest gear possible on my bike. In fact, if you look below at my cadence, you'll see that I was spinning at 129RPM in order to get those 500w.

I repeated some sprints a bit later as well, but again it required me clearing nearly 130RPM in order to get the power above 500w:

Now as you can see throughout other parts of the ride, the accuracy is actually really good. It's very very close together as I swing through these rollers climbing up at 350w+:

And finally, here's a look at the cadence on this ride. Again, you can clearly see I'm struggling across all devices with WiFi interference and occasional drops:

But from a cadence standpoint, all the units were almost always within 1RPM of each other, and occasionally up to 2RPM. More than good enough than even most higher end trainers this year.
Ultimately – from a straight power and cadence accuracy standpoint the Fliiiight is actually really good. That matches what we saw with the STAC Zero too. While the trainer may not be able to output a lot of power, it's able to track that power very accurately across a broad range of riding scenarios in multiple apps. Good on them.
(Note: All of the charts in these accuracy sections were created using the DCR Analyzer tool.  It allows you to compare power meters/trainers, heart rate, cadence, speed/pace, GPS tracks and plenty more. You can use it as well for your own gadget comparisons, more details here.)
Product Comparison:
I've added the 4iiii Fliiiight into the product comparison database, where you can compare it to any trainer that I've reviewed or have in the DCR Cave. For the purposes of below, I've slated it up against the Elite Tuo, Wahoo KICKR SNAP and CycleOps M2 – which I think are fair comparisons. All those units are $499 and wheel-on trainers, and the Fliiiight is $499 right now on sale. Of course, you can mix and match and create your own product comparison chart in the product comparison tables here. And of course, my complete Winter 2019-2020 Trainer Recommendations Guide as well.
And again remember you can mix and match and create your own product comparison chart in the product comparison tables.
Summary: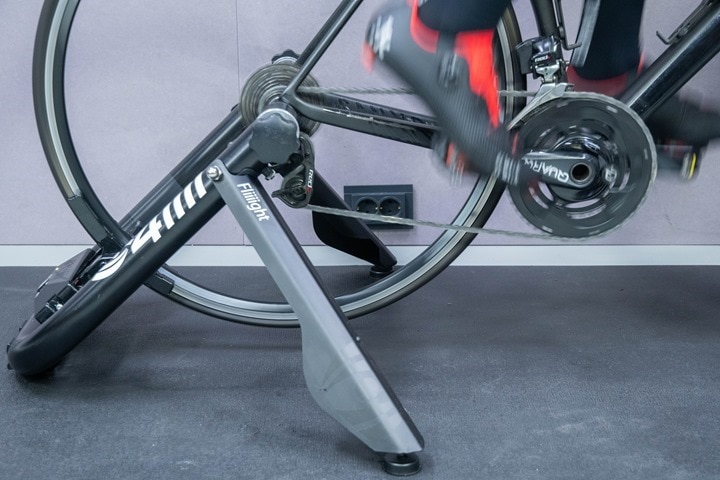 At first glance the 4iiii Fliiiight is everything I wanted the STAC Zero to grow up to be. Prettier, less finicky, USB-C charging – even nifty robotic arms and optical lasers. How can it get better than robots? However, the end-product is a bit more tricky than I expected – primarily for more powerful riders.
If you're a less powerful rider – then I think the Fliiight is definitely an very valid option, especially if they continue to offer it at $499. To me that price point makes sense given the other contenders in the market are at $499. And there's no trainer that's quieter than the Fliiiight. Nor seemingly any that's actually more accurate. Really, from an accuracy standpoint this thing pretty much rivals a KICKR or NEO any day. No issues there.
The challenge though is for more powerful riders there's just too many compromises to make. In discussions in early November, 4iiii stated a target market rider FTP of 200w. However, in later e-mails they specified a range of up to 250w. I think the 250w FTP is really only valid if you're more of a triathlete doing largely steady-state workouts (and only with the magnetic buffer tweak). But even all that considered, the road inertia feel isn't great. Sure, it's not terribly different than the STAC Zero was – but trainers and price points have moved on. The trainers of this year, wonky manufacturing and power accuracy issues aside, are physically better and more realistic than trainers of two years ago – but now hundreds of dollars cheaper.
Ultimately you'll have to decide if the tradeoffs of this trainer meet your specific requirements. For myself, it wouldn't be an appropriate trainer. However, for someone like my wife who is far smaller and needs less of a wattage ceiling – she'd be able to train on this just fine. All while still being super quiet.

Found This Post Useful? Support The Site!
Hopefully you found this review useful. At the end of the day, I'm an athlete just like you looking for the most detail possible on a new purchase – so my review is written from the standpoint of how I used the device. The reviews generally take a lot of hours to put together, so it's a fair bit of work (and labor of love). As you probably noticed by looking below, I also take time to answer all the questions posted in the comments – and there's quite a bit of detail in there as well.
If you're shopping for the 4iiii Fliiiight or any other accessory items, please consider using the affiliate links below! As an Amazon Associate I earn from qualifying purchases. It doesn't cost you anything extra, but your purchases help support this website a lot. Even more, if you shop with TPC (The Pro's Closet), you'll save $40 on purchases over $200 with coupon code DCRAIN40! The Pro's Closet has been a long-time partner of the site here - including sponsoring videos like my cargo bike race, as well as just being an awesome Colorado-based company full of good humans. Check them out with the links below and the DCRAIN40 coupon!
And finally, here's a handy list of trainer accessories that most folks getting a smart trainer for the first time might not have already:
And of course – you can always sign-up to be a DCR Supporter! That gets you an ad-free DCR, access to the DCR Quarantine Corner video series packed with behind the scenes tidbits...and it also makes you awesome. And being awesome is what it's all about!
Thanks for reading! And as always, feel free to post comments or questions in the comments section below, I'll be happy to try and answer them as quickly as possible. And lastly, if you felt this review was useful – I always appreciate feedback in the comments below. Thanks!