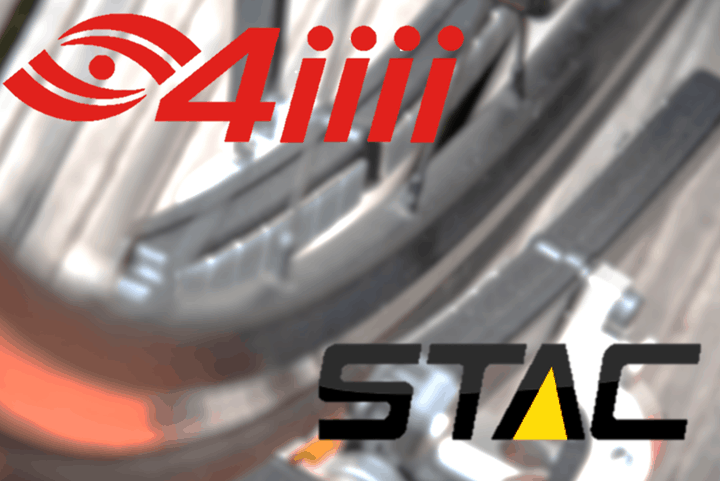 The consolidation in the power meter and trainer industry continues this year, with 4iiii announcing today they've completed the acquisition of STAC Performance, which you'll remember makes the virtually silent trainer that I rode inside our baby nursery.  STAC also though has their hands in a few other bowls of pudding, including aerodynamic related testing and bike fitting. Also, like their new Alberta-based owners, STAC is also from the continent's snow-tuque, themselves based in Ontario.
Now, this deal is actually far more fascinating than might first meet the eye. After all, STAC isn't a very large company – only about half a dozen employees. And 4iiii isn't very big either, though 4iiii generally fights above their weight in terms of various industry OEM deals (for example, they're behind the technology on the Specialized power meter). And of course, the founder of 4iiii was the one who invented ANT+. So – they generally have an eye for emerging tech. The company didn't clarify in the announcement terms if STAC would add any extra vowels to their name post-acquisition.
What they bought: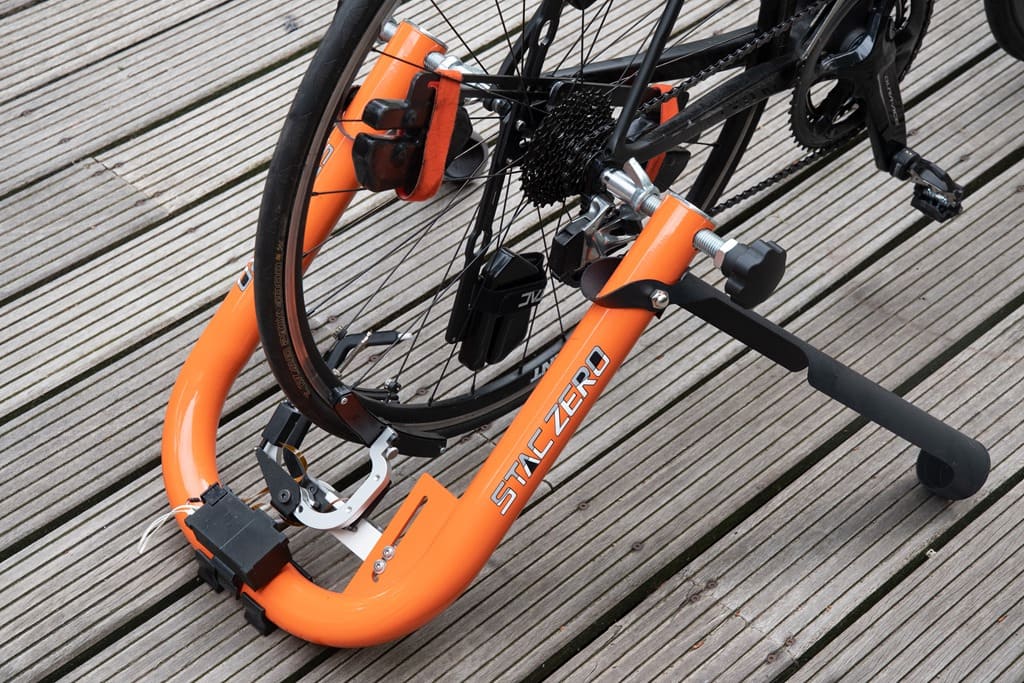 STAC has been around a few years now, with their STAC Zero, and then STAC Zero Halcyon trainer. Both units used magnets to allow you to have a virtually silent trainer. Like one of those funky people movers at Disney World, the STAC Zero trainer used magnetic forces against your metal wheel rim to apply pressure to increase resistance – all without touching the wheel, thus, no noise. The Halcyon version kicked it up a notch and allowed the resistance to be computer/app controllable using ANT+ FE-C and Bluetooth Smart FTMS. In other words, you could ride Zwift and feel the hills, or TrainerRoad and get the perfect ERG workout (actually, it was scary-fast how quickly it could change resistance).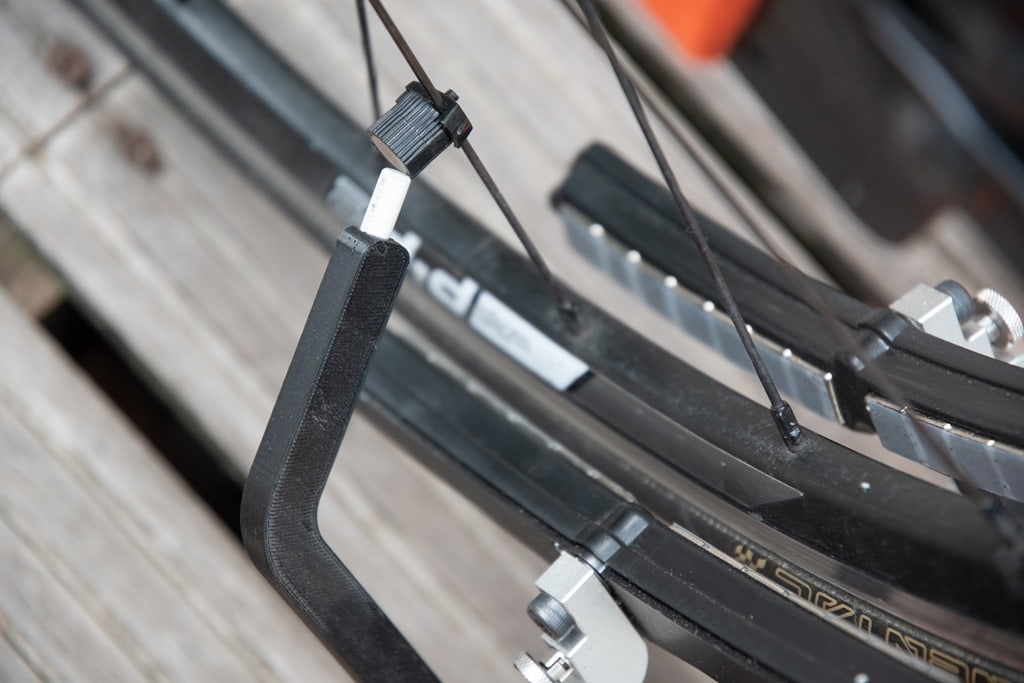 All of that was well and great, except that one of the key issues for the company was honestly the aesthetic design of the trainers. While bright orange is great for traffic cones trying to avoid getting hit by a school bus, it's less ideal to place in your fancy Peloton-ready living room (or yacht). And the STAC Zero industrial design was…well…very industrial. Of course, with the company almost entirely engineers – you sorta might expect that trade-off. And for many people, they were happy to make the trade-off of pretty to gain quiet.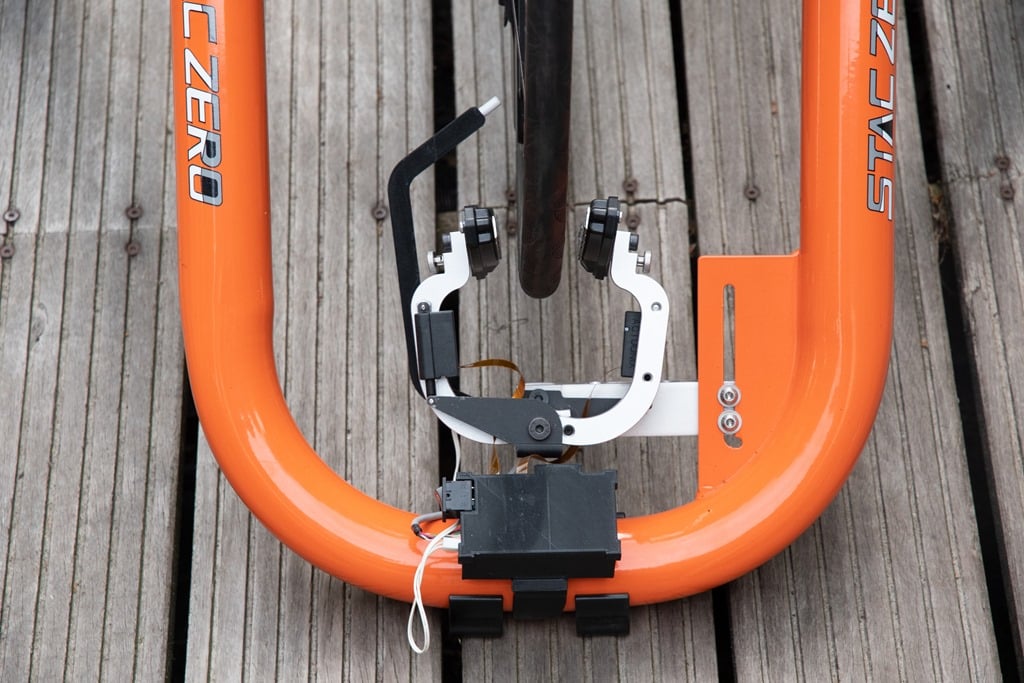 But the challenges extended beyond that – namely – the rear wheel itself. You had to place weights in it to get really good road feel, and then it became cumbersome to move your bike in and out (since you had to remove the weights). So it was great if you had a second bike to just leave there, or a longer-term bike for the winter. But swapping it quickly like most direct drive trainers? Not so much.
Still, there's a lot of promise in what STAC has. 4iiii has shown it can iterate and get numerous products to market fairly quickly. They have deep ties to manufacturing facilities, both inside Canada and out – something that STAC really lacked.
But that wasn't the only product category STAC was involved in. They also had their virtual wind tunnel platform, which 4iiii says they'll not only continue, but also spend some cash to drive some significant updates in that area. At present, the use case and target market was perhaps a bit too broad, whereas going forward the company says the main goal there will be focusing specifically on bike fitters to enable the best possible fit that's also the most aerodynamic. All without ever having to visit a wind tunnel.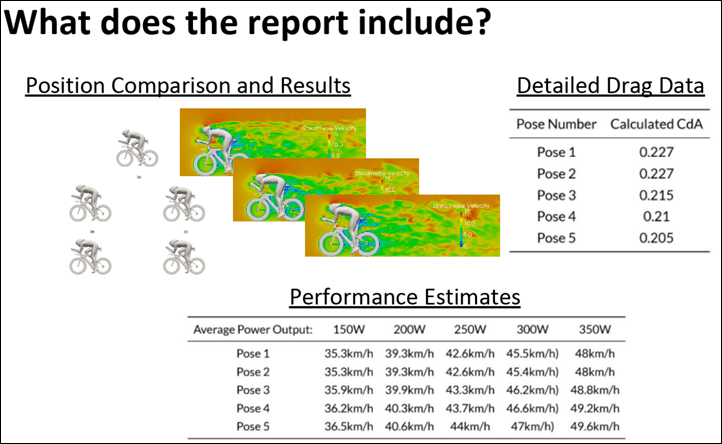 As we see more and more convergence between the power meter world and the aero world, this is a logical partnership. After all, we saw Garmin (maker of Vector power meter pedals) purchase Alphamantis (maker of cycling aero tech), and other companies are also slowly circling around the aero/power realm to see which startups are ripe for an easy pickup that matches their existing products.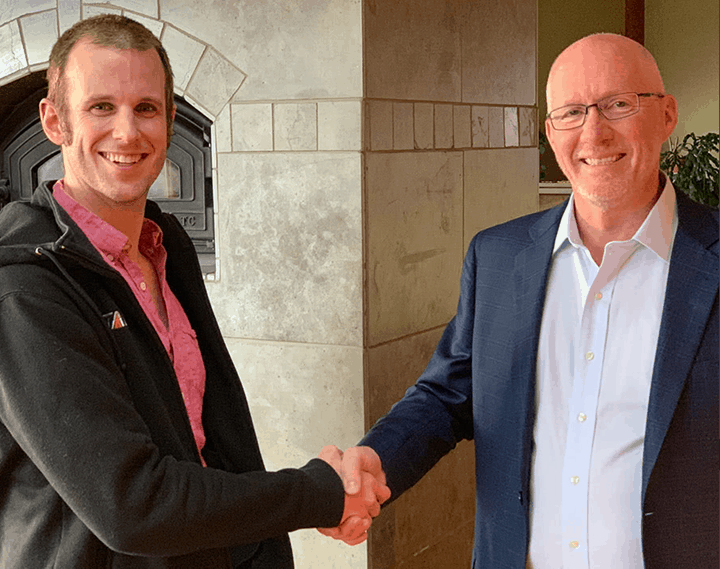 Above left, Andrew Buckrell (CEO of STAC), and right, Kip Fyfe (CEO of 4iiii), signing the landmark sports tech deal at what appears to be Boston Pizza, judging by the pizza oven behind Andrew. Anytime a pizza oven is involved, I'm a fan (Square photo Credit: 4iiii/Newswire). Note that all employees of STAC will relocate to the greater Calgary area this summer, where 4iiii has their headquarters in Cochrane, Alberta.
STAC says that all existing customers will continue to receive support and such just like normal, there's no changes to that. Given 4iiii bought STAC to expand their trainer business, it's logical that we wouldn't see any (negative) changes there.
Finally – some may wonder whether I see this type of consolidation as a good thing – and in this case, I think the answer is a resounding yes. I'm not sure if long-term STAC would have been able to go it solo, especially with the other larger trainer companies in the midst of consolidation (or being for sale). I think if 4iiii plays its cards right over the next 12-18 months, it could find itself as a legit and well-known option for indoor trainers. Of course, that's going to take some good product engineering and marketing, but 4iiii is well positioned to do that. The alternative is that I think STAC would have had trouble competing, given the funding others have.
Going Forward: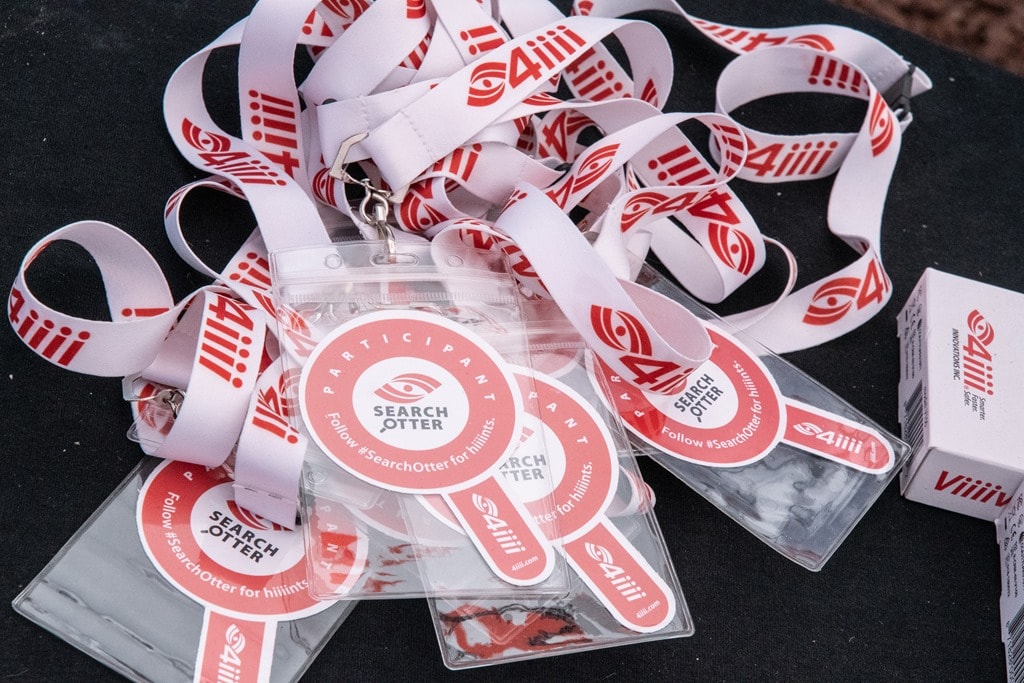 Of course, any time a company makes an acquisition, there's plenty of questions about the current products – but even more about the future products. When I chatted with 4iiii founder Kip Fyfe about this last month, he noted a few things. First, there's a surprising number of ways that both companies can leverage each other's technology. This definitely isn't all about just adding a trainer brand to 4iii's
For example, STAC would likely look to leverage some of the experience that 4iiii has around strain gauge technology to increase accuracy of the products while reducing some of the more cumbersome aspects of the current trainers (note that I found when properly set up, the current trainers were very accurate, but the 'when properly configured' part could be challenging).  And 4iiii thinks there's ways beyond the manufacturing assistance I noted earlier to improve about the STAC product lineup.
Yes, line-up. As in, more than just the current two products. For that, Kip says we'll need to wait till Eurobike to see what they've come up with. If they can execute on what they've sketched out for me on a napkin, it could be a compelling offering that's unique in the market. But that's all they're willing to share for now. Executing on any vision is always the tough part.
Eurobike returns back to the first week of September this year, and is the typical industry place that we see new trainer announcements occur (or in some cases, be finalized and shipping by then).
With that – thanks for reading!