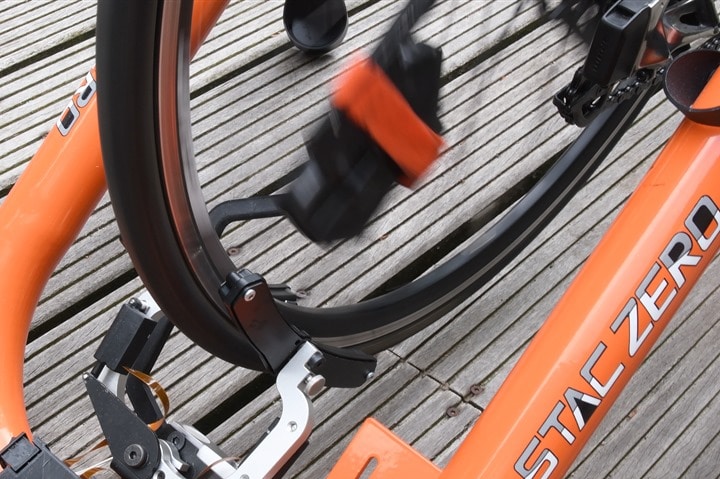 Many of you have been eagerly awaiting my hands-on thoughts with the STAC Zero Smart Trainer, the first version from the company to allow resistance control from apps like Zwift and TrainerRoad.  The unique proposition of the STAC Zero trainers is the fact that they are totally silent.  They use magnets to provide resistance in conjunction with your wheel rims, which makes this trainer very Jetsons like.
Up until this model though, you couldn't change the resistance electronically.  Your only options were either pedaling harder (like a fluid trainer) or adjusting the magnets closer or further.  It was kinda finicky, and also sometimes led to a less road-like feel.  All that's largely solved now.
I've had the trainer for about a month, though just finally got it all tuned in and cranking this weekend after some trial and error.  It's a prototype, though they plan to start shipping just around the corner in July – so we're talking super close here timing wise, and I think they're actually pretty close product wise as I'll explain.
If you want to skip this review and get content not included in the review (namely, the noise testing part), hit up the following video.  I cover everything on this page, plus demonstrate inside the baby's nursey just how darn quiet it is…all right next to an occupied crib. For realz:
In any case, let's get into it.
The Basics:
While I'll shortly get to how this noiseless magic works, the first thing you'll need to do is get the parts out of the box.  Unlike most trainers, the STAC Zero Halcyon actually comes in a relatively flat box.  Lacking a bulky flywheel or resistance unit, it can be packaged like most Ikea boxes.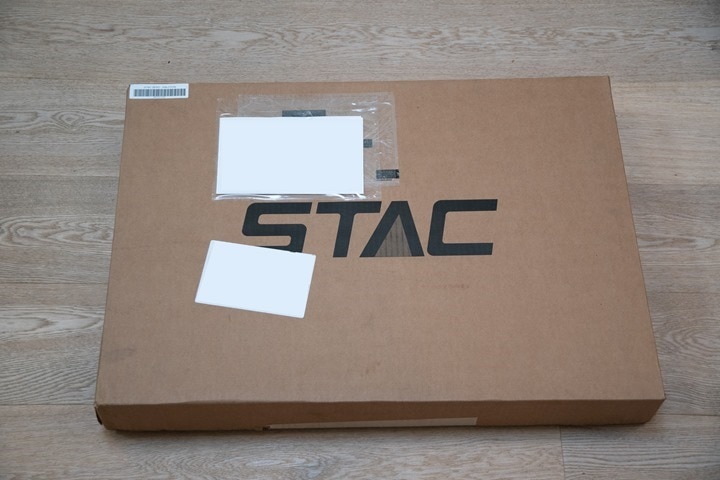 Inside it, you'll find the Strava-orange frame, alongside a pair of weights to attach to your bike.  There's also some paper stuff too, a standard micro-USB charging cable, and a common speed magnet for your wheel.  Plus of course the magnetic resistance arms are in there too, already attached to the trainer, you merely need to unfold them.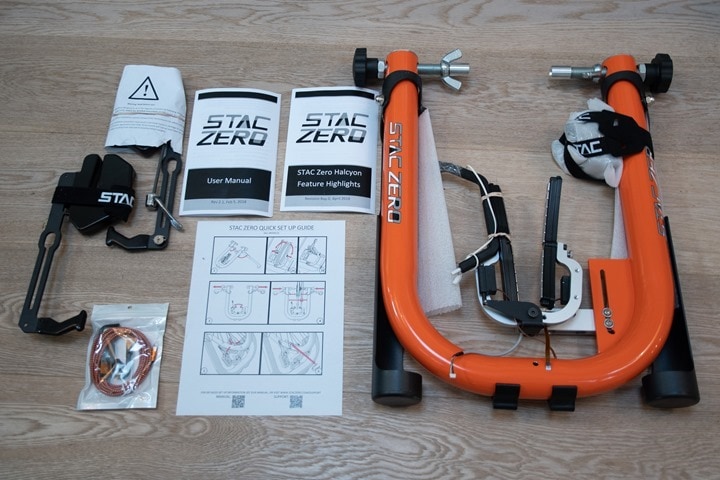 The small black box contains a rechargeable battery.  You can simply leave it plugged in via standard micro-USB cable, or take it to warm-up race-side unplugged and get 10-20 hours of battery life.
The trainer portion only takes a couple minutes to set up.  While the frame is very industrial and seems quite likely to last a decade or four, I wouldn't describe it as super sleek looking.  It reminds you of the trainer sitting in your garage from a decade ago.  Of course, it sounds nothing like it.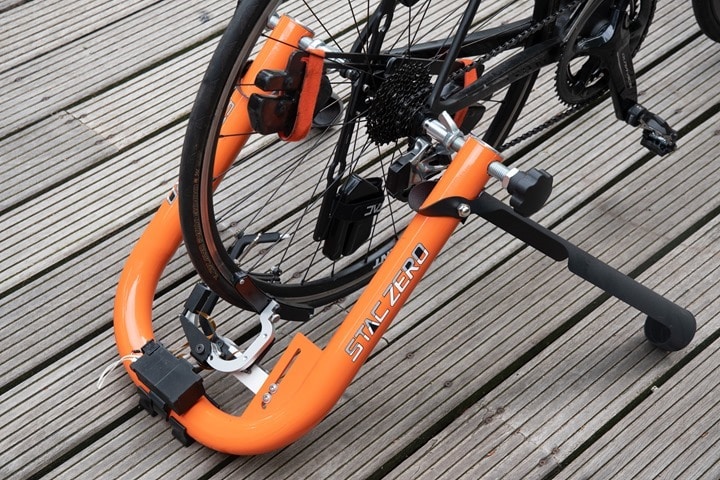 Don't worry about the less than polished black box with exposed wiring hanging from it. I repeat TSA, it's not a bomb. Just typical pre-production hardware. The final box will be enclosed and more refined.
The part of the setup that will likely take you a couple more minutes is getting the weights attached to your wheel.  In order to achieve a more road-like feel to things, they need weight to recreate a flywheel effect.  Your rear wheel by itself is kinda like a pinwheel otherwise, just too light for the job (note: this actually has no bearing on resistance, rather, just road-like feel).  The two parts of the arms attach together and then lock in place over the hub of the wheel.  There's two pieces of Velcro you throw into the mix as well, ensuring everything is nice and secure.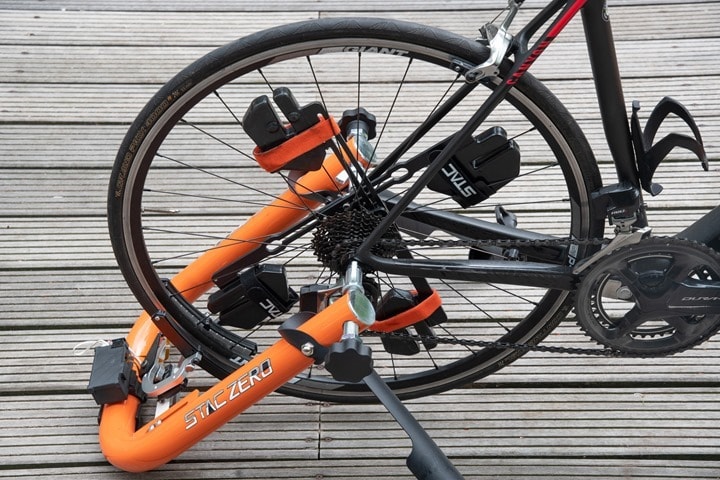 Now, in the above pic you'll notice two sets of arms (one with orange straps, and one with 'STAC' black straps), not just the one set that came in the box.  I'll explain more later, but in short one set wasn't doing it in Zwift in certain situations, so I grabbed an extra set of weights and that solved it.  The company will instead ship with an attachment portion that equals the same weight in my test, but far more refined looking. They sent over a photo of it, which I've put here: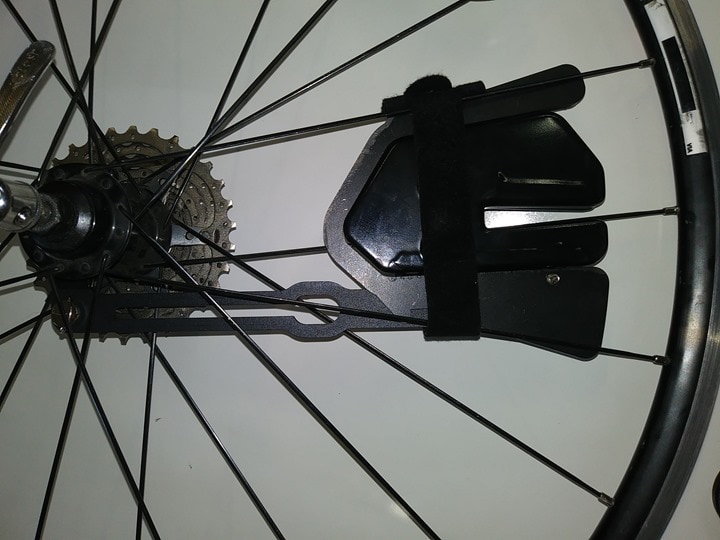 So finally, how does all this noiseless magic work? Exactly like the previous STAC Zero trainers, it uses magnets to apply a resistance force to your wheel's rims.  That means that while it works great on common wheel rims, it doesn't work at all on fancy carbon wheels, since there's nothing magnetic to interact with.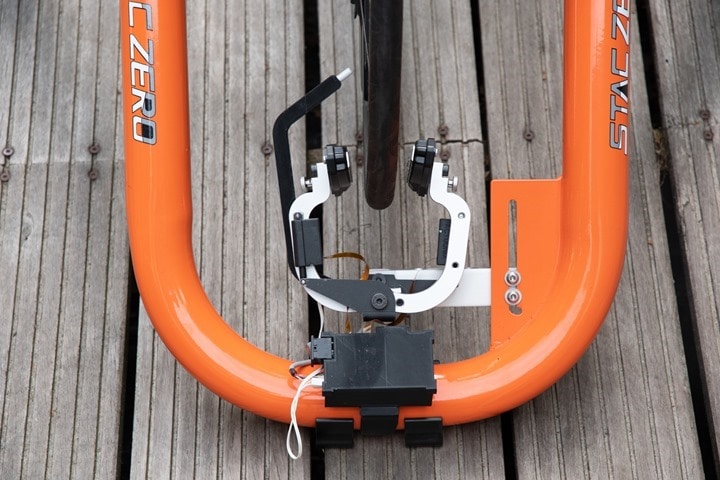 The closer the magnetic arms get to your wheel rim, the higher the resistance is.  The further away, the less resistance.  We're only talking a centimeter or two of change though here, not a huge amount.
In contrast to past units though, the STAC Zero Halcyon has servos that move these arms in and out.  Whereas previously if you wanted to adjust resistance you needed to either change speed, or manually move the arms inwards.  Now however, the unit automatically calibrates every time the wheel stops, self-validating that the magnetic strips are properly spaced.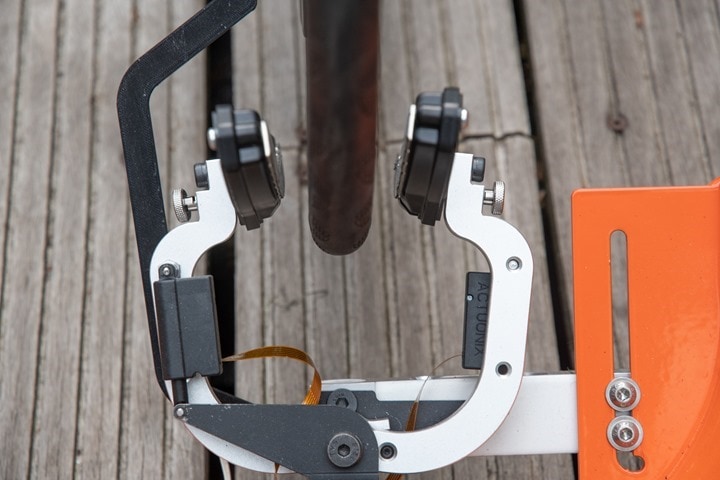 On the left side you see a small white-tipped arm.  That's the wheel speed magnetic sensor.  It checks your wheel speed just like any other magnet-based speed sensor would from decades past.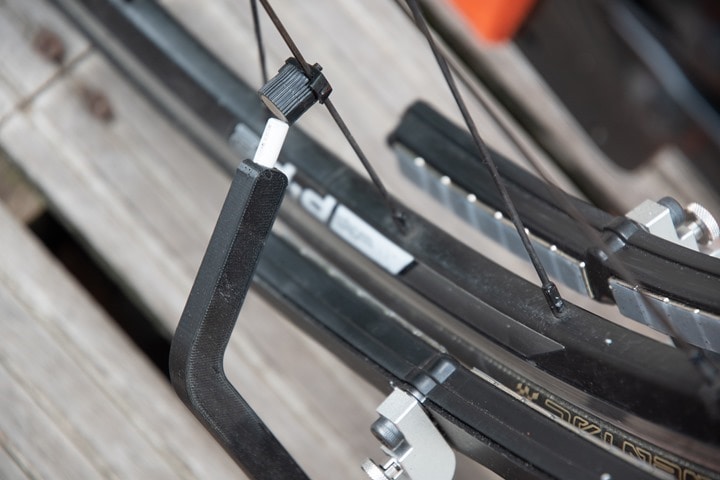 All of this results in the Halcyon being able to act as a legit smart trainer now, just like those from Wahoo, Tacx, Elite and more.  It also gains ANT+ FE-C and Bluetooth Smart FTMS functionality too, in addition to the previously existing ability to broadcast via ANT+ power and Bluetooth Smart power.  Said differently, they follow all of the baseline tech things I'd expect from a trainer in 2018.  You can see it below showing up in TrainerRoad via Bluetooth Smart on iOS.
So with the basics all out of the way, let's jump on and ride it.
Test Riding:
I've actually done a few different test rides with it over the past month, but I'm just going to focus on the last two I did this weekend – since those are on the most recent firmware and with all the tweaks incorporated hardware-wise that get it pretty darn close to what's shipping in July.  Still, it's beta software and beta hardware.
First up we've got Zwift.  Now, initially I had problems with realism in Zwift from a road-like feel standpoint. It felt mush at best, that was partially due to firmware (since solved), and partially due to the lack of weight on the wheel (which was solved by adding more weight).  And with both of those items resolved I was off to the races in Zwift.  Well, not a race actually, just normal riding.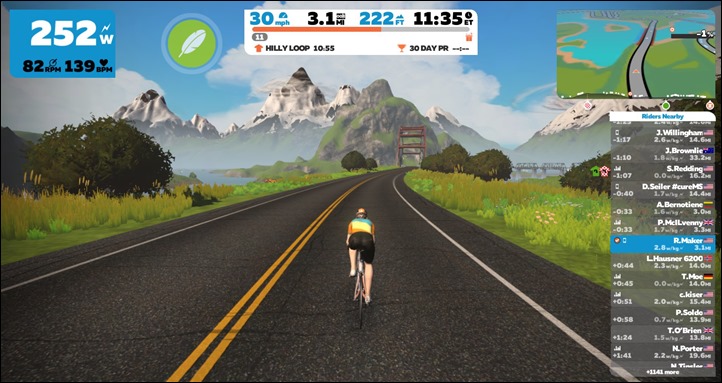 Except as I crested hills it didn't feel right.  Each time I went from finishing a climb to starting to descend I'd spin-out, meaning, I'd quickly be pedaling without any resistance.  It took me a few hills to realize what was actually going on: It was more lifelike than any other trainer.  Note below a mere 59w.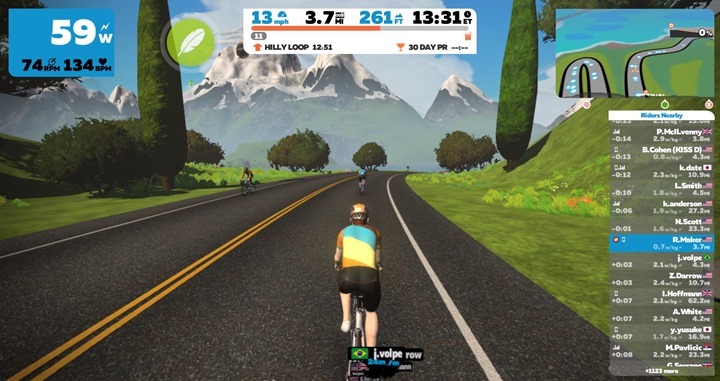 See, on virtually every other trainer on the market, even when you have downhill portions, you still have to pedal with some level of effort to keep the wheel rolling, especially wheel-on trainers.  But in this case, once I go 'downhill', there's ZERO resistance from anything.  There's no press-on roller, nor anything holding back the wheel.  Just like when you crest a hill in real-life, you have to gear down to a bigger gear to get resistance.  It's exactly the same here.  Mentally though, I was just used to being able to be more lax about it on a trainer.
Once I had this epiphany and started treating the Halcyon like an outdoor bike rather than a traditional trainer, life was better.
So what about accuracy?  Well, I had high hopes of beautiful accuracy charts…but those hopes were dashed by my new WiFi setup.  Which doesn't impact the accuracy, but only pretty charts for you.  To test accuracy I did two different rides comparing against other power meters.  The first was a TrainerRoad 30×30 test, the standard test I do with all trainers.  This test is designed to quickly shift the power significant amounts in 30-second intervals.  It's a great way to also test responsiveness.  Typically I look for a shift from 125w to 350w+ to take no more than 2-4 seconds.  You actually don't want it to take under a second, because then it's like riding into a brick wall.  And if takes too long, you lose the benefits of the workout (i.e. 8-10 seconds).  Here's what it looked like: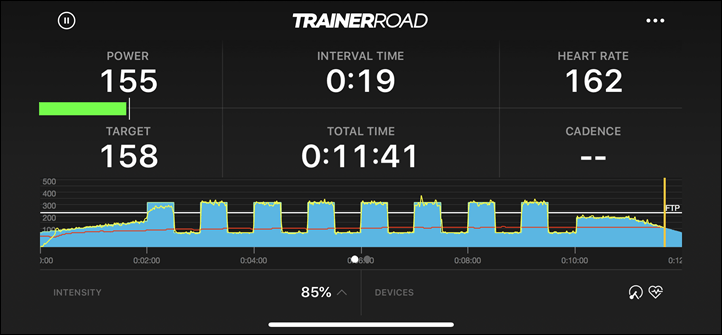 The above doesn't show you accuracy, it just shows what the trainer did. Hang tight for accuracy.  You see above that it ramped up really nicely, but then on the first interval it undercut a bit.  That had me concerned…but then I remembered why: I was in too slow of a gearing combination.  As such, I couldn't quite get the resistance I needed fast enough.  So in between the 1st and secondary interval I geared down a bit (smaller rings in back), and then boom! The second interval was spot-on.
Actually, it was scary-fast spot-on.  It responded way quicker than I expected, and I'm pretty sure faster than any other trainer I can remember testing in recent memory.  I was impressed!
So what about accuracy?  Well, I recorded the Favero Assioma power meter pedals to two other head units, while I also recorded the STAC Zero to two other heads units too.  Doubled-down doubling.  But ya know what?  The signal from the Assioma cut-out a ton. And by ton, I mean actually a crap-ton. I noticed it a bit while riding, but didn't think it was as bad as it was till I looked at the data.  Here's that data. I've highlighted the yellow portions when the power meter signal was fine.

Why'd it do this?  Well, I think it's actually the new Google WiFi I installed.  This three-pod system basically surrounds where the trainer was, and I suspect the high-power nature of that was completely killing my ANT+ signal.  I also noticed problems controlling a KICKR with Zwift a few days prior, whereas I never had issues in this spot before. I moved it a bit, which helped some, but not a ton.  I was in the Bermuda Triangle of trainer transmission.
Still, that's OK, you can clearly see when the data wasn't dropped out how it compared.  Overall it was close – though not perfect.  I'd say either the Favero was a bit low, or the STAC a bit high.  My guess is they need to tweak algorithms a tiny bit, though they warned that the most recent beta firmware might have a few bugs since they had just tweaked a bunch of other road-feel things.  Previously they've nailed power accuracy, so I'm not super concerned that they're a few percent high right now.
From a wheel choice standpoint, I'd recommend just picking up a cheap wheelset, rather than swapping weights all the time.  I find the swapping of weights fiddly.  The company has put together a page of recommended inexpensive wheels that work (since some cheap wheels have a steel pin that doesn't work).  Remember, you don't even need to buy a tire or tube for it…just let it fly naked!
(In case you're wondering why I don't have two other power meters on there, the answer is mostly simple: My PowerTap hubs – three of them – are all built into carbon wheelsets.  And the two other crank-and crank arm based power meters I had on there were partially disassembled from an electronics standpoint as I was doing some other tests on it. Those be the lemons I had to work with.)
(Secondary Note: All of the charts in these accuracy portions were created using the DCR Analyzer tool.  It allows you to compare power meters/trainers, heart rate, cadence, speed/pace, GPS tracks and plenty more. You can use it as well for your own gadget comparisons, more details here.)
Wrap-Up: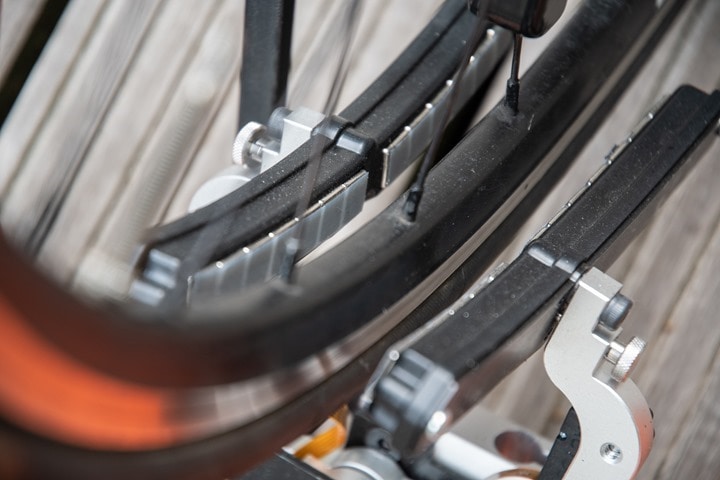 I'm impressed, while the STAC Zero Halcyon isn't necessarily the prettiest trainer to look at, it is without question the quietest one.  It's also incredibly responsive, and properly supports the relevant industry standards.  Not to mention you can take it places that don't have a power outlet (it gets 10-20 hours of charge via its standard Micro-USB port with internal battery).
The road-like feel is good, though not superb.  It does especially well on climbs and descents, but it's not quite as solid on the flats.  It's good, but doesn't quite match the feel of other trainers in the $700-$800 range (though, is mostly better than those at the $599 price point).  The company says that's something they're already tweaking, and can be adjusted via firmware updates.
Still, you're buying a STAC Zero Halcyon trainer for mainly one thing: Silence.
The price of that silence depends on when you pre-order it.  Right now they're doing pre-orders at $699USD/€749/849CAD.  However, if you've got a preexisting STAC Zero trainer, you can get an upgrade kit for $319USD/€239/399CAD. Yes, the company is Canadian.  Normally, the trainer will retail for $799USD/€899/989CAD, and the upgrade will be $429/€499/$399CAD.  The exact end of the pre-order period isn't specified, though they're looking at days or weeks, not months.  Shipping begins in July.
Certainly there's debate about whether added pieces like fans or TV or such would increase the noise, but ultimately those are all personal decisions.  There are many people living in tight quarters where having additional trainer noise simply isn't viable, nor perhaps the vibrations from traditional trainers (which don't exist here either).
And for those folks, the STAC Zero Halcyon is without question the best option on the market.
With that – thanks for reading!