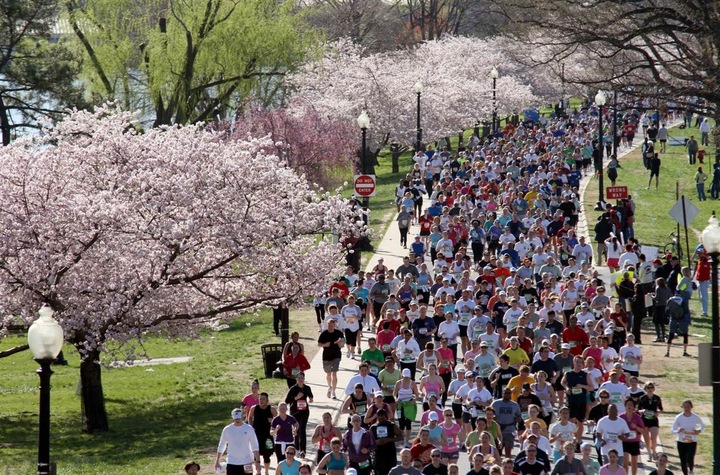 I get a TON of questions about the best places to train or do anything related to running or triathlon in the general DC area (Northern Virginia and portions of Maryland included).  So I figured I'd start to stash together all of my thoughts into one big ole post that I can update as appropriate.
These are the places I generally train – though I know there are tons more.  So if you have good locations, feel free to add them in the comments – more is better!
With that, let's get into it:
Open Water Swim:
Let me just say it upfront – there really aren't many good options for open water swimming in the DC area.  I put together a bit of a post a while back, but here's the skinny on the legal locations.  It should be noted that swimming in the Potomac River within the bounds of the National Park is illegal.  It should also be noted that there are numerous private lakes within 30-45 miles of downtown DC.  There is a very long (and well documented) history of folks getting arrested for swimming in some of these private lakes (I know some of them).  Please…just don't do it unless you have an owners permission.
Finally, any time you swim open water – ensure that you wear a bright swim cap, and stay closer to shore if possible.
1) Sandy Point State Park near Annapolis: Just 35 minutes from DC, this is a great option.  However, beware that certain times of the year there are Sea Nettles in the bay there (fancy name for Jellyfish).  You can check the water temp here, and the Sea Nettle status here.
2) Lake Anna State Park: This gigantic lake is about 90-120 minutes south of DC depending on traffic.  It's home to many (most) of the local tri's in the DC area such as the Lake Anna Tri's, BumpAss Tri's, and Kinetic Tri's.  The water is ideal prior to June, but during the summer months the lake heats up too much for bearable swimming.  On the south end, the Nuclear Power Plant helps to warm the lake (seriously).  Stay/Camp at Lake Anna State Park, and then just wander around the corner from the Swim Beach area and jump in the water along the shore for unimpeded swimming.
3) Luray Lake (Lake Arrowhead): If you want an awesome brick location – Luray be it.  This lake is just off the road to Skyline Drive (see below) and is home to the popular Luray Triathlon's.  The Lifeguards don't mind you swimming the small lake in circles (just start OUTSIDE the roped area).  And the cycling on the Luray course is amazing (challenging terrain), or you can do like I do and combine it with a bike/run brick by wandering straight up a few thousand feet in elevation to Skyline Drive.
4) List of other places via Google Maps: This resource was put together by a local triathlete in response to my older Swim Locations post.  It's got a bunch of map-marked locations that you can go ahead and check out.
5) National Harbor on Thursday nights: In-season there's a group that swims at National Harbor, full details at the link.  They also do swim-clinics as well.
Bike:
The area features an amazing number of bike trails and bike paths.  And while I'll quickly highlight those, in many cases – those aren't ideal for Ironman type training where you need to go long…and consistently for many hours on end.  So I've included my favorite training grounds.
1) Local Trails: The most popular easily accessible local bike trails are:
A) W&OD Trail: Goes some 50 miles one way out to the middle of nowhere.  Great once you get beyond about mile maker 8.5, and especially good once you clear Reston.  Four Mile Run is a logical connector from W&OD trail to the Mt. Vernon trail.  It's…well…four miles long (actually, it's slightly less than that for the cycling portion, but those are just details).

B) Mt. Vernon Trail: Nutcase busy on warmer weekends, but south of Old Town the 10 mile section down to Mt. Vernon is fine for weekday and cooler weather weekend use with only two stops.  Note: It is ILLEGAL to bike on the GW Parkway (roadway) which parallels the trail.  You will get ticketed.

C) Rock Creek Park: Utilizing Beach Drive, this route is extremely popular with weekday cycling groups, as well as weekend groups (bike and running).  On the weekends they close down large portions of Beach Drive, making it a good inner city escape for getting in a short to medium distance ride.

D) Haines Point: When times get desperate…this is a great location to do endless 3 mile loops (all right turns with one-way traffic).  I've done this a few times late at night when that was the only safe option.  If you're a DC resident you can also use the full 50m outdoor pool there in the summer to make for awesome bricks.
And here's everything else that I use far more frequently:
2) Skyline Drive: Hands down – the best riding in the area.  Some 70 minutes from DC, this features a 100 mile long stopsign-less route along the mountain ridges.  You're either climbing or descending…there are virtually no flats.  Numerous water and bathroom locations make it ideal for long rides.  I did all my long training rides there last year.  Details on my Skyline Rides here.  Generally though, just drive to mile marker 4.5 (Dickey Ridge) and start there.  Most of the time I'll ride back down the hill to the gate house and then go back up to get all the mileage in, but mile 4.5 has water and bathrooms – making it a great place to start after the drive from DC.
3) Prince William Forest Park: This option about 45 minutes south of DC is a local favorite for getting in loops on a very mixed bunch of terrain.  Each 7 mile loop features 5 miles of mostly flats ideal for prolonged aero chunks, and then that's mixed up with two miles of significant climbing and descending (I easily reach 40MPH on the descents).   Great way to mix it up.   You can also add another couple mile out and back section to the range gate for some more fun climbing.  Perfect for bike-run bricks as well.
4) Queenstown Maryland: This 'all about the flats' option is about 45 minutes outside of DC beyond the bridge to Annapolis.  Park near the town hall in Queenstown Maryland and you can wander forever.  I did a number of 120 mile rides out there last year for Ironman Florida – as the route is near perfectly flat farmland – ideal for training for a flat race like IMFL or Chesapeake Man.  You can create more route combinations than you can shake a stick at.  Some of my past rides here.  And details here of route ideas.
Run:
There are a MILLION places to run in the DC area.  All of the bike paths I mentioned above are create running locations.  Very few however have water.  Only one water-stop on the Mt. Vernon Trail, and a handful of them on the W&OD Trail.
The other item to note is that in DC, virtually all of the trails/paths/routes intersect each other eventually – so you can really piece them together into a patch work of awesomeness.
Outside the trails – here's some of my FAVORITE runs (there are tons in the DC area):
1) The Mall: No matter how many times I run it, I love.  Sometimes I start from home, and other times from closer near the mall.  But I usually cross the bridge near Jefferson and then route through all the major monuments, as well as White House and Capitol.  The secret is there are bathrooms and water at both Jefferson and Lincoln quite early/late, and during the day at the World War II Memorial as well.
2) Capitol Crescent/Canal Towpath: These two both start in the same place and parallel each other.  Capitol Crescent is paved, while Towpath is crushed rock.  Crescent splits off a few miles later and goes north for about 8-10 miles, while Towpath goes easy for another 100 miles (seriously).  Both are great running trails year round.
3) The Arlington Triangle: If you want a very challenging route, this combines Four Mile Run, Mt. Vernon Path, Custis Path and the W&OD to make a 16 mile triangle route around Arlington.  The Custis portion being a very challenging up and down section, while the rest are relatively flat.  If you run it such that Custis is last, it'll make for a great long run that pushes you towards the end.
4) Rock Creek Parkway: See above in the bike section for details – but it works equally as well as a running location (actually a bit better since there are dedicated trails for running whereas cycling requires the road. On weekends though, runners take to the roads when Beach Drive is closed.
Misc Resources:
Finally, here's a great quick hit list of the BEST DC area resources I constantly hit up:
1) Bike Routes: Best site around for tons of awesome rides from the DC area.
2) DC Tri Forum: Sure, the club is great – but the forum is where the action is at.
3) WABA (Washington Area Bicyclist Association) Trail map: A great map of just about everything.
4) BT's Virginia Resource Page: This is BT's page dedicated for Virginia, and helps to cover many training and racing locations of the region.
5) A few tri teams: DC Tri, Team Z, Tri-RATS (Reston Area Triathletes)
6) A few running groups: Pacers, DC Road Runners, Georgetown Running Company, Capitol Striders
7) A few cycling groups: NCVC, DC Velo, Potomac Peddlers
Finally, feel free to add comments, links, and other great resources below!